30 Best Things to Do in Barcelona in Summer (2024)
This article may contain affiliate links. Please read our
Disclosure Policy
for more information.
Planning a sun-kissed escape to Barcelona this summer? Well, you're in for more than just golden beaches and vibrant street life.
Barcelona, with its rich tapestry of culture, flavors, and festivals, promises an adventure that's bound to stick with you long after your tan fades.
And, having lived in Spain and spent countless hours meandering the alleys of Barcelona, I've put together a sun-drenched guide that goes beyond the usual tips!
Keep reading to find out just what to do on a sunny, hot Barcelona day to make your summer in the Catalan capital truly unforgettable.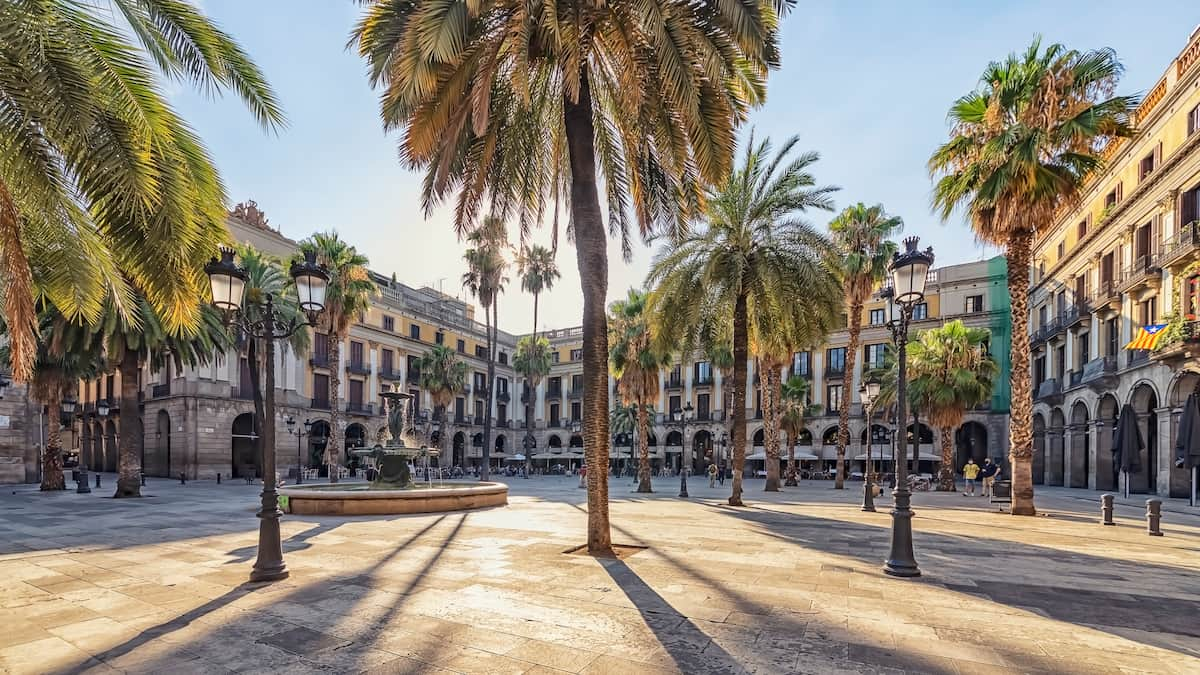 What to do in Barcelona in summer
1.Sagrada Familia
If there's one place that screams 'Barcelona', it's the Sagrada Familia. This epic basilica designed by Antoni Gaudí is a work in progress since the late 1800s.
Coming here in summer is a great idea, as it's much cooler inside than the sizzling heat you often get outside. But here's the thing: summer is super packed here.
So if you want to get a peek inside, make sure you snag those tickets well in advance. After all, the architecture and the vibes inside are totally worth the tiny bit of planning it takes to secure your spot.
2.Casa Batlló
Now, if you're looking for some magical summer vibes, Casa Batlló's got your back. As another one of Gaudí's masterpieces, you shouldn't miss this one.
And that's especially because, during the summer evenings, the place lights up with the Magic Nights. Think live music, cool drinks, and that Barcelona summer air on the rooftop.
It's an experience you really shouldn't miss and is honestly one of my favorite things to do when I have visitors in town. In fact, while the heat in summer can get a bit much for me sometimes, this event alone is one of the reasons that I'd say that summer can be the best time for you to visit Barcelona.
Just remember to dress a little fancy and let the evening sweep you away!
3.Park Güell
Okay, okay. I know you're thinking, "Another Gaudí spot?" But seriously, Park Güell is a summer dream.
Imagine colorful mosaics, dreamy walkways, and views of the city that'll make your Instagram feed pop. However, summer's a hot ticket, and while spontaneity is fun, booking in advance for this park is a smart move.
So grab your sun hat, sunscreen, and tickets – and let's make those summer memories in one of Barcelona's coolest green spaces!
4.Casa Milá
And sticking with the Gaudí theme – because let's face it, the dude was a genius – you've got to swing by Casa Milá, also known as La Pedrera. This place looks like waves turned into stone, with its wavy façade and intricate ironwork balconies.
Plus, the rooftop? Talk about a space-age forest of chimneys and architectural doodads!
Slip on some comfy shoes, because wandering around this building is like stepping into a fairytale. A modernist one, of course.
5.Rent a bike to ride along the beach
Feeling the wind in your hair while biking by the shimmering Mediterranean? Sign me up!
Generally, spring in Barcelona tends to be the time when bike riding becomes a much nicer thing to do, although Renting a bike and cruising along Barceloneta Beach is the kind of summer daydream that needs to be a reality.
And hey, it's not just about the view. Feel the city's rhythm, the buzz, and take little pit stops for a drink or two.
You're here for a vacation, not a race – so ride slow, soak up the sun, and let the sea breeze guide your pedals.
6.Beach day
So you're in Barcelona, and you're itching for some sand between your toes, right? You're in luck.
Barceloneta might be the most famous, but there are other shores to explore. Nova Icaria is perfect if you're up for some water sports or a relaxed beach volleyball game.
Bogatell Beach? Ideal for those looking for a quieter spot to sunbathe and read. And then there's Ocata Beach in nearby El Masnou – golden sands and clearer waters, just a short train ride away.
Pack that sunscreen, grab a good book, and let's turn you into a golden (not red!) summer god or goddess!
7.Sailing tour
Ever daydreamed of being on a boat, blue waters all around, with the Barcelona skyline waving you off from a distance? Then why not make it happen!
There are a bunch of sailing tours ready to whisk you away. Head out during daytime tours if you're itching to blend some sea time with a refreshing swim.
Or, and here's my personal fave, opt for a sunset tour – especially when you look at the weather in Barcelona these months, which is perfect for an evening sail.
Imagine the horizon painted with warm oranges and purples, a cool drink in hand, and the city lights starting to twinkle as night falls. Pure magic.
8.Tapas and wine walking tour
Okay, let's talk food (and drink!). Barcelona isn't just a visual feast; it's a culinary adventure waiting to be devoured.
Join one of the city's tapas and wine walking tours, and you'll soon be munching your way through iconic bites and sipping local wines. From patatas bravas to fresh olives, paired with wines from the region – it's an explosion of flavors in every corner.
Plus, the best part? Walking off those calories while discovering hidden corners of this vibrant city. Let's eat, drink, and be merry!
9.Cinema a la Fresca (June-August)
If you're in Barcelona between June and August, you're in for a quirky surprise. Picture this: classic films, a massive screen, and the starry night above you. That's Cinema a la Fresca for ya!
Held at Montjuïc Castle, it's a blend of old-school cinema vibes with that unbeatable Barcelona atmosphere. Just grab a blanket, some snacks, and a group of pals.
Whether you're a movie buff or just in it for the novelty, this is one experience that shouts 'summer' in all the right ways.
10.Flamenco show
You've probably heard the intense rhythms and seen the fiery moves of Flamenco, right? If not, Barcelona's the place to dive into this passionate world.
Trust me, the live experience? It's electrifying! Find a traditional tablao, get yourself seated, and let the dancers and musicians transport you to another realm.
The rapid footwork, emotional guitar strings, and powerful vocals? You'll see, it's not just a dance; it's a story being told right before your eyes.
11.El Grec Theater Festival (July)
July in Barcelona means one thing for theater lovers: El Grec! This annual festival transforms the city into a massive stage of performances.
From contemporary dance to dramatic plays, there's something for every theater enthusiast here.
And the setting? The open-air Teatre Grec on Montjuïc hill provides a unique backdrop, giving every performance a special touch. It's a fantastic celebration of art, culture, and the creative spirit of the city.
12.Barcelona Cathedral
Right in the heart of the Gothic Quarter lies the Barcelona Cathedral, an impressive example of Gothic architecture that has witnessed centuries of history. With its towering spires and intricate façade, this place just oozes history.
Step inside, and you're greeted with a serene atmosphere, punctuated by the soft glow of stained glass windows.
And don't forget to head to the rooftop for a panoramic view of the city! From up there, you'll get a sense of the city's past mingling with its lively present.
13.Neighborhood festivals
Barcelona's neighborhoods come alive in summer with local fiestas that are absolutely brimming with character and energy. Here are a few that you just can't miss:
Festa Major del Poble-sec (July): Poble-sec's party spirit is infectious! Wander through its streets adorned with creative decorations, groove to live music, and munch on traditional snacks. It's the perfect way to experience the vibrant soul of this neighborhood.
Festa Major de Gràcia (August): Gràcia's festival is legendary. The residents go all out, decorating streets with themes that range from the whimsical to the profound. Every turn introduces you to a new world. Expect concerts, workshops, and an undeniable sense of community spirit.
Festa Major de Sants (August): A bit like Gràcia's festival but with its own unique flavor. Sants erupts with colorful decorations, traditional dances, and street parties. It's an explosion of culture, and you'll want to dance your way through every street.
14.Make your own cava workshop
Ever sipped on cava and thought, "How do they make this?" Well, here's your chance to dive deep into the world of this sparkling Spanish wine.
Join a workshop where you'll learn the ins and outs of cava production. From the grape selection to the fermentation process, and the best part? Crafting a bottle with your very own label!
Take it home as a souvenir, or pop it open to celebrate your new-found skill. It's bubbly fun with a dash of education.
15.Summer shopping sales
When summer hits Barcelona, the sales signs pop up everywhere. From chic boutiques in El Born to trendy stores along Passeig de Gràcia, bargains are ripe for the picking.
Whether you're hunting for stylish summer threads, unique accessories, or quirky home decor, Barcelona's got you covered.
I'd definitely suggest wearing some comfy shoes, as you're going to be doing quite a bit of walking here as you keep an eye out for those red 'Rebajas' signs. Or why not grab a new pair while you're out and about on your shopping spree, of course!
16.Show at the Palau de la Música Catalana
Alright, music lovers and architecture buffs, this one's a two-for-one special! The Palau de la Música Catalana isn't just another concert hall; it's a piece of art.
Its stained glass, mosaics, and sculptures make you feel like you've stepped into a Modernisme dream. But, hey, don't just drop by for the visuals.
You can also book a ticket for one of their summer shows. Whether it's classical, jazz, or flamenco, listening to it in such an iconic setting elevates the whole experience.
17.Sant Joan (June 23rd)
Let's chat about one of the wildest nights in Barcelona: Sant Joan! Think bonfires, fireworks, and dancing on the beach till the sun comes up.
This fiesta marks the summer solstice, and trust me, the city doesn't hold back. Grab some "coca", a traditional sweet bread, and head to the beach or any city square.
The energy is infectious. With firecrackers echoing and people of all ages letting loose, it's an electrifying mix of tradition and pure fun.
Word of advice? Maybe take it easy the day after – you'll probably need to recharge!
18.FC Barcelona Museum
Whether you're a diehard Barça fan or don't know your Messi from your Piqué, the FC Barcelona Museum is a journey into the heart of football passion. Located in the iconic Camp Nou stadium, this place is a treasure trove of football history.
Relive epic moments, gaze at glittering trophies, and even take a peek into the locker rooms. For an extra thrill, book a tour that includes walking onto the field.
Gazing at the stands and imagining them filled with roaring fans? It's enough to give anyone goosebumps.
19.Brunch music festival (June-September)
Okay, who doesn't love a good brunch? Now, imagine pairing it with some great electronic beats and the scenic backdrop of Montjuic's gardens.
Yep, you've just discovered the Brunch music festival. Every Sunday afternoon during the summer months, this festival buzzes with good vibes.
And get this, it's not just for the party crowd. Families, this one's for you too! Spread out a blanket, set up your picnic, and let the kiddos indulge in workshops and activities while you sway to the beats.
Heads up though – this event can get packed. So, if you're thinking of dropping by, get your tickets from their website before they run out.
20.Picasso Museum
The Picasso Museum is where you get to trace the artistic journey of one of the world's most influential artists. Housed in five medieval palaces, this place is a maze of corridors filled with over 4,000 of Picasso's works.
From his early sketches to his iconic blue and rose periods, you'll be tracing the steps of his evolution, and it's awe-inspiring.
Here's a tip: Weekdays are generally less crowded, so maybe swap that beach day for some art immersion. And don't skip the temporary exhibitions; they always bring something fresh to the table!
21.Primavera Sound (May-June)
Hold onto your summer hats, as Primavera Sound is THE music festival in Barcelona. Taking place between May and June, this fest has become a pilgrimage spot for music lovers globally.
With a lineup that spans multiple genres and includes both chart-toppers and indie darlings, it's like the ultimate summer playlist come to life.
The vibes? Think open-air, ocean breeze, and thousands dancing to their pick of international DJs.
Whether you're into rock, pop, electronic, or hip-hop, there's a stage calling your name.
22.Sonar Barcelona (June)
Sonar Barcelona in June is where the beats drop and the city pulses with energy. Originating as a three-day event, Sonar has grown massively and now attracts the crème de la crème of the electronic world.
But it's not just about the music. With a blend of multimedia art, conferences, and professional fairs, it's like diving headfirst into a futuristic, rhythmic universe.
Just a friendly reminder: it's one of the hottest tickets in town, so if you're planning to attend, it's wise to book early.
23.MACBA (Museum of Contemporary Art of Barcelona)
Dive deep into the edgy world of contemporary art at MACBA! Located in the heart of the vibrant Raval neighborhood, this place is more than just a museum—it's a cultural hub.
The building itself, a sleek white modern structure, screams innovation. And inside? An ever-evolving collection of post-1945 Catalan and Spanish art awaits.
From thought-provoking installations to interactive displays, it's a playground for the curious mind. If you're looking for some intellectual stimulation on a lazy summer afternoon, MACBA might just be your spot.
24.Public swimming pools
When the heat cranks up, and you need a place to cool off, Barcelona's got your back with some fantastic public swimming pools:
Atlètic Swimming Club (Barceloneta): Location-wise, it's a winner. Right by the sea, this pool gives you the feeling of beachy vibes with a more relaxed atmosphere. Plus, it's a great spot to lounge and catch some of that glorious summer sun.
Montjuïc Municipal Swimming Pool: Talk about a pool with a view! Perched high on Montjuïc, here you can take a refreshing dip while soaking in panoramas of the city below. Added perk? It's gained some fame after hosting competitions during the 1992 Olympics.
CEM Parc de la Ciutadella: Nestled within the lush greenery of Ciutadella Park, this pool is a favorite among families and fitness enthusiasts alike. With both indoor and outdoor options, it's versatile and offers a serene escape from the city's hustle.
25.Chocolate Museum
Chocolate lovers, unite! Barcelona's Chocolate Museum is not just a pit stop—it's an experience.
The moment you walk in, you're handed a chocolate bar as your entry ticket. And that's just the start of this amazing place!
Journey through the ages as you discover chocolate's rich history, from its ceremonial use in ancient civilizations to the delectable treats we know and love today. Plus, they've got some incredibly detailed chocolate sculptures that might just make you think twice about taking a bite.
Wrap up your visit with a stop at the cafe. From thick hot chocolate to artisanal truffles, it's the perfect spot to indulge.
26.Cruilla (July)
Summer in Barcelona is incomplete without diving into its music scene, and Cruilla in July is a festival that's been winning hearts left and right.
A more intimate affair compared to some of the big names, Cruilla offers a diverse lineup that effortlessly blends international stars with local talent. Think multi-genre goodness, from indie rock and pop to reggae and electronica.
The atmosphere? Super chilled, with food trucks and chill-out zones adding to the relaxed vibes. So, if you're in town and want a genuine taste of Barcelona's eclectic music culture, Cruilla might just be your thing.
27.Benicassim International Festival (July)
A bit of a drive from Barcelona, but oh-so-worth-it, is the Benicassim International Festival. Come July, music fans from all over the globe flock to this seaside town, making it the ultimate summer party destination.
Over four days, the festival boasts performances from some of the biggest names in the music world. And it's not just about the tunes. Benicassim offers a wholesome experience with art installations, fashion shows, and short film screenings.
The best part? Camping under the stars after dancing the night away. It's like a musical adventure by the sea!
28.Montserrat
For mountain lovers and spiritual seekers, Montserrat is your dream destination just a short train ride away from the hustle and bustle of Barcelona.
Dominated by its massive rocky mountains, it's also home to the famous Montserrat Monastery. Wander around and you'll feel the spiritual vibes, punctuated by the harmonious chants of the famous boys' choir.
And don't even get me started on those mountain views! They're the kind you'll want to soak in for hours.
Pack a comfy pair of shoes, and maybe a picnic, and you're set for a day of exploration and reflection.
29.Sitges
Looking for a beach escape with a twist during your hot Barcelona summer? Head on over to Sitges!
It's like the cool cousin of Barcelona's beaches—less crowded and super artsy. Known for its Film Festival and Carnival, Sitges radiates an artsy, bohemian vibe year-round.
Wander around its narrow streets lined with whitewashed buildings, and you'll quickly see what I mean. Then, find a spot on one of its seventeen beaches, and just let the Mediterranean do its magic.
Bonus tip: If you're a night owl, the nightlife in Sitges is pretty legendary. Just saying.
30.Barcelona Contemporary Culture Center (CCCB)
Ah, the CCCB! For those in the know, this is Barcelona's epicenter of cool.
Situated in the Raval district, the CCCB is more than just a museum. Sure, it showcases some of the edgiest exhibitions in contemporary art and culture.
But it's also a space that invites thinkers, dreamers, and creators to engage in lively debates, workshops, and festivals. Their rooftop terrace is a little-known secret and offers a unique vantage point of the city.
If you're looking to dive deep into Barcelona's contemporary scene or just want a dose of inspiration, make sure you pop into the CCCB.
Is Barcelona good for summer?
Absolutely! Barcelona in summer means warm days thanks to its Mediterranean climate. Just pack a hat and water bottle, as it can get pretty hot and humid. It's also the most popular time for tourists, so expect longer lines and bigger crowds at the main sights.
You'll soon see why Barcelona in summer is a vibrant hotspot, pulsing with energy, sun, and a whole lot of fun. This weather makes it ideal for beach lounging, sightseeing, and open-air events.
In fact, you'll discover the city transforms during the season. Streets come alive with festivals, terraces are packed with locals and visitors alike sipping on refreshing drinks, and every corner seems to hum with music, laughter, and chatter.
It's that time of year when the city truly feels like it never sleeps, so if you're into that spirited summer vibe, Barcelona is totally your jam.
At the same time, it can get seriously busy in the city, especially in the center. Summer in Barcelona is peak tourist time and you'll definitely notice it in major areas like La Rambla and at sights like the Sagrada Familia, where booking tickets several weeks in advance will be a must to avoid missing out.
It's also the time when a lot of locals choose to leave the city, especially during school vacation in July and August. Many of them go to beach houses or their smaller home towns away from Barcelona, meaning you may find yourself tripping over more tourists than actual Spaniards while you're here in these months.
What is Barcelona like in the summer?
Barcelona in the summer is a mix of cultural events, beach days, and endless evenings under the stars. As the temperatures rise, so does the city's festive spirit. Days are typically warm, perfect for diving into the cool waters of the Mediterranean.
Think sun-kissed streets, music drifting from every plaza, and the gentle lull of the sea in the distance. or exploring Gaudí's architectural wonders. When night falls, the city doesn't slow down; rooftop bars become the perfect spot for cocktails, and the streets of neighborhoods like Gràcia and El Raval buzz with energy.
Whether you're into arts, food, or just soaking in local vibes, summer in Barcelona offers a little something for everyone, especially if you love hot weather. But if you don't love the heat, perhaps one of the shoulder seasons in May-June or September could be a better choice for you.
Also keep in mind what I mentioned above about this being peak tourist time, as you'll almost certainly find yourself encountering longer wait times, less availability and increased accommodation prices during this period.
Is Barcelona expensive in summer?
Summer is peak tourist season in Barcelona so expect more expensive prices. Notably, accommodation and some tourist attractions may see a spike in their rates. That said, with a bit of savvy planning, it's possible to enjoy the city without breaking the bank.
For example, local markets offer fresh produce and affordable meals. You can also embrace the city's free or budget-friendly events, like outdoor concerts or neighborhood festivals.
And remember, the best things – like a sunset from the Bunkers del Carmel – come without a price tag.
Is Barcelona crowded in summer?
Yes, as one of Europe's top travel destinations, Barcelona draws in loads of visitors during the summer months. Popular spots like the Sagrada Família or Park Güell can feel a tad packed and you'll need to book tickets for major sights well in advance to avoid missing out.
But don't let that deter you! There's always a hidden alleyway to explore or a less-known beach to discover.
To avoid the biggest crowds, consider starting your days early or exploring some off-the-beaten-path destinations. Plus sometimes those big crowds can really take an event to the next level, like all those festivals you'll find in the warmer months.
So join in, embrace the lively atmosphere, and get ready for an unforgettable experience.
Is Barcelona very hot in summer?
Barcelona in summer is warm, with typical daytime temperatures hovering around 28°C (82°F). Heat waves are becoming more common though, with the hottest day in Barcelona in 2023 having a maximum of 38.8ºC (102°F), and days can be humid. Nights are milder, usually settling around 20°C (68°F).
Now, if you're comparing it to, say Northern European climates, you might find Barcelona's summer quite toasty. But, the sea breeze, known as the "Garbí", often cools the city down, making those warm temperatures quite pleasant, especially in the evenings.
The Mediterranean lifestyle here also means taking things slow during the hotter parts of the day – think afternoon siestas and late dinners under the stars.
Is Barcelona too hot in summer?
For most people, Barcelona's summer temperatures are warm but bearable. With highs usually in the range of 28°C to 32°C (82°F to 89°F), it's hot but not overwhelmingly so. That said, with heat waves becoming more common and higher humidity, it can get pretty uncomfortable, especially in the city.
The city's coastal location does tend to bring in a refreshing sea breeze that keeps things comfortable. Nevertheless, those from cooler climates might find midday sun a tad intense.
A good rule of thumb? Take a cue from the locals! They often avoid the midday sun, opting instead for shaded terraces and indoor activities.
And hey, there's no better excuse for a mid-afternoon gelato break or a quick splash in the sea.
Does it get humid in Barcelona in summer?
Yep, Barcelona can get a bit on the humid side during summer months. Being a coastal city, it often experiences humidity levels around 60-70%. But while it can feel a bit sticky at times, it's not usually oppressive.
The upside? That same humidity can make the evenings feel wonderfully balmy.
Still, it's always a good idea to stay hydrated and take regular breaks, especially if you're out and about exploring.
A handy tip: pack some light, breathable clothing, and maybe a handheld fan to keep cool as you navigate the city's vibrant streets.
Why does it feel so hot in Barcelona?
While the actual temperatures in Barcelona might not seem excessively high, the combination of warmth and humidity can make it feel hotter than the thermometer reads. This is especially the case in cities which can lead to a feeling of amplified heat.
This is thanks to the urban heat island effect, where metropolitan areas get warmer than their rural surroundings due to human activities and construction.
It's not just the actual temperature; it's the mix of several factors playing together. This is why shaded plazas, parks, and beachfront spots become such prized locations in summer.
They offer a welcome respite from the heat. And again, when in Barcelona, do as the Barcelonians do – take it easy during the peak heat, enjoy cool drinks, and embrace the warm summer nights.
Why visit Barcelona in summer?
Barcelona in summer is a vibrant playground brimming with activities, outdoor events, and sun-soaked beaches. The city buzzes with a unique energy, making it one of the best times to experience its rich culture and electric atmosphere.
With days stretching long into the night, there's ample time to explore both its iconic landmarks and hidden gems.
The added charm? Streets become stages with various neighborhood festivals. Every corner sings with music, dance, and colorful parades.
From open-air film sessions on Montjuïc to evening picnics by the beach, Barcelona in summer is a memory waiting to happen.
And while you're at it, indulge in the seasonal flavors – think fresh seafood paellas and chilled sangrias under the sky.
What do locals wear in Barcelona in summer?
Locals in Barcelona dress light and casual during summer, opting for breathable fabrics that keep them cool. Typical outfits might include cotton tees, loose blouses, shorts, or airy dresses. Sandals, espadrilles, and comfy sneakers are the go-to footwear.
If you're looking to blend in, think Mediterranean chic. Light colors are favored as they reflect the sun and keep things cooler.
And of course, accessories are key – from stylish sunglasses to wide-brimmed hats, it's all about protection with a dash of flair. Remember, Barcelona is fashion-forward but also laid-back.
This means that while you'll see some rocking the latest trends, comfort, especially in the heat, remains a priority.
Is it too hot to wear jeans in Barcelona in summer?
While daytime temperatures in the range of 28°C to 32°C (82°F to 89°F) might make jeans feel a tad warm, it's not uncommon to see folks donning them. That said, if they're light and well-fitted, jeans can be bearable, especially in the evenings when things cool down.
If you're planning on a lot of walking or sightseeing during peak sun hours, I personally wouldn't wear jeans as you'll find yourself struggling. Instead, lighter fabrics will likely be a more comfortable choice.
Of course, it's all about personal preference! Some people swear by their denim no matter the season, while others wouldn't dream of it in summer months.
If you do opt for jeans, maybe pair them with a light top and keep the rest of your outfit breezy. And, as always, carry a water bottle and keep those sunnies handy!
What to do on a hot day in Barcelona?
On scorching days in Barcelona, many opt to find shade in one of the city's lush parks, take a dip in the Mediterranean, or explore indoor attractions. The city offers a mix of refreshing activities and cool spots, ensuring you can make the most of your day despite the heat.
From beachside cafes with fans spraying cool mist to historic buildings with thick stone walls that maintain a chilly interior, Barcelona's got you covered.
One of my personal favorites is the Laberint d'Horta Park, a historical garden that offers shaded paths and a mesmerizing labyrinth to explore. If you're up for some shopping, the covered Mercat de la Boqueria offers fresh juices, seasonal fruits, and cold treats amidst a colorful ambiance.
And let's not forget Barcelona's rich lineup of museums – head into the cool interiors of the Picasso Museum or MACBA and discover art while beating the heat.
What to do in Barcelona when it's too hot?
When Barcelona turns up the heat, it's the perfect excuse to slow down and savor the city's chilled-out offerings. Consider it Mother Nature's gentle nudge to embrace the laid-back Spanish lifestyle. Start with a leisurely brunch in a shaded courtyard, maybe take that midday siesta the locals swear by, or explore the city's many cool indoor venues.
Evening walks are magical as the city seems to glow under the golden hue of streetlights. Raval and Born districts are buzzing with night activity, offering respite from the day's warmth.
A visit to the Palau de la Música Catalana, with its magnificent interiors, can be both culturally enriching and pleasantly cool.
And if all else fails, indulge in a scoop or two of gelato; with countless artisanal gelaterias around, it's a chill treat you'd not want to miss.