10 Best Areas to Stay in Barcelona (2023) – Ultimate Guide
This article may contain affiliate links. Please read our
Disclosure Policy
for more information.
Ever found yourself daydreaming about the sun-kissed streets of Barcelona, wondering where you'd rest your head after a day of adventuring?
Look no further! This guide's got the lowdown on exactly where to stay in Barcelona, from vibrant neighborhoods to serene hideaways – and everything in between!
I've called Spain my home for years and have spent a ton of time wandering through Barcelona's winding lanes and broad avenues. That's why, in this article, you'll get insider tips straight from someone who's lived it.
Stick around, and I'll unveil the best areas to stay in Barcelona, no matter what your travel vibe is, to make sure your trip is truly unforgettable.
Where to stay in Barcelona
1. Eixample
If you're deciding on where to stay in Barcelona, my top recommendation would be Eixample, especially if you're looking for where to stay in Barcelona for your first time here.
So, what's special about Eixample? Well, its name means "expansion" in Catalan, which is a nod to its well-structured design from the 19th century by Ildefons Cerdà.
This district promises an organized charm with its broad streets, making it easier to navigate. And if shopping is on your list, the area around Passeig de Gràcia has a great mix of stores.
For the foodies, the neighborhood of Sant Antoni in Eixample offers a pretty incredible culinary journey. You'll find everything from sophisticated dining establishments to the more relaxed tapas bars along Carrer del Parlament.
But, of course, every rose has its thorn. Eixample, with its uptown vibes, can be a tad bit heavy on the pocket. At the same time, there are more wallet-friendly options around here too, so there's almost guaranteed to be something that suits your budget.
In a nutshell: If you're looking for a mix of history, diverse dining options, and convenient location, Eixample might just be the spot for you.
2. Gràcia
For those who want a more local and authentic feel of Barcelona, Gràcia is worth considering. This neighborhood has a rich history, and despite being part of the city for years, it's managed to maintain its unique (yet undeniably hipster) character.
Gràcia is positioned nicely between the bustling Eixample and the serene northern hills. This is why it's often preferred by families, not to mention artists and those who appreciate a quieter atmosphere.
You can't visit Gràcia and not check out Parc Güell. This Gaudí wonder is a riot of colors and imaginative designs.
And after soaking in some art, indulge in some retail therapy along Carrer de Bonavista. Then, as the sun sets, let the sounds from the local bars along Carrer de Asturies take over.
For the foodies out there, trust me, Gràcia won't disappoint. From local Catalan bistros to fancy wine bars, it's a gastronomic heaven.
Plus, if you happen to visit during the Gràcia festival, brace yourself for some unforgettable street parties and lively all-nighters. Although, sure, this could also mean it gets a tad crowded and noisy.
When it comes to accommodation options, Gràcia offers a spectrum, from boutique hotels to more budget-friendly apartments. Transportation is pretty straightforward with good metro connections.
Basically, if you're seeking a place that offers a blend of tradition and modern-day Barcelona, away from the typical tourist paths, Gràcia is worth exploring.
3. Barri Gòtic (Gothic Quarter)
If you're looking to get a genuine feel for the heartbeat of Barcelona, the Barri Gòtic, or the Gothic Quarter, is where it's at. Imagine wandering through a neighborhood that tells tales from the Roman era and medieval times – it's like a history lesson without the classroom.
When you're there, don't miss Carrer dels Banys Nous. With its array of tapas bars, unique boutiques, and spirited ambiance, it's basically your go-to for a fun evening.
Then there's the Pont Gòtic on Carrer Bisbe where history peeks through every nook. And for all the architecture buffs out there, the massive Gothic cathedral is sure to impress.
One of the perks of staying in the Gothic Quarter is its super central location. Most of the city's hotspots are within a leisurely walk.
And for all the foodies reading this, the proximity to Las Ramblas means you're just steps away from the lively La Boqueria food market. Fancy a tapas crawl? Venture a little off Las Ramblas, and you're sorted.
On the flip side, with all its charm, this area can get packed. And, while Las Ramblas is buzzing, it's also a hotspot for pickpockets, so stay sharp!
On the romance scale? It's top-notch. So, couples, if you're hunting for that ideal romantic backdrop, this is your place.
Essentially, if you want to truly experience Barcelona's heart and history, the Gothic Quarter is calling your name!
4. El Born
Got a soft spot for places with a mix of history, art, and lively streets? El Born should be right up your alley!
Located in the Old City, it's a relaxed cousin of the bustling Barri Gòtic, separated by the Via Laietana.
First up, the Picasso Museum. It's not just about the art but also Picasso's relationship with the city. Then there's the El Born Centre de Cultura i Memòria, a slice of history under a 19th-century market hall.
And if you want to go global with your exploration, the Museu Etnològic i de Cultures del Món offers an intriguing dive into diverse cultures.
Food lovers, the culinary scene in El Born is legit! Traditional? Modern? You name it.
From the area around Plaça Comercial to Passeig del Born, your taste buds are in for a treat. And for all the shopaholics, those vintage boutiques are a paradise.
If you want some greenery, just northeast of El Born is Parc de la Ciutadella. It's more than just a park. With a zoo, beautiful lakes, and architectural wonders, it's an oasis in the city.
El Born, apart from its daytime charm, also boasts of a killer nightlife. Bars, lounges, clubs – pick your vibe.
Just a little word to the wise: while most of El Born is safe, be a bit wary around Las Ramblas and the La Boqueria food market, especially during the night.
So, summing it up, El Born gives you that perfect mix of history, art, food, and fun vibes. If that sounds like your kind of holiday, you know where to head!
5. Barceloneta
For those yearning for a pinch of history combined with some seriously good beach vibes, this might be your spot. Originating as an old fishermen's quarter, Barceloneta has transformed gracefully, balancing its historic charm with modern seaside appeal.
Walking down its narrow lanes, you'll be greeted by local tapas bars and bodegas that have stood the test of time. And let's not even get started on the seafood here – it's legendary.
In particular, places like Can Solé and La Cova Fumada are absolute must-visits for seafood aficionados.
The star of the show? Undoubtedly, Barceloneta's sprawling beach.
Whether you're an early riser looking for a peaceful jog or a sunset admirer hoping to capture the perfect shot of the Mediterranean, the beachfront promenade is your place.
If you've got kiddos tagging along, you're in luck. Besides the sandy escapades, they'd love the nearby Barcelona Aquarium and the exciting cable car ride to Montjuïc.
But it's not all sun and sand. Venturing out, you have Barri Gòtic, El Born, and El Raval serving up a delectable mix of traditional and contemporary tapas bars and restaurants.
And if you're an early bird, the Boqueria Market off La Rambla is where you should head for an array of snacks and local produce.
Now, as much as I love Barceloneta, there's a small catch. The area has become popular, meaning it can get pretty crowded, especially during peak seasons. But hey, that's the price of being in the heart of all the action, right?
In essence, if you're seeking a mix of beach chill, scrumptious eats, and a dash of history, Barceloneta's got you covered.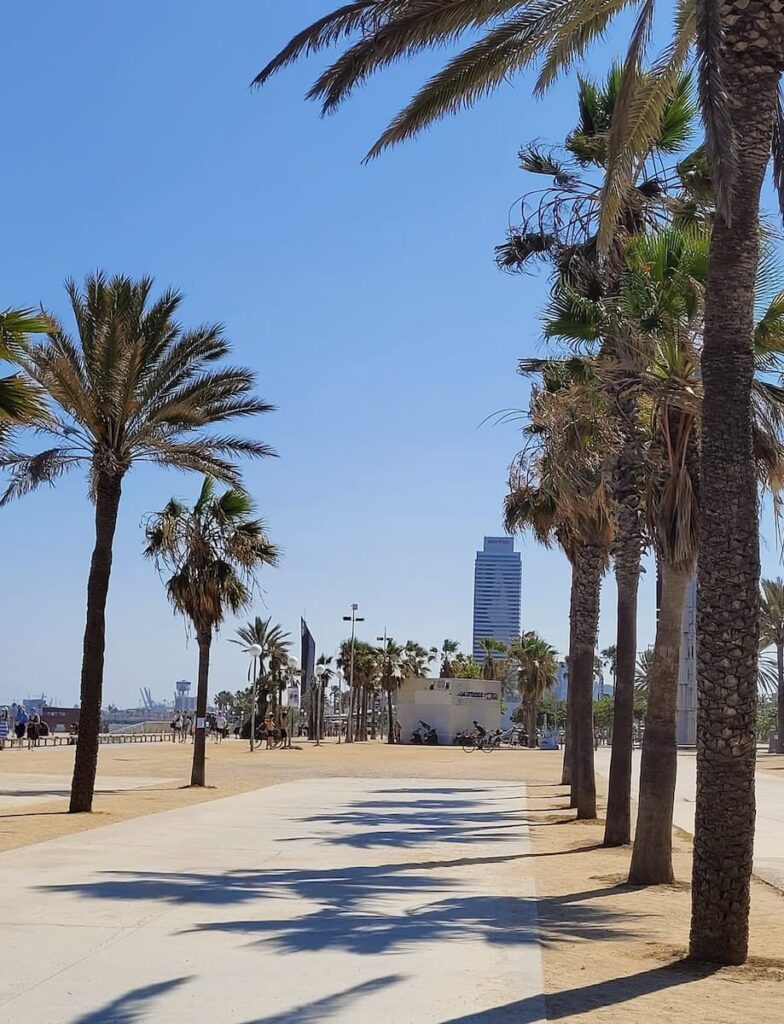 6. El Raval
Welcome to El Raval, a neighborhood that's as intriguing as its name. Once known for its rather dubious reputation, El Raval has pulled up its socks over the years, transforming into a thriving hub for art, culture, and some of the best international eats in town.
For art lovers, MACBA and Palau Güell should be top on your list. While MACBA will fill your contemporary art cravings, Palau Güell offers a glimpse into Gaudí's early brilliance.
For the shopaholics among you, the vintage boutiques on Carrer Tallers and the artsy nooks of Carrer de Riera Baixa are pure gold.
And when you're done shopping, the myriad of food options will leave you spoiled for choice. From vegetarian delicacies to hip tapas bars, El Raval is the place for culinary exploration.
Talking about night owls, El Raval won't disappoint. Plaça Reial is the go-to spot for some feet tapping and flamenco clapping. For a more laid-back evening, cocktail bars like Bar Makinavaja will do the trick.
But, let's keep it real. While El Raval has come a long way, it's wise to stay alert, especially during the late hours. Some parts can still be a bit dicey, so just keep an eye on your belongings.
So if you're after a lively, artsy, and diverse vibe, with a hint of edge, El Raval is your place.
7. Poble-Sec
If you're keen on discovering an intimate side of Barcelona, then Poble-Sec might just be your spot. Tucked right at the foot of Montjuïc hill, it's got that chilled, laid-back vibe that's a dream for any urban explorer, while also being conveniently close to Montjuïc's historical charm.
When you're in the mood to discover, Montjuïc is where you'll get those panoramic views of the city's port, interspersed with lush botanical gardens, significant art museums, and a 17th-century fortress. And when hunger calls after all that sightseeing, Poble-Sec is your culinary haven.
Whether you're in the mood for the traditional or want to dip your taste buds in some international flavors, you're sorted. Seriously, check out Quimet & Quimet for some top-notch tapas, you won't regret it!
For the night owls, Poble-Sec's vibrant evening scene is buzzing with cool music clubs and trendy bars. Carrer de Blai, a pedestrian-only lane, is THE place to be if you're looking to dive deep into the local scene.
And guess what? If you're traveling on a shoestring budget, Poble-Sec is a fantastic choice with its affordable eateries and accommodations.
Whether you're eyeing a chic hostel like Hotel Barcelona Apolo or looking for a practical hotel close to the city center, you're all set!
But, a small heads up – while Poble-Sec has its own Metro station, it doesn't have those major tourist attractions. But honestly, if you're someone who likes to take the less trodden path and enjoy a blend of local vibes with a dash of history, this neighborhood's got your back.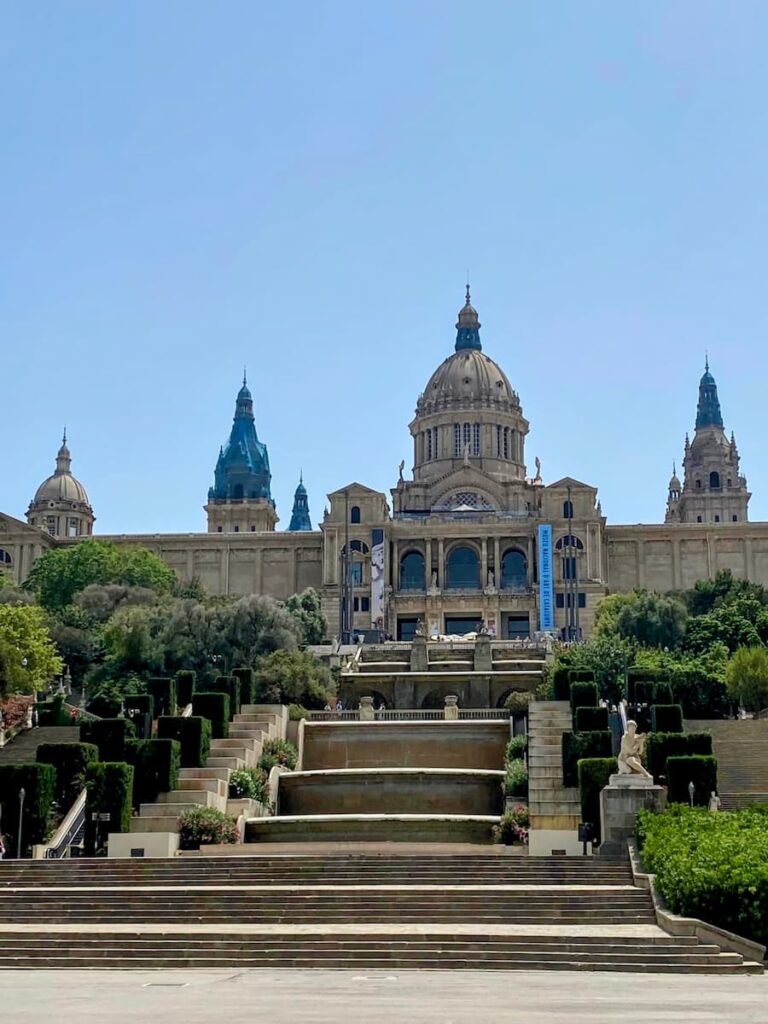 8. Poblenou
Moving up the coast, we have Poblenou, a neighborhood that's literally transformed right in front of the city's eyes. Once filled with old factories, now it's this great blend of modern architecture, design hotels, and a bustling nightlife scene.
And if you're all about those beach vibes, Poblenou's coast is pretty hard to beat with its pristine beaches. The heart of Poblenou is the Rambla de Poblenou, which stretches from the beach, giving you this beautiful mix of traditional eats and modern fusion restaurants.
And once the sun sets, the place is a haven for partying. Whether you want to dance the night away at the iconic Razzmatazz or chill by the beach at places like CDLC or Opium, there's something for every kind of nightcrawler.
For the daytime adventurers, Poblenou isn't short of places to explore. From the jaw-dropping architecture at Plaça de les Glòries Catalanes to family hangout spots like Parc Central del Poblenou, you're sorted.
And if you're into a little dark tourism, the Cementiri de l'Est cemetery with its hauntingly beautiful sculptures is worth a visit.
However, just a small note – while Poblenou is buzzing with its own attractions, it is a tad away from the main touristy spots in Barcelona. But hey, if you're looking for an area that perfectly balances the old with the ultra-modern, giving you a peek into Barcelona's future, Poblenou should definitely be on your list.
Which part of Barcelona is best to stay in?
If it's your first time visiting Barcelona, Eixample is hands down your best bet. Centrally located and chock-full of architectural wonders, it's the ideal starting point to experience the city, especially to be near some of the city's most iconic landmarks, like the Casa Batlló and La Pedrera.
Eixample's wide streets, brimming with shops, cafes, and restaurants, make it super easy to navigate, especially if you're a newbie in town. Plus, it's a transport hub, which means you're just a short metro or bus ride away from other major attractions.
For those who appreciate a mix of historic charm with modern comfort, Eixample offers a harmonious blend, making your stay both comfortable and culturally rich.
Is it good to stay at La Rambla in Barcelona?
La Rambla is undeniably central and right in the thick of things. If you want to be in the heart of the action, it's the place. However, bear in mind, it's also one of the most touristy parts of the city so it may be a bit chaotic when you step out of your hotel.
In case you don't know, La Rambla is a bustling promenade filled with street performers, kiosks, and a myriad of shops and eateries. While the vibe is electric and there's always something happening, it can also feel a bit overwhelming, especially during peak seasons.
The constant hustle and bustle mean it might not be the most peaceful place to stay, but it sure gives you an authentic taste of Barcelona's energetic spirit. I'll also add that it's a major spot for pickpockets in the city, which means you'll have to make sure that you're aware of your surroundings the moment you leave your accommodation.
Basically, if you're someone who thrives in lively environments and wants immediate access to major attractions, La Rambla fits the bill. But if you're looking for a quieter, more local experience, you might want to look elsewhere.
Should I stay in Barcelona's Gothic Quarter?
Absolutely! Barcelona's Gothic Quarter is a maze of narrow medieval streets oozing with history and charm. It's like stepping back in time, offering a truly unique experience unlike any other part of the city. You'll also find major sights like the stunning Barcelona Cathedral, the ancient Roman walls, and the vibrant Plaça Reial.
The Gothic Quarter is all about discovery. Every alleyway leads to a charming square, a hidden tapas bar, or a historic monument. 
However, because of its compact nature, it can get a tad crowded, especially during the high tourist season. But if you're keen on soaking in the rich history of Barcelona and don't mind the occasional crowd, the Gothic Quarter provides an immersive experience that's hard to beat.
Is it safe to stay near the Sagrada Familia in Barcelona?
Yes, staying near the Sagrada Familia is not only safe but also super convenient. The area is residential, well-lit, and bustling with tourists and locals alike. And of course, you'll have the iconic basilica right at your doorstep!
The Sagrada Familia neighborhood offers a unique mix of a tranquil residential vibe while being in proximity to one of the world's most famous landmarks. It's a great area to stroll around, with tree-lined avenues, cafes, and parks. Plus, its central location means you're well-connected to the rest of the city.
Given its popularity, there's always a buzz around, especially during the day. However, like any major city, it's always a good idea to stay vigilant, especially late at night.
But all in all, it's a safe and beautiful area to anchor your Barcelona trip.