Ultimate Guide to Visiting Montserrat From Barcelona (2023)
This article may contain affiliate links. Please read our
Disclosure Policy
for more information.
Living in Spain, I've been fortunate to witness some of the most beautiful sights this country has to offer. One such gem that's stolen my heart is Montserrat, which is genuinely one of the most awe-inspiring places you'll see while here.
So are you contemplating a day trip from Barcelona and wondering if Montserrat makes the cut? Well, you're in the right place!
I'm here to take you on a virtual tour of this majestic mountain range and its many wonders. Whether you're looking to explore the hallowed halls of the Montserrat Monastery, wander through the lush greenery of Montserrat Natural Park, or soak in the breathtaking views from the Aeri de Montserrat, I've got you covered.
By the end of our journey, I promise you'll be packing your bags and marking Montserrat as your next must-visit destination.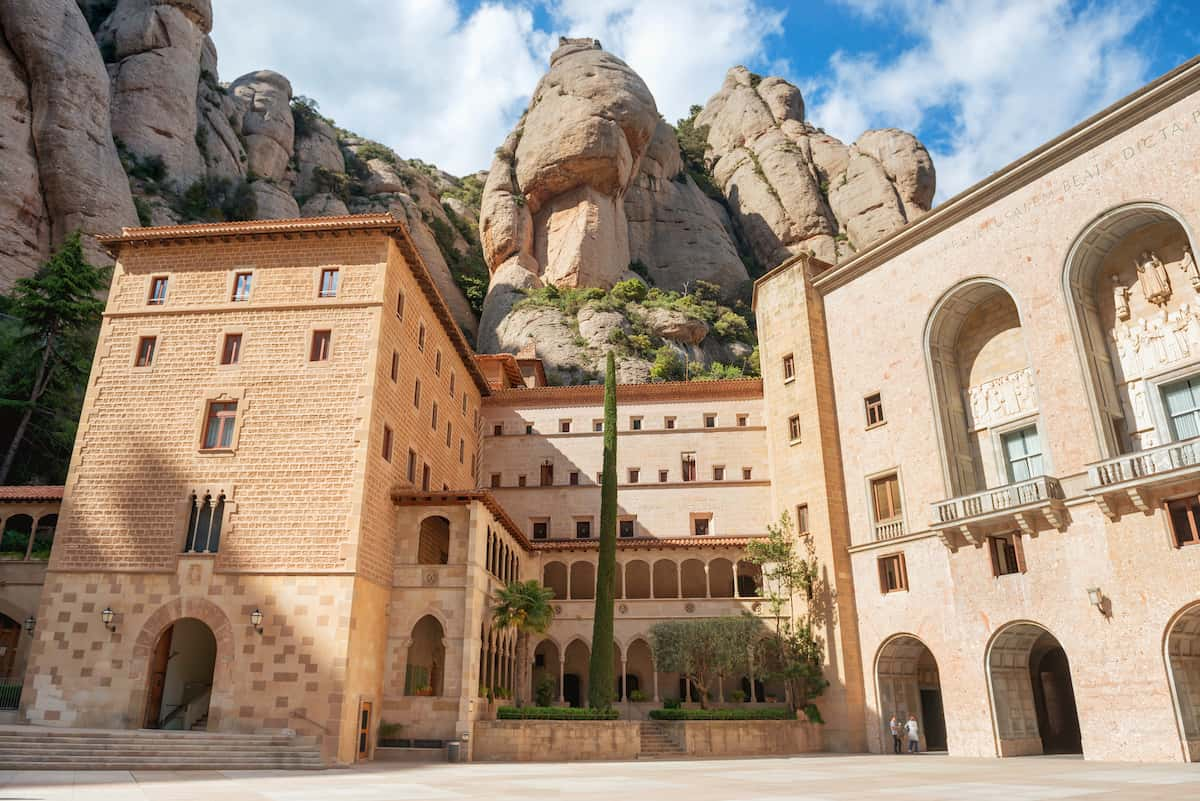 What is Montserrat famous for?
Montserrat should definitely be on anyone's must-do list if you're looking for one of the best day trips from Barcelona. Not only does it offer picturesque views of the Spanish countryside, but it's also home to various enchanting landmarks and attractions.
The main things to see in Montserrat are as follows.
1. Montserrat Monastery
Perched on the side of the awe-inspiring mountain range, this Benedictine abbey is over 1,000 years old. It's honestly like something straight out of a fairy tale!
Known as the 'Santa Maria de Montserrat', it's a sanctuary for pilgrims and travelers seeking solace, spirituality, and a snapshot of Catalonia's rich history.
But don't just go for the architecture; the monastery also houses the legendary Black Madonna, 'La Moreneta.' Revered by locals and visitors alike, this dark-skinned Virgin Mary is the patron saint of Catalonia – although I'll discuss her a bit more in a moment.
2. Santa Cova Chapel
The Santa Cova Chapel is a bit of a hike, but hey, who can resist a bit of mystery and adventure? According to legend, this is the exact spot where shepherds discovered the Black Madonna statue back in the day.
You might feel like you've stepped into an Indiana Jones movie, except instead of booby traps, you'll be greeted by the sweet scent of pine and an astounding view of the Llobregat Valley. Even if you're not the hiking type, the Funicular de la Santa Cova can whisk you there in a jiffy!
3. Montserrat Natural Park
The natural beauty of Montserrat is something you really have to see to believe! The Montserrat Natural Park is a feast for the eyes and the soul.
Picture it: craggy peaks reaching for the sky, forested valleys, hidden hermitages, and hiking trails that seem to stretch on forever. It's an absolute playground for nature lovers, hikers, and photographers.
4. Basilica of Montserrat
Now, let's talk about the heart of the monastery complex – the Basilica of Montserrat. A harmonious blend of Gothic and Renaissance architecture, this Basilica is nothing short of breathtaking.
Its cavernous interior and incredible artistry is a testament to the profound spiritual and cultural history of this place.
The highlight? Well, that has to be the famed 'Camí de l'Ave Maria.' It's an aisle where people place candles and offer prayers.
As the flickering lights dance off the intricate stonework, you can't help but feel a sense of calm and peace enveloping you.
5. Montserrat Boys' Choir
Prepare to be serenaded by angelic voices that will make your heart flutter. The Montserrat Boys' Choir, or as the locals fondly call them 'Escolania', are not just a choir; they're a cherished tradition that goes back centuries.
With performances held in the basilica twice daily (except in summer), you can sit back and let their harmonious tunes carry you away. Honestly, as the echoes of their melodies bounce off the ancient walls, filling the air with pure magic, it's really the kind of stuff that gives you goosebumps!
6. The Black Madonna of Montserrat
I've already talked about her, but the Black Madonna of Montserrat, or 'La Moreneta,' deserves a special mention. Enshrined within the Basilica, this mysterious, dark-skinned Virgin Mary is a sight to behold.
It's said that her color comes from the passage of time and the smoke of millions of candles lit by faithful pilgrims.
Don't forget to touch her orb! It's a tradition that's believed to bring blessings.
7. Montserrat Museum
Are you ready to take a trip through time? The Montserrat Museum boasts a treasure trove of art pieces spanning from the ancient world to the 21st century.
This isn't your typical monastery museum, oh no! It's got everything from Egyptian artifacts to Picasso paintings, and so much more.
It's like a love letter to art and culture, brought to life in vibrant colors and impressive displays. Whether you're an art enthusiast or just curious, this museum is bound to spark a deeper appreciation for the fine things in life.
8. Hiking Trails in Montserrat
If you've had enough culture for one day, let's get those legs moving! Montserrat isn't just about history and spirituality; it's also a paradise for nature lovers and fitness enthusiasts.
There are numerous hiking trails for every level, whether you're a seasoned hiker or a casual stroller. The paths are well marked, so you won't get lost.
My personal favorite? The trail to the Holy Grotto. It's a bit of a climb, but the vistas along the way and the feeling of accomplishment when you reach the top make it absolutely worth it.
9. Sant Jeroni Mountain
Feeling adventurous? Strap on those hiking boots and let's climb the highest peak in Montserrat, Sant Jeroni. Standing tall at over 4,000 feet, it's not for the faint-hearted, but let me tell you, the views from the top are stunning.
You'll see the Pyrenees, Barcelona, and on a clear day, even the island of Majorca.
10. Aeri de Montserrat (Montserrat Cable Car)
If you're here for the views, then you can't miss this cable car ride that takes you soaring over the lush valleys, straight up to the monastery.
The Aeri de Montserrat is an experience you won't forget anytime soon. It's the perfect way to cap off your day, offering panoramic views of the monastery, the mountain, and everything in between.
How do you get from Barcelona to Montserrat?
Montserrat is a must-visit destination when you're in Barcelona, and luckily, it's quite easy to get to. There are several transportation options to choose from, and each offers unique experiences and views of the beautiful mountain scenery.
One popular way to reach Montserrat is by train. Head over to the Plaça Espanya train station and catch the R5 line towards Manresa.
The journey takes about an hour, and once you arrive at Montserrat-Aeri, you have the option to take a thrilling cable car ride to the top. The sweeping views make it well worth the trip!
If you prefer a more scenic route, consider taking the bus from Barcelona to Monasterio de Montserrat, where you can then board the rack railway or funicular to ascend the mountain.
A good option if you're thinking of taking the bus is to do a day tour to Montserrat from Barcelona. That way, for just a little bit of extra money, everything's organized for you.
These also often come with other perks, like a tour guide who can share interesting stories about Montserrat or a side visit to a winery.
You could also consider hiring a car or even taking a taxi to get there, although this is going to be much more expensive than the other options, especially taking a taxi. Hiring a car could work though if you want the flexibility that brings, with there being plenty of hire car companies in Barcelona for this.
How much is a taxi from Montserrat to Barcelona?
If you're considering taking a taxi from Montserrat to Barcelona, it's a convenient and comfortable way to travel. Expect to pay between €85 and €110 for the ride. Keep in mind that prices can vary based on factors such as traffic, time of day, and taxi provider.
Taxis in Spain are generally reliable, but it's a good idea to use a reputable taxi company or an app like Free Now to ensure your ride goes smoothly. Another option is to arrange for a taxi ahead of time through your hotel or a local taxi company – they'll be more than happy to assist you.
Taking a taxi is definitely more expensive than other transportation options like the train or bus, but at least you'll have the benefit of a local taxi driver who can share interesting tidbits and local insights about the journey!
Best Montserrat tours from Barcelona
Montserrat Tour, Monastery and Wine/Lunch
⭐ RATING: 4.8 out of 5 based on 1,700+ reviews
⌛ TOUR LENGTH: 5 – 9 hours
✅ Check latest price and availability
What better way to embrace the history, nature and food culture of Spain all in the one place than with the Montserrat Tour, Monastery and Wine/Lunch tour. You won't just visit the iconic Montserrat Monastery; you'll also enjoy some fantastic wine and mouthwatering lunch at a picturesque winery.
And let's not forget that thrilling ride on a cogwheel train – an experience that will make your heart skip a beat!
Once at Montserrat, your guide will take you on a walk around the historic center of the complex. Get ready to be amazed as you learn about the rich history of the Santa Maria de Montserrat Abbey.
There's also plenty of free time to explore. Fancy visiting the Black Madonna? Or maybe you'd like to check out the Montserrat Museum, showcasing works by Picasso, El Greco, and Dali.
Opt for the full-day tour and get ready to feel like royalty at a beautiful boutique winery. Whether you're savoring a light tapas lunch or indulging in a multi-course feast, every bite will be enhanced by the panoramic views of the winery and Montserrat mountains.
The day wraps up with a wine tasting session and a leisurely stroll around the vineyards. Basically, it really doesn't get any better than this.
Montserrat Half Day Guided Tour
⭐ RATING: 4.6 out of 5 based on 950+ reviews
⌛ TOUR LENGTH: 6 hours
✅ Check latest price and availability
Next up, we have the Montserrat Half Day Guided Tour. This six-hour adventure allows you to escape the bustle of Barcelona and immerse yourself in the natural beauty and rich religious history of Montserrat.
You'll hop on a unique rack railway, one of only two still operational in Catalonia, which takes you right to the top of the mountains.
At the peak of Montserrat, you'll visit the Benedictine Abbey and the Santa Maria de Montserrat, housing the beloved Virgin of Montserrat sanctuary. Each step you take will be accompanied by the narratives of your guide, unveiling the intriguing tales hidden in the craggy rocks of this mountain range.
Your free time could be spent exploring the Montserrat Abbey, savoring a meal at one of the abbey's restaurants, or being enchanted by a choral performance by the Escolania de Montserrat. This trip isn't just about reaching a destination, it's about enjoying the journey, the culture, and the spirit of Montserrat.
Montserrat Monastery Visit and Lunch at a Farmhouse
⭐ RATING: 4.7 out of 5 based on 880+ reviews
⌛ TOUR LENGTH: 7.5 hours
✅ Check latest price and availability
Finally, there's the Montserrat Monastery Visit and Lunch at a Farmhouse tour. Imagine visiting a historic Monastery, enjoying panoramic views of Catalonia, and wrapping up your day with a delectable 2-course meal at a local farmhouse – that's what this tour offers!
Your journey starts with a scenic ride to the heart of Montserrat. Here, you'll explore the Benedictine Monastery, home to La Moreneta, the patron saint of Catalonia.
Let your guide enthrall you with the thousand-year-old history of the Monastery, and take some time to explore the surroundings on your own.
The highlight of this trip is undoubtedly the traditional 3-course lunch at a farmhouse, boasting stunning views of the region. Enjoy traditional Catalan cuisine as you drink in the panoramic vistas.
Whether you're a history buff, a foodie, or someone who enjoys spectacular views, this tour hits all the right notes!
Is Montserrat worth a day trip?
Montserrat is definitely worth a day trip. After all, it's not just a mountain or a monastery; it's a culmination of history, culture, nature, and spirituality, all wrapped up in one unforgettable package. Whether you prefer the Monastery, the hiking trails or a bit of everything, you won't regret making this trip.
With its rugged peaks, winding trails, and breathtaking vistas, Montserrat is a paradise for adventurers and nature lovers alike. Meanwhile, history buffs and culture vultures will be captivated by the Montserrat Monastery and Museum, brimming with fascinating artifacts and priceless works of art.
How much time do you need at Montserrat?
You definitely need at least three hours at Montserrat, although you can spend a full day exploring this beautiful spot. When combined with the fact that you'll need about 1.5 hours to travel each way to Barcelona, you should give yourself at least six hours for a Montserrat day trip from Barcelona.
In the morning, you could take a leisurely stroll around the mountain trails, followed by a delicious lunch at a local restaurant.
In the late afternoon, unwind while admiring the breathtaking panoramic views and visiting the famous Virgin of Montserrat, nestled in the Santa Maria de Montserrat Monastery.
And, of course, make sure to budget even more time if you plan to hike!
By the way: If you have more free time in Barcelona and are looking for another day trip to do, I'd suggest visiting Girona from Barcelona. The history you'll find there is out of this world!
How far is Montserrat from Barcelona?
Montserrat is only 45 km (about 28 miles) away from the heart of Barcelona, making it an accessible and convenient day trip destination. There are several transport options available, including trains and buses, that can take you to the Montserrat Monastery in just over an hour.
The journey to this spectacular mountain range is part of the fun; you'll be treated to picturesque landscapes of the Catalan countryside, providing a nice contrast to the bustling city of Barcelona.
How do you spend a day in Montserrat?
The best day trips to Montserrat start early, so make sure to pack your essentials and have a hearty breakfast. Montserrat, a beautiful mountain range in Catalonia, offers something for everyone, from breathtaking panoramas to cultural treasures.
Your journey begins at Plaça Espanya in Barcelona. Hop on the R5 train line to Aeri de Montserrat. You'll be at the foot of the mountain range in just an hour, and a round-trip ticket costs only €11.50.
From there, take a thrilling cable car ride to the monastery atop the mountain, for just €12. As the cable car ascends, you'll be greeted by the rugged cliffs and picturesque landscape—don't forget your camera, as these views are a photographer's dream.
Once you've reached the monastery, you can spend your time exploring the area at your own pace. Visiting the famous Black Madonna inside the Benedictine monastery, Santa Maria de Montserrat, is a must.
After marveling at this revered statue, consider stopping by the Montserrat Museum, where you'll find an impressive collection of art and historical artifacts. Montserrat also offers numerous hiking trails, which take you even higher up the mountain for more awe-inspiring vistas if you're feeling active.
Is Montserrat walkable?
Yes, Montserrat is definitely walkable! In fact, walking around Montserrat will give you a chance to appreciate the natural beauty of Catalonia. And, if you need a break, you'll find plenty of spots to sit down and take in the stunning surroundings.
To really take your walking to the next level, you'll also find numerous hiking trails to suit various fitness levels, so don't worry if you're not a seasoned hiker. Some of the popular trails include the Montserrat Barcelona hike and many others that range from easy to challenging.
If you're up for it, you can tackle the trail all the way up the mountain, which may take some effort, but the views from the top are absolutely worth it!
What to wear in Montserrat, Spain?
Visiting Montserrat is a great day out, and it's essential to dress appropriately for the experience. The weather in Montserrat can be unpredictable, so it's a good idea to wear layers. Comfortable footwear is also a must and hiking boots are needed if you plan to do the tougher trails.
Opt for comfortable clothes like jeans, t-shirts, and regular length skirts. In cooler months, pack a sweater or light jacket to protect you from the chilly mountain air.
Can you wear sandals in Montserrat?
The short answer is yes, you can wear sandals in Montserrat. But, it's essential to choose a pair that offers proper support, especially if you plan to do some walking or hiking. Montserrat has many trails and uneven paths, so you'll need footwear that provides stability and comfort.
Closed-toe sandals or sturdy sneakers are excellent options for exploring this beautiful destination.
One more thing to keep in mind: while visiting the Basilica, it's best to avoid wearing shorts or sleeveless shirts. Remember to be respectful of the religious site and dress modestly during your visit.
Do you have to pay for Montserrat?
You don't have to pay to enter Montserrat but you do need to pay to get there. In fact, you'll likely find that transport and food for your day trip are going to be your major expenses, so budget accordingly.
As many organized day tours include both of those things in one bundle, not to mention the fact that you don't have to organize anything yourself, you may find that this starts to become a more attractive option.
Is Montserrat cheap to visit?
Montserrat is cheap to visit. Many of the attractions, such as the Basilica, are free, while others have minimal entrance fees. The real joy of Montserrat, though, lies in exploring its natural beauty – which doesn't cost a thing.
How much does it cost to go to the monastery in Montserrat?
Visiting the Monastery in Montserrat, known as "Montserrat Monastery" or "Santa Maria de Montserrat," is actually free of charge. However, you'll need to get there and that's when some expenses come into play. The train ride from Barcelona to Montserrat and the cable car or rack railway to reach the Monastery can be easily combined into a single ticket.
I frequently go with the Trans Montserrat Ticket, which includes the train, cable car, and unlimited use of the funicular during your visit for around €45 per person.
Where to Stay in Montserrat?
Montserrat is only around 50 km from Barcelona and so most people choose to simply stay in Barcelona and travel to Montserrat for the day. If, however, you prefer to stay near Montserrat, there are some options.
In particular, this may be a good option for you if you would like to get to the Monastery or to start hiking very early in the morning. Alternatively, you may just like to try the unique opportunity of sleeping with an ancient Monastery right outside your window!
Here are my picks for the best places to stay in Montserrat:
Hotel Abat Cisneros Montserrat: Stay right by the Monastery with breathtaking views over the mountains. The restaurant is also known for being excellent.
El Celler de la Guàrdia: Stay in this 17th century farmhouse for rustic (yet very comfortable) rooms in the heart of the Montserrat Nature Reserve.
Alberg Abat Oliba: Great value for families with large rooms that will easily fit everyone plus a kitchen. Incredible views and great access to hiking trails.
Make sure to book ahead in peak periods, as these can fill up quickly.
Can You Camp on Montserrat?
Unfortunately, camping on Montserrat's mountain is not allowed. However, there are accommodation options near the Monastery and in the Montserrat Nature Reserve, so you'll be sleeping basically as close to nature as you can get.
Where to Eat at Montserrat?
If you find yourself hungry after exploring the beauty of Montserrat, you're in luck! Montserrat offers a variety of dining options to satisfy your taste buds. From formal establishments to casual eateries, there's something for everyone here.
For a more upscale dining experience, try Restaurant Montserrat or Restaurant Abat Cisneros known for their delicious cuisine in picturesque settings.
If you're looking for a more laid-back and budget-friendly spot, head to La Cafeteria where you can grab a quick, satisfying bite to eat. Don't forget to check out the local Bar for some scrumptious food and to experience the friendly atmosphere.
In the mood for something off the beaten path? Take a short trip to nearby Collbattó and visit L'illa Restaurant for a taste of authentic Catalan cuisine in a charming, hidden gem setting.
You'll feel like a local as you enjoy this delightful meal surrounded by the natural beauty Montserrat has to offer.
What is the best day of the week to go to Montserrat?
If you're hoping to avoid crowds and enjoy a more peaceful visit, consider going to Montserrat on a weekday. Weekend visits, especially on Sundays, tend to be busier as locals and tourists alike flock to the site.
But don't worry, even if you do end up visiting on a weekend, there is still plenty of beauty and tranquility to be found at Montserrat.
Keep in mind that the best time of day to visit Montserrat is in the early morning, before the tour buses arrive. This will give you a chance to explore the main sites and viewpoints at a leisurely pace, without having to navigate through the crowds.
Plus, the morning light shining on the stunning mountain views is a sight you won't want to miss! So grab your camera, pack a light jacket, and get ready to embark on a memorable adventure to Montserrat – whatever day of the week you choose to go!
Do you need a passport to visit Montserrat?
If you're already in Spain or the European Union, you won't need a passport to visit Montserrat. Just like any other destination within Spain, traveling from Barcelona to Montserrat doesn't require any special documentation for EU citizens. However, it's always a good idea to carry a valid ID with you, just in case.
For non-EU travelers, you'll have already needed a passport to enter Spain, so be sure to keep it on hand throughout your travels. But no need to worry about going through additional passport controls or immigration checkpoints when going to Montserrat from Barcelona. It's an easy, fuss-free journey.