Is Barcelona Safe? (2023) – Best Tips to Avoid Issues
This article may contain affiliate links. Please read our
Disclosure Policy
for more information.
Thinking about jetting off to Barcelona? This vibrant city, with its sun-kissed beaches, remarkable architecture, and mouthwatering tapas, is waiting to welcome you with open arms!
But hold on, you've heard the whispers, the stories about pickpockets and scams, and now you're wondering… is Barcelona safe, really? Well, rest easy, because I'm about to give you the real scoop.
Living in Spain and spending heaps of time in Barcelona, I've got the insider knowledge to give you the low-down on staying safe in this fabulous city. This article is packed full of tips, advice, and insights gathered from my own experience (both good and bad…) and that of countless other visitors.
Whether you're a solo traveler, a woman exploring on her own, or a family on holiday, I've got you covered. Stay tuned—you'll come away feeling prepared, informed, and ready to enjoy Barcelona to the fullest.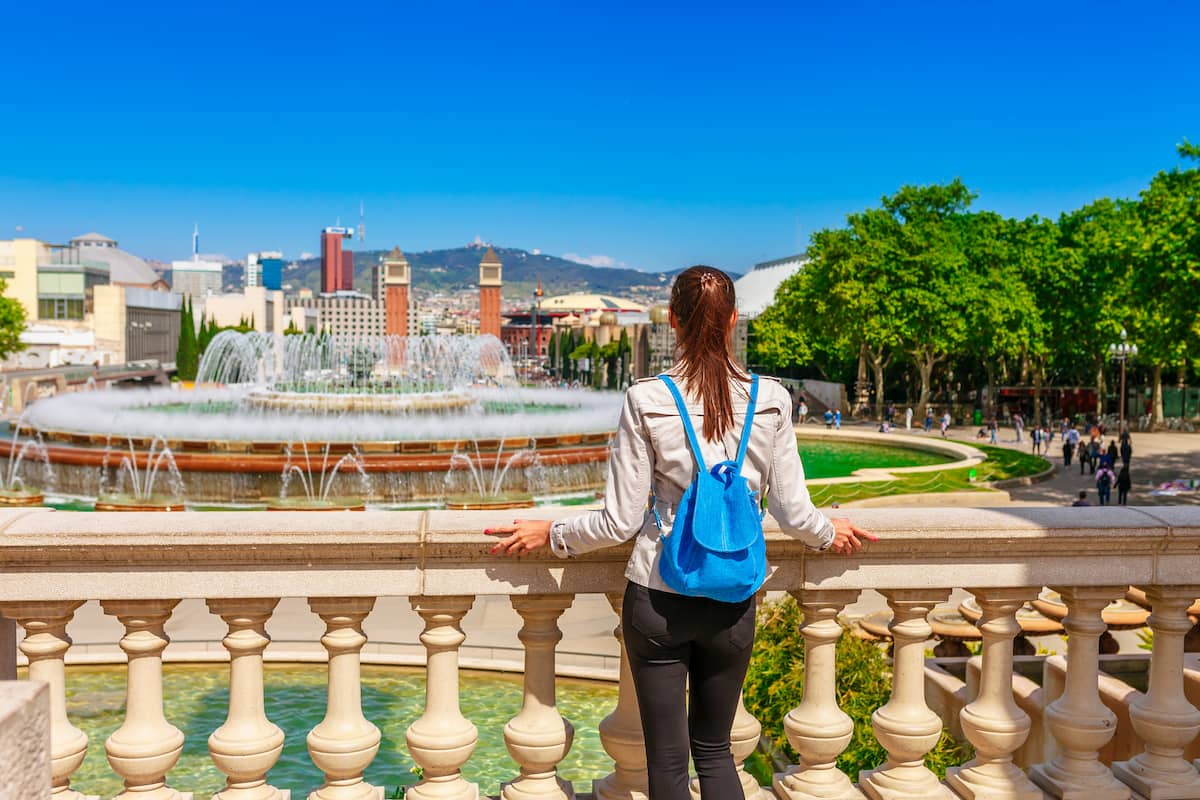 Is Barcelona safe?
Yes, Barcelona is generally safe! Of course, like in any big city, you've got to stay alert and use common sense. However, violent crime is rare, and you're unlikely to encounter any serious issues, with pickpocketing being the main concern for visitors to the city.
It's no different than other major European destinations in that respect. That is, the city is renowned for its artistic heritage, vibrant culture, and remarkable architecture.
But just as it's crucial to know about the top things to do in Barcelona and its must-see destinations, it's equally important to be aware of the safety measures.
For example, while the Barri Gòtic is a definite must-see while you're here, with its incredible medieval history, it's also good to ask if Barcelona's Gothic Quarter is safe at all hours of the day and night.
The most common hiccup for visitors in most of the dodgy parts of town tends to be petty theft, particularly pickpocketing. These can be prevalent in touristy areas and public transport, so keep a close eye on your belongings and stay aware of your surroundings, especially in crowded places.
During the night, the city continues to be pretty safe, but always remember to avoid deserted, poorly lit areas, and stick to well-traveled streets when possible. As long as you're cautious and mindful of these few tips, you'll have a great time exploring the city!
How safe is Barcelona?
Barcelona is fairly safe, although, like any bustling city, it's got its fair share of problems. You're likely to feel secure and at ease most of the time. It's important, though, not to let your guard down completely, especially to avoid issues with pickpocketing.
Even though it's not perfect, Barcelona is still one of the safest cities in Spain. It's bustling with life at all hours, which means there's always people around.
And hey, the locals are generally very friendly and eager to help if you need it! However, the city does have a reputation for petty theft and scams targeted at tourists, particularly in busy areas like Las Ramblas and other tourist hotspots.
That said, the local government and police have made significant efforts to improve security and safety. While, to be very honest, these haven't all been successful, at the very least you'll notice that public areas are well patrolled and monitored, and there's a visible police presence.
As in any urban area, be street smart: Don't flash expensive items, be aware of your surroundings, and remember to secure your belongings. As long as you take these precautions, you'll find Barcelona to be an inviting and safe city to explore.
Barcelona crime rate
In Barcelona, non-violent crimes like pickpocketing and bag snatching are the most common types of offenses, particularly in crowded, tourist-popular areas and on public transport. Statistically, these petty thefts inflate Barcelona's crime rate, but it's worth remembering that violent crime is pretty rare.
When we talk about the crime rate, one of the facts about Barcelona that continues to pop up is that it does have a bit of a reputation, especially for non-violent theft. But don't let this deter you and it definitely shouldn't be a deal-breaker for your trip.
The latest data sheds some interesting light on Barcelona's crime rate – and shows that it's improving, with a 14.6% drop in reported crimes from the previous statistics in 2019. You can see that:
Theft accounts for half of crime, with numbers having dropped by 26.6% compared to 2019.
Most thefts occur in the street (42%), in establishments (31.5%) or on transport (20.7%).
Muggings were also down by 19.1% compared to 2019 and, in 87.6% of cases, weapons weren't used to intimidate victims.
To keep your trip smooth and hassle-free, it's best to take some precautionary measures.
I'll go into these in more detail below, including some common scams to be aware of. However, as some basic rules, don't carry large amounts of cash or unnecessary valuable items when exploring the city, and keep an eye on your belongings at all times, especially in crowded places like markets or public transportation.
Also, remember that tourist areas are well-patrolled by the local police, and there's plenty of safety measures in place. For all these reasons, don't let these facts intimidate you.
Barcelona is a city that's well worth the visit, and with a little bit of street-smart behavior, you're in for a great time.
What is the safest way to get around Barcelona?
Hands down, the safest and easiest way to navigate Barcelona is by using public transport. It's efficient, affordable, and covers nearly every corner of the city. Plus, it's a fantastic way to get a taste of local life!
The Barcelona Metro and bus networks are pretty extensive, taking you anywhere from the sunny beaches to the quirky corners of Gracia. Trains and buses are generally clean, comfortable, and well-maintained.
The city also offers a bike-sharing program, Bicing, which is a fun, eco-friendly way to get around if you're up for a bit of exercise. Or for a more scenic route, you might want to hop on the tram, especially the Tramvia Blau that takes you up to Tibidabo – it's an experience in itself!
While using public transport, just remember to keep an eye on your belongings, particularly during peak times when things can get a bit crowded.
And if you're a fan of good old-fashioned walking, Barcelona is a joy to explore on foot. With its well-planned streets and stunning architecture, you'll find strolling around an absolute pleasure.
Is it safe to walk through Barcelona at night?
Yes, it is, but like any city, some areas are safer than others. Just remember to stay vigilant, stick to well-lit, busy streets, and you'll be good to go. It's also a good idea to steer clear of less touristy and more isolated areas late at night, especially if you're on your own.
Barcelona is a city that thrives at night, whether you're sampling tapas in a cozy corner bar, dancing the night away, or simply enjoying an evening stroll along the beachfront. Most neighborhoods, especially the central ones like Eixample and El Born, are bustling with activity until late and are generally safe to walk around.
However, as with anywhere, you should always keep your wits about you, don't flash your valuables, and be aware of your surroundings. Remember, Barcelona is a city that likes to stay up late, so enjoy the nightlife, but always prioritize your safety.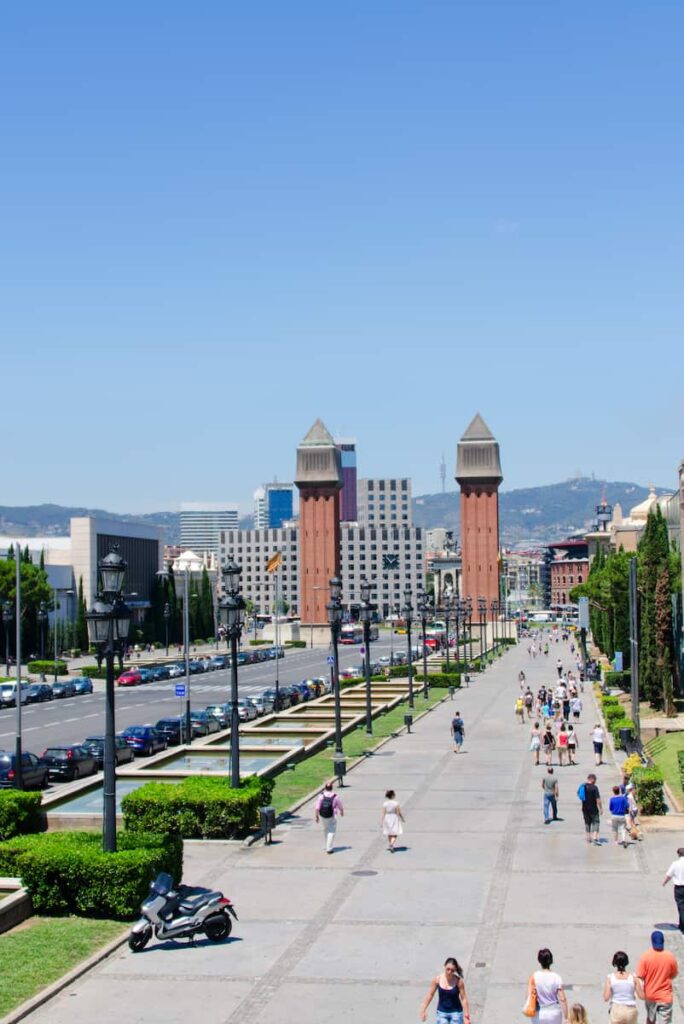 Are Ubers safe in Barcelona?
Yes, Ubers are safe in Barcelona, as they effectively operate like taxis here rather than the way you'll find in other places. For an app that's the same as Uber's usual model (that's also very safe), you should try Cabify.
There's been a bit of a rollercoaster with Uber in recent years and the truce they've called for now with the taxi companies means that when you order an Uber, you may just get a taxi instead.
Thankfully, the city's taxis are a great option—they're well-regulated, easy to flag down, and pretty affordable. There's a flat rate for airport journeys (although I'd always suggest getting the Aerobús instead), and all taxis are required to use a meter, so you'll know you're getting a fair price.
As mentioned, a solid choice is the app-based service Cabify, which operates similarly to Uber. You can book a ride and track its arrival on your phone, giving you a comfortable and convenient way to get around the city.
And, of course, don't forget the public transportation I mentioned earlier — it's not just a safe choice, but it's also a fun way to really dive into the heart of Barcelona!
Are taxis in Barcelona safe?
Absolutely! Taxis in Barcelona are safe, reliable, and an excellent choice for getting around. They're well-regulated, metered, and can be easily found throughout the city. You'll recognize Barcelona taxis by their black and yellow colors, which are a familiar sight on the city streets.
If the green light on top of the taxi is on, it's available for hire. You can hail one on the street, find them at taxi stands, or even book one through a telephone service or app.
And when it comes to payment, they accept both cash and cards, so you're covered either way.
Just a heads up, though, traffic in Barcelona can get quite hectic during rush hours, so factor that into your travel plans if you're on a tight schedule. But all in all, if you're looking for a convenient and safe way to get from A to B, Barcelona's taxis will be a good choice.
One other thing to keep in mind is that you should always keep an eye on whether a taxi is taking advantage of the fact that you're a tourist and, er, taking the "scenic route" so you pay more. This is why I'd always suggest loading Google Maps when taking a taxi to keep an eye on whether you're taking the most direct route.
Is Barcelona safe for tourists?
Yes, Barcelona is a very safe place for tourists. Like anywhere else, there are some safety precautions you should take, but generally, tourists can feel secure exploring the city. Just remember to stay alert, especially in busy tourist areas, where pickpocketing can be a problem.
Barcelona is a city that welcomes millions of tourists each year, so the locals are accustomed to visitors. You'll find them quite friendly and willing to lend a helping hand if you need directions or advice.
Moreover, the city has stepped up its safety measures in recent years, so there's usually a visible police presence in most tourist areas.
As a rule of thumb, you should take the usual precautions to protect your belongings against pickpockets, particularly in crowded areas. In particular, keep your bag and wallet secure and be mindful of your surroundings.
But don't worry too much—Barcelona is a vibrant city that's well worth the visit, and with some basic precautions, you can enjoy all the wonderful experiences it has to offer.
Is Barcelona safe to travel alone?
For sure, Barcelona is safe for solo travelers. Whether you're here for the food, culture, beaches, or nightlife, you'll find the city pretty easy to navigate on your own. As always, it's key to be aware of your surroundings and take the usual safety precautions.
Traveling solo in Barcelona can be an unforgettable experience. It's a city that's got something for everyone—from world-class museums to laid-back parks, from buzzing markets to serene beaches.
Plus, the city's reliable public transportation system and walkability make it a breeze for solo adventurers to explore.
In terms of safety, just follow the same common-sense rules you would anywhere else. Be careful with your belongings, especially in crowded spots, and avoid deserted areas late at night.
As a solo traveler, it's also a good idea to let someone know your plans for the day, just in case.
But don't let safety concerns dampen your spirit. Barcelona is a friendly and welcoming city, and with a bit of caution and awareness, you're set for an amazing solo adventure!
Is Barcelona safe for solo female travelers?
Yes, Barcelona is generally safe for solo female travelers. It's a modern, cosmopolitan city where women can comfortably explore and enjoy their travels. However, as with any city, it's essential to remain vigilant and aware of your surroundings.
Barcelona is a city full of life and diversity, with a thriving community of local women and female travelers alike. It's quite common to see women out and about, whether they're heading to work, relaxing at the beach, or enjoying the city's vibrant nightlife.
In terms of accommodation, there are plenty of female-friendly options to choose from, including women-only hostels and hotel floors for added security.
As a female traveler, it's always a good idea to trust your instincts and avoid less crowded areas late at night. If you're out enjoying the nightlife, be mindful of your drinks and belongings, just as you would back home.
But remember, Barcelona is a fantastic city to explore solo—you're bound to have a great time, meet interesting people, and create some wonderful memories.
Is Barcelona safe to live?
Yes, for the most part, Barcelona is safe to live. While it has its safety challenges like any city, many people find living in Barcelona to be a positive and rewarding experience. The quality of life is high, and there's a strong sense of community among residents.
Living in Barcelona gives you the chance to experience the city in a way a tourist never could. There's the sense of daily life, the rhythms of a city that's alive with culture, history, and a love of good food.
Barcelona also offers a high standard of living, with excellent healthcare, good public transportation, and plenty of recreational opportunities.
Of course, city living also means dealing with some level of crime. Pickpocketing can be a particular concern, especially in tourist-heavy areas.
Residential break-ins can also occur, though they're less common. As a resident, it's important to take precautions to protect your home and belongings.
But overall, if you ask me, the joys of living in Barcelona—enjoying a leisurely café con leche at your local café, experiencing the buzz of local festivals, taking in the beauty of the city—far outweigh the challenges. It's a place full of life and energy, and it's a city that, once you're here, becomes hard to leave.
Is Barcelona safe for students?
Absolutely, Barcelona is generally safe for students. With a rich mix of international students from all over the globe, the city is very student-friendly. However, like anywhere else, students should still exercise caution and be aware of their surroundings, especially at night and in crowded areas.
Studying in Barcelona can be an unforgettable experience. With its world-class universities, vibrant nightlife, and thriving arts scene, there's always something to do and explore.
Not to mention, the city's residents are known for their warm and welcoming nature, which makes settling in that much easier!
However, there are some precautions students should take. Keeping an eye on personal belongings, avoiding less safe neighborhoods at night, and staying aware in crowded areas can help ensure a safe and enjoyable stay.
And while partying and nightlife are part of the student culture, it's also important to keep track of your drinks and never leave them unattended. Safety first, always!
Is Barcelona dangerous at night?
While certain areas can become more sketchy at night, Barcelona as a whole isn't dangerous after dark. As long as you stick to well-lit, populated areas, you should be just fine. Just like in any city, some neighborhoods are safer than others, so always be aware of your surroundings.
A night out in Barcelona can be a great part of experiencing the city, with its incredible nightlife, streets filled with people, and restaurants that stay open late into the night. Most of the city is buzzing with life even after sundown, especially in the more central areas.
However, it's always a good idea to stay vigilant. Keep an eye on your belongings and try to avoid quiet, dimly lit areas, especially if you're alone.
Neighborhoods like Raval and certain parts of the Gothic Quarter can get a bit dodgy late at night, so exercise caution if you find yourself in these areas. And remember, there's safety in numbers, so try to travel in groups if you can.
Why are there so many pickpockets in Barcelona?
Barcelona, despite all its charm, has (rightly) gained a bit of a reputation for pickpockets, particularly in crowded tourist areas and on public transport. It's mainly because these places are busy, bustling, and offer an easy escape route for thieves.
The city's popularity as a tourist destination, coupled with certain economic conditions, seem to make it an attractive ground for pickpockets.
But let's put things into perspective—it's not like you'll encounter a pickpocket around every corner. Most visits to Barcelona go smoothly without any incidents.
The city's authorities are aware of the issue and have been taking steps to crack down on petty crime. You'll notice an increased police presence in tourist hotspots, and security measures are continually being improved.
It's just a matter of being aware and taking some basic precautions to make sure you don't become an easy target.
How do I protect myself from pickpockets in Barcelona?
Protecting yourself from pickpockets mainly comes down to being aware and taking a few simple precautions. Here's a bullet-point list to keep in mind:
Always keep an eye on your belongings, especially in crowded places.
Avoid carrying large amounts of cash or unnecessary valuables.
Be particularly careful with your belongings in crowded areas like markets, tourist sites, and public transport.
If you're sitting at a café or restaurant, don't leave your bag or phone on the table or chair next to you, nor should it be placed over your chair behind you. Keep them in your lap or loop a strap around your arm or leg.
Use a bag or backpack with secure, zipped compartments. Avoid putting valuables in easy-to-reach places like back pockets or outer bag compartments.
Don't display flashy jewelry or expensive electronics, especially in busy areas.
Be wary of distractions. Pickpockets may work in teams—one causing a disturbance while another grabs your stuff.
Remember, most visits to Barcelona are trouble-free. Just stay aware, use your common sense, and don't let the fear of pickpockets stop you from enjoying this beautiful city!
Where to stay in Barcelona that's safe
When it comes to picking a place to stay in Barcelona, it's all about location. Safe and centrally located neighborhoods like Eixample, Gracia, and El Born are great choices for tourists. They're well connected, full of character, and have a lot to offer in terms of sights, food, and culture.
Eixample is known for its iconic grid-like layout and is home to some of Barcelona's most famous landmarks, including Casa Batlló and Casa Milà. You'll find a range of accommodation options here, from high-end hotels to budget-friendly hostels.
Gracia, with its village-like atmosphere, is a charming district full of indie boutiques, quirky bars, and plenty of plazas to people-watch. It's a quieter option compared to the bustling city center but still has great accessibility.
El Born is a stylish neighborhood teeming with trendy boutiques, eateries, and some top-notch cultural spots, including the Picasso Museum. It's a great area to stay if you're into history, as it's one of the oldest parts of the city.
Are there areas to avoid in Barcelona?
There are a few areas in Barcelona where you might want to be a bit more cautious, especially after dark. Here's a quick list:
Raval: While this neighborhood has been gentrifying and offers some great cultural spots, it still has a few rough edges. Be particularly cautious around Carrer d'En Robador and Park Ronda Sant Antoni at night.
La Mina: This area is a bit out of the way and doesn't offer much for tourists. It's generally best to steer clear, especially after dark.
Sant Adrià de Besòs: This is another area that's a bit off the beaten path and is best avoided at night.
El Gòtic: While the Gothic Quarter is generally safe and a must-see during the day, some of its narrow alleyways can feel a bit dodgy late at night.
Keep in mind that most of Barcelona is safe and welcoming for tourists. Just remember to stay aware of your surroundings, particularly in less busy areas and during the night.
Is it safe to wear jewelry in Barcelona?
It's generally safe to wear jewelry in Barcelona, but it's always a good idea to be mindful and not flash expensive pieces, especially in crowded or touristy areas. As the saying goes, better safe than sorry.
Barcelona is a stylish city, and it's not uncommon to see locals and tourists alike sporting jewelry. That being said, if you're wearing high-value items, you may attract unwanted attention.
If you're visiting popular tourist spots or traveling on public transport, it might be best to leave your most precious pieces back at your accommodation.
This doesn't mean you need to forsake style during your trip! Opt for less flashy and expensive pieces. After all, the goal is to enjoy what Barcelona has to offer without constantly worrying about your belongings.
And trust me, with all the amazing sights, food, and culture around, your jewelry will be the last thing on your mind!
What do tourists have to be wary of in Barcelona?
There are a few things tourists should be cautious about in Barcelona, particularly in popular tourist areas. Along with the typical travel precautions, you should be aware of some common scams. Here's a handy list:
Be wary around La Rambla: This popular street is a hotspot for scams and tourist traps. Stay vigilant and double-check prices before you buy or eat anything.
Watch out for 'fellow tourists': Some thieves pretend to be tourists, often asking for directions or help, to catch you off guard.
Beware of the 'bird poo scam': Someone might point out that you seem to have bird poo (or some other substance) on your clothes – that their friend put there five seconds earlier – and offer to help clean it off, while another person steals your belongings.
Don't accept any 'gifts': Some people might offer you a 'free' bracelet or other item, only to demand payment once you've accepted.
Be careful where you put your bag: Never hang your bag on the back of your chair at restaurants—it's an easy target for thieves.
Always keep an eye on your belongings: Never leave them out of sight, especially in crowded places.
Hold on to your stuff in crowded metros: Thieves often operate in packed metro cars in tourist areas.
Don't flash your cash: Keep your money out of sight as much as possible.
Be vigilant at the beach: Never leave your belongings on the beach alone when you go swimming.
Remember, while these scams exist, they're not the norm, and most visits to Barcelona are trouble-free. Just stay alert and use common sense.
Should I carry cash in Barcelona?
It's a good idea to carry a bit of cash in Barcelona, but you won't need a lot. Credit and debit cards are widely accepted, and ATMs are readily available if you need more cash.
Many small shops, cafes, and markets do appreciate cash, especially for smaller purchases. However, for larger expenses and at most restaurants, hotels, and larger stores, cards are the go-to.
It's also safer and more convenient not to carry large amounts of cash around with you.
At the same time, it's always handy to have some change for tipping or for situations where card payment isn't possible. But overall, the need for cash in Barcelona isn't high, so there's no need to walk around with a wallet bursting with bills!
Should I carry my passport with me in Barcelona?
While it's important (and technically a legal requirement) to have a form of ID with you at all times in Spain, it's generally not advisable to carry your passport around in Barcelona, especially if you're just out sightseeing for the day.
Instead, leave your passport in the safe at your hotel or accommodation and carry a photocopy or a digital copy on your phone. This way, you'll avoid the risk of losing your passport or having it stolen.
If you're planning to exchange currency, rent a car, or for some other transactions, you may need your original passport, so plan accordingly.
But for most situations, a photocopy or digital copy will suffice. Plus, it's one less valuable item to worry about as you're out exploring the city!