El Carmen, Valencia: The Historic Barrio You Have to See
This article may contain affiliate links. Please read our
Disclosure Policy
for more information.
Are you on the lookout for authentic, cultural experiences in Spain… and not overcrowded tourist traps and generic attractions? Look no further than El Carmen, a vibrant and historic neighborhood in the heart of Valencia.
With its colorful buildings, winding streets, and unique character, El Carmen offers a glimpse into the city's rich past and present.
But what makes this neighborhood truly special? Well, from traditional tapas bars to contemporary art galleries, there's something for everyone in El Carmen.
Whether you're a history buff, foodie, or simply looking for a memorable adventure off the beaten path, this article will guide you through the best sights, sounds, and tastes of this hidden gem in Valencia.
So grab a map and a sense of curiosity, and let's explore El Carmen together.
Where is El Carmen in Valencia?
Located in the heart of the city of Valencia, this neighborhood has a rich history and is filled with cultural landmarks, museums, and charming streets. Specifically, El Carmen is situated in the northwest corner of Valencia's historic center and is bordered by the Jardines del Turia, a beautiful park that runs through the city.
Its central location in the Old Town of Valencia makes it easy to access other parts of Valencia, including the beach, which is just a short bus or tram ride away.
The neighborhood is home to some of the city's most iconic landmarks. You can also spend hours wandering through the narrow streets and alleyways of El Carmen, discovering hidden gems and soaking up the vibrant atmosphere.
If you're looking for a vibrant and historic neighborhood to explore in Valencia, then El Carmen is the perfect destination for you.
Where to stay in El Carmen
When planning your trip to El Carmen, Valencia, you'll need to consider your accommodation options. Luckily, there are plenty of options available to suit every budget and preference. Whether you prefer hotels, hostels, or apartments, you'll find something that meets your needs.
Best Luxury Accommodation
Caro Hotel is a 5-star boutique hotel nestled in a 19th-century palace, providing a luxurious blend of historic charm and modern comfort.
Located just a short walk from the city's main attractions, such as the Cathedral of Valencia and the Central Market, it's perfect for travelers seeking to explore the city's rich history.
Why stay here:
Unique architecture and historic setting
Exclusive rooftop terrace with city views
Personalized service and attention to detail
Best for: Couples, honeymooners, and travelers seeking a luxury experience
Downsides: As a luxury hotel, Caro Hotel comes with a higher price tag, which might not suit all budgets.
Location: Calle Almirante, 14, 46003 Valencia
Best Mid-Range Accommodation
Hotel Petit Palace Plaza de la Reina is a charming, mid-range boutique hotel situated in a historic building in the heart of El Carmen.
Combining traditional architecture with modern amenities, this 3-star hotel offers a comfortable and convenient stay for travelers seeking to explore the city.
Why stay here:
Stylish, contemporary rooms with modern amenities
Prime location in El Carmen, walking distance to main attractions
Complimentary bicycle rental for guests
Family rooms and pet-friendly options available
Best for: Couples, families, and travelers seeking a comfortable, centrally-located hotel at an affordable price
Downsides: While the hotel provides a comfortable stay, it doesn't have an on-site restaurant or bar. However, its central location means that a variety of dining and drinking options are just steps away.
Location: Calle Abadia de San Martin, 3, 46002 Valencia
Best Apartment Accommodation
SingularStays Mar44 offers a variety of modern, stylish apartments located in the heart of El Carmen. With a choice of one to three-bedroom apartments, this accommodation option is perfect for travelers seeking a home away from home experience in Valencia.
Why stay here:
Fully-equipped apartments with kitchen and laundry facilities
Excellent location in El Carmen
Flexible check-in and check-out times
Family-friendly and pet-friendly options available
Best for: Families, couples, groups of friends, and travelers seeking the comforts of home
Downsides: SingularStays Mar44 doesn't have a 24-hour reception, which may be inconvenient for some travelers if you think you'll be arriving at an odd hour.
Location: Calle Mare Vella, 44, 46001 Valencia
Best Budget Accommodation
Home Youth Hostel is a cozy, budget-friendly option located in the heart of El Carmen. Housed in a historic building, this colorful and lively hostel is ideal for backpackers and young travelers looking for a social atmosphere and easy access to the city's main attractions.
Why stay here:
Affordable rates and various room options (dormitories and private rooms)
Social environment, with shared common areas and organized events
24-hour reception and luggage storage
Walking distance to popular sites, such as the Central Market and Torres de Quart
Best for: Solo travelers, backpackers, and budget-conscious visitors
Downsides: Due to its social nature and shared accommodation (it is a hostel, after all!), Home Youth Hostel may not be the best option for anyone who prefers privacy and quiet.
Location: Calle la Lonja, 4, 46001 Valencia
What to see in El Carmen
El Carmen in Valencia is a district that's steeped in history and culture. It's no wonder that it's one of the most popular tourist destinations in the city.
Here are some of the top attractions in El Carmen that you shouldn't miss:
Central Market
The Central Market is one of the most iconic landmarks in Valencia and is a must-see attraction in El Carmen.
The market is housed in a beautiful Art Nouveau building and is home to over 1,000 stalls selling fresh produce, meat, fish, and more. It's a great place to sample some of the local cuisine and soak up the atmosphere.
Valencia Cathedral
The Valencia Cathedral is a stunning Gothic building that dominates the skyline of the city. It's home to many important religious artifacts, including what is believed to be the Holy Grail.
The cathedral is also famous for its bell tower, which offers panoramic views of Valencia.
Street Art
El Carmen is home to some of the best street art in Valencia. Take a walk around the neighborhood and you'll see many colorful murals and graffiti on the walls of the buildings. Some of the most famous street artists in Valencia have left their mark in El Carmen.
La Lonja de la Seda
La Lonja de la Seda is a beautiful Gothic building that was once used as a silk exchange. It's now a UNESCO World Heritage Site and is open to the public for tours.
The interior of the building is stunning, with intricate carvings and beautiful stained glass windows.
Plazas
El Carmen is home to many beautiful plazas, or squares, that are perfect for relaxing and people-watching.
Some of the most popular plazas include Plaza del Tossal, Plaza de la Virgen, and Plaza Redonda.
Torres Serranos
The Torres Serranos are a pair of Gothic towers that were once part of the city's old wall. They're now open to the public and offer great views of Valencia. It's a great spot to take some photos and learn about the history of the city.
House of Cats
The House of Cats is a quirky attraction in El Carmen that's sure to delight animal lovers. Basically, someone has created a small house on the side of a wall that's just for the stray cats of Valencia.
Peep into the windows and you'll even see some crazy scenes – that actually change from time to time. It's a very cute little stopover on your wanderings throughout the barrio del Carmen in Valencia.
Museums
El Carmen is home to many museums that are worth a visit. Some of the most popular museums include the Valencia History Museum, the Museum of Fine Arts, and the L'Iber Museum of Historical Miniatures.
Church of San Nicolás de Bari and San Pedro Mártir
The Church of San Nicolás de Bari and San Pedro Mártir is a beautiful Baroque church that's a hidden gem in El Carmen.
The interior of the church is stunning, with beautiful frescoes and intricate carvings. It's a great place to escape the hustle and bustle of the city and admire some beautiful art.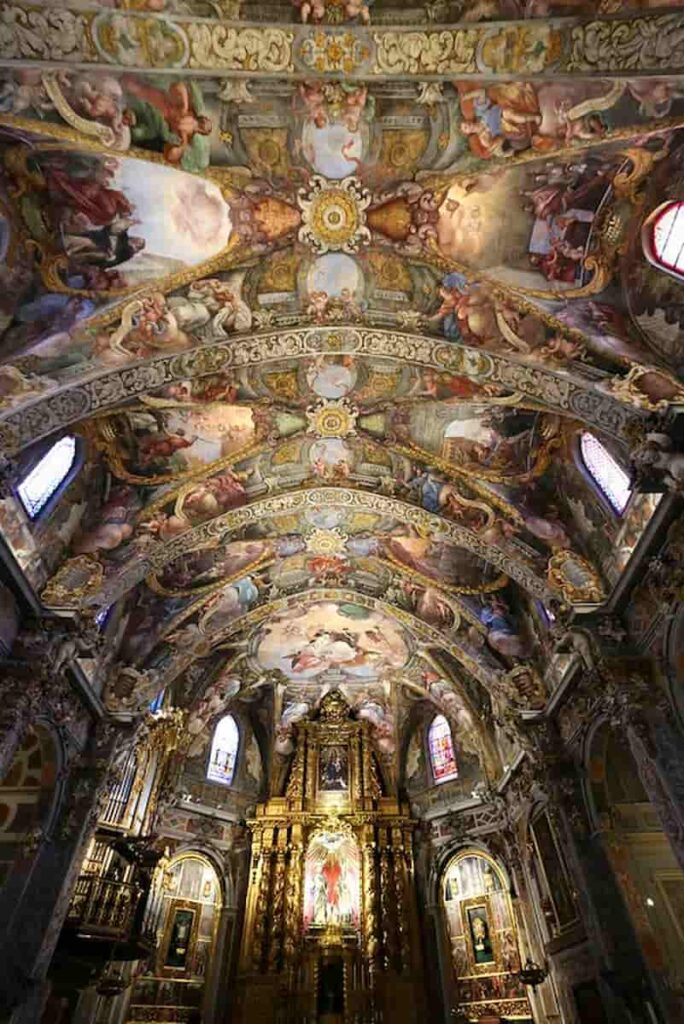 Where to Eat in El Carmen
When you're in El Carmen, Valencia, there's no shortage of places to eat. From traditional Spanish tapas to international cuisine, you'll find something to satisfy your cravings. Here are a few recommendations for where to eat in El Carmen:
Bodega La Rentaora
If you're looking for authentic Spanish cuisine, La Rentaora is a great option. This cozy restaurant serves up traditional dishes like paella, croquettes, and grilled meats.
The menu changes frequently to incorporate seasonal ingredients, so you'll always find something new to try. And the prices are unbeatable!
Refugio
For a more modern take on Spanish cuisine, head to Refugio. This stylish restaurant offers a fusion of Mediterranean and Asian flavors, with dishes like sushi rolls stuffed with Iberian pork and grilled octopus with miso sauce.
The menu is designed for sharing, so it's a great spot to go with a group of friends.
Taberna La Sénia
Taberna La Sénia is a great option for a casual meal or a quick snack. This cozy tapas bar serves up classic dishes like patatas bravas, tortilla española, and jamón ibérico.
The portions are generous, so it's a great spot to try a variety of dishes without breaking the bank.
La Salita
As the most upmarket recommendation on this list, La Salita is a contemporary restaurant offering a creative twist on traditional Valencian dishes.
Helmed by renowned chef Begoña Rodrigo, the restaurant has a sleek, modern design and offers both tasting menus and à la carte options. There are also vegetarian and vegan options available, so you'll definitely be able to be catered for, no matter what you're looking to eat.
Bars in El Carmen, Valencia
When it comes to nightlife, El Carmen is the place to be in Valencia. This charming neighborhood is known for its vibrant atmosphere and plethora of bars. Whether you're looking for a cozy spot to enjoy a drink with friends or a lively bar to dance the night away, El Carmen has something for everyone.
If you're looking for a classic Spanish bar experience, head to Cafe Negrito. This bar is a local favorite, with a huge terrace in a great square in the middle of the barrio del Carmen in Valencia. They serve up some of the best cocktails in the area, so be sure to try the Negrito.
Another popular spot is Jimmy Glass Jazz Bar, which is known for its live music and cozy atmosphere.
If you're in the mood for something a bit more low-key, L'Ermità Café is the perfect spot. This bohemian café/bar has a cozy atmosphere and is a favorite among locals. They serve up delicious coffee and snacks, and it's a great spot to relax and unwind.
Café Sant Jaume is another popular, historic bar situated in a beautifully restored 20th-century building.
It attracts a diverse crowd and offers a relaxed atmosphere where you can enjoy a variety of drinks, from traditional Valencian horchata to classic cocktails. Plus, the outdoor seating area provides the perfect spot for people-watching in the lively El Carmen neighborhood.
Finally, Radio City is a vibrant bar and cultural hub, renowned for its eclectic blend of live music, art exhibitions, and dance performances. This unique venue offers a range of musical genres, from jazz and flamenco to indie rock and electronic music.
A visit to Radio City guarantees an unforgettable experience and a true taste of Valencia's artistic spirit.
History
El Carmen is definitely a neighborhood that's steeped in history. It's got a rich and fascinating past that's just waiting to be discovered.
Early History
The history of El Carmen dates back to the Middle Ages, when the neighborhood was founded by the Moors. Over the centuries, the neighborhood grew and prospered, with many beautiful buildings and landmarks being constructed.
One of the most notable of these is the Convento del Carmen, which was built by the Carmelite religious order in the 14th century. The convent would later give its name to the entire neighborhood.
During the 16th and 17th centuries, El Carmen became a hub of activity, with many different trades and industries flourishing. The neighborhood was home to silk weavers, potters, and other artisans, and it was also an important center of commerce and trade.
Modern History
In the modern era, El Carmen has undergone many changes and transformations, but it has managed to retain much of its historic charm and character.
In the 20th century, the neighborhood was heavily damaged by a devastating flood, which caused widespread destruction and forced many residents to flee their homes (and it's this same flood that resulted in us having the Turia Gardens running through the center of Valencia today).
However, in the decades that followed, El Carmen began to experience a renaissance, with many new businesses and attractions opening up in the area.
Today, El Carmen is a thriving and vibrant neighborhood that's full of life and energy. It's home to a wide range of shops, restaurants, bars, and other businesses, and it's also a popular destination for tourists from all over the world.
Culture
El Carmen is a district with a rich cultural heritage that dates back to the Middle Ages. It's a melting pot of different cultures that have influenced the district over the centuries, from the Moors to the Christians.
In particular, the district is known for its vibrant festivals, delicious cuisine, and stunning art and architecture.
Festivals
If you're looking for a good time, El Carmen is the place to be. The district is famous for its lively festivals that take place throughout the year.
One of the most popular festivals is Las Fallas, which is held in March. During this festival, the streets of El Carmen come alive with colorful parades, fireworks, and bonfires.
Another festival that's worth checking out is the Festival of Corpus Christi, which takes place in June. During this festival, the area is decorated with colorful carpets made out of flower petals as giant puppets dance through the streets.
Cuisine
El Carmen is a food lover's paradise. The district is home to some of the best restaurants in Valencia, serving up delicious Mediterranean cuisine.
In particular, if you're looking for a quick bite to eat, head to one of the many tapas bars in the district. Some of the must-try dishes include paella, arroz al horno, and fideuà.
And don't forget to wash it all down with a glass of horchata, a refreshing drink made from tiger nuts.
Art and Architecture
El Carmen is also home to some of the most stunning art and architecture in Valencia. The district is dotted with historic buildings, old churches, and narrow winding streets.
Some of the must-see attractions include the Torres de Quart and Torres de Serranos, two medieval towers that once formed part of the city's defensive walls.
Another must-see attraction is the Centre del Carme, a contemporary culture center that's built on the site of Nuestra Señora del Carmen de València Royal Monastery, which was founded in 1281.
How to get to El Carmen
El Carmen is located in the heart of Valencia, Spain, making it easily accessible by various modes of transportation.
If you're arriving by plane, Valencia Airport (VLC) is the closest airport to El Carmen. From there, you can take a taxi, shuttle, or car to get to El Carmen. Alternatively, you can take the subway or bus, which are cheaper options.
If you're arriving by train, the closest train station to El Carmen is Valencia Nord. From there, you can take a taxi or walk to El Carmen. The walk itself from the station to the area is doable and will take you around 20 minutes as you head past Valencia City Hall and other sights.
Getting Around El Carmen
El Carmen is a pedestrian-friendly area, so walking is the best way to get around. If you have a bike, that can also be an easy way to get through its narrow, winding streets.
The area is also well-connected by public transportation. In particular, there are several bus routes that pass through El Carmen, making it easy to get around the area.
If you prefer, the metro system in Valencia is called Metrovalencia. There are several metro stations near El Carmen, including Xàtiva and Colón.
Finally, taxis are readily available in El Carmen, and are a good option if you need to travel a longer distance. I wouldn't, however, recommend them for getting around El Carmen itself unless you have mobility concerns, as most people should be fine simply walking around the area.