15 Best Foods to Try at Las Fallas in Valencia (By a Local!)
This article may contain affiliate links. Please read our
Disclosure Policy
for more information.
If you're coming to Valencia for Las Fallas, you're in for a treat. Sure, the fallas statues themselves are amazing, the night where they're all burned down is incredible, and the fireworks are out of this world – but you also shouldn't go past all the typical food during Las Fallas that the locals love!
And as someone who lives in Valencia myself, I can assure you that there's more to Las Fallas food than just churros and chocolate (although those are pretty good, too!).
So join me as I take you on a food tour through Valencia during this incredible time of the year here. We'll explore everything from the hearty and savory to the sweet and indulgent – dishes that truly embody the spirit of Las Fallas.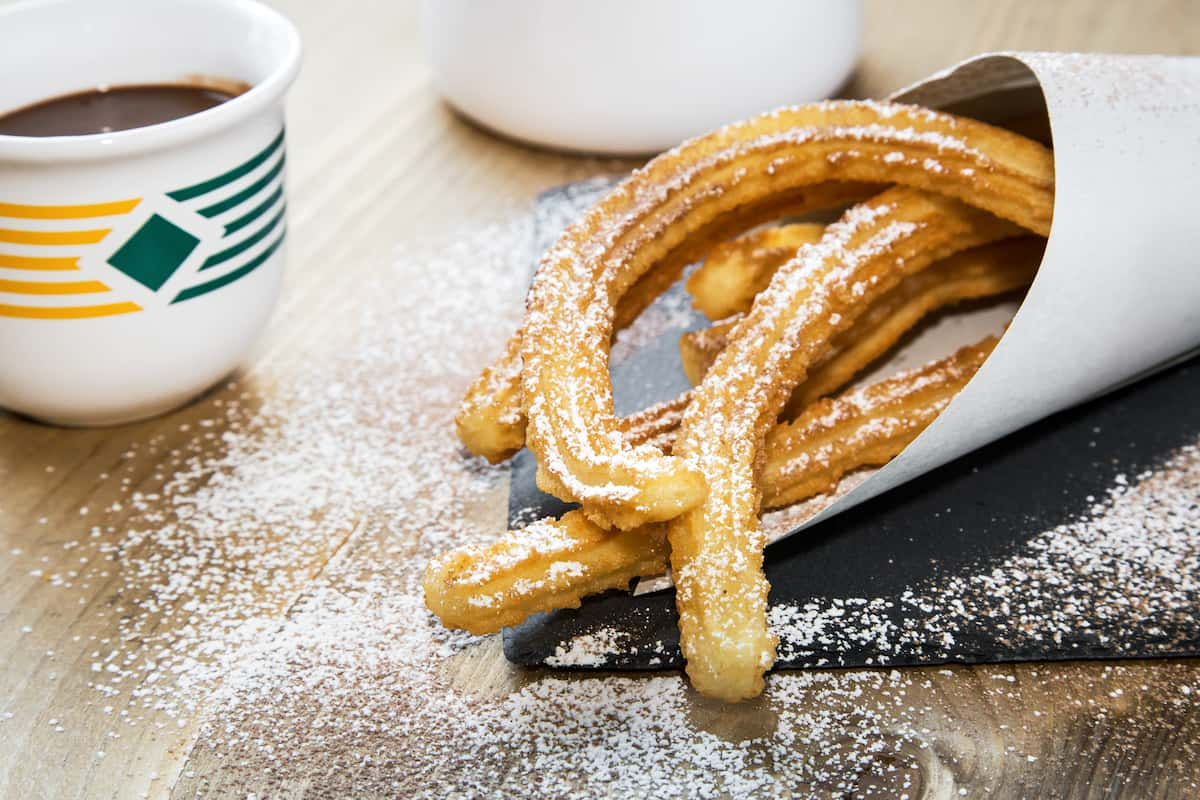 Best Las Fallas Food
Pumpkin Buñuelos
If you're visiting Valencia during Las Fallas, you simply cannot miss out on trying the traditional buñuelos. These small doughnut-style fritters are a staple food during the festival and are enjoyed by locals and tourists alike.
They're made with boiled pumpkin, with the dough then shaped into small balls and deep-fried until golden brown. Once cooked, they're dusted with sugar and served hot in a paper cone. You can find them at street stalls and bakeries throughout Valencia during Las Fallas.
One popular way to enjoy Pumpkin Buñuelos is to dip them in dulce de leche, a sweet caramel-like sauce that pairs perfectly with the crispy fritters. Another option is to enjoy them with a cup of hot chocolate, which is a popular drink during the festival.
These are probably the most typical Las Fallas food and you won't struggle to find out, with stalls on almost every corner of the city during the festival. Which is perfect, as you'll definitely want more than one serving!
Churros
When it comes to Las Fallas food in Valencia, churros are a must-try. These fried dough pastries are popular all year round, but during the festival, they become a staple food.
You can find pop-up churrerias and food tents offering churros at almost every corner in Valencia. Of course, there are also places that serve these year round, with one of the best places to try churros in Valencia is Horchatería Santa Catalina. It's one of the oldest establishments in Valencia to enjoy churros and the local specialty tiger nut drink, horchata.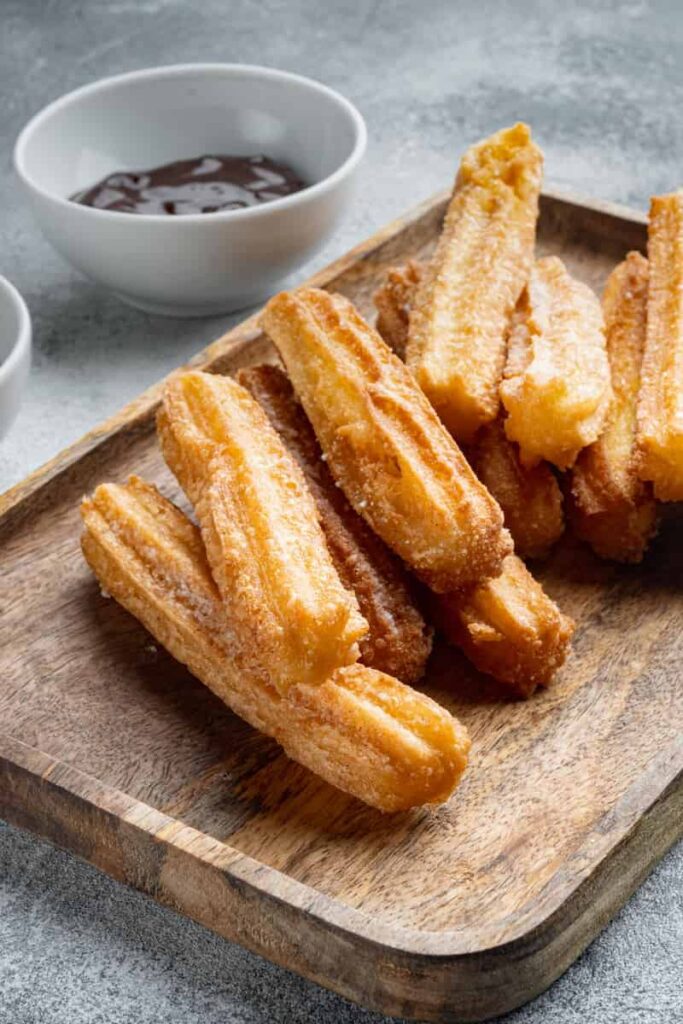 However, if you're here during Las Fallas, the more traditional thing to do is to get churros at one of the dozens of stalls that take over the streets. They offer churros along with other sweet treats, giving you the perfect snack to enjoy while wandering around the festival's colorful streets.
Churros Rellenos
If you're looking for a sweet and satisfying snack during Las Fallas, look no further than churros rellenos. These delicious treats are a twist on the classic churro, filled with a variety of sweet fillings like chocolate, cream, or dulce de leche.
You can find churros rellenos at many of the food stalls throughout Valencia during the festival. In fact, those churrerias I mention in the last section will all also sell churros rellenos.
It can definitely make it hard to pick which type to get. Fortunately, if you're here for a few days of Las Fallas, you can try a different type every day! Because all that walking you'll be doing balances these out, right?
Porras
If you've had your fill of churros or buñuelos, then you can't go wrong with porras as an extra food for Las Fallas. These long, thick churros are a beloved treat in Valencia, and they're especially popular during the festival.
Porras are similar to churros in many ways, in that they're fried until golden brown and crispy on the outside and soft and doughy on the inside. Like churros, they're often served with a cup of thick hot chocolate for dipping.
One of the best places to try porras during Las Fallas is at one of the many food stands that line the streets. You'll find them all over the city, but some of the best are located in the central market and around the Plaza del Ayuntamiento.
If you're not in the mood for chocolate, you can also try porras dusted with sugar or cinnamon. And if you're feeling really adventurous, look for stands that offer porras stuffed with cream or chocolate. They're a decadent treat that's sure to satisfy your sweet tooth.
Paella Valenciana
If you're in Valencia during Las Fallas, you simply cannot leave without trying the famous Paella Valenciana. This rice dish is a must-try for anyone visiting the city during the festival. Paella Valenciana is a traditional dish that's been around for centuries and is a staple of Valencian cuisine.
You probably know of paella as being a seafood dish, but the traditional Valencian version actually consists of a mixture of chicken, rabbit, and sometimes snails cooked with rice and vegetables. Seasoned with saffron, paprika, and other spices, the result is a delicious and hearty meal that is perfect for sharing with friends and family.
One of the key ingredients in the best Paella in Valencia is the rice itself. The rice used in this dish is a special variety called Bomba rice, which is grown in the nearby Albufera region. This short-grain rice is perfect for absorbing the flavors of the other ingredients and has a unique texture that makes it stand out from other types of rice.
Almuerzo
You can't talk about Las Fallas food without mentioning Almuerzo, Valencia's most treasured snack. Almuerzo is a mid-morning meal that's taken very seriously in Valencia. While it's not only something that happens during Las Fallas, it's the perfect way to recharge your batteries before continuing your day at the festival.
A typical Almuerzo starts with a dish of olives or salted peanuts on the table, swiftly joined by a bocadillo, a half or whole baguette filled with anything from ham and cheese to fried calamari. The bread is always crispy on the outside and soft on the inside, and the filling is always fresh and delicious.
Don't forget to try the local favorite, a bocadillo with tortilla de patatas, a Spanish omelet made with potatoes and onions. It's a hearty and filling dish that will keep you going throughout the day.
And, as always, your almuerzo is best accompanied by a cold beer or a glass of wine!
Cremaet
If you're looking for a warm and cozy drink to enjoy during Las Fallas, you have to try Cremaet. It's a traditional Valencian coffee drink that will warm you up from the inside out.
Cremaet is made with strong coffee, Licor 43, and a touch of lemon and sugar. It's then set on fire to caramelize the sugar, creating a deliciously sweet and slightly smoky flavor.
Cremaet is typically served in small ceramic cups, and it's the perfect drink to enjoy between the bonfires and fireworks of Las Fallas. It's warm, sweet, and comforting, and it's the perfect way to end a chilly night spent outside.
Arroz del Senyoret
For seafood lovers, you absolutely must try Arroz del Senyoret when you visit Valencia during Las Fallas festival. This delicious Valencian food is a variation of the traditional paella, but with a twist.
Some people actually refer to it as "naked seafood paella" because the shellfish is already peeled and ready to eat, which makes it more convenient to enjoy.
The name "Senyoret" means "little lord" in Valencian, and it's believed that this dish was originally created for the aristocracy. The seafood is cooked with rice and flavored with fish stock, garlic, and saffron. The result is a creamy, flavorful dish that will leave you craving for more.
There are many places in Valencia where you can try Arroz del Senyoret, but one of the best is El Raco del Senyoret. This restaurant is located in the heart of the city and offers a wide variety of seafood dishes, including the famous Arroz del Senyoret. The restaurant is known for its fresh ingredients and excellent service, making it a must-visit during your trip to Valencia.
Fideuà
And something else for the seafood lovers! If that's you, you should definitely try Fideuà, a popular rice dish from Valencia. It's a perfect alternative to paella if you're looking for something that's not rice-based, given that fideuà is made with noodles instead of rice, and it's cooked in a wide pan, just like paella.
The dish originated in Gandia, a city located 70 km south of Valencia. It's typically made with seafood, including squid, shrimp, and mussels. The noodles are cooked in a broth made with fish and seafood, giving it a rich and flavorful taste.
You can find Fideuà in many restaurants in Valencia, especially those located near the beach. It's a perfect dish to enjoy with a glass of wine while taking in the beautiful views of the Mediterranean Sea.
Don't forget to try it during Las Fallas festival, where you can find it at many traditional restaurants throughout the city (although, like paella, it's typically eaten at lunch, not dinner!).
Horchata
One great thing to have during Las Fallas is the ever-refreshing Horchata! This traditional Valencian drink is made from tigernuts, water, and sugar, and it's a favorite cooling antidote to the fiery spectacle of Las Fallas.
Imagine a long day filled with smoke and sparkles, and then, you take that first sip of chilled horchata. Ahh, yes! It's creamy, it's sweet, and it's oh-so-delicious.
But here's the thing, Horchata isn't just a beverage, it's a tradition, it's a culture. During Las Fallas, you'll find Horchaterías buzzing with festival-goers, laughing, gossiping, and simply taking a moment to relish the creamy goodness.
So, don't just sip on it—embrace the whole horchata experience!
Fartons
Now, let's talk about Fartons. No, no, no, not what you're thinking!
Instead, fartons are elongated sugary pastries and Valencians absolutely adore them. It's like a sweet baton of fluffy, sugary goodness.
But here's the insider tip: fartons and horchata? They go together like Las Fallas and firecrackers!
Dunk your farton into your glass of horchata and let it soak up the creamy drink. Then take a bite and feel the magic happen.
The soft, sweet pastry becomes a melt-in-your-mouth, horchata-infused delight. It's a match made in Valencian heaven, and it's a must-try combo during Las Fallas.
Roasted Pumpkin
During Las Fallas festival in Valencia, one of the most popular food items is roasted pumpkin. This delicious snack can be found in many street food stalls and restaurants throughout the city.
To make this, the pumpkin is first cut in half and roasted in the oven until it is soft. Then, it's seasoned with a variety of spices, such as cinnamon and nutmeg, to give it a sweet and savory flavor. This dish is often served with a sprinkle of sugar on top.
Roasted pumpkin is a must-try food item during Las Fallas festival, as it's a perfect snack to enjoy while exploring the city and taking in all the sights and sounds of the festival.
All i Pebre
If you want to experience the authentic taste of Valencia, you must try All i Pebre. This traditional signature dish of Valencia is a must-have during Las Fallas festival.
The name of the dish means garlic and pepper, referring to the sauce, which is a key component of the dish. But the star of the show is the main ingredient – eel. Don't let that put you off though; this dish is seriously good!
All i Pebre has its origin in the Albufera wetlands near Valencia, and is a popular dish among the locals. The dish is usually served in a clay pot, and it's a perfect comfort food for the chilly nights during the festival.
Arabic Sweets
Just in case you haven't had enough sweet stuff… something else to eat during Las Fallas are Arabic sweets, which are a must-try during this time of the year.
In particular, Chebakia is a popular pastry made of deep-fried dough and sprinkled with sesame seeds. It's a delicacy that's been enjoyed for centuries and is a testament to the influence of the Moors on Valencian cuisine.
Another sweet treat that you should not miss is the Arabic nougat, locally known as turron. While it's more common around Christmas, you can keep an eye out for it during Las Fallas, with turron being a type of candy made of honey, sugar, and almonds.
Grilled Meat
If you're a meat lover, then you're in for a treat at Las Fallas festival in Valencia. Grilled meats are one of the most popular foods at the festival, and you'll find them being cooked up at almost every street market.
These huge round grills are hard to miss and are usually filled with different types of meats and sausages.
One of the most popular grilled meats at Las Fallas is chorizo, although you should also keep an eye out for morcilla (blood sausage) and longaniza (a type of Spanish pork sausage).
In addition to sausages, you can also find grilled meats like beef, pork, and chicken. The meat is usually seasoned with a blend of spices and cooked over an open flame, giving it a delicious smoky flavor. It's usually served on a skewer, making it easy to eat on the go.
If you're looking for a more substantial meal, you can also find grilled meat dishes like churrasco, which is a grilled steak served with chimichurri sauce, or pinchos morunos, which are grilled pork skewers seasoned with cumin and other spices.
Whatever type of grilled meat you're in the mood for, you're sure to find it at Las Fallas festival in Valencia.