10 Best Areas to Stay in Barcelona the First Time (2023)
This article may contain affiliate links. Please read our
Disclosure Policy
for more information.
So you're plotting your first trip to Barcelona and can't figure out just where to drop your bags? Trust me, with a city as dynamic as this one, it's easy to get overwhelmed.
But that's what you have me for! By the time you're done with this article, you'll have everything you need to work out where you should stay in Barcelona for a first time visit based on whatever travel vibe you're looking for.
You see, living in Spain has its perks, and spending oodles of time in Barcelona is one of them. I've wandered its streets, sipped coffee in its hidden corners, and now, I'm here to spill all the secrets.
Keep reading to discover the real Barcelona and find that perfect spot for your first stay.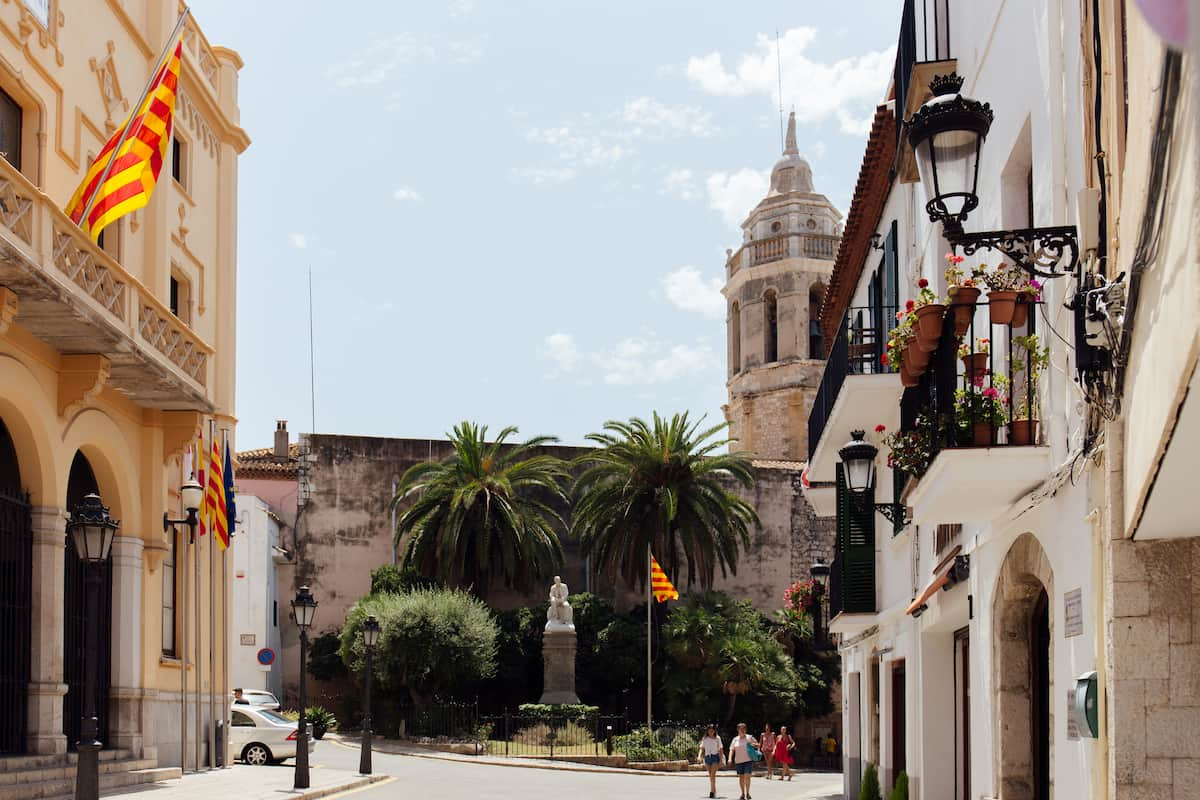 Where should I stay in Barcelona for the first time?
1. Eixample
Situated right at the heart of Barcelona, the Eixample district is known for its iconic grid system and is synonymous with luxury. It's also my pick for the best place to stay in Barcelona for first time visitors.
The area is teeming with architectural marvels, with the Sagrada Familia by Antoni Gaudí taking the spotlight. Stroll around, and you'll be dazzled by structures like Casa Batlló and La Pedrera (Casa Milà). 
And if shopping is your scene, Passeig de Gràcia, which runs right through Eixample, is your playground. From high-end boutiques to cozy tapas bars, Eixample ensures your days are as eventful as your nights.
Safety in a new city is paramount, and Eixample stands tall in this regard. Well-lit streets paired with a vigilant police presence makes it easily one of the safest areas to stay in Barcelona. 
In terms of convenience? The central location and its network of metro lines ensure you're never too far from the city's heartbeat.
When it comes to where exactly to stay, Eixample offers a broad range of accommodation options. Whether you're eying boutique hotels or more opulent stays, you're covered. 
Sure, if you're here for sightseeing, you can choose something like one of the hotels near the Sagrada Familia, but even staying elsewhere in Eixample puts you close enough to everything you'll want to see.
Another reason why I recommend Eixample to first-timers: if a peaceful night's rest is on your list, Eixample's serene ambience is perfect, especially compared to the bustling Old Town.
2. Gothic Quarter (Barri Gòtic)
Switching gears, let's dive into the magic of the Gothic Quarter, or Barri Gòtic. Basically, this district feels like a step back in time.
Cobblestone lanes, sprawling squares, and an air of mystery make it a sightseeing paradise. Hotels might pinch the pocket slightly more here, but the experience, tucked away amidst all that history, justifies the spend.
The Barcelona Cathedral, with its towering spires, is the crown jewel of the Gothic Quarter. But in fact, that's just the tip of the iceberg.
With a myriad of historic edifices to explore, coupled with the buzzing La Rambla and Plaça de Catalunya close by, you're in for a treat.
Transport-wise, the Gothic Quarter keeps you connected. Proximity to various metro lines ensures you can dart around Barcelona with ease.
Just a heads-up, though – always keep an eye out for pickpockets, especially in crowded tourist hubs, as they're pretty active around here.
By evening, the district takes on an even livelier tone. Musicians, artists, and the general hustle-bustle lend it a unique charm, ensuring there's never a dull moment.
The various squares, like Plaça de Sant Jaume and Plaça Reial, each have their own vibe and are worth a visit. And if you have the time to sit down for a drink to people watch, even better!
3. El Born
El Born is an interesting choice, especially if you're looking to immerse yourself in the city's rich history. Located just a whisper away from the iconic Barrio Gótico, its streets resonate with tales from the past.
The Passeig del Born, with its contrasting history of grim executions and today's hip bars, is a testament to the city's evolution. And if you're an art and history buff, places like the Picasso Museum and the Palau de la Musica Catalana are bound to draw you in.
But El Born isn't just about the past. As evening arrives, this district lights up with its array of cafes and eateries, promising delightful gastronomical adventures.
Another bonus of this area is that while it's not sprawling, it's well connected, thanks to the city's efficient metro system.
For stay options, El Born provides quality over sheer numbers. You'll find a good mix of plush hotels and cozy guesthouses, ensuring there's a spot just right for you.
4. Barceloneta
If you're dreaming of sun, sand, and a bit of city magic, Barceloneta might just be your spot. Once a quaint fishing village, Barceloneta catapulted to fame during the 1992 Olympics.
Today, its beaches, such as Sant Sebastià and Somorrostro, are perfect for those lazy days by the sea or active paddleboarding sessions. And once you've had your fill of the sun, the local eateries beckon with their fresh seafood offerings.
As nighttime rolls in, the district doesn't disappoint with its lively bars and clubs, especially around the Port Olímpic.
But it's not all about adult fun; families can also have their share of adventure, with attractions like the Aquàrium Barcelona.
When it comes to accessibility, Barceloneta boasts a prime location. You're close to major attractions, including Ciutadella Park and the Gothic Quarter.
Just remember, due to its beachfront allure, accommodations here might be a tad pricier than other parts of the city. But waking up to that view may just make it worthwhile.
5. La Rambla
La Rambla, is one of Barcelona's most iconic boulevards. Starting from Plaça de Catalunya and extending right to the Christopher Columbus Monument at the harbor, it's like the heartbeat of the city.
During your stroll down here, you'll find it flanked by trees and dotted with cafes and restaurants, making it a lively spot to just sit back and people-watch. But if shopping is your thing, the northern end is where you want to be, with the legendary Boqueria Market and proximity to Barri Gòtic.
I'll be honest about one thing on this area: it wouldn't necessarily be my top pick to stay. The primary reason is its touristy nature, which might be a bit overwhelming for some.
However, for many visitors, the convenience and vibrancy it offers make it their number one choice. And yes, if you're setting sail on a cruise, the main ports are right at the end of La Rambla, making it super convenient for you.
A quick word of caution: Due to just how popular it is with tourists, it does tend to attract pickpockets, especially in crowded areas and on the metro. So always stay alert and keep your belongings secure.
6. Poblenou
Shifting gears a bit, let's head over to Poblenou, a neighborhood that seamlessly blends its industrial past with a trendy and modern present. Once the heart of Barcelona's industrial sector, the factories here have transformed into quirky tapas bars, chic cafes, and unique shops, all converging at Bogatell Beach, a popular local haunt.
What I personally love about Poblenou is the slightly off-the-beaten-path vibe it offers. It's not as packed with tourists as some other parts of the city, which means you get a more authentic Barcelona experience.
You'll find the main action along its own boulevard, especially during weekends with street performances. And for those quiet moments, Parque de Poblenou provides the perfect respite.
For night owls, this neighborhood doesn't disappoint. Its nightlife scene is buzzing, with former factories turned bars and some unique clubs.
But, if sightseeing's your main goal, keep in mind it's not the most central location. However, the beach proximity is hard to beat!
Accommodation-wise, Poblenou can be kinder on the pocket compared to central Barcelona. The Hoxton is a personal favorite, encapsulating the district's artsy spirit.
Safety-wise, Poblenou is right up there with L'Eixample and Gràcia as one of the safer places in Barcelona.
In short, if you're seeking a laid-back vibe with a hint of the unconventional, close to the beach, and without burning a hole in your pocket, Poblenou is your place.
7. Plaça de Catalunya
When looking for where you should stay in Barcelona for the first time, Plaça de Catalunya is a solid choice.
Think of it as the city's central point, a key junction that smoothly connects to various parts of Barcelona. If you're looking to explore, this square is a gateway.
It's not just about the convenience; the plaza itself is a piece of art. Fountains, statues, trees, and even underground mosaics make wandering around a joy.
And if you're into the lively city vibe, Plaça de Catalunya is buzzing with energy. Street musicians, cultural events, and festivals, it's all right there.
The surrounding malls cater to the shoppers among you, and the plethora of dining options ensures you're never too far from a good meal. Safety-wise, it's one of those places that always feels secure, thanks to its steady foot traffic and significant police presence.
As for places to stay, the area offers everything from luxury hotels to budget-friendly spots.
8. Poble Sec
If you're keen on a deeper dive into Barcelona's spirit, especially its culinary scene, Poble Sec could be more up your alley. Beyond its reputation as a foodie's paradise, this neighborhood is also super convenient for sightseeing.
With easy metro connections, including a line to the iconic Basílica de la Sagrada Família, getting around is a breeze. Poble Sec seamlessly blends the old with the new, allowing you to oscillate between Barcelona's historic Old Town and the chic Eixample district.
It's a locale where you can truly experience the city's rhythm, wandering its streets and absorbing its dynamic lifestyle. And just like Plaça de Catalunya, you'll feel comfortable and safe here.
While accommodation options might be a bit limited compared to the plaza, there's still a decent range, catering to various budgets.
9. Gràcia
Gràcia is definitely not a bad choice at all! Situated a touch north of Barcelona's ever-busy center, Gràcia offers a vibe that's genuinely one of a kind.
It's like stepping into a time warp where you get to savor the essence of local daily life. You see, Gràcia isn't your typical touristy spot; it's a bohemian hideout.
As you stroll around, you're met with a maze of narrow streets, chill cafes, squares buzzing with energy, and a diverse collection of shops and eateries that won't break the bank. And for the history buffs, Gràcia's past is intriguing. It once stood as its own city in the 17th century, and even after merging with Barcelona, it never lost its unique, village-y feel.
Key spots to check out? Plaça de la Vila de Gràcia is a hot favorite, always abuzz with life, and surrounded by cool spots to grab a bite or a drink.
Don't miss Plaça de la Virreina and Plaça del Sol either; they've got their own charm and are famous for various reasons, from historic churches to kicking nightlife.
For the food lovers, Gràcia won't disappoint. It's home to a spectrum of dining choices. Traditional Catalan dishes, international bites, or just some trendy spots to hang – it's all there.
And if you're keen to cook up a storm, the local markets, especially Mercat de la Llibertat and Mercat de l'Abaceria Central, are packed with fresh ingredients.
Also, here's a tip. If you're in town around mid-August, you can't miss the Festa Major de Gracia. The streets transform into a colorful carnival, and the spirit? Absolutely infectious.
Now, it's true, Gràcia is a smidge away from the main tourist hotspots. But don't fret. With solid public transport links, getting around is smooth.
And when it's time to hit the sack, you'll find Gràcia kind on the pocket. The accommodation leans towards the budget-friendly side but without skimping on the authentic Barcelona experience.
In essence, if you want to feel Barcelona's heartbeat, make your base in Gràcia. It's unpretentious, brimming with culture, and is bound to give you stories you'll be itching to share back home.
10. Sant Antoni
If Gràcia is the bohemian artist in a cozy studio, Sant Antoni is the cool, urban cousin who knows where all the trendy spots are. Located just a stone's throw from the city center, Sant Antoni is a mix of the old and new.
It's got that urban vibe, but it's peppered with history, making it quite the interesting place to explore.
The neighborhood is structured around the Sant Antoni Market – a vibrant marketplace where you can find everything from fresh produce to vintage books. Sunday mornings here are especially lively, with a book market that draws locals and tourists alike.
But it's not just about the market. Sant Antoni has its fair share of art nouveau architecture, and if you're an architecture lover, you'll appreciate the facades of many buildings in the area.
Food-wise, the neighborhood is coming up as a gastronomic hotspot, with a number of chic cafes, brunch spots, and bakeries sprouting up. Yep, if you're a foodie, Sant Antoni might just become your favorite haunt.
A tiny downside? While it's gaining popularity, parts of Sant Antoni can be quiet in the evenings, especially compared to other parts of the city. But then again, that can be a plus if you're looking for a chill spot to retreat to after a day of sightseeing.
Accommodation is versatile. From modern apartments to boutique hotels, there's a good variety to pick from, fitting a range of budgets.
Bottom line? Sant Antoni is for those who want a touch of everything – history, modernity, food, and a dash of urban cool.
It's a slice of Barcelona that's evolving, and being there means you get to see a neighborhood as it shapes its identity.