30 Best Things to Do in Barcelona in Spring (2024)
This article may contain affiliate links. Please read our
Disclosure Policy
for more information.
So, you're thinking about soaking up some springtime vibes in Barcelona? Can't blame you!
Barcelona in spring is like that one scene in a movie you can't stop rewinding; it's just that good. But between dodging raindrops and figuring out if shorts are a go or a no, planning can be a bit daunting.
That's where I come in! Living in Spain and having spent oodles of time in Barcelona, I've got the scoop on everything from the best festivals to the ideal beach day.
Stick with me, and I promise to dish out all the insider tips and secrets to make your springtime visit nothing short of epic.
Best things to do in Barcelona in spring
1.Sagrada Familia
Let's kick things off with the iconic Sagrada Familia. Spring in Barcelona means fewer tourists and milder weather (in fact, for me, it's my pick for the best time for going to Barcelona!), perfect for appreciating Gaudí's masterpiece. 
Even if you've seen pictures of it a hundred times, the Sagrada Família when you're there in person always manages to surprise with its intricate details and evolving design.
And here's a local tip: climb one of the towers for a city view that's pretty hard to top!
2.La Diada de Sant Jordi (April 23rd)
Mark your calendars for April 23rd because La Diada de Sant Jordi (St George's Day) is coming up! Think of it as Barcelona's version of Valentine's Day, but with a twist.
The city streets come alive with book stalls and rose vendors, celebrating both love and culture. It's tradition for guys to gift books and women to give roses, but nowadays anything goes!
If you can time your visit to coincide with Sant Jordi, you should really do so as the vibe is amazing. Walk down La Rambla, and feel the vibe of one of the most heartwarming festivals in Spain.
3.Park Güell
Park Güell in spring feels like you've stepped into a fairy tale (minus the dragons and witches and things, of course). Gaudí's park is a mosaic wonderland with colorful tiles, playful architecture, and panoramic views of Barcelona.
Grab a picnic, find a cozy spot, and just chill while soaking in the magic of the city. And don't forget to take tons of pics, because the park is pretty much an Instagrammer's dream – especially in spring, as all the flowers around the park are coming out.
Just remember, be in the moment and take in all its beauty!
4.Feria de Abril (April)
If you're in Barcelona during April, the Feria de Abril is a must-visit. Originally from Seville, this fiesta found its way to our lively city, and I, for one, am definitely glad it did!
Think vibrant outfits, exhilarating dance moves, and some serious Sevillanas grooving. Set up in the Forum area, you'll see rows of colorful tents, each bursting with music, dance, and the irresistible smell of Spanish tapas.
Get amongst it all by grabbing a glass of rebujito (a zesty sherry concoction) and letting the fiesta vibes take over!
5.Casa Batlló
Next stop, Casa Batlló! I mean, can we ever get enough of Gaudí?
This architectural wonder looks straight out of a dream, with its wavy facades and shimmering tiles. The best part about visiting in spring? The gentle sun casts a soft glow on the building, making its colors pop like never before.
Step inside and you'll feel like you're in an aquatic wonderland, inspired by marine life. If you're an art and architecture buff, this place is totally up your alley.
Just a heads up, don't miss the roof terrace – the chimneys and the view? Definitely recommended!
6.Casa Milá
Rounding off your spring Gaudí tour is Casa Milá, or as the locals love to call it, La Pedrera. This is yet another masterpiece by, you guessed it, Barcelona's most famous architect.
The building, with its undulating stone facade, feels alive, almost as if it's breathing. Head into its unique apartments and you'll see how Gaudí was way ahead of his time.
But the real magic? The rooftop at sunset. Those surreal chimneys set against the Barcelona skyline? Pure gold!
Oh, and if you can, catch one of the nighttime audiovisual shows. It adds a whole new dimension to the experience.
7.Night of the Museums (May 13th)
Alright, art lovers and night owls, here's something for you! On May 13th, Barcelona wakes up… at night!
The Night of the Museums is when the city's museums throw open their doors after dark – and for free! From contemporary art spaces to historic homes, there's a ton to explore.
My personal fave? The Museu Picasso – seeing his works under a different light (literally) is a fresh experience.
So slip on those comfy shoes, grab a caffeine fix, and dive into a night of culture and fun.
8.Rent a bike to ride along the beach
One of the simplest joys in Barcelona? Biking along the beach!
As the sun starts to warm up the sands in spring – but before it really hits home with those hot Barcelona summer days – there's no better way to feel the sea breeze in your hair. Rent a bike from one of the many spots around Barceloneta and set off. 
You'll pass by volleyball games, lively beach bars (chiringuitos) and maybe even a live music session or two.
It's relaxed, it's refreshing, and honestly, it's Barcelona at its finest. End your ride with some fresh seafood, and you've nailed the perfect day!
9.Festes de Sant Josep Oriol (March)
Hey festival seekers, here's a lesser-known but totally fun fiesta for you – the Festes de Sant Josep Oriol in March. Celebrated in the Barri Gòtic (Gothic Quarter) it's a mix of tradition, street performances, and general merriment.
You'll find locals dressed in historic costumes, live bands playing, and even human tower displays (castells) which are pretty epic to watch.
It's a peek into the local culture and a reminder of the rich history that's woven into the fabric of Barcelona. Get in there and feel the vibes!
10.Paella cooking class
Ever drooled over a plate of paella and thought, "Wish I could whip this up at home?" Well, in Barcelona, you can!
Dive into a paella cooking class and master this iconic Spanish dish from scratch. The best part? It's more than just cooking.
You'll visit local markets, pick out the freshest ingredients, and then be guided by a local chef. And once it's all sizzling and ready, sit down with your fellow chefs and enjoy your creation.
Trust me, it's easily one of the most rewarding things to do in Barcelona in spring, especially if you've accidentally caught a rainy day!
11.Magic Fountain
The Magic Fountain is just as magical as it sounds. As evening descends, this massive fountain transforms into a dance floor – for water, lights, and music!
It's a symphony of colors, with the water swaying to the tunes, and honestly, it's mesmerizing. A word to the wise: while it's tempting to just rock up and watch, try grabbing a spot early to get the best views.
And hey, it's free entertainment which, in my books, is always a win. Just double check that it's on as if it's been a particularly dry winter or autumn in Barcelona, the authorities may turn the fountain off for water conservation purposes.
12.Tapas and wine walking tour
If there's one thing Barcelona knows (apart from art and football), it's food! And what better way to get a taste (literally) than with a tapas and wine walking tour?
Wander through historic streets, pop into buzzing tapas bars, and discover flavors that'll make your taste buds do a happy dance. From olives marinated to perfection to wines that have stories of their own, every bite and sip is an experience.
And you know the saying, "When in Rome…" or, well, Barcelona in this case – eat like the locals!
13.Cherry blossoms in Lleida
Alright, nature lovers, this one's for you. Just a quick train ride from Barcelona, Lleida transforms into a pink paradise come spring.
Thousands of cherry trees burst into full bloom, creating a sea of blossoms. Picture it: rows and rows of pink petals, the mild scent of flowers in the air, and that calm serenity only nature brings.
If you're looking to snap some incredible photos or just sit and take in Mother Nature's show, Lleida's cherry blossoms are a must-visit. Bring a picnic too to take your day to the next level!
14.Flamenco show
Let's talk passion, rhythm, and some serious footwork – I'm talking about flamenco! While Andalusia is its birthplace, Barcelona holds its own when it comes to authentic flamenco shows.
Find a cozy tablao (flamenco venue) and get ready to be transported. The raw emotion in the vocals, the powerful strumming of the guitar, and those dancers!
Every stomp, every swirl tells a story. It's music and dance intertwined in a love affair that's fiery and deep.
Make sure to book in advance though, these shows tend to fill up quickly.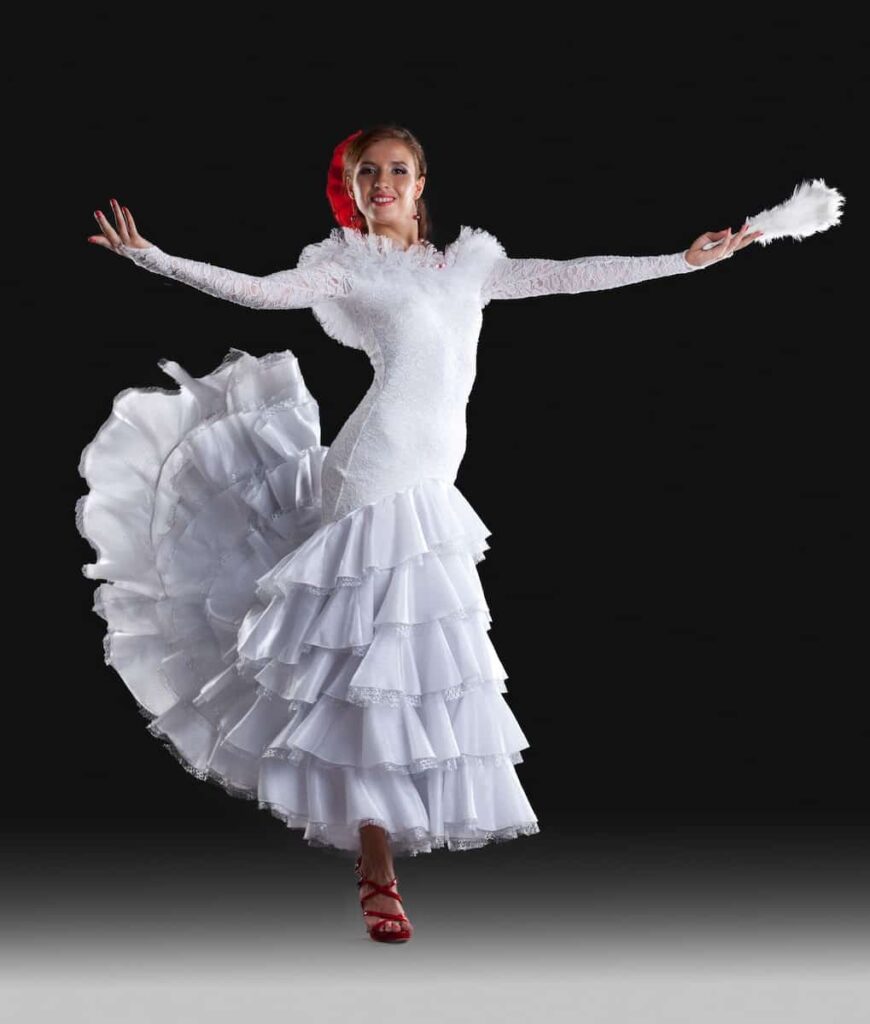 15.Semana Santa (Easter)
If you're in town during Easter, you're in for something special. Semana Santa, or Holy Week, is deeply rooted in Spanish culture.
Barcelona takes on a reflective mood, with processions weaving through its streets, portraying the story of the Passion of Christ. The blend of reverence, artistry, and tradition makes for a moving experience.
Drums echo, incense fills the air, and intricately decorated floats make their way past spellbound spectators. While it's a religious event at heart, it's also a cultural spectacle that gives a glimpse into Spain's soul.
Don't forget to try some traditional Easter sweets while you're at it!
16.L'Ou Com Balla (The Dancing Egg) (After Easter)
Okay, so after Easter, there's this quirky tradition you've just got to see to believe: L'Ou Com Balla, or The Dancing Egg. During Corpus Christi (60 days after Easter Sunday), several courtyards around the city place a hollowed-out egg atop a fountain jet, making it seem like it's dancing on water.
It's very unexpected, and such a fun thing to stumble upon. Wander from courtyard to courtyard and watch the eggs dance their merry dance.
Also, keep an eye out for other festivities during Corpus Christi – Barcelona knows how to keep the party going!
17.Barcelona Cathedral
Shifting gears a bit, let's talk about the Barcelona Cathedral. Located right in the heart of the Gothic Quarter, this cathedral is a testament to the city's rich history and architectural prowess.
From its soaring spires to its serene cloister (home to a few very chill geese), there's a lot to take in. Pop inside and let the beauty of its stained-glass windows and intricate altars transport you to another time.
And if you're up for it, climb to the rooftop for some panoramic views that'll have you snapping away with your camera.
18.Make your own cava workshop
Cava, Catalonia's answer to champagne, is a must-try. But why just drink it when you can make it?
Sign up for a workshop where you'll learn the secrets behind this fizzy favorite. From selecting the right grapes to the fermentation process, it's a bubbly journey from start to finish.
The highlight? Corking your very own bottle to take home! So here's to learning, laughing, and, of course, sipping on some self-made cava.
19.Barcelona Beer Festival (May)
Hey, beer aficionados! Barcelona has something brewing just for you.
Every May, the city froths up with excitement for the Barcelona Beer Festival. I'm talking hundreds of craft beers, local and international, all under one roof.
Sample, sip, and find your new favorite brew while mingling with fellow beer enthusiasts. And if you're like me, pairing those brews with some tapas on the side makes the experience even better.
It's chilled, fun, and an absolute must for anyone who appreciates a good pint.
20.Show at the Palau de la Música Catalana
Music lovers, take note! The Palau de la Música Catalana isn't just any concert hall.
This UNESCO World Heritage site is an explosion of color, mosaics, and stained glass, and that's just the décor. When it comes to the performances, it's equally impressive.
From classical symphonies to modern beats, there's something for every ear. Booking a show here is like getting a two-for-one deal: an auditory treat plus an architectural marvel.
Pick up some tickets and let the music sweep you away in this visual wonder.
21.DOCS Barcelona (May)
Film buffs, this one's for you. Every May, Barcelona turns into a documentary haven with DOCS Barcelona.
It's a festival that celebrates storytelling in its most raw and real form. From powerful narratives to moving visuals, each film invites you to see the world through a different lens.
The atmosphere is electric, with filmmakers and fans engaged in deep discussions long after the credits roll. For a dose of inspiration, enlightenment, and some good old cinema magic, DOCS Barcelona is the place to be.
22.FC Barcelona Museum
As any sports fan will tell you, Barcelona and football are like churros and chocolate – perfect together. And the FC Barcelona Museum is a deep dive into the heart of Barça's history.
From legendary matches to iconic jerseys, the exhibits are a rush of nostalgia and pride. Interactive displays get you into the game, letting you feel the adrenaline and passion.
Whether you're a die-hard Barça fan or just curious about the fuss, a visit here is a guaranteed score.
23.Sant Medir Festival (March)
Who's up for a sweet time? March in Barcelona brings the Sant Medir Festival, a unique celebration filled with music, horse-drawn carriages, and… candy! Loads of it!
As the parade moves through the Gràcia district, participants shower the crowd with sweets. It's lively, loud, and oh-so-fun.
By the end, you'll be dancing to the beats, candy in hand, and probably a few in your pockets. Remember to bring a bag – you'll want to collect as many treats as you can!
24.Picasso Museum
Art enthusiasts, this one's specially crafted for you. The Picasso Museum is more than just walls lined with masterpieces; it's a journey through the life and times of Pablo Picasso.
Located in the bohemian Born district, the museum houses some of the artist's most intimate works. Every brushstroke, every line, speaks volumes about his genius.
Wander through the galleries, and you'll get to know Picasso, not just as an artist, but as an innovator, a rebel, and a true son of Barcelona.
25.Barcelona Marathon (March)
Lace up, everyone! Whether you're a marathoner or a cheerleader-at-heart, the Barcelona Marathon in March is an electrifying event.
You'll see thousands of runners from all over the world hitting the pavement, with Barcelona's iconic landmarks as the backdrop. The city buzzes with energy, and the streets are lined with supporters cheering, clapping, and offering encouragement.
Even if you're not running, it's a spectacle worth watching. Grab a coffee, find a good spot, and join the rest of the city in cheering on all those runners!
26.MACBA (Museum of Contemporary Art of Barcelona)
Let's shift gears a bit to the artsy side of Barcelona. The MACBA stands tall in the Raval neighborhood, an unmistakable beacon of modern art.
With its sleek design and vast white interiors, the building itself feels like a canvas. Inside, you'll find thought-provoking exhibits that challenge conventions and ignite discussions.
Contemporary art has a way of pushing boundaries, and MACBA is no exception. Come and check it out to open your mind, and let the creativity wash over you.
27.Chocolate Museum
Now, who's ready for something sweet? Barcelona's Chocolate Museum is every chocoholic's dream!
This isn't just about gorging on chocolates (though there's plenty of that); it's about exploring the rich history and journey of cocoa. From ancient rituals to today's favorite bars, it's a melt-in-your-mouth experience.
And the best part? Your entrance ticket is an edible chocolate bar.
Take a bite, wander around, and dive deep into the luscious world of chocolate. Trust me, it's a sweet adventure you won't want to miss.
28.Montserrat
Just a short trip from Barcelona, Montserrat is that rugged slice of heaven you've been searching for. Towering limestone cliffs, a historic monastery, and panoramic views that'll make you forget all your worries – that's Montserrat in a nutshell.
The serenity here is palpable. Wander the mountain paths, soak in the spiritual vibes, and let's not forget the legendary choir at the monastery.
Their angelic voices echoing through the mountains? Pure magic. Although the wineries around here are also pretty magical – so why not combine your day trip to Montserrat with some wine tasting?
29.Girona
A quick train ride north, and voilà! You're in Girona, a city that's got charm in spades.
Walk the ancient city walls for panoramic views, lose yourself in the winding medieval streets, and pause to admire the colorful houses lining the River Onyar. And hey, if you're a TV series buff, you might recognize some spots from that famous dragon-themed show.
But whether or not you're a fan of Game of Thrones (we're all pretending those last few seasons didn't happen, it's ok), Girona is a dreamy escape that feels like stepping back in time. Grab an ice cream, explore the Jewish Quarter, and just let the city's tales unfold.
30.Barcelona Contemporary Culture Center (CCCB)
Back in Barcelona, let's take a culture plunge! The CCCB is not just any cultural center. It's a hub of creativity, a space where modern ideas flow freely, and every corner sparks conversation.
From intriguing exhibitions to thought-provoking film screenings, CCCB is always alive with activity. The center's architecture is also a sight to behold, with its mix of old and modern designs.
Grab a drink at the courtyard, check out the latest art installation, and let yourself be immersed in Barcelona's vibrant cultural scene. There's always something new brewing here!
Is spring a good time to visit Barcelona?
Absolutely, it's a fantastic time! Spring in Barcelona is like that sweet spot between the winter chill and the summer rush. The weather is milder, flowers are blooming, and there's a vibrant energy in the air.
In fact, spring ushers in a plethora of local festivals and events, making it a culturally rich period to experience the city. You'll get to see Barcelona come alive in a unique way, showcasing its traditions and contemporary charms side by side.
Plus, with the beach becoming more inviting and the terraces of cafes filling up, there's no shortage of places to relax and soak in the ambiance.
What is Barcelona like in spring?
Barcelona in spring is a medley of blooming flowers, buzzing terraces, and fresh sea breezes. The city starts to shake off its winter coat, and vibrant hues dot the streets, parks, and squares. The Mediterranean Sea sparkles a bit brighter, and there's this infectious optimism all around.
Strolling around, you'll find parks like Parc de la Ciutadella hosting picnics and casual gatherings. Street musicians start to play more frequently in places like Las Ramblas, providing a soundtrack to your adventures.
And the sunsets? They're pretty dreamy at this time of the year, casting a golden hue over the city's iconic skyline.
How busy is Barcelona in spring?
Spring sees a moderate influx of visitors, but it's nowhere near the peak summer crowds. While popular spots might get a tad busy, especially during weekends or holidays, you won't be elbowing your way through masses. It's a comfortable balance of vibrant city life and leisurely exploration.
Of course, with Easter and some festivals falling in spring, there are moments when the city feels busier. However, these events also mean more local happenings and cultural experiences.
So while you might have to plan ahead for some attractions, you also get to witness Barcelona in celebratory spirits.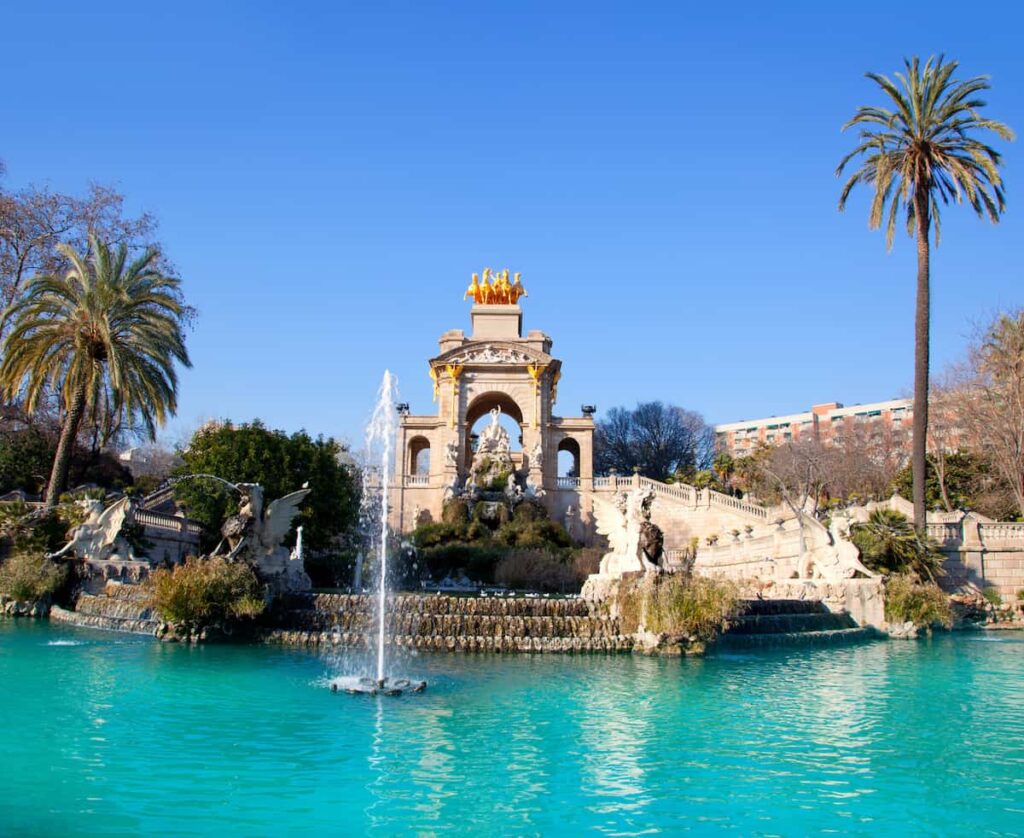 Is Barcelona expensive in spring?
Compared to the peak summer months, spring is generally more budget-friendly in Barcelona. Accommodation prices are relatively lower, and you might find some good deals on attractions or tours. But, as with any popular city, certain things might still feel a pinch on the wallet.
Eating out, for example, can vary. Local tapas bars or eateries tucked away in side streets offer delicious meals without breaking the bank.
Meanwhile, the main tourist areas might have heftier price tags. As always, a bit of research and asking locals for recommendations can lead to more authentic and affordable experiences.
The key is balancing your splurges with savvy choices!
How do people dress in Barcelona in spring?
In spring, Barcelonians blend comfort with style. You'll see a mix of light jackets, trendy sneakers, and layers that can be adjusted as the day progresses. Earthy tones, paired with vibrant spring colors, are quite the norm.
As Barcelona prides itself on its fashion-forward mindset, many locals use spring as a time to showcase their transitional outfits. While casual chic dominates the daytime scene, evenings might see a more polished vibe, especially if heading to a swanky restaurant or club.
Just remember, comfort is key, especially if you're exploring on foot. So, make sure those stylish shoes are also made for walking!
Can you wear shorts in Barcelona in spring?
Absolutely! On warmer spring days, shorts are perfectly acceptable. However, it's a good idea to have a light sweater or a jacket handy, as the evenings can get cooler. That said, Barcelona is quite cosmopolitan, so tourists wearing shorts won't stand out.
But if you're planning to visit religious sites or more formal places, it's respectful to opt for longer attire. Also, layering is your best friend; it allows you to adjust to varying temperatures and settings throughout the day.
Is Barcelona warm enough in spring?
Yes, Barcelona in spring offers a mild and pleasant temperature. It's generally warm, especially as you move towards late spring, but not overwhelmingly hot. Cool breezes, especially from the sea, can be a refreshing touch.
Do keep in mind that, like any city, there can be occasional rainy days or unexpected temperature drops. It's always a smart move to check the forecast and pack a light raincoat or umbrella just in case.
But most of the time, you'll enjoy that sweet spot of warmth that makes exploring outdoors utterly delightful.
Can I swim in Barcelona in spring?
While the sun might be shining, the Mediterranean Sea can still be a bit chilly in spring. Brave souls might venture for a quick dip, but for many, it might be a tad cold for a full swim. That said, lounging on the beach and enjoying the sun is a popular springtime activity.
As spring progresses and we inch closer to summer, the water temperature gradually rises. By late spring, especially in May, you might find the waters more inviting.
Even if you decide against swimming, the beaches of Barcelona offer volleyball, paddleboarding, or just the simple joy of feeling the sand between your toes.
Is it rainy in Barcelona in spring?
Spring in Barcelona can have sporadic rain showers, but it's not typically characterized by heavy rainfall. While there are wet days here and there, they're often followed by sunny spells. The rain, when it does come, usually doesn't last long and tends to be light.
Barcelona's spring showers, though not very frequent, add to the charm of the season. The streets take on a fresh scent, and the city's parks and gardens flourish in vibrant colors.
It's always a good idea to pack a light, compact umbrella or a rain jacket when heading out, so you're prepared if the skies decide to open up.
What months are spring in Barcelona?
Spring in Barcelona spans March, April, and May. March signals the end of winter with slowly rising temperatures, while May sees the city gearing up for the summer heat. April sits comfortably in the middle, balancing the freshness of March with the warmth of May.
During these months, the city undergoes a beautiful transformation. Almond trees start blossoming in March, and by April, many of Barcelona's public spaces and gardens are dotted with colorful flowers.
May usually has the warmest days of spring, and it's when outdoor activities and beach visits become more frequent, setting the stage for the summer months ahead.
What to do in Barcelona in spring
Spring is a time of revival and rediscovery in Barcelona. As the city shakes off the winter chill, it's an ideal season to stroll around its historic neighborhoods, experience its vibrant festivals, and bask in the Mediterranean sun.
Basically, spring offers a different kind of magic after the chillier months that come before it. The city's squares come alive with locals enjoying terraced cafes, and the beaches, while not at their summer peak, provide a tranquil spot to relax.
Spring festivals, from Sant Jordi to Feria de Abril, bring a unique cultural touch that's not to be missed. And hey, remember that the local cuisine takes a fresh turn too—this is the perfect time to savor some seasonal Catalan dishes.
So, as the memories of winter fade and the promise of summer looms ahead, spring in Barcelona stands as a beautiful bridge between the two, offering its own set of wonders.
Whether you're revisiting old spots or exploring new ones, the city in spring will undoubtedly leave you with cherished memories.