What to Wear in Barcelona Fashion (Dress Like a Local)
This article may contain affiliate links. Please read our
Disclosure Policy
for more information.
Navigating the world of fashion in a foreign city can be a tad daunting. So you're probably here because you've got Barcelona on the horizon and are scratching your head about what to toss into that suitcase. I get it; I've been there!
Knowing what to wear in Barcelona can really help to make sure your trip is a success. Not only will you feel more comfortable and that you're fitting in with the locals, but it also goes a long way to making sure your clothing choices don't scream "tourist".
Having lived in Spain and spent a considerable amount of time in this city, I've got more than a few thoughts to share on Barcelona fashion. From its style heartbeat to seasonal trends, I'll guide you through crafting the perfect Barcelona-ready wardrobe.
Curious about whether those sneakers will fit in or if that dress is just right for a Catalan evening? Keep reading to see just what should make the final cut for your luggage!
What to Wear in Barcelona
Barcelona offers a great blend of European elegance and Mediterranean casualness. Aim for stylish yet comfortable outfits: think lightweight summer dresses, soft tees, and good walking shoes. When the temperature dips, a lightweight jacket with a pair of jeans or casual trousers will keep you cozy.
The diverse landscapes of the city, from historic sites to its beautiful beaches, definitely require adaptable attire.
For one thing, did you know that you're not actually allowed to wear beachwear in Spain if you're not at the beach? So to avoid a fine (yes, I'm serious!), make sure to pop a sundress or shorts over that swimwear to be ready for the sea, but also appropriate for whatever you find along the way.
Speaking of walking, footwear is key – in fact, it's probably one of the things to be most aware of when it comes to what to wear in Barcelona. The city's streets are beautiful yet sometimes uneven, making them much more navigable in comfortable sneakers or sandals.
And if you've planned an evening out, slightly dressier shoes might be suitable. Just be prepared for that potentially uneven terrain along the way.
Also, don't forget your sunglasses; they're essential for both style and protection from the sun. A hat is also a good idea for most of the year.
If you're visiting between October and April, including an umbrella or a light raincoat might be wise. While Barcelona boasts generally good weather, occasional rain showers can occur.
(I personally prefer a raincoat, as umbrellas can get a bit unwieldy in those packed tourist areas.)
All this said, while Barcelona fashion has its yays and nays, it's a city that respects individuality. Stay true to your personal style, prioritize comfort, and you'll fit right in.
What to Wear in Barcelona in Spring
In spring (March, April, May) weather is mild, so opt for layers that can be easily added or removed. A light cardigan sweater, jeans, and comfortable shoes make an excellent base for your outfits. Don't forget sunglasses, as the sun can still be strong in spring.
With the weather being unpredictable at times, always have a light scarf or shawl handy for sudden chills or breezy evenings. If you're someone who loves to roam around in skirts or dresses, spring is the perfect time for those midi or maxi lengths.
And while it's not quite the rainy season, keeping a compact umbrella or a rain jacket you can fold up in your day bag wouldn't hurt.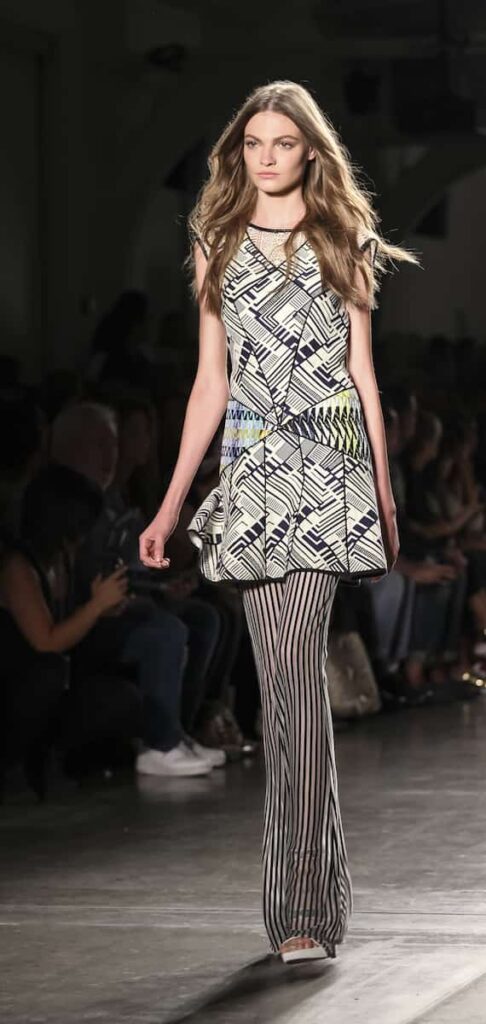 What to Wear in Barcelona in Summer
During the hot summer months (June, July, August), you'll want to stay cool with breathable fabrics, such as linen and cotton. Opt for semi-casual clothes like skirts, dresses, and stylish sandals. Shorts are fine, but tank tops and flip-flops tend to make you look like an obvious tourist.
Summer is when Barcelona truly comes alive, and its beaches become a prime attraction. If you're planning on spending time by the sea, pack a stylish swimsuit and a beach cover-up.
As the sun can be quite intense, consider clothing with UV protection or light long-sleeved shirts to shield your skin during outdoor excursions. Also, sunglasses, hats, and sunscreen aren't just style statements but necessities to beat the heat.
Evenings, while warmer, can sometimes invite a cooler breeze from the Mediterranean, so a light cardigan or wrap might be a good addition to your dinner outfit.
Footwear-wise, comfortable sandals are perfect for daytime wandering, but if you're looking to explore the city's nightlife, a chic pair of summer shoes that can withstand some walking would be ideal.
What to Wear in Barcelona in Autumn
Fall (September, October, November) in Barcelona presents mild weather, similar to spring. You can continue wearing jeans, but consider adding a light jacket or blazer to your outfit. As for footwear, choose comfortable shoes that can be worn for longer periods of sightseeing.
This season calls for layering with medium-weight jackets, long-sleeve tops, and comfortable trousers. Closed-toed shoes and ankle boots are also ideal for the milder weather.
Rain is more frequent here in the autumn months, so carrying a water-resistant jacket or a stylish umbrella can save the day. If you're planning to visit parks or outdoor attractions, consider cozy knitwear that allows for both comfort and style.
Scarves, hats, and gloves might not be necessary early in the season, but they become more fitting as winter approaches. And if you enjoy evening outings, a slightly heavier jacket or coat would be appropriate for the cooler nights.
What to Wear in Barcelona in Winter
Barcelona's winter months (December, January, February) can be chilly, so make sure to pack warm clothing, such as a full-zip hooded coat and winter-y fleece leggings. For men, stylish sweaters and durable jeans or trousers are ideal. Layering is key to staying warm without sacrificing your sense of fashion.
The city rarely sees snow, but it's not uncommon to experience chilly winds, especially if you're close to the sea. Because of this, wind-resistant jackets are invaluable.
While Barcelona isn't known for heavy downpours in winter, a drizzle here and there isn't uncommon. For this reason, a versatile raincoat or an umbrella should be within arm's reach.
Sturdy footwear, preferably waterproof, is a must for the occasional rainy days. And for evenings, consider outfits that can be easily dressed up with accessories for a night at the theater or a festive dinner.
What to Wear at Night in Barcelona
Barcelona's nightlife is vibrant and diverse, with a mix of casual spots and upscale venues. Generally, smart casual attire works for most nighttime outings. Dresses, skirts, trousers, and neat shirts are popular choices for both locals and tourists.
Given the wide range of bars, clubs, and restaurants, it's essential to consider the type of venue you're heading to. For instance, while a beachside bar might be forgiving with a slightly relaxed dress code, a high-end restaurant or club will appreciate patrons who've put a bit more effort into their ensemble.
If you're uncertain about the dress code, it's always better to lean towards a bit dressier than too casual. Another good trick is to check your venue's Instagram page, as you'll see what other people have worn there when they've had a night out.
Also, while the city is quite safe, it's always a good idea to carry a crossbody bag or something that zips securely when enjoying the nightlife to keep your belongings safe.
Can You Wear Jeans to Clubs in Barcelona
Yes, you can wear jeans to many clubs in Barcelona, especially if they're well-fitted and in good condition. However, pairing them with a stylish top and appropriate footwear elevates your overall look. Not all clubs have the same dress code, so it's wise to check in advance.
In particular, I'd double check any higher end bars or clubs. While it's rare for one of them to turn you away based on what you're wearing, it can happen so a quick check doesn't hurt.
For the vast majority of places here though, jeans are widely accepted, although ripped or overly casual jeans might not pass muster in some of the city's more upscale venues. Darker washes or black jeans often look more polished and can easily blend in with the clubbing crowd.
Remember, Barcelona's nightlife is as much about feeling good as it is about looking good. So wear jeans that you're comfortable in, but don't forget to pair them with elements that give your outfit that extra touch of sophistication.
Can You Wear Sneakers to Clubs in Barcelona
In many clubs in Barcelona, neat and trendy sneakers are acceptable. However, worn-out gym shoes or overly casual trainers might not be the best choice if you want to be sure you'll let in. The key is to opt for sneakers that look stylish and well-maintained.
The city's clubbing scene has evolved over the years, and while it retains its unique charm, it's also embraced global trends – including the rise of on fashion sneakers. That said, more upscale or exclusive venues might have stricter dress codes that require more formal footwear.
If you're planning to visit a spot like that, it might be a good idea to have a backup pair of shoes just in case. It's always wise to do a quick check online or with locals to gauge the footwear vibe of any particular club you're aiming to visit.
In addition, when packing for your trip to Barcelona, it's better to add a pair of dress shoes or stylish flats to your luggage for a night out. If you're adamant about wearing sneakers, choose a sleek and clean pair that won't clash with your outfit.
How Should Tourists Dress in Barcelona
Tourists in Barcelona should lean towards smart casual attire. While the city is relatively laid-back, locals appreciate a neat and put-together appearance. Comfortable walking shoes, breathable tops, and pants or skirts are ideal. Sunglasses and a hat are also a good idea.
Given Barcelona's status as a top tourist destination, it's common to see visitors in a variety of outfits. However, it's always a good idea to be mindful of local customs and etiquette, including to avoid standing out too much and making you a target for petty theft.
That is, pickpocketing can be an issue in some crowded areas, so consider using crossbody bags with zippers to keep your belongings secure.
Overall, though, I'd suggest that you mainly plan to pack for comfort rather than keeping up with any Barcelona fashion trends. This means comfy shoes that you can walk all day in, clothes that won't leave you sweating or shivering, and some sun protection, especially in summer.
What is the Dress Code for the Sagrada Familia
When visiting the Sagrada Familia, modest attire is expected, as it's a religious site. Shoulders and knees should be covered. This means no sleeveless tops, short skirts or shorts, and no swimwear. In addition, flip-flops and shirts with offensive or distracting designs aren't allowed.
While the Sagrada Familia is a major tourist spot, it's essential to remember that it's a place of worship. Therefore, showing respect through appropriate dress is crucial.
In the warmer months, a practical approach might be wearing a longer skirt or pants paired with a short-sleeved shirt, carrying a lightweight scarf or shawl to cover the shoulders.
Footwear doesn't have stringent requirements (besides the no flip-flops thing – and no barefoot entry either, obviously), but it's wise to wear shoes suitable for walking, given the scale of the site.
Do note, the staff at the entrance are strict about the dress code, and you might be denied entry if not dressed appropriately.
What Type of Shoes do People Wear in Barcelona
Footwear in Barcelona leans towards the practical yet stylish side. Given the city's cobblestone streets and areas that invite long walks, comfortable shoes like sneakers, loafers, and sandals are popular. While heels aren't uncommon, especially for evenings, most locals prioritize comfort alongside the trends.
Barcelona's diverse landscape, from beach boardwalks to urban squares, requires shoes that can handle different terrains.
If you're hitting the beach, flip-flops or espadrilles are common choices. In fact, you can actually do a make-your-own espadrille workshop while you're here!
For those planning on exploring the cultural sites or shopping districts, opt for cushioned sneakers or breathable loafers. And when the evening calls for something more refined, locals might switch to classier footwear – but always keeping in mind the city's sometimes uneven pavements.
Do People Dress Up for Dinner in Barcelona
Dressing up for dinner in Barcelona depends on the type of restaurant and the occasion. For most casual and mid-range eateries, a smart casual look is acceptable – think fitted jeans or trousers paired with a button-down shirt or blouse.
Of course, if you're dining at a beachside chiringuito or a more laid-back spot, casual attire is perfectly acceptable.
However, if you're heading to a more upscale venue or attending a special event, a touch of formality is recommended – think dresses, skirts, or trousers with a neat shirt.
In the evenings, you'll find that locals generally dress up a bit more than during the day, so make an effort to look sharp and polished when heading out for dinner. That said, overly formal attire like suits or evening gowns is rarely necessary unless it's a very special occasion or a high-end event.
In general, the Barcelona dining vibe is relaxed but chic, so striking a balance is key.
What do People Usually Wear in Barcelona?
Barcelona's locals tend to wear outfits that combine Mediterranean relaxed style and European elegance. Day-to-day attire usually includes comfortable pants or jeans, t-shirts or blouses, and a lightweight jacket or sweater depending on the season. Footwear is typically practical, with sneakers or sandals being common choices.
The city, with its cosmopolitan flair, sees a blend of fashion-forward trends and classic, timeless pieces. In the warmer months, dresses, shorts, and skirts become staple items, often paired with sun hats or sunglasses.
During the cooler times, layered outfits with scarves or shawls are more prevalent. Regardless of the season, Barcelona's residents prioritize comfort without compromising on style.
So whether you plan to be lounging at a café or strolling along Passeig de Gràcia, when it comes to what to wear in Barcelona, aim towards having a blend of functionality and fashion.
Is Barcelona a Fashionable City?
Absolutely! Barcelona stands as one of Europe's key fashion hubs, blending its rich cultural heritage with contemporary design sensibilities. The city's unique positioning — both geographically and historically— has made it a melting pot of styles, from Mediterranean aesthetics to avant-garde innovations.
The streets of Barcelona tell a fashion story that's both diverse and dynamic. Areas like Passeig de Gràcia showcase luxury brands and high-end boutiques, making it a hotspot for global fashion enthusiasts.
On the other end of the spectrum, neighborhoods like El Raval and El Born are filled with independent designers, vintage shops, and boutiques that offer a more eclectic and unique style, resonating with Barcelona's artistic heart.
Furthermore, the city annually hosts the Barcelona Fashion Week, drawing designers, models, and fashion aficionados from around the globe. This event is a testament to Barcelona's stature in the global fashion arena, highlighting both established and emerging talents.
Do People Wear Jeans in Barcelona?
Yes, people wear jeans in Barcelona. They're versatile, comfortable, and fit in perfectly with the city's blend of casual and stylish vibes. From classic blue denim to trendier black or colored variants, jeans are worn in various settings, from daytime outings to casual evening meetups.
The city's fashion scene is quite diverse, and you'll see locals wearing jeans as part of both casual and more sophisticated outfits. Depending on the occasion and the weather, they might be combined with sneakers, sandals, or even ankle boots.
Plus, international brands like Zara, Stradivarius, Bershka, Pull&Bear, and Mango have a strong presence in the city, making jeans easily accessible and trendy for the Catalan population.
What do Locals Wear in Barcelona Summer?
In the summer, Barcelona locals gravitate towards light, breathable, and comfortable clothing. Think airy dresses, short-sleeved shirts, tank tops, and lighter fabrics. Shorts, skirts, and sandals also become more prevalent, ensuring comfort during the warmer months.
Given Barcelona's coastal location, many locals also embrace a somewhat Mediterranean style during summer. Linen trousers, espadrilles, and straw hats aren't uncommon sights. And Sunglasses, of course, are a must-have accessory.
While daytime outfits lean towards the casual side, evenings might call for slightly more polished looks, especially if you're heading to a nice restaurant or event. However, even then, the overall vibe remains relaxed, reflecting the city's laid-back summer ambiance.
Is it OK to Wear Shorts in Barcelona?
Absolutely, shorts are perfectly acceptable to wear in Barcelona, especially during the warmer months. Both locals and tourists don them to stay cool and comfortable. However, it's important to note that for religious sites or more formal venues, longer attire might be preferred.
Shorts, whether they're denim cutoffs, chino-style, or breezy linen, are seen all around the city when the temperature rises. Paired with a light top and sandals or sneakers, it's a go-to look for many.
That said, if you're planning to visit places like the Sagrada Familia or other religious sites, it's respectful to opt for longer clothing. Likewise, some upscale dining venues or clubs might have a dress code that doesn't favor shorts.
As always, it's good to be aware of your day's agenda and dress accordingly.
Do People Wear Denim Shorts in Barcelona?
Yes, denim shorts are a popular choice among many Barcelona locals, especially during the sun-soaked summer months. They're trendy, comfortable, and versatile, fitting right in with the city's relaxed yet chic vibe. However, if you're planning to visit religious sites or more formal settings, it might be wise to opt for longer attire.
Denim shorts, with their casual appeal, can often be seen worn at the beach, on strolls through the city, or during daytime hangouts at cafés. Depending on one's style, they might be paired with tank tops, graphic tees, or breezy blouses.
Footwear can range from sandals to sneakers, and often, a sun hat or sunglasses complete the look.
Is Barcelona Good for Clothes Shopping?
Yes, Barcelona is an excellent destination for clothes shopping. The city offers a vibrant fashion scene, boasting a mix of high-end designer stores, trendy boutiques, and popular local and international brands. You can find a wide range of clothes and accessories to cater to your tastes and preferences.
The city boasts a mix of renowned international brands, local boutiques, and unique vintage stores. Whether you're hunting for high-end luxury items or searching for unique finds, Barcelona's shopping scene has something to offer.
Passeig de Gràcia is often the go-to for luxury brand shopping, housing names like Chanel, Gucci, and Louis Vuitton. Meanwhile, neighborhoods like El Born and the Gothic Quarter are sprinkled with charming boutiques that offer a blend of contemporary and traditional Catalan designs.
If you're a fan of vintage or second-hand treasures, areas like Raval have a plethora of stores to dive into. And don't forget about the local markets! Places like Els Encants or the Mercat de Sant Antoni are perfect for discovering hidden gems and local crafts.
What Brands to Buy in Barcelona
While Barcelona houses many international brands, it's also home to some distinct local brands that are worth checking out. Desigual, known for its vibrant patterns and colors, originated in Barcelona. Custo Barcelona, another iconic brand, is celebrated for its unique prints and innovative designs.
Apart from these more renowned names, there's a slew of local brands and designers that capture the spirit of the city. Think about checking out brands like LOREAK for minimalist, modern designs, or TCN, which offers relaxed yet sophisticated beachwear.
Additionally, for those interested in footwear, Camper and Naguisa provide a range of shoes that balance comfort and style. For artisanal jewelry or accessories, countless boutiques in areas like El Born showcase local craftsmen and their creations.
In essence, while shopping in Barcelona, you're bound to encounter a mix of familiar brands and new favorites that offer a taste of the city's diverse fashion palette.
Which Brands are Cheap in Barcelona
Barcelona offers several budget-friendly brands for those conscious of their wallet. Notable names include Pull & Bear, Bershka, and Stradivarius – all of which belong to the Spanish Inditex Group, like Zara. These brands provide trendy, fashionable pieces at prices that are often cheaper than outside Spain.
Dotted around the city, these stores are frequently visited by both locals and tourists alike, ensuring their collections stay fresh and updated with regular intervals.
Another place to find affordable clothing is the Spanish department store, El Corte Inglés. While it offers a range of brands, both upscale and budget, you can snag some deals, especially during the sale seasons.
Also, keep an eye out for local markets or smaller boutiques that might offer discounted items or unique finds that won't necessarily empty your pockets.
Are Designer Clothes Cheaper in Barcelona
Compared to some international cities, certain designer brands can be slightly more affordable in Barcelona, especially if they're Spanish in origin. However, the difference might not be substantial enough to term them "cheap". Factors like exchange rates, sales, and specific brand policies can influence the final price.
For instance, luxury Spanish brands like Loewe might be somewhat less expensive in their homeland compared to international branches. The key is to do a bit of research before committing to big purchases.
It's also worthwhile to check out sale seasons in Barcelona — typically in January-February and July-August — as designer boutiques may offer significant markdowns on their items during these periods.
What is Famous to Shop in Barcelona
When it comes to fashion and clothing items, Barcelona is renowned for its vibrant blend of traditional Spanish styles and cutting-edge, modern designs. One of the standout fashion items to shop for is espadrilles, the traditional Spanish shoes made of canvas and with a jute sole.
Or for a super personalized twist, why not check out one of those make-your-own espadrille workshops that I mentioned earlier! You'll get the ultimate souvenir that will make quite a story when someone back home asks where you got your shoes from.
Additionally, Barcelona is home to several local designers and brands that offer a unique take on contemporary clothing, blending global trends with a distinct Catalonian touch.
Wandering through neighborhoods like El Born or the Gothic Quarter, you'll stumble upon boutiques showcasing these unique fashion statements, each telling its story of Barcelona's rich textile history and its forward-looking fashion scene. Brands like Desigual, with their vivid patterns and innovative designs, are born out of Barcelona's lively spirit.
Also, don't miss the leather goods. Whether it's handcrafted leather bags, belts, or shoes, the quality and craftsmanship stand out, making them a perfect keepsake or gift.
Remember, while the city offers many global brands, the charm lies in discovering those pieces that capture the essence of Barcelona, melding age-old traditions with contemporary flair.
How Do You Dress Like a Local in Barcelona?
Dressing like a local in Barcelona is all about striking a balance between comfort, practicality, and style. At its core, Barcelona's style is Mediterranean with a modern twist: think light fabrics, earthy tones, and a mix of classic and contemporary pieces.
Accessories, whether it's a chic pair of sunglasses or an artisanal piece of jewelry, play a significant role in completing that authentic Barcelona look.
Barcelona thrives on its diversity, and its fashion is no exception. While the city has a more laid-back vibe compared to some of Europe's other fashion capitals, it's not devoid of elegance.
The key is subtlety and authenticity. For instance, pairing a well-fitted pair of jeans with a stylish blouse or shirt, and perhaps throwing on a scarf or a hat, can make all the difference.
Footwear is crucial too — while Barcelonans value comfort, especially given the city's walkable nature, they don't compromise on style. Think stylish yet comfortable sandals, loafers, or even sneakers.
Basically, dressing for Barcelona is an adventure in itself, blending the old with the new, the traditional with the avant-garde. It's about immersing yourself in the city's rhythm, its history, and its future, all of which is reflected in the fashion choices of its locals.
So, get ready to pack your bags with a mix of your personal style and a touch of Barcelona's essence, and you'll fit right in.