Barcelona in August (2024): Festivals, Beaches, and More!
This article may contain affiliate links. Please read our
Disclosure Policy
for more information.
August in Barcelona is a time of celebration, with a range of festivals and events taking place throughout the month.
From the mesmerizing firework displays of Festa Major de Gracia to the live music of the Barcelona Beach Festival, there's something for everyone.
But is it a good time to visit the city? And what sort of weather should you expect during a Barcelona summer?
Well, let me take you through just what to expect from your trip to Barcelona in August, as well as the best things to see and do on those warm vacation days.
Is August a Good Time to Visit Barcelona?
While there are lots of festivals in Barcelona during August, you may want to consider visiting during a different month. This is because the weather can get very hot and humid in August. In addition, August is peak tourist season, which means that the city can get quite crowded.
It's easy to see why August is a popular month for tourists to visit the city. After all, the weather is warm and sunny, making it the perfect time to explore the city's many outdoor attractions.
However, one of the biggest things to consider when visiting Barcelona in August is the crowds.
Some parts of the city seem to be heaving with tourists at this time of the year, especially as the cruise ships arrive in the city. This means that if you're looking for a quieter, more relaxed vacation, you're not going to find it here during this month.
Another thing to keep in mind is the heat. When looking at Barcelona's weather by month, August is easily the hottest time of the year here, with temperatures often reaching the mid-80s Fahrenheit and high humidity.
If you're not used to the heat, make sure to stay hydrated and take breaks in the shade. You may also want to plan your activities for the cooler parts of the day, such as early morning or late afternoon – or, honestly, come during a different month of the year if you can, as even September in Barcelona is nicer, weather-wise (and crowd-wise).
Weather in August in Barcelona
The average temperature in August ranges from 21°C (70°F) to 29°C (84°F), with an average of 25°C (77°F). The nights are warm, and the days are long, with an average of nine hours of sunshine per day. However, be prepared for the humidity, which can make the heat feel more intense.
August is one of the hottest months of the year, only closely followed by visiting Barcelona in July, and so it's perfect for those who love the sun and the beach. The Mediterranean Sea is warm, and the city is filled with tourists, locals, and a lively atmosphere.
The humidity really can be stifling though – there's a reason many locals try to leave Barcelona during August, after all. For this reason, make sure your accommodation has air conditioning.
At the very least, August is also a relatively dry month in Barcelona, with an average of only five rainy days. So, you can leave your umbrella at home and enjoy the beautiful weather.
However, it's still a good idea to pack sunscreen, as the sun can be stronger than many people realize at first.
What to Wear in Barcelona in August
If you're planning a trip to Barcelona in August, you need to pack in preparation for the fact that August is one of the hottest months in Barcelona. Here's what you should wear to stay comfortable and stylish during your visit.
Light and Breathable Clothing
Given the heat this month, it's important to wear light and breathable clothing. Opt for loose-fitting clothes made from natural fabrics like cotton and linen.
T-shirts, tank tops, and shorts are all great options for staying cool in the summer heat.
Beachwear
Barcelona is known for its beautiful beaches, so if you're planning to spend some time by the sea, make sure to pack some beachwear. This means that swimsuits, flip flops, and beach towels are all essential items.
Sun Protection
Speaking of sunscreen, it's important to protect yourself from sunburns when visiting Barcelona in August.
Make sure to bring a high SPF sunscreen and apply it regularly throughout the day, especially if you plan to spend time outside. A sun hat and sunglasses can also help protect your face and eyes from the sun.
Best Things to Do in Barcelona in August
1. Go to the Beach
Barcelona is blessed with beautiful beaches that are perfect for soaking up the sun, and August is no exception! Head to the popular Barceloneta Beach or the more relaxed Bogatell Beach for a day of sunbathing, swimming, and beachside dining.
With warm temperatures and crystal-clear waters, you'll be tempted to spend your entire vacation by the sea.
2. Sailboat Tour
Explore the Mediterranean Sea in style with a sailboat tour along Barcelona's coastline. Feel the refreshing sea breeze as you take in stunning views of the city and its iconic landmarks.
Choose from a variety of options, including sunset cruises, champagne brunches, or even a sailing lesson. A sailboat tour is an unforgettable way to experience Barcelona in August.
3. Magic Nights at Casa Batlló
Experience the enchanting atmosphere of Antoni Gaudí's architectural masterpiece, Casa Batlló, during the Magic Nights event.
Throughout August, the rooftop terrace is transformed into a magical stage for live music, performances, and breathtaking views of the city. Sip on a refreshing cocktail while you enjoy an unforgettable evening at one of Barcelona's most iconic landmarks.
4. Sala Montjuic Outdoor Film Festival
On warm August nights, gather your friends or family and head to Montjuic Castle for the Sala Montjuic Outdoor Film Festival.
This iconic event features a selection of classic films and recent releases, all projected under the stars. Pack a picnic, relax on a blanket, and enjoy a magical night of cinema in the heart of Barcelona.
5. Brunch in the Park at Montjuic
Sundays in August are made for Brunch in the Park, an outdoor food and music event held in the lush gardens of Montjuic.
With a fantastic selection of food trucks, craft beer, and live DJs, it's the perfect way to spend a leisurely afternoon soaking up the city's vibrant atmosphere.
6. Sopar amb Estrelles (Dinner with the Stars)
Treat yourself to a unique dining experience at the Fabra Observatory, high above the city.
Sopar amb Estrelles (Dinner with the Stars) offers a gourmet meal followed by a fascinating tour of the observatory and a chance to stargaze through powerful telescopes. Book in advance to secure your spot for this unforgettable evening.
7. La Festa Major de Gràcia
In mid-August, the neighborhood of Gràcia comes alive with its annual Festa Major. During this week-long celebration, streets are adorned with colorful decorations, and the air is filled with live music, parades, and fireworks.
Get a true taste of local culture by exploring this vibrant neighborhood during its most exciting time of year.
8. Festival de Cap Roig
Just a short drive from Barcelona, the stunning Cap Roig Botanical Gardens host the annual Festival de Cap Roig.
This music festival features an impressive lineup of international and local artists, set against a breathtaking backdrop of the Mediterranean Sea. Don't miss the chance to enjoy live music in this idyllic setting.
9. Circuit Festival
For the LGBTQ+ community and its allies, the Circuit Festival is a must-visit event in August. This international celebration of music, dance, and culture spans multiple venues throughout the city, drawing thousands of visitors each year.
With world-class DJs, incredible performances, and non-stop party vibes, it's a celebration you won't want to miss.
10. La Festa Major de Sants
Another lively neighborhood celebration, La Festa Major de Sants, takes place in late August.
This spirited event features decorated streets, traditional dances, and a variety of activities for all ages. Experience the warm hospitality of the Sants neighborhood and immerse yourself in the local culture.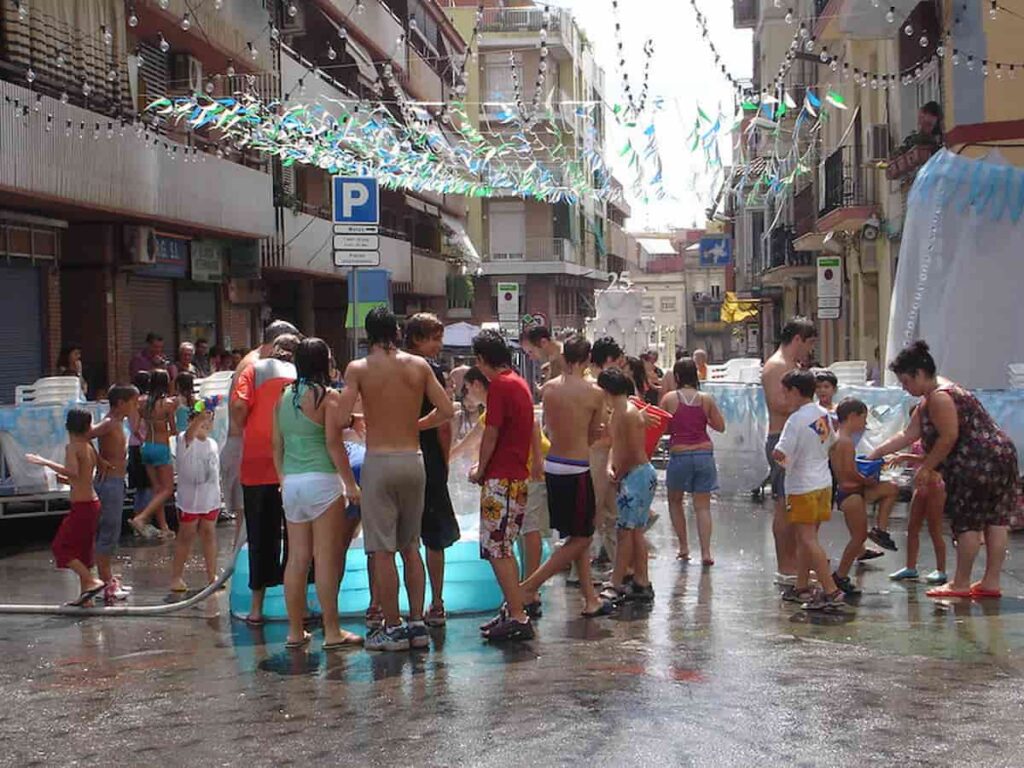 11. San Miguel Mas i Mas Festival
The San Miguel Mas i Mas Festival is a month-long celebration of music, with concerts held in iconic venues across the city. From jazz and flamenco to electronic and classical, there's something for every music lover to enjoy.
Don't miss the opportunity to catch a live performance in the stunning Palau de la Música Catalana or the intimate Jamboree jazz club.
12. Vuelta Ciclista a España
Witness one of the world's most prestigious cycling races, the Vuelta Ciclista a España, as it passes through Barcelona in August.
Join the crowds lining the streets to cheer on the cyclists and marvel at their incredible athleticism. Feel the excitement and energy of this thrilling sporting event.
13. La Festa Major del Barrio Gotico
Delve into the heart of Barcelona's history during La Festa Major del Barrio Gotico. This annual celebration in the Gothic Quarter brings the past to life with medieval markets, traditional dances, and historical reenactments.
It's a fantastic way to explore the city's oldest neighborhood while experiencing its rich cultural heritage.
14. Diada de Sant Fèlix
Travel to the nearby city of Vilafranca del Penedès in late August to celebrate Diada de Sant Fèlix. This traditional Catalan festival is famous for its gravity-defying human towers, or castells, built by teams of skilled performers.
Join in the festivities as you witness these incredible feats of strength, balance, and teamwork.
15. Sagrada Familia
No visit to Barcelona would be complete without exploring Antoni Gaudí's most famous work, the Sagrada Familia. This awe-inspiring basilica has been under construction for over a century and is expected to be completed in the coming years.
Don't miss the opportunity to see this architectural marvel up close and learn about its fascinating history.
16. Park Güell
Another Gaudí masterpiece, Park Güell is a whimsical wonderland of vibrant mosaics, meandering paths, and lush greenery. Wander through this enchanting park and take in the panoramic views of Barcelona from its iconic terrace.
Perfect for a leisurely stroll or a picnic, Park Güell is an oasis of tranquility and beauty.
17. Casa Batlló
Casa Batlló, one of Gaudí's most famous residential creations, is a must-visit for architecture enthusiasts.
This stunning building features a unique, organic design with intricate details and colorful mosaics. Take a guided tour to learn more about the house's history and Gaudí's genius.
18. Casa Mila (La Pedrera)
Another Gaudí masterpiece, Casa Mila, also known as La Pedrera, is a UNESCO World Heritage Site.
This iconic building, with its undulating façade and innovative interior design, is a testament to Gaudí's unparalleled creativity. Join a guided tour to learn about its history and enjoy the spectacular rooftop views.
19. Gothic Quarter
The Gothic Quarter is the heart and soul of Barcelona, with its narrow, winding streets and historic architecture.
Lose yourself in this enchanting neighborhood as you discover hidden squares, medieval buildings, and charming shops and cafés. Make sure to visit the stunning Barcelona Cathedral and the historic Plaça del Rei.
20. Passeig de Gracia
Passeig de Gracia is Barcelona's most famous shopping street, home to designer boutiques, luxury hotels, and architectural gems like Casa Batlló and La Pedrera.
Stroll along this elegant boulevard, soaking up the atmosphere and admiring the stunning Modernista architecture.
21. Barcelona Food Tour
Embark on a culinary adventure with a Barcelona Food Tour. Sample the city's most delicious dishes, from tapas and paella to sweet treats like churros and crema catalana.
Learn about the city's rich culinary history and discover hidden gems as you eat your way through Barcelona.
22. Port Vell
Visit Port Vell, Barcelona's historic harbor, to enjoy a blend of old-world charm and modern luxury. Stroll along the picturesque waterfront, explore the Maremagnum shopping center, and admire the stunning yachts moored in the marina.
23. Museu Picasso de Barcelona
When visiting Barcelona in August, it can be worth visiting some museums not only for their incredible collections, but as a great (very cultured!) escape from the heat.
So art lovers will be thrilled to explore the Museu Picasso de Barcelona, home to one of the most extensive collections of Pablo Picasso's work. Delve into the life and art of this iconic Spanish painter as you marvel at his masterpieces, including works from his famous Blue Period.
24. Fundació Joan Miró
Discover the fascinating world of Catalan artist Joan Miró at the Fundació Joan Miró. This modern art museum houses a vast collection of Miró's paintings, sculptures, and drawings.
Take your time exploring the striking building and its beautiful gardens, and be sure to visit the museum shop for unique souvenirs.
Travel tips for August in Barcelona
Stay Hydrated
Barcelona can get quite hot in August, with temperatures often reaching the high 80s or low 90s (Fahrenheit). Be sure to stay hydrated by carrying a reusable water bottle with you at all times.
You'll find plenty of public water fountains around the city where you can refill your bottle and keep cool while exploring.
Dress for the Weather
With warm temperatures and plenty of sunshine, it's essential to dress appropriately for the August heat in Barcelona. Opt for lightweight, breathable fabrics, and don't forget to pack sunscreen, sunglasses, and a hat to protect yourself from the sun.
Plan Your Sightseeing Wisely
Barcelona can be quite crowded in August as it's peak tourist season. To make the most of your time, plan your sightseeing wisely. Arrive early at popular attractions to avoid long lines, and you'll almost certainly need to purchase skip-the-line tickets or guided tours in advance to avoid missing out.
Additionally, taking a break during the hottest part of the day and exploring the city in the cooler mornings and evenings can make for a more enjoyable experience.
Be Aware of Pickpockets
Unfortunately, Barcelona is known for its pickpockets, particularly in crowded tourist areas. To protect yourself and your belongings, always be aware of your surroundings and keep a close eye on your belongings.
Use a cross-body bag or money belt to store your valuables securely, and avoid displaying expensive items like smartphones and cameras when not in use. Remember, it's always better to be cautious than to fall victim to pickpocketing.
Experience Local Festivals and Events
One of the best things about visiting Barcelona in August is the abundance of local festivals and events taking place throughout the city. Take advantage of these unique cultural experiences by planning your visit around events like La Festa Major de Gràcia, Sala Montjuic Outdoor Film Festival, or the Circuit Festival.
This is a great way to immerse yourself in the local culture and create unforgettable memories during your trip.
Why Shouldn't You Travel to Barcelona in August?
If you're planning to visit Barcelona, honestly, August may not be the best time to go. While the city is undoubtedly beautiful and full of attractions, it's important to consider the drawbacks of visiting during the high season.
Here are a few reasons why you may want to avoid traveling to Barcelona in August:
Crowds
August is the peak tourist season in Barcelona, which means the city is packed with visitors from all over the world. This can make it difficult to navigate through the streets and enjoy popular attractions without feeling overwhelmed.
The lines to enter famous sites like the Sagrada Familia or Park Guell can be hours long (or simply sold out), and the beaches are often crowded with sunbathers.
Pickpockets
Unfortunately, Barcelona is known for its pickpocketing problem, especially during the high season when there are more tourists around. While the city is generally safe, it's important to be vigilant and take precautions to protect your belongings.
Avoid carrying large amounts of cash, keep your valuables close to your body, and be aware of your surroundings at all times.
High Season Prices
Another downside of traveling to Barcelona in August is the high prices for accommodations, food, and activities. As the demand for these services increases, so do the prices.
You may find that your budget doesn't go as far as you'd like, and you may have to make sacrifices to stay within your means.
The heat and humidity
We all know that the weather in August in Barcelona is going to be nothing but hot, but it really is incredibly stifling here during summer. In fact, as mentioned earlier, a lot of locals even leave the city during this time to escape the heat.
So while it sounds lovely to be able to see the city in the sunshine, really think about whether you want to sightsee in conditions like that. If you're not sure if it's for you, maybe consider coming at another time of the year.
FAQs
Can You Swim at the Beach in Barcelona in August?
Absolutely! August is one of the best months to visit Barcelona's beaches. The water temperature is warm and inviting, averaging around 77°F (25°C). The beaches can get crowded, but you can still find a spot to lay out your towel and soak up the sun.
Just remember to wear sunscreen and stay hydrated.
Does It Rain in Barcelona in August?
You can expect an average of 5 days of rainfall throughout August. However, the rain usually comes in short bursts and doesn't last long. Don't let the possibility of rain deter you from visiting Barcelona in August, as the city still has plenty to offer even on days with a bit of rain.
Is It Hot in Barcelona in August?
Yes, it is very hot in Barcelona in August. The average high temperature is around 82°F (28°C), but it can feel much hotter due to the humidity. Be sure to dress appropriately for the heat and stay hydrated by drinking plenty of water.
You may also want to take advantage of the air-conditioned museums and indoor attractions to escape the heat during the hottest parts of the day.
Is Barcelona Windy in August?
August is not typically a windy month in Barcelona. However, there may be occasional breezes that provide some relief from the heat. If you plan on spending time at the beach, you may want to bring a beach umbrella or windbreak to protect yourself from any gusts of wind that may come your way.