Barcelona in May (2024): Ultimate Guide To What To Do
This article may contain affiliate links. Please read our
Disclosure Policy
for more information.
As the summer season approaches, Barcelona in May offers the perfect opportunity to explore the city's beautiful parks, relax on the beach, and indulge in some delicious Catalan cuisine.
There's a reason many people (including me!) consider this the best time of the year to explore Barcelona – but what should you be doing to take advantage of the amazing weather and overall vibe that the city offers this month?
Well, join me on a virtual tour of Barcelona in May and I'll show you all the must-see attractions and activities!
Is May a Good Time to Visit Barcelona?
Yes, May is a fantastic time to visit Barcelona. The city comes alive with a plethora of exciting events, cultural experiences, and beautiful weather that makes exploring a delight. And while it's the start of peak tourist season, the streets aren't heaving with crowds just yet.
The best reason to come here in May is that the weather in Barcelona this month brings mild temperatures and plenty of sunshine to the city. This makes it the perfect time to explore the many outdoor attractions, such as Park Güell, La Rambla, and Port Vell.
The warm days and cooler evenings offer a comfortable climate for sightseeing, dining al fresco, and enjoying outdoor events.
In addition, Barcelona's calendar is packed in May with thrilling festivals and events that cater to a wide range of interests. Music lovers can attend the Primavera Sound Festival, while art enthusiasts can take advantage of the Nits dels Museus event. The Ciutat Flamenco Festival, Fira Modernista, and the Girona Temps de Flor are just a few of the other unique experiences that await visitors in May.
As the weather warms up, Barcelona's outdoor cafes, terraces, and parks also become lively social hubs. In May, the city's streets are filled with locals and visitors alike, enjoying the pleasant weather and soaking up the sun. This convivial atmosphere is contagious and makes for a memorable travel experience.
With spring in full swing, you'll also find Barcelona's parks and gardens bursting into color, creating a breathtaking backdrop for your visit. Stroll through the lush greenery of Park Güell, wander the charming streets of Girona during the Temps de Flor, or simply enjoy the vibrant blooms lining the city's avenues.
And as mentioned, while May is a popular time to visit Barcelona, it is still less crowded than the peak summer months you'll see when coming to Barcelona in June, July, or August. This means you can enjoy the city's attractions, restaurants, and events without having to battle the largest tourist crowds.
Plus, you may be able to find better deals on accommodations and activities compared to the peak season!
Weather in May in Barcelona
If you're planning to visit Barcelona in May, the weather is perfect for exploring the city, with warm temperatures and plenty of sunshine. The average temperature in Barcelona is around 23°C (73°F) during the day, making it a great time to explore the city without the heat being too overwhelming.
At the same time, the average low temperature at night is around 14°C (57°F), which makes for some beautifully fresh evenings.
While May is generally a dry month here – much more so than coming to Barcelona in April – there are usually a few rainy days to keep an eye out for. On average, there are around 10 rainy days in May, with an average rainfall of 57mm (2.2 inches).
However, the rain usually doesn't last long, and you can still enjoy plenty of sunshine throughout the month.
What to Wear in Barcelona in May
When visiting Barcelona in May, you'll want to pack appropriately for the mild spring weather. The average temperature during the day is around 23°C (73°F), so it's generally warm enough to wear light clothing. However, it's always a good idea to bring a light jacket or sweater for cooler evenings or rainy days.
For daytime activities, comfortable, breathable clothing is key. You'll likely be doing a lot of walking and exploring, so opt for comfortable shoes like sneakers or sandals.
Shorts and t-shirts are perfect for the warmer weather, but you may also want to bring something to dress up slightly more if you plan on going out for a nice dinner.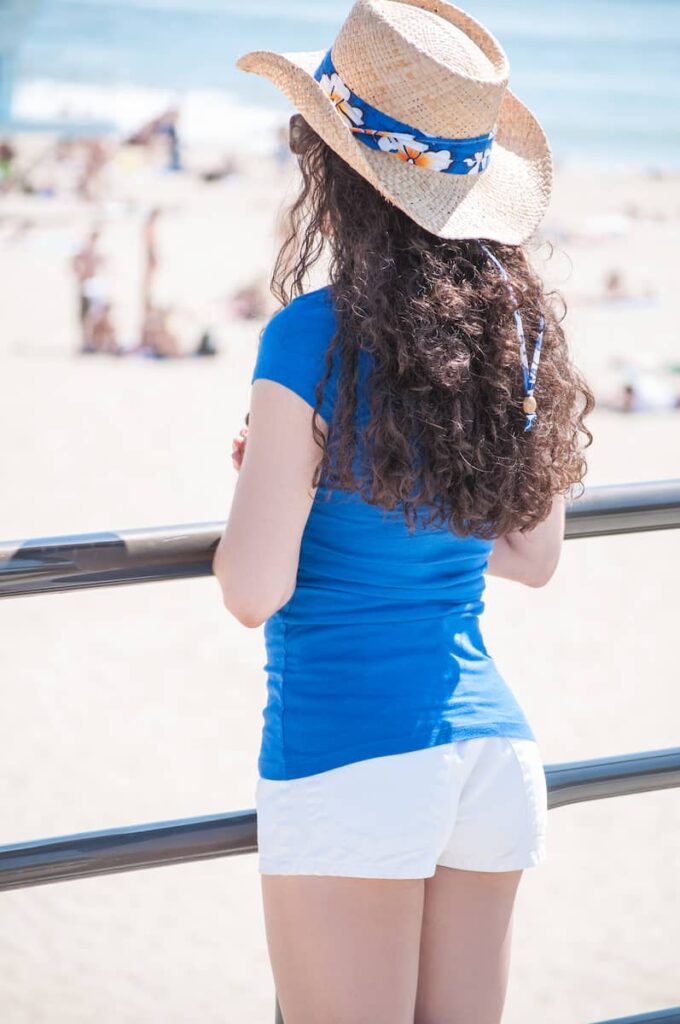 In the evenings, you may want to add an extra layer to your outfit. A light jacket or blazer is perfect for cooler nights, and can easily be dressed up or down depending on where you're headed.
Overall, though, when packing for the weather in Barcelona in May, it's best to bring a mix of light and warm clothing to be prepared for any eventuality. And don't forget to pack comfortable shoes for all the walking you'll be doing!
Best Things to Do in Barcelona in May
May is one of the most beautiful times to visit Barcelona, with mild weather and a range of exciting events, festivals, and attractions that are sure to make your trip unforgettable.
From art and music to food and drink, there's something for everyone. So let's dive in and explore the best things to do in Barcelona in May!
1. Nits dels Museus (Night of the Museums)
Experience the magic of Barcelona's museums after dark during Nits dels Museus. On a single night in May, dozens of museums across the city open their doors late into the night, offering free admission and special programming.
This unique event allows you to explore the city's rich history, art, and culture in a whole new light.
2. Primavera Sound Festival
If you're a music lover, don't miss the Primavera Sound Festival. Held annually in May (although sometimes it continues into June, so check the exact dates to make sure your trip to Barcelona lines up with it), this world-renowned music festival showcases a diverse lineup of established artists and emerging talents from various genres.
From indie rock and electronic music to hip-hop and experimental sounds, Primavera Sound promises an unforgettable experience for all music enthusiasts.
3. Ciutat Flamenco Festival
Experience the passion and intensity of Spanish dance at the Ciutat Flamenco Festival.
Held in May, this annual event features performances by some of the world's most renowned flamenco artists. Lose yourself in the rhythm and raw emotion of this unforgettable cultural experience.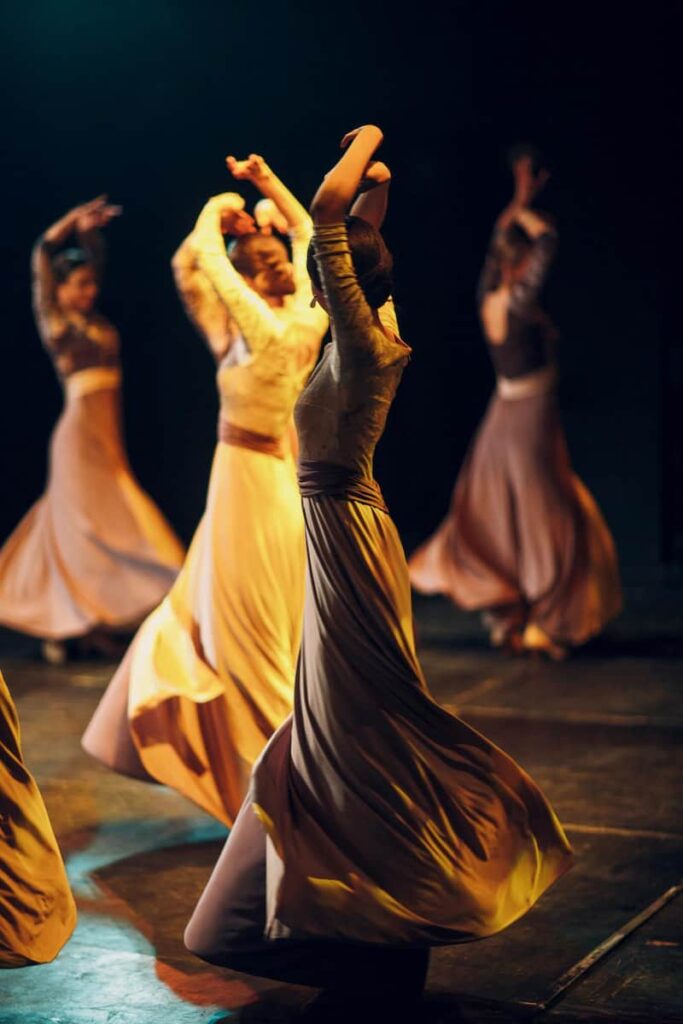 4. Fira Modernista (Modernist Fair)
Celebrate the architectural genius of Barcelona's modernist movement at the Fira Modernista.
This annual event takes place in May in the Eixample district and features guided tours, workshops, and activities designed to showcase the city's iconic modernist landmarks. Don't miss this chance to immerse yourself in Barcelona's unique architectural heritage.
5. Sagrada Familia
No visit to Barcelona would be complete without seeing the iconic Sagrada Familia. Designed by legendary architect Antoni Gaudí, this awe-inspiring basilica has been under construction since 1882.
Marvel at its intricate façade, soaring towers, and stunning interior, which are particularly striking in the May sunlight.
6. Park Güell
Escape the bustle of the city and find serenity in Park Güell, another of Gaudí's masterpieces. This whimsical park features colorful mosaics, undulating benches, and playful sculptures that are sure to enchant visitors of all ages.
In May, the park's lush greenery and vibrant blooms create a stunning backdrop for a leisurely stroll or picnic.
7. Casa Batlló
Discover the magic of Casa Batlló, an architectural gem designed by Gaudí. With its undulating façade, intricate mosaics, and fantastical rooftop, Casa Batlló is a must-see attraction in Barcelona.
The building's colorful exterior glows in the warm Mediterranean sun in May, making it an ideal time to visit.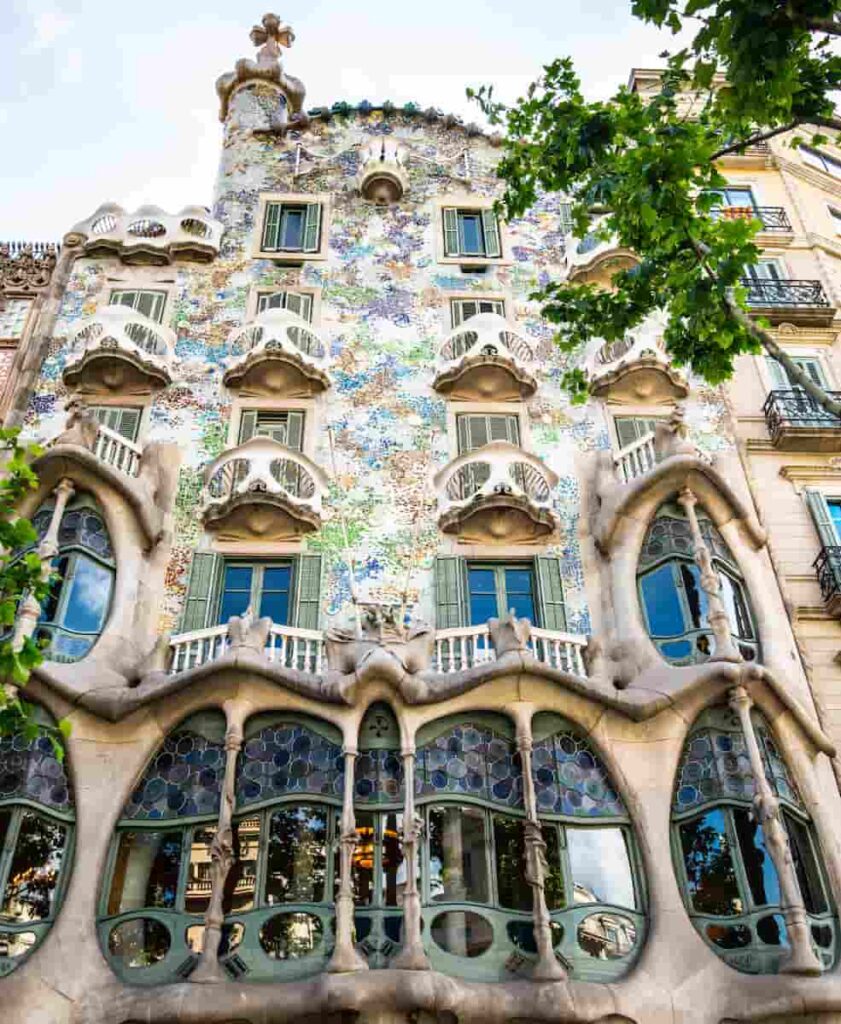 8. Casa Mila (La Pedrera)
Another of Gaudí's masterpieces, Casa Mila, also known as La Pedrera, is an architectural wonder characterized by its undulating stone façade and twisting wrought-iron balconies.
In May, the building's unique design is enhanced by the gentle sunlight, making it a perfect time to explore this UNESCO World Heritage site.
9. Gothic Quarter
Step back in time as you wander the narrow, winding streets of Barcelona's Gothic Quarter. With its medieval architecture, charming plazas, and hidden courtyards, the Gothic Quarter is the perfect place to get lost in history.
May's mild weather provides the perfect opportunity to explore this historic neighborhood.
10. La Rambla
Stroll down the iconic La Rambla , a bustling tree-lined boulevard that stretches from Plaça de Catalunya to the waterfront. In May, the promenade comes alive with street performers, artists, and flower stands, making it an ideal spot to people-watch and soak up the city's vibrant atmosphere.
Along the way, don't forget to visit La Boqueria, Barcelona's famous food market, where you can sample mouthwatering local delicacies.
11. Girona and the Temps de Flor
Just an hour away from Barcelona, the picturesque city of Girona is a must-visit destination.
And in May, the city hosts the annual Temps de Flor festival, where the historic center is transformed into a colorful, fragrant oasis filled with floral displays and installations. Take a leisurely stroll through the medieval streets, marvel at the stunning architecture, and enjoy the breathtaking floral creations.
12. Passeig de Gracia
Shop, dine, and sightsee along the elegant Passeig de Gracia, one of Barcelona's most famous avenues. Lined with designer boutiques, upscale restaurants, and stunning modernist buildings, Passeig de Gracia offers a delightful blend of style and culture.
In May, the avenue's outdoor cafes and lush greenery create a perfect setting for a leisurely afternoon of shopping and people-watching. Don't miss the chance to admire some of Gaudí's masterpieces, including Casa Batlló and La Pedrera, which line this elegant boulevard.
13. Barcelona Food Tour
Indulge your taste buds on a Barcelona Food Tour, where you can explore the city's culinary scene and savor traditional Catalan dishes.
From tapas bars and bustling food markets to hidden gems frequented by locals, a guided food tour offers a unique insight into Barcelona's gastronomic culture. In May, the city's cafes and terraces come alive, making it a fantastic time to enjoy local delicacies al fresco.
14. Barcelona Beer Festival
Raise a toast to Barcelona's thriving craft beer scene at the annual Barcelona Beer Festival. Held in May, this popular event showcases a wide variety of local and international brews, with over 650 different beers to sample.
With live music, food trucks, and brewing workshops, the Barcelona Beer Festival promises a fun-filled day for beer lovers and casual drinkers alike.
15. Port Vell
Take a leisurely stroll along the waterfront at Port Vell, Barcelona's historic harbor. In May, the port's marina, restaurants, and attractions buzz with activity, making it an ideal spot to soak up the city's maritime atmosphere.
Don't miss the chance to visit the impressive Aquarium Barcelona, one of Europe's largest, or take a ride on the Port Vell Aerial Tramway for stunning panoramic views.
16. Museu Picasso de Barcelona
Art enthusiasts will love exploring the Museu Picasso de Barcelona, which houses one of the most extensive collections of Pablo Picasso's artwork.
Discover the artist's early works, his iconic Blue Period, and the evolution of his unique style. In May, the museum's peaceful courtyards provide a serene respite from the bustling city.
17. Fundació Joan Miró
Immerse yourself in the colorful, imaginative world of Joan Miró at the Fundació Joan Miró. Located on the picturesque Montjuïc hill, the museum showcases a vast collection of the artist's paintings, sculptures, and textiles.
In May, the surrounding gardens burst with color, offering a serene setting to appreciate Miró's playful and innovative creations.
Why Shouldn't You Travel to Barcelona in May?
If you're looking for a perfect time to visit Barcelona, May might not be the best option for you. Although Barcelona is a beautiful city, there are a few reasons why you might want to avoid visiting in May.
Firstly, May is not the driest month in Barcelona. It is a transition month between spring and summer, which means it can occasionally be quite rainy and cloudy. This means that if you're looking for a guaranteed sunny and dry vacation, May might not be the best time to visit.
(That said, you have to be pretty unlucky to get a wet day, as there's only a moderate chance of rain in May, with an average rainfall this month of 27mm.)
Secondly, May is one of the busiest months in Barcelona. The city is filled with tourists from all over the world, which means that popular attractions and restaurants can be crowded. If you're not a fan of crowds and long lines, you might want to consider visiting during a less busy time.
Lastly, May is not the cheapest time to visit Barcelona. As it's one of the peak tourist months, prices for accommodation and attractions can be higher than usual. If you're on a budget and looking for a more affordable vacation, you might want to consider visiting during the off-season.
Travel Tips for May in Barcelona
If you're planning a trip to Barcelona in May, you're in for a treat! With warm temperatures, sunny skies, and plenty of things to see and do, this is a fantastic time to visit this vibrant city.
Here are some travel tips to help you make the most of your trip this month:
Pack Layers and Comfortable Shoes
In May, Barcelona's weather can be pleasantly warm during the day, but temperatures may drop in the evenings. Be prepared by packing layers, such as light sweaters and jackets, to stay comfortable throughout the day.
Also, with plenty of walking and exploring on the agenda, don't forget to bring comfortable shoes to make the most of your Barcelona adventure.
Book Accommodation and Event Tickets in Advance
May is a popular time to visit Barcelona, thanks to its mild weather and numerous events and festivals.
To avoid disappointment, it's wise to book your accommodation and event tickets well in advance. This will ensure you have a comfortable place to stay and can enjoy all the incredible activities Barcelona has to offer in May.
Plan Your Itinerary, But Be Flexible
With so many attractions and events happening in Barcelona during May, it's a good idea to plan your itinerary in advance. Research the events and attractions that interest you the most, and create a rough schedule to help you make the most of your time.
However, remember to be flexible and leave room for spontaneous adventures or changes in your plans. Sometimes, the best experiences happen when you least expect them!
Make Use of Public Transportation
Barcelona boasts an efficient and affordable public transportation system, including buses, trams, and the metro. Save time and money by taking advantage of these options to navigate the city.
Consider purchasing a T-casual ticket, which allows you 10 rides on any combination of public transportation options, or a Hola Barcelona Travel Card, which provides unlimited travel for a specified number of days.
Wear Sunscreen
If you're just wandering around the streets of Barcelona rather than sitting on the beach, it's tempting to feel like you're not getting that much sun, so there's no reason to be careful.
But the sun can be deceptively strong in Spain in May and Barcelona is no exception. To protect yourself and avoid ruining your holiday with a painfully red souvenir, make sure you put on some SPF and, ideally, carry a hat.
FAQs
Can You Swim at the Beach in Barcelona in May?
Yes, you can swim at the beach in Barcelona in May. The sea temperature in May is around 18°C, which may be a bit chilly for some but is still comfortable for swimming. The beaches are also less crowded in May, so you can enjoy a more relaxed beach experience.
Does It Rain in Barcelona in May?
May is a relatively dry month in Barcelona, with an average of 5 rainy days throughout the month. The rain is usually in the form of light showers, so it won't ruin your plans. However, it's always a good idea to bring a light raincoat or umbrella just in case.
Is It Hot in Barcelona in May?
May is the beginning of summer in Barcelona, but it's not yet too hot. The average temperature in May is around 19°C during the day and 8.5°C at night. It's warm enough to enjoy outdoor activities and sightseeing, but not so hot that you'll feel uncomfortable.
Is It Cold in Barcelona in May?
No, it's not cold in Barcelona in May. The average temperature is around 19°C during the day and 8.5°C at night, which is mild and pleasant. You may need a light jacket or sweater for the evenings, but overall, the weather is comfortable.
Is Barcelona Windy in May?
Barcelona can be windy in May, but it's not usually a major problem. The wind can make it feel cooler than it actually is, so it's a good idea to bring a light jacket or sweater. However, the wind can also be refreshing during hot days, and it's not usually strong enough to cause any major disruptions to your plans.
In conclusion, May is a great time to visit Barcelona. The weather is mild, the beaches are less crowded, and there are plenty of outdoor activities to enjoy.
Just remember to bring a light raincoat, a jacket, and some sunscreen, and you'll be all set for a fantastic trip.