Four Days in Barcelona: The Ultimate Itinerary (2023)
This article may contain affiliate links. Please read our
Disclosure Policy
for more information.
So, you've snagged yourself a getaway for four days in Barcelona? Great choice!
Trust me, in my countless wanders through its winding alleys and sun-drenched plazas, this city has never ceased to surprise me with its vibrant culture, mouth-watering tapas, and awe-inspiring architecture.
But with so much to see and do, you might be feeling a tad overwhelmed on where to start. After all, can you really craft the perfect Barcelona itinerary for just four days here?
No worries, that's where I come in. Living in Spain has blessed me with the chance to spend oodles of time in Barcelona and, with this guide, I've wrapped up all my favorite spots, little-known haunts, and tried-and-true recommendations
Stick with me, and I promise by the end of this article, you'll have a well-crafted itinerary that's sure to make your Barcelona journey nothing short of memorable.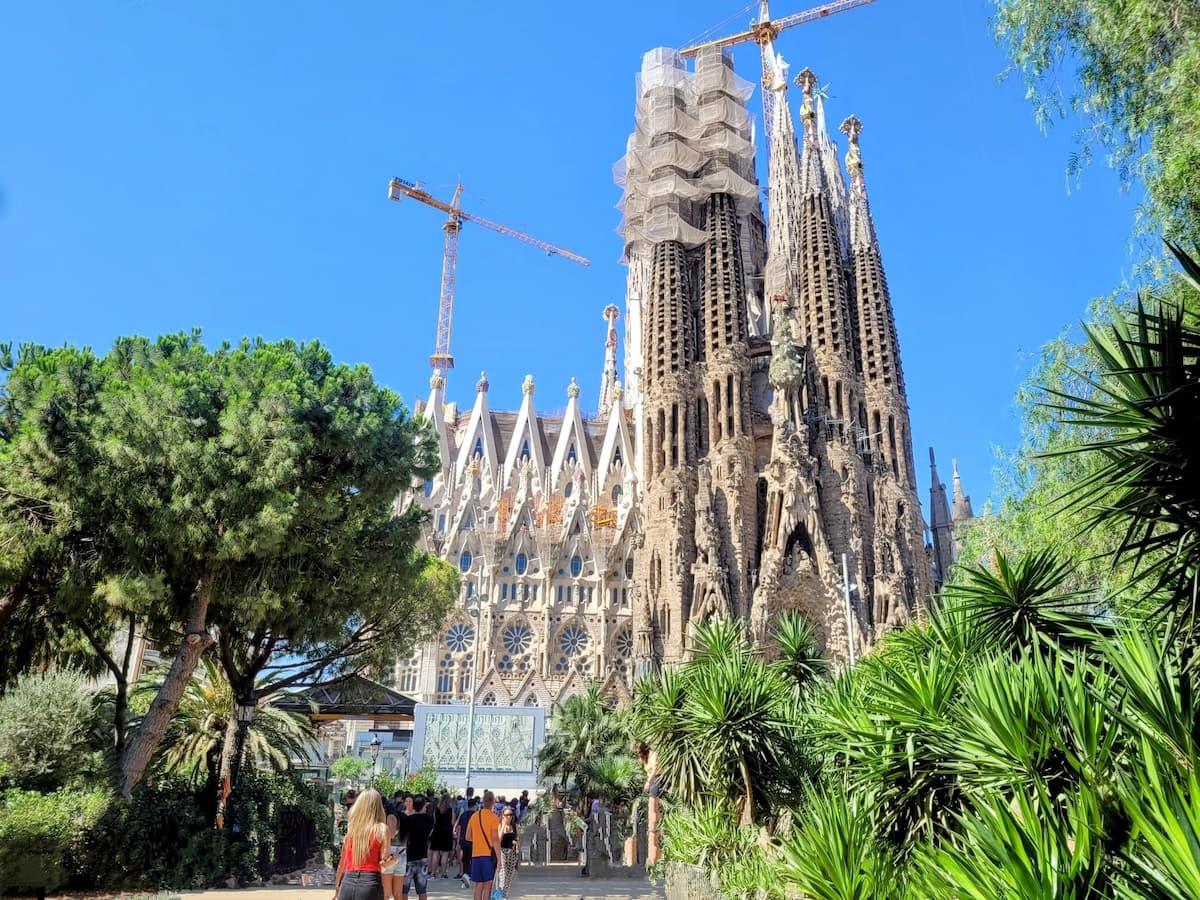 Four days in Barcelona
Having four days in Barcelona is a great amount of time to be here. You'll be able to see all the main sights plus various off-the-beaten track spots – all without the stress that comes with having less time and having to rush from A to B!
Here's a summary of your ideal four day Barcelona itinerary.
Day 1 – Gaudí Architecture & Flamenco Show
Marvel at the grand spires of the Sagrada Familia and the incredible architecture of Recinte Modernista de Sant Pau.
After lunch, see the Gothic architecture of the Barcelona Cathedral and wander the charming alleys of the Gothic Quarter.
End with a fiery flamenco show and dinner or tapas and wine tour.
FYI: Certain popular sights in Barcelona frequently sell out their entry slots, so it's critical that you book tickets in advance to avoid missing out (not to mention avoiding long lines).
This particularly includes the Sagrada Familia and Park Güell where tickets often sell out weeks ahead of time.
Day 2 – Modernist Architecture & Sunset Cruise
Admire Gaudí creations like Casa Casa Batlló and Casa Milà on Passeig de Gracia before heading to the undulating Park Güell.
Enjoy lunch in trendy El Born then take a sunset sailing cruise and end with drinks in Barceloneta.
Day 3 – Montjuïc Cable Car & Evening Fountain Show
Ride the cable car up Montjuïc for panoramic views of the city and sea. After lunch, choose between the FC Barcelona Museum, National Museum of Catalan Art (MNAC), or the Aquarium.
Finish up with a dazzling musical fountain show at the Magic Fountain.
Day 4 – Day Trip to Montserrat or Medieval Girona
Venture out to the mountains of Montserrat to see the ancient monastery and taste some of that famous Spanish wine.
Or why not discover the medieval charm of Girona and its Game of Thrones filming locations!
Detailed Barcelona four day itinerary
Morning (day 1)
8:30 am: Sagrada Familia
Start your day with a steaming cup of café con leche, and then let your feet take you to one of the most iconic spots in Barcelona: the Sagrada Familia.
Out of all of Gaudi's creations, this one's a league of its own. Before you dash in, take a moment to circle the structure. It's like reading the cover of a good book; it gets you in the mood for the story inside.
Once you step through those doors, you're greeted with a forest of stone pillars that shoot up and branch out, as if they're reaching for the heavens.
And the stained glass windows are seriously something else. Depending on the time of day, they drench the interiors in a kaleidoscope of colors.
Morning brings soft blues and greens, while late afternoon sets the basilica ablaze with fiery reds and golds. The sheer scale and intricacy will make your jaw drop.
Now, I said it before but I'll say it again: Booking your tickets for the Sagrada Familia in advance is an absolute must here. I can't stress this enough, especially if you're keen to check out the inside.
While it's tempting to just show up, you could very well end up regretting that decision when faced with a queue that goes on forever or, worse, a sold-out sign.
So, get ahead of the game, book a ticket – that, ideally, lets you climb one of its towers. I'm personally more of a fan of the Nativity Tower, as the views are surreal.
And when booking your ticket, try to lock in a 9:00 am entry if you can. That's when the gates first swing open for the public.
If the timing doesn't work out, no sweat! You're here for four days so you have the time to be flexible and shuffle things around.
FYI: You're going to be seeing a lot of Barcelona's highlights over these three days – and you can save a serious amount of money by grabbing the Go City Explorer Pass to do this.
It includes access to anywhere from 2 to 7 attractions (based on what you pick), with the list of attractions including many that you'll do in this three day Barcelona itinerary.
For example, it includes entry to the Sagrada Familia, Park Güell, Casa Batlló, the Sant Pau Modernist site and the Montjuïc cable car, all of which are in my recommended itinerary below – and that includes both entry AND tours of the Sagrada Familia and Park Güell!
But by getting the 5 attraction Go City Explorer Pass instead of buying entry tickets individually, you'll save over 20% on admission costs.
It's definitely worth checking out for anyone who wants to tick off many of the major sights during their trip (while saving some euros!)
11:15 am: Recinte Modernista de Sant Pau
Once you've soaked in the brilliance of Sagrada Familia, it's time for the next stop: Recinte Modernista de Sant Pau.
And guess what? It's just a chill walk away. Who needs a workout when you've got a city to explore, right?
I love this place, and over time it's grown to become one of my favorites. Its interiors? Simply mind-blowing.
I won't spoil it for you too much because I want you to experience the wonder firsthand. But let me tell you this: it's not just another pretty building.
There's a history, a story, and an art that makes it so much more. Step inside and let it take you on a journey.
Lunch option 1 – Paella cooking class and La Boqueria Market tour
1:00 pm: Paella Cooking Class and La Boqueria Market Tour
Ready to roll up your sleeves and dive deep into the Spanish culinary scene? Say hola to the Paella Cooking Experience paired with a Boqueria Market Tour.
First up, the Mercat de la Boqueria. It isn't just a market; it's a fiesta of sights, sounds, and scents!
Together with a trained chef (yep, you heard that right), navigate the lively stalls, picking up fresh ingredients that'll go into the masterpiece you're about to create. From the juicy tomatoes to the fresh-off-the-boat seafood, every ingredient tells a story.
Now, remember the tapas bars where you'd just casually pick a few goodies to nibble on? This is your chance to sample some of the best ones!
Plus, you'll also learn to stack your own Basque Pintxos or Montaditos. Think of them as tapas' cooler cousins – they come with toothpicks, making them perfect for a quick bite or a friendly party.
Thirsty? Well, surely it's time for sangria! Crafting the perfect sangria is an art, and who better to learn from than the locals? Stir, sip, repeat.
And as the cherry on top? You're gonna make your own seafood paella. I mean, sure, paella's great when you're dining out, but imagine being able to you whip it up back home!
To wrap it all up, sit back, chat with fellow travelers, and enjoy the paella de marisco the chef cooks up. With all the shared laughter and stories over a communal dish, you'll feel that Barcelona vibe right in your bones.
And before you leave, don't forget to grab those recipes. Future you will thank present you big time!
Lunch option 2 – Paella in the Gothic Quarter
If you're leaning towards a more relaxed lunch without the culinary prep, the Gothic Quarter's got you covered.
1:00 pm: La Boqueria Market¤
First on the list: La Boqueria. Grab a taxi or catch the metro to this vibrant market.
It's a mix of local traditions and global flavors, making it an interesting pit stop. While wandering through, you might find a few souvenirs that catch your eye. Perhaps some local spices, handmade crafts, or even unique snacks.
1:45 pm: Lunch in the Gothic Quarter
A little insider tip for you: Spaniards tend to lunch late, usually after 2 pm. But since you're ahead of the curve, you can grab a seat before the peak rush kicks in.
Now, about paella. Though it originally hails from Valencia, it's become a beloved dish across Spain.
And while in Barcelona, it feels right to sample this iconic dish. Plus, in Spain, paella is traditionally a lunch dish, so you're timing it just right.
For a solid paella experience in the Gothic Quarter, I'd recommend choosing one of these spots:
7 Portes: A place that's stood the test of time, offering both history and quality dishes. It's understated yet classic.
Los Pergaminos: This cozy spot boasts a warm ambiance, and their paella is worth the visit.
La Fonda: A blend of the contemporary and classic, this place serves up a paella that locals and visitors alike appreciate.
Just don't forget to book a table in advance!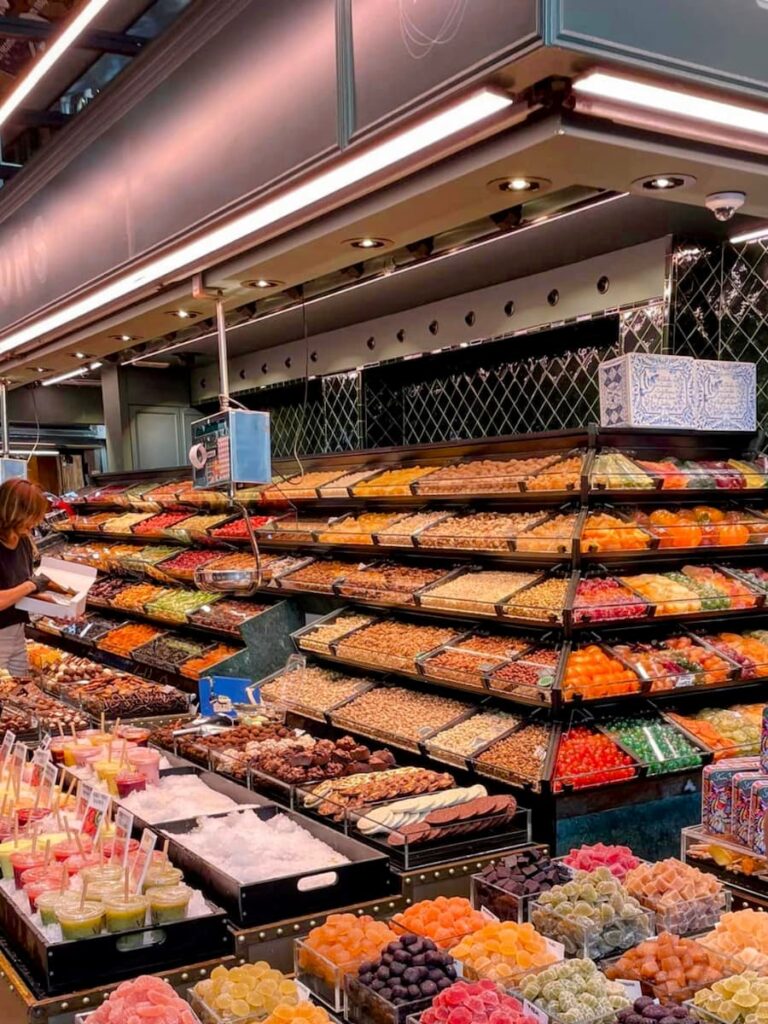 Afternoon
3:30 pm: Barcelona Cathedral
By the time you wrap up your lunch or finish that cooking class, the clock will likely be nudging towards 3:30 pm. And what better way to spend the afternoon than immersing yourself in some history?
Head over to the Barcelona Cathedral, and if the winding alleys of the Gothic Quarter beckon, give in to the urge. Take your time; there's no rush.
When you get to the Cathedral, pause and soak in its grandeur from the outside. The facade, with its intricate details and towering spires, tells tales of centuries gone by.
If you're keen to explore the interiors (which I highly recommend), having a pre-booked ticket for the Cathedral is your best bet. It saves you the wait and ensures you don't miss out.
And oh, don't skip the bell tower. The climb rewards you with sweeping views of the Old Town that are definitely worth the effort.
4:45 pm: Plaça de Sant Felip Neri
A short stroll away lies the Plaça de Sant Felip Neri, a square that's both serene and steeped in history. It's easy to miss amidst the hustle of the city, but it's a haven of calm once you find it.
The weathered walls, bearing scars from the Spanish Civil War, and the quaint fountain at the center give it a unique charm. It's a good spot to take a moment, maybe reflect on your day or simply watch the world go by.
5:00 pm: Carrer del Bisbe and the Roman walls in Carrer del Paradís
Alright, after that peaceful moment at Plaça de Sant Felip Neri, it's time to wander into the heart of the Gothic Quarter. Enter Carrer del Bisbe, a street that's gracefully withstood the test of time.
I get it, everyone and their cameras love this street, and for a good reason. The ornate bridge connecting the buildings is particularly photo-worthy, and it's the kind of place that makes you feel like you've stepped back in time.
Just around the corner, you'll find Carrer del Paradís, which holds a surprise: remnants of ancient Roman walls. Yep, Barcelona's roots go way, way back, and it's pretty cool to see a slice of history casually standing amidst the city buzz.
5:20 pm: Plaça del Rei and the History Museum of Barcelona (MUHBA)
Next up, Plaça del Rei, a square that feels like an open-air museum. Surrounded by medieval buildings, you can almost hear the echoes of bygone eras.
If you're a history buff, you're in for a treat. Right here is the History Museum of Barcelona (MUHBA).
It's an immersive dive into Barcelona's layered past, from its Roman beginnings to the modern age. Even if history isn't your thing, the architecture and atmosphere are worth the visit.
6:30 pm: La Rambla
And now, for a shift in pace: La Rambla. Yep, it's one of those places that every guidebook will tell you about, and honestly, they're right.
It's lively, it's bustling, and it's got an energy that's distinctly Barcelona. As you amble along, you'll find artists, performers, shops, and cafes lining the street.
But a word of advice: keep an eye on your belongings. It's sad but true that in crowded places like this, pickpockets can lurk. Just stay aware, and you'll be fine.
Evening option 1 – Flamenco show with dinner
7:00 pm: Plaça Reial
So, after the energetic walk around La Rambla, how about a little pause at Plaça Reial? This square, with its archways, palm trees, and iconic lamp posts designed by young Gaudí, is a great spot to catch your breath.
And what better way to do it than with a refreshing drink in hand? There are plenty of places here where you can sit, relax, and soak up the vibes. It's a prelude to the evening ahead.
8:15 pm: Flamenco Show and Dinner
Now, for a highlight I personally love – this flamenco show with dinner! Just a stone's throw from Plaça Reial is the historic Tablao Flamenco Cordobes theater.
Think of it as a time capsule that encapsulates Spain's rich cultural heritage. Once you're in, you'll see why it's so renowned. Those ornate interiors, echoing a time gone by, set the stage – quite literally.
As the lights dim, you'll feel the air thickening with anticipation. And then, it begins: the strum of a guitar, the haunting melodies of the singers, and the undeniable power of the dancers.
Flamenco is raw emotion in motion, and watching it in such an intimate setting is something special.
And when dinner rolls around, be prepared to be spoiled for choice. Over 40 traditional dishes await. From classic tapas to hearty mains, there's a flavor explosion waiting at every corner.
10:30 pm: Drinks in the Gothic Quarter
Still up for a bit more? If your feet aren't begging for mercy and you're still feeling the buzz, drift back into the Gothic Quarter.
By now, it's draped in a different kind of charm, with dim lights casting long shadows and the streets echoing with laughter and chatter. Find a cozy nook, order your drink of choice, and let Barcelona's famous nightlife wrap around you.
Evening option 2 – Tapas and wine tour
7:00 pm: Tapas and Wine Tour of the Gothic Quarter
Okay, foodies and wine lovers, this one's for you. If you're the sort of person who thinks that the best way to understand a place is through its food and drink, then we're on the same page.
And that's why, for your second evening option, I've got something that's right up your alley – this tapas and wine tour of the Gothic Quarter.
Meet up with a friendly local guide who really knows their stuff when it comes to Barcelona's gastronomy.
You'll start your evening in the atmospheric Gothic Quarter, where history lurks around every corner. But don't let the ancient facades fool you; this area is alive with buzzing eateries and bars.
Over the course of the evening, you'll hit up four local favorites. These aren't your typical tourist traps, but places where locals love to hang out.
As you nibble on a selection of tapas, ranging from the classic to the unexpected, your guide will share little tidbits about the origin of each dish.
And, of course, what's tapas without some liquid accompaniment? Swirl, sip, and savor from a handpicked selection of wine, vermouth and bubbly cava.
Besides the food, you'll soak up stories, legends, and maybe a little gossip about the neighborhood. It's a relaxed, laid-back evening of bites, sips, and tales.
10:00 pm: Nightcap
If your heart (and stomach) still has room for a little more, why not end your day with a drink or two? Barcelona's nightlife has a way of gently pulling you in.
Find a cozy bar, maybe one with some live music or just a chill playlist, order a drink, and toast to a day well spent.
Alternatively, if you're starting to feel the weight of the day, no worries! A good night's rest will have you ready for another day of Barcelona wonders.
Evening option 3 – Do your own thing
7:00 pm: Plaça Reial
Alright, so you've got that spontaneous streak in you, right? For those who like a bit of free rein when they travel, this option might be your jam.
Let's kick it off at Plaça Reial. This square, with its iconic palm trees and Gaudi-designed lampposts, has a certain charm that's hard to resist.
You'll find plenty of places to settle down and enjoy a drink. Soak in the atmosphere, people-watch, and let the city's rhythm dictate your next move.
8:30 pm onwards: The choice is yours!
The beauty of Barcelona is that there's always something happening. Fancy some tapas? There are countless spots in the nearby streets where you can nibble on everything from patatas bravas to albondigas.
Or maybe you're craving a full meal? Scan the many menus displayed outside the restaurants. If you feel like dancing the night away or just sipping a cocktail in a cool rooftop bar, the city's got you covered.
Basically, it's all about going with the flow and letting the city surprise you.
Morning (day 2)
8:30 am: Plaça Catalunya
There's no better place to start your morning on day 2 than Plaça Catalunya. It's the heart of the city, where the old meets the new.
Grab a freshly brewed coffee and maybe a buttery croissant from one of the nearby cafes. As you savor each bite and sip, watch as the square slowly comes to life – pigeons taking flight, locals rushing to work, and fellow travelers setting out to explore.
8:45 am: Passeig de Gracia
Once you've fueled up, it's time to hit Passeig de Gracia. This avenue is more than just a street; it's a visual treat of modernist architecture, high-end boutiques, and local history.
As you stroll, you'll notice the intricate facades of buildings, some designed by the legendary Antoni Gaudí. Whether you're into shopping, architecture, or just keen on wandering, this avenue offers a little bit of everything.
So, pull out your camera, or simply let your curiosity guide you. Who knows what you'll discover next?
9:00 am: Casa Batlló
First major stop on today's list? Casa Batlló!
Now, Barcelona has its fair share of Gaudí masterpieces, but Casa Batlló holds a unique charm. With its shimmering, scale-like tiles and bone-like balconies, the place feels like a page right out of a fairy tale.
Inside, every corner tells a story – from its dreamy blue-tiled staircase well that mimics the sea, to the whimsical roof terrace with its dragon-inspired design.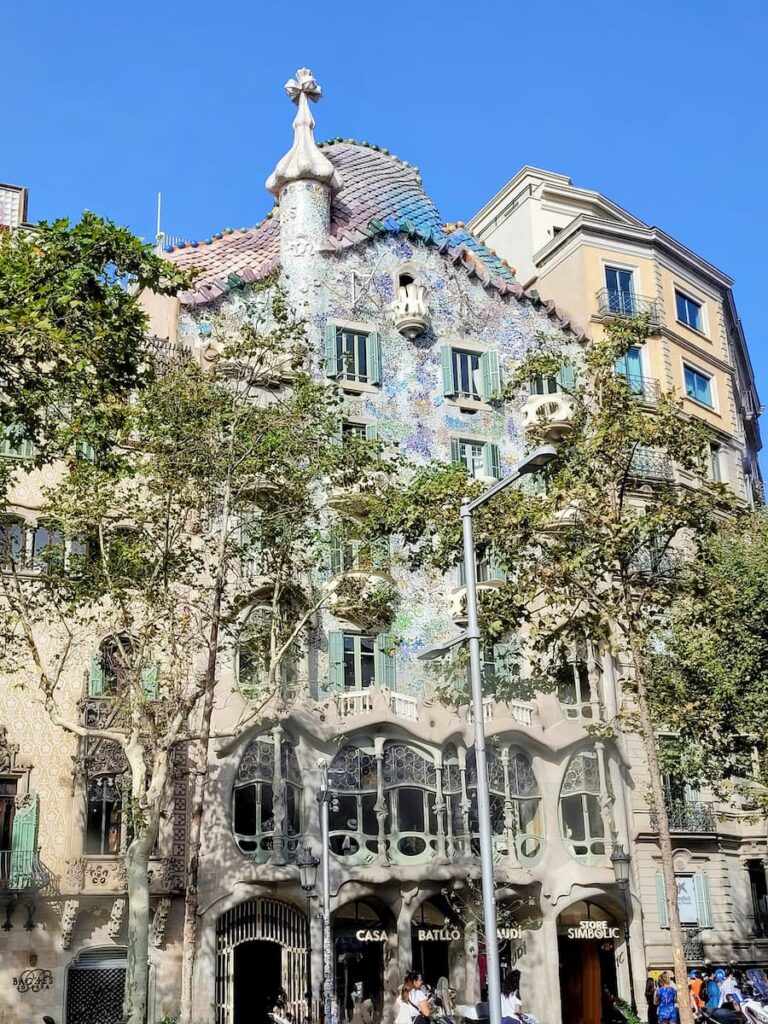 Just a little heads-up – this is one of those popular places where tickets get snapped up super quick. So make sure you book your spot for Casa Batlló in advance to avoid missing out.
10:15 am: Casa Milà
A short stroll away is Casa Milà, another iconic Gaudí creation. While you might be tempted to pop inside, given our schedule, I'd advise taking a moment to admire its undulating stone facade and wrought-iron balconies from the outside only.
Its freeform style and natural curves give it the nickname 'La Pedrera', meaning 'The Quarry'. It's easy to see why! Snap a photo, soak in its artsy vibe, and then it's time to head on to our next spot.
11:00 am: Park Güell
Alright, time for some nature with a Gaudí twist! Jump on public transport or grab a quick taxi, and you'll find yourself at Park Güell in no time.
Now, this ain't your regular park. Think vibrant mosaics, imaginative sculptures, and panoramic views of the city.
The iconic dragon statue at the entrance? It's an Instagram favorite! Wander around and you'll also come across the serpentine benches, covered in colorful tiles, offering the perfect spot to relax and gaze at the Barcelona skyline.
Plus, the park's elevated position gives you an unmatched view of the city with the sea as its backdrop.
Remember, it's a hot favorite among travelers, so nabbing those advance tickets for Park Güell is crucial.
1:15 pm: Arc de Triomf
After soaking in Gaudí's world, let's shift gears a bit. Welcome to Barcelona's Arc de Triomf!
No, it's not a doppelganger of the Parisian landmark, but it has its own Catalan flair and history. This reddish-brick structure, built for the 1888 Barcelona World Fair, serves as a welcoming gateway to the city. The intricate sculptures and friezes tell tales of Barcelona's cultural pride.
If you're relying on public transport, the V19 bus will zip you right from Park Güell to here. But if buses aren't your thing, taxis are super handy and quick.
By the way, I get it if your tummy's rumbling. We're aiming for a later Spanish lunch today, so if you need a little something to tide you over, snag a quick bite at a nearby café.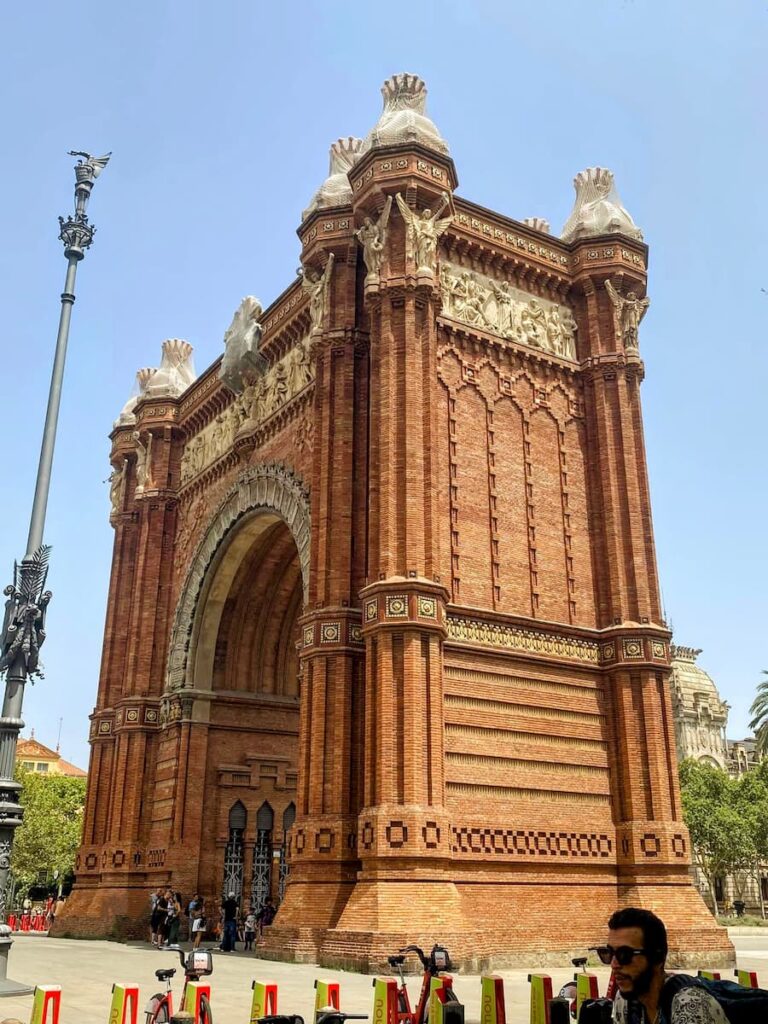 1:30 pm: Parc de la Ciutadella
A short walk from the Arc de Triomf and you're at Parc de la Ciutadella, the green lung of Barcelona. Wander its paths, and you'll come across locals jogging, families picnicking, and artists sketching.
The real highlight, though, is the Cascada Monumental. This grand fountain, with its sculptures, waterfalls, and gold details, is kinda like Barcelona's version of Rome's Trevi fountain. Throw a coin in, make a wish, and enjoy the vibe of the park!
Lunch
2:30 pm: Lunch in El Born
El Born: where the streets ooze charm and every corner has a foodie temptation! Deciding where to eat can be tricky because, let's be honest, the options are endless.
So, here's my personal lowdown to guide your culinary quest:
Cal Pep: This one's a legend! With a history spanning decades, Cal Pep dishes out some of the best tapas in town. Pro tip: The line can get long, so patience is a virtue here.
Bar Celta Pulperia: If you're in the mood for seafood, this is your spot. Think octopus, clams, and everything oceanic. The ambiance is laid-back, and the flavors? Top-notch.
Bodega la Puntual: This spot is deceptive. It might seem like just another tapas joint from the outside, but step in and you're in for a surprise! The interior expands into a cozy dining space, perfect for a leisurely meal. Their food is traditional yet innovative, and the wine? Honestly, it's possibly the highlight of this place.
I'd seriously recommend booking here as well as the queues can get fairly epic at each spot.
Afternoon
4:00 pm: Mercat del Born
Alright, it's history time! Mercat del Born is where the city's past comes alive.
Once a bustling market, it's now a cultural space preserving remnants of Barcelona from centuries ago.
Walking on the glass floor, you can see the ancient ruins below. It's a surreal feeling to think of all the history right under your feet.
So, take a moment, soak it all in. You're walking where merchants once bartered and children once played thousands of years ago!
4:30 pm: Picasso Museum
Ready for some art? Let's deep dive into the world of Pablo Picasso.
The Picasso Museum in Barcelona houses one of the most extensive collections of artworks by the 20th-century Spanish artist. As you wander through, you'll witness Picasso's evolution as an artist – from his early sketches to his iconic blue and rose periods.
It's a journey through his life, his passions, and his undeniable genius. A fair warning: Time flies when you're engrossed in his masterpieces, so keep an eye on that watch!
6:00 pm: Basílica de Santa Maria del Mar
From art to architecture. As you leave the museum, make a quick pit stop at the Basílica de Santa Maria del Mar.
This church, with its sturdy pillars and towering presence, tells tales of maritime Barcelona.
You don't need to venture inside; the exterior itself is a testament to Catalan Gothic architecture. I mean, just look at those details!
6:30 pm: Barceloneta Beach
Time to trade cobblestones for sandy shores! Stroll through El Born's maze-like streets, let your curiosity guide you to cool cafes or quirky stores, and then find yourself at Barceloneta Beach.
This isn't just any beach; it's Barcelona's beloved urban shore, as you may be able to tell when you get here based on just how popular it is.
Wander along the promenade, feel the sand between your toes, and maybe even brave a dip in the sea if you're up for it. As the sun dips, grab a chilled drink from a local chiringuito (beach bar) and toast to a day well-spent.
Evening option 1 – Dinner at Barceloneta
9:00 pm: Seafood restaurant in Barceloneta
Alright, foodies, this one's for you! If you're craving some authentic Catalan seafood, Barceloneta is where you wanna be tonight.
Now, a word to the wise: this area can be a bit of a tourist magnet, so knowing where to eat is crucial.
Here are my top picks, which I promise, won't let you down:
Can Solé – With its history dating back over a century, this spot is legit. From their monkfish stew to grilled prawns, every dish is a love letter to the sea.
Platja Ca la Nuri – Overlooking the beach, the view complements the meal. Trust me when I say their paellas have stories to tell.
Can Maño – A little rustic, kinda noisy, but oh-so-authentic. Their fried fish and squid? Simply legendary.
Remember to reserve a table though. These places fill up fast!
After dinner: Continue the night
Done with dinner? The night's young! How about a few quiet drinks gazing at the Mediterranean?
Or, if you're in the mood to dance the night away, some of the city's most popular nightclubs are just a stone's throw from the beach!
Evening option 2 – Flamenco and dinner (if you didn't do it on day 1)
8:15 pm: Flamenco and dinner
Missed the flamenco and dinner experience on the first night? It's not too late!
Let the foot-tapping, heart-pounding performance sweep you off your feet as you enjoy a delicious meal. It's an experience of passion, artistry, and Spanish soul.
It's a vibe you won't find anywhere else in the world and the memories of this night that you'll take home could even be better than the food you'll get to enjoy here.
Evening option 3 – Magic Fountain of Montjuïc
Hey there, fellow wanderers! And, just a heads up, don't let the name fool you. There's no magic spell involved, but it's magical nonetheless.
9:00 pm: Magic Fountain of Montjuïc
If you're looking for a blend of music, water, and lights, this spot will be right up your alley. You'll see water dancing to the rhythm of music while lights paint it in a spectrum of colors.
Yep, that's the vibe at the Magic Fountain of Montjuïc. Try to head there a bit early; trust me, you won't be the only one wanting a front-row view.
A quick tip: Do check if the fountain's playing its tunes that night because, you know, sometimes it takes a break for environmental reasons.
But the fountain isn't the only star of the show. Make sure to wander up and check out the grand MNAC building.
You know, big impressive structure, can't miss it! The views from there? Well, let's just say they add a whole other layer of charm to the evening.
10:00 pm: Dinner
Hunger calling? After all that excitement, I bet it is.
You've already got a bunch of my recommendations from the past days, but if none of those struck your fancy or you're eager to explore more, think Gràcia. This neighborhood is a maze of narrow streets filled with restaurants and bars that have that authentic local vibe.
So go on, let your feet and your appetite guide you to an unforgettable meal in this vibrant part of town.
Morning (day 3)
By now, your footsteps have traced a good chunk of Barcelona, right? Feeling those calves yet? Don't worry, day 3 is here with a more relaxed vibe.
Today, I'm tossing the rigid schedules out the window and giving you a few cool options to vibe with. It's all about what floats your boat – or in one case, which fish you'd like to see float!
Whether you're into sports, arts, or marine life, I've got you covered.
FC Barcelona Museum
Here's a fun fact: Out of all the amazing museums in Barcelona, it's the FC Barcelona Museum that's the most visited out of all of them!
So even if you're not a die-hard Barça fan, this probably gives you a pretty good hint that this museum is a great dip into the football culture that's truly the heart and soul of Barcelona.
Here, you can trace the legacy of legends like Messi, Xavi, and Iniesta. Peek at the glittering trophies, get a load of that rich history, and immerse yourself in interactive exhibitions that make you feel like you're part of the game.
Quick note: Camp Nou is getting a bit of a glow-up at the moment, so stadium visits are off the table, unfortunately. But hey, the museum itself is a world of wonders, so you won't be missing out much.
National Museum of Catalan Art (MNAC)
For the art aficionados, the National Museum of Catalan Art (MNAC) is where you'll want to be. Housed in the grand palace overlooking the Magic Fountain (you remember our evening adventure if you chose that option, right?), this museum boasts a jaw-dropping collection of Catalan art.
From medieval frescoes that make you go "whoa" to modern art pieces that might leave you scratching your head (in a good way!), it's a cultural journey you don't want to miss.
Plus, the panoramic views of the city from here? Trust me; it's the cherry on top.
Barcelona Aquarium
If you're with kiddos or just have a thing for the mysteries of the deep blue, the Barcelona Aquarium might be your jam. As one of Europe's most impressive aquariums, it gives you a front-row seat to the magic of the Mediterranean Sea.
Walk through an underwater tunnel with sharks gliding above, wave at the playful penguins, and maybe make a fishy friend or two. It's a serene, sometimes hypnotic experience, and a great way to chill before the next adventure-packed day.
By the way, something to keep in mind, especially if you're traveling with kids: buying your tickets to the Aquarium in advance gets you fast track entry – which means more fish time and less impatient whining! (From the kids or the adults…)
Poble Espanyol
You want a slice of Spain, all in one spot? Enter Poble Espanyol.
Picture this: an architectural museum-village that's like a real-life collage of the different styles from all over Spain. You'll walk through Andalusian courtyards one moment and then find yourself in a traditional Basque house the next.
Craft workshops, contemporary art, cute boutiques – it's a cool place to wander, get a feel of the country's diverse culture, and maybe snag a souvenir.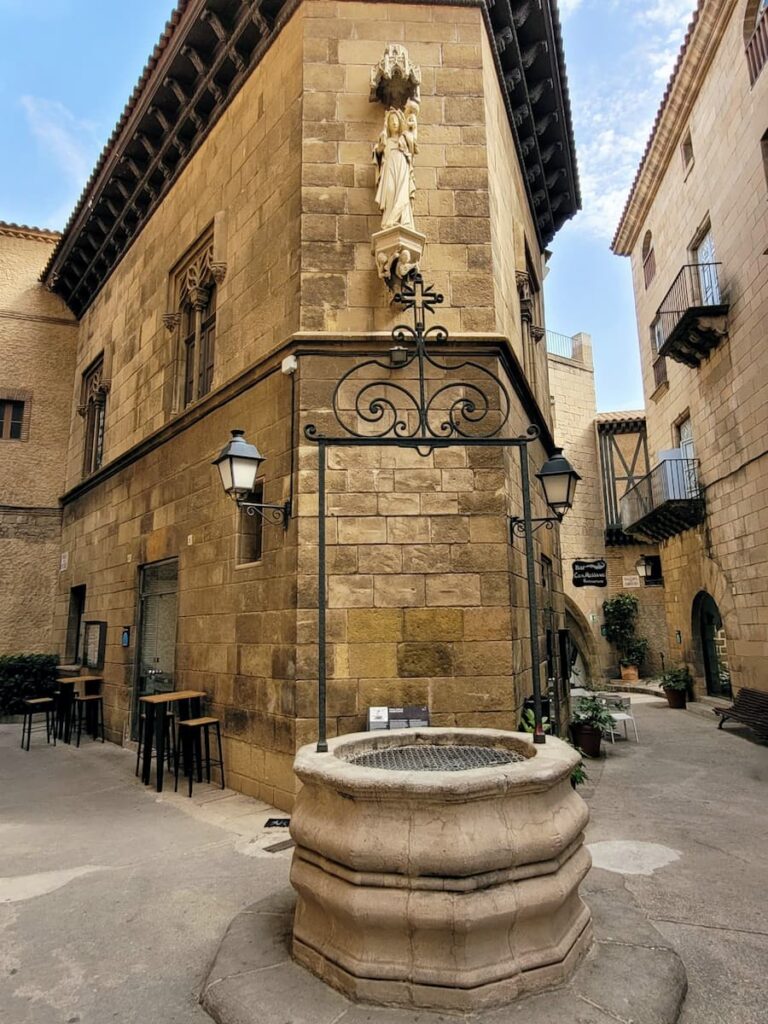 Fundació Joan Miró
Art lovers, get ready for a deep dive into the colorful universe of this iconic Catalan artist. The Fundació Joan Miró is home to a mind-boggling collection of his works – paintings, sculptures, textiles, and more.
Plus, the architecture of the museum itself is something to talk about. It's a space that stimulates your senses, makes you think, and reminds you of the boundless realms of creativity.
Top tip: grab a spot on the terrace and just take a minute to enjoy the skyline views.
Chocolate Museum
Hold onto your sweet tooth, folks, because next, we're hitting up the Chocolate Museum! Discover the sweet journey of chocolate, from bean to your favorite bar.
With mouthwatering displays, historic tales, and a sprinkle of fun, it's not just a place to learn but also indulge.
Spoiler alert: your ticket is an edible chocolate bar. Yup, you read that right!
Lunch
1:30 pm: Lunch in Poble-Sec
Poble-Sec is one of those local districts that often flies under the radar but it's honestly got some top-notch spots (and, more to the point, is conveniently located near our next stop).
If you've been dreaming of seafood or paella or maybe just a plateful of tapas, I've got you covered with my top picks for places around here:
RíasKRU: This place knows its seafood. Fresh, flavorsome, and prepared to perfection, it's a great choice if you're craving something from the ocean.
Elche: If you haven't yet indulged in paella, now's the time! Elche serves a memorable plate of this iconic dish. You won't forget it.
Quimet i Quimet: Tapas time! Tiny bites packed with flavors. It's busy, it's buzzing, and it's downright delicious.
Afternoon
3:00 pm: Cable car up Montjuïc
So you may have noticed by now that Barcelona is beautiful from street level, but from up high? Pure magic.
That's why I always recommend taking the cable car up Montjuïc. It's not just about the destination, it's about that journey too.
As you float above the city, you'll get a bird's-eye view of the grid-like streets, the bustling life below, and the shimmering coastline. It really gives you a fresh perspective.
Plus, the ticket you can get online in advance not only lets you skip the line, but it covers a round trip. So you'll get those awe-inspiring views both ways!
3:15 pm: Parc de Montjuïc, Montjuïc Castle and more
Once you step off that cable car, a world of choices opens up. Montjuïc isn't just a mountain; it's like its own little universe of attractions.
But first, those views! No words or photos do them justice. It's one of those 'you have to be there' moments.
Once you've taken in the panorama, there's a range of other things up here that you can check out:
Castell de Montjuïc: This isn't just any castle. This fortress tells tales of centuries gone by. Standing tall since the 17th century, it's seen its fair share of history, having been everything from a military prison to a museum. These days, they often have some great exhibitions and events happening, so check out what's on.
The Mirador: Halfway up your cable car adventure, this lookout point greets you. And, it's absolutely the spot to take those pics that'll make your friends a tiny bit envious. You've got the sea on one side, the city's hustle and bustle on the other, and mountains framing it all.
Parks & Gardens: Now, Montjuïc isn't just about grand structures and views; it's green and lush and full of little pockets of nature. The Mirador Gardens are like a tiny oasis, complete with sculptures and shady spots to just sit and be. But if you're feeling like exploring a bit more, the larger Parc de Montjuïc sprawls across the mountain, hiding attractions like the Magic Fountain and the Olympic Stadium in its embrace.
So make sure you soak it all in, choose your own Montjuïc adventure, and remember, it's not just about ticking off places from a list but about the stories and memories you gather along the way.
5:15 pm: Descend in the cable car
Alright, it's time to head back down. I know, I know, you could stay up there forever, right? But we've got some more good stuff planned.
So let's hop back into that cable car by around 5:15 pm. It's a swift ride down, taking just about 7 minutes. And guess what? Once you're on terra firma, the Paral·lel metro stop is right there, waiting for you. Super handy.
We've got a bit of a walk ahead, but it's a good one and shouldn't take more than 12 minutes. Stretch those legs and let's roll!
5:40 pm: Columbus Monument
Quick sidetrack! As we stroll on by, let's tip our hats to the Columbus Monument.
This towering figure pointing out to the sea is kind of hard to miss. While it's tempting to take the elevator ride up for those killer views, we'll have to keep it on our 'next time' list because we've got a date with the sea.
But for now, soak it in, snap a pic or two, and remember, this city is brimming with history at every corner.
6:00 pm: Sunset cruise
This is the kind of stuff that dreams are made of. Imagine this: The sky's painted with hues of oranges and pinks, there's a gentle sea breeze, you're aboard a luxurious 78-foot catamaran, live jazz tunes are playing in the background, and you've got a chilled drink in your hand.
Sounds good, huh? That's why this Sunset Sailing Cruise is where it's at.
For about 1.5 hours, you'll be out there, taking in Barcelona from a vantage point like no other. Just remember to take a moment, breathe it all in, and feel that gratitude. What a day, right?
Evening
7:30 pm: Dinner and drinks
After that unforgettable sunset cruise, you've probably worked up a bit of an appetite. You're in luck because the gastronomic scene here is pretty darn good – as you may have noticed by now.
Now, you're ending your cruise near the iconic La Rambla. I'd say, stroll along, feel the buzz of the city, and when you're ready, veer off into the Gothic Quarter.
This part of town is a web of alleys and squares, each corner holding its own stories. And among these stories are some seriously good tapas bars.
My advice? Let the scents and sounds guide you. Wander a bit, let the evening unfold, and find a cozy spot to settle down. Raise a glass to your adventures, indulge in some tapas, and reminisce about the day's escapades.
Day 4
Today, we're actually venturing away from the city a bit. While Barcelona has a ton to see, there are also some amazing day trips nearby that I'd definitely recommend making the effort to do.
And that's especially given you have four days in Barcelona, so you've got the time to experience a bit of everything!
Option 1 – Day trip to Montserrat and a winery
Montserrat isn't just a mountain; it's an experience. It's a slice of Catalonia's soul, and if you're here, you shouldn't miss it.
You can do this yourself, by taking either a public bus or maybe even renting a car. However, if that all sounds like a bit too much hassle, I'd strongly suggest checking out this day trip to Montserrat and a winery.
With this, your day will kick off with a comfy bus ride from Barcelona. And upon reaching the base of Montserrat, you'll hop onto a cogwheel train.
Now, this isn't just any train ride. As you ascend, you'll witness the rugged beauty of Montserrat's iconic multi-peaked ranges. It's pretty unreal.
Reaching the top, the historic aura of the Santa Maria de Montserrat Abbey will greet you. This place has seen centuries roll by.
On a guided walking tour, you'll uncover the tales of this 11th-century monastery. And yes, the entry's on the house – well, included in your tour price!
Got some free time here? Awesome. If you've planned it right, you might just get to meet the famous Black Madonna.
Or if art's your thing, the Montserrat Museum has pieces by the likes of Picasso and Dali, just waiting to impress you.
Fancy a better view? And let's be honest, who doesn't? Grab a funicular ride up the mountain for perspectives that'll have you pulling out your camera every two seconds.
But we're not done yet. Next, you'll find yourself amidst vineyards at a boutique winery.
Depending on what you've opted for, a light tapas lunch or a full-course meal will be ready for you. And as you munch, the Montserrat mountains provide a spectacular backdrop.
Post meal, it's time for a leisurely walk among the vines. Learn a bit, sip a bit. Relish a wine tasting session, taking in the aromas and flavors.
And as the day winds down, you'll make your way back to Barcelona, carrying memories of a mountain, a monastery, and some mighty good wine. What a way to wrap up your trip, right?
Option 2 – Day trip to Girona
If mountains and wine aren't up your alley (or you've already been to Montserrat), how about a bit of medieval charm with a sprinkle of pop culture?
Girona – Think cobblestoned streets, historic walls, and the kind of charm that makes you feel you've stepped into another time. Plus, if you've ever binge-watched Game of Thrones on a lazy weekend (who hasn't?), you'll feel right at home.
That's right, Girona has played backdrop to some pretty iconic scenes from the series!
Now, getting to Girona from Barcelona? A piece of cake. Just hop onto a train and you'll be there before you can finish two podcast episodes. At least for me, I found that I didn't really need an organized tour to get here.
Once you're in town, and especially if you're a GoT fan, I'd give a thumbs up to the Game of Thrones Girona Walking Tour. It's a killer combo of actual city history and juicy show tidbits.
You'll wander around, picturing dragons in the sky and knights around the corner. It's history and fantasy rolled into one, and it's a lot of fun.
However, if you're leaning more towards a no-effort, all-included kind of day, there's another option you might like: Girona and Costa Brava Tour. This trip ain't just about Girona; it promises a taste of the famed Costa Brava too.
With this, you'll kick things off in Girona. As you roam its streets, you'll feel layers of history beneath your feet.
The Arab Baths? They're a must-visit. Think ancient architecture that whispers tales from centuries ago.
After soaking in the Girona vibe, next up is Pals. This village is like a page from a fairy tale. Honestly, if there was ever a place that could make you believe in magic, this might be it.
Lunchtime will find you in Calella Palafrugell, and trust me, the local restaurants here know their stuff.
After a hearty meal, Costa Brava beckons. This stretch of coastline is the stuff of Spanish dreams – all rugged beauty and shimmering waters.
And yes, you can jump in the water. The Mediterranean is pretty inviting, especially after a day of exploring.
By the time you head back to Barcelona, your heart and camera roll will both be full of memories. After all, I think we can all agree that being able to do Girona and the Costa Brava in one day is a pretty great way to end your trip!
Where to stay in Barcelona for four days
Staying somewhere central is key to making sure you're able to hit the ground running at the start of each day you have here!
Remember, much like those advance tickets I recommended that you get for the main sights, Barcelona is incredibly popular for tourists and so it's essential to book accommodation well in advance to avoid missing out here.
Here are my top picks on the best places to stay in Barcelona for 4 days:
Best luxury accommodation: Ohla Barcelona – amazing rooftop pool, incredible views, and the perfect location to explore the city
Best mid-range accommodation: Seventy Barcelona – the décor of this boutique hotel is so modern and stylish, the rooftop pool is ideal, plus you'll be near the main sights the moment you step outside
Best budget accommodation: Àmfores Boutique Guest House – the rooms are comfortable, the location is superb and the terrace is a great spot to end your day
Is four days enough to see Barcelona?
Yes, four days in Barcelona is enough to give you a solid taste of what this vibrant city has to offer. While you won't be able to deep-dive into every nook and cranny, you'll certainly cover the main highlights and soak in its unique ambiance.
Basically, it's a timeframe that lets you experience both the iconic and the local.
Now, let's be real. Barcelona has a lot to offer. There's its rich history, its modernist architecture, its beach vibes, its art scene… you get the gist.
So having a four day itinerary in Barcelona means prioritizing and maybe even leaving a few things for "next time." But that's okay!
What's important is that you immerse yourself in the experiences you do choose. Barcelona has a way of making every moment count, from a casual stroll down La Rambla to gazing up at the intricate façade of the Sagrada Família.
So, while four days isn't an exhaustive exploration, it's enough to leave you with memories and stories galore.
Can I see everything in Barcelona in four days?
In all honesty, seeing everything in Barcelona in just four days is a tall order. The city is packed with cultural treasures, architectural wonders, and little pockets of local life that take time to appreciate. However, four days will allow you to see a lot of what Barcelona is famous for.
I mean, in four days you can visit the likes of Park Güell, Casa Batlló, and maybe even squeeze in a day trip. But there will always be that local market you didn't get to wander, or that hidden courtyard you just didn't stumble upon. And that's perfectly fine!
Having a few unexplored corners gives you a fantastic excuse to return. After all, cities like Barcelona aren't meant to be fully unraveled in a single visit.
They invite you back, time and again, with the promise of new adventures and discoveries. So, while you might not see everything in four days, you'll capture enough of Barcelona's magic to make you dream of your next visit.
Is four days in Barcelona too much?
No, four days in Barcelona is by no means "too much." In fact, this duration strikes a sweet balance between short city breaks and longer, more leisurely stays. It gives you ample opportunity to not just visit major attractions, but to also soak in the local atmosphere.
With a city as dynamic and multifaceted as Barcelona, having those extra days can be a godsend. Instead of rushing through a checklist, you have the luxury to spend an afternoon people-watching at Plaça de Catalunya or indulging in a longer-than-planned lunch at a beachside chiringuito.
It's these unhurried moments that often become the highlights of your trip. Four days also means flexibility: bad weather one day? No worries, you've got time to shuffle things around.
Tips for spending 4 days in Barcelona
There are a few points I'd suggest you keep in mind to make sure you maximize your time during your four day itinerary in Barcelona:
Pre-book Tickets: The top must-do! Many of the city's popular sights have limited entry – and that's especially the case at the Sagrada Familia, Park Güell and Casa Batlló. Book online to avoid missing out.
Stay Central: Opt for accommodations in central areas like El Born, Gothic Quarter, or Eixample. It'll save you loads of commuting time.
Comfortable Footwear: With all the walking, your feet will thank you for some comfy shoes.
Late Meals: Spaniards dine late. For instance, don't be surprised to see restaurants filling up for dinner around 9 pm or even later.
Pickpocket Alert: Keep an eye on your belongings, especially in crowded areas like La Rambla.
Is it worth going to Barcelona for four days?
Absolutely! A four-day trip to Barcelona is a fantastic way to get a genuine feel for the city while still leaving some stones unturned (as a great reason to come back). With four days, you get a blend of iconic sights, local experiences, and perhaps even a side trip.
Barcelona is a city that constantly evolves, yet stays rooted in tradition. Those four days allow you to tap into its vibrant art scene, indulge in its culinary wonders, and revel in its unique Catalan culture.
From the twisting lanes of the Gothic Quarter to the modernist wonders of Eixample, there's a narrative waiting to be discovered. So, is it worth it? Totally.
Four days in Barcelona offers a mosaic of experiences that are both diverse and deeply enriching. Whether you're an art buff, a foodie, or someone just looking to bask in the Mediterranean sun, Barcelona for four days is always a good idea.