Ultimate Guide to the Weather in Barcelona (Month by Month)
This article may contain affiliate links. Please read our
Disclosure Policy
for more information.
So you've finally decided on visiting Barcelona. Great choice! But that then prompts the next question: when should you go?
And that's exactly why I've written this article on Barcelona's weather month by month! This Mediterranean city boasts an incredibly good climate overall that makes it ideal for visitors year-round.
Whether you dream of strolling through Gaudí's whimsical creations or savoring tapas in a sunlit square, almost any time of the year will let you do just that.
So, are you ready to find the ideal month for your unforgettable Barcelona trip? Keep reading to find out which turn of the calendar is the right one for you!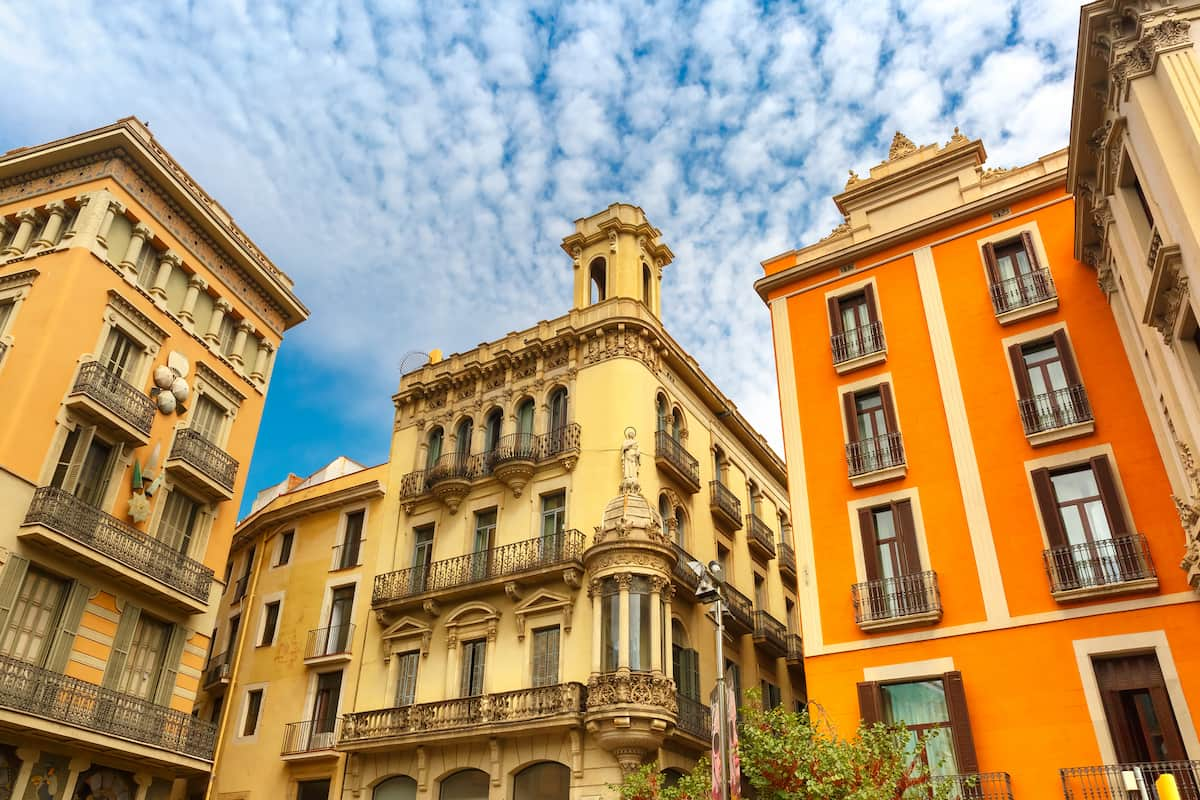 Weather in Barcelona: Month by Month
To help you plan your perfect trip, I've broken down the Barcelona weather by month so you know exactly what to expect – and what's the best time to visit Barcelona based on what you're looking for!
January
Average temperature: 6°C (43°F) – 14°C (57°F)
Average days of rain: 10
Begin the year by experiencing the crisp, cool air of Barcelona in January. The mild winter temperatures make it perfect for exploring the city's rich history and architecture.
Bundle up and stroll through the charming Gothic Quarter, or visit the iconic Sagrada Familia without the typical tourist crowds. The cooler weather means you'll have a more relaxed and enjoyable experience.
February
Average temperature: 6°C (43°F) – 15°C (59°F)
Average days of rain: 9
As the winter season starts to fade, February brings slightly warmer days and fewer rainy days, making it the perfect time to explore the city's outdoor attractions.
Visit Park Güell for a scenic hike or take a romantic walk along the beaches of Barceloneta. With temperatures still on the cooler side, you can enjoy the city's vibrant atmosphere without the summer heat.
March
Average temperature: 8°C (46°F) – 17°C (63°F)
Average days of rain: 10
March welcomes the first signs of spring in Barcelona. The days become longer, and the city starts to bloom with vibrant colors.
It's an excellent time to visit the famous gardens of Montjuïc, where you can take in breathtaking views of the city. The mild weather in March is ideal for discovering the city's many outdoor markets and savoring mouthwatering tapas on sun-drenched terraces.
April
Average temperature: 10°C (50°F) – 18°C (64°F)
Average days of rain: 9
April showers bring May flowers to Barcelona, and while there might be a few rainy days, the city's beauty truly comes to life during this month.
Experience the city's parks and gardens in full bloom, and don't miss the chance to visit the annual L'Aplec del Caragol, a snail festival with a variety of local dishes, music, and dancing.
May
Average temperature: 13°C (55°F) – 21°C (70°F)
Average days of rain: 7
May marks the beginning of Barcelona's warmer months, with pleasant temperatures and longer days. It's the perfect time to hit the beach or take a leisurely bike ride along the city's coastline.
Enjoy alfresco dining, and be sure to catch the exciting Primavera Sound music festival, which takes place at the end of the month.
June
Average temperature: 17°C (63°F) – 25°C (77°F)
Average days of rain: 5
June is when summer in Barcelona truly arrives, with warm temperatures and an abundance of sunshine. The city comes alive with outdoor activities, making it the perfect time to visit the stunning beaches or take a dip in the Mediterranean Sea. 
Don't miss the lively festivities of Sant Joan, where locals gather on the beach to celebrate the summer solstice with bonfires, fireworks, and music.
July
Average temperature: 20°C (68°F) – 28°C (82°F)
Average days of rain: 4
July is the heart of summer in Barcelona, boasting hot, sunny days and a vibrant atmosphere. It's the perfect time to soak up the sun on the city's golden beaches or cool off at one of its many rooftop bars.
Be sure to explore the open-air cinema nights and partake in the Grec Festival, an arts and music event held at the enchanting Montjuïc Castle.
August
Average temperature: 20°C (68°F) – 29°C (84°F)
Average days of rain: 5
August is the peak of summer in Barcelona, with the highest temperatures (including far too much humidity for my liking, if we're being honest) and a bustling atmosphere. Although "bustling" is a pretty polite way to say "heaving with tourists", just so we're clear.
So, yep, Barcelona in August is warm. But that may just be your thing, especially if you're looking to enjoy the city's lively beach clubs, have a drink next to the Mediterranean, or explore the many water sports on offer.
The month also brings the lively Festa Major de Gràcia, a week-long street festival where the neighborhood of Gràcia is transformed with elaborate decorations, music, and dancing.
September
Average temperature: 17°C (63°F) – 25°C (77°F)
Average days of rain: 6
As the summer starts to wind down, September offers a pleasant respite from the heat while still maintaining its sunny disposition.
This month is perfect for exploring the city's museums and galleries, as well as attending the La Mercè Festival, Barcelona's largest and most iconic celebration, which features parades, fireworks, and cultural performances.
October
Average temperature: 13°C (55°F) – 21°C (70°F)
Average days of rain: 10
October sees the arrival of autumn in Barcelona, with cooler temperatures and vibrant fall colors. It's an excellent time to visit the picturesque parks and gardens, such as Parc de la Ciutadella or the Labyrinth Park of Horta.
The cooler weather also makes it perfect for exploring the city's fascinating architecture, including Gaudí's masterpieces, without the summer crowds.
November
Average temperature: 9°C (48°F) – 17°C (63°F)
Average days of rain: 10
November brings cooler temperatures and more frequent rain, but don't let that deter you from visiting this captivating city. It's the perfect time to explore Barcelona's rich culinary scene, with cozy cafes and renowned restaurants offering hearty dishes to warm you up.
Take advantage of the quieter streets and discover the city's many art galleries and museums at your own pace.
December
Average temperature: 6°C (43°F) – 14°C (57°F)
Average days of rain: 9
December in Barcelona is truly magical, with festive lights adorning the city and the crisp winter air adding to the charm. The holiday season is in full swing, with Barcelona's Christmas markets out in force, along with ice-skating rinks and other seasonal events.
Be sure to try some traditional Catalan holiday treats, like turron and neules, as you explore the city's enchanting winter wonderland.
What are the rainy months in Barcelona?
The rainiest months in Barcelona are April, October, and November, each averaging around 10 days of rain. During these months, you can expect occasional showers or heavier rainfall. However, the rain typically doesn't last all day, allowing you to explore the city and experience its charm even on damp days.
Just remember to pack a waterproof jacket and some comfortable shoes!
What months is Barcelona hot?
If you're looking for hot weather, plan your visit between June and August. During these months, temperatures often range between 25°C (77°F) and 29°C (84°F), making it perfect for beach outings, rooftop bars, and enjoying the city's lively outdoor atmosphere. It can be quite humid though, so drink plenty of water.
You should be prepared for a bustling city as well, as this is also peak tourist season. Remember to pack sunscreen, sunglasses, and a hat to protect yourself from the sun's rays as you explore the vibrant streets of Barcelona.
What is the coldest month in Barcelona?
The coldest month in Barcelona is January, when temperatures can dip as low as 6°C (43°F) and reach up to 14°C (57°F) during the day. While it might be chilly compared to the summer months, Barcelona's winter is still relatively mild compared to other European cities.
The cooler weather is perfect for exploring the city's historical sites and architectural gems without the summer crowds. Be sure to pack warm layers and a cozy scarf to stay comfortable while wandering the charming streets of this captivating city.
Has Barcelona ever had snow?
Snow in Barcelona is a rare sight, as the city's Mediterranean climate typically results in mild winters. However, there have been a few occasions when the city has experienced a light dusting of snow. The most recent and notable snowfall occurred in February 2018, when a cold spell brought snow to Barcelona and its surrounding areas.
While snow in the city is uncommon, if you venture into the nearby mountains, you'll find snowy landscapes and opportunities for skiing or snowboarding during the winter months.