11 Must-Sees of Modernist Architecture in Barcelona (2023)
This article may contain affiliate links. Please read our
Disclosure Policy
for more information.
While plenty of people come here for the sun, food, or the sheer vibe of the place, plenty of others put seeing the Modernist architecture in Barcelona just as high on their list of must-sees.
After all, with its skyline dotted with Modernist wonders, Barcelona is like an open-air museum for lovers of design and history. Some are incredibly famous (Sagrada Família, anyone?) and some you might not have heard of just yet, but they all offer an amazingly impressive array of examples of this iconic architectural style.
I live in Spain so have been fortunate enough to have spent a ton of time wandering Barcelona's streets – and, importantly, taking in all the architecture on offer.
In this article, I'll take you through a whirlwind tour of the city's architectural marvels, sharing anecdotes, fun facts, and some of my own discoveries. Stick around, and by the end, you'll have a list that goes beyond the usual touristy spots, giving you a deeper peek into Barcelona's soul.
Modernism and Gaudí Walking Tour
The best tour for seeing Barcelona's most impressive Modernist architecture in the one day.
With 10 different Modernist highlights, including the Sagrada Familia, Casa Batlló, Casa Amatller and more, you'll learn all of the insights behind each of these masterpieces.
Best Modernist Architecture in Barcelona
1. Sagrada Família
The Sagrada Família stands as an emblem of ceaseless dedication and passion. Although construction began over 130 years ago, the intricate details and vast vision mean it's still ongoing. Yet, even unfinished, its presence is monumental.
Master architect Antoni Gaudí took over the project in 1883, and his distinct touch is evident. He married Gothic and Art Nouveau forms to give the church its unique character.
Each façade, whether it's the Nativity or the Passion, intricately depicts biblical stories. The interiors, a marvel in themselves, take inspiration from nature: towering columns resemble forest canopies, while stained glass windows play with sunlight, casting an ethereal glow.
For a truly immersive experience, you should really try to get tickets to ascend one of its towers, as the view of Barcelona from there is panoramic.
PRO TIP: The Sagrada Familia is easily the most visited tourist site in Barcelona and tickets frequently sell out weeks ahead of time.
To make sure you don't miss out, you need to book your tickets for the Sagrada Familia well in advance of your visit. As once they're gone, they're gone – and seeing inside is a definite must while you're here.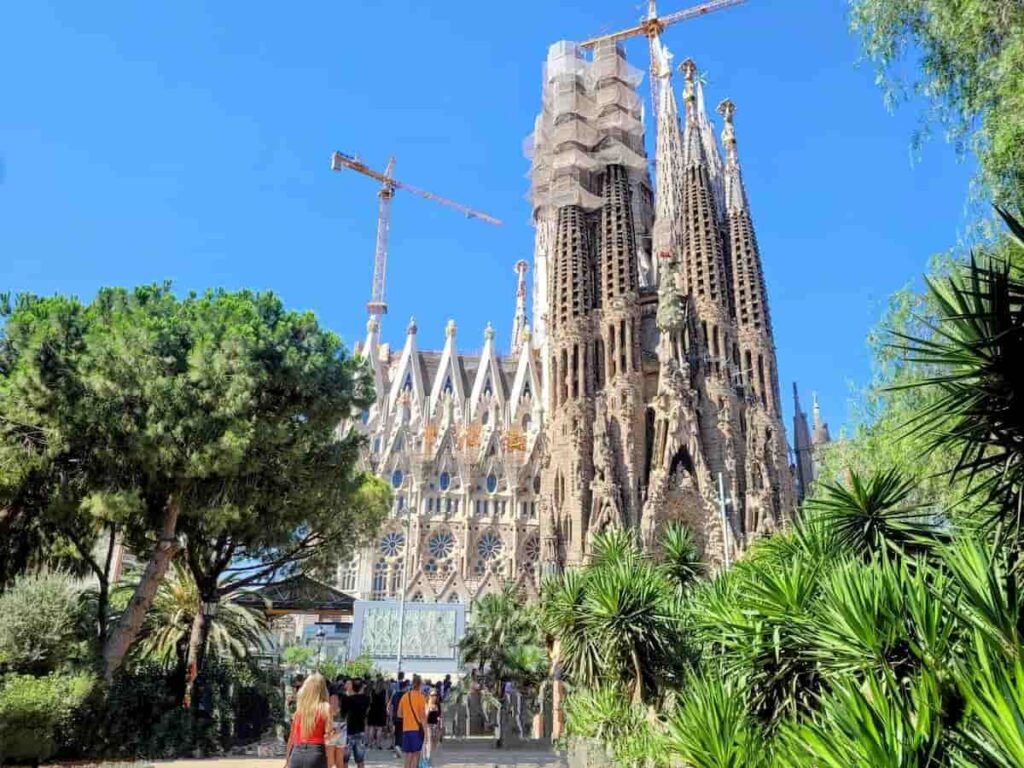 2. Casa Milá (La Pedrera)
Step into Casa Milá, and you'll realize why locals fondly dub it La Pedrera, meaning 'The Quarry'. This early 20th-century marvel is a testament to Gaudí's aversion to straight lines and his penchant for organic, flowing designs.
Every nook of this structure, be it the façade, courtyards, or interiors, showcases Gaudí's innovative approach to space and form. The rooftop, an architectural symphony of chimneys, vents, and stairwells, offers both art and vista.
Legend has it that the mountainous terrain of Montserrat provided Gaudí with ample inspiration for Casa Milá. Whether or not that's the case, if you happen to visit Barcelona in the balmy summer months, I strongly recommend getting tickets to one of the evening jazz sessions on this very roof.
It's one of those experiences where you sort of look around and wonder just how you got there – even if you're not an architecture buff.
3. Casa Batlló
Positioned gracefully on Passeig de Gràcia, Casa Batlló is more than just a building; it's a narrative in stone and glass. This Gaudí masterpiece often garners the moniker 'House of Bones' due to its skeletal architectural elements.
The façade is a play of colors and forms with balconies shaped uncannily like skulls, and supporting pillars evoking bone-like structures. This mosaic façade reflects the sunlight in a way that the building seems to be alive, shifting with the day's light.
The roof, resembling the sinuous form of a dragon, is accentuated with ceramic tiles that glint under the Spanish sun. Inside, Gaudí's genius continues: light wells ingeniously adapt their hues to provide consistent luminosity across floors, while the loft, with its arches echoing skeletal ribcages, adds a touch of intrigue.
My pick: If you have time to go into both Casa Milá and Casa Batllò, then you should definitely do so.
But if you only have the time (or budget) for one, my personal preference is Casa Batllò. I find it to be more impressive inside, with the chaotic fairytale vibe being different from anything I've seen before.
And, like the Sagrada Familia, tickets to Casa Batllò frequently sell out in advance so make sure to get your tickets ahead of time here.
4. Recinte Modernista Sant Pau
Recinte Modernista Sant Pau isn't just a building – it's an entire complex. Originally constructed as a hospital by Lluís Domènech i Montaner, one of Gaudí's contemporaries, it's now a UNESCO World Heritage site and a center of knowledge, hosting international institutions.
The use of mosaics, stained glass, and sculpted details gives this place a unique charm. The series of pavilions, connected by a network of underground tunnels, showcases the ingenious design that was way ahead of its time.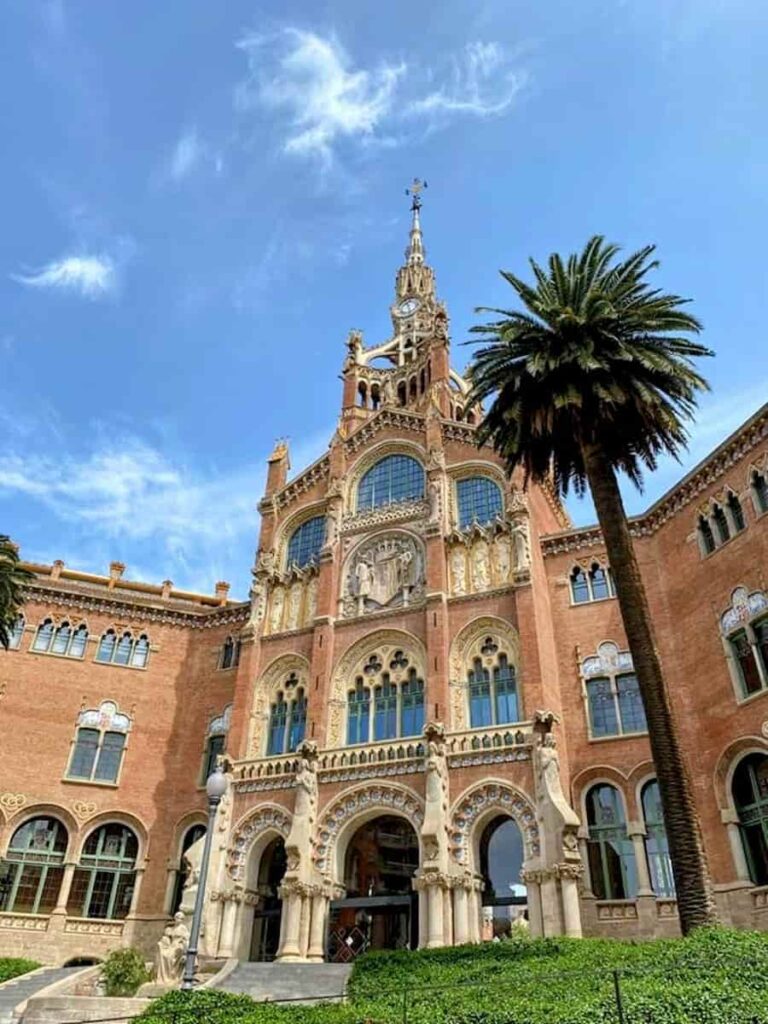 And if you're curious about the evolution of medicine, there's an exhibition space dedicated to just that.
Walking around, you'll appreciate how Montaner blended functionality with aesthetics. Not to mention that the gardens are a great spot to relax and soak in the artistry around you.
5. Palau de la Música Catalana
Music lovers, this one's for you! The Palau de la Música Catalana isn't just a concert hall – it's a symphony of color, light, and texture.
Designed by the same genius behind the Recinte Modernista Sant Pau, Lluís Domènech i Montaner truly outdid himself here.
From the moment you step inside, you're greeted by a whirlwind of ornate sculptures, mosaics, and stained glass. The main concert hall, crowned by a massive skylight of stained glass, makes you feel like you're inside a kaleidoscope.
And the acoustics? Absolutely top-notch. If you can, snag tickets to a performance – it's one thing to see the space, but experiencing a live concert here is a different ball game altogether.
(And if you can't see a performance, I still recommend this guided tour of the Palau de la Música Catalana. Seriously, this building is so beautiful inside that it's absolutely worth seeing.)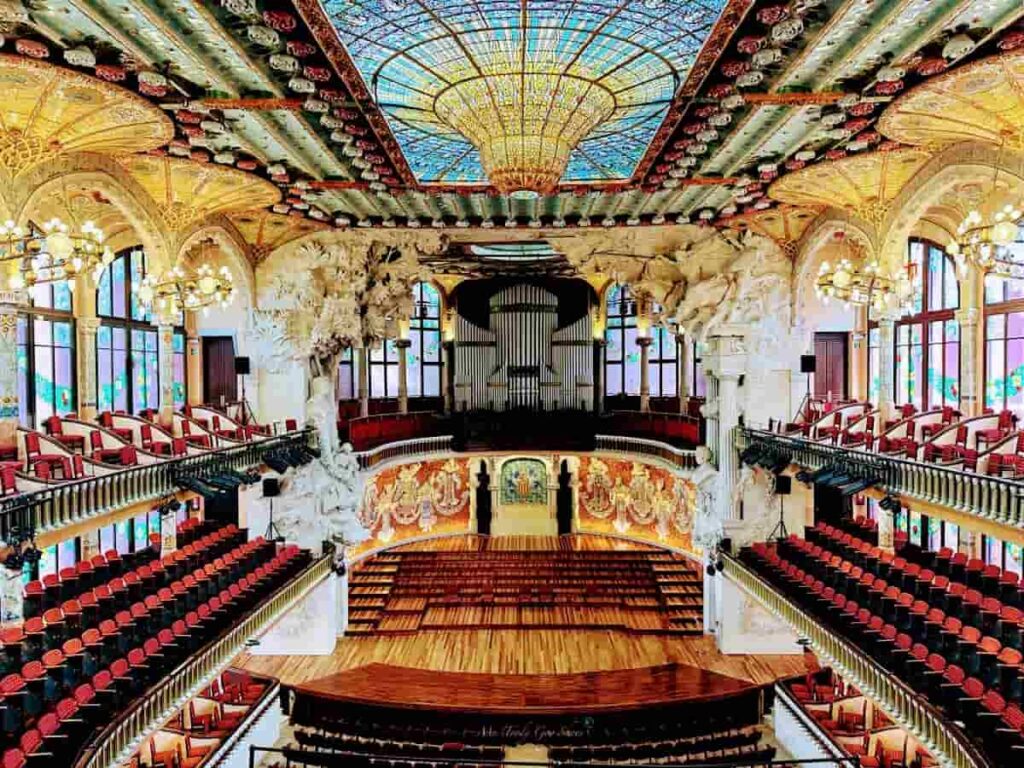 6. Casa Vicens
Casa Vicens was the first house designed by Antoni Gaudí. This building gives you a glimpse into the young architect's mind, offering hints of the brilliance that was to follow in his later works.
Unlike his later designs, Casa Vicens leans more towards the geometric. Yet, Gaudí's signature style of integrating nature is evident.
The façade is a lively mix of tiles inspired by flowers and leaves. Inside, you'll find intricately designed rooms, each with its own theme and charm.
The smoking room, with its Moorish-inspired ceiling, is particularly interesting. Take a moment to explore the gardens too – they're a peaceful retreat with some unique plant species.
7. Palau Güell
Right in the heart of the bustling La Rambla, you'll find Palau Güell, a brainchild of, you guessed it, our main man Antoni Gaudí. This mansion was a commission from the industrial tycoon Eusebi Güell, one of Gaudí's main patrons.
The building exudes opulence. From the outside, the ornate iron gates catch your attention – they're large enough to let in horse-drawn carriages!
Once inside, you'll find a mix of styles. Think wooden arches, parabolic arches, and playful chimneys on the rooftop terrace.
It's said that Gaudí designed the central hall to amplify sound, making it perfect for concerts. If the walls could talk, you can just imagine the stories of the parties that have been held here over the years!
8. Casa Amatller
Just a stone's throw away from the famed Casa Batlló is its equally impressive but often overshadowed neighbor: Casa Amatller. Designed by Josep Puig i Cadafalch, this building is an eclectic blend of Catalan Modernism and Dutch urban architecture.
The unique exterior, with its stepped gable, gives it a somewhat fairytale-like appearance. The façade showcases ceramic tiles with floral designs, a nod to Modernism's love for nature.
But it's not all about the outside – step in to discover its original furniture, intricate stained glass, and some funky decorative touches. And for chocolate lovers, a bonus: the Amatller family were chocolatiers, and the ground floor still sells some of the finest chocolates in town.
9. Casa Lleó i Morera
Completing the trio of Passeig de Gràcia's architectural wonders alongside Casa Batllò and Casa Milá is Casa Lleó i Morera. This building, also by the talented Josep Puig i Cadafalch, often gets overshadowed by its famous neighbors.
But trust me, it holds its ground with grace and charm. In particular, the attention to detail here is remarkable.
Look out for the floral motifs on the façade, crafted by celebrated sculptor Eusebi Arnau. Inside, the warmth of woodwork contrasts beautifully with the soft glow from the ornate stained glass windows.
The mosaics, crafted with minute precision, are visual narratives that you'll love decoding.
10. Casa Les Punxes
Casa Les Punxes is a place that effortlessly combines history with legend. Located in the Eixample district, this is one of those buildings that'll definitely make you look twice.
Its name translates to "House of Spikes", and once you spot its pointed towers, you'll see why. Designed by Josep Puig i Cadafalch (yep, the genius we talked about earlier), Casa Les Punxes stands out for its medieval castle-like appearance amidst a cityscape of Modernist marvels.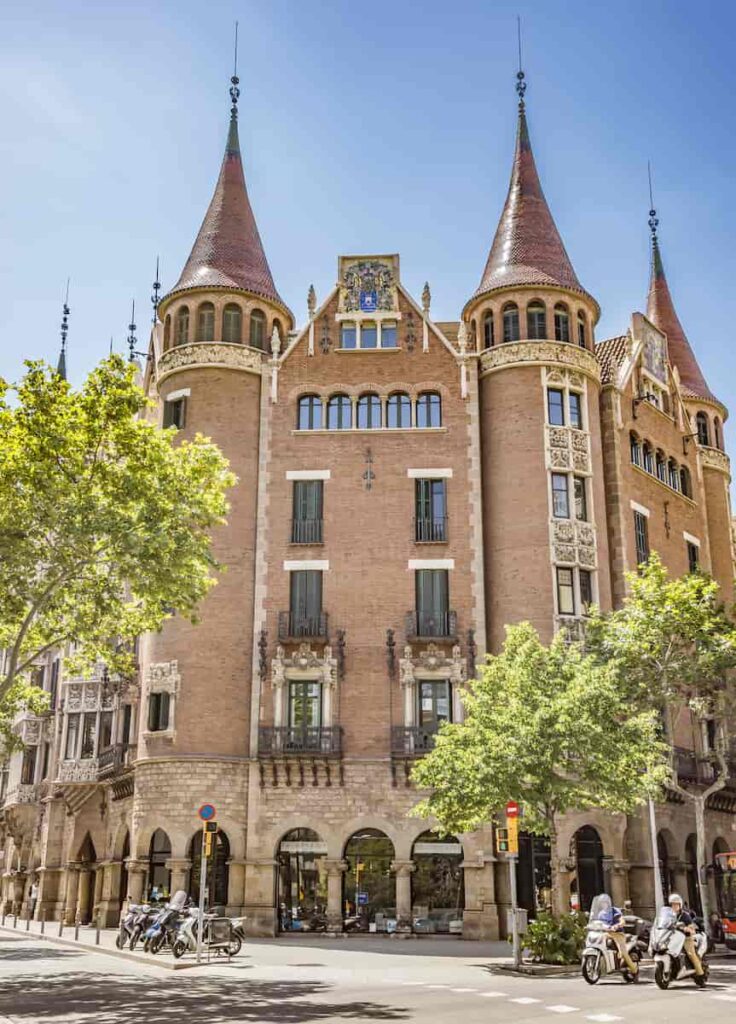 The structure is actually made up of three houses combined into one, unified by those signature pointed rooftops. Each façade narrates a piece of Catalonia's folklore, making it a visual storybook of sorts.
Fun fact: it's inspired by the legend of Saint George and the dragon. So, while you're admiring the architecture, see if you can spot the references to this epic tale.
11. Casa Macaya
Another brainchild of our man Josep Puig i Cadafalch, Casa Macaya is elegance personified. Unlike its flamboyant cousins on Passeig de Gràcia, Casa Macaya is subtle, understated, and, dare I say, soothing.
Located away from the hustle and bustle, it's a serene spot to appreciate the nuances of Modernist design.
With a predominantly white façade, it's the details here that shine: from the ornamental balconies to the carved wooden doors. The courtyard is particularly peaceful, featuring arches and columns that whisper tales from the past.
It's also a space for cultural events now, so you might get lucky and stumble upon an art exhibit or a small music performance.
Where is the modernist area in Barcelona?
The modernist area in Barcelona is mainly located in the Eixample district. This distinctive part of the city is known for its unique architecture and cultural significance. As you stroll through Eixample, you'll encounter some of the most famous modernist buildings that should be on your must-see list.
One of the most iconic streets within the Eixample district is Passeig de Gràcia, which is lined with stunning modernist structures designed by renowned architects like Antoni Gaudí and Lluís Domènech i Montaner. This boulevard is a perfect starting point to discover the beauty of modernist architecture in Barcelona.
The Eixample district itself is characterized by a grid-like layout, wide tree-lined avenues, and octagonal intersections. This urban plan was designed by Ildefons Cerdà to accommodate the rapid expansion of the city in the 19th century.
Due to its strategic location and thoughtful layout, Eixample attracted some of the wealthiest families in Catalonia, who commissioned architects to design their luxurious residences in the modernist style.
As you explore the Eixample district, don't miss the opportunity to visit iconic modernist buildings such as Casa Batlló, La Pedrera, and La Sagrada Familia. While these are undoubtedly the highlights of Barcelona's modernist architectural legacy, they're just a small part of what the entire area has to offer.
To fully appreciate the beauty of the modernist area in Barcelona, take your time to wander through the Eixample district, discovering both its iconic landmarks and lesser-known architectural gems. Remember that experiencing the Eixample is not only about admiring the buildings, but also about immersing yourself in the culture, history, and lifestyle of Catalonia's capital city.
What is modernism in Barcelona architecture?
Modernism in Barcelona architecture refers to a unique and artistic movement that emerged at the end of the 19th century. This style, known as Modernisme in Catalan, is deeply connected to the cultural context of Catalonia and Barcelona, with Antoni Gaudí playing a significant role in this.
As you explore Barcelona's architecture, you'll notice that Modernisme has features in common with other artistic movements of the time, such as Art Nouveau. However, it distinguishes itself with its uniquely Catalan elements.
For instance, modernist buildings in Barcelona possess whimsical, avant-garde characteristics, often incorporating organic shapes, vibrant colors, and intricate decorative patterns.
Catalan Modernism arose during the Industrial Revolution and was heavily influenced by the region's growing sense of identity and its thriving economy. Architects like Gaudí, Lluís Domènech i Montaner, and Josep Puig i Cadafalch sought to redefine the urban landscape with their innovative designs.
These architects, among others, contributed iconic structures such as Casa Batlló, Park Güell, and La Sagrada Família, which have become symbols of Barcelona's modernist heritage.
One area where you can experience the essence of Modernisme is the Block of Discord in Barcelona's Eixample district. Here, several notable modernist buildings, including Casa Batlló, Casa Amatller, and Casa Lleó Morera, showcase the best of this architectural style.
Who are the most important architects of Catalan Modernism?
When exploring the world of Catalan Modernism, you'll undoubtedly come across some of the most iconic architects of this fascinating design movement. Antoni Gaudí, Lluís Domènech i Montaner, and Josep Puig i Cadafalch are three of the most influential figures in this field.
Each has made their mark on Barcelona's architectural landscape, leaving an enduring legacy.
Antoni Gaudí is perhaps the most famous of these modernist architects. His imaginative and creative works have captured the attention of countless admirers.
Some of his most well-known buildings in Barcelona include the Sagrada Família, Park Güell, and Casa Batlló. Gaudi's style is truly unique, characterized by organic forms, intricate detailing, and vibrant colors.
While Gaudí is certainly the most widely recognized Catalan Modernist architect, Lluís Domènech i Montaner's contributions to the movement cannot be understated. He designed over 30 buildings in Barcelona and throughout Catalonia, with some of his most noteworthy works being Palau de la Música Catalana and Hospital de Sant Pau.
Domènech i Montaner's architecture often features a mix of delicate ornamentation, bold shapes, and rich materials, making it distinct in its own right.
Lastly, Josep Puig i Cadafalch's artistic vision also played a significant role in shaping Barcelona's modernist landscape. Among his many creations are the stunning Casa Amatller, Casa Macaya, and Casa de les Punxes.
Puig i Cadafalch's designs uniquely fused Gothic and Art Nouveau influences, resulting in extraordinary architectural masterpieces.
Between Gaudí, Domènech i Montaner, and Puig i Cadafalch, you have a veritable treasure trove of Catalan Modernist architecture to discover in Barcelona. Each architect's distinctive style contributes to the city's undeniable charm and aesthetic appeal, making it a must-visit destination for architecture enthusiasts!
Who was the famous modernist architect of Barcelona?
Antoni Gaudí was the most famous modernist architect of Barcelona. Born in 1852, Gaudí helped bring Catalan architecture to worldwide fame and reputation. His unique ability to synthesize tradition and new technical solutions made him stand out among his contemporaries.
Gaudí wasn't only an architect but also a designer who integrated creative and plastic elements into his buildings. His most famous work, the Sagrada Familia, has been a work in progress since 1892 and is predicted to be completed in 2026, marking the centenary of Gaudí's death.
Some other notable works of Gaudí's in Barcelona include Casa Batlló, Park Güell, and Casa Milà.
It's worth mentioning that Barcelona is the city with the highest number of modernist buildings included in the World Heritage List. Out of the 9 modernist buildings on the list, 7 of them were designed by Antoni Gaudí.
His unique approach to design, blending nature-inspired forms with innovative materials and construction techniques, caught the eye of art lovers worldwide.
When you visit Barcelona, you can't miss the opportunity to explore Gaudí's masterpieces and embrace the essence of Catalan modernism. Whether it's the intricate façades of Casa Batlló or the expansive greenery of Park Güell, Gaudí's work continues to impress and inspire visitors from all corners of the globe.
What is Catalan modernism architecture?
Catalan Modernism, also known as Modernisme, is a cultural movement that emerged during the late 19th century in Catalonia, primarily in Barcelona. It shares similarities with the Art Nouveau movement but carries a unique Catalan twist. The movement impacted many creative fields, such as architecture, art, music, and literature.
Architects like Antoni Gaudí and Josep Puig i Cadafalch are two of the most famous proponents of the movement, contributing some of the most iconic modernist buildings in Barcelona. The movement is characterized by a blend of traditional Catalan building techniques with innovative materials and a strong use of color, ceramics, and ornate decorative elements.
You'll often find nature-inspired motifs like leaves, flowers, and creatures adorning the facades and interiors of these buildings.
Modernist architecture aimed to break away from the prevalent historicism and classicism of the time. The unique aesthetics of Catalan Modernism often feature organic forms, free-flowing curves, and rich ornamentation inspired by local flora and fauna.
As a result, the buildings often stand out for their originality and strong visual impact. Some iconic features include towers, spires, and intricate ironwork.
The vibrant Catalan Modernism movement has had a lasting impact on Barcelona's architectural landscape. Many structures built in this style, such as Gaudí's Casa Batlló and Park Güell, are now popular tourist destinations that capture the essence of this fascinating period.
Today, the Modernist architecture of the city remains an important aspect of its cultural identity, and it's an experience you shouldn't miss when visiting Barcelona.
Is Catalan Modernism Art Nouveau?
Yes, Catalan Modernism is often considered a variant of Art Nouveau. Although the two movements share similarities in their use of organic shapes and commitment to innovation, Catalan Modernism has its roots in the specific cultural and social context of Catalonia and Barcelona.
This unique blend of influences and regional character gives Catalan Modernism its distinct identity.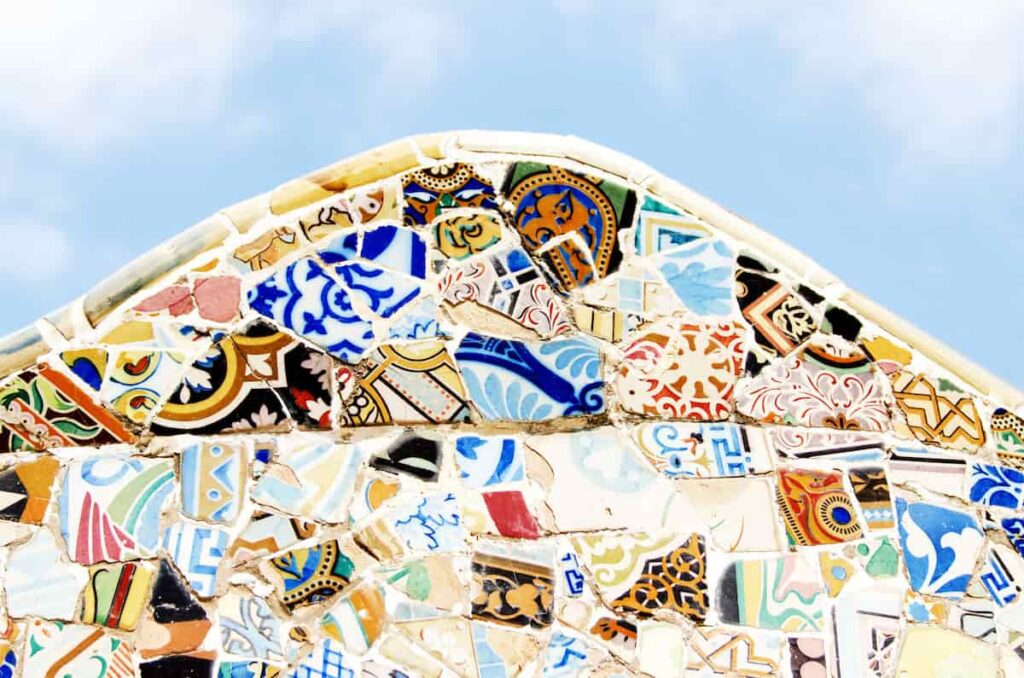 As a cultural movement, Catalan Modernism emerged at the end of the 19th century, around the time of the Industrial Revolution. This period was marked by a surge of artistic, architectural, and social experimentation, which inspired architects, artists, and writers across the region.
Amid this backdrop of intense creativity, Catalan Modernism, or Modernisme in Catalan, began to take shape, reflecting the progressive spirit of the era and the region's distinct identity.
In contrast to the wider Art Nouveau movement, which often employed a more delicate and ornate visual language, Catalan Modernism was characterized by a boldness and enthusiasm for innovative forms. Architects like Antoni Gaudí and Josep Puig i Cadafalch played a significant role in establishing the movement's iconic and innovative architectural approach.
These architects, along with others, were known for combining traditional styles with revolutionary designs in their work, resulting in a distinctive visual language that has become synonymous with Barcelona's unique aesthetic identity.
While the movements have much in common, such as the use of organic shapes, fluid lines, and a fascination with the natural world, it's important to recognize the uniqueness of Catalan Modernism within the broader Art Nouveau landscape. It's this inherent connection to Catalonia's rich culture and history that sets it apart and makes it a particularly fascinating movement to explore and understand.
What are some of the characteristics of Catalan Modernism?
Catalan Modernism, or Modernisme in the local language, is an architectural movement that emerged in Catalonia around 1888-1910. It's closely connected to the search for a unique Catalan national identity and primarily associated with the vibrant city of Barcelona.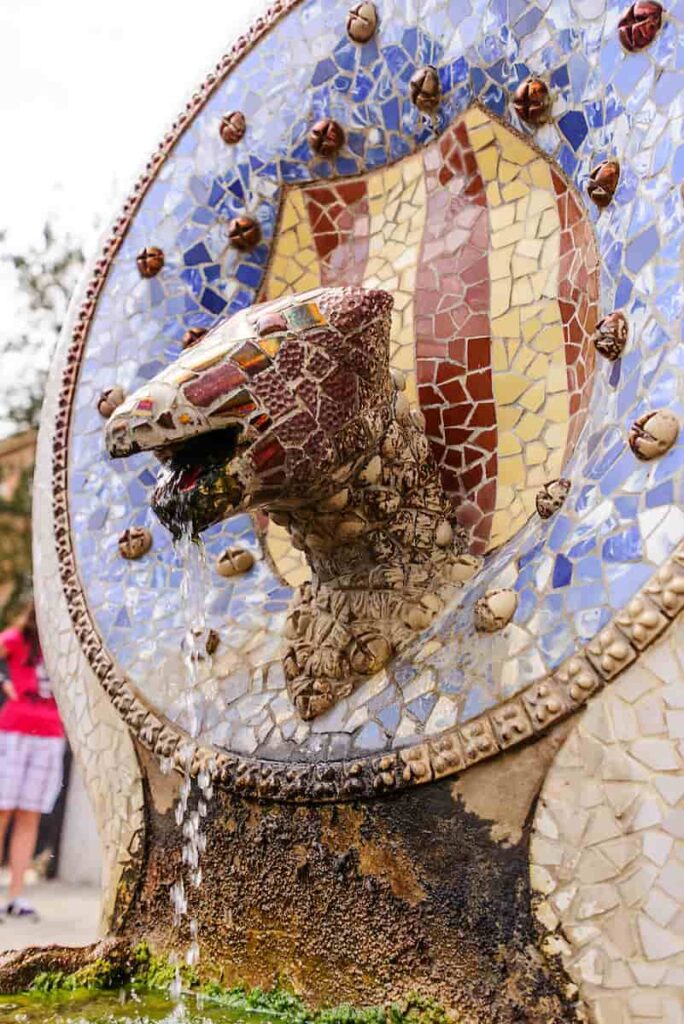 This captivating style displays a fusion of Catalan culture, rich imagination, and the unparalleled skills of modernist architects like Antoni Gaudí.
One of the prominent features of Catalan Modernism is the use of asymmetrical shapes and designs that replicate the natural world. Curved lines are preferred over straight ones, bringing a certain organic feeling to the buildings.
You'll often find elements inspired by animals, plants, and other natural motifs such as creatures, leaves, and flowers designed with a highly imaginative approach, capturing the essence of Catalan culture.
Another characteristic is the vivid and bold use of color. In Catalan Modernism, color is employed as a vital component to bring the buildings to life.
The artwork is dominated by a rich palette of colors, often combined with the extensive use of ceramics to create stunning patterns and mosaics. This creates an incredibly lively and dynamic atmosphere within and around the structures.
Besides color and ceramics, Catalan Modernism also features unique building materials and bold decorative elements. Some of these include wrought iron, glass, and stone, which add depth and texture to the buildings.
You'll find that many modernist structures have impressive facades, adorned with intricate detailing that highlights the skill and vision of the architects.
In summary, Catalan Modernism is an architectural movement that celebrates the extraordinary blend of imagination, creativity, and cultural identity. With its unique characteristics such as asymmetrical shapes, nature-inspired designs, vibrant colors, and bold use of materials, it's left a lasting impression on the city of Barcelona and continues to inspire visitors from around the world.
What architectural style is Barcelona known for?
Barcelona is widely known for its modernist architecture, often referred to as Catalan Modernism. This unique style emerged in Catalonia, with the city becoming the epicenter of the movement during the late 19th and early 20th centuries.
The famed architect Antoni Gaudí is the most prominent figure associated with Barcelona's modernist movement, along with others like Josep Puig i Cadafalch.
As mentioned earlier, Modernisme, as it's known in Catalan, is characterized by vibrant colors, intricate patterns, organic shapes, and the integration of various art forms, such as sculpture, painting, and decorative crafts. The style was a departure from traditional Gothic architecture, which dominated the region before the emergence of Modernisme.
This new architectural approach aimed to create a distinctly Catalan identity while responding to the exciting innovations and influences of the industrial age.
You'll find various modernist buildings scattered throughout Barcelona, showcasing the ingenuity of Gaudí and his contemporaries. Some of the most notable examples include Park Güell, Casa Batlló, and La Sagrada Familia.
These structures aren't only visually stunning but also showcase the expert craftsmanship and attention to detail characteristic of the Modernisme style.
In addition to Modernisme, you'll also encounter remnants of the city's Gothic and Romanesque architectural past, further enriching the architectural landscape of Barcelona. The coexistence of these styles creates an irresistible charm and cultural depth that only adds to the vibrancy of the city.
Was Gaudi a Modernist?
Yes, Antoni Gaudí was a Modernist architect. He's considered one of the most prominent figures in the Modernist movement, and his unique style greatly influenced architecture in Barcelona and beyond. Gaudí's works are a significant part of Catalan Modernism, showcasing the region's rich artistic heritage.
Antoni Gaudí's designs are known for their fluid forms, intricate detailing, and use of organic shapes inspired by nature. He incorporated various elements of Gothic, Moorish, and Art Nouveau styles into his creations, resulting in a distinct aesthetic that has come to be synonymous with Modernism.
Some of his most famous works in Barcelona, such as Casa Batlló and Casa Milà, illustrate Gaudí's creative genius and have become iconic landmarks of the city.
In addition to his residential projects, Gaudí also contributed to the construction of public buildings, churches, and parks. One of his most famous masterpieces, the unfinished Sagrada Família, stands as a testament to his dedication to modern architecture and his visionary approach.
This basilica, which is still under construction, is a monumental synthesis of Gaudí's ideas, representing an innovative fusion of tradition, faith, and contemporary architectural techniques.
As you can probably tell, Antoni Gaudí's unmistakable style and extraordinary contributions to the field of architecture definitively place him among the great Modernist architects. His works continue to captivate the world and inspire future generations of designers and architects, solidifying his legacy as a pioneer of modern architecture and a gem of Catalan Modernism.