Two Days in Barcelona: Ultimate 48-Hour Itinerary (2023)
This article may contain affiliate links. Please read our
Disclosure Policy
for more information.
So, you've got two days in Barcelona to unlock the city's magic and every tick of the clock matters. Sounds daunting, right?
But here's the thing: with the right game plan, two days is all you need to savor the essence of this iconic city and head home with a suitcase (and stomach!) full of memories.
Living in Spain has given me the advantage of spending heaps of time in Barcelona and I've made sure to distill my experiences into this jam-packed guide.
From those mesmerizing Gaudí gems to the hidden treasures of the Gothic Quarter, I've got you covered with this two day itinerary of Barcelona's absolute highlights. I'll show you that doing Barcelona in 48 hours isn't just a possibility—it's an epic adventure waiting to unfold!
PRO TIP: With only two days in Barcelona, you want to make sure you're maximizing your tourism time and not wasting time getting from place to place.
That's why I recommend you grab a 48-hour ticket for Barcelona's Hop-On Hop-Off Bus. It will take you between all the main sights – many of which you'll get to with the itinerary below – without the hassle of messing around with taxis or public transport.
Plus it's a super scenic way to get around the city and see a ton of highlights that you may not have time to get to yourself!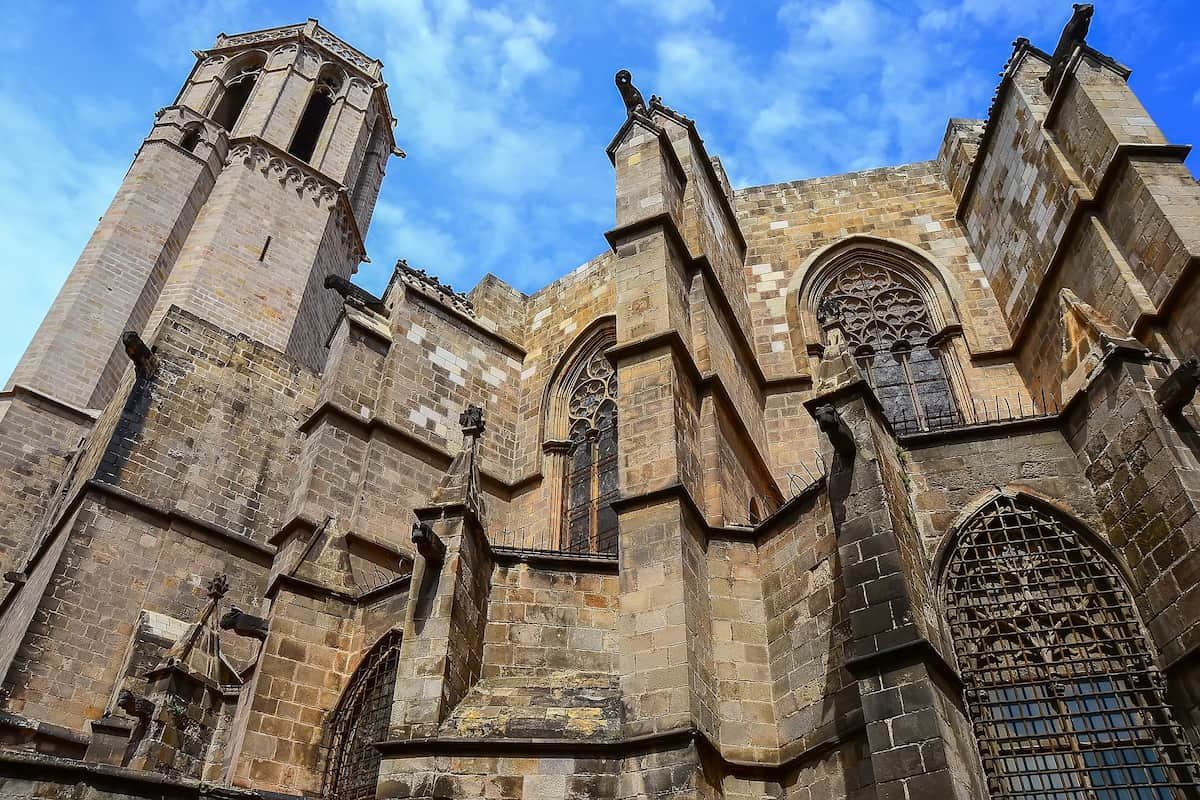 Two days in Barcelona
Having two days in Barcelona makes it very doable to see many of the main sights. Sure, you won't see absolutely everything, but with the right plan, you're going to be able to tick off a ton of the highlights.
One big point to keep in mind is that if you really do want to see the main spots, you're going to have to buy entry tickets beforehand. In this itinerary, that particularly includes:
These tickets give you skip-the-line access (which you need to have to avoid wasting time in queues) and make sure you actually will be allowed in for the allocated time.
True story: I had a friend come to visit Barcelona with me for her first time here and, for various reasons, she could only visit the Sagrada Familia in the morning of her second day. I went to buy the tickets literally a month in advance…and they'd sold out, so she missed out (yes, I still feel terrible about it).
So, basically, don't be me.
Here's a summary of your itinerary for doing Barcelona in two days:
8:30 am: Plaça Catalunya
Begin your journey at Barcelona's bustling heart, where the old city meets the modern, offering fountains, sculptures, and ample people-watching.
8:45 am: Passeig de Gracia
Stroll one of the city's grandest avenues, adorned with luxury boutiques, architectural marvels, and iconic lampposts.
9:00 am: Casa Batlló
Step into Gaudí's imagination at the colorful modernist masterpiece of Casa Batlló, known for its unique architecture and intriguing design.
10:15 am: Casa Milà
Witness Casa Milà, another Gaudí creation, characterized by its wavy facade, ornate balconies, and the iconic rooftop with its whimsical chimneys.
10:30 am: Diagonal metro station
Hop onto the metro for a quick transit, getting you quickly and easily to what many feel is the highlight of visiting Barcelona.
10:45 am-11:15 am: Sagrada Familia
Marvel at the Sagrada Familia, Gaudí's unfinished basilica, an architectural wonder that combines Gothic and Art Nouveau forms in its grandeur, before going inside.
By 1:00 pm: Exit la Sagrada Familia
Absorb the final impressions of the basilica's spires and intricate facades as you leave this iconic site.
1:15 pm: Recinte Modernista de Sant Pau
Take in the Recinte Modernista de Sant Pau, a stunning Art Nouveau complex, a testament to modernism's impact on Barcelona's architectural landscape.
1:30 pm: Head to the Gothic Quarter
Throw yourself into the maze-like streets of this historic neighborhood, breathing in its medieval charm and rich history.
2:00 pm: Lunch in the Gothic Quarter
Savor authentic Spanish cuisine, embracing the flavors that have stood the test of time.
4:00 pm: Gothic Quarter – Plaça del Rei, Carrer del Bisbe and the Roman walls in Carrer del Paradís
Explore royal plazas, romantic alleyways, and remnants of ancient Roman walls tucked amidst the Gothic grandeur.
4:30 pm: Barcelona Cathedral
Experience the spiritual grandiosity of Barcelona Cathedral, with its intricate facades and a bell tower that offers views over the old town.
5:30 pm: Plaça de Sant Felip Neri
Discover a serene square marked by history, offering a moment of reflection amidst the buzzing city.
5:45 pm: Mercat de la Boqueria
Engage your senses in this bustling market, sampling local delicacies, fresh produce, and an array of colorful stalls.
6:30pm: La Rambla
Wander Barcelona's famous boulevard, teeming with street performers, kiosks, and the pulse of urban life.
Evening option 1 – Flamenco show with dinner
7:00 pm: Plaça Reial
Relish the vibrant atmosphere of this iconic square (and maybe a drink or two!), surrounded by palm trees and historic buildings.
8:15 pm: Flamenco Show and Dinner
Get entranced by an evening of flamenco and dinner, where you'll experience the passionate dance of flamenco, with its soulful music and artistry, paired with a delightful Spanish feast.
10:30 pm: Drinks in the Gothic Quarter
Unwind with a drink in the old city's atmospheric bars, reveling in the charm of Barcelona by night.
Evening option 2 – Tapas and wine tour
7:00 pm: Tapas and Wine Tour of the Gothic Quarter
Embark on a culinary adventure with this tapas and wine tour, savoring mouthwatering tapas and sipping on exquisite local wines, all while soaking up historical tales.
10:00 pm: Nightcap
Cap off the evening with a choice beverage, reminiscing the day's adventures and savoring Barcelona's nocturnal ambiance.
Evening option 3 – Do your own thing
7:00 pm: Plaça Reial
Pause at this bustling square, setting the tone for an evening to remember.
8:30 pm onwards: The choice is yours!
Let the city guide you, whether it's to a hidden tapas bar, a vibrant dance club, or a tranquil rooftop with views of the illuminated skyline.
Day 2
9:30 am: Park Güell
Delve into Park Güell, Gaudí's colorful playground, where mosaic dragons greet you and panoramic views of Barcelona await atop whimsical terraces.
11:30 am-12:00pm: Arc de Triomf
Behold the red brick majesty of Barcelona's triumphal arch, a gateway to parks and promenades, adorned with intricate motifs and sculptures.
12:30 pm: Parc de la Ciutadella
Meander through this green oasis in the heart of the city, where serene ponds, majestic statues, and the grand Cascada Monumental fountain create an idyllic setting.
1:30 pm: Mercat del Born
Step into history at this cultural center, once a market, now preserving archaeological remains and stories of medieval Barcelona.
2:00pm: Lunch in El Born
Indulge in a gastronomic treat amidst the narrow lanes of El Born, where traditional tapas bars and trendy eateries coexist harmoniously.
4:00 pm: Picasso Museum
Dive deep into the artistry of Pablo Picasso, tracing his formative years and masterpieces in the Picasso Museum, housed within five medieval palaces.
6:00 pm: Basílica de Santa Maria del Mar
Admire the elegance of this Gothic basilica, with its soaring spires and stunning rose window, a testament to medieval maritime Barcelona.
6:30 pm: Barceloneta Beach
Revel in the golden sands and balmy breezes of Barcelona's most iconic beach, where locals and tourists alike gather to bask in the Mediterranean ambiance.
Evening option 1 – Dinner at Barceloneta
9:00 pm: Seafood restaurant in Barceloneta
Take in the full experience of facing the Mediterranean with some classic Spanish seafood dishes.
Evening option 2 – Magic Fountain of Montjuïc
9:00 pm: Magic Fountain of Montjuïc
Lose yourself in the mesmerizing dance of water, light, and music as Montjuïc's iconic fountain comes to life in a symphony of colors.
10:00 pm: Dinner
Conclude the day with a delicious meal, be it at a bustling tapas joint, an elegant restaurant, or a charming eatery you've stumbled upon during your explorations.
Detailed Barcelona two day itinerary
Morning (day 1)
8:30 am: Plaça Catalunya
Let's kick off your two-day adventure at Plaça Catalunya. Before anything, it's a wise choice to grab a coffee and perhaps a croissant from one of the local cafés.
While this square is undeniably popular, early morning gives it a more serene touch. As you sip on your coffee, observe the intertwining of modern city life with historic charm.
The locals going about their day, pigeons fluttering around – it's a simple start but one that nicely sets the mood for what's to come.
8:45 am: Passeig de Gracia
Once you've had your morning fix, ease into a walk along Passeig de Gracia.
This boulevard is an essential part of Barcelona. It's not just a commercial hub with shops; it's also a showcase of the city's architectural prowess.
As you wander along, pay attention to the buildings. Their designs and the stories they carry have seen Barcelona evolve through the years.
There's a beautiful blend of classic and modern designs lining the avenue, which really are a testament to the city's rich history and forward-thinking spirit.
9:00 am: Casa Batlló
Now, when you continue down Passeig de Gracia, you'll soon be at a crossroads of sorts. The dilemma? Gaudí's Casa Batlló or Casa Milà.
Both are remarkable, but if you're pressed for time, I'd lean towards Casa Batlló. Here's why: its design still has that whimsical fairytale effect that Gaudí is so known for, while still being a reflection of his unique architectural style.
The façade itself, with its mosaic patterns and distinctive balconies, makes for a memorable sight. And the interior? It feels like a journey through an architectural narrative that's both innovative and deeply rooted in nature's forms.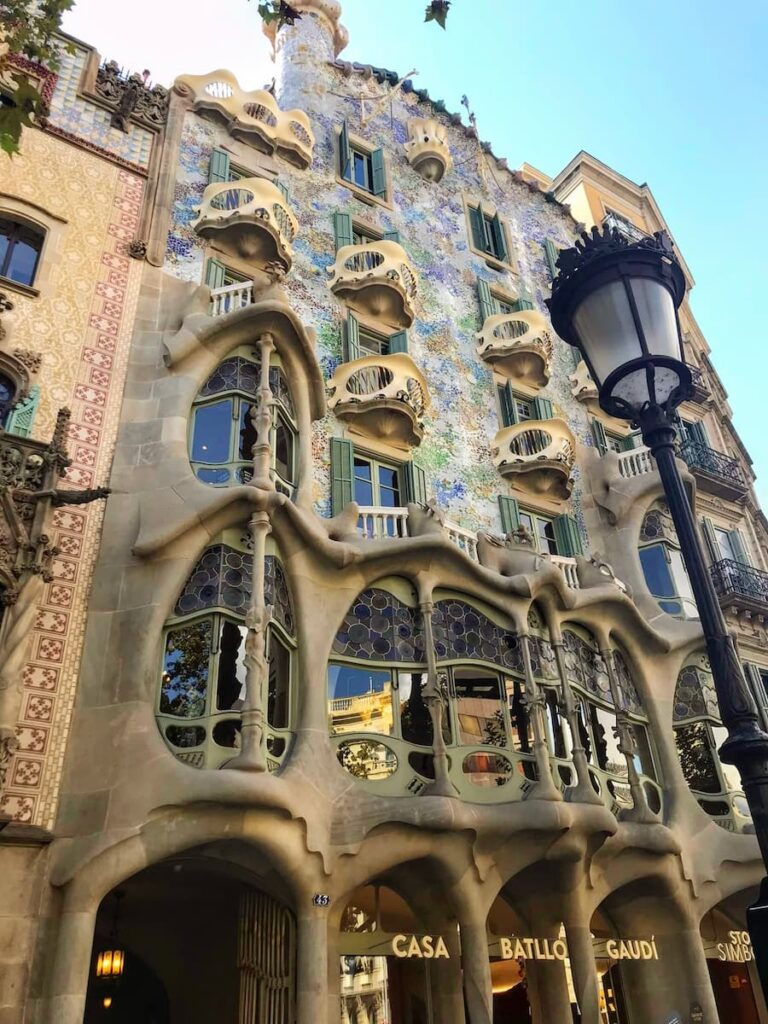 Remember: you're going to have to pre-book your tickets to Casa Batlló online, as it tends to get crowded and you'll want to make sure you can get in at this exact time.
10:15 am: Casa Milà
Alright, moving on from Casa Batlló, just a short walk ahead lies Casa Milà. Now, I know time's ticking, but trust me, even a brief pause outside this building is totally worth it.
Known locally as 'La Pedrera' (or The Quarry), its unique stone facade and curvy design are pretty hard to miss. You can feel Gaudí's distinctive style – there's something about the way he let his imagination play with nature and architecture.
So, feel free to snap a pic or two – and then let's keep moving.
10:30 am: Diagonal metro station
Up next, let's make our way to the Diagonal Metro station – it's just a stone's throw away from Casa Milà.
While walking the streets of Barcelona offers its own kind of charm, if we're going to make the most of our two days, sometimes we've got to go underground. The metro's efficient and will get us to our next stop in no time.
10:45 am: Sagrada Familia
Alright, stepping out of the metro, you'll be greeted by the magnificence that is the Sagrada Familia. Pictures don't quite do it justice; it's an architectural marvel you really have to experience firsthand.
Before heading in, give yourself some time outside. This isn't just about its towering spires but also the intricate details of its three facades: the Nativity, Passion, and Glory. Each tells a unique biblical story, carved with profound detail, showcasing scenes from Christ's life.
Now, when you step inside, prepare for a moment of awe. The basilica's interior is a symphony of light and color.
Gaudí designed the church's stained glass windows and columns to resemble a forest canopy, and when sunlight pours in, it's an ethereal experience. The columns, branching out as they reach the ceiling, aren't only an architectural masterpiece but also create a serene atmosphere, echoing the tranquility of nature.
The basilica is still under construction (and has been for over a century), but that's part of its charm. It's a living testament to Barcelona's commitment to art and Gaudí's lasting impact.
I cannot stress this enough: Booking ahead for the Sagrada Familia is a must. It's not just about skipping the long queues, but ensuring you actually get in.
If you're up for a bit more adventure, get a ticket with tower access. The Nativity Tower, in my experience, offers an unparalleled view of the city and the Mediterranean Sea.
Try to book for around 11:00 am or 11:15 am to align with this itinerary. If those times aren't up for grabs, simply shuffle things around a bit.
1:00 pm: Exit la Sagrada Familia
Okay, let's keep this energy going! Once you've had your fill of the Sagrada Familia's beauty (if that's even possible), it's time to hit our next spot.
1:15 pm: Recinte Modernista de Sant Pau
Just a short jaunt away is the Recinte Modernista de Sant Pau. And trust me, the walk's easy and totally doable, especially with the sights along the way.
That said, if you've been exploring extensively and your legs are calling for a break, remember that Hop-On Hop-Off Bus? It has a stop right at the Sagrada Familia that takes you straight to Recinte Modernista de Sant Pau, making it a breeze.
The main draw here? Its jaw-dropping facade. The intricate mosaics, colorful tiles, and detailed sculptures make it another must-see in Barcelona.
If you find yourself with some extra time and the will to explore, venturing inside is absolutely worth it. It's a labyrinth of beauty with stained glass, tiles, and arches that speak of its history as one of Europe's oldest hospital complexes.
Time might be tight during your two days in Barcelona, but if you decide to head in, just account for an extra hour or two – you won't want to rush this experience.
1:30 pm: Head to the Gothic Quarter
Alright, time to switch vibes a bit. Next up, the Gothic Quarter! This historic heart of Barcelona has stories tucked in every nook and cranny.
If you snagged that Hop-On Hop-Off Bus ticket, jump on at the Recinte Modernista de Sant Pau stop and get off at Plaça Catalunya. Otherwise, the city's public transport system, whether it's the bus or metro, will get you there in no time.
The Gothic Quarter is like stepping back in time. Narrow alleys, medieval buildings, and hidden plazas – it's a maze where getting "lost" is half the fun. But more on this soon!
Lunch
2:00 pm: Lunch in the Gothic Quarter
Lunchtime! And remember, you're in Spain – so that late lunch craving? Totally on point.
Now, let's chat about paella. You may or may not know that it's not actually originally from Barcelona, but when in Spain, right? This flavorful rice dish, packed with saffron, veggies, and usually some type of meat or seafood, is a must-try.
Oh, and a pro-tip: locals prefer it for lunch rather than dinner.
So where to grab this iconic dish? Here are my top picks:
Afternoon
4:00 pm: Gothic Quarter – Plaça del Rei, Carrer del Bisbe and the Roman walls in Carrer del Paradís
After that hearty lunch (and possibly an afternoon coffee to keep the energy up), let's continue our journey.
By now, it's likely between 3:30 pm and 4:00 pm. Perfect timing for a leisurely walk through the Gothic Quarter, where history literally surrounds you.
First, make a pitstop at Plaça del Rei. This square is like an open-air museum, showcasing medieval buildings, historic charm, and stories of a bygone era.
Next, wander over to Carrer del Bisbe. This isn't just any street – it's arguably the most picturesque one in the whole quarter. With its intricate bridge and age-old architecture, it's an Instagram dream, so get those cameras ready.
Last but not least, Carrer del Paradís is up next, home to remnants of Roman walls. These ancient columns stand as a testament to Barcelona's long history and its Roman roots.
It's a gentle reminder that while the city has evolved, its foundations are deeply rooted in the past.
4:30 pm: Barcelona Cathedral
Up next is something truly grand – the Barcelona Cathedral. Stepping inside this Gothic masterpiece, you're instantly taken aback by the vastness and artistry.
Let me tell you why it's a must-visit. Firstly, the choir stalls, a marvel of Gothic woodwork, house 28 intricately carved stalls, each telling its own story.
Then there's the cloister, an oasis of calm right in the heart of the city. Here, 13 white geese can be found – they're not just random birds; they represent the age at which Saint Eulalia, the cathedral's patron saint, was martyred.
For those who aren't afraid of heights, head up to the bell tower. The view? Simply unmatched. You get a bird's eye perspective of the Old Town, with its maze of alleyways and historic charm.
And hey, remember to snap some shots of the cathedral's facade; the late afternoon light does wonders here.
Finally, to ensure you have a seamless experience and can actually get in, it's definitely a smart move to book tickets for the Cathedral in advance – trust me on this one.
5:30 pm: Plaça de Sant Felip Neri
Next, a stop that's both charming and poignant: Plaça de Sant Felip Neri. It's a secluded square that feels miles away from the hustle and bustle.
But beyond its calm exterior, it holds layers of history, from the Baroque church to the evident scars of the Spanish Civil War on its walls. It's a place for reflection and appreciation.
5:45 pm: Mercat de la Boqueria
Now for a sensory treat: Mercat de la Boqueria. As you head there, feel free to meander a bit through the Gothic Quarter. Getting "lost" here? Always a good idea.
Once at the market, the array of colors, sounds, and aromas is tantalizing. This isn't just a place to shop; it's an experience.
From fresh fruits and local cheeses to cured meats and candies, there's a stall for every palate. Give yourself the liberty to sample, explore, and maybe grab a few souvenirs. It's Barcelona's gastronomic heart, and you'd want to soak in every bit of it.
6:30 pm: La Rambla
Ready to stretch those legs a bit more? Let's hit La Rambla.
Yes, I hear ya, it's teeming with tourists, but come on, there's a reason it's iconic! This boulevard is always buzzing with life. From street performers to little kiosks selling all kinds of curiosities, it's a feast for the senses.
But hey, a quick word of advice – be mindful of your belongings. While it's a hotspot for fun, it can also be a hotspot for pickpockets.
Evening option 1 – Flamenco show and dinner
8:15 pm: Flamenco Show and Dinner
Alright, evening plans? Sorted. Let's indulge in the passionate world of flamenco with this flamenco show and dinner at the renowned Tablao Flamenco Cordobes theater.
Not just any place, this spot boasts history and has seen the likes of flamenco legends such as Juan Villar grace its stage.
The atmosphere? Think of an intimate setting with decor that takes you back in time, steeped in tradition.
As the lights dim and the show starts, you're about to witness the raw energy and emotion of flamenco. The dancers, with every swift move, the singers, with every heartfelt note, and the musicians, with every strum, promise an unforgettable experience.
And, as mentioned above, you can even combine your ticket with a great dinner option! With over 40 traditional Spanish dishes up for grabs, your taste buds are in for a treat.
10:30 pm: Drinks in the Gothic Quarter
Feeling invigorated from the flamenco? Or maybe just ready to kick back? Either way, if you've still got some pep in your step, head back to the Gothic Quarter.
It's the perfect place to unwind with a drink. Whether it's a glass of local wine or a crisp beer, the cozy bars here set the right mood to toast to an incredible day.
Evening option 2 – Tapas and wine tour
7:00 pm: Tapas and Wine Tour of the Gothic Quarter
If you're a foodie at heart or just someone curious about local cuisine, I've got the perfect evening plan for you. Gear up for this amazing Tapas and Wine Tour of the ever-majestic Gothic Quarter.
The tour I'm talking about isn't just about munching on tapas, but it's about immersing yourself in the stories behind every bite.
So, how does this go down? Your knowledgeable guide (who's not just an expert on food, but a storyteller at heart) will meet you and introduce you to the rich tapestry of Catalan cuisine.
As you stroll the labyrinthine streets, you'll be stopping at 4 distinct local spots. And yes, each has its own vibe and charm.
From olives and cheeses to moreish meats, every plate brings a piece of Barcelona to the table. While you experience these classic tapas dishes, your guide will pepper in tidbits about the history and tradition behind them.
And what's tapas without some drinks? We're talking wine, the bubbly goodness of cava, the aromatic vermouth, and the ever-popular sangria.
Here, you're in for a perfect evening that's equal parts gastronomic and educational!
10:00 pm: Nightcap
Feeling spirited from the tapas trail? Fancy a nightcap? Barcelona's nightlife is as vibrant as its days.
Venture out and find a cozy spot in the Gothic Quarter to toast to your adventures. Whether it's a zesty cocktail, a smooth glass of wine, or just a refreshing beer, it's the ideal way to wrap up another fun-filled day in this magnificent city.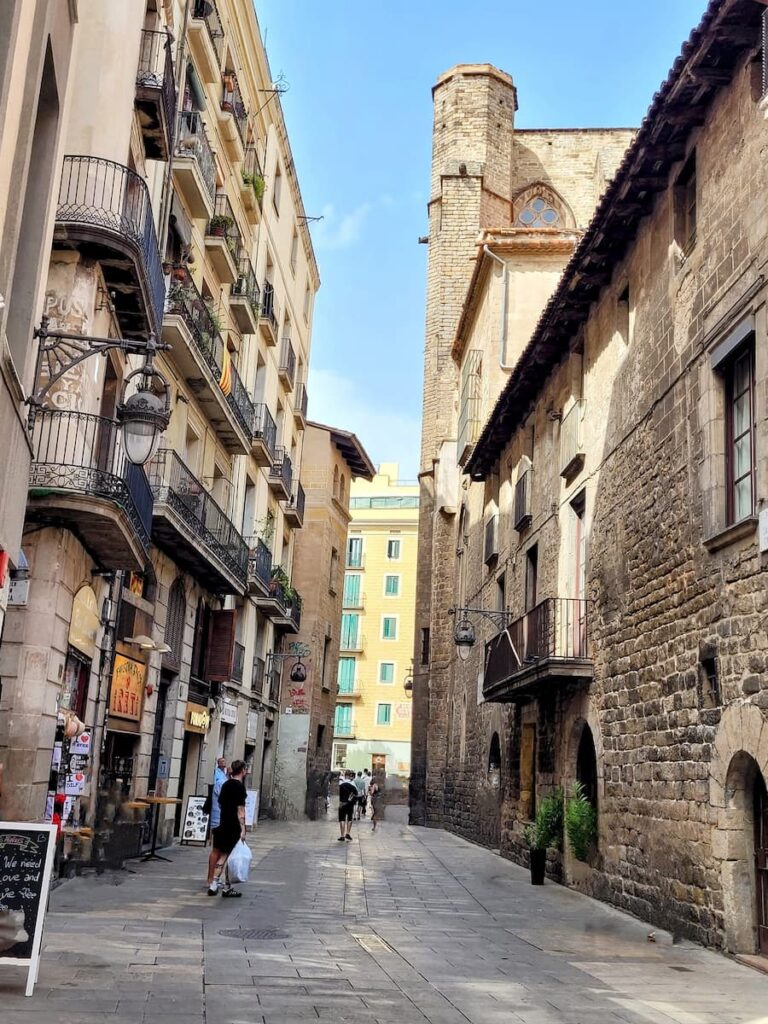 Morning (day 2)
9:30 am: Park Güell
Kick off day two at Park Güell, a place where art and nature collide in the most poetic manner, conceived by the legendary Antoni Gaudí. This UNESCO World Heritage site is a mosaic of colors, forms, and textures that practically scream Modernisme.
As you wander through its intricate pathways, you'll encounter 'El Drac', the iconic mosaic salamander that's become synonymous with the park. The Nature Square, with its undulating benches, is another highlight, providing a panoramic canvas of Barcelona.
As you meander through, the lush greenery, combined with surrealistic sculptures and architectural wonders, make for an immersive experience.
A friendly tip: This is a hot spot, so booking your tickets for Park Güell in advance is an absolute must. That way, you can leisurely explore and let Gaudí's genius wash over you without the stress of long lines – or, worse, not being able to get in at all.
11:30 am: Arc de Triomf
Alright, time to shift gears from the whimsical to the monumental. Say 'Hola' to Barcelona's Arc de Triomf.
No, we aren't in Paris, but Barcelona boasts its own triumphal arch, and it's got its own unique flair. Erected as the gateway to the 1888 Universal Exhibition, it's adorned with intricate sculptures and carvings, telling tales of Catalonia's rich history.
Now, how do we get there from our Gaudí wonderland? The most straightforward way is to hop on the V19 bus from Park Güell, which will take you straight to the arch in about half an hour.
But if buses aren't your jam and you're looking for a quick zip across town, a taxi's got you covered in approximately 20 minutes.
12:30 pm: Parc de la Ciutadella
After taking in the architectural wonders of the city, how about embracing a bit of green? Enter Parc de la Ciutadella, Barcelona's green heart. As you wander through its pathways, you'll be serenaded by the gentle ripples of water and the distant chatter of people enjoying picnics or partaking in leisurely boat rides.
An absolute must-visit within the park is the Cascada Monumental. This grand waterfall and fountain, with its impressive sculptures and gilded details, makes for quite the sight.
And if you're in the mood for a little romance, the boats by the lake make for a lovely experience. It's an oasis amidst the hustle and bustle, and a nice spot to recharge.
1:30 pm: Mercat del Born
From there, ease into the Mercat del Born. This isn't just any market, mind you. Beyond the wrought-iron edifice of the 19th-century building lies a space drenched in history.
While the market function ceased years ago, it's now a cultural center that showcases the city's Roman past. Beneath the ground, you'll find preserved archaeological ruins, which tell tales of the city from centuries ago.
It's a mesh of past meets present, and the narrative will leave you pondering the footsteps that once tread the very same ground.
Lunch
2:00 pm: Lunch in El Born
Alright, by now, your tummy's probably rumbling. Fortunately, El Born is a delightful labyrinth of narrow streets brimming with culinary treasures.
To help you navigate through the gastronomic maze, here are a few of my favorite picks:
Afternoon
4:00 pm: Picasso Museum
Once you're full from lunch, it's time to indulge in a different kind of feast: an artistic one. Step into the world of the Picasso Museum.
Located in the heart of El Born, this museum houses one of the most extensive Picasso collections globally, boasting over 4,000 works. As you walk through, witness the evolution of the master artist, from his early sketches to his iconic blue period, and later, his interpretations of the classics.
Pablo Picasso had a deep bond with Barcelona, and this museum is a testament to that relationship. Let the vivid colors and transformative styles take you on a journey through the mind of one of the greatest artists to have ever lived.
6:00 pm: Basílica de Santa Maria del Mar
As the sun begins its descent, find yourself standing in front of the Basílica de Santa Maria del Mar. This elegant basilica is a superb example of Catalan Gothic architecture.
With its majestic façade and towering octagonal towers, it's an embodiment of medieval Barcelona's grandeur. While you're just stopping to admire the exterior, it's hard not to get swept up in the aura of the place.
6:30 pm: Barceloneta Beach
From the historic cobblestone streets, it's time to feel the sand beneath your feet. Stroll through the vibrant neighborhood of El Born, getting momentarily lost in its labyrinthine alleys.
Every corner seems to whisper tales of yesteryears, and the eclectic boutiques and cafés might entice you for a brief stop.
And before you know it, the urban landscape gives way to the expansive Barceloneta Beach. It's really an urban beach like no other.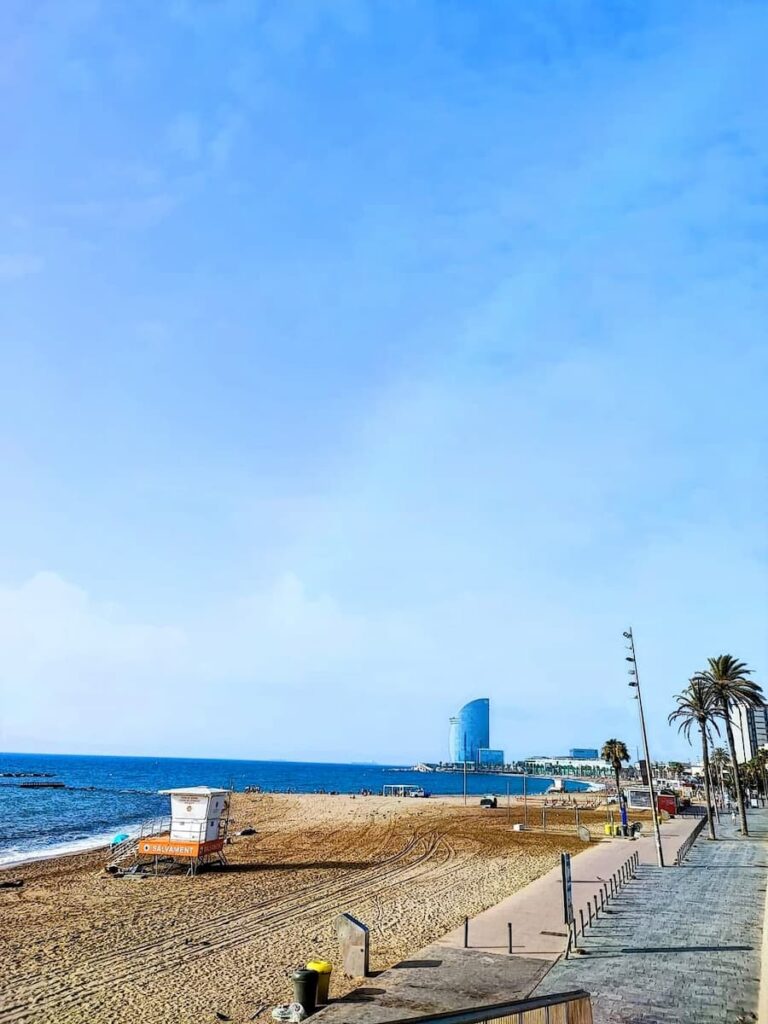 As you walk along the beach promenade, the salty breeze playfully tousles your hair while the rhythmic sound of waves provides the perfect background score. Whether you decide to lounge on the sands watching the world go by, or sip on a refreshing drink from one of the beachside chiringuitos, the tranquility is infectious.
As the horizon paints itself in hues of orange and pink, there's no better way to wrap up another adventure-filled day in this city of wonders.
Evening option 1 – Dinner at Barceloneta
As the night settles, treat yourself to an authentic coastal dining experience. Barceloneta, with its historic charm and beachfront vistas, offers some of the city's finest seafood.
However, it's essential to sidestep the touristy haunts that are definitely plentiful around here and, instead, opt for the hidden gems. Here are my recommendations for this:
Remember, these places are local favorites, so reservations are paramount to ensure you secure a spot.
After dinner: Celebrate your last night in Barcelona
Your journey in Barcelona is drawing to a close, but the night is still young! Barcelona's nightlife is as varied as its architectural wonders.
You might want to revisit the charming bars in El Born, soaking in the bohemian vibe. But if you prefer something closer to your hotel, most neighborhoods boast an eclectic range of tapas bars, flamenco shows, and cocktail lounges.
Maybe try a local vermuteria and toast with a glass of traditional Catalan vermouth. Or, if you're in the mood for music, Barcelona has a myriad of live music venues playing everything from jazz to indie rock.
And, of course, those famous nightclubs might be calling your name if the night really starts to turn into an event.
Wherever you decide to head, let the city's energy guide you. After all, it's your last night in this enchanting city – make it count!
Evening option 2 – Magic Fountain of Montjuïc
9:00 pm: Magic Fountain of Montjuïc
Barcelona boasts countless attractions, but none quite captures the city's magic like the Magic Fountain of Montjuïc. As the sun sets, this iconic fountain bursts into life, dancing in tune with synchronized music, and painting the night with vibrant colors.
To get the full experience, aim to arrive a tad early. This ensures you secure the best vantage point to take in the breathtaking panorama.
While the radiant display is a constant crowd-puller, do note that it might not run daily. Occasionally, the fountain show is paused for water conservation reasons, so it's always a good idea to check its operational status beforehand to avoid disappointment.
10:00 pm: Dinner
It's the perfect time for a late-night Spanish dinner. You've explored, you've witnessed, and now, it's time to savor.
While wandering the city streets, you might have chanced upon a quaint eatery or a bustling tapas joint that caught your eye. Revisit these spots or dive into one of the recommendations I provided earlier that you didn't get a chance to try.
If you're looking for something fresh and off the beaten path (well, at least off the path you've traveled over your two day itinerary in Barcelona), the Gràcia neighborhood beckons. Teeming with character, Gràcia's narrow alleys are lined with indie boutiques, artisan coffee shops, and most importantly, an eclectic mix of restaurants and bars.
Whether you're in the mood for a traditional Catalan dish, modern fusion food, or just some tapas to nibble on, Gràcia has something to satiate every palate. Dive in, embrace the local vibe, and end your evening immersed in Barcelona's incredible culinary scene.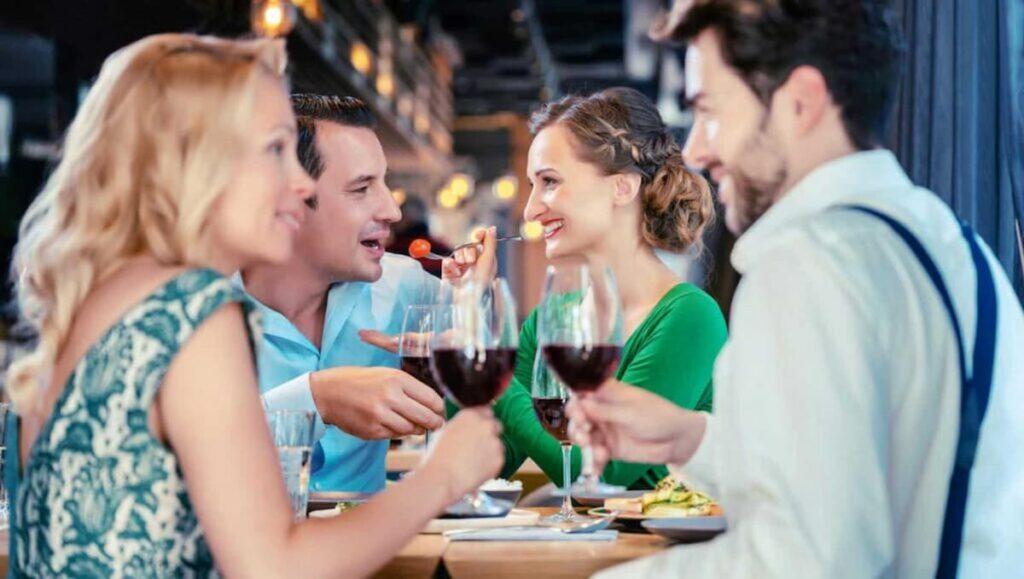 Where to stay in Barcelona for two days
Staying somewhere central is key to making sure you're able to hit the ground running at the start of each day you have here!
Remember, much like those advance tickets I recommended that you get for the main sights, Barcelona is incredibly popular for tourists and so it's essential to book accommodation well in advance to avoid missing out here.
Here are my top picks on the best places to stay in Barcelona for 2 days:
Is two days enough to see Barcelona?
Absolutely, two days in Barcelona offers a glimpse into the city's rich tapestry of history, architecture, and culture. While you won't be able to cover every nook and cranny, you'll still be able to hit the major highlights and experience the essence of this Catalonian gem.
A well-planned itinerary (like the one above!) ensures you make the most of your time and soak in the iconic sights and sounds.
Barcelona is a city teeming with vibrant neighborhoods, world-renowned landmarks, and a buzzing arts scene. Given its vastness and the depth of its offerings, many travelers would argue that even a week might not do it full justice.
However, if you're short on time, two days in Barcelona can be fairly fulfilling. It's all about prioritizing.
For instance, immersing yourself in Gaudí's masterpieces, wandering the Gothic Quarter, or lounging on Barceloneta Beach can provide you with a vivid snapshot of what Barcelona is all about.
And of course, to truly immerse in its beauty, you could always consider returning for a longer stay in the future!
Can I see everything in Barcelona in two days?
Honestly, two days won't allow you to see "everything" in Barcelona, as the city is brimming with diverse attractions, each demanding its own dedicated time. However, you can certainly cover many of the major landmarks and soak in its vibrant atmosphere.
Prioritizing your interests and efficiently planning your route will be crucial in maximizing your experience.
Barcelona, with its labyrinthine streets, hidden plazas, and centuries of history, has layers upon layers waiting to be explored. A two-day visit might give you the highlights — from Gaudí's architectural wonders like the Sagrada Família and Park Güell to the bustling life of La Rambla and the history-laden Gothic Quarter.
Yet, some gems might remain undiscovered, be it the lesser-known museums, intimate flamenco performances, or the intricate tales from local barrios.
If you're someone who loves to dive deep into local life, art scenes, and history, then a longer stay would undoubtedly be more satisfying. But if time is of the essence, rest assured that a two-day whirlwind tour can still be a rewarding and unforgettable experience.
Just be prepared for the inevitable: leaving with a promise to return and explore more.
Tips for spending 48 hours in Barcelona
Is it worth going to Barcelona for two days?
Absolutely, even if you have just 48 hours, Barcelona is worth the visit. In two days, you can experience a significant slice of its rich culture, iconic architecture, and flavorful cuisine. While it's impossible to see everything, a short visit can still leave you enriched and inspired.
Barcelona, known for its unique blend of historical charm and modern dynamism, offers a plethora of experiences for every traveler. Two days in the city can introduce you to Gaudí's whimsical architecture, the vibrant streets of the Gothic Quarter, and the delectable taste of authentic tapas.
Beach lovers can also steal moments by the Mediterranean, while art aficionados can admire Picasso's genius.
However, with a limited timeframe, it's essential to manage expectations. Two days will offer a highlight reel, a teaser, if you will, of what Barcelona holds.
All this means that, with two days in Barcelona to get a taste of the city, you'll just have to come back another time to experience more of it!