Three Days in Barcelona: Ultimate 72-Hour Itinerary (2023)
This article may contain affiliate links. Please read our
Disclosure Policy
for more information.
Only got three days in Barcelona to soak up all that it has to offer? You're probably wondering if it's even possible to capture the essence of this vibrant city in such a short span.
Trust me, while Barcelona is a treasure trove of experiences, with the right guide, you can definitely get a rich taste of its spirit even with only a three day vacation.
Fortunately, living in Spain has given me the chance to spend loads of time in Barcelona, and I've curated the crème de la crème of experiences for you.
Stick with me, and I guarantee those 72 hours in Barcelona will be nothing short of epic.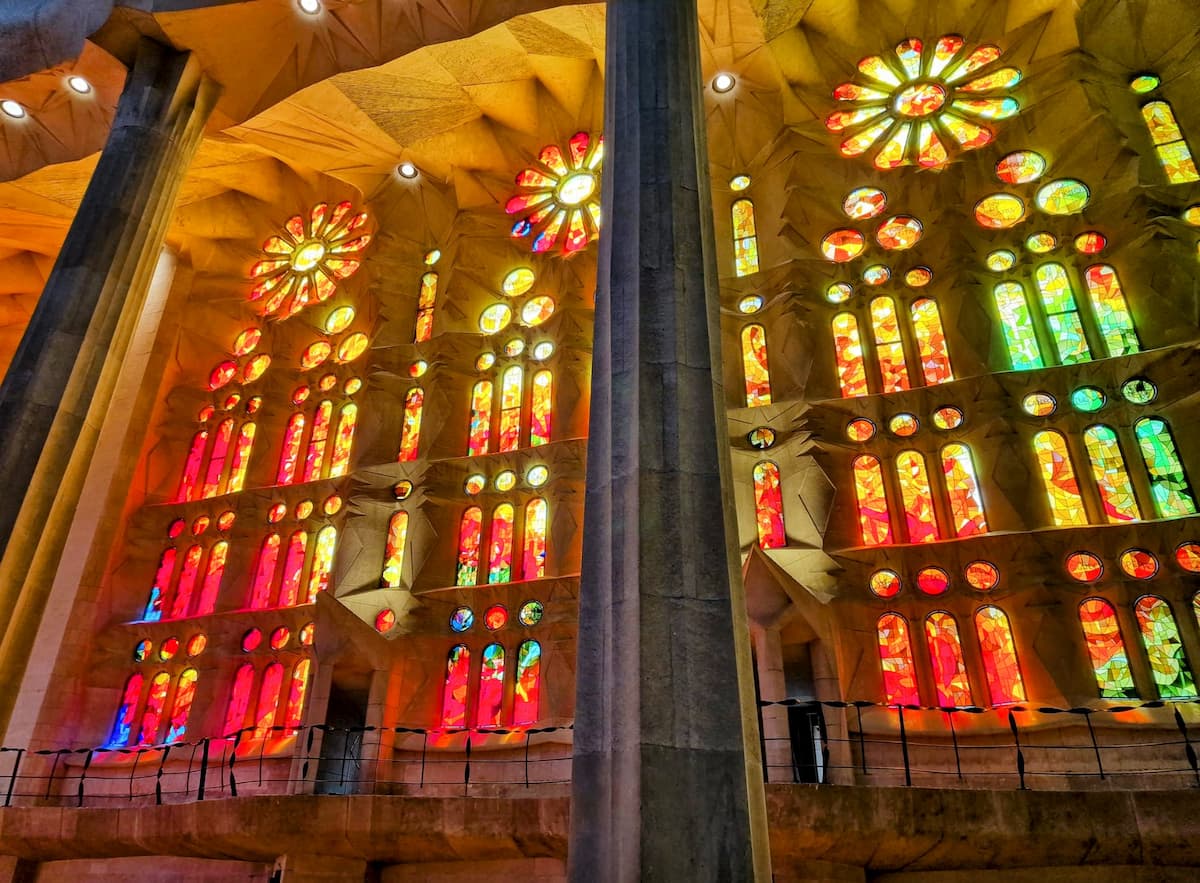 Three days in Barcelona
Having three days in Barcelona is a great amount of time to be here. Sure, you won't see absolutely everything, but with the right plan, you're going to be able to tick off a ton of the highlights.
Here's a summary of your ideal three day Barcelona itinerary.
Day 1 – Gaudí Architecture & Flamenco Dinner
Marvel at Antoni Gaudí creations like the grand Sagrada Familia and imaginative Park Güell.
After a paella cooking class, wander the Gothic Quarter's charming alleys and see the 14th century Barcelona Cathedral.
End with an authentic flamenco show and traditional Spanish dinner.
FYI: Certain popular sights in Barcelona frequently sell out their entry slots, so it's critical that you book tickets in advance to avoid missing out (not to mention avoiding long lines).
This particularly includes the Sagrada Familia and Park Güell where tickets often sell out weeks ahead of time.
Day 2 – Modernist Architecture & Beach Views
Stroll down elegant Passeig de Gracia to see modernist buildings like Gaudí's Casa Batlló and Casa Milà.
After lunch in trendy El Born, walk through Barceloneta's seaside promenade and enjoy fresh seafood with a Mediterranean view.
Day 3 – Montjuïc Cable Car & Sunset Cruise
Ride the cable car up Montjuïc Hill for panoramic city views. Explore highlights like the 17th century Montjuïc Castle and gardens.
As the day ends, take a sunset sailing cruise along the harbor with drinks and live music.
Detailed Barcelona three day itinerary
Morning (day 1)
8:30 am: Sagrada Familia
Starting with the Sagrada Familia is a wise move. This is one of those places in Barcelona that's had its fair share of attention, and for good reason.
While it's tempting to rush in, I always recommend first taking a moment outside. There's a lot of detail in the architecture, from the foundation stones at the bottom to the spires that seem to touch the sky.
Now, let's talk logistics. If you've got your heart set on exploring the inside, it's essential to pre-book your tickets. It's not just about avoiding disappointment from sold-out slots but also sidestepping those long queues which, let's be honest, nobody wants to stand in.
For a different perspective of the city, consider booking an additional ticket to the Nativity Tower. The view from up there gives you a unique angle on Barcelona.
One other thing: When you book your ticket, you have to select a time slot. So if you're going by this itinerary, securing space at 9:00 am is ideal, but remember to check availability and adjust as needed.
FYI: You're going to be seeing a lot of Barcelona's highlights over these three days – and you can save a serious amount of money by grabbing the Go City Explorer Pass to do this.
It includes access to anywhere from 2 to 7 attractions (based on what you pick), with the list of attractions including many that you'll do in this three day Barcelona itinerary.
For example, it includes entry to the Sagrada Familia, Park Güell, Casa Batlló, the Sant Pau Modernist site and the Montjuïc cable car, all of which are in my recommended 3-day itinerary below – and that includes both entry AND tours of the Sagrada Familia and Park Güell!
But by getting the 5 attraction Go City Explorer Pass instead of buying entry tickets individually, you'll save over 20% on admission costs.
It's definitely worth checking out for anyone who wants to tick off many of the major sights during their trip (while saving some euros!)
11:15 am: Recinte Modernista de Sant Pau
Once you've soaked in the Sagrada Familia, a short walk will bring you to the Recinte Modernista de Sant Pau. This isn't just any building – it's a reflection of Barcelona's modernist movement.
As you wander its corridors, you'll find a blend of history and design, telling tales of the city's past and its architectural evolution. The mosaics, stained glass windows, and the intricate facades are reminders of an era where artistry was embedded in every brick and tile.
Spend some time here; it's a quieter experience compared to the bustle of some of Barcelona's other attractions – but there's a reason people often come out wondering why they haven't heard of this amazing place before.
Lunch option 1 – Paella cooking class and La Boqueria Market tour
1:00 pm: Paella cooking class and La Boqueria Market tour
Time to head back towards the heart of the city! The Paella Cooking Experience and Boqueria Market Tour promises an afternoon that's not just about eating, but about embracing Spanish culinary culture.
Starting off, you'll accompany a trained chef for a little trip to the world-renowned Mercat de la Boqueria. This isn't just any market stroll; with the chef guiding you, there's insight to gain on selecting the freshest ingredients for our paella.
As you wander, you'll also get a chance to sample some of the classic Spanish tapas. Ever heard of Basque Pintxos or Montaditos? If not, you're in for a surprise! They're essentially tapas served on toothpicks, and making them is an art.
Of course, no culinary adventure in Spain is complete without whipping up (and sipping on) some homemade sangria!
The grand finale? You, alongside fellow cooking enthusiasts, will be crafting a hearty seafood paella. And the best part, once it's all done, you get to savor the fruits of your labor.
Before you leave, ensure you get those original recipes. After all, wouldn't it be cool to recreate a slice of Barcelona back home?
Lunch option 2 – Paella in the Gothic Quarter
1:00 pm: La Boqueria Market
If you're leaning towards a more laid-back experience, then steer yourself to La Boqueria Market. Easily reachable by taxi or public transport, it's a sensory overload in the best way possible.
The colors, the aromas, the chatter—it's a bustling mosaic of daily life in Barcelona. Feel free to indulge in little samples from stalls or hunt for souvenirs that are edible reminders of your journey.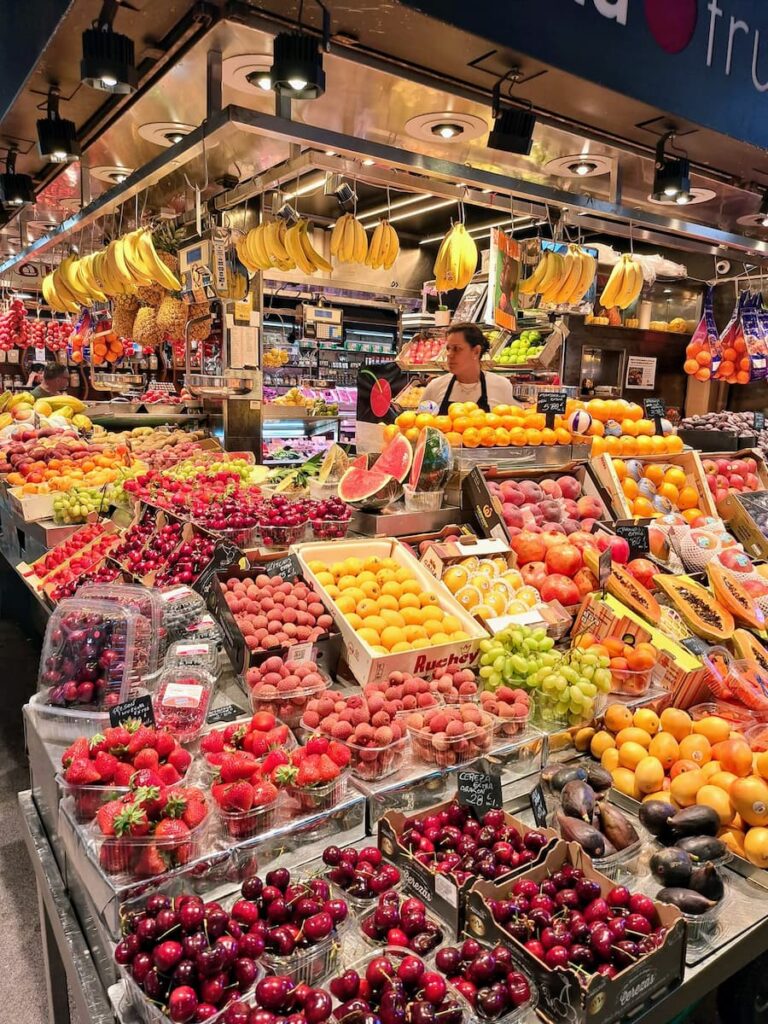 1:45 pm: Lunch in the Gothic Quarter
By now, those hunger pangs might be making themselves known. The Gothic Quarter is your next stop.
A bit of insider knowledge here: although you might feel like it's lunchtime, for many Spaniards, 2:00 pm is the beginning of lunch. Being a tad early means dodging the peak rush.
Now, let's talk paella. While it's not originally from Barcelona, no trip to Spain is complete without indulging in this rice dish. And remember, locals typically have paella for lunch rather than dinner.
Here's where you can get my picks for some of the best paella in town:
Choose any, and you're in for an authentic Spanish lunch experience.
Afternoon
3:30 pm: Barcelona Cathedral
After a solidly good lunch, whether from the cooking class or in the Gothic Quarter, it's about time to delve into some more of Barcelona's rich history. And what better place to do that than the Barcelona Cathedral?
By now, it'll likely be around 3:30 pm, which syncs up well since the cooking class also wraps up at this time.
On your way, the Gothic Quarter's alleyways make for a pleasant stroll. It's nice to lose yourself occasionally in its maze-like charm, and you'll find bits of history peeking out from unexpected corners.
Reaching the cathedral, the facade is bound to grab your attention. It's an architectural marvel, reflecting centuries of design evolution and craftsmanship.
If you've booked your entry tickets in advance (which I'd recommend — it really streamlines the experience), head inside. It's a world of soaring arches, intricate stained glass, and art.
And definitely take the time to go up to the bell tower. The views of the Old Town are clear, expansive, and provide a neat contrast to the bustling streets below.
4:45 pm: Plaça de Sant Felip Neri
Following the cathedral, it's a short but meaningful journey to the Plaça de Sant Felip Neri. This square may seem quiet and unassuming, but it holds layers of Barcelona's past.
Surrounded by historic buildings, it's a spot that often goes overlooked by visitors, yet it's steeped in tales of yesteryears.
In particular, you'll soon notice the signs of damage from the Spanish Civil War on the buildings here and these, alongside the disarmingly peaceful fountain in the center, all have stories to tell.
Allow yourself some time to just sit and absorb the ambiance here. It's places like these that often provide the most genuine connection to the spirit of a city.
5:00 pm: Carrer del Bisbe and the Roman walls in Carrer del Paradís
After the tranquil moments at Plaça de Sant Felip Neri, it's a good idea to continue our leisurely exploration of the Gothic Quarter. One street that stands out here is Carrer del Bisbe.
It's got a reputation not just for its inherent beauty but also as one of the city's most photographed lanes. As you walk, you'll quickly see why.
The architecture, the ambiance, the narrowness of the lane, all come together to paint a picture that feels almost timeless.
While you're in the area, don't miss the Roman walls in Carrer del Paradís. It's a tangible piece of history, a remnant from when Barcelona was the Roman city of Barcino.
Standing before them, it's kind of surreal to think about how much time has passed since they were first erected.
5:20 pm: Plaça del Rei and the History Museum of Barcelona (MUHBA)
A few steps away, you'll find yourself in Plaça del Rei. This square is another little nugget in the heart of the Gothic Quarter, surrounded by medieval palaces. The ambiance here is both serene and regal, making it a lovely spot for a short pause.
Right around the corner is the History Museum of Barcelona (MUHBA). If you're even a tad bit curious about the past of this vibrant city, which goes back literally thousands of years, this museum is worth a visit.
It offers a deep dive into Barcelona's storied past, from its Roman origins to the present. You'll find artifacts, exhibitions, and detailed accounts that bring centuries of history to life.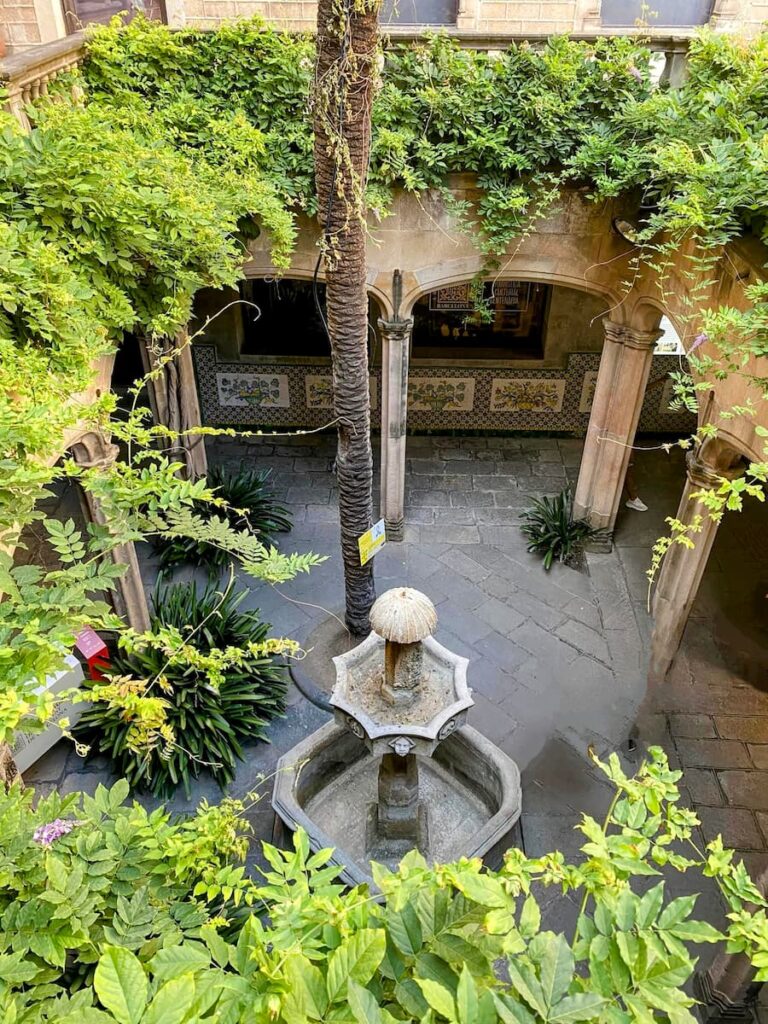 6:30 pm: La Rambla
Alright, as the evening begins to set in, it's time for La Rambla. It's one of those places you kind of know you have to see, even with its reputation for being tourist-heavy.
The street is lively, filled with performers, kiosks, and a myriad of people. It's got an energy that's distinctly Barcelona.
A word to the wise: it's a popular spot, so it's always good to be a bit vigilant. Keep an eye on your belongings and maybe keep that wallet a little closer than usual.
Evening option 1 – Flamenco show with dinner
7:00 pm: Plaça Reial
The day has been a whirlwind of sights, sounds, and experiences. And now, as the sun starts to dip and the city lights begin to glow, let's find ourselves a spot in Plaça Reial.
This square, with its arches and palm trees, is a lovely place to take a breather and grab a drink. The ambiance is just right, with gentle chatter and the occasional clink of glasses setting the mood.
8:15 pm: Flamenco Show and Dinner
There's something deeply evocative about Flamenco. In fact, you can experience it yourself right there with this great flamenco show and dinner experience.
In Barcelona, one of the best spots to experience this passionate art form is the Tablao Flamenco Cordobes theater – which is exactly where you'll be seeing flamenco yourself. Conveniently located right next to Plaça Reial, this theater has been a stage to some legendary performers over the years, including the likes of Juan Villar.
Once you step inside, you'll notice the setting is intimate, with vibrant colors and traditional decor that transport you to another era. The atmosphere is charged, waiting for the first note, the first step.
As the show starts, you'll be drawn into the whirl of emotions – the rhythm, the dance, the raw power of the music, and the haunting melodies of the singers.
While you're there, with a spread of over 40 traditional Spanish dishes, your dinner will be a culinary journey that complements the fervor of the Flamenco. As you sip on your complimentary drink, let the night envelop you in its magic.
10:30 pm: Drinks in the Gothic Quarter
After such an intense and immersive experience, the night might still hold a bit more for those who are up for it. The Gothic Quarter, with its myriad of bars and cafes, offers the perfect backdrop for a drink or two.
Just pick a spot that catches your fancy, settle down, and reflect on a day well spent in one of the world's most charismatic cities.
Evening option 2 – Tapas and wine tour
7:00 pm: Tapas and Wine Tour of the Gothic Quarter
Imagine wandering the intricate alleyways of the Gothic Quarter, with its old-world charm, while savoring the city's culinary delights.
Sounds intriguing, right? Well, this Tapas and Wine Tour is precisely that journey.
You'll kick off the evening by meeting your local guide who's not only well-versed in the city's history but also knows just where to take you for the best tapas. Over the course of the evening, you'll visit a total of four local establishments, each unique in its offerings.
With each bite, you'll get to taste the rich tapestry of flavors that define Barcelona's cuisine. From olives to patatas bravas, and everything in between, the variety is sure to impress.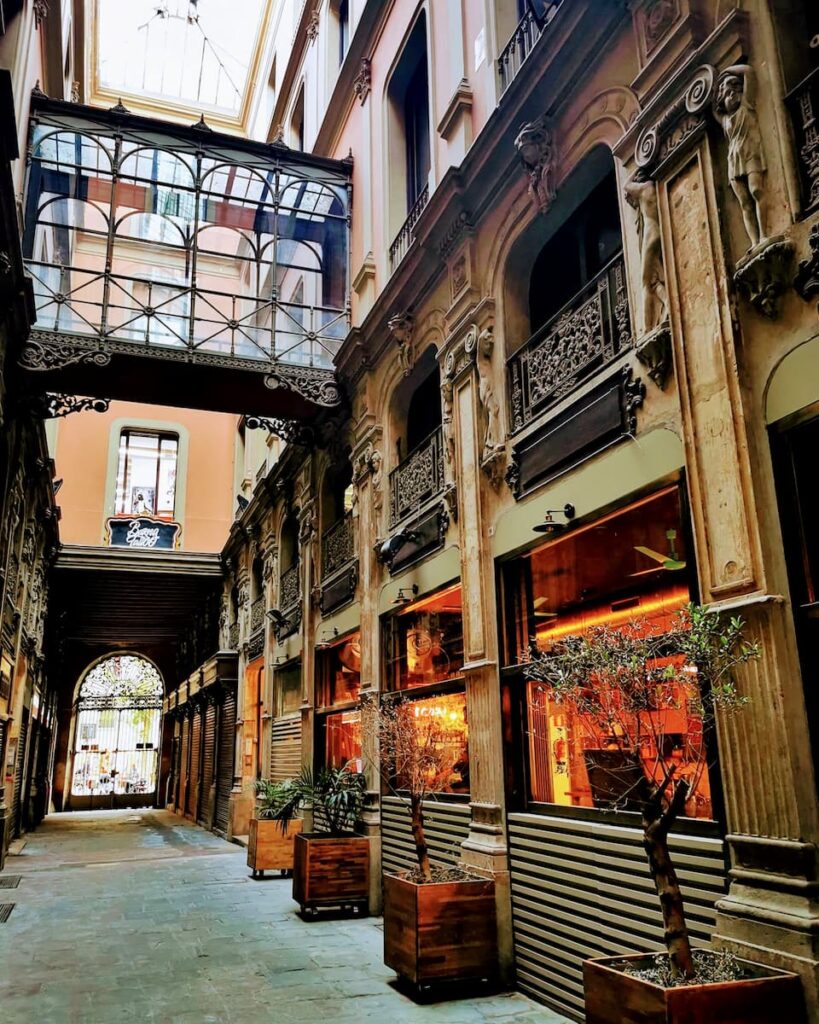 And what's tapas without the right drink? Accompanying these treats will be an array of drinks ranging from robust wines and refreshing cava to classic vermouth.
As you sip and nibble, your guide will share fascinating tidbits, not just about the food but also the history that envelopes the Gothic Quarter. It's an evening that's as enriching as it is delicious.
10:00 pm: Nightcap
Should you find yourself still raring to go after the tour (and hey, who wouldn't in a city as vibrant as this?), consider heading out for a nightcap.
The Gothic Quarter and its surrounds have a bevy of bars where you can enjoy one last drink, toast to Barcelona, and let the ambiance of the city wash over you.
Evening option 3 – Do your own thing
7:00 pm: Plaça Reial
Sometimes the best plans are the ones that aren't made. For those who love a spontaneous evening, start by sauntering over to Plaça Reial. It's the kind of place where time feels a tad slower.
Grab a drink, maybe pick a spot with a view of the square, and just let the world go by.
8:30 pm onwards: The choice is yours!
After a day filled with wanderings and explorations, the night is yours to shape. The Gothic Quarter is teeming with options.
Perhaps you're in the mood for some tapas? Or maybe a full-fledged dinner beckons? There are numerous eateries around, each offering a unique culinary experience.
And if you're up for more drinks, well, Barcelona has got you covered. Whether it's a quiet bar, a buzzing tavern, or even a cozy café, take your pick based on how your heart feels.
Morning (day 2)
8:30 am: Plaça Catalunya
If there's one spot to get those Barcelona vibes humming early in the morning, it's Plaça Catalunya. It's kind of the heart of the city – a meeting point for both locals and visitors alike.
Before you dive into the day's activities, grab a cafe con leche from one of the nearby cafes. Trust me, the Spanish coffee will give you the little kick start you need! And if you're feeling peckish, a flaky croissant is a must.
While you're there, take a moment to appreciate the surroundings. The square, with its sculptures and fountains, is a nice space to just sit back and people-watch for a bit.
8:45 am: Passeig de Gracia
Got that coffee in hand? Great, let's move! Just a short walk from Plaça Catalunya, Passeig de Gracia beckons.
As you amble along, you'll soon realize why it's often called Barcelona's most elegant avenue. Laden with high-end shops and Modernist architecture, it's quite the sight in the soft morning glow.
Take it slow and easy, because every building has its own story.
9:00 am: Casa Batlló
By now, you've probably noticed some pretty unique buildings while strolling up Passeig de Gracia. But one that truly stands out is Casa Batlló.
Designed by the famed Antoni Gaudí, its undulating facade and almost dreamlike architecture make it an essential stop.
Now, a little heads-up – both Casa Batlló and Casa Milà are iconic, but if you've got to pick just one (and honestly, to manage your time better, you probably should), I'd nudge you towards Casa Batlló. There's something about its intricate design, the play of light and shadows, and the deep history that makes it slightly more compelling.
One important point to note is that this is one of those popular spots in Barcelona where tickets sell out well in advance. So you can't just show up and expect to waltz in.
That is, pre-booking tickets to Casa Batlló is a must if you want to make sure you'll actually be able to go in. Sold-out signs truly aren't a rarity here.
10:15 am: Casa Milà
Continuing on our Gaudí-themed morning, just a short stroll up from Casa Batlló is another one of his marvels: Casa Milà. Now, while the interiors are undoubtedly worth a look, the exterior is equally fascinating and gives you a great snapshot of Gaudí's flair.
From its wavy stone facade to the sculpted ironwork on the balconies, you'll see why locals affectionately call it 'La Pedrera' or the quarry. So, give it a pause, snap a photo or two, and soak in that Modernist magic.
11:00 am: Park Güell
Let's switch gears now and head a bit north. Your next stop? Park Güell. Whether you take a taxi or hop on public transport, make sure to factor in the travel time.
But I promise, the trip's worth it. As here's the thing about Park Güell: It's not just a park.
Instead, it's like stepping into a fairytale designed by Gaudí himself. Think vibrant mosaics, whimsical structures, and panoramic views of the city.
A must-see is the iconic dragon fountain at the entrance. Oh, and the serpentine benches? Perfect for a little sit-down and city-gazing.
Remember my earlier advice about booking? Yep, it applies here too. Get your tickets in advance for Park Güell. The lines can be horrific and there's a limited number of visitors they let in at a time to preserve its beauty.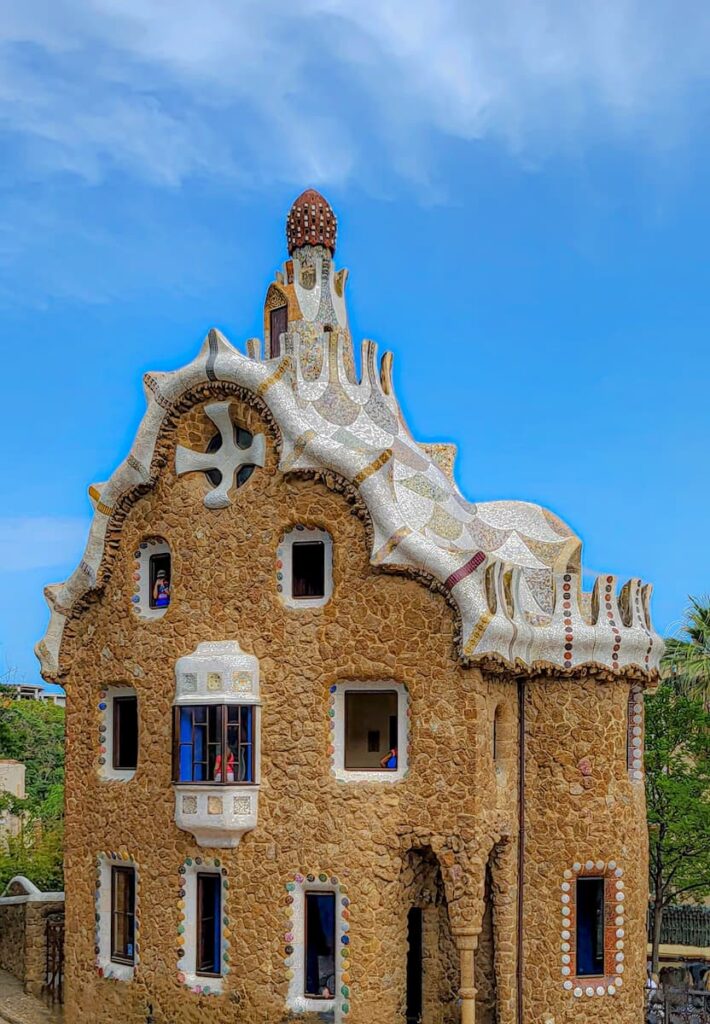 1:15 pm: Arc de Triomf
Feeling a bit footsore and maybe a tad hungry? We're not stopping just yet, but the next spot is more of a relaxed vibe.
Making your way from Park Güell, hop onto the V19 bus or hail a taxi, and let's head to the Arc de Triomf.
Not to be mistaken with its Parisian namesake, Barcelona's version has its own Catalan charm. The detailed carvings and red brickwork make it a focal point for visitors and locals alike.
Now, we're eating a bit late today (hey, when in Spain!), but if your tummy's grumbling, grab a quick snack at a nearby cafe. But hold off on a big meal; you're in for a treat soon.
1:30 pm: Parc de la Ciutadella
After the Arc, it's just a short jaunt to one of the city's green lungs, Parc de la Ciutadella. Now, while it might just seem like another city park from afar, give it a chance.
It's got this lovely mix of relaxation, history, and art. A leisurely walk here is just the recharge you need.
One of the showstoppers? The Cascada Monumental. This grand fountain, with its golden chariot and ornate statues, feels straight out of a storybook.
Tip: If you're looking for a bit of fun, rent a rowboat and paddle around the small lake. Trust me, it's a good time.
Lunch
2:30 pm: Lunch in El Born
Ready to eat? I thought so. El Born is just the ticket.
A maze of narrow streets, brimming with history, and dotted with eateries that'll leave you spoilt for choice. Here's a tiny cheat sheet for you of my recommended spots:
Choose your pick or, you know, just follow your nose. It's hard to go wrong in El Born – just make sure you reserve a table in advance though!
Afternoon
4:00 pm: Mercat del Born
All fueled up? Great. Let's dive into a bit of history at Mercat del Born.
Once a bustling market, this spot now stands as a testament to Barcelona's past. And it's not just any old building. Beneath its iron-clad structure lie the archaeological remains of the city from the 1700s.
It's like a time capsule that offers a peek into Barcelona's bygone days. Plus, it's a serene spot to digest all you've seen and eaten today.
4:30 pm: Picasso Museum
If there's one artist synonymous with Spain, it's Pablo Picasso. Sure, his abstract shapes and moody blues might seem a world away from the bright sun and vibrant streets of Barcelona, but trust me, this city played a pivotal role in his formative years.
And that's why the Picasso Museum is the ideal place to understand the genius behind the legend.
Spread across five medieval palaces, it's an intimate journey through Picasso's life – from his early sketches to some of his most iconic works. Give yourself ample time; there's a lot to absorb.
The collection beautifully showcases his evolution as an artist. While his 'Las Meninas' series is a definite highlight, try not to rush through the other rooms. Every corner offers a new perspective, a deeper understanding of the man and his craft.
6:00 pm: Basílica de Santa Maria del Mar
As you make your way out of the museum, you'll come across the Basílica de Santa Maria del Mar. Gothic architecture at its finest, it stands tall, its facade telling tales of the city's maritime past.
Even if you're just admiring the outside, it's worth a pause. The sheer artistry of the stonework, the symmetry, and the grandeur – it's a testament to the craftsmen of a bygone era.
If you've got a thing for architecture or history, this place will resonate.
6:30 pm: Barceloneta Beach
As the sun starts to set, let's shake off the day's explorations with a change of pace. Wander through El Born, and let your curiosity guide you.
Those winding streets are dotted with cafes, boutiques, and nooks that might just catch your fancy.
Soon, the sounds of the city will give way to the lapping of waves. Welcome to Barceloneta Beach, a stretch of golden sand meeting the deep blue.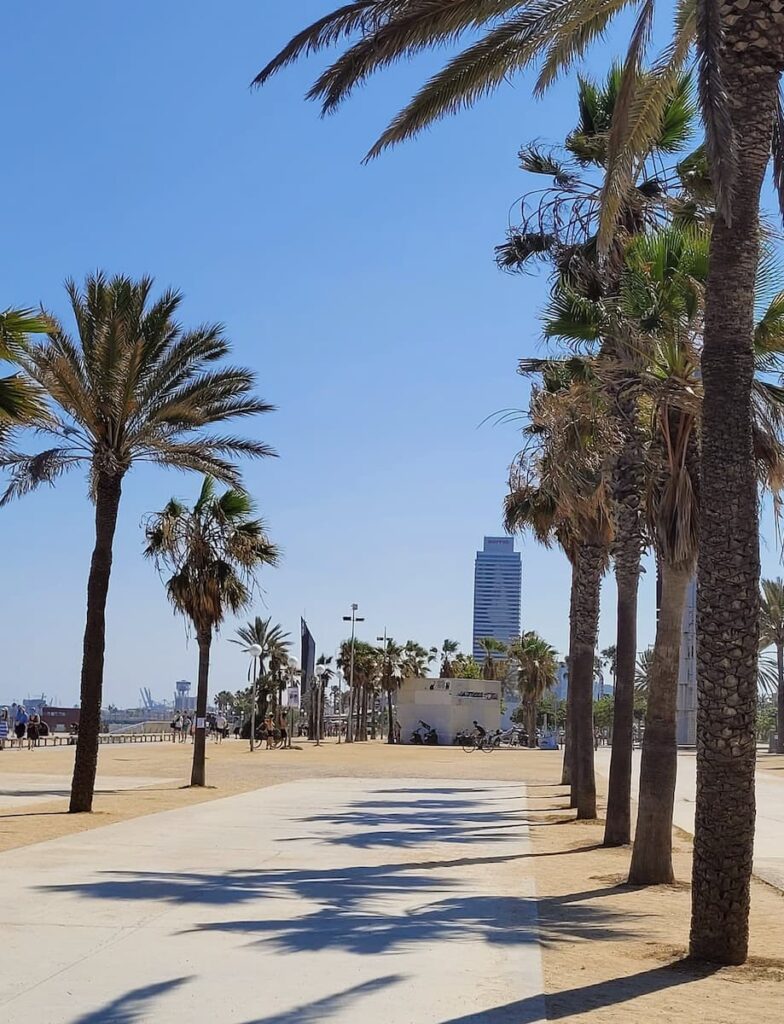 Once you hit the beach, take a leisurely stroll along its promenade. Feel the sand between your toes, the wind in your hair, and let the Mediterranean waves offer a soothing soundtrack to your walk.
If you're up for it, there's always a chiringuito (beach bar) beckoning. Grab a seat, order a chilled drink, and just savor the moment. The beach, the horizon, the sounds – it's Barcelona at its most laid-back pace.
Evening option 1 – Dinner at Barceloneta
9:00 pm: Seafood restaurant in Barceloneta
When you're by the sea, the call of fresh seafood is tough to ignore. Barceloneta, with its labyrinthine alleys and beachfront views, has some real culinary treasures – provided you know where to look to avoid stumbling into a tourist trap (of which there are plenty around here).
These are my top recommendations for this part of town:
A little tip: these places get packed, and waiting times can be long, so it's a smart move to make reservations.
After Dinner: Continue the night
With the Mediterranean Sea as your backdrop, the evening's vibes are all set. Fancy a tranquil night? Find a cozy spot for a quiet drink. You'll find plenty of seaside bars where the ambiance is just right.
But if you're up to kick things up a notch, then Barcelona's nightlife awaits. Some of the city's most buzzing nightclubs are a short stroll away from Barceloneta Beach.
Dance the night away or just soak in the energetic atmosphere – the city's nocturnal side doesn't disappoint.
Evening option 2 – Flamenco and dinner (if you didn't do it on day 1)
8:15 pm: Flamenco and Dinner
Missed the flamenco on the first night? Don't fret! The rhythmic claps, soul-stirring vocals, and the fierce passion of the dance can still be yours tonight.
There's something about flamenco that's undeniably magnetic. The raw emotion, the intricate footwork – it's art in motion.
And given that this flamenco and dinner experience combines that with a spread of traditional Spanish dishes, well, you've got yourself an evening that's not just a treat for the senses but also a deep dive into Spanish culture.
If you're up for an experience that lingers long after the final dance move, tonight might just be your night.
Evening option 3 – Magic Fountain of Montjuïc
9:00 pm: Magic Fountain of Montjuïc
A spectacle of colors, lights, and water dancing to music is what you're in for at the Magic Fountain of Montjuïc. It's like the city comes alive in a different way under the night sky.
If you can, try arriving a tad early; this ensures a good vantage point to enjoy the show from.
Just be sure to check in advance if the fountain show is on, as at the time of writing this, the fountain is turned off for water conservation reasons.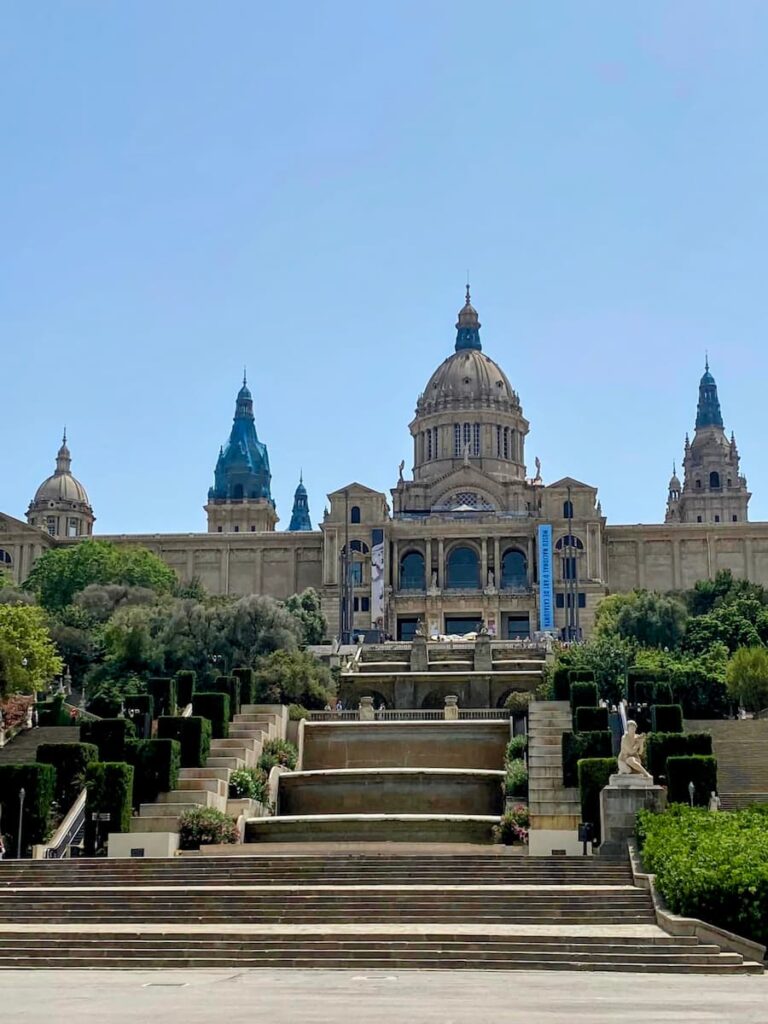 And while you're there, make sure you give the MNAC building a look. It's not just about the art inside but also the grandeur of the building itself.
Plus, the views from its terrace? Pure gold. You get a bird's eye perspective of the city, beautifully lit up against the night sky.
10:00 pm: Dinner
After all that wandering and watching, it's time to treat those taste buds. The great thing about Barcelona is that there's no shortage of great places to eat, no matter where you find yourself.
Maybe there was that cute café you spotted while meandering through the alleys? Or perhaps a friend mentioned a must-visit eatery?
Of course, I've also dropped a few suggestions earlier, and if any of those caught your fancy, now's the time to give them a go.
But if you're in the mood to explore a bit more, Gràcia is where you might want to head next. It's one of those neighborhoods that has retained its local vibe and charm.
The restaurants here are a mix of traditional and trendy, and the bars? Oh, they've got character. Perfect for a relaxing meal as you wind down your day.
Morning (day 3)
As you step into the third day of your Barcelona whirlwind, let's take a breather, shall we? After two days of non-stop exploration, you've seen quite a bit of what Barcelona offers. But like any city worth its salt (or sangria), there's always more beneath the surface.
That's why the morning of day 3 is where you get to call the shots. Depending on where your interests lie or how the energy levels are faring (you've definitely had quite a couple of days by now!), there are a few ace options you can tap into.
(Although I'd suggest only picking one – or maybe two at a stretch, if they're located near one another.)
FC Barcelona Museum
Football fans and curious souls alike, if you're itching to tap into the heart and soul of Barcelona's football culture, this is it! FC Barcelona isn't just a football team; it's a symbol of pride for the locals.
And the FC Barcelona Museum gives you a front-row seat to the club's rich history, showcasing gleaming trophies, cool memorabilia, and interactive displays.
Dive into the stories of legendary players who've donned the iconic jersey. Feel the goosebumps as you relive some of the club's most iconic moments through multimedia exhibits.
A quick heads-up: The legendary Camp Nou is getting a bit of a facelift these days, so while you won't get to step onto the pitch, the museum experience more than makes up for it.
But whether you're a die-hard fan or just exploring, this museum promises a vibrant journey into the world of football.
National Museum of Catalan Art (MNAC)
For those with an artistic bent or a love for history, the MNAC could be your morning's highlight. Housed in the majestic Palau Nacional, this museum is a panorama of Catalan art spanning a millennium.
From early Romanesque church paintings to modern art wonders, it's a crash course in Catalonia's rich artistic heritage. The interiors are as impressive as the art, with spacious halls and intricately designed ceilings.
Not to mention, the views of the city from its location atop Montjuïc are, well, picture-perfect.
Barcelona Aquarium
If you're traveling with kids or just have a thing for marine life, the Barcelona Aquarium is a serene contrast to the bustling city sights. It's not just about gazing at colorful fish, although there's plenty of that.
The Oceanarium, the heart of the aquarium, boasts species from the Mediterranean and the impressive tunnel lets you walk under sharks (talk about a perspective!). Alongside, there are thematic aquariums replicating marine ecosystems from around the world.
It's a gentle reminder of the wonders lurking beneath the waters and a peaceful way to start your day.
Poble Espanyol
Let's be honest: hopping from one Spanish region to another in just a few steps? Sounds like a dream, right?
At Poble Espanyol, that's pretty much the reality. Crafted for the 1929 International Exhibition, this open-air museum is a microcosm of Spain's diverse architecture and culture.
From Andalusian patios to Catalan gothic structures, it's a delightful meander through different "villages", each representing various Spanish regions. Besides the architecture, there are craft workshops, boutiques, and even some top-notch spots to grab a bite.
If you're keen on getting a slice of Spain in a nutshell, this is your place.
Fundació Joan Miró
Art aficionados, this one's got your name written all over it. Imagine a space dedicated to one of Spain's most innovative artists, Joan Miró.
Located on the lush Montjuïc hill, the Fundació Joan Miró houses the most extensive collection of Miró's works. It's a visual feast of paintings, sculptures, textiles, and drawings.
The modern and playful design of the building, coupled with Miró's whimsical art, creates an atmosphere where creativity feels limitless. Even if abstract art isn't usually your jam, the sheer energy and boldness of his work might just sway you.
And, let's be honest, the views from Montjuïc are a bonus that never gets old.
Chocolate Museum
Alright, sweet-tooth adventurers, I see you! And trust me, this isn't just another chocolate museum — Barcelona's version is a deep dive into the delicious history and evolution of chocolate in Europe.
Hosted in an old monastery, the Museu de la Xocolata presents not only the history and making of this beloved treat but also some really intricate chocolate sculptures. Who knew you could craft the Sagrada Familia out of cocoa?
Plus, spoiler alert: the entry ticket is edible!
Besides learning, there's obviously tasting. From traditional recipes to innovative concoctions, it's a tasteful journey that might lead to some… shall we say, delightful overindulgence? But hey, you're on vacation!
Lunch
1:30 pm: Lunch in Poble-Sec
Poble-Sec is the humble yet gastronomic haven tucked away from Barcelona's bustling main streets. This neighborhood has undergone quite a transformation over the years, and now it's one of the city's top spots for genuine, delicious eats.
And yes, while I've had countless memorable meals here, a few places genuinely stand out:
Afternoon
3:00 pm: Cable car up Montjuïc
Here's where things get a bit more elevated (literally). The Montjuïc cable car isn't just your regular mode of transportation; it's a scenic delight.
This is one of those classic Barcelona things you just shouldn't miss. Aside from sparing your legs the uphill trek (trust me on this one), it offers an almost cinematic view of the city.
As you glide upwards, you'll see the city spread out below you, a patchwork of historic neighborhoods and modern skyscrapers.
Pro tip: Buy your ticket online to skip the lines and ensure a smoother journey. It's a round trip, so you'll be covered for the descent too. You can secure your spot here.
3:15 pm: Parc de Montjuïc, Montjuïc Castle and more
Reaching the top of Montjuïc, you're greeted with a pretty impressive view. You can see a lot of Barcelona, the sea, and even some distant mountains. It's a great spot to just pause and take it all in.
But once you've had your fill of the scenery, there's a fair bit to explore!
First up, the Castell de Montjuïc. With walls that have seen more than their fair share of history since the 17th century, this fortress not only gives you a lesson in Spanish history but also rewards you with some top-tier views of the city and the Mediterranean.
Over the years, it's been a prison, a museum, and today? It's a spot that warmly welcomes visitors. Check out the exhibitions, join a guided tour if that's your jam, or just wander around, absorbing its tales.
Next, you'll want to check out the Mirador lookout point, situated on the Montjuïc Cable Car's path. It's your perfect vantage point for a photo or just some good old city gazing.
On clear days, you can trace the outline of the entire city and even spot some iconic landmarks.
But Montjuïc isn't just about the views. This mountain is dotted with parks and gardens where you can take a relaxing break.
The Mirador Gardens, close to the Mirador stop, is such a spot. A hush of serenity in the middle of the city, these gardens are a beautiful mix of flora and sculptures.
Then there's the Parc de Montjuïc, a vast space that encompasses the mountain. There are plenty of things to explore here. For instance, let's not forget the Olympic Stadium, a nod to the 1992 Olympics that put Barcelona in the global spotlight.
Honestly, there's so much to do; just pick what calls out to you and go with the flow.
5:15 pm: Descend in the cable car
After a few hours up in Montjuïc, it's about time to head back down. The cable car will get you there quickly and offers a different perspective of the city on your way down.
When you're back at the bottom, you'll be near the Paral·lel metro station – perfect for starting your 12-minute walk from here to the next stop.
5:40 pm: Columbus Monument
As you make your way, you'll pass by the Columbus Monument. This iconic statue has been a part of Barcelona's landscape since the 19th century, depicting Columbus pointing towards the New World.
Now, while it might seem like a quick passing mention in our packed itinerary, it's a bit of a landmark around here. I know, I know – with such a packed schedule, you won't be able to shimmy up to the top for that sweeping view of the city and the Mediterranean Sea.
But hey, it's still worth a quick pause and a photo, right? Besides, if you ever find yourself back in Barcelona (and let's be honest, who can resist a second visit?), heading up there is a must.
Evening
6:00 pm: Sunset Cruise
What better way to wrap up the day than with the cityscape of Barcelona slowly fading into the twilight, all while you're on a spacious 78-foot catamaran? That's exactly what you'll get with this sunset sailing cruise.
This isn't just any boat ride. With live jazz music setting the mood and the horizon painted in shades of gold and pink, this is Barcelona showing off just a bit.
While aboard, find yourself a comfy spot on the netted area (great for feeling the gentle sway of the waves) and maybe snag a drink from the onboard bar. Between the sea breeze, the music, and the relaxed vibe, it's almost like Barcelona is giving you a warm, sun-kissed hug goodbye.
7:30 pm: Dinner and drinks
So here we are, coming up to the grand finale of your 72 hours in Barcelona. Just three days, and yet it feels like we've walked through centuries, right? Trust me, this city has that effect on people.
Once you step off your sunset cruise, you'll find yourself near La Rambla. A buzz of activity, this street is like the heartbeat of the city, always alive, always thumping.
As tempting as it may be to walk the entire stretch, I'd say, give it a quick look again and then veer off into the Gothic Quarter.
Now, the Gothic Quarter isn't just another part of the city. It's where Barcelona's heart truly lies.
This is the spot that's seen countless stories unfold over the ages, from medieval tales to modern-day romances. As someone who's been around Barcelona quite a bit, I can vouch for the authenticity of the experiences here.
Dinner, you ask? Ah, well, the Gothic Quarter isn't about posh dining establishments. It's about those charming little tapas bars that seem to be around every corner.
No reservations, no pretense. Just good old authentic Spanish flavors. Whether you're in the mood for some classic "tortilla española" or a zesty "albóndigas" (that's meatballs, by the way), you'll find it all here.
And drinks? Well, Barcelona's got its own brand of nightlife. The tiny bars here don't blare loud music; instead, they ooze character.
From local brews to classic Spanish wines, there's something for everyone.
And while you're there, do strike up a conversation with the locals. They've got tales to tell, and who knows, you might just leave with a new friend.
So go on, wander, explore, eat, drink, laugh. And as you head back to pack your bags, I hope you're taking a piece of this city with you!
Where to stay in Barcelona for three days
Staying somewhere central is key to making sure you're able to hit the ground running at the start of each day you have here!
Remember, much like those advance tickets I recommended that you get for the main sights, Barcelona is incredibly popular for tourists and so it's essential to book accommodation well in advance to avoid missing out here.
Here are my top picks on the best places to stay in Barcelona for 3 days:
Is three days enough to see Barcelona?
Yes, three days in Barcelona gives you a good taste of the city's highlights and vibrant culture. While it's not enough to explore every nook and cranny, it's ample time to soak in the key attractions and feel the city's heartbeat.
Think of it as a curated Barcelona experience. After all, Barcelona, with its sprawling urban expanse and endless list of attractions, is truly a treasure trove.
So, yes, while three days won't let you deep-dive into every corner, it does allow for a memorable snapshot.
Whether you're strolling the historic streets of El Born, basking in Gaudí's architectural wonders, or simply sipping on some sangria by the beach, three days here can be filled with memories that'll last a lifetime.
Can I see everything in Barcelona in three days?
Realistically, no, you can't see everything Barcelona has to offer in just three days. But, with the right itinerary, you can definitely cover the major attractions and get a genuine feel for the city's spirit. It's about savoring quality moments over quantity.
Barcelona is brimming with art, history, cuisine, and lively street scenes. It's the kind of place where every alley has a story and every corner reveals a new surprise.
In three days, you can absolutely hit the major hotspots – Sagrada Família, Park Güell, La Rambla, to name a few. But just remember, some of the city's magic lies in its less-visited spots and unplanned moments.
Leave a bit of wiggle room in your schedule for spontaneous discoveries!
Is 3 days in Barcelona too much?
No, three days in Barcelona might seem like a lot, but it's barely enough to scratch the surface of what this iconic city has to offer. After all, the city has a huge amount of culture, architecture, and history, coupled with a modern vibe that keeps you coming back for more.
Consider the world-famous landmarks like Sagrada Família, Park Güell, and Casa Batlló. Each site can take several hours if you truly want to immerse yourself in its beauty and history.
Then there's the vibrant neighborhoods from the gothic charm of the Barri Gòtic to the beach vibes of Barceloneta. And let's not even get started on the food scene! Tapas hopping alone could occupy a good chunk of your evening.
Furthermore, Barcelona's art scene, championed by legends like Picasso and Miró, deserves dedicated time. And after all that sightseeing, you'd surely want to lounge at the beach or take a leisurely stroll down La Rambla.
While you can get a good glimpse of the city in three days, calling it "too much" would be a serious understatement. It's more about prioritizing what interests you most and savoring those moments.
Tips for spending 78 hours in Barcelona
Is it worth going to Barcelona for three days?
Absolutely! Three days in Barcelona offers a whirlwind of culture, art, and gastronomic delights. It's an opportunity to immerse yourself in Catalan culture, experience the city's iconic sites, and even indulge in some unexpected discoveries.
Now, there's a reason why some travelers come back to Barcelona time and time again. It's a city that, no matter how many days you spend, always leaves you wanting more.
Yet, a three-day trip can be incredibly fulfilling. With a well-planned itinerary and an adventurous spirit, you can make the most of every moment, leaving with a suitcase full of memories and a heart full of gratitude for the experiences Barcelona shared with you.