Five Days in Barcelona: The Ultimate Itinerary (2023)
This article may contain affiliate links. Please read our
Disclosure Policy
for more information.
Five days in Barcelona is truly the magic number! Long enough to immerse yourself in its vibrant culture, tantalizing food scene, and historical wonders, yet short enough to keep that thrilling pace of a traveler on a mission.
Barcelona, with its melding of the old and the new, beach vibes, and city hustle, unfolds best over a span of five days. For this reason, crafting the perfect itinerary for five days in Barcelona ensures that you'll get to see the best of the city, soak up the culture, munch on some tapas, and not waste a second of your trip.
I've been blessed to spend oodles of time in Barcelona while living in Spain, and trust me when I say, there's an art to doing Barcelona right in this time frame. That's why, in this guide, you'll get a firsthand look into the city's must-visits, hidden spots, and even some local secrets.
Stick around, and by the end, you'll have a game plan that even the most seasoned Barcelonian would approve of!
Five days in Barcelona
Having five days in Barcelona is a great amount of time to be here. You'll be able to see all the main sights plus various off-the-beaten track spots – all without the stress that comes with having to rush from one place to another when you stay for fewer days.
Here's my pick for the ideal 5-day Barcelona itinerary.
Day 1 – Gaudí Architecture & Barceloneta Beach
Start your first day by visiting the grand Sagrada Familia, with its towering spires and kaleidoscopic stained glass, then head to the whimsical mosaic benches and fairy tale structures of Park Güell.
After lunch, make your way to lively Barceloneta Beach where you can relax on the sand, grab a drink at a beachside cafe, and end with a delicious seafood dinner as the sun sets.
FYI: Certain popular sights in Barcelona frequently sell out their entry slots, so it's critical that you book tickets in advance to avoid missing out (not to mention avoiding long lines).
This particularly includes the Sagrada Familia and Park Güell where tickets often sell out weeks ahead of time.
Day 2 – Gothic Quarter Museums & Tapas
Spend the morning immersing yourself in Picasso's artistic genius at the Picasso Museum before gazing up at the 14th century Gothic architecture of the Santa Maria del Mar Basilica in the historic Gothic Quarter.
After choosing from a variety of local eateries for lunch, admire Gaudí's designs with a visit to the undulating stone facade of La Pedrera and the colorful, marine-inspired interior of Casa Batlló. End your day indulging in tapas and wine at a local bar.
Day 3 – Gothic Quarter Exploration
Lose yourself wandering through the winding alleys of the Gothic Quarter, discovering picturesque spots like the bridge of Carrer del Bisbe and remains of the ancient Roman walls. Don't miss visiting the awe-inspiring interior of the Barcelona Cathedral and grabbing Mediterranean views from its bell tower.
After a paella cooking class and tasting pintxos at the Boqueria Market, take in an authentic flamenco show at Tablao Cordobes theater.
Day 4 – Day Trip to Montserrat & Winery
Escape the city with a tour to the dramatic mountain landscape of Montserrat to see its 11th century abbey and ride the funicular for heavenly views.
Afterward, head to a charming local winery to wander among vineyards, learn about the winemaking process, and indulge in lunch paired with their delicious wines.
Day 5 – Montjuïc Hill & Sunset Cruise
Take the cable car up Montjuïc Hill for panoramic views of the city, harbor, and sea beyond before exploring highlights like the Castell de Montjuic and lush gardens.
As the sun starts to set, embark on a Sunset Sailing Cruise to watch the city lights come alive along the waterfront while sipping a drink on board. End with a dazzling display of music, light, and water at the Magic Fountain.
Detailed Barcelona five day itinerary
Morning (day 1)
The first day of your five-day Barcelona itinerary will see you checking out some of the main sights in the city, before diving a bit deeper on the remaining days of your trip.
PRO TIP: You don't want to be wasting time – and money – getting from place to place while you're here. That's why I'd strongly recommend that you get the 48-hour Hop-On Hop-Off Bus ticket to make experiencing Barcelona as stress-free as possible.
In fact, the first two days of the itinerary below follow much of this bus route, making it incredibly easy for you to get around.
And that's not even mentioning that the journey on these buses is amazingly scenic. You'll be able to sit back and enjoy as the highlights of the city glide by, giving you a great overall look at what Barcelona offers – and some inspiration for your remaining days here!
Sagrada Familia
Let's kick off your journey at the iconic Sagrada Familia. I know, I know, it's pretty much on every Barcelona to-do list, but believe me when I say, there's a reason for it.
From the outside, the intricate designs, sculptures, and the stories they tell will have your eyes dancing. Before you go right in, take a good look at those architectural wonders, each façade tells a different tale.
Inside, it's a symphony of light and color. With the sun streaming in, the stained glass windows paint a beautiful, kaleidoscopic picture.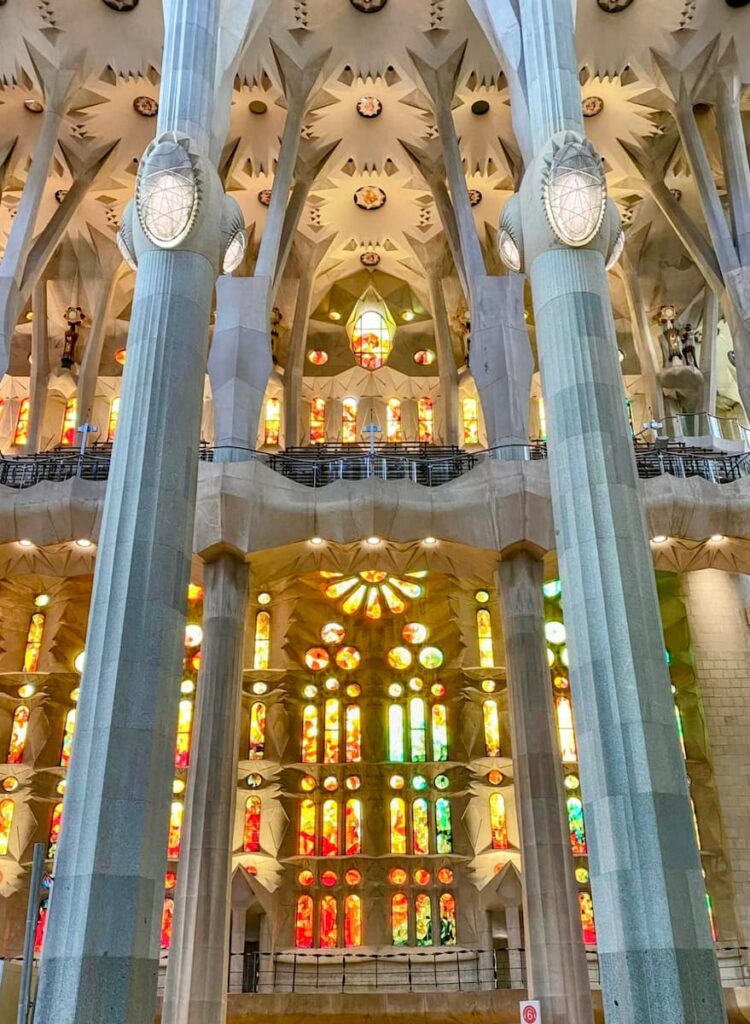 Plus, that ceiling? Makes you feel like you're under a canopy of a serene forest.
And I know I'm repeating myself, but I need to emphasize this: If you want to actually enter the Sagrada Familia – as you should – absolutely pre-book your tickets.
I cannot stress this enough. I've seen too many disappointed faces who thought they could just stroll in.
And if you can, go for the ticket that lets you ascend one of the towers, especially the Nativity Tower. The view is so worth the extra cost involved.
Recinte Modernista de Sant Pau
Just a little stroll or a short bus ride from Sagrada Familia, and you'll find yourself at the Recinte Modernista de Sant Pau. I promise, this isn't just a beautiful building – it's a slice of history.
Originally a hospital, this modernist complex with its intricate mosaics, sculptures, and colorful domes is a testament to the beauty of Catalan Modernism. Inside, you get a vibe of what healthcare looked like back in the day, combined with some incredibly impressive art nouveau designs.
The gardens around are a bonus – calm and serene. Spend some time here, soak in the atmosphere, and just let Barcelona's unique charm wash over you.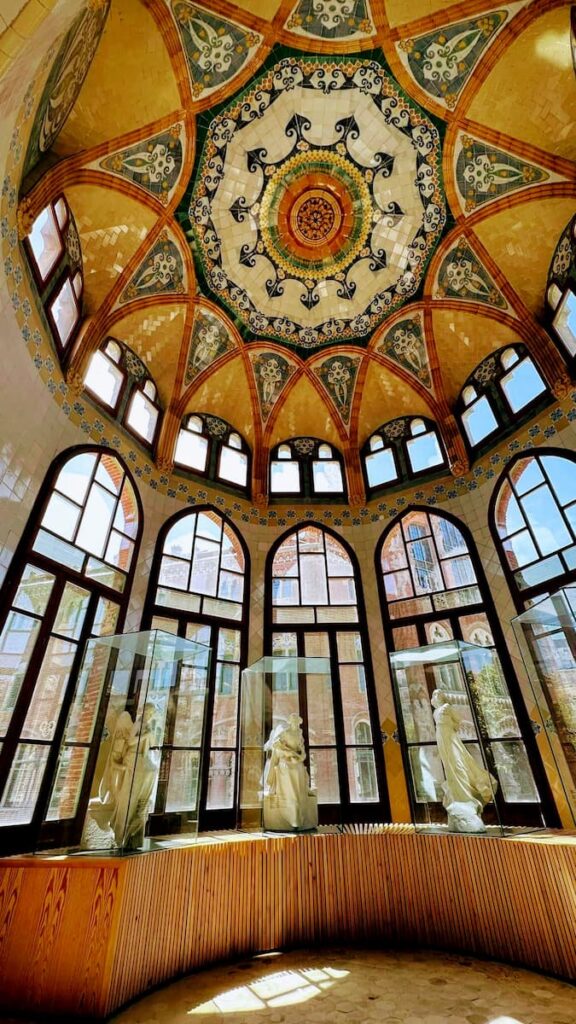 Lunch
Okay, by now you'll have worked up an appetite exploring Gaudí's wonders. Avenida de Gaudí (which faces Sant Pau) will beckon with its range of eateries, but a word to the wise, many spots here are designed to lure in tourists and might not give you the most authentic experience.
But worry not, your local guide (ahem, that's me!) has got some nearby suggestions for you:
Bar Restaurant Ginés – If you're all about that authentic Spanish food vibe without breaking the bank, this is your spot. It's simple, it's classic, and oh-so-popular with us locals. Seriously, it's often bustling, so make sure to reserve a spot in advance. With its close proximity to popular attractions, you'll be amazed at how reasonable the prices are.
Marisqueria A Estrela Galega – For those with a hankering for seafood, this place is a goldmine. A tad pricier than Ginés (but, honestly, not ridiculously so), but it's worth every penny. Think fresh catches prepared to perfection.
Braseria La Selva Barcelona – This place is known for its great meat offerings, with anything from steak to tartar being cooked to perfection. It's perhaps slightly more touristy than the last two places, but the meat is so good, you probably won't care.
Just keep in mind for these – and, really, every restaurant I mention in this article – you should book in advance to make sure you actually get a spot.
(The first two above don't have websites, but you can find their phone numbers easily online! They speak enough English to accept your booking, so don't worry about that either.)
Afternoon
Park Güell
Alright, time to walk off that lunch with some more Gaudí magic! Next up, Park Güell.
And yeah, I'm gonna sound like a broken record, but you've got to book in advance at Park Güell too. Trust me, if you don't want to line up for hours – or, worse, want to make sure you actually get in here – you need to do this so you don't miss out.
But once you do get inside, it's like stepping into a fairytale world. It's a concoction of colorful mosaics, whimsical designs, and panoramic views of Barcelona.
Wander around and you'll find the iconic dragon statue (perfect for a photo op!), the undulating ceramic bench offering city views, and the Hypostyle Room with its unique Doric columns. The nature around the park complements the man-made wonders, making for an absolutely relaxed and serene vibe.
And if you're riding the Hop-On Hop-Off Bus, it's just one quick stop from Recinte Modernista de Sant Pau. Super convenient!
Barceloneta Beach
After soaking in all of Gaudí's genius, let's shift gears a bit and feel the Mediterranean breeze, shall we? Hop on that bus (either the Hop-On Hop-Off Bus if you have that ticket, or the V19 nearby), take in the sights and sounds of the city through your window, and before you know it, you'll arrive at Barceloneta.
Barceloneta Beach is where the city meets the sea, and it's a sweet blend of both worlds. Wander along the beach promenade, feel the sand between your toes, and just let that gentle coastal aura take over.
And when you feel like quenching your thirst, those beachside bars, or chiringuitos as they call them here, are perfect for a chilled drink while watching the waves.
Evening
Seafood dinner in Barceloneta
Alright, dinner time. Now, I'll be real with you – Barceloneta, with its proximity to the beach, can be a bit tricky with its eateries. Some places are more about the view than the food.
But there are some real gems around here, with the following being my picks for the best restaurants to head towards:
Can Solé – This place has been serving locals and in-the-know tourists for decades. From their monkfish stew to grilled prawns, it's the stuff of legends. The ambiance? Chill and authentically Barcelonan.
Platja Ca la Nuri – Right on the seafront, this place offers a great combo of views and mouth watering seafood. Every bite feels fresh from the ocean, and coupled with the sound of the waves, it's a dining experience you won't soon forget.
Can Maño – It might seem unassuming from the outside, but step in and you'll understand the buzz. Insanely good seafood, old-school vibes, and pretty wallet-friendly prices.
And don't forget – whichever one you pick, just make sure to call ahead!
Continue the night
After all that seafood, you might want to wind down or wind up! If you're feeling the weight of the day or of your travels to get here and just want some quiet moments, there are plenty of laid-back bars around to grab a drink and reflect on your day.
However, if you've still got energy in those dancing feet, remember, some of Barcelona's big-name clubs are just a stone's throw from Barceloneta Beach. Let loose and dance the night away, making your first day in the city truly memorable.
Morning (day 2)
Picasso Museum
Let's kick off Day 2 by immersing yourself in the world of one of Spain's legendary artists – Pablo Picasso. The Picasso Museum, set in the heart of the El Born district, houses a massive collection of the maestro's early works.
From his formative years to his Blue Period pieces, it's like flipping through the pages of an intimate visual diary. Allocate about 1.5 to 2 hours as time will fly when you're wandering through the galleries.
Basílica de Santa Maria del Mar
Not too far from the museum, you'll find the regal Basílica de Santa Maria del Mar. This Gothic beauty has been standing tall since the 14th century.
The exterior itself tells tales of Barcelona's rich history while the interiors are a sight to behold. However, there's a small catch – there's an admission fee.
It's totally your call. Some people are content appreciating its grandeur from the outside, while others like to venture in for a closer look. Both choices are solid.
Mercat del Born
You might feel the rumblings of hunger by now, but before we dive into the culinary scene, let's make a quick stop at Mercat del Born.
No, it's not a food market. Instead, it's a cultural center that once used to be a market.
Underneath its iron structure lie archaeological remains that echo the stories of medieval Barcelona. It's kind of like a little time travel pitstop.
Peek into the past and start to gain an understanding of the essence of this vibrant city.
Wander El Born
Post a dose of history and art, let's get those legs moving and wander the maze-like streets of El Born. This district, with its narrow alleys and historic buildings, pulsates with an irresistible charm.
It's dotted with cool boutiques, artsy workshops, and snug cafes perfect for people-watching. Let your senses guide you; every turn reveals something fun and unexpected.
Maybe grab an artisanal coffee, or perhaps discover a quirky shop selling handmade crafts. It's all about those little moments of discovery.
Lunch
If there's one thing Barcelona won't let you down with, it's food! And El Born? It's truly a treasure trove.
You're smack dab in the middle of a culinary wonderland here. Depending on your cravings, here are some spots I've fallen in love with over the years:
Cal Pep – This isn't just any tapas place. It's the place. Their plates are bite-sized masterpieces, and the atmosphere? It's got that lively Spanish buzz. A must if you're in the mood for classic tapas with a twist.
Bar Celta Pulperia – Calling all seafood lovers! This joint is a haven. Every dish feels like it was fished out of the sea just for you. Super fresh, super flavorful, super Barcelona.
Bodega la Puntual – This one's a bit of a surprise package. From the outside, it might look like your regular tapas joint, but step inside, and a spacious dining area awaits. Pair their dishes with some wine (they've got a really impressive list) and just let the good times roll.
Afternoon
Parc de la Ciutadella
Full belly? Good. Now, how about digesting all that deliciousness with a bit of nature and art?
Just a short walk away is Parc de la Ciutadella, one of Barcelona's green oases. It's got these lovely pathways shaded by trees, serene spots by the pond, and sculptures that make you stop and ponder.
But, the showstopper is the Cascada Monumental. It's this epic fountain and monument combo that's equal parts artistic and architectural genius.
Maybe sit by its side, listen to the sound of cascading water, and even jot down some thoughts or doodle in your journal. It's the sort of place that inspires.
Arc de Triomf
Did you know Barcelona has its own Arc de Triomf? Yep, it's not just Paris that gets all the fun!
Built back in 1888 for the Barcelona World Fair, it's got this reddish brickwork that really makes it pop. With its intricate carvings and design, it speaks volumes about Spain's architectural prowess.
Now, for those of you who snagged that Hop-On Hop-Off Bus ticket (clever choice, by the way), this is where you hop on next. The journey to your next stop, La Pedrera, is around 45 minutes and you're in for a seriously scenic ride here.
You'll roll past so many iconic spots like the Camp Nou stadium, Plaça d'Espanya, and the MNAC (Museo Nacional de Catalunya). Even if you're short on time, just seeing these places from the bus will give you a sense of their grandeur.
And who knows, you might spot something you want to explore more in the coming days!
For those without the Hop-On Hop-Off ticket (no stress, if not), you can catch a direct bus that'll drop you near Casa Milà. Super easy and super convenient!
Casa Milà/La Pedrera
Let's talk Gaudí. If Barcelona had a love language, it would be his architecture.
Casa Milà, often called La Pedrera (which means 'The Quarry' in Spanish, and you'll get why when you see it), is one of his masterpieces. Its undulating façade and wrought-iron details make you wonder if it's a building or a piece of art!
Now, you can definitely go inside, and it's absolutely worth it if you're into architectural details. But if you've got to choose between this and Casa Batlló, I'd nudge you towards the latter.
So, for now, give La Pedrera the admiration it deserves from the outside, snap those pics, and then keep those feet moving.
Casa Batlló
Alright, you've seen La Pedrera from the outside, and if your appetite for Gaudí's genius has been whetted, then Casa Batlló is your next stop. This place is like something out of a whimsical daydream.
Its unique design, inspired by marine life, makes it stand out even on a street filled with architectural wonders. The blues, the curves, the balconies that look like they're made of bones – trust me, it's one for the books.
One important point to note is that this is one of those popular spots in Barcelona where tickets sell out well in advance. So you can't just show up and expect to waltz in.
That is, pre-booking tickets to Casa Batlló is a must if you want to make sure you'll actually be able to go in. Sold-out signs truly aren't a rarity here.
Passeig de Gracia
As you continue your afternoon walk, you'll soon realize that you've made it to the heart of modernist Barcelona. Passeig de Gracia isn't just any street; it's a runway showcasing the city's architectural hits.
Every building here seems to tell a story, whether it's about its historic residents or the vision of the architects who designed them. Apart from the Gaudí stunners, keep an eye out for other gorgeous buildings that dot this avenue.
And hey, if you're in the mood for some retail therapy, this is your spot. From high-end boutiques to quirky local stores, there's a bit of everything.
Plaça Catalunya
So, you've ambled along Passeig de Gracia and find yourself at Plaça Catalunya. This isn't just any plaza; it's like the city's heartbeat.
Always buzzing, always alive. Around its edges, you'll find fountains and sculptures, while pigeons take center stage, always ready for a photo-op.
It's also a key transport hub, making it a great point to venture out from or return to during your explorations.
This plaza is the perfect place to sit, relax, people-watch, and soak in that unmistakable Barcelona vibe. Maybe grab a coffee or ice cream from a nearby café, find a bench, and just… be.
Because sometimes, amidst all the sightseeing, it's the simple moments of pause that become the most memorable.
Evening
Tapas and Wine Tour of the Gothic Quarter
If you consider yourself a bit of a foodie and are looking for the perfect blend of flavor and history, then the Tapas and Wine Tour of the Gothic Quarter is where your evening should be headed.
Think narrow alleys, centuries-old structures, and mouth-watering bites, all rolled into one!
You'll start your evening in the heart of the Gothic Quarter where your guide, a Barcelona local with a flair for storytelling, awaits. You'll hop between four local favorites, which is definitely the right amount when in Barcelona.
As you munch on tapas, you'll dive deep into the tales behind each bite. Was it a dish reserved for royalty? Was it a humble farmer's snack? Discover the origins and enjoy the journey.
And no Spanish evening is complete without drinks, right? So, get ready to sip on some classic Spanish wines, refreshing sangria, traditional vermouth, and the sparkling magic that is cava.
By the end, you won't just be full, you'll be filled with stories to share back home!
Nightcap
A food tour can take it out of you (in the best possible way), but if you're feeling up for it and the night is still young, why not head out for a little more liquid fun?
Barcelona – and especially the Gothic Quarter (although don't spoil it too much before you explore it more tomorrow!) – has a sea of bars, from rooftops with city views to underground spots with live music.
Whether you're in the mood for a craft beer, a cocktail, or maybe another glass of that delicious Spanish wine, the city's got you covered.
Morning (day 3)
As we step into day 3, a quick heads-up: your 48-hour Hop-On Hop-Off Bus ticket has officially clocked out. But no worries! We're going to be zeroing in on one of my absolute favorite parts of the city: the Gothic Quarter.
This place is a delightful maze of history, stories, and charm. While there are some must-see spots (I'll guide you to them), the real magic lies in wandering its alleys without a fixed plan.
Yep, getting a tad lost is part of the experience, but I promise it'll be worth it.
FYI: If you're someone who loves stories, history, and a bit of direction, I've got a recommendation for you. Check out this Old Town and Gothic Quarter Walking Tour.
It starts at a breezy 9:30 am, and for the next three hours, you'll be walking the cobbled streets with a guide who knows this area like the back of their hand.
Not only will you see all the sights I mention below, but they'll share tales of old, point out the subtle details, and ensure you get the essence of the oldest part of Barcelona.
Plaça de Sant Felip Neri
Stepping into Plaça de Sant Felip Neri is like traveling back in time. This quiet and reflective square, with its baroque church and historic buildings, echoes tales of Barcelona's past.
You'll notice marks and indentations on some walls – those are remnants from the Spanish Civil War. Maybe sit for a while, soak in the silence, and just let your thoughts wander.
Carrer del Bisbe
Alright, picture time! Carrer del Bisbe isn't just another street; it's THE street that everyone and their dog has probably snapped a photo of.
And for good reason. With its arching bridge, intricate designs, and that timeless aura, it's easy to see why this street is a favorite backdrop for many.
A little tip from a local: early morning or late afternoon offers the best light for photos, and fewer crowds to dodge, so don't take too long to get here this morning. So, whether it's for the 'gram or your personal collection, Carrer del Bisbe is one street you'd regret not walking down.
Roman walls in Carrer del Paradís
Carrer del Paradís isn't just another lane in the city. It's where the tales of ancient Roman Barcelona come to life.
These well-preserved walls are what's left from the Roman days of 'Barcino'. If you put your ear close enough, you might just hear whispers of centurions and merchants of yore (just kidding, but it does give that kind of vibe!).
In all seriousness, it's a tangible piece of Barcelona's distant past, right in the middle of the modern city. A stark reminder of the age and depth of this city's story.
Plaça de Sant Jaume
Heading to Plaça de Sant Jaume, you'll find yourself in what is arguably the political heart of Catalunya. The square is flanked by two heavyweight buildings: the City Hall on one side and the Palau de la Generalitat (Catalan government) on the other.
Aside from its political significance, it's buzzing with life, from locals discussing the news of the day to tourists soaking in the surroundings.
I love people-watching here with a coffee in hand – a genuine slice of local life!
Plaça del Rei and the History Museum of Barcelona (MUHBA)
Alright, history buffs, this one's a biggie. Plaça del Rei isn't just a plaza; it's an open-air chapter from Barcelona's extensive historical book. Surrounded by medieval buildings, each corner of this plaza has tales to tell.
And for those with a thirst for in-depth history, the MUHBA awaits. And let me say, it's not just a museum; it's a deep dive into Barcelona's evolution over the ages.
While it's entirely possible to spend an entire day here, a quick 2-hour jaunt can still offer a solid overview. But remember, time's a-ticking, so only head inside if the clock's on your side. Otherwise, the plaza is a mini history lesson in itself.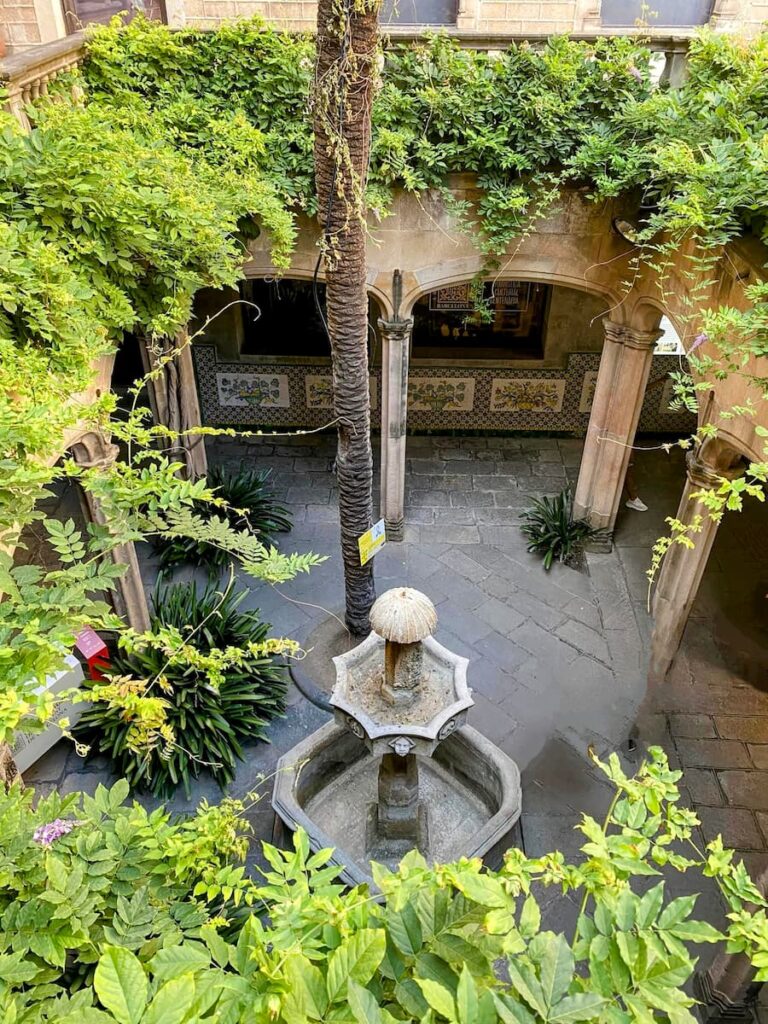 Lunch
Paella cooking class and La Boqueria Market tour
If you've ever daydreamed about rustling up an authentic paella while sipping on some homemade sangria, now's your chance with this Paella Cooking Class and La Boqueria Market tour.
The first thing you'll do is head into the vibrant atmosphere of Mercat de la Boqueria with a seasoned chef leading the way. Feel the market's pulse as you glide past colorful stalls, handpicking the freshest ingredients for your paella. From succulent prawns to aromatic saffron, it's all about the details.
From there, before you even start cooking, get ready for some traditional Spanish tapas. And while you're at it, learn how to whip up those irresistible Basque Pintxos or Montaditos – the cute little bites that you've probably been munching on since you landed in Barcelona.
With ingredients in hand and a chef by your side, don the apron and embrace your inner culinary genius as you learn how to make your very own seafood paella. Plus, as the paella simmers and the aromas fill the room, master the art of sangria-making.
By the time lunch is ready, there's nothing quite like the satisfaction of digging into a paella de marisco that you played a part in crafting.
And guess what? You won't just leave with a full belly but also with the original recipes to recreate these Spanish delights back home.
Afternoon
La Boqueria
Even though you would have visited La Boqueria during the cooking class, you might want to head back in to take a closer look. After all, it's like stepping into a lively food-themed festival, with colors, aromas, and flavors everywhere you look.
If you're eyeing some souvenirs for folks back home or maybe a few gourmet goodies for yourself, this is the spot to load up. Plus, if you're like me, there's always one more tapa or a unique fruit juice blend that's screaming for a taste test.
Barcelona Cathedral
Next up, let's head in the direction of Barcelona Cathedral. That said, on the way there, feel free to take a few wrong turns down the winding alleys of the Gothic Quarter as that's honestly half the fun of this part of town.
Now, about the Cathedral – this isn't just another historical site. Stepping inside feels like time traveling, with each stained-glass window and intricately carved column holding secrets of the past.
And here's a tip: don't just admire it from ground level. Book your ticket for the Cathedral in advance (you don't want to miss out on going in, do you) and venture up the bell tower. Up there, the Old Town unravels below you like a medieval tapestry, with rooftops, alleys, and plazas creating a mesmerizing mosaic.
Then, once you're back on terra firma, take a moment to admire the Cathedral's facade; it's like a masterpiece painting you can't help but get lost in (and which tends to be best for photos in the afternoon, so your visit is timed perfectly for this!)
La Rambla
You know, some places are iconic for a reason. La Rambla might be buzzing with tourists, but there's a charm to this avenue that's undeniable.
From lively street performers to cute little kiosks, it's a sensory overload in the best possible way.
Just a heads-up: keep an eye on your belongings. Not to sound overprotective, but it's always better to be a tad cautious in this corner of the city.
Port Vell
After the hustle and bustle of La Rambla, the Marina at Port Vell is like a serene escape. As you wander around, the gentle sway of yachts and the distant hum of the city melt away any remnants of fatigue.
The shimmering waters, set against a backdrop of the city's skyline, remind you why Barcelona is so special. Whether it's the salty sea breeze or the laid-back vibe, Port Vell is the perfect spot to wind down your eventful day.
Evening
Plaça Reial
After all that walking, you must be yearning for a place to chill out, and Plaça Reial is the go-to. Lined with tall palm trees and beautiful buildings, this square's vibrant energy is infectious.
Whether it's the soft chatter of locals or the distant melodies from a busker, there's a rhythm to this place. Grab a drink from one of the local bars and let the ambience soak in.
I mean, sometimes, all you really do need is a refreshing drink, a comfy chair, and a killer view, right?
Flamenco Show and Dinner
Brace yourself for an explosion of emotion and passion with this Flamenco Show and Dinner Experience. You'll first head over to Tablao Flamenco Cordobes theater, a place dripping with history and art (and which, look at that, is right next to Plaça Reial).
Not to overhype, but the venue has seen performances from flamenco legends, so you know it's legit. The décor alone will transport you; it's like stepping into another era where every color and pattern tells a story.
As the lights dim, let the performance whisk you away. Feel the intensity of each foot stomp, get lost in the haunting melodies, and be mesmerized by the swirl of flamenco dresses. It's raw, it's real, and it's riveting.
And hey, when dinner rolls around, the spread here is massive – from tapas to mains, there's a range of traditional Spanish dishes waiting to tempt your taste buds.
Drinks in the Gothic Quarter
Still buzzing from the flamenco? I feel you. If you've still got some fuel left in the tank, the Gothic Quarter is THE place to be. I mean, Barcelona never really sleeps, and neither should you (well, at least not tonight).
Every corner of the Gothic Quarter comes alive in the evening. Whether it's a snug bar serving the best vermouth you've ever tasted or a lively joint with groovy music setting the tone, there's a place with your name on it.
Find a spot, order a drink, and let the night sweep you off your feet.
Morning (day 4)
You've seen the heart of Barcelona, so how about we venture out a bit? Trust me, there are some great sights waiting just outside the city limits, and you'll want to experience it.
Since you've only got five days in Barcelona, let's maximize our time and choose from one of these day trips that'll be the stuff of memories.
Option 1 – Day trip to Montserrat and a Winery
Montserrat truly is a massive rocky mountain range that looks like it's been sculpted by some celestial hand. More than just a natural wonder, it's also home to centuries of history and, yes, some really good wine.
Now, you can do all this yourself, but I'd really suggest taking this organized day trip to Montserrat (and a winery) to avoid all the hassle involved. It means you can just sit back and enjoy the day without having to worry about public buses or hiring a car.
The adventure starts as soon as you leave Barcelona. A short bus ride and you're at the base of Montserrat.
Here's where the real fun starts – you get to ride a cogwheel train! As the train climbs, you'll see the landscape transform. It's kinda therapeutic watching those rolling landscapes, not gonna lie.
At the top, you'll soon see that the Santa Maria de Montserrat Abbey isn't just a pretty face; it's a living testament to the region's deep-seated spirituality and traditions.
With foundations dating back to the 11th century, you can feel the weight of time here. Your guide will spill all the juicy details, from the monks who still call it home to its architectural prowess.
Now, this trip has structured bits, but you've also got free time. Top tip? Book a slot to see the Black Madonna. It's legendary!
And if you're into art, the Montserrat Museum is your jam – Picasso, El Greco, and Dali under one roof. On the other hand, if you need a high, the funicular train will take you up for a vantage point that's… well, you'll see.
And then you'll go from spiritual to spirited, as your next stop is a boutique winery. Depending on what you pick, there's either a light tapas or a full-course meal, both with a side of insane Montserrat views.
As you munch on the region's best, let the vista sink in. And hey, post lunch? It's vineyard wandering and wine tasting time!
Learn a bit, drink a bit, and soak in the vibes before heading back to the city.
Option 2 – Day trip to Girona (and possibly the Costa Brava)
Day 4 in Spain, and you might be itching to step out of Barcelona's bustling streets for a bit. Enter: Girona.
This medieval city, just an easy train ride away, has history, character, and a touch of Hollywood glamor. Once you arrive, those unmistakable ancient walls greet you, hinting at stories from ages past.
Now, for those who have a soft spot for the series Game of Thrones, Girona might ring a bell (or several). After all, parts of Westeros were brought to life right here – and it would be a shame, shame shame (yep, that part was filmed here, among many others) to miss out on seeing them!
To dive deep into both the city's rich past and its TV fame, consider joining the Game of Thrones Girona Small Group Tour. It's a blend of the real world and reel world, bringing together Girona's actual history with some GoT filming secrets.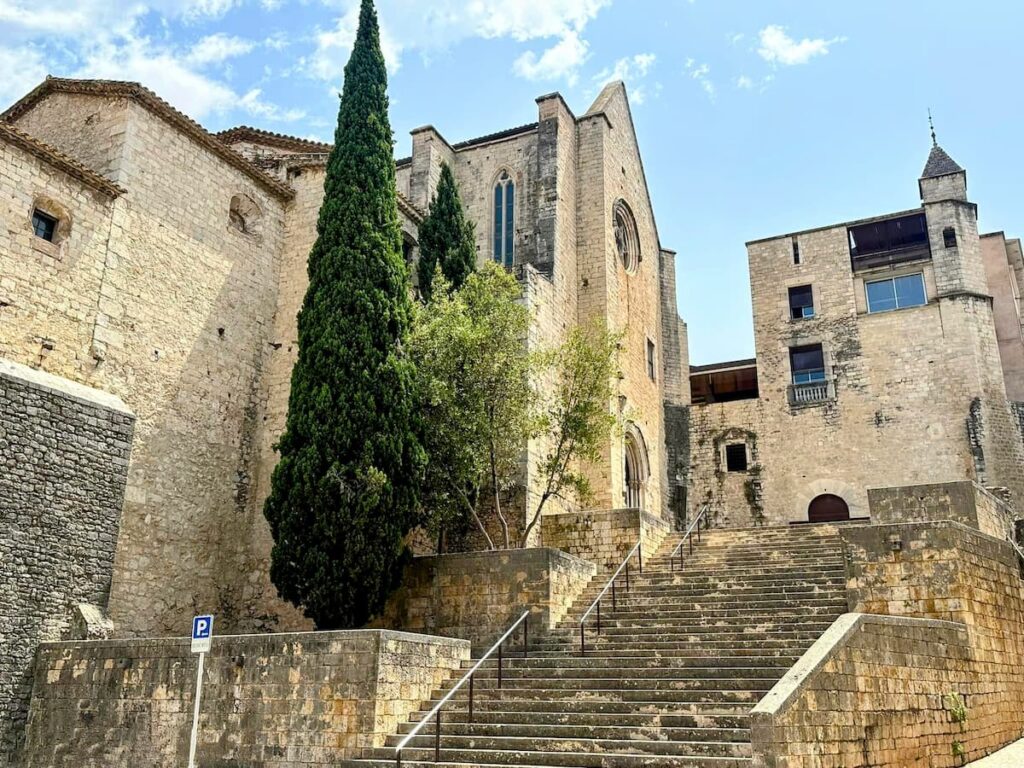 While I definitely recommend that tour to learn about what you're seeing here, actually getting to Girona is pretty straightforward and you don't really need to do an organized day tour to get to the city from Barcelona.
However, if you're someone who likes their itinerary neatly packaged, there's a great Girona and Costa Brava Day Tour that I can recommend. As you'll soon learn, from Romans to Arabs, many have left their footprint here, which you'll find out all about.
Then, the tour takes a whimsical turn as you head to Pals, a village so charming it seems straight out of a fairy tale. Postcard-worthy scenes continue as you venture to Calella Palafrugell.
Here, a leisurely Catalan lunch awaits, with the shimmering blue of the Mediterranean as your backdrop.
And speaking of the Mediterranean, you'll also have the chance to get up close. The Costa Brava, with its pristine beaches and rugged beauty, is perfect for a refreshing dip.
In essence, whether you're exploring Girona at your own pace or taking the organized route, this city and its surroundings offer a great contrast to Barcelona's urban hustle.
Morning (day 5)
You've covered a lot of ground in the past four days, so day 5 is all about taking a bit of a breather and leaning into what really tickles your fancy. The city's still brimming with places to see, but today? Well, it's up to you and how you're feeling.
From the morning options below, I'd probably suggest only doing one of them – or maybe two if you think you have the energy and if they're not far from one another.
FC Barcelona Museum
If you're a football fan or even remotely into sports culture, swing by the FC Barcelona Museum. You'll dive deep into the history of this iconic football club, browse through the historic artifacts, and get a real feel for the passion that fuels both the team and their global fan base.
Just a heads-up: while Camp Nou is getting a bit of a makeover, you won't be heading into the stadium itself. But honestly, even without that, the museum's super popular for a reason. In fact, it's currently the most visited museum in Barcelona!
National Museum of Catalan Art (MNAC)
If artsy vibes are more up your alley, the MNAC is an absolute must. Housed in the stunning Palau Nacional, this museum flaunts an extensive collection of Catalan art spanning from the Romanesque period to the mid-20th century.
Soak in the murals, sculptures, and modern art pieces that tell the tale of Catalonia's rich artistic legacy.
Barcelona Aquarium
Traveling with the young ones? The Barcelona Aquarium is a fantastic escape for the kids in your travel group.
With a myriad of marine creatures, immersive tunnels, and interactive exhibits, it's sure to keep those little eyes wide and tiny fingers pointing in amazement.
And hey, if you're aiming for the "Parent of the Year" title, pair the Aquarium outing with a sweet stop at the Chocolate Museum. It's a little journey through cocoa's history with ample opportunities to sample, making it a definite win-win for both kids and grown-ups!
Fundació Joan Miró
Switching gears back to the art enthusiasts: the Fundació Joan Miró is a lovely palette cleanser. The space itself is as intriguing as the art it houses.
Explore Miró's masterpieces, get a glimpse of his creative journey, and maybe even draw some inspiration for yourself. This museum really highlights the artist's innovative spirit and his deep connection with Barcelona.
Lunch
Considering what's coming up later today, let's grab a bite in Poble-Sec – it's close to your next spot and packed with some awesome food spots, like the following:
RíasKRU – Seafood lover? This place will rock your world. Fresh, flavorful dishes that'll transport you straight to the Galician coasts.
Elche – If you haven't had enough of Spain's iconic rice dish, this is where you want to be. A chance to indulge in one more hearty paella before you bid adieu to Barcelona.
Quimet i Quimet – A cozy little spot with a massive reputation for its tapas. Go on, order a spread and enjoy every mouthful.
A friendly tip, just to remind you again from earlier: these places tend to get busy. Do yourself a favor and book in advance, so you're not left hungry outside.
Afternoon
Cable car up Montjuïc
Time to elevate your Barcelona experience – literally! Hitch a ride on the Montjuïc Cable Car.
Why? Picture this: soaring over the city, with the Mediterranean shimmering on one side and the impressive Barcelona cityscape unfolding on the other. It's a perspective of Barcelona you don't want to miss.
Remember, you can grab your round trip tickets online, which means less time in lines and more time enjoying the view.
Parc de Montjuïc, Montjuïc Castle and more!
Once your feet touch the ground of Montjuïc, you've got a smorgasbord of choices awaiting you. But first things first, those views! Give your camera or phone a workout; these panoramas are famous for a reason.
Got that historical itch? The Castell de Montjuïc is a peek into the 17th century, having served various roles, from fortress to prison. Now, it's a cultural beacon, offering tours, events, and more.
For those looking for a snapshot-worthy point, head to the Mirador. Located midway on your cable car route, this is THE spot for a sweeping gaze over Barcelona's skyline, mountains, and the sparkling sea.
Nature lovers, Montjuïc's got your back. Stroll around the lush Mirador Gardens, with its artful sculptures and bursts of flowers, or venture into the vast Parc de Montjuïc.
Keep an eye on the clock though because by 5:15pm, you'll want to be making our way back down. The descent is a swift 7 minutes, placing you conveniently next to the Paral·lel metro stop.
And from there? Just a breezy 12-minute walk to your next destination.
Columbus Monument
Okay, here's a little detour en route to our next stop. As you saunter by, give a nod to the towering Columbus Monument.
While it's a tad too late in the day to climb up for those panoramic city views, it's a good one to pocket for a future visit. It's a nifty spot that looks over both the bustling city and the serene waters.
Evening
Sunset Cruise
How does watching the sun dip behind Barcelona from a massive catamaran sound? Yeah, this Sunset Sailing Cruise is as dreamy as it seems.
For a sweet 1.5 hours, you get to relax, feel the breeze, and vibe to live jazz tunes. And hey, if the mood strikes, grab a drink from the onboard bar, lounge on the net area, and let the city's silhouette amaze you.
It's one of the best views you can have of Barcelona and an incredible way to experience the last sunset of your trip here!
Magic Fountain of Montjuïc
The Magic Fountain of Montjuïc offers an evening show where lights and water dance together. Every jet and splash is synchronized to a melody, creating a mesmerizing display.
Make sure to check the official website for the exact times during your stay – not to mention that you'll need to check this to see if the fountain is actually performing the night you plan to go.
(For instance, at the time of writing this, the Magic Fountain has been turned off for water conservation purposes.)
And one more pro tip is that you should aim to arrive a tad early to snag the best viewing spot as it can get very popular.
Also, while the fountain show is the main attraction, don't rush off post-performance. The nearby MNAC building is illuminated beautifully at night, and the vantage point offers a sprawling view of the city lights.
Dinner
It's your final evening in this spirited city, so let's make it count! Wandered past a tempting eatery these past days? Maybe overheard a local raving about a joint?
Or perhaps you're keen on revisiting one of the spots I've previously thrown into the mix? Go for it.
If you're looking for a fresh experience, Gràcia offers a vibrant dining scene. This charming neighborhood, with its tree-lined streets and bohemian vibe, houses an array of eateries, from traditional tapas bars to contemporary Catalan cuisine spots.
Soak in the ambiance, relish the flavors, and raise a glass to the memories you've made.
Where to stay in Barcelona for five days
Staying somewhere central is key to making sure you're able to hit the ground running at the start of each day you have here!
Remember, much like those advance tickets I recommended that you get for the main sights, Barcelona is incredibly popular for tourists and so it's essential to book accommodation well in advance to avoid missing out here.
Here are my top picks on the best places to stay in Barcelona for 5 days:
Best luxury accommodation: Ohla Barcelona – amazing rooftop pool, incredible views, and the perfect location to explore the city
Best mid-range accommodation: Seventy Barcelona – the décor of this boutique hotel is so modern and stylish, the rooftop pool is ideal, plus you'll be near the main sights the moment you step outside
Best budget accommodation: Àmfores Boutique Guest House – the rooms are comfortable, the location is superb and the terrace is a great spot to end your day
Is five days enough in Barcelona?
Yes, five days in Barcelona gives you a solid amount of time to explore the city's highlights. You'll get a sense of its rich history, vibrant culture, and experience some mouthwatering Catalan cuisine. However, there's always more to discover in this dynamic city.
Barcelona is a treasure trove of experiences. In five days, you can wander the winding streets of the Gothic Quarter, relax on the beaches of Barceloneta, and marvel at Gaudí's architectural masterpieces.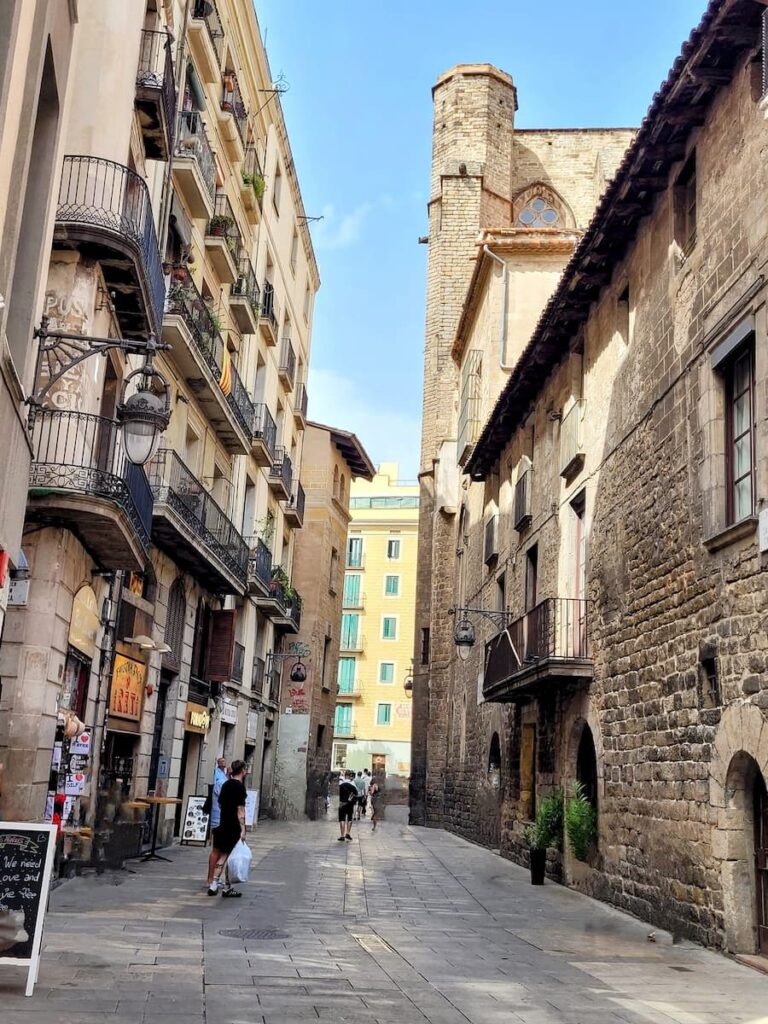 Yet, some of the city's charms lie in its hidden corners, tucked-away tapas bars, and the leisurely afternoon siestas. If you're looking for an immersive cultural experience, you might feel the urge to stay a bit longer and explore beyond the main tourist spots.
Can I see everything in Barcelona in five days?
No, you can't see everything in Barcelona in just five days, but you can definitely cover the major attractions and soak in the city's essence. With a well-planned itinerary, you'll get a fulfilling and diverse experience of what Barcelona has to offer.
Remember, it's the quality of experiences that matter, not the quantity. And Barcelona is rich in history, architecture, arts, and so much more.
Five days will allow you to visit landmarks like La Sagrada Família, Park Güell, and the bustling La Rambla. But cities like Barcelona also come alive in the unexpected moments: a spontaneous street performance, a late-night conversation with locals in a cozy bar, or stumbling upon a local festival.
Some of these serendipitous events and hidden gems might not be possible for a short visit, but what you'll capture in those five days will surely leave a lasting impression.
Is 5 days too long for Barcelona?
No, five days isn't too long for Barcelona. It might sound like a lot, but in a city like this, it feels just right. You'll have enough time to explore iconic sights without feeling rushed, and even spare a day for a possible day-trip or just leisurely wandering.
In fact, a five-day stay strikes a great balance between sightseeing and experiencing the local lifestyle.
While many tourists do whirlwind weekend trips or even 24-hour layovers, these often only scratch the surface of Barcelona's offerings. With five days, you can indulge in the city's renowned art scene, from Gaudí's masterpieces to the contemporary arts in Raval.
Enjoy the culinary delights, be it at a bustling food market or a quiet, family-run restaurant. Perhaps even venture out to Montserrat or the Costa Brava.
And let's not forget the simple pleasures – like enjoying a cup of coffee on a sunlit plaza, watching the world go by, which might not always be possible with a shorter trip.
Tips for spending 5 days in Barcelona
Here are some of my top tips to make the most of your five days in Barcelona:
Book ahead for major sites: Don't miss out on popular spots like La Sagrada Familia, Park Güell and Casa Batlló due to ticket unavailability.
Wear comfortable shoes: Barcelona is best explored on foot, especially areas like the Gothic Quarter with its narrow alleys.
Stay hydrated and sun-protected: Especially during the hot summer months, always carry water and wear sunscreen.
Be aware of pickpockets: Keep an eye on your belongings, especially in crowded areas like La Rambla.
Embrace Spanish eating times: Spaniards dine late. For instance, don't be surprised to see restaurants filling up for dinner around 9 pm or even later.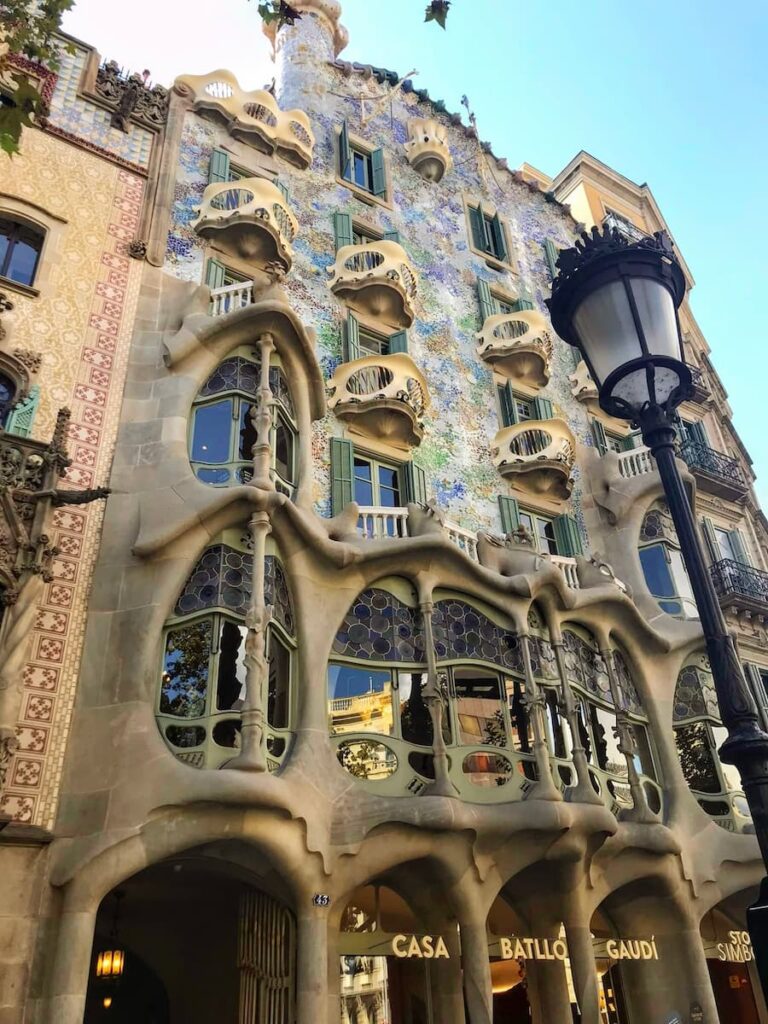 Is it worth going to Barcelona for five days?
Absolutely! Five days in Barcelona provides ample time to immerse yourself in its vibrant culture, architecture, and culinary delights. This city is a melting pot of history and modernity, with something for every traveler. Plus, with five days, you get a balance of sightseeing and relaxation.
Beyond just the well-known landmarks, Barcelona invites exploration. It's about the serendipity of finding a local jazz band playing in a plaza, the magic of a moonlit walk along Barceloneta beach, or the joy of a freshly made churro dipped in rich, dark chocolate.
And if you want a break from urban life, the proximity of places like Montserrat or Girona offers a quick escape. So, for me, five days is a golden span to truly appreciate Barcelona's multifaceted charm.
How much is 5 days in Barcelona?
Creating a budget for 5 days in Barcelona depends on your travel style. On average, a mid-range traveler might spend around €100 to €150 per day, covering food, attractions, and transport, with accommodation being an extra cost. However, expect to pay more during peak summer months.
Similarly, if you're looking for a more luxurious experience, expect to pay more. That said, even on a tighter budget, the city is quite manageable.
Here's a rough breakdown:
Accommodation: A decent mid-range hotel room can cost anywhere from €140 upwards per night.
Food: A typical meal at a mid-range restaurant might be around €25-€35, but add a bit more if you're indulging in wine or special dishes (although wine is incredibly cheap in Spain!)
Attractions: Entrance fees vary, but most major attractions charge between €15 to €30.
Transport: Budget around €8 per day if you plan to take public transport. Taxis and similar services will, clearly, cost more.
Miscellaneous: Always keep aside some funds for unexpected expenses, souvenirs, or that irresistible glass of sangria.
To get a good sense of your potential expenses, start researching and booking some parts of your trip well in advance to lock in any good deals before they're snapped up.