Seven Days in Barcelona: Ultimate One Week Itinerary (2023)
This article may contain affiliate links. Please read our
Disclosure Policy
for more information.
Planning a week in Barcelona? Trust me, seven days strikes the perfect balance between soaking in the city's charm and exploring its hidden corners.
You see, while I'm lucky enough to live in Spain and frequently visit Barcelona, I've realized that the magic of this city isn't just in its famous landmarks, but in those little moments and local finds.
So, as you sift through this seven day Barcelona itinerary, expect a mix of must-see spots and a few of my personal favorites that often fly under the radar.
Ready for a memorable Catalan adventure? Let's map out your week together!
Seven days in Barcelona
Having one week in Barcelona is a great amount of time to be here. You'll be able to see all the main sights plus various off-the-beaten track spots – all without the stress that comes with having to rush from one place to another when you stay for fewer days.
Here's a summary of how I'd suggest you spend 7 days in Barcelona.
Day 1 – Dive Into Gaudí's Most Famous Sights
Start your trip off right by visiting some of Barcelona's most iconic attractions like the Sagrada Familia, Recinte Modernista de Sant Pau, and Park Güell. Enjoy a leisurely lunch before heading to the beach in the afternoon. Wrap up with a delicious seafood dinner in Barceloneta and drinks into the night.
FYI: Certain popular sights in Barcelona frequently sell out their entry slots, so it's critical that you book tickets in advance to avoid missing out (not to mention avoiding long lines).
This particularly includes the Sagrada Familia and Park Güell where tickets often sell out weeks ahead of time.
Day 2 – Art and Architecture in the City
Spend your second day admiring Barcelona's art and architecture. See the Picasso Museum in the morning then head to the Gothic Quarter.
After lunch at a local eatery, visit Gaudí's Casa Milà and Casa Batlló before ending the night with tapas and wine.
Day 3 – Discover the Gothic Quarter
Get lost wandering the winding alleys of Barcelona's historic Gothic Quarter. Visit breathtaking sights like the Barcelona Cathedral and Santa Maria del Mar Basilica.
Following a paella cooking class, catch a flamenco show and enjoy Barcelona's buzzing nightlife.
Day 4 – Day Trip to Montserrat and a Winery
Venture outside the city to the mountains of Montserrat and a local winery. Take in gorgeous views on the train up to the monastery before exploring the charming mountain area.
Enjoy wine tasting and tapas after at a boutique winery afterwards.
Day 5 – Culture, Views and Sailing Adventures
Check out the home of FC Barcelona or visit the Aquarium if traveling with kids. Ride the cable car up Montjuïc for sweeping city views
Spend the afternoon on an iconic sunset sailing cruise and end with a dazzling Magic Fountain show.
Day 6 – Day Trip to Girona or Kayaking and Snorkeling
Choose between wandering medieval Girona with its infamous Game of Thrones filming locations or kayaking and snorkeling along the Costa Brava coastline. Both offer a scenic escape from the city.
Day 7 – One Last Art Experience and Tibidabo Amusement Park
On your last day, after checking out the National Museum of Catalan Art (MNAC) and Fundació Joan Miró, head up high to ride the vintage rides at Tibidabo Amusement Park overlooking the city. Watch the sunset with panoramic views from the Sacred Heart Church.
Detailed Barcelona seven day itinerary
Morning (day 1)
The first day of your seven-day Barcelona itinerary will see you checking out some of the main sights in the city, before diving a bit deeper on the remaining days of your trip.
PRO TIP: You don't want to be wasting time – and money – getting from place to place while you're here. That's why I'd strongly recommend that you get the 48-hour Hop-On Hop-Off Bus ticket to make experiencing Barcelona as stress-free as possible.
In fact, the first two days of the itinerary below follow much of this bus route, making it incredibly easy for you to get around.
And that's not even mentioning that the journey on these buses is amazingly scenic. You'll be able to sit back and enjoy as the highlights of the city glide by, giving you a great overall look at what Barcelona offers – and some inspiration for your remaining days here!
Sagrada Familia
You're kicking off your trip with a visit to probably the most famous icon of Barcelona: the Sagrada Familia. As you'll see though, it's one thing to see it in photos and a whole different world to stand in front of its intricate facades.
Those tall, spiraled towers reaching for the sky, the unique stonework – it's honestly something out of a fairy tale. Before you even enter, take a moment. Just soak it all in.
And inside, you're in for a visual feast. The stained glass windows paint the entire interior with vibrant colors, creating this dance of light and shadow that's pretty mesmerizing. Each corner, nook, and cranny tells a story.
Now, I said it before but I'll say it again: You need to pre-book your tickets. And I mean, really. Don't play it by ear.
There's a massive chance they'll be sold out, especially during peak seasons. Plus, who wants to waste time lining up, right?
If you can, get the ticket that includes the Nativity Tower. The views from up there are honestly unforgettable.
And remember, choose a morning slot if you're going by this guide. If it's booked out, be flexible and switch things up!
Recinte Modernista de Sant Pau
Once you're done with the Sagrada Familia, we'll take a quick stroll (or you can catch that handy Hop-On Hop-Off Bus for just one stop) to the Recinte Modernista de Sant Pau.
This place is a bit of a hidden star of Barcelona. It's not just some old hospital; it's a work of art.
Inside the Recinte Modernista de Sant Pau, you'll discover a world of Art Nouveau architecture. Every detail, from the mosaics to the sculptures, is crafted to perfection.
Not only is it historically significant, but it's also a testament to the innovation of the Catalan Modernisme movement. As you wander its halls and gardens, you'll feel transported to another era, where art and medicine coalesced.
Lunch
When lunchtime rolls around, Avenida de Gaudí (which leads right up to Sant Pau) is lined with spots to grab a bite. But, word of advice from someone who's been here way too many times – some of these places can be, well, a bit overhyped.
Instead, here are a couple of places that I'd personally recommend instead:
Bar Restaurant Ginés – For those who want to get a taste of authentic Spanish food without breaking the bank, this place is a must-visit. It's no frills, but the food speaks volumes. This spot is packed with locals, which is always a good sign in my book.
Marisqueria A Estrela Galega – If seafood's your thing, this place will be right up your alley. Pricier than Ginés but, trust me, every euro spent here is worth it. Fresh, flavorful seafood dishes that'll have you reminiscing about your trip for days.
Braseria La Selva Barcelona – This place is known for its great meat offerings, with anything from steak to tartar being cooked to perfection. It's perhaps slightly more touristy than the last two places, but the meat is so good, you probably won't care.
Just keep in mind for these – and, really, every restaurant I mention in this article – you should book in advance to make sure you actually get a spot.
(The first two above don't have websites, but you can find their phone numbers easily online! They speak enough English to accept your booking, so don't worry about that either.)
Afternoon
Park Güell
Ready to walk off that hearty lunch? Let's make our way to one of Barcelona's iconic spots – Park Güell.
And yes, I'll sound like a broken record, but book your tickets in advance. This place fills up seriously fast.
This isn't just a park. It's an artistic playground designed by the legend himself, Gaudí. Think colorful mosaics, whimsical structures, and panoramic views of the city that'll have you pulling out your camera every two steps.
Wander around the serpentine benches, visit the famous dragon statue, and get lost in the vibrant colonnaded pathway. Every corner of this park has a touch of Gaudí's genius.
Plus, that view from the top? You get to see Barcelona sprawled out beneath you, the blue Mediterranean in the distance, and the Sagrada Familia standing tall amidst the cityscape. Not bad at all.
Barceloneta Beach
So you've soaked in some of the city's artistic soul, but now it's time to kick off those shoes and feel the sand between your toes. Hop on the bus from Park Güell (either the Hop-On Hop-Off Bus if you have that ticket, or the V19 nearby) and head down to Barceloneta Beach.
The journey alone gives you a peek into some more of Barcelona's corners we'll be uncovering together over the week.
Barceloneta Beach isn't just about sunbathing; it's a complete vibe. Walk along the promenade, feel the sea breeze, and people-watch (it's quite the activity here!).
And hey, if the day's heat gets to you, there are these cool beach bars, chiringuitos, where you can grab a drink and just melt into the laid-back coastal scene.
Evening
Seafood dinner in Barceloneta
If there's one thing Barceloneta is famous for (apart from the beach, obviously), it's seafood. Now, with fame comes a ton of places trying to cash in, so watch out for spots that look a bit too…let's say, eager for tourists.
But don't sweat it, I've got some much more local recommendations for you:
Can Solé – An institution in itself. This place has been serving up some of the finest seafood dishes for years. It's got history, charm, and a menu where it'll be hard to narrow down just one pick.
Platja Ca la Nuri – If dining with a sea view is on your bucket list, this place ticks that box with flair. Alongside the views, they serve dishes that taste like the Mediterranean.
Can Maño – This one's a bit unassuming from the outside but, well, the flavors are something else. Fresh seafood, cooked to perfection, with a lively atmosphere that truly encapsulates the spirit of Barcelona.
Remember to give these places a ring in advance – they're popular for a reason!
Continue the night
How you wrap up your first night in Barcelona totally depends on your energy levels.
If you're feeling the jet lag or just want a mellow evening, there are plenty of low-key bars around Barceloneta where you can grab a quiet drink. The ambiance is always chill, and the views are free of charge.
But if you've still got that fire burning and are ready to dance the night away, you're in luck! Some of Barcelona's most buzzing nightclubs are a stone's throw away from Barceloneta Beach.
So go ahead, dance up a storm and celebrate the start of a great trip!
Morning (day 2)
Picasso Museum
Let's kick things off with a hefty dose of art at the Picasso Museum. Now, if you've ever wondered about the evolution of Picasso's genius, this place lays it all out.
From his early sketches to his more famous works, the journey is honestly so eye-opening. The museum itself is housed in five adjoining medieval palaces, adding a touch of historical charm to the entire experience.
Set aside around 1.5 to 2 hours here – there's a lot to soak in!
Basílica de Santa Maria del Mar
From one historical marvel to another, make your way to Basílica de Santa Maria del Mar. This Gothic beauty is truly a testament to the architectural genius of yesteryears.
As you approach, its façade will likely make you pause, and you may even find yourself a bit lost in its details. But the inside is even more serene and has its own kind of magic.
There's an admission fee if you want to step in, but even if you decide to admire it from the outside, it's completely worth the stop.
Mercat del Born
How about a little trip down memory lane? Mercat del Born isn't just any market; it's a cultural center that showcases Barcelona's medieval past.
It's one of those places that tells a thousand stories, stories of everyday life from centuries ago.
Not just a market, this space used to be a crucial part of the city's trade. The exposed archaeological ruins are a silent testament to a time long gone.
Wander El Born
After all that history, let's let loose a bit. El Born is one of those neighborhoods that feels like you're stepping into a time machine.
Narrow streets, balconies adorned with plants, local boutiques, and tapas bars filled with chatter. Let yourself wander.
Whether you're peeking into artisanal shops, grabbing a coffee, or simply soaking in the ambiance, El Born has its way of making time feel a tad bit slower. It's easy to lose track of hours here, but honestly, that's kind of the point.
Lunch
The El Born neighborhood is like this labyrinth of flavors waiting to be explored. Depending on what you fancy today, I've got a few top picks:
Cal Pep – Honestly, if tapas had a temple in Barcelona, Cal Pep could very well be it. The place just oozes charm and, of course, dishes out some unforgettable tapas. You can't go wrong here.
Bar Celta Pulperia – For the seafood aficionados out there, this spot is a must-visit. Think fresh seafood, cooked to perfection, with flavors that transport you straight to the Spanish coast. Every bite is a little taste of the sea.
Bodega la Puntual – From the outset, it may seem like just another tapas bar, but step inside and you're in for a surprise. The space unfurls into a cozy dining area, offering a blend of traditional dishes and some of the finest wines. A fantastic spot to relax and refuel.
Afternoon
Parc de la Ciutadella
Alright, with your bellies full and spirits high, it's time to venture to Parc de la Ciutadella. The park is this expansive green oasis in the heart of the city and it's a slice of tranquility you'll appreciate.
Whether you choose to lounge on the grass, people-watch, or even indulge in a bit of a siesta (we're in Spain, after all!), the park is the perfect mid-day pause.
Don't forget to swing by the Cascada Monumental. This grand fountain, adorned with sculptures and a chariot, isn't just an architectural marvel but also a serene spot to relax by.
Maybe take a moment, close your eyes, and just listen to the water – it's simple moments like these that often become the most memorable.
Arc de Triomf
Let's get historical for a bit! The Arc de Triomf, contrary to its Parisian counterpart, wasn't built for military victories but as the main access gate for the 1888 Barcelona World Fair.
Sporting a reddish brick design and adorned with some pretty impressive carvings and sculptures, it's a photogenic spot, no doubt.
And hey, the broad pedestrian boulevard leading to it makes for a rather cinematic approach, especially with the palm trees lining up.
If you grabbed the Hop-On Hop-Off Bus ticket (which, by the way, I'm sure you're thanking me for by now), hop on at the Arc de Triomf stop when you're done. This is your scenic route to La Pedrera and it's definitely more than just A to B.
The journey promises a visual treat, from the iconic Camp Nou stadium to the majestic Plaça d'Espanya, and even a glimpse of the MNAC (Museo Nacional de Catalunya). While you'll be visiting some of these places over the next few days, getting this sneak peek can help you prioritize!
For those who opted out of the Hop-On Hop-Off joyride, don't fret. There's a direct bus line around the corner that gets you to Casa Milà pretty quick.
Casa Milà/La Pedrera
Alright, it's Gaudí time! As you approach Casa Milà, often referred to as La Pedrera (which means 'the quarry', by the way), you'll instantly get why it's such a buzz in town.
Its wavy stone façade, twisting iron balconies, and the unmistakable Gaudí touch make it a modernist marvel. The rooftop, with its quirky chimneys and spectacular city views, is also worth a peek if you're curious.
Now, a little heads up: You'll soon be crossing paths with another Gaudí masterpiece, Casa Batlló. If you're keen on diving deep into just one of them, I'd nudge you towards Casa Batlló.
But don't just walk past Casa Milà! Take your time, snap some photos, and admire this architectural wonder from the outside.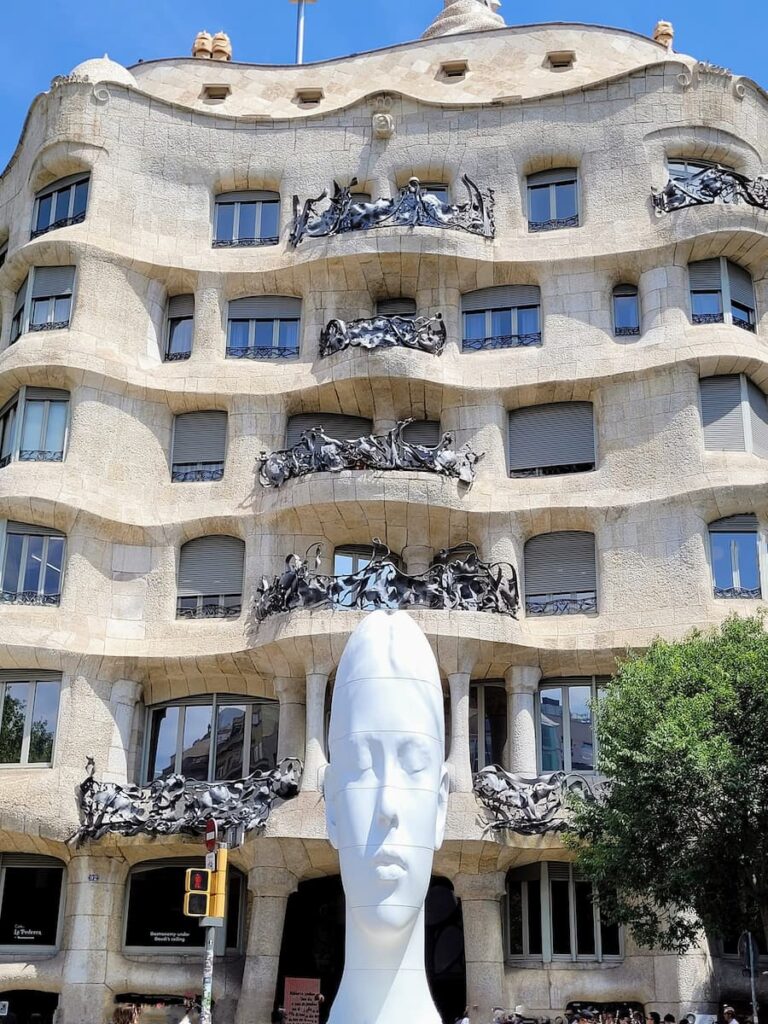 Casa Batlló
So I mentioned that between Casa Milà and Casa Batlló, I've got a soft spot for the latter. Here's why: Casa Batlló, another of Gaudí's babies, is this insane mix of colors, shapes, and designs that'll make you wonder if you've walked into a fairy tale.
Its façade, with colorful mosaics and skeletal-like balconies, is a visual treat. And inside, it's an entire different ball game.
Without giving away too much, let me just say, the design is inspired by the sea, and Gaudí's genius shines through every corner. So, if you're going to choose one Gaudí interior to experience, let it be this.
One important point to note is that this is one of those popular spots in Barcelona where tickets sell out well in advance. So you can't just show up and expect to waltz in.
That is, pre-booking tickets to Casa Batlló is a must if you want to make sure you'll actually be able to go in. Sold-out signs truly aren't a rarity here.
Passeig de Gracia
Once you've soaked in Casa Batlló, continue taking a leisurely stroll down Passeig de Gracia.
And let me tell you, this isn't just any street. It's one of the major avenues in Barcelona, and it's lined with shops, boutiques, cafes, and more modernist buildings.
The vibe here is undeniably classy and buzzing. From high-end brands to local boutiques, there's a bit of shopping for everyone.
Even if you're not keen on spending, just walking down this avenue, coffee in hand, and people-watching is a pleasure on its own.
Plaça Catalunya
Wrap up your afternoon at Plaça Catalunya, the city's beating heart. This massive square is where the old city and the new city meet.
Fountains, statues, and plenty of pigeons (watch your snacks!) make up the scene. But it's the energy here that's infectious.
Whether you decide to chill by a fountain or simply watch the world go by from a bench, it's the perfect spot to relax after a day of exploring.
Evening
Tapas and Wine Tour of the Gothic Quarter
Get ready to take your taste buds on a Spanish joyride with this Tapas and Wine Tour of the Gothic Quarter. But, it's not just about the food. It's also about the tales behind each dish and drink.
Your local guide will be the key, unlocking the stories and secrets of Barcelona's food scene. And on the menu are four local hot spots where you'll sample classic tapas at each stop.
Now, what's tapas without the drinks? From crisp, refreshing cava to robust Spanish wines, and yes, the much-loved vermouth, each sip will introduce you to the flavors of Catalonia.
And if you've never tried sangria in Spain, well, you're in for a pleasant surprise!
Remember, it's not just about the food and drink. It's also a fantastic chance to learn about the history of these dishes and the role they play in Catalan culture.
Basically, it's local dining with a side of education. Perfect combo, right?
Nightcap
After all those tapas and tales, you might be feeling a tad full. But hey, if you're still in the mood to keep the evening going, Barcelona's nightlife has got your back.
There are a ton of bars close to the Gothic Quarter. Whether you fancy a craft cocktail, a classic Spanish gin and tonic (they serve it in a goblet, not kidding!), or just a chilled beer, you'll find your spot.
But here's my two cents: Don't push yourself too much. There's still a lot to see and do over the next few days. So if your bed is calling you, listen to it!
Morning (day 3)
So, your 48-hour Hop-On Hop-Off Bus ticket should have run its course by now, but don't sweat it. Today, we're venturing deep into the heart of the city: the Gothic Quarter.
Now, while I've got some pretty rad spots lined up for you, the real magic of the Gothic Quarter is found in its labyrinth-like alleys. It's easy to lose your way here, but trust me, that's all part of the fun.
By the way, If you're into history and love hearing quirky tales about places, you might fancy this Old Town and Gothic Quarter Walking Tour. The guide is an absolute pro and the sights?
Centuries of history rolled into a three-hour walk. It starts at 9:30 am, and trust me, you're in for some juicy stories.
But hey, if tours aren't your jam, you can totally DIY your way around. Though, fair warning, knowing a bit about what you're gazing at can add a special touch to your adventure.
Plaça de Sant Felip Neri
Starting off with a spot that's brimming with history. Plaça de Sant Felip Neri is a quiet square that tells tales of the Spanish Civil War and has a church bearing the scars of the past.
It's a place of reflection and serenity amidst the urban hustle. Take a moment to soak in the vibes and maybe even do a bit of people-watching.
Carrer del Bisbe
Carrer del Bisbe isn't just another street – it's the street that you find all over Instagram, and for good reason.
With its arching bridge, intricate designs, and that timeless aura, it's easy to see why this street is a favorite backdrop for many.
A little tip from a local: early morning or late afternoon offers the best light for photos, and fewer crowds to dodge, so don't take too long to get here this morning.
Roman walls in Carrer del Paradís
Centuries ago, Roman soldiers patrolled these very walls. Carrer del Paradís is more than just a fancy name; it's a slice of ancient history right in the middle of the city.
What's even cooler? Some columns here date back to the first century. Yes, they've been standing tall for that long!
It's a subtle reminder of the layers and layers of history that make up this great city.
Plaça de Sant Jaume
Plaça de Sant Jaume isn't just any old plaza! It's the political heart of the city. On one side, you've got the city hall and on the other, the Palau de la Generalitat de Catalunya, the seat of the regional government.
There's always something happening here, from cultural events to political rallies. While the buildings and atmosphere are impressive, remember this square has been a central hub for more than 2,000 years.
So, grab a coffee, take a seat and let the spirit of the city surround you.
Plaça del Rei and the History Museum of Barcelona (MUHBA)
Talk about hitting two birds with one stone! Plaça del Rei is a seriously interesting spot in itself. Spacious, grand, and oozing historical vibes.
Now, if you've got some time on your hands and are itching for more knowledge, the MUHBA is calling your name. It's like a time capsule, revealing Barcelona from its Roman days to the medieval era.
You'll need a good two hours to do it justice, but if history's your thing, you're going to love it. But if you're pressed for time or just want to keep things light, no worries, as the plaza itself is well worth the visit.
Lunch
Paella cooking class and La Boqueria Market tour
Time to roll up those sleeves and step into a true Spanish kitchen with this Paella Cooking Class and La Boqueria Market tour.
First stop? The legendary Mercat de la Boqueria. And you won't just be any regular visitor; you'll have a seasoned chef as your guide.
As you walk the vibrant aisles, you'll get to select the freshest ingredients for the paella. From the juiciest tomatoes to the freshest catch of the day, everything you need is right here.
You'll probably be hungry already, which is great timing as you'll then be diving into some of Spain's most iconic tapas. And for a little twist, you'll learn the art of crafting traditional Basque Pintxos or Montaditos.
You know, those scrumptious little bites with toothpicks? Trust me, these are going to be the highlight of your next dinner party back home. And don't worry about scribbling down notes; all original recipes will be yours to keep.
But then comes the main event! Under the guidance of your chef, you'll be cooking up a delicious seafood paella. As the rice simmers and absorbs all those wonderful flavors, take a breather and make some homemade sangria (don't worry, you'll also get to drink it).
And when everything's ready, gather around, raise your glasses, and dive into the paella you've just made.
Afternoon
La Boqueria
If you're itching to explore the Mercat de la Boqueria a tad more, or perhaps bag some unique souvenirs for folks back home, now's your chance.
Head back inside if you want to for a second look. From fresh produce to unique local crafts, there's a ton on offer here.
Barcelona Cathedral
Now, let's head towards the grandeur of the Barcelona Cathedral. Meandering through the winding alleys of the Gothic Quarter is half the fun, so let yourself get a tad sidetracked.
But remember, your main destination is the Cathedral. And trust me, once you're there, its imposing architecture will give you a lil' nudge of awe.
Once again: Book your tickets in advance – you'll thank me later!
Inside, the intricate stained-glass windows, beautifully carved wooden choir seats, and the serene cloister with its lush garden are sure to leave an impression. Fancy an elevation in perspective? Head up to the bell tower.
The panorama of the Old Town from up there is pretty great! And don't miss out on those picture-perfect shots of the Cathedral's facade.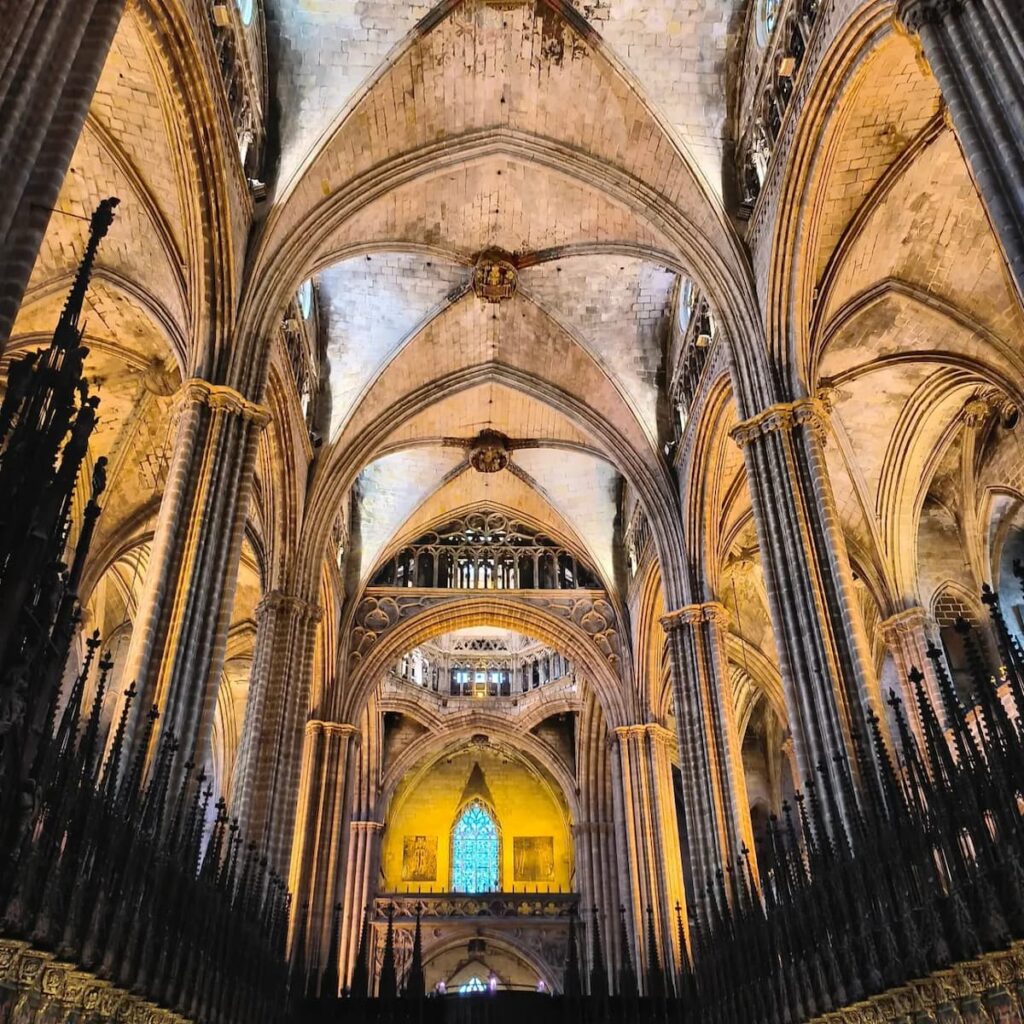 La Rambla
Post Cathedral vibes, a stroll up La Rambla is in order. Yes, it's buzzing with tourists, but hey, when in Barcelona, right? It's an iconic stretch, filled with kiosks, street performers, and a taste of the city's pulse.
Quick tip: Keep a close watch on your belongings here – always better safe than sorry!
Port Vell
Wind down the day with a leisurely walk around Port Vell. The marina has a soothing rhythm to it.
The gentle lapping of waves, distant chatter, and the sight of yachts bobbing in the water – it's a mellow kind of magic. It's the sort of place where memories are made, stories are shared, and where you'd wish time could stand still for just a bit longer.
Evening
Plaça Reial
Double back here to swing by Plaça Reial, with the goal of some relaxation. It's transformed in the evening, with the terraces of the surrounding bars and restaurants humming to life.
Perfect ambiance for a relaxed drink, wouldn't you agree? Plus, you'll have a front-row seat to some impromptu street performances that pop up every now and then.
Flamenco Show and Dinner
Let's dial up the passion and rhythm, shall we? For tonight, I've got a little slice of Andalusian magic up my sleeve for you – a Flamenco Show and Dinner Experience!
Head over to the legendary Tablao Flamenco Cordobes theater, located just a stone's throw from Plaça Reial. This isn't just any venue – I'm talking historical charm, where flamenco legends have once set the stage ablaze with their performances.
Slide into your seat, take in the rich, warm colors and intricate motifs around you, and get ready for a spectacle. As the lights dim, feel the goosebumps as raw, powerful beats, fervent dancing, and soulful singing take center stage. It's intense, it's electric, and trust me, it's like nothing you've ever seen.
And hey, if you're feeling a bit peckish, dinner will roll around soon enough here. Spoil your taste buds with over 40 traditional Spanish dishes on offer. The combination of food and art is pretty hard to beat.
Drinks in the Gothic Quarter
Now, if you're still riding the adrenaline wave and aren't quite ready to call it a night (I mean, who would in a city that barely sleeps?), the Gothic Quarter's labyrinth of lanes is beckoning!
Peppered with hidden bars and cozy spots, it's the ideal place to wrap up your day with a laid-back drink. Mingle with locals, chat with fellow travelers, and let the city's charm work its magic one sip at a time.
Day 4
Day trip to Montserrat and a Winery
Today you're venturing a tad beyond the city's limits. It's one of the benefits of having one week in Barcelona – you get to see some of the highlights outside of the city too!
Montserrat, Catalonia's iconic mountain range, beckons with its intriguing peaks and age-old stories. And guess what? It's not just about the mountains, the day ends with a bit of vino magic.
Now, you can do all this yourself, but I'd really suggest taking this organized day trip to Montserrat (and a winery) to avoid any hassle. It means you can just sit back and enjoy the day without having to worry about public buses or hiring a car.
The adventure starts as soon as you leave Barcelona. A short bus ride and you're at the base of Montserrat.
Your day kicks off with a comfortable bus ride from Barcelona to the base of Montserrat. From here, you'll hop on a cogwheel train. As you ascend, you'll start to take in the rolling landscapes and the surreal silhouette of the multi-peaked Montserrat.
Once up top, a friendly guide leads the way through the ancient stones and paths of Montserrat's historical center. On the menu? The Santa Maria de Montserrat Abbey, a medieval wonder from the 11th century.
And this isn't just a relic, it's a living, breathing space where tradition thrives. The entry's on the house, by the way.
Now, if art's your thing, the Montserrat Museum promises some artistic delights, with masterpieces from the likes of Picasso, El Greco, and Dali. Or, if you've got the Black Madonna on your mind, plan ahead and book your slot to catch a glimpse of this revered icon.
Looking for an adrenaline shot? The funicular train is ready to whisk you higher up the mountain for even dreamier views.
Having soaked in the Montserrat vibes, it's time to switch gears. You'll head to a charming boutique winery next.
Picture this: a spread of local tapas or a hearty traditional lunch, depending on your choice, all against the backdrop of Montserrat's towering presence.
And post-lunch, indulge in a gentle wander through the vineyards. A local expert spills the beans on the wine-making magic that happens here. And yes, a wine tasting session awaits, so you can sip, swirl, and relish the flavors of Catalonia.
All good things come to an end, and as dusk nears, you'll make our way back to Barcelona, with memories of a day well-spent, and perhaps, a bottle or two of your favorite wine.
Morning (day 5)
After everything you've been doing so far, day 5's morning is all about taking it a tad easy. Depending on your group's vibe, energy levels, and interests, you can pick from one of the options below for this part of the trip.
FC Barcelona Museum
For the football enthusiasts or those simply intrigued by history layered with passion, the FC Barcelona Museum is the place to be. In fact, it currently tops the charts as Barcelona's most visited museum (for good reason!).
Dive into an experience painted with achievements, legendary moments, and memorabilia that echo tales of football glory.
Now, there's a little footnote here: Camp Nou is undergoing a bit of a glow-up at the moment, so the stadium visit is off the table. But hey, the museum itself is so immersive that you'll hardly miss the pitch!
Barcelona Aquarium
Traveling with young adventurers? Then the Barcelona Aquarium is a guaranteed win. Dive into an aquatic world teeming with marine wonders from the Mediterranean and beyond.
Walk through the oceanic tunnel, gaze at vibrant coral reefs, and watch those little eyes light up at the sight of playful penguins or majestic sharks.
Plus, if you're on a quest to be the 'Parent of the Year', pair the Aquarium visit with the Chocolate Museum. Trust me, nothing says "best day ever" for kids quite like curious fish and creamy choco-artworks!
Lunch
After a morning of exploring, it's only right you put another great lunch on the books. Poble-Sec is the perfect area for this – and it's close to where our afternoon plans are going to unfold.
These are my top tips for where to have lunch around here today:
RíasKRU – Calling all seafood lovers! This joint boasts some of the freshest seafood dishes that'll have you daydreaming about them for days.
Elche – Still haven't had your fill of paella? I get it, when in Spain, right? Elche's got your back for a memorable plate before you bid adieu to this city.
Quimet i Quimet – If tapas is what you're craving (and honestly, when are we not?), this is where you want to be. Cozy and packed with flavors, it's a Barcelona must-do.
Just remember, these places are pretty popular, so it's wise to ring them up in advance.
Afternoon
Cable car up Montjuïc
Now that you're all fueled up, how about a little elevation to your day? I'm talking about Montjuïc, a hill with views that'll give you a whole new perspective of Barcelona.
Best way up? The Montjuïc Cable Car, of course! Not just a mode of transport, it's an experience in itself.
You get to watch the city shrink below as you ascend, with a panorama that's, well, pretty darn sweet. And don't you worry about getting down; your ticket's got you covered for the return trip as well.
Make sure to get those cable car tickets online in advance – it's a time saver, and hey, who doesn't love skipping lines?
Parc de Montjuïc, Montjuïc Castle and more!
Once you get to the top, you'll find that Montjuïc is packed with history and panoramic views. These views really are the kind you'll whip out your phone for, even if you've already taken a hundred photos that day.
And on that note, don't skip over the Mirador. It's this lookout point halfway up the cable car route, and well, does it deliver on the panorama front! The city below, the sea stretching out – it's all pretty unforgettable.
Then there's the Castell de Montjuïc. Think 17th-century fortress with a past that's as rocky as the mountain it sits on.
From its days as a military prison to its stint as a military museum, this place has stories. If you're into that kinda history, there are guided tours, exhibitions, and even cultural events here now.
Feeling like a serene walk? The gardens around here are top-notch. Especially the Mirador Gardens near the Mirador stop. Trees, flowers, sculptures – it's got this calm vibe that makes you want to sit and just take it all in.
And if you're in the mood to see more, the expansive Parc de Montjuïc is your playground.
Keep an eye on the clock though because by 5:15pm, you'll want to be making our way back down. The descent is a swift 7 minutes, placing you conveniently next to the Paral·lel metro stop.
From there, a quick 12-minute stroll and you're on to your next Barcelona experience.
Columbus Monument
So, you'll be breezing by this towering statue as you make your way to the next stop. But give the Columbus Monument a good look.
It's pointing out to sea, symbolizing the explorer's voyage to the Americas. Plus, if you happen to swing by Barcelona again, heading up the top is a cool thing to add to your list.
Unfortunately, we'll be too late for this today – so let's keep moving.
Evening
Sunset Cruise
Let's get into the real treat here. Setting sail from Port Vell, this 1.5-hour Sunset Sailing Cruise aboard a spacious 24-meter catamaran is no ordinary boat ride.
As you drift away from the shoreline, Barcelona's urban cacophony fades, replaced by the lull of waves and soft jazz notes in the background. It's kinda cinematic – the city skyline slowly being painted in shades of gold, pink, and orange.
And while the vistas are working their charm, make your way to the onboard bar. Maybe grab a refreshing mojito or sangria?
Just imagine lying on the net area of the catamaran, drink in hand, with the vastness of the sky and sea enveloping you. Pure. Bliss.
Magic Fountain of Montjuïc
Now, this isn't just a fountain. It's an art piece. A symphony of light, water, and music. Set against the backdrop of the majestic Palau Nacional, this colossal fountain offers a spectacle that's, dare I say, magical.
Cascading waters dance in rhythm with the tunes, illuminated by lights of every hue. From classical to contemporary, the music spans genres, making each show unique.
If you can, snag a spot early. The crowds gather quickly, and trust me, front-row views are worth it.
While there, make a mini detour to the nearby MNAC building. The vistas of Barcelona at night from its steps, especially with the fountain in the foreground, is the stuff postcards are made of.
Dinner
Your culinary journey in Barcelona isn't over yet. Whether it's that tapas bar you glimpsed while wandering, or a recommendation you've been saving for last, tonight's the night.
For a fresh spot, the Gràcia district is a top contender. Its maze of streets hides eateries that serve up authentic Catalonian flavors, making it a fitting finale to your fifth day here.
Day 6
Another day, another detour out of Barcelona! And here, the choice is yours – you've got a city draped in history on one side and the allure of the sea on the other.
Option 1 – Day tour to Girona and the Costa Brava
Just a quick train ride from Barcelona, Girona effortlessly transports you to another era. As you walk its cobblestoned streets, the medieval charm of the city unfurls, painting tales of ancient times.
And hey, for all my fellow Game of Thrones aficionados out there, parts of this city might feel eerily familiar. That's right! Scenes from Braavos, King's Landing, and the Citadel were filmed right here.
If that piques your interest, there's a Game of Thrones Girona Small Group Tour that's worth your time. It weaves together the real and reel history of Girona, ensuring you get the best of both worlds.
But if you're keen on a curated experience, there's a full day Girona and Costa Brava Day Tour that takes you through the beauty of Girona, lets you soak in the tranquility of the Arab Baths, and then whisks you off to the picturesque village of Pals.
After meandering through this historic village, you'll head to Calella Palafrugell for a traditional local meal. And here's the cherry on top – the tour wraps with a refreshing dip in the azure waters of Costa Brava!
Option 2 – Costa Brava Kayak and Snorkel Tour
On the other hand, if you're looking for some aquatic adventure, this Costa Brava Kayak and Snorkel Tour has got your back. Once you're taken to a secluded beach on the Costa Brava, it's going to be all about you taking the reins (or paddles).
Kayak along the serene Mediterranean coastline, discovering hidden coves and marine wonders. If you've never kayaked, don't sweat it; it's a cinch and perfect for beginners.
When the sea beckons, wear your snorkel and dive in to say hello to the colorful fish and perhaps even an octopus or two. Between paddling and snorkeling, if adrenaline tempts you, there's always the thrill of cliff jumping.
And after a day of frolicking in the water, nothing beats lounging on the beach with a freshly-prepared lunch in hand.
Morning (day 7)
So it's your final day in Barcelona. Depending on the pep in your step after all our adventures this week, and the interests of your crew, you have two top-notch options to kick off the day.
The best part, though, is that they're practically neighbors, so if you're still up for soaking in as much as you can, you could swing by both!
National Museum of Catalan Art (MNAC)
If there's one spot that sums up Catalan art history, it's the National Museum of Catalan Art (MNAC). From Romanesque murals that whisk you back to the 10th century to modern art pieces that'll make you ponder, this place has got it all.
Plus, it's housed in a palace – and who doesn't love a good palace, right?
Fundació Joan Miró
Just a stone's throw away, you'll find the Fundació Joan Miró. Now, for those unfamiliar with Joan Miró, think playful, colorful, and a tad eccentric – and that's the art we're talking about!
This museum is a treasure trove of his work. For the artsy folks among you, or those just curious about the mind of one of Catalonia's most famous artists, this is the spot.
Afternoon-Evening
After refueling, let's set our sights high for the grand finale: Tibidabo.
It's not just a fun word to say, but also one of my absolute favorite spots in Barcelona. It's the highest point in the city, and for a last afternoon? Pure magic.
First up, there's an old-school amusement park. Yup, you read that right. Imagine taking a spin on vintage rides with the city sprawled out beneath you.
It's nostalgic, a bit whimsical, and 100% fun. The park has been around for more than a century, so it's got that classic charm down to a tee. Great for families, but honestly, adults have a blast here too.
Next, don't miss the Church of the Sacred Heart. Not only is it an architectural marvel, but it offers some of the most expansive views of Barcelona.
You can even climb to the top for a 360-degree panorama – a moment of reflection amidst the beauty of it all.
But the cherry on top? Ending the day watching the sunset from Tibidabo. There's something profoundly special about seeing the sun dip below the horizon, casting a warm golden hue over the very spots you've just spent a week exploring.
So, here we are. A week in Barcelona, and what a week it's been! From the bustling streets of the Gothic Quarter to the serene views from Tibidabo, you've tasted, danced, and explored your way through this vibrant city.
All that's left is to promise yourself you'll return!
Where to stay in Barcelona for seven days
Staying somewhere central is key to making sure you're able to hit the ground running at the start of each day you have here!
Remember, much like those advance tickets I recommended that you get for the main sights, Barcelona is incredibly popular for tourists and so it's essential to book accommodation well in advance to avoid missing out here.
Here are my top picks on the best places to stay in Barcelona for one week:
Best luxury accommodation: Ohla Barcelona – amazing rooftop pool, incredible views, and the perfect location to explore the city
Best mid-range accommodation: Seventy Barcelona – the décor of this boutique hotel is so modern and stylish, the rooftop pool is ideal, plus you'll be near the main sights the moment you step outside
Best budget accommodation: Àmfores Boutique Guest House – the rooms are comfortable, the location is superb and the terrace is a great spot to end your day
Is 7 days enough for Barcelona?
Absolutely, seven days gives you a good chunk of time to dive into Barcelona's essence. With a week at your disposal, you can cover most major attractions without feeling too rushed. However, like any great city, there are always more layers to peel back and discover.
Barcelona is one of those cities that beautifully marries history with modernity. In a week, you'll have the time to meander through the Gothic Quarter's ancient streets, soak up some sun on Barceloneta Beach, and marvel at Gaudí's masterpieces.
Plus, there's plenty of time to sample tapas, enjoy flamenco shows, or even venture out on a day trip to nearby gems like Montserrat or Girona. Sure, you might not get to every single corner or uncover all of Barcelona's secrets, but you'll definitely capture its spirit.
Can I see everything in Barcelona in seven days?
To be honest, you can't see everything in Barcelona in seven days. One week here lets you see a lot of Barcelona's highlights and even some off-the-beaten-path spots. However, it's a city brimming with nuances, so there will always be something left to explore next time.
You see, Barcelona is both sprawling and dense with treasures. From the bustling streets of El Raval to the calm parks of Montjuïc, there's a lot of ground to cover.
In a week, you'll surely hit major attractions like La Sagrada Família, Park Güell, and Casa Batlló. And if you plan it right, you can even experience some local festivals, markets, or artsy neighborhoods like El Born or Gràcia.
But, as with all big cities, Barcelona holds a few secrets that might take a second or even a third trip to fully uncover.
Is one week too long for Barcelona?
No, one week in Barcelona is the sweet spot. Seven days strike the perfect balance, letting you delve deep into the city's wonders while still having those spontaneous moments that make a trip memorable. You'll have ample time to explore without feeling the rush.
Barcelona is a city that thrives in its details. Beyond the iconic landmarks, there's magic in its hidden courtyards, local bodegas, and even in the sound of laughter echoing down El Gotico's narrow streets.
With a week, you don't just 'see' Barcelona; you get to 'feel' it. You might've heard some folks saying 7 days in Barcelona is too much.
But trust me, once you're there, indulging in long dinners, finding hidden art galleries, or just watching the world go by at Port Vell, you'll realize there's always something more to do, see, or taste.
Is it worth going to Barcelona for seven days?
Absolutely, Barcelona for seven days is a fantastic idea! The city boasts an enviable mix of history, culture, cuisine, and beach life, making a week-long stay a traveler's dream. With one week here, you can thoroughly explore and relish Barcelona's multifaceted charm.
Sure, some folks might do a whirlwind tour of the city in a couple of days. However, Barcelona isn't just about the popular tourist spots.
Dive into its neighborhoods, spend an afternoon at a local café, take a stroll down its beaches, or wander through a weekend market. Each day can be an entirely new experience, and having a week ensures you can immerse yourself in its local vibe.
From art-nouveau architecture to world-class eateries to vibrant street festivals, there's a reason why Barcelona stands tall among Europe's top destinations.
How do I plan a week in Barcelona?
Start with a list of must-see attractions, sprinkle in some local experiences, dedicate some 'me' time, and you're good to go for a week in Barcelona! Consider dividing your days between historical sites, local neighborhoods, beach relaxation, and gastronomic adventures.
Remember, a good itinerary has a blend of structured plans and spontaneous wanderings – which is exactly what I've aimed to do with the seven day Barcelona itinerary in this article.
And remember, the best-laid plans sometimes go astray, and that's totally okay. Barcelona has a way of leading you to unexpected joys!
Tips for spending 7 days in Barcelona
Book ahead for major sites: The likes of La Sagrada Familia, Park Güell and Casa Batlló are incredibly popular. Secure your spot to avoid disappointment.
Pack comfy shoes: With so much to see, you'll be walking a lot. Ensure your footwear is up to the task.
Try the local cuisine: Don't just stick to touristy spots. Dive into local markets and eateries for an authentic taste.
Public transport is your friend: The metro system is efficient and covers most of the city. Get a T-casual card for multiple rides at a discounted rate.
Learn a few local phrases: A simple 'hola' or 'gracias' can go a long way in making connections.
Remember, every traveler's experience is unique. Let Barcelona charm you in its own special way!
How much is a 7-day trip to Barcelona?
The cost of a 7-day trip to Barcelona largely depends on your travel style, accommodations, dining preferences, and activities. On a tight budget, expect to spend around €700-€1,000, while a mid-range experience might set you back €1,200-€1,800. If you're splashing out on luxury, costs can escalate to €2,500 and above.
Accommodation plays a significant role in your budget. Hostels and budget hotels can range from €20-€50 a night, mid-range hotels sit between €100-€150, and luxury stays begin at €200.
Food is another crucial component. With myriad tapas bars, cafes, and upscale restaurants, you can easily enjoy meals for as little as €10 or as much as €50 or more per person.
Moreover, entrance fees to attractions like La Sagrada Família, Casa Batlló, and other sites can add up, so allocate around €100-€150 for attractions and tours.
Lastly, don't forget transportation and incidentals. The metro is reasonably priced, but if you're taking taxis or indulging in shopping, factor that in too!
To get a good sense of your potential expenses, start researching and booking some parts of your trip well in advance to lock in any good deals before they're snapped up.