20 Most Romantic Things to Do in Barcelona for Couples
This article may contain affiliate links. Please read our
Disclosure Policy
for more information.
Ever found yourself daydreaming about a romantic getaway that's sprinkled with a bit of magic and a dash of adventure? Maybe you're planning a surprise trip for that special someone, or you're looking to rekindle the spark with some unforgettable experiences.
Whatever's drawing you to look up love and Barcelona in the same breath, let's just say, you're onto something brilliant. And if you stick with me, you're about to discover how to turn a simple holiday into a treasure trove of memories.
I've wandered the sun-drenched streets of Barcelona more times than I can count, falling for its charm again and again. Living in Spain has its perks, and getting to know this vibrant city inside out is definitely one of them.
So, I'm peeling back the layers of this cultural jewel to reveal the most romantic things to do in Barcelona for couples, whether you want a weekend away, an incredible honeymoon or even a proposal that's one for the ages.
With spots and activities that you won't find in your average guidebook. I'll guide you through a Barcelona that pulses with romance, with insider tips that'll make your heart beat just a little bit faster.
Romantic things to do in Barcelona
1. Private Wine Tour with Tastings
If you're up for a little escape from the city, a private wine tour to some of Barcelona's nearby wineries might just be your ticket. I've done a few of these with my husband, and they're such a cozy way to spend an afternoon.
I recommend this Wine, Tapas and Cava Private Tour from Barcelona for a truly romantic day out. Before you know it, you'll be amongst the rolling green hills of Catalona's best vineyards in the beautiful wine region of Penedès. 
Here, you get to know the ins and outs of wine-making at various traditional boutique wineries – which, trust me, is more fascinating when you've got a glass in hand that's been poured straight from the barrel.
And the tastings – oh, they're something else. You're not just sipping on wine; you're learning the stories behind each bottle, the grapes, the soil, and the sunshine that poured into them.
It's an intimate experience, especially when it's just you two, guided by someone who knows their stuff and loves sharing it.
Alternatively, if you're short on time and a day trip from Barcelona won't be possible, take a look at this tasting of Catalan and Spanish wines. While it's not private, you'll be guided by an expert sommelier in the heart of the city, making it a great way to experience the region's wine culture without the time commitment.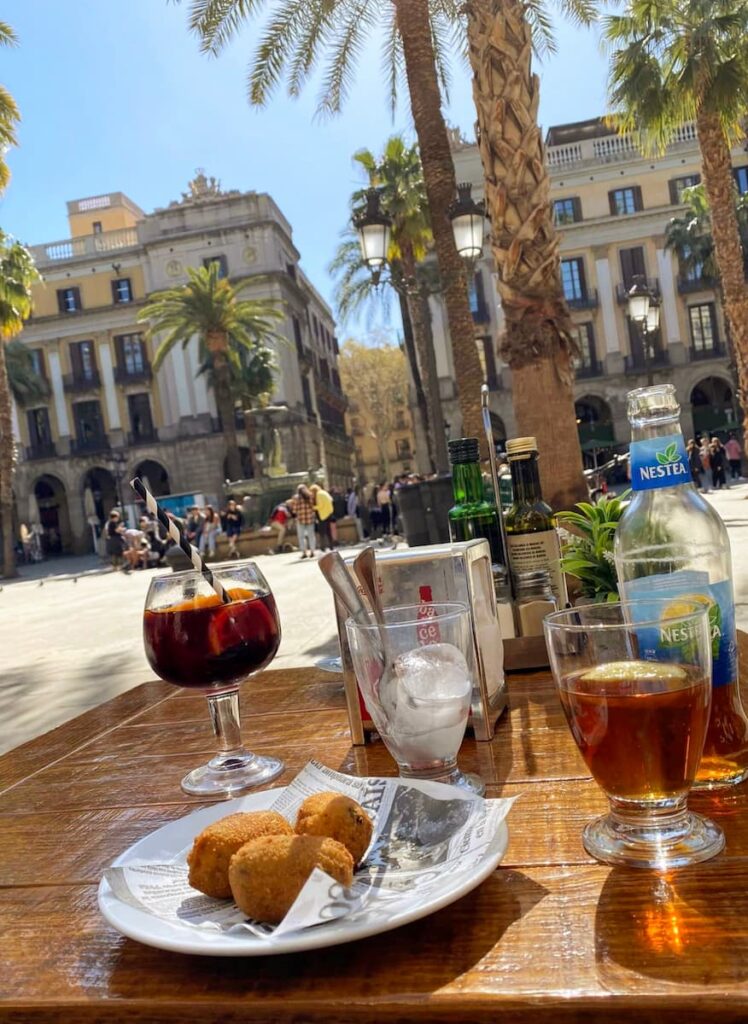 2. Sunset Sailing Cruise
There's something about the Mediterranean that calls for a cruise, and doing it at sunset just adds a layer of magic. Barcelona's waterfront is gorgeous at any time of day, but as the sun starts to dip, it's a whole other level of charm.
On this sunset catamaran cruise, which is the one I definitely recommend, you'll glide along the coast, with the cityscape to one side and the open sea to the other, all while the sky performs a color show – and with a glass of cava in hand, of course. 
Bring a light jacket because it can get a bit breezy, but that's just more reason to snuggle up together.
And if you're lucky, you might spot a dolphin or two playing in the wake of the boat – it's just the cherry on top of a perfect evening.
3. Hot Air Balloon Ride at Sunrise
For the early birds, or if you're willing to set an alarm while on vacation, a hot air balloon ride at sunrise is a memory-maker. The tranquility of floating above the Catalonian landscapes as the day breaks is unmatched – and, I have to say, it's the perfect spot if you're looking for somewhere in Barcelona to propose! 
You're up there, peaceful and serene, with a 360-degree view that's always changing. The stillness is surreal – it's just you, your significant other, and the occasional roar of the balloon's flame.
Afterwards, you land and usually get to enjoy champagne and brunch, which feels earned after waking up before the sun. It's a quiet adventure, the kind where you're left with a sense of awe, and let's be honest, some pretty impressive photos to take home.
4. Couples Photo Shoot at Iconic Barcelona Sights
Let's talk photos – not just any photos, but the kind that make your friends back home wish they were here. Booking a couples photo shoot at some of Barcelona's most iconic spots can be a fun way to document your love story.
Sure, ok, it can feel awkward at first. But laughing at yourself produces some amazing photos – especially when you're in the hands of a professional photographer, like with this photographer who specializes in doing photo shoots all over the city!
You've got the Gothic Quarter with its alleys that look like they've been plucked from a storybook, or the vibrant mosaics of Park Güell that add a pop of Gaudí genius to your backdrop. Alternatively, if you want to focus on one main sight, check out photo sessions like this one at the Sagrada Familia.
Whichever one you chose, here's a pro tip: go for the early morning sessions. You'll beat the crowds and that soft morning light is pure gold.
It's a relaxed way to see the city and you end up with photos by someone who knows just how to capture the vibe of Barcelona.
5. Stay at the W Hotel
If you're looking for a place to stay that screams romance, the W Hotel has got you covered. It's like it's out on a limb, right on the beach, giving you views of the sea that can make a simple room-service breakfast feel like a luxury dining experience.
The rooms with sea views are the ones you want – waking up to the sight of the Mediterranean? Yes, please.
The vibe here is modern and chic, with enough glitz to make your stay feel special at one of Barcelona's most romantic hotels. Plus, there's something about a hotel pool that gets you mingling with other travelers, or just enjoying a quiet moment together, cocktail in hand, watching the sunset.
You can check prices and availability here.
6. Boating at Parc de la Ciutadella
For a low-key afternoon, why not rent a rowboat at Parc de la Ciutadella? It's this green oasis in the middle of the city, and there's a little lake that's just begging for a rowboat to glide across it.
It's not about the exercise – though, hey, it's a bonus – it's about the chance to drift along, hand in hand, in your own little world.
You're surrounded by greenery, the sounds of the city are muffled, and it's just peaceful. You don't have to be an expert to row; it's all in good fun. And after you're done, you can laze on the grass with a picnic or explore the rest of the park.
It's simple, it's sweet, and it's a slice of Barcelona that feels a world away from the tourist tracks.
7. Create Your Own Cava Workshop
For something truly unique, why not try this Create Your Own Cava workshop? It's a hands-on experience where you learn about the art of cava-making and even blend your own bottle to take home. 
The best part is the personal touch – you're literally crafting a memory in a bottle. You can stash it away for your next big anniversary or a special event, and when you pop it open, you'll be right back here, under the Barcelona sky, toasting to the good times.
It's not just about the drink; it's about the moment you create around it!
8. Weekend at a Hotel with Your Own Private Pool
Fancy a romantic weekend in Barcelona where you can just roll out of bed and dip into your own private pool? Well, say hello to Praktik Èssens, a spot where some of the rooms come with a private spa bath right out on your terrace. 
Imagine lounging in your private oasis, the city buzzing below, and you're there, just chilling in the bubbles.
I've stayed here once for a birthday treat, and let me tell you, it's a game-changer. It feels like you've stepped into this bubble of calm, and yet, you're still connected to the vibe of Barcelona.
The rooms are sleek, the service is top-notch, and having your own little spa to unwind in? That's the cherry on top.
9. Magic Night Event at Casa Batlló
Casa Batlló isn't just a daytime wonder – the Magic Night event transforms it into an evening spectacle. You can stroll through the illuminated rooms of this Gaudí masterpiece, which is an experience in itself. 
Visiting Casa Batlló during the day is a great idea in itself (just make sure you book tickets in advance to avoid them selling out!), but the architecture comes to life in a different way under the night sky, with music echoing through the halls and terraces.
Then, there's the live jazz music. Imagine sitting back with a glass of cava, the melodies floating around you, and the intricate details of Casa Batlló serving as your backdrop.
It's a cultural treat and a romantic night rolled into one. Check the official site to see if one of these evenings are on while you're in town.
10. Visit on La Diada de Sant Jordi
If you happen to be in Barcelona on April 23rd, you're in for a real local experience – it's La Diada de Sant Jordi, and it's kind of like Valentine's Day but with a Catalan twist. The streets are filled with book and flower stalls because the tradition is to gift books to men and roses to women.
And honestly, the whole city feels like it's in love for the day. There's a buzz in the air, and roses everywhere you look – it's a really sweet time to be in town.
Plus, it's a great way to soak up some local culture and history, with the legend of Sant Jordi (St. George) slaying the dragon being at the heart of it all.
11. Flamenco Show
You can't talk about romantic outings in Spain without mentioning the option of going to experience a flamenco show in Barcelona. There's something raw and passionate about flamenco that just pulls you in. 
The music, the dance, the rhythm – it's all incredibly moving. I've been to a few shows around Barcelona, and they never fail to leave an impression.
It's not just about watching the dancers; it's about feeling the music with them. The intensity, the emotions, it's all there on display, and you can't help but be swept up in it.
So grab a table, order some tapas and a glass of wine, and let the performers take you on a journey. It's a toe-tapping, heart-racing kind of night out.
12. Sunset at Bunkers del Carmel
For a low-cost but absolutely memorable romantic thing to do in Barcelona, head to the Bunkers del Carmel before sunset. It's a bit of a climb, but what's waiting for you at the top is worth every step.
You get this panoramic view of the city that's just incredible, especially as the sun starts to dip below the horizon. It's popular, so you won't have the place to yourself, but there's a sense of community, with everyone there to enjoy the moment.
Plenty of couples come here with a little picnic, find a spot, and just take it all in. It's a simple pleasure, but those tend to be the best kind, don't they?
Watching the city lights flicker on as the sky changes colors – it's the perfect way to end a day in Barcelona.
13. Kiss of Freedom Mural
There's a spot in Barcelona that's become a bit of a legend among lovebirds – the Kiss of Freedom mural. It's a mosaic made up of thousands of tiny images that, from a distance, come together to form a single image of a kiss.
It's right in the heart of the Gothic Quarter, and stumbling upon it feels like you've found a secret. I can tell you that I've brought plenty of friends here who have their own photos kissing in front of that mural – it's almost obligatory, right?
It's also a great reminder of what the city stands for – freedom, love, and a mosaic of cultures and stories. While you're there, take a moment to look at the individual images up close. Each one tells a different story, just like every couple has their own.
14. Couples Spa Day
After all the walking and exploring, when it comes to romantic things to do in Barcelona for couples, there's nothing quite like unwinding with a couples spa day. And let me tell you, AIRE Ancient Baths is the place for it. 
It's like stepping back in time to a candlelit world of stone arches and warm, soothing pools. They've nailed the ambiance – it's serene, it's historic, and it's oh-so-romantic.
The experience is a journey through different baths at varying temperatures, and if you're feeling adventurous, there's a cold plunge that'll take your breath away – in a good way.
You can also book massages or treatments to add to the relaxation. It's a little pocket of tranquility in the city, and you'll leave feeling like butter, all melted and smooth.
15. Take a Dance Lesson
Why not mix things up and get your heart pumping with a dance lesson? Salsa, flamenco, tango – pick your passion and step into some dancing shoes.
It's a lively way to connect with your partner, and Barcelona's got plenty of dance studios where you can get your groove on.
I've dragged my husband to a few salsa classes, and while he's got two left feet, we always end up laughing and closer than before. It's about the fun, the missteps, and the "Did we just do that?" moments.
Plus, it's a skill you take home with you – imagine whipping out those moves at your next get-together. Dance lessons aren't just an activity; they're the start of a new tradition for you two.
16. Verdi Cinema Experience
Now, for a twist on the classic movie date, the Verdi cinema in the heart of Gràcia isn't your average multiplex. This place is a local favorite for its selection of indie and international films. 
The atmosphere's relaxed, with a touch of retro charm – it's a cinema with character.
You'll find yourselves discussing the film over a glass of wine at one of the nearby bars afterward, which is almost just as fun as actually seeing the movie! Plus, Gràcia's streets are perfect for a post-movie stroll, full of little surprises around every corner.
17. Concert at Palau de la Música Catalana
Music lovers, take note – a concert at the Palau de la Música Catalana is a must. This isn't just any concert hall; it's a modernist masterpiece. 
When you step inside, you're greeted by a kaleidoscope of colors, and the stained-glass skylight is something to behold. And the acoustics are as impressive as the décor, so when the orchestra hits that crescendo, it resonates right through you.
There's a range of performances to choose from – classical, jazz, or even guitar recitals. It's an elegant evening out, where the beauty of the music is matched only by the surroundings.
18. Helicopter Ride Over the City
For those who want to take romance to new heights – literally – a helicopter ride over Barcelona will do just that. It's a thrilling way to see the city, and the views are, well, incredible. 
From the sky, Barcelona is a tapestry of architecture and history, and seeing it from above gives you a whole new perspective.
The helicopter swoops over the Sagrada Familia, along the coast, and around the Tibidabo mountain. It's exhilarating and peaceful all at once, with just the hum of the rotor blades for company.
It's a splurge, sure, but for a special occasion or a big surprise, it's an unforgettable experience.
19. Night Tour of Casa Mila
When the sun dips down, Casa Mila, or La Pedrera, takes on a whole new vibe. A night tour here isn't just a walk through a historic building – it's an experience. 
The way the shadows play off the undulating stone, the lights casting warm glows on the intricate ironwork, it's pretty atmospheric.
You'll get headsets, so it feels like you're in your own little world, listening to the stories and secrets of the place. It's quieter than the daytime tours, more personal, and you end up on the rooftop terrace.
That's when you really get why this building is special – the view of the night sky alongside Gaudi's chimneys is something else.
20. Cocktails on a Rooftop Terrace
There's no shortage of rooftop terraces in Barcelona, but sipping cocktails on one is something you've got to try. It's about the views, the vibes, and, well, the cocktails aren't too shabby either.
Whether it's a classic sangria, a crisp gin and tonic, or something a little more inventive, you're in for a treat.
It's the perfect pre-dinner or post-dinner spot – that time when the air's cooling down but the city's heating up. You're above it all, the buzz of the streets turned to a gentle hum, and the lights of the city stretch out like a carpet.
It's relaxed, it's sophisticated, and it's a little slice of heaven.
Where should a couple stay in Barcelona?
For a stay that spells luxury, you can't go wrong with one of Barcelona's five-star hotels – think plush pillows, stunning views, and service that'll make you feel like royalty. If you're going all out, the Hotel Arts Barcelona is a showstopper with its panoramic views of the city and sea. 
But a four or three-star establishment can still offer a charming experience without the hefty price tag. You'll find that many of these spots still come with a generous helping of style and comfort.
For instance, the H10 Casa Mimosa is a gorgeous four-star hotel. Housed in a 19th-century modernist building, you'll get a garden that feels like a hideaway from the bustling streets, not to mention an elevated swimming pool with incredible views of the city.
And for an even more budget-friendly choice, look at the three-star Musik Boutique Hotel – it's got a boutique feel without the boutique price.
Is Barcelona a romantic city?
Absolutely, Barcelona is a romantic city. It's got all the right ingredients – history, art, culture, and those little hidden spots that are perfect for two. The city invites you to get lost in its narrow streets, find peace in its parks, and fall in love with its skyline at sunset.
Barcelona's romantic allure isn't just about the places; it's about the atmosphere. It's in the air, from the Gothic Quarter to the beaches of Barceloneta.
There's a reason couples flock here – it's a city that inspires, that embraces romance in its many forms. Whether you're holding hands by the Magic Fountain of Montjuïc or sharing a kiss in the hidden corners of El Born, romance is never far away.
Why is Barcelona a romantic city?
Barcelona's romance comes from its perfect blend of natural beauty, artistic heritage, and a laid-back Mediterranean lifestyle. From its beaches to its architectural marvels, there's a sense of grandeur and intimacy all at once. And when the evening comes, the city doesn't sleep – it simply changes into its elegant evening wear.
Strolling through Barcelona's various districts, you'll feel the city's heart beating in sync with your own. The modernist architecture provides a dramatic backdrop, while the Mediterranean Sea whispers tales of age-old love.
Each neighborhood has its own personality, from the historic charm of the Gothic Quarter to the bohemian vibe of Gràcia. And let's not forget the food – sharing tapas is as much a dance of flavors as it is a dance of romance.
In Barcelona, love isn't just in the air – it's in every street, every square, and every bite.
Is Barcelona a good couples holiday?
Yes, Barcelona is a fabulous choice for a couples holiday. With its romantic architecture, cozy tapas bars, and stunning beach sunsets, it sets the stage for love. Every corner of the city offers something new and exciting to discover together.
Whether you're strolling hand-in-hand down the tree-lined La Rambla, sharing a kiss in the secluded corners of the Gothic Quarter, or enjoying a quiet moment on the shores of the Mediterranean, Barcelona has a way of bringing couples closer. The city's diverse neighborhoods offer a spectrum of experiences, from the bustling markets of La Boqueria to the tranquil parks like Ciutadella.
And after all that exploring, why not relax with a couples massage at one of the city's luxurious spas? In Barcelona, you're sure to create memories that will last a lifetime.
Is Barcelona fun for couples?
Yes, Barcelona is definitely a fun playground for couples, bursting with activities that range from the adventurous to the relaxing. Its lively atmosphere, rich culture, and vibrant nightlife make it an exhilarating destination for two. Fun is around every corner, whether you're riding a cable car up to Montjuïc or exploring the city's numerous art museums.
Dance the night away to live music in the Raval neighborhood, or enjoy a flamenco show in the heart of the city. For something more laid back, rent a pair of bikes and ride along the beachfront, stopping for a chilled glass of cava along the way.
And don't forget about the food – from avant-garde dining experiences to rustic tapas bars, the culinary scene is as fun and varied as the city itself.
What to do with your girlfriend in Barcelona?
When in Barcelona with your girlfriend, start the day with breakfast at one of the charming cafes in the Eixample district. Then, maybe explore the art galleries in El Born or rent a boat on the lake at Parc de la Ciutadella. As the day ends, head out for a sunset cruise on the Mediterranean.
You might also want to spoil her with a shopping trip to the boutiques in Gràcia, followed by a cocktail on a rooftop bar overlooking the city.
And if you both enjoy music, grab tickets for a performance at the grand Palau de la Música Catalana, or for a more contemporary vibe, see who's playing at Razzmatazz or Apolo.
How do you celebrate your anniversary in Barcelona?
Celebrating an anniversary in Barcelona means you can make the day as laid-back or as extravagant as you like. Begin with a sunrise hot air balloon ride over the Catalan countryside, followed by a leisurely brunch in the Gothic Quarter. For something truly memorable, book a table at one of Barcelona's Michelin-starred restaurants.
Why not relive your first date or another special moment from your relationship? Recreate that meal, that walk, that conversation.
If art is what brought you together, spend the day meandering through the Museu Picasso or the Fundació Joan Miró. As the day winds down, take a private sailboat cruise along the coast, or if you're up for it, join in the local tradition and dance the night away at one of the city's lively bars or clubs.
No matter how you choose to celebrate, Barcelona offers both the extraordinary and the intimate, ensuring your anniversary is as special as your relationship itself.