40 Best Free Things To Do In Barcelona (2023)
This article may contain affiliate links. Please read our
Disclosure Policy
for more information.
If you've clicked on this article, chances are you're planning a trip to beautiful Barcelona, or you're already here, hunting for some incredible, wallet-friendly experiences to fill your itinerary. Well, you're in the right place!
From history-soaked streets to vibrant markets, mesmerizing museums to peaceful parks, I'm going to guide you through the best free things to do in Barcelona. And believe me, they're every bit as amazing as the pricey ones!
Living in Spain has allowed me to spend heaps of time in Barcelona, and I've managed to uncover the city's secret nooks and crannies that tourists often miss. Whether you're a history buff, an art lover, a foodie, or someone just looking for a relaxing spot to chill, there's something in this list for you.
So, stick around and let's dive into this treasure trove of freebies that'll make your Barcelona trip unforgettable, without breaking the bank! Trust me, by the time you're done reading, you'll be ready to explore Barcelona like a true local.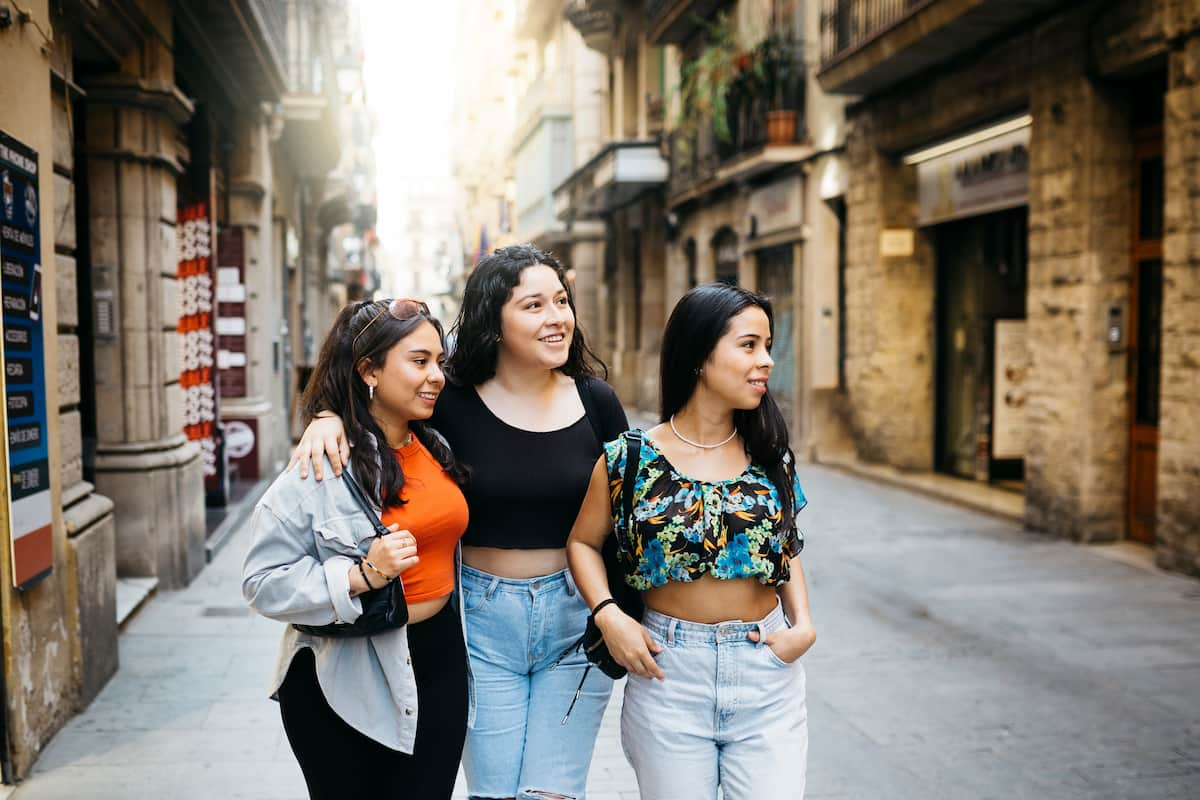 Best free things to do in Barcelona
Wander the Gothic Quarter
One of the best travel tips for Barcelona that I'd recommend – which, honestly, is hardly a secret – is that you can't miss strolling through the Gothic Quarter. It's a labyrinth of narrow streets with centuries-old history waiting to be discovered.
This isn't just any other neighborhood – it's the core of the city, where Barcelona first sprang to life.
If you're a history buff, you'll feel right at home, surrounded by these walls whispering tales from the Roman era to the Middle Ages. But don't worry if you're not, the vibe here is so unique, it's like stepping back in time and who doesn't love that?
Plus, it's chock-full of quirky little shops and cool bars when you're in need of a breather.
Honestly, what's not to love about the Gothic Quarter? It's a treat for the eyes and the mind – a real authentic piece of Barcelona. And hey, guess what, it's all there for you to explore, free of charge.
Walk down La Rambla
Next up, we've got the iconic La Rambla, and trust me, this is one walk you won't want to miss. It's a vibrant, bustling street that runs right through the heart of Barcelona.
From street performers to flower stalls, there's always something happening here. Plus, La Rambla also boasts a fantastic food market, the Mercat de la Boqueria – which I'll get to in a moment!
Yes, La Rambla can get a bit crowded, especially in summer, and when it comes to what to avoid in Barcelona, I'd strongly suggest not eating at any of the restaurants along here. But it's just so full of life and color that you really can't miss at least wandering down here while in the city.
Magic Fountain show
The Magic Fountain show isn't your regular fountain show, oh no – it's a true spectacle of water, music, and lights. And before you ask, yes, it's absolutely free.
The show takes place at the foot of Montjuïc, and it's a sight to behold. Just imagine, hundreds of jets of water dancing to the rhythm of the music, all lit up in an array of colors. Safe to say, it definitely makes for some great pictures
You might think, 'Oh, it's just a fountain', but once you've seen it, you'll know why it's called the Magic Fountain. It's an experience, a memory, and one that won't cost you a dime.
Views from the Bunkers del Carmel
Once upon a time, the Bunkers del Carmel were air-raid shelters. Now, they're the best place in town to catch a panoramic view of the city.
I know, not your usual tourist spot, but believe me, the view from up there is absolutely worth it. Sure, it's a bit of a climb, but once you're up there, you'll see Barcelona spread out before you, from the Sagrada Familia to the glittering Mediterranean Sea.
It's a quiet, peaceful spot, perfect for a picnic or just to sit and soak in the view. So pack a snack, bring your camera, and get ready to be wowed.
Forest Zone of Park Güell
You've probably heard of Park Güell, it's one of Gaudí's masterpieces after all. But did you know a large part of it is free to visit? Yep, you heard me right, free!
Now, don't get me wrong, the Monumental Zone with all of its mosaic work is definitely worth a visit. But the Forest Zone, with its winding paths and beautiful vistas, has its own charm. It's like a peaceful oasis, right in the middle of the city.
So grab a book, take a leisurely stroll, or simply sit back and enjoy the greenery. There's no rush here.
And if you're lucky, you might even catch a local musician strumming a tune or two. Sounds like a perfect afternoon!
Quadrat d'or (Golden Quarter)
Next on our list, we have the Golden Quarter or the 'Quadrat d'or'. Now, this is where you'll find some of the best examples of Modernist architecture.
I'm talking jaw-droppingly beautiful buildings decked out in intricate details and vibrant colors. The Golden Quarter was the place to be in the late 19th and early 20th centuries, and you can see why. 
Every building here, from the street lamps to the facades, is a work of art. It's like walking through an open-air museum. And the best part? You can do it all at your own pace, free of charge.
So if you're a fan of architecture, or just appreciate beauty in general, you've got to give the Golden Quarter a visit. It's a feast for the eyes and a real testament to the talent of the architects of that era. 
Chill out in Plaça Reial
Sometimes, after all the sightseeing, you just want to sit down, relax and watch the world go by. And that's exactly why Plaça Reial is up next.
Located just off La Rambla, this square is the perfect place to take a breather. Lined with palm trees and filled with bustling cafés, Plaça Reial is a hub of activity.
During the day, you can sit and people-watch to your heart's content. At night, the square comes alive with music and laughter, making it a great spot to experience Barcelona's nightlife.
The beauty of Plaça Reial lies in its atmosphere. It's vibrant, it's lively, and it perfectly captures the spirit of Barcelona.
So go ahead, grab a seat, and soak it all in. Who knows, you might even catch a street performance or two!
Do a free walking tour
If you really want to see all the sights without opening your wallet – well, at least not initially – consider joining a free walking tour. Yes, you heard me, free!
Barcelona has a number of these tours, covering everything from its history to its street art. It's a great way to learn about the city from a local's perspective.
Now, you might be wondering, 'How can a tour be free?' Well, these tours operate on a 'pay-what-you-like' basis.
This means that, at the end of the tour, you give the guide a tip based on what you think the tour was worth. It's one of the main exceptions to the "rule" on tipping in Barcelona and, overall, is a great system that allows everyone, regardless of budget, to enjoy the tour.
If you're new to the city, or even if you're not, I highly recommend giving these tours a try. You'll learn a lot, meet fellow travelers, and have a blast while you're at it.
Temple of Augustus
Next up is a trip to ancient Rome without leaving Barcelona – the Temple of Augustus. This ancient Roman temple is a hidden gem in the heart of the Gothic Quarter, and it's a marvel to behold.
Stepping inside, you're instantly transported back to Roman times. Four towering Corinthian columns are what remain of the once glorious temple.
It's a stark contrast to the surrounding medieval buildings, a little slice of history preserved in the bustling city. Plus it's free to visit and definitely worth the detour.
The Temple of Augustus isn't as widely known as some of Barcelona's other attractions, but that's part of its charm. It's a surprise tucked away in an ordinary building, a little secret waiting to be discovered.
Facade of the Sagrada Familia
Now let's talk about the elephant in the room – the Sagrada Familia. While the interior does come with an admission fee, you can admire the facade for absolutely free.
And let me tell you, it's a sight to behold. Gaudí's masterpiece has been under construction for over a century, and every inch of it is teeming with detail.
Take your time to marvel at the intricate design of the Nativity and Passion facades. The statues, the symbolism, the sheer grandeur of it all – it's nothing short of awe-inspiring.
And at night, when it's all lit up, it's an entirely different experience.
Whether you decide to pay for a ticket or not, make sure to at least stop by and take a look. The Sagrada Familia is a symbol of Barcelona, and it's every bit as impressive as they say.
Picasso Museum
Alright, art lovers, this one's for you – the Picasso Museum. Now, usually, the museum charges for entry, but every Thursday from 4 pm to 7 pm, and the first Sunday of the month, it's completely free.
Yes, you heard me right, free entry to one of the most visited museums in the city!
The Picasso Museum houses one of the most extensive collections of Picasso's artworks in the world. From his early sketches to his famous Blue Period paintings, it's a journey through the life and work of one of the greatest artists of all time.
So mark your calendar and plan your visit. This is a fantastic opportunity to see some amazing art without breaking the bank.
Just remember, it's popular, so be prepared for a bit of a queue. But hey, for free access to all that art, it's worth the wait, right?
Montjuïc Castle
Montjuïc Castle is a 17th-century fortress sits atop Montjuïc hill, offering fantastic views of Barcelona and the sea. While there is an entrance fee to go inside the castle, walking around the exterior and enjoying the view is completely free.
The path up to the castle is a bit of a hike, but it's a pleasant walk with plenty of places to stop and take in the view. Once you're up there, you can explore the castle grounds, take a picnic, or just sit back and enjoy the view.
The Montjuïc Castle is a slice of history with a side of natural beauty. It's a great spot to escape the hustle and bustle of the city and soak up some sun.
La Boqueria
I mentioned it a bit earlier, but it's worth coming back to the legendary La Boqueria. Right off La Rambla, this bustling market is a paradise for foodies.
Picture this: rows upon rows of fresh fruits, vibrant vegetables, and a myriad of other delectable treats. Of course, while you'll need to pay for any food or drinks you decide to sample, just wandering around the market is free.
It's a great place to soak up the local atmosphere and watch as the sellers haggle over prices and the locals shop for their weekly groceries.
La Boqueria is more than just a market, it's a testament to Barcelona's love for fresh, vibrant food. Even if you're not planning to buy anything, it's worth a visit for the atmosphere alone.
Parc de la Ciutadella
Next on our list is the Parc de la Ciutadella. This vast green oasis in the city center is a favorite among locals and tourists alike.
It's the perfect place to unwind, whether you're looking for a leisurely stroll, a picnic, or a spot to read your book.
One of the park's highlights is the beautiful lake where you can hire a rowing boat. While this comes at a small charge, just sitting by the water watching the boats glide by doesn't cost a penny.
There's also a magnificent waterfall, several sculptures, and even a mammoth!
If you're looking for a break from the hustle and bustle, head over to Parc de la Ciutadella. There's always something happening – from yoga classes to live music – and the relaxed atmosphere is just what you need after a day of sightseeing.
Barcelona History Museum (MUHBA)
For history enthusiasts, the Barcelona History Museum, or MUHBA as locals call it, is a must-visit. While there's usually a charge for entry, you can visit for free on Sundays from 3 pm onwards, and all day on the first Sunday of the month.
MUHBA takes you on a journey through Barcelona's rich history, from its Roman origins to the present day. The museum's extensive collection includes archaeological remains, historic photographs, and various other exhibits, all telling the story of this vibrant city.
A visit to MUHBA is a fantastic way to get under the skin of Barcelona and gain an understanding of its past. It's a fascinating, educational experience that's suitable for all ages. Plus, with the opportunity to visit for free, it's an absolute bargain.
Arc de Triomf
Time to pay a visit to the Arc de Triomf. While it may not be as famous as its Parisian counterpart, Barcelona's Arc de Triomf is impressive in its own right.
With its intricate red brickwork and detailed sculptures, it's a real treat for the eyes. Originally built as the entrance to the 1888 Barcelona World Fair, today, the arc stands as a gateway to the city's park, the Parc de la Ciutadella.
You can admire it from afar, walk right under it, or even snap a picture or two – and it won't cost you a dime.
For this reason, if you're out and about exploring the city, be sure to swing by the Arc de Triomf. It's a symbol of Barcelona's history and a piece of architectural beauty. Plus, its close proximity to the park makes it a great starting point for a relaxing afternoon.
Saunter through El Born
This trendy neighborhood is a delightful mishmash of old and new, where narrow medieval streets meet chic boutiques and modern eateries. Simply sauntering through these streets doesn't cost a penny, but it offers a priceless experience.
El Born is full of character. It's where you can find one of the city's most stunning churches, Santa Maria del Mar, and it's home to the gorgeous El Born Cultural Centre.
Plus, the area's buzzing nightlife makes it a popular spot for evening outings.
In essence, El Born is a living, breathing testament to Barcelona's past and its future. From the history etched into its old buildings to the creativity flowing from its modern establishments, it's a neighborhood that's brimming with life (and one of my personal favorites)
National Art Museum of Catalonia (MNAC)
The National Art Museum of Catalonia, better known as MNAC, boasts one of the most impressive collections of Romanesque art in the world, making this museum a dream for art lovers.
And guess what? It's free on Saturdays from 3pm onwards and all day on the first Sunday of the month!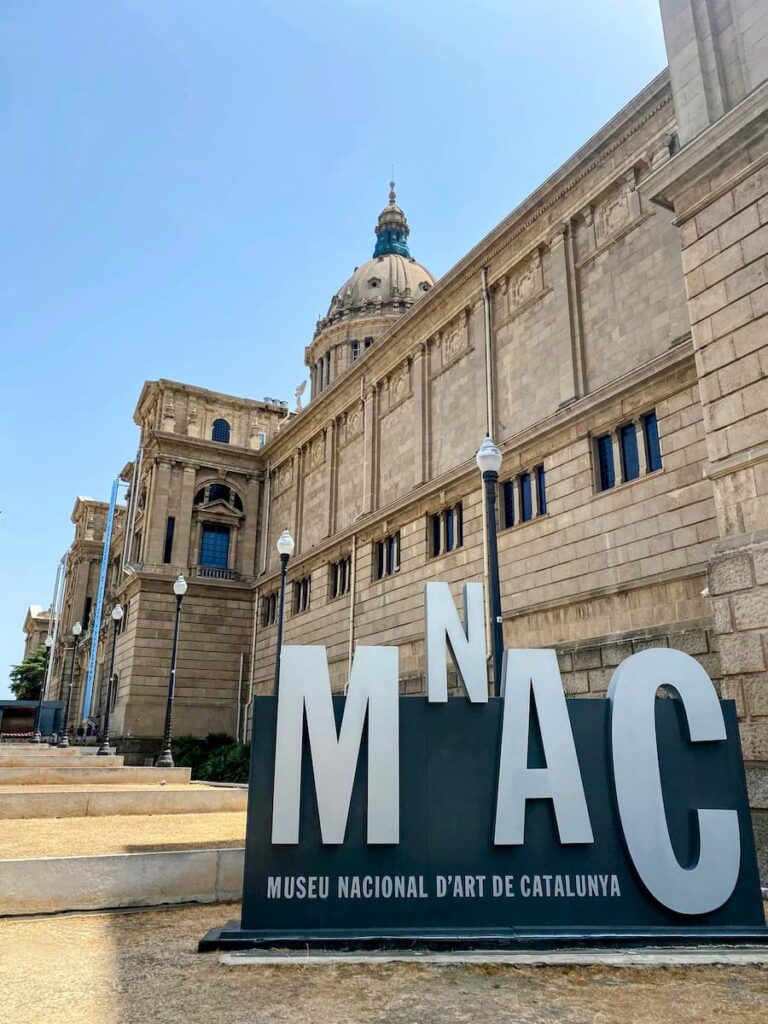 MNAC is located in the beautiful Palau Nacional, a sight to behold in itself. Inside, you'll find a treasure trove of art spanning over a thousand years, from medieval frescoes to modern art.
It's a journey through Catalonia's rich artistic history, and it's as enlightening as it is enjoyable. If you have a couple of hours to spare and you time your visit right, do give MNAC a visit. After all, with the chance to do it for free, there's really no excuse not to!
Natural Science Museum
Alright, nature enthusiasts, this one's for you – the Natural Science Museum. The museum offers free entry on Sundays from 3pm onwards and all day on the first Sunday of the month.
From the secrets of the deep sea to the mysteries of the animal kingdom, this museum covers it all. You can easily spend a few hours exploring the various exhibits, learning about our planet's biodiversity, and getting up close and personal with different species.
There's also a 'Science Nest' for the little ones, making it a great option for families.
If you're a nature lover, or if you're just looking for an educational and engaging way to spend an afternoon, the Natural Science Museum is a fantastic choice. Just remember to plan your visit for a Sunday to make the most of the free entry!
Discover El Raval
The diverse neighborhood of EL Raval is a melting pot of cultures, and it's full of hidden gems. From street art to unique shops and international eateries, you never know what you'll find here.
El Raval is also home to some noteworthy landmarks, including the MACBA (Barcelona Museum of Contemporary Art) and the Gaudí-designed Palau Güell. But perhaps the neighborhood's greatest charm lies in its streets, which buzz with life at all hours of the day.
Whether you're on the hunt for a unique souvenir, looking to sample some international cuisine, or just keen to soak up the vibrant atmosphere, El Raval is the place to be.
Basilica of Santa Maria del Mar
The Basilica of Santa Maria del Mar is a true gem of Catalan Gothic architecture. While there's typically a small charge to enter the basilica during the day, it's free from Monday to Saturday at 6pm until 8:30pm and on Sundays from 10am to 1:30pm and from 5pm to 8:30pm.
Inside, the tall columns and high vaulted ceiling create a sense of awe, while the beautiful stained glass windows cast a soft, multi-colored light. It's a serene and spiritual place, perfect for a moment of reflection or just to escape from the city's hustle and bustle.
The Basilica of Santa Maria del Mar isn't just a place of worship, it's a testament to Barcelona's history and the spirit of its people. So, if you're around, make sure to step inside – it's a sight you won't want to miss.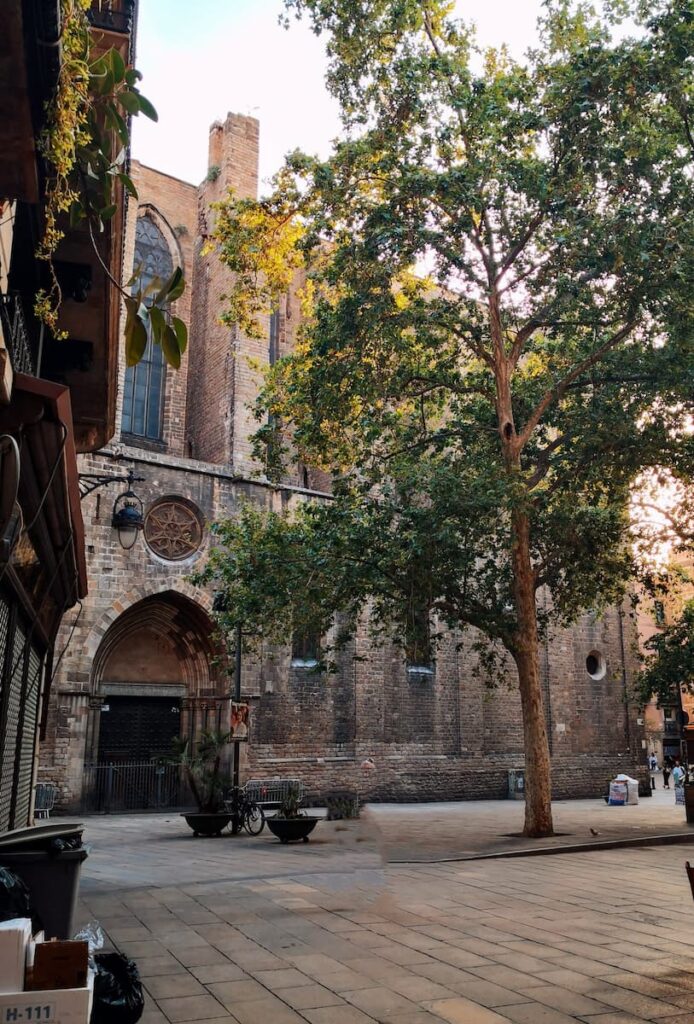 Barcelona's Street Art, especially around Poble Nou
Next up, we're heading to Poble Nou, a neighborhood known for its vibrant street art. You don't have to spend a dime to admire these pieces, which range from small-scale drawings to large murals that cover entire buildings.
Walking around Poble Nou, you'll quickly see that Barcelona's street art scene is alive and kicking. From abstract patterns to realistic portraits, every piece tells a story, and it's this diversity that makes the neighborhood such a hot spot for street art lovers.
If you have a soft spot for art, or if you're just keen to see a different side of Barcelona, a walk around Poble Nou is a must. It's like an open-air museum, where every corner is a new exhibit.
Botanical Gardens of Barcelona
For nature lovers, the Botanical Gardens of Barcelona are a must-see. Located on Montjuïc hill, the gardens boast a diverse collection of plants from around the world.
And the best part? Entry is free on Sundays from 3pm onwards and all day on the first Sunday of the month!
The gardens are organized by geographical area, so you can wander from the Australian bushland to the South African veldt in just a few steps. It's a great place to relax, enjoy nature, and learn about different plant species.
Visiting the Botanical Gardens is a wonderful way to take a break from the city without actually leaving it. If you're looking for a serene spot to unwind (for free!), make sure to put this on your list.
Relax at one of Barcelona's Beaches
Barcelona is blessed with several lovely beaches, and taking a dip in the Mediterranean Sea is a must-do during the warmer months. But even if you're not a fan of swimming, just lounging on the sand and watching the world go by is a great way to relax.
Barceloneta Beach is probably the most famous, but it can get quite busy. For a quieter experience, you might want to check out Nova Icaria or Mar Bella. Regardless of where you end up, you're sure to enjoy the sun, sand, and sea.
Although Barcelona's beaches are more than just places to sunbathe and swim. They're social hubs where locals and tourists alike come to play sports, have picnics, and enjoy the seaside atmosphere.
So grab your towel, slap on some sunscreen, and get ready to relax. After all, a day at the beach is always a day well spent.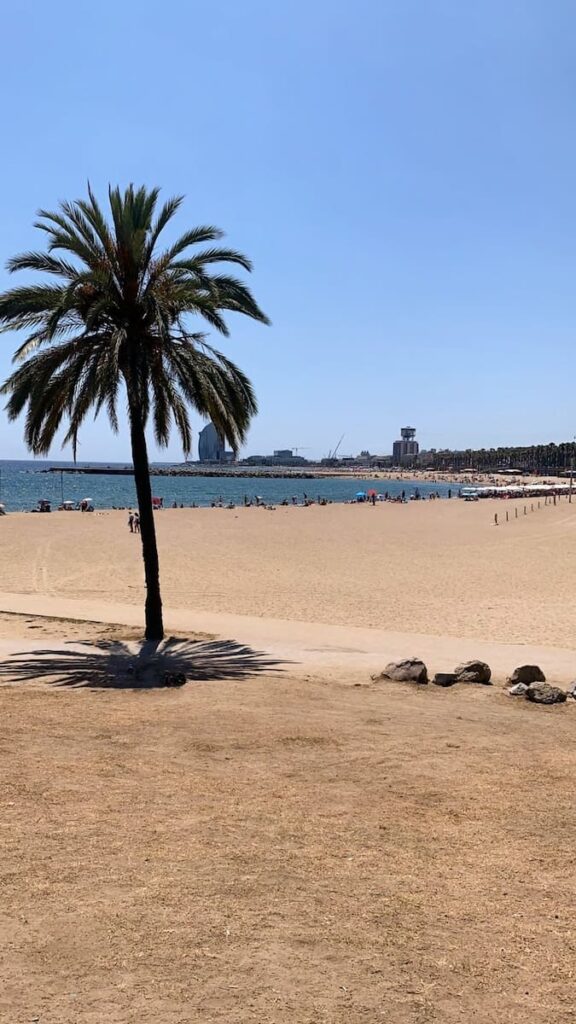 Free Concert in the Park
If you're visiting Barcelona during the summer, you're in for a real treat. That's when the Barcelona City Council puts on Musica als Parcs, a free concert series designed to bring people to the city's public parks and give local up-and-coming talent exposure in the community. It's a win-win!
These concerts are a fantastic way to experience Barcelona's vibrant music scene without spending a dime. From jazz and classical to more contemporary genres, there's something for everyone.
Plus, what's better than enjoying some live music while relaxing in a beautiful park?
So, if you're in town during the summer, be sure to check out the concert schedule. It's a great opportunity to enjoy some quality music, discover new artists, and make the most of Barcelona's gorgeous parks.
Pack a picnic, bring your friends, and get ready for a memorable evening under the stars.
Els Encants Flea Market
Els Encants is one of Europe's oldest flea markets. This sprawling market is a treasure trove of vintage clothing, antique furniture, records, and all sorts of other knick-knacks.
And even if you're not planning to buy anything, just wandering around the stalls is a fun experience in itself.
Els Encants is more than just a market, it's a cultural experience. The atmosphere is lively, the vendors are friendly, and the range of goods on offer is truly staggering.
Plus, if you're a bargain hunter, you'll love haggling with the sellers and scoring some unique finds. Whether you're looking for a vintage poster, a retro jacket, or just a glimpse into Barcelona's market culture, you won't be disappointed.
Santa Caterina Market
The Santa Caterina Market is a lesser-known but equally charming alternative to La Boqueria. This local market is a feast for the senses, with its colorful produce, fresh seafood, and delicious smells wafting from the food stalls.
Plus, the market's undulating mosaic roof is a sight to behold.
Santa Caterina Market is a fantastic place to experience Barcelona's culinary scene. You can browse the stalls, sample local products, and even grab a bite at one of the tapas bars. 
And while you might want to buy something to eat, there's no charge for just wandering around and taking in the atmosphere.
Visiting Santa Caterina Market is a wonderful way to get a taste of local life and immerse yourself in Barcelona's food culture. It's vibrant, authentic, and full of charm.
Find a Local Festival
If you're lucky enough to be in Barcelona during one of its many festivals, you're in for a great time.
For example, there's the Festes de Gràcia in August, where the streets of the Gràcia neighborhood are transformed into a vibrant carnival, and the La Mercè Festival in September, the city's biggest street party.
These festivals are a fantastic opportunity to experience Barcelona's rich culture and traditions. From traditional dances and music to elaborate street decorations and fireworks, there's always something exciting happening. Plus, they're completely free to attend!
So if your trip coincides with a local festival, don't miss the chance to join in the festivities. Whether you're dancing in the streets of Gràcia or watching a parade during La Mercè, it's sure to be a highlight of your trip.
Mount Tibidabo
Ever thought of enjoying panoramic views of Barcelona? Then, Mount Tibidabo is the place to be.
It's the highest peak in the Serra de Collserola, offering you the chance to see the city from a unique perspective. On a clear day, you can even see all the way to the Mediterranean Sea!
At the summit, you'll find the beautiful Sagrat Cor church, a theme park, and a handful of great trails for walking or cycling. While the amusement park and church may have entry fees, soaking up those views and exploring the surrounding natural beauty doesn't cost a thing.
Mount Tibidabo is the perfect escape from the city's hustle and bustle. Whether you're a nature lover, a photo enthusiast, or just someone who appreciates beautiful views, this is one spot you shouldn't miss.
Maritime Museum
Time to dive into Barcelona's seafaring history at the Maritime Museum. Situated in the Drassanes Reials, or royal shipyards, this museum is all about ships, sea travel, and the city's maritime heritage.
The museum houses a fantastic collection of model ships, maritime artifacts, and interactive exhibits. Whether you're a history buff or just interested in learning more about Barcelona's past, this museum is worth a visit.
And you'll be happy to know that it offers free entry on Sundays from 3pm onwards!
Embrace the Idea of Free Tapas with Drinks
If you're a foodie like me, then this one's for you.
Did you know that some bars in Barcelona offer a free tapa with each drink ordered? Yes, you heard that right, free food!
This tradition is more common in other parts of Spain, but you can still find it in Barcelona if you know where to look. For instance, Raspall gives one free tapa with the purchase of a draught beer, wine, or vermout, while at La Xula Taperia and Gata Mala, you can enjoy a free tapa with your drink of choice.
So, next time you're out for a drink, why not try one of these places? It's a fun way to sample different kinds of tapas and get more bang for your buck. Plus, who can say no to free food?
La Virreina Centre de la Imatge
La Virreina Centre de la Imatge is a cultural center dedicated to visual arts and image. It's housed in the Palau de la Virreina, a gorgeous baroque palace on La Rambla…and the best part? It's free to enter!
The center hosts a variety of exhibitions and activities related to photography, video, and other visual mediums. If you're interested in contemporary art and culture, this is a great place to explore.
Visiting the La Virreina Centre de la Imatge is a fantastic way to immerse yourself in Barcelona's vibrant arts scene. It's creative, inspiring, and best of all, free.
Free Beach Movies
How does watching a movie under the stars on a beach in Barcelona sound? Too good to be true? Well, it's not!
During the summer months, Cinema Lliure hosts free movies on the beach. It's a great way to enjoy those balmy Barcelona nights.
You'll get to watch a mix of independent films, documentaries, and local cinema while lounging on the sand. Don't forget to bring your own blanket or beach chair for comfort.
And what's a movie without some snacks, right? Pack some munchies and drinks and you're all set.
Museu Frederic Mares
Welcome to the world of the Museu Frederic Mares, a truly unique museum in the heart of Barcelona's Gothic Quarter. It houses the eclectic collection of sculptor Frederic Mares and offers free entry on Sundays from 3pm onwards, and all day on the first Sunday of the month.
The museum's collection ranges from religious art and sculpture to more quirky items like antique fans, keys, and even old pharmacy jars. It's a bit like stepping into a time capsule and offers a fascinating glimpse into the past.
If you're looking for something a bit different from the usual tourist spots, the Museu Frederic Mares is well worth a visit.
Roman City Wall
History buffs, this one's for you! The ancient Roman city wall is a must-see when exploring Barcelona's Gothic Quarter.
It's hard to believe that these towering walls have stood the test of time and are still standing after nearly 2,000 years.
Walking along these ancient walls, you can't help but imagine the stories they could tell. It's a unique way to connect with Barcelona's rich history and get a sense of the city's past. Plus, it's just a cool experience to touch a piece of history.
The Roman city wall is a testament to Barcelona's historical significance. So, take some time to walk around and soak up the atmosphere.
Roman Aqueduct at Plaça del Vuit de Març
For more Roman history, head over to Plaça del Vuit de Març, where you'll find a section of an ancient Roman aqueduct. It's a small part of Barcelona's Roman heritage that's often overlooked but definitely worth a visit.
It's not every day that you come across a piece of ancient infrastructure in the middle of a modern city. This aqueduct was once a crucial part of Barcelona's water supply system, and it's pretty impressive to see up close.
Roman Domus
Haven't entirely scratched your Ancient Roman itch yet? If not, take a step back in time at the Roman Domus, an ancient Roman house situated right in the heart of Barcelona's Gothic Quarter.
This archaeological site gives you a unique chance to explore Barcelona's ancient Roman heritage and see what life was like two thousand years ago.
The house, known as Domus de Sant Honorat, features mosaic floors and other well-preserved architectural elements. It's a cool experience to stand where Roman citizens once lived, and the site's information panels provide an interesting insight into their daily lives.
See the Sardana Dancing at Pla de la Seu
For a real taste of local culture, head to Pla de la Seu on a Sunday to see the traditional Sardana dance. This is a typical Catalan dance that's been a part of local culture for centuries, and watching it is a fun and free way to get a feel for Barcelona's traditions.
Dancers join hands in a circle and perform a series of steps to the sound of a traditional Catalan cobla band. You're more than welcome to join in if you're feeling brave, or you can simply watch and enjoy the spectacle.
Visit the Festival Giants at La Casa dels Entremesos
If you're in Barcelona between Tuesday and Sunday, be sure to stop by La Casa dels Entremesos, a unique cultural center that houses the city's festival giants.
These towering figures are an important part of Barcelona's traditional festivals, and you can see them up close for free from Tuesday to Saturday from 10am to 1pm and from 4 to 7pm, and on Sundays from 11 a.m. to 2 p.m.
Each giant is beautifully crafted and represents a different character from Catalan folklore or history. Seeing them up close is quite an experience, and you'll gain a new appreciation for the craftsmanship that goes into creating them.
El Born Cultural & Memorial Centre (El Born CCM)
Finally, make sure to visit the El Born Cultural & Memorial Centre, a unique space that blends history, culture, and memory. It's located in the Born district, and offers free entry on Sundays from 3pm onwards, and all day on the first Sunday of the month.
The center is housed in a former market building and showcases the archaeological remains of 18th-century Barcelona. It also hosts exhibitions, debates, concerts, and other cultural events, so there's always something interesting going on.
Visiting El Born CCM isn't just about learning history; it's about experiencing it. From the ancient ruins to the lively cultural events, there's something for everyone here.
FAQs
What is Free Sunday in Barcelona?
In Barcelona, 'Free Sunday' is a special day when many of the city's museums and cultural centers open their doors to the public for free. Typically, this happens on the first Sunday of each month, and sometimes every Sunday from 3 pm onwards.
It's a fantastic opportunity for tourists and locals alike to explore the city's rich cultural offerings without spending a cent.
During Free Sunday, you can dive into Barcelona's history at the Barcelona History Museum (MUHBA), marvel at the masterpieces at the National Art Museum of Catalonia (MNAC), or explore the wonders of nature at the Natural Science Museum, to name just a few.
Remember, the free entry usually applies to the permanent exhibitions, while special exhibits might still have an admission fee.
My advice? Plan ahead and get there early. These events are popular, so there might be lines. And make sure you check each museum's website for the most up-to-date information.
Free Sunday is a great way to immerse yourself in Barcelona's diverse cultural scene, so make sure to take advantage of it.
Is Sagrada Familia Ever Free?
Yes, the iconic Sagrada Familia does occasionally offer free entry, but it's not an everyday thing. These opportunities are typically limited to special occasions or events, like during the festivities of La Mercè in September. On these open days, visitors can explore this architectural masterpiece without spending a dime.
While it's great to get in for free, be prepared for crowds as these events draw a lot of attention.
But, if you ask me, it's absolutely worth it. Exploring the intricate facades and awe-inspiring interior of Gaudi's unfinished masterpiece is a once-in-a-lifetime experience.
Keep in mind that these free entry days are announced on the Sagrada Familia's official website, so keep an eye out for updates if you're planning a visit.
There's no denying that visiting the Sagrada Familia is a top-tier Barcelona experience, and doing it for free is just the icing on the cake.
Can You Get Into Park Guell For Free?
Yes, you can visit a part of Park Guell for free! The park is divided into two zones: the Monumental Zone, which has an entrance fee, and the Forest Zone, which is free. While the Monumental Zone houses some of Gaudi's most famous structures, the Forest Zone still has plenty of beauty and charm.
The Forest Zone, also known as the Free Zone, covers a larger part of the park and is open to the public for no cost. Here, you can stroll along the shaded paths, enjoy a picnic with a view, or just relax and soak up the vibrant atmosphere.
While you won't see iconic sites like the Dragon Stairway or the Hypostyle Room without paying an entrance fee, you'll still get to experience Gaudi's imaginative use of natural forms and vibrant mosaics in the Free Zone.
Plus, the panoramic views of Barcelona from the park's high points are just as beautiful, and they won't cost you a penny.
Which Museum is Free in Barcelona?
There's a bunch of museums in Barcelona that offer free admission, usually on the first Sunday of each month or every Sunday afternoon. Examples include the Barcelona History Museum (MUHBA), the National Art Museum of Catalonia (MNAC), the Natural Science Museum, the Picasso Museum, and the Frederic Mares Museum.
(That said, the Picasso Museum is a bit different in that it offers free entry every Thursday afternoon from 4 pm to 7 pm, not Sundays, although it's also free on the first Sunday of every month.)
But remember, while you can explore the permanent collections for free, special exhibitions often have separate tickets. 
The bottom line? Exploring Barcelona's museums can be budget-friendly if you time it right.
So do your homework, check the museum websites for the most current info, and get ready to immerse yourself in the city's vibrant cultural scene for free!
Are Clubs in Barcelona Free?
Most of the time, you'll have to pay an entrance fee to get into the clubs in Barcelona. But you can score free entry if you sign up for a guest list online, which often gets you in for free if you arrive before a certain time, usually before 1 am or 2 am.
Another way to get in for free is to arrive early when some clubs offer free entrance to early birds.
Basically, you can score free entry if you know where to look! At the same time, remember, these policies vary greatly from club to club, and what works one night might not work the next.
For this reason, it's always a good idea to check the club's official website or social media pages for the latest info. Dancing the night away in Barcelona doesn't have to cost an arm and a leg, and with a bit of planning, you could save some serious euros!
Is Barcelona a Cheap Place to Visit?
Barcelona, like any big city, can be as expensive or as affordable as you make it. While it's true that some aspects of the city – like dining at high-end restaurants or staying in luxury hotels – can be pricey, there are also plenty of ways to enjoy Barcelona on a budget.
For instance, the city is brimming with affordable eateries serving delicious local cuisine, plenty of reasonably-priced accommodations, and as I've already mentioned, a host of free attractions and activities.
By choosing to walk or use public transport over taxis, eating where the locals eat, and taking advantage of free museum days and free sights, you can significantly cut down your costs.
In short, while Barcelona isn't the cheapest city in Spain, it's entirely possible to have an amazing time here without blowing your budget. With a little research and some smart decisions, you'll find that Barcelona offers great value for every kind of traveler, whether you're a budget backpacker or a luxury seeker.