20 Places with the Best Shopping in Barcelona (2023)
This article may contain affiliate links. Please read our
Disclosure Policy
for more information.
Looking for the places with the absolute best shopping in Barcelona? Well, you're in the right place!
Maybe you're a local looking for a new shopping haunt or perhaps you're planning a visit and want to ensure you hit all the best spots.
No matter the reason, one thing's certain: Barcelona's shopping scene is as vibrant and diverse as the city itself. From trendy boutiques and sprawling malls to charming markets and cool shops, there's something for every style and budget.
As someone who lives in Spain and has spent plenty of time exploring the city, I've got the lowdown on all the best places to shop in Barcelona. I'll guide you through the bustling shopping streets, introduce you to the most popular shopping centers, and uncover hidden gems that only locals know about.
So buckle up, and get ready for a virtual shopping tour like no other. By the end of this article, you'll be equipped with all the insider info you need to shop 'til you drop in Barcelona!
Where to find the best shopping in Barcelona
1. Passeig de Gràcia
If there's one place in Barcelona that screams luxury shopping, it's Passeig de Gràcia. This iconic avenue is home to some of the most prestigious brands in the world.
Think Chanel, Gucci, and Louis Vuitton, all lined up like glittering jewels in a crown. Walking down this boulevard with bags from your favorite high-end designers swinging from your arms looks like something from a movie!
But that's not all! You'll also find Spain's own treasures here. Keep an eye out for top-notch Spanish brands like Zara and Mango, which always offer up-to-date fashion at wallet-friendly prices.
In fact, here's one great budget-friendly Barcelona travel tip: these brands are often cheaper here than outside of Spain!
The avenue itself is an open-air museum, with modernist buildings and sculptures popping up every now and then.
This means that you're not just shopping here; you're taking a walk through art history! As you'll see, it's an experience that you won't find in many other shopping districts around the world.
2. La Rambla de Catalunya
Alright, moving on to La Rambla de Catalunya. It's not as grand as Passeig de Gràcia, but it's definitely got its own charm.
This boulevard is more laid-back, filled with interesting boutiques and indie stores. It's the kind of place where you can pick up a hand-crafted leather bag in one store and a vintage record in the next.
You'll also discover small fashion boutiques offering unique pieces that you won't find in the more mainstream shops. And isn't that the best kind of shopping, where you uncover things that are as unique as you are?
But let's not forget the food! The street is dotted with numerous cafes and restaurants where you can stop for a quick tapas break or enjoy a leisurely lunch in between shopping sprees.
3. Avenida Diagonal
Next up, Avenida Diagonal. It's one of the longest avenues in Barcelona and shopping here feels like an endless adventure.
You'll find a mix of local and international brands, alongside gigantic shopping centers like the L'Illa Diagonal. This place is truly a retail paradise, housing a wide array of stores selling everything from clothes and shoes to homeware and gourmet food.
You never know what you might come across next! And if you're the kind of shopper who loves variety, then this is the place for you.
But Avenida Diagonal is more than just shopping; it's also about experiencing the local way of life. Take some time to watch the world go by from one of the many street-side cafes.
Believe me, the people-watching is just as entertaining as the shopping!
4. Portal de l'Àngel
Portal de l'Àngel is a pedestrian-friendly street that's buzzing with life and is easily one of Barcelona's most popular shopping destinations. It's home to an array of international and local brands that cater to all tastes and budgets.
You'll find everything from the latest fast-fashion pieces to high-quality Spanish leather goods. This place is always full of activity, giving you the true vibe of Barcelona's shopping culture.
Plus, the location is fantastic. It's right in the heart of the city, just a stone's throw away from Plaça Catalunya. This means that you can easily combine your shopping trip with sightseeing!
5. El Corte Inglés de Plaça de Catalunya
El Corte Inglés de Plaça de Catalunya is both a department store and a symbol of shopping culture in Spain. IF you're looking for a place where you can find everything you ever wanted, all under one roof – well, that's El Corte Inglés.
Clothes, accessories, electronics, toys, even groceries – it's all here. With nine floors of shopping goodness, you'll be spoilt for choice. From local to international brands, it's your one-stop shopping solution.
And don't miss the panoramic view of Barcelona from the top floor café. Sip your café con leche as you plot your next shopping move. It's a whole new way to experience shopping!
6. Carrer d'Avinyó
Another place you can't miss if you're looking for the best shopping in Barcelona is Carrer d'Avinyó. This winding street in the Gothic Quarter is a treasure trove for shoppers with an eye for unique finds.
Vintage clothing, artisan jewelry, cool designer items – this place is full of hidden gems.
But it's not just about the shopping; it's also about soaking in the historic atmosphere. The old-world charm of the narrow, winding streets is a cool contrast to the trendy boutiques.
So, if you want to combine history with a little retail therapy at the coolest shops in Barcelona, Carrer d'Avinyó is the place to go.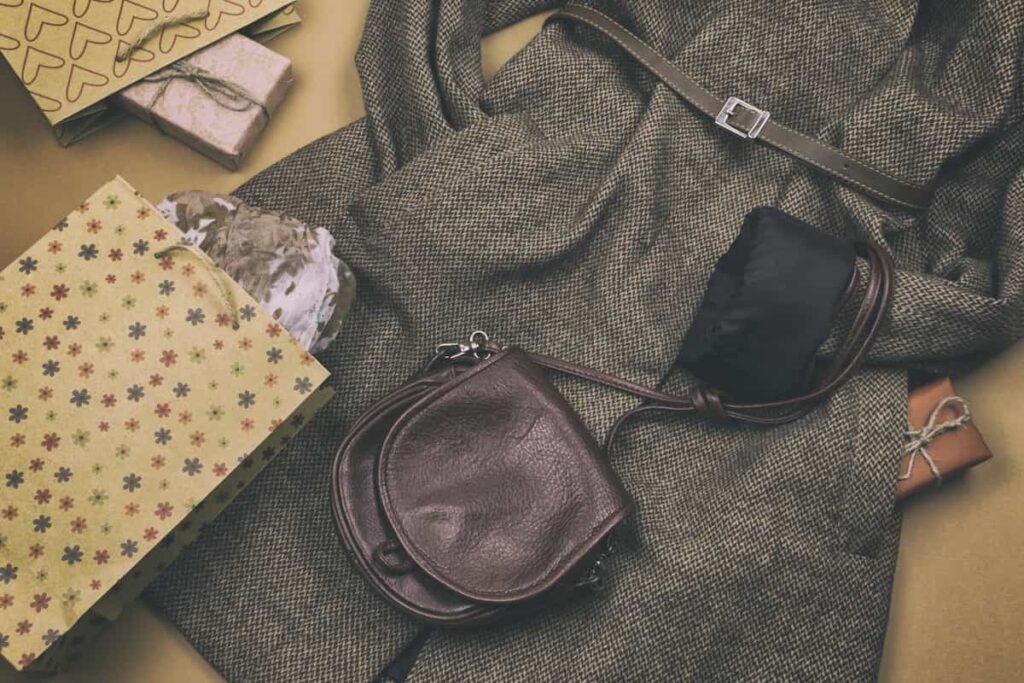 7. Mercado de La Boqueria
Next up, Mercado de La Boqueria. No shopping trip in Barcelona would be complete without a visit to this bustling food market.
From the freshest fruits and vegetables to tantalizing pastries and candies, most of the markets in Barcelona are a feast for your senses – although this one definitely takes it to the next level. And let's not forget the local cheeses, meats, and seafood.
You could literally spend hours here, sampling and shopping. And trust me, the experience is worth every minute.
Not only is it a foodie's paradise, but it's also a great place to pick up edible Barcelona souvenirs. Fancy some Spanish saffron or olive oil to take back home? This is where you'll find it. It's the most delicious kind of shopping you can do!
8. El Born
El Born is a vibrant district that's basically a hipster's dream come true. Funky boutiques, cool art galleries, and trendy design shops, it's all here in the labyrinthine streets of El Born.
This is the kind of place where you can find a locally made ceramic bowl, an avant-garde lamp, or a piece of quirky jewelry. The unique finds here are endless. It's like each shop is telling a different story.
And the cherry on top? The cool bars and restaurants that dot the area.
This means that after a day of shopping, you can kick back with some tapas and a glass of cava. Shopping in El Born is more than just retail – it's about soaking in the Bohemian vibe of Barcelona.
9. Diagonal Mar
Let's take a trip to Diagonal Mar next. This modern Barcelona shopping mall sits just a stone's throw from the sea.
Want to catch some fresh sea breeze while hopping from one shop to another? Then here's your place!
Inside, you'll find everything from high-street fashion to tech stores, home décor to cosmetics. It's a shopper's paradise, brimming with both local and international brands. And with plenty of dining options, you won't have to shop on an empty stomach!
What's more, it's not just about the shopping. You can also catch a movie or play some games at the entertainment center.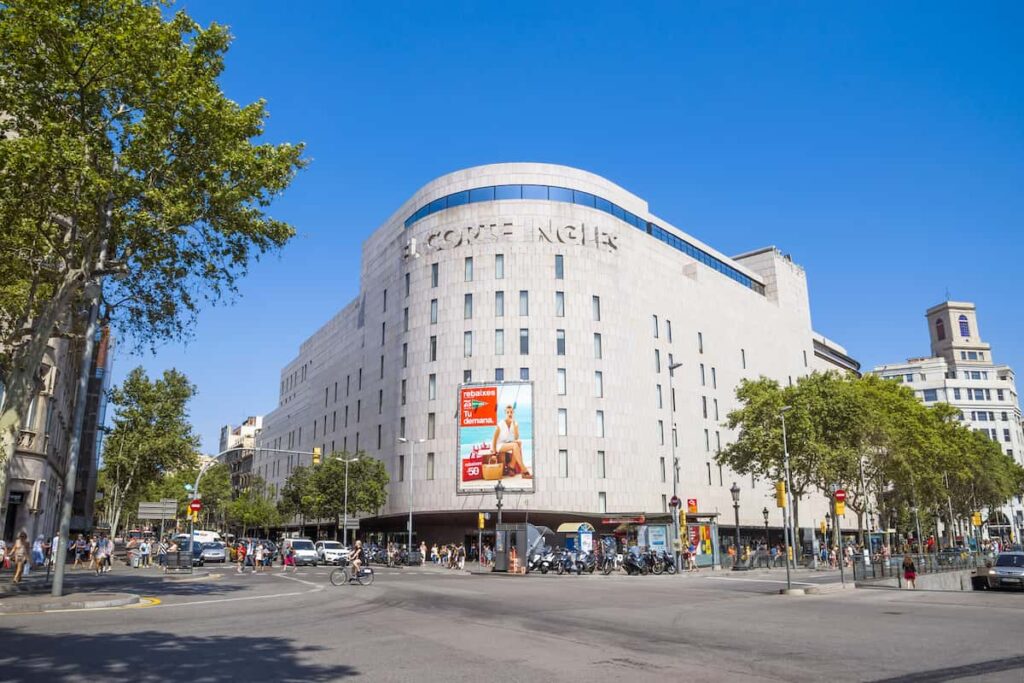 10. Plaça de Sant Josep Oriol
Next, we're headed to Plaça de Sant Josep Oriol, a charming square located in the heart of the city. It's the perfect place for those who love art, as this spot is often filled with local artists displaying their work.
This square is perfect for a leisurely shopping experience, as you stroll through the artists' displays and pick up a painting or a handcrafted piece of jewelry. It's a great way to support local talent and take a piece of Barcelona back home with you.
Plus, it's surrounded by cafes and eateries, so you can take a break and watch the world go by. It's shopping mixed with art and culture, a unique blend that Barcelona does so well!
11. Les Glòries
I have to say that Les Glòries is my favorite shopping mall in Barcelona. It's got a great mix of shops, making it a go-to spot for any type of shopper.
Whether you're looking for the latest fashion, tech gadgets, or home accessories, Les Glòries has got you covered.
And the best part? It's conveniently located at the intersection of three of the city's most important streets, so it's the perfect stop-off during a day of sightseeing.
But don't rush your visit. There are a ton of restaurants and cafes where you can rest your feet and enjoy a drink and a snack before hitting the shops again. Because who wants to shop on an empty stomach!
12. La Maquinista
La Maquinista is the biggest shopping center in Barcelona, with a fantastic selection of stores covering everything you could possibly need.
But the fun doesn't stop at shopping. There are loads of entertainment options too, including a huge cinema and a bowling alley. This definitely makes it the shopping center that ticks all the boxes for a day out.
Not to mention, there are plenty of eateries serving up mouth-watering dishes to refuel after a day of retail therapy. Basically, if you're looking for a shopping destination that offers more than just stores, La Maquinista is where it's at!
13. El Poblenou
El Poblenou is a district that's buzzing with energy and creativity. Here, old industrial buildings have been transformed into funky shops, art studios, and tech hubs.
It's got a cool vibe that's hard to resist. And in terms of shopping, you'll find a mix of trendy boutiques, designer studios, and eclectic second-hand stores.
Plenty of the items here are from tiny brands that you won't find in your nearest shopping mall. It's perfect for those looking for something a little off the beaten path.
But it's not just about the retail therapy. The whole neighborhood has a vibrant atmosphere that's well worth soaking in.
14. La Roca Village
Next up, we've got La Roca Village, located just outside of Barcelona. This place is an outlet shopper's dream! High-end fashion labels at discounted prices – it's every bargain hunter's paradise.
What's great about La Roca is its charming open-air village-style layout. It feels more like a leisurely stroll through a stylish town rather than a shopping expedition.
And with cafes and restaurants scattered about, it's easy to make a day of it. If you're all about scoring a designer bargain, a trip to La Roca Village should be on your Barcelona shopping itinerary.
15. El Raval
Let's swing over to El Raval next. This neighborhood is a melting pot of cultures, and this diversity shines through in its shopping scene.
From music stores to bookshops, second-hand clothing to ethnic goods, the variety is incredible. El Raval is the kind of place where you can find a vintage leather jacket in one store and an antique lamp in the next.
It's a haven for unique finds and thrifty deals. But remember, El Raval isn't just about shopping. The neighborhood itself is full of character.
The bustling streets, colorful graffiti, and diverse food scene all add to its charm. It's shopping with a real sense of place!
16. Mercat de Sant Antoni
Mercat de Sant Antoni is a local market that's a must-visit for any shopping enthusiast in Barcelona. Not only can you find fresh produce, but there's also a massive selection of clothes, accessories, and household items.
On Sundays, the market transforms into a hub for book and coin collectors. It's a fascinating sight, seeing the locals haggling over rare finds and exchanging stories.
With its atmosphere and range of offerings, Mercat de Sant Antoni truly captures the spirit of Barcelona's shopping scene. If you're looking for an authentic market experience, this is the place to be.
17. Centro Comercial Maremagnum
Centro Comercial Maremagnum is situated by the water's edge in the Port of Barcelona, so it's a shopping destination with a beautiful view! Not a bad start when you're shopping while enjoying the refreshing sea breeze and warm Spanish sun, right?
The mall is home to a mix of international and local brands, offering fashion, electronics, beauty, and more. It's a great place to find all your favorite items in one spot.
Plus, there's a pretty good selection of restaurants and cafes. This means that once you're done shopping, you can unwind with a delicious meal and take in the gorgeous view of the harbor.
18. Las Arenas
Las Arenas is a shopping center with an interesting history. It actually used to be a bullring (hence its shape) but has now been transformed into a vibrant shopping destination.
From fashion to home goods, you'll find a variety of shops to explore. Most of these are the standard brands you'll find in most other places, to be honest, but it's a good spot to check out because of its history.
Also, if you need a break from sightseeing, Las Arenas can be great for that too. It's not far from the Magic Fountain so you may stumble across it near the end of a long day of touristing, meaning it may be just what you need for a solid pause.
Don't forget to head to the rooftop when you come here! It offers a panoramic view of Barcelona that's hard to beat.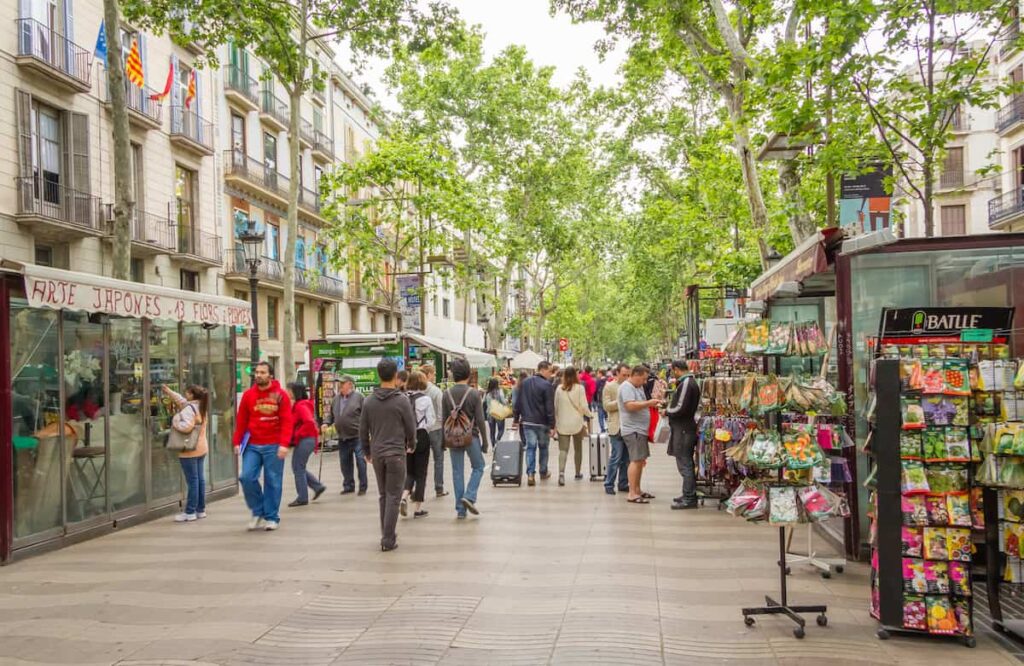 19. Carrer de Montcada
Time for Carrer de Montcada. This medieval street is lined with palaces and historic buildings. But amidst these architectural gems, you'll find a host of unique shops.
Antiques, art, vintage clothes, there's a bit of everything here. Each shop has its own personality, making for an interesting shopping experience.
But it's not just about the purchases you'll make. It's also about walking down a street steeped in history, offering you a unique blend of the old and the new.
20. Plaça de la Virreina
Lastly, we've got Plaça de la Virreina. This charming square in the Gracia neighborhood is surrounded by shops that sell everything from fashion to specialty foods.
It's a great place to discover local brands and unique items. In particular, try to come here on Sunday mornings, as you'll find market stalls selling basically any kind of second hand piece you can think of.
But what makes shopping here special is the relaxed atmosphere. The square is often filled with locals enjoying the sun, and the vibe is laid back and friendly.
Plus, there are several cafes and eateries around the square, letting you take a break from shopping and indulge in some epic people-watching.
FAQs
What is famous for shopping in Barcelona?
Barcelona is known for its diverse shopping scene, and there are several items that are particularly famous and make great souvenirs. These items offer a taste of the city's rich culture and artisanal craftsmanship.
So, if you're looking to take home a piece of Barcelona, here's what you should be on the lookout for:
Traditional Spanish Espadrilles
Modernist-inspired Ceramics
Spanish Wines and Cava
Handmade Jewelry
Fans
Catalan Cookbooks
FC Barcelona Merchandise
Local Artwork
Gourmet Olive Oils
Cheese
These items can be found across the city, from bustling markets to quaint boutiques.
So, whether you (or the people back home you're shopping for) are a foodie, a sports enthusiast, or a fashion lover, you're bound to find a unique memento to remember your time in this amazing city.
What is the most famous shopping street in Barcelona?
The most famous shopping street in Barcelona has to be Passeig de Gràcia. It's not just a street, it's a shopping paradise! Known for its wide variety of stores, it offers a blend of luxury brands, high-street retailers, and local boutiques.
Passeig de Gràcia is also famous for its Modernist architecture. As you shop, you'll come across some iconic buildings like Casa Batlló and La Pedrera. This mix of shopping and sightseeing makes it a favorite among both locals and tourists.
Walking down this street is like embarking on a shopping adventure. From the latest fashion trends to timeless pieces, there's a treasure trove of items waiting to be discovered.
Make sure to put on your comfy shoes and get ready to shop till you drop!
What is the fancy shopping street in Barcelona?
If you're in the mood for some luxury shopping, head straight to Avenida Diagonal. This avenue is the epitome of high-end shopping in Barcelona. It's where you'll find some of the world's most prestigious fashion houses and luxury brands.
From Gucci and Chanel to Louis Vuitton and Hermès, Avenida Diagonal is a haven for fashion aficionados. The street exudes a sense of sophistication and elegance that's truly fitting for the luxury brands it houses.
But it's not just about the shopping. The avenue is also known for its beautiful architecture and landscaped sidewalks.
Even if you're not in the mood to splurge, a stroll down Avenida Diagonal is worth it just for the visual feast. It's truly a shopping street that lives up to its fancy reputation!
What is the biggest shopping area in Barcelona?
The largest shopping area in Barcelona is the area around Plaça de Catalunya. This central square is a major transportation hub, making it easy to reach, and it's surrounded by a variety of stores that cater to all tastes and budgets.
Here, you'll find everything from large department stores and international fashion brands to smaller boutiques and souvenir shops.
The famous El Corte Inglés department store is one of the prominent features of Plaça de Catalunya. This Spanish department store chain offers a wide range of products including fashion, electronics, beauty products, and more.
A little further from the square, you'll find Passeig de Gràcia and Portal de l'Àngel, two of the city's most popular shopping streets.
Plaça de Catalunya's prime location and diverse range of stores make it an ideal starting point for any shopping spree. And after a long day of shopping, you can relax in one of the many nearby cafes or restaurants.
Is Barcelona good for clothes shopping?
Absolutely, Barcelona is a fantastic city for clothes shopping! The city boasts a wide array of clothing stores, from high-end designer boutiques and popular international brands to local shops offering unique, locally-made apparel. If you love fashion, Barcelona is definitely your city.
The city is known for its unique and innovative fashion sense, which is reflected in its shopping offerings. Areas like El Born and Gràcia are particularly famous for their independent boutiques where you can find unique pieces.
Additionally, Barcelona hosts several fashion events throughout the year, including the Barcelona Fashion Week, which further highlights the city's status as a fashion hub.
Whether you're hunting for the latest trends, looking for unique designs, or simply want to upgrade your wardrobe, Barcelona has got you covered.
Which brands are cheap in Barcelona?
When shopping in Barcelona, you'll find that local Spanish brands tend to be more affordable compared to other international brands. Brands like Zara, Mango, Pull & Bear, Bershka, and Massimo Dutti offer trendy clothes at better prices than you'll likely find in your home country.
You'll find these stores scattered across the city, especially in popular shopping areas like Passeig de Gràcia and Portal de l'Àngel.
Shopping at these Spanish brands is a great way to get quality clothes without breaking the bank. Plus, it's a chance to shop where the locals do and perhaps blend in with the city's stylish crowd.
That said, don't forget to check out local markets like Mercat de Sant Antoni or those you'll find in El Raval. These markets often offer great deals on clothes and accessories.
Just keep in mind that it's always a good idea to try haggling when shopping at markets. It's part of the fun and could get you some extra savings!