10 Most Dangerous Areas in Barcelona (2023) – Where to Avoid
This article may contain affiliate links. Please read our
Disclosure Policy
for more information.
You've finally decided to tick Barcelona off your travel bucket list. And you're right to be excited!
You're probably picturing the magnificent Sagrada Familia, dreaming of tapas on a sun-drenched plaza… and maybe getting a tad nervous about all the stories you've heard of pickpockets and scams. Well, no worries, Barcelona is safe (in general) so you're in the right place!
Living in Spain and having spent a lot of time in Barcelona, I've got the inside scoop on what to watch out for, and the most dangerous areas in Barcelona that require a little extra vigilance.
In this article, I'll be your friendly guide through Barcelona's streets – from the bustling boulevards to the hidden corners and, yes, where to avoid. Stick with me and I'll share tips, insights, and advice to help you make the most of your trip while staying safe and secure.
Looking for the safest part of Barcelona to stay in?
Barcelona is incredibly popular for tourists and so it's essential to book accommodation well in advance to avoid missing out here. Here are my top picks on the best places to stay, including based on their very safe and very central locations:
⭐⭐⭐⭐⭐ Best luxury accommodation: Ohla Barcelona – amazing rooftop pool, incredible views, and the perfect location to explore the city
⭐⭐⭐⭐ Best mid-range accommodation: Seventy Barcelona – the décor of this boutique hotel is so modern and stylish, the rooftop pool is ideal, plus you'll be near the main sights the moment you step outside
⭐⭐ Best budget accommodation: Àmfores Boutique Guest House – the rooms are comfortable, the location is superb and the terrace is a great spot to end your day
Dangerous areas in Barcelona
1. El Raval
Overall, Barcelona is a great place and chances are you won't have any issues. But every city has its shady corners, right? Which, let's be honest, is just like back home, wherever that might be for you.
So, first up, we've got El Raval. This part of town is a real mixed bag.
You'll find yourself surrounded by buzzing bars, cool contemporary art, and some fantastic food joints. But when the sun dips, it's a different story.
Sure, it's got character, but as darkness falls, it becomes a magnet for some, let's say, less-than-savory activities. You're more likely to run into some petty crime around here, so just be smart.
I wouldn't generally recommend this as being an area that's particularly safe to walk in Barcelona at night but if you do find yourself here, common sense advice applies.
That is, don't flash your expensive gear around, and be aware of your surroundings, especially in the late hours. It's not a complete no-go, but it's not a place where you'd want to take an aimless midnight stroll, either.
2. Besòs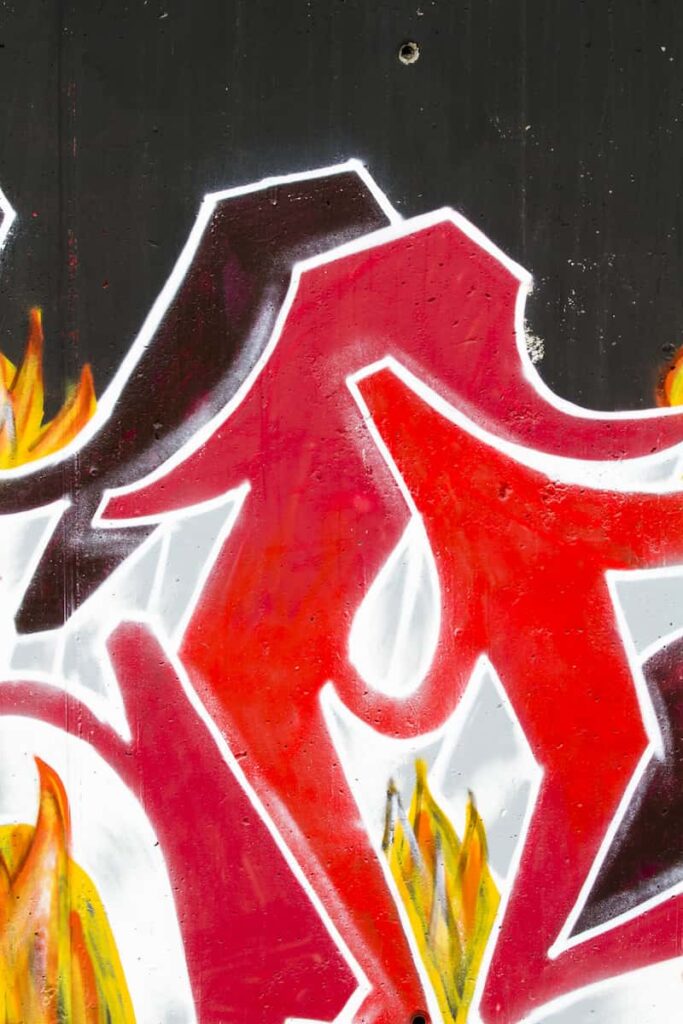 If I'm being honest, Besòs doesn't have the best reputation amongst locals. I mean, we're talking about a district that's had to deal with its fair share of economic hardship and high crime rates.
Yeah, it's tough, but they're working on it and things are slowly improving.
During the day, you can check out some great street art and the namesake river. But you might want to skip it at night unless you really know your way around.
And remember, always stick to well-lit, busy areas. Be careful with your belongings, and avoid unnecessary risks. It's just common sense in the end.
3. La Mina
La Mina is a bit away from the city center, and unfortunately, it's known for its struggle with crime and poverty. This isn't the kind of place that'll pop up on your typical tourist map, and maybe that's for the better.
But if you do find yourself in the area, it's not the end of the world. Just keep your wits about you, same as you would anywhere else.
Stick to the main roads, avoid drawing unnecessary attention to yourself, and always keep your phone and wallet secure. Even if you're just passing through, remember – caution never hurts.
4. La Rambla
La Rambla is one of the city's main arteries – vibrant, bustling, filled with all kinds of entertainment, eateries, and let's not forget, some of the best people-watching spots. However, as lovely as it is, it's also a prime target for pickpockets, especially around the crowded tourist hotspots.
But hey, don't let this put you off! You should still visit, especially if it's your first time in Barcelona as it's worth experiencing.
Just keep an eye on your stuff, and maybe don't wave your phone around like you're directing air traffic. La Rambla's worth a visit, just be smart about it.
5. Gothic Quarter (at night)
Next up, we have the Gothic Quarter at night. Now, in the day, this place is an absolute charm, filled with twisting lanes and hidden plazas that make you feel like you've stepped back in time. But once the sun sets, it can be a different story.
The very narrow streets that are so cute during the day can feel a little claustrophobic at night. They're dimly lit and can sometimes attract a few unsavory characters.
Basically, you wouldn't be the first to wonder if the Gothic Quarter in Barcelona is safe at night. And the answer, annoyingly, is: it depends on where you are.
So if you're out exploring after dark, stick to the busier streets. It's still a great place for a late-night bite or a bit of bar-hopping, just stay alert and avoid the more secluded areas.
6. El Born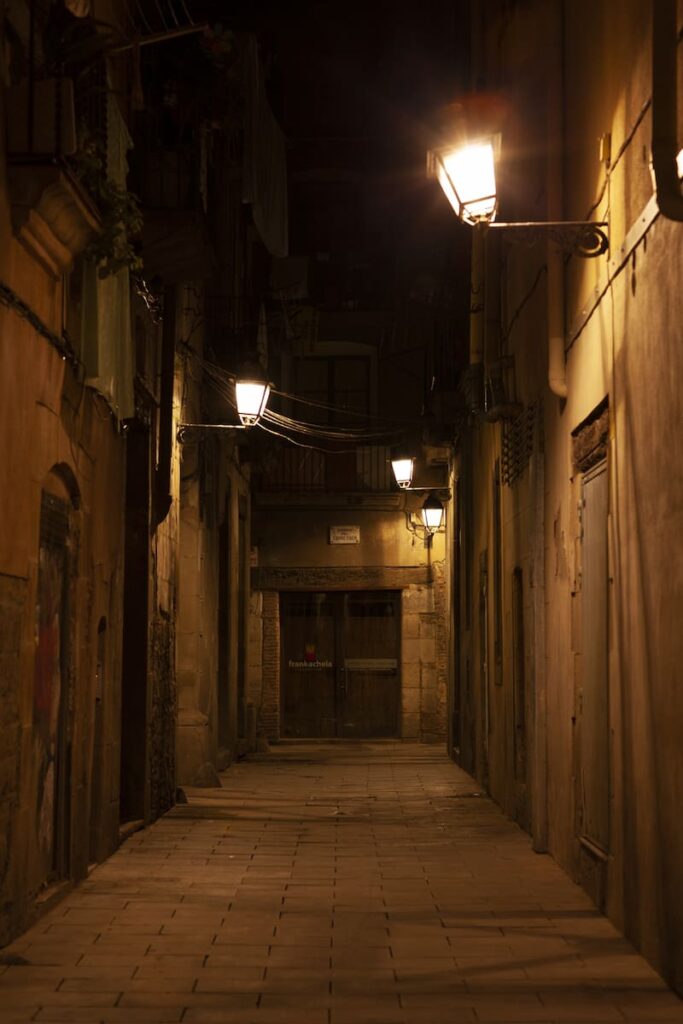 El Born is a trendy hipster paradise (which I love, don't get me wrong) and it's got some amazing sights, like the Picasso Museum and the Santa Maria del Mar church. But, it's also got its share of petty crime, particularly in the evening.
At the same time, don't let that deter you! After all, El Born's got some of the best tapas bars and boutiques in town.
Just remember the golden rule: keep your belongings close and your common sense closer. Maybe ditch the flashy jewelry when you head out, and you'll be just fine.
7. Barceloneta
Barceloneta is the city's go-to beach hub. It's got sun, it's got sand, it's got sea – what's not to love, right?
…well, apart from the fact that, despite its fame, it's not actually the best beach in Barcelona. But it is the closest to the city center so you may find yourself heading there anyway. So no judging if you find yourself here during your trip!
At the same time, alongside all those idyllic beachfront scenes, it's very popular among pickpockets, especially in the busy summer months.
But let's not let that ruin our beach fun. Be cautious, use a money belt or a secure beach bag, and don't leave your stuff unattended while you're splashing in the waves.
Remember, a bit of vigilance goes a long way to making sure you're all set to enjoy that lovely Mediterranean sunshine.
8. Parc de la Ciutadella (at night)
Parc de la Ciutadella is a lush green haven by day…but at night, well, things change a bit. It's one of those places that's totally worth a visit, but I'd suggest you make that visit while there's still light in the sky.
When it gets dark, the park becomes pretty quiet and some of the paths are poorly lit, which isn't exactly ideal for a nighttime stroll.
So, my advice? Visit during the day, take in the sights, have a picnic, but once night falls, it's probably best to call it a day.
9. Nou Barris and Sant Andreu
Nou Barris and Sant Andreu are more residential districts, a little off the beaten tourist path, and unfortunately, they've had a bit of a hard time with higher crime rates.
Does that mean you need to avoid them completely? Not necessarily.
There are some great local markets and parks, plus you get to experience a side of Barcelona that's less touched by tourism. Just keep your guard up, don't venture too far off the main streets, especially after dark, and you'll be just fine.
10. Any metro station (especially in touristy areas)
When talking about the most dangerous areas in Barcelona, sometimes it's about areas more generally than specific neighborhoods.
So on that note, let's switch gears here and chat about metro stations.
Public transport is a quick and easy way to get around Barcelona, but, like many other cities, it's also a popular hunting ground for pickpockets.
Touristy areas are especially risky, so remember to be extra vigilant here.
Now, I don't want to put you off using the metro. It's super handy and generally safe, but you gotta be aware of your surroundings.
Keep your bags close, pay attention to people getting too close, and hold onto your belongings when the train is crowded. A little bit of street-smarts can save you a lot of hassle.
At the end of the day, Barcelona is an amazing city, full of life, culture, and yes, a few tricky areas. But with a dash of caution and a bit of common sense, you're all set to enjoy all the fantastic things this city has to offer.
What are the safest areas of Barcelona?
Okay, after all that talk about areas to be cautious in, let's lighten the mood a bit and talk about some of the safest areas of Barcelona. Remember, this is a vibrant, incredible city, and there are loads of neighborhoods where you can roam freely and feel secure.
Here's a list of my picks for the safest areas in Barcelona:
Eixample: The modernist heart of the city, it's safe, it's beautiful, and it's got some killer architecture.
Gràcia: A laid-back, bohemian neighborhood that's perfect for a leisurely stroll.
Sarrià-Sant Gervasi: Think leafy streets, upmarket boutiques, and some lovely eateries.
Les Corts: It's quiet, it's residential, and it's one of the safest districts around.
Pedralbes: A bit upmarket, and away from the city center, but very, very safe.
Sant Martí: Aside from a few exceptions, this district is generally very secure, with a nice mix of residential and commercial areas.
Vila de Gràcia: Artsy and safe, it's a local's favorite for good reason.
Poble-sec: Don't let the name fool you (it translates to 'Dry Town'), this area's safe and it's a fun place to explore.
Remember, Barcelona is a city to be loved, not feared. Take these safety tips to heart, use your common sense, and you're all set for an unforgettable trip.
FAQs
Is Las Ramblas safe at night?
Las Ramblas is generally safe at night. But like any busy tourist area, it's got its risks, especially with respect to pickpocketing and other petty crime, which is definitely an issue around here. Stay aware of your surroundings, though, and you should be fine.
By day, Las Ramblas is a bustling thoroughfare with street performers, markets, and all sorts of activity. At night, it remains lively, especially around the restaurants and bars.
However, day or night, it can also attract pickpockets and scammers due to the crowds. So, while you can definitely enjoy a night out here, just remember to be aware of your surroundings, especially if it's crowded.
Keep your belongings close and don't entertain anyone who seems a bit too eager to interact. And above all, trust your instincts.
Is the Gothic Quarter safe at night?
The Gothic Quarter is generally safe at night, but it does have its dark and secluded corners that are better avoided after sunset. It's best to remain aware of your surroundings and stick to well-lit, busier streets to avoid some dodgy corners.
Now, don't get me wrong. The Gothic Quarter is a mesmerizing place, with narrow, winding streets that'll make you feel like you're stepping back in time.
But at night, these same alleys can feel a little eerie. They're often poorly lit and can be quite desolate, especially the farther you go from the main thoroughfares.
That's why it's best to stick to the busier areas if you're exploring after dark. Enjoy the nighttime buzz of the quarter, but stay on the safe side, avoid isolated areas, and don't forget to keep an eye on your stuff.
Is the area around the Sagrada Familia safe?
Yes, the area around the Sagrada Familia is one of the safer parts of Barcelona. However, due to its popularity, it can get crowded, and where there are crowds, there's the occasional pickpocket. That's why you should remain aware in this area, but not overly concerned.
Basically, here's what you need to know. The Sagrada Familia is located in the Eixample district, a well-off part of Barcelona that's pretty darn safe.
It's full of beautiful modernist buildings, wide avenues, and, of course, the masterpiece that is the Sagrada Familia.
And like anywhere with masses of tourists, some petty crime does happen here. But honestly, don't let that discourage you.
As long as you keep your belongings secure and maintain a level of awareness about your surroundings, you'll be able to fully enjoy this iconic part of Barcelona with peace of mind. And it's well worth a visit!
Are there areas to avoid in Barcelona?
While there aren't necessarily "no-go" zones, there are areas where you should be a bit more cautious, especially at night. For instance, neighborhoods like El Raval and Besòs, while culturally rich and fascinating, do have higher instances of petty crime, with areas that are best avoided after sunset.
Similarly, some areas, like the more secluded parts of the Gothic Quarter or Parc de la Ciutadella, can feel a little sketchy after dark.
But remember, even in these areas, there's a lot to see and enjoy. The key is to stay alert, be aware of your surroundings, and stick to well-lit, busy areas, especially when it's late.
What should I be careful of in Barcelona?
When it comes to what you should be careful of in Barcelona, it's the usual stuff you'd be wary of in any large city: pickpockets, bag snatchers, and occasional scam artists. They're more likely to target tourists, particularly in crowded places like La Rambla or metro stations.
So here's my advice: Keep your belongings secure and within sight, particularly in busy public places. If someone's trying to distract you, or if a deal seems too good to be true, it probably is.
But let's not get all gloomy. Barcelona is generally a safe city with a lot to offer. After all, the vast majority of tourists have no issues at all when visiting here.
In the end, like basically anywhere in the world, a little bit of caution and street-smarts can go a long way to ensure your visit is a smooth and enjoyable one.