Is the Gothic Quarter in Barcelona Safe? (Get the Truth)
This article may contain affiliate links. Please read our
Disclosure Policy
for more information.
You're planning a trip to Barcelona and the allure of the Gothic Quarter has caught your attention. You've heard about its winding medieval streets and historical gems, but you've also heard whispers about pickpockets and petty crime.
So…is the Gothic Quarter in Barcelona safe?
Well, I'm here to break it down for you, from the bustling alleys to the quiet corners, in true insider style. After all, living in Spain and spending a good deal of time in Barcelona, I've had the chance to get to know the Gothic Quarter pretty well.
By the end of this article, you'll know whether this ancient heart of Barcelona is a safe choice for you. Stick around and I'll share with you not only the Barri Gòtic's safety insights but also some local tips that will make your visit a breeze.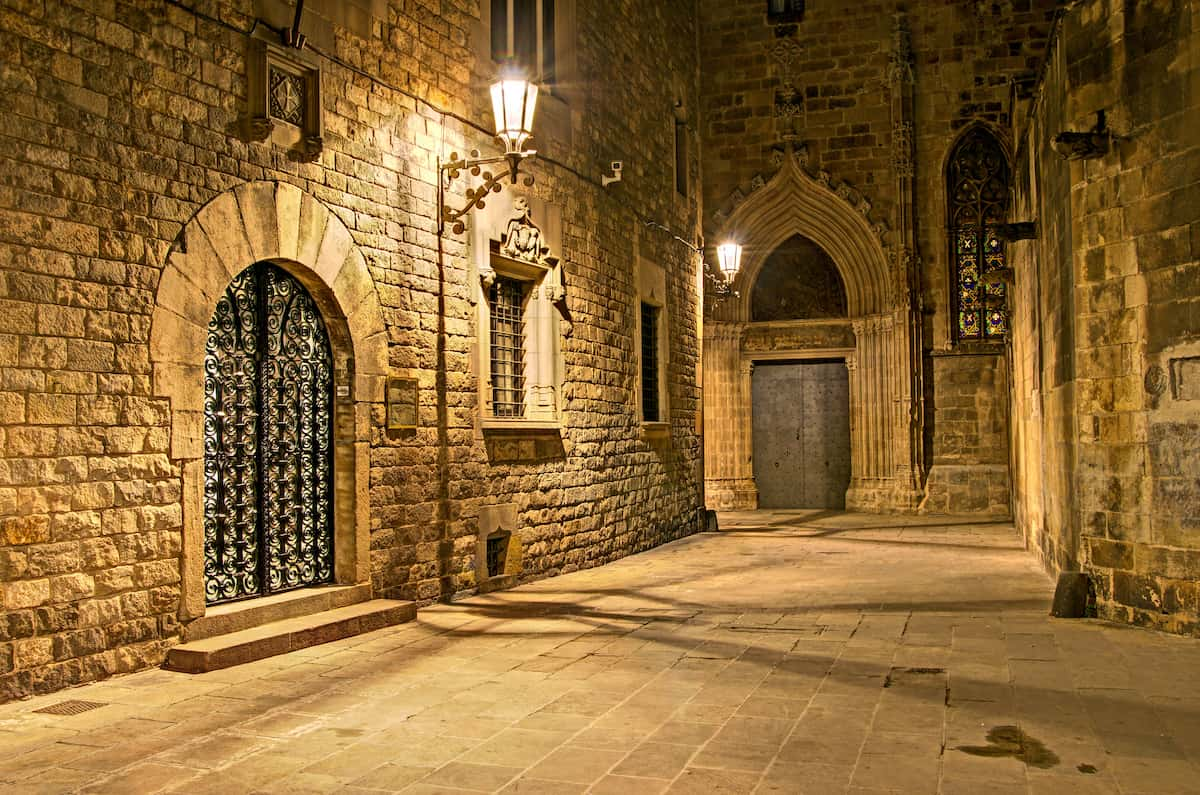 Is the Gothic Quarter in Barcelona safe?
Yes, the Gothic Quarter in Barcelona is generally safe. It's no different from most urban tourist hotspots around the world. However, this also means that you should still be aware of your surroundings, both during the day and at night.
In particular, Barcelona, and especially the Gothic Quarter, can be a haven for pickpockets. In general, Barcelona is safe, but I've always found that common sense and a bit of caution go a long way as well. 
Keep an eye on your belongings, don't flash your expensive items in public, and steer clear of suspiciously deserted streets at night, and you should be golden. Remember, the Gothic Quarter is a busy place – there's safety in numbers.
In addition, there are some neighborhoods bordering on the Gothic Quarter that may be considered some of Barcelona's more dangerous areas. In particular, Raval, just to the south of it, can be pretty questionable at night so I'd strongly suggest not going there.
There can also be some pretty dodgy people the closer you get to La Rambla, especially at night. It's almost always busy, so safety in numbers helps there, but the most infamous of Barcelona's pickpockets are often working in that area so just be alert.
It's also worth noting that some of those medieval windy streets weren't exactly built all those years ago to be wide and inviting. This means that some of them can look a bit small, dark and dodgy at night.
While you're probably not going to have any issues, remain aware and consider taking a more well-lit route if something doesn't quite seem right to you.
It helps though that the Gothic Quarter is pretty much alive at all hours, brimming with locals, tourists, and folks just enjoying life. It's a vibrant neighborhood, full of life and bristling with energy, which makes it feel quite secure and lively.
Is the Gothic Quarter a good neighborhood to stay in?
Absolutely, the Gothic Quarter is a top-notch neighborhood to stay in! It's got history, culture, and a bucket load of charm. It's centrally located, making it an excellent base for exploring the city. It's also quite active, meaning people expect some noise – perfect if you plan to come home late.
The Gothic Quarter is all about those narrow, winding alleys and impressive medieval architecture – it's like stepping back in time. If you're a history buff or a lover of unique cityscapes, you're going to feel right at home here.
Accommodation-wise, there's something for every budget, from upscale hotels housed in centuries-old buildings to more affordable guesthouses and vacation rentals.
Plus, you'll never be far from some truly top-tier dining experiences. There's an abundance of tapas bars, cafes, and restaurants scattered throughout the district. Trust me, the food scene here is worth the trip alone.
If you're worried about getting around, don't be! The Gothic Quarter's central location means it's well connected to the rest of Barcelona via the metro and bus lines. Plus, its proximity to Las Ramblas and the beach makes it an even more desirable location.
All in all, staying in the Gothic Quarter gives you a real taste of Barcelona's heart. It's got a unique vibe that's hard to replicate elsewhere.
It's a heady mix of old-world charm, modern conveniences, and that uniquely Barcelonian spirit. As long as you're conscious of basic safety precautions, you'll have a fantastic stay in this vibrant part of the city.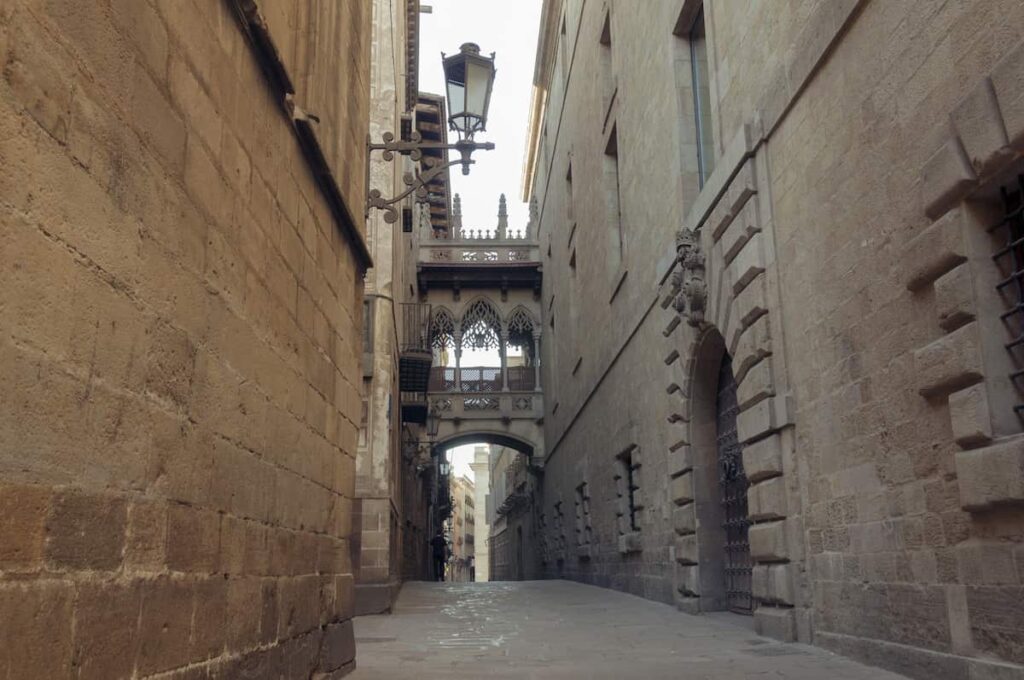 What is the safest area in Barcelona to stay?
If safety is your primary concern, you might want to consider Eixample. This part of Barcelona is known for its safe environment. It's a residential area with a lively atmosphere, so you'll feel secure day and night.
Eixample, characterized by its modernist buildings and grid-like street layout, is a quieter district compared to the bustling Gothic Quarter. It's got a local, laid-back vibe that many visitors find very appealing.
You'll find plenty of shops, restaurants, and supermarkets here, giving you all the conveniences of home. And being a more residential district, Eixample has a different kind of charm compared to the older parts of the city.
For tourism purposes, it's also great, as Eixample is home to several famous landmarks, like the Sagrada Familia and Casa Mila, so you won't be short of things to see. Public transport is also excellent in Eixample, making it easy for you to get to other parts of the city.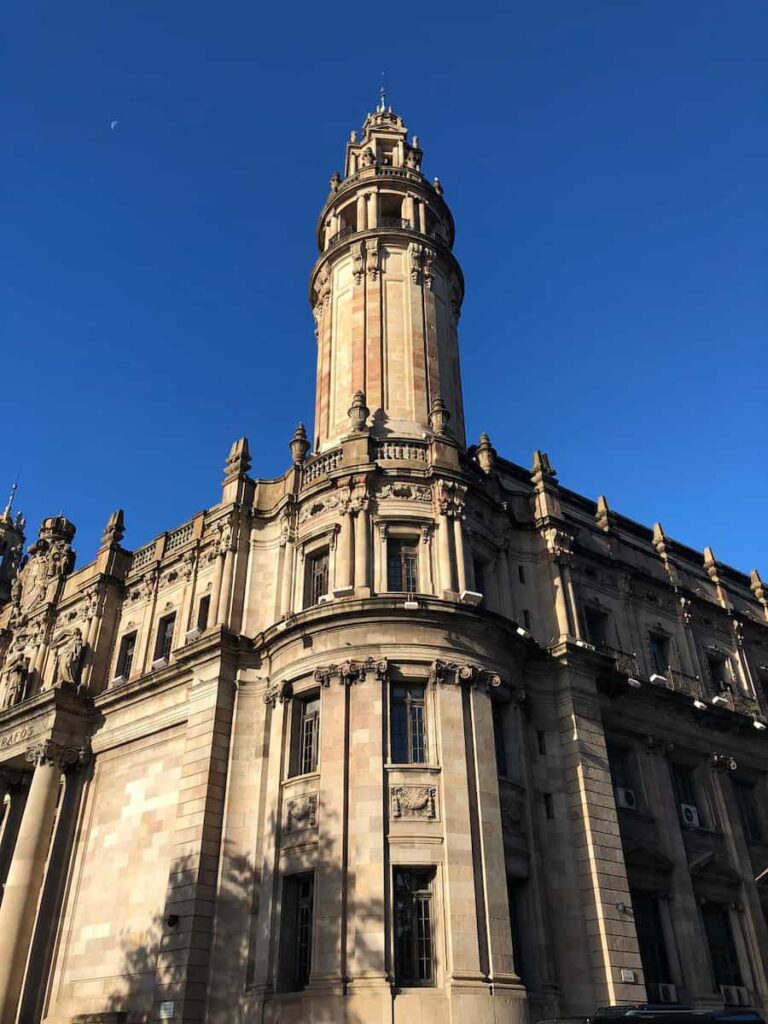 Is it better to stay in Eixample or Gothic Quarter?
It depends on what you're after! If you want the buzz of a bustling city center, with its winding medieval streets, then the Gothic Quarter is your best bet. However, if you prefer something quieter, more spacious and laid-back with a hint of modernism, then Eixample is for you.
The Gothic Quarter is all about immersion in history. It's a maze of narrow lanes and hidden plazas brimming with charm.
Here, you'll find yourself amidst historical sites, museums, and some of Barcelona's most iconic landmarks. It's a vibrant area that's always alive, day or night.
On the flip side, Eixample offers a different type of appeal. It's a lot more open and airy, with wide boulevards lined with modernist buildings.
It's less chaotic than the Gothic Quarter and offers a wide range of accommodation options, from budget-friendly apartments to high-end hotels. This makes it a great choice if you prefer a neighborhood that's relatively calm but still has plenty of dining, shopping, and sightseeing opportunities.
In the end, both neighborhoods have their unique charm and advantages. Your decision should hinge on your personal preferences and what you want to get out of your stay in Barcelona.
Ultimately, both areas are safe and centrally located, so you can't really go wrong with either!
What is the Gothic Quarter in Barcelona known for?
The Gothic Quarter, or Barri Gòtic, is famous for its rich history and architecture. It's a historic center full of narrow medieval streets and stunning landmarks. The quarter also boasts a lively atmosphere with many shops, restaurants, and bars.
Being one of the oldest parts of Barcelona, the Gothic Quarter has a rich tapestry of history sewn into its very fabric. The Barcelona Cathedral, with its gorgeous Gothic façade, is one of the most remarkable architectural feats in the area.
The Plaça Reial, with its lively ambience, palm trees, and the iconic Gaudi lamps, is another spot you can't miss. The neighborhood is also home to the remains of the Roman city wall and other remnants of Barcelona's Roman history.
Whether you're casually wandering the winding streets or purposefully exploring its historic sites, the Gothic Quarter is an open-air museum that captivates every visitor.
How long does it take to see the Gothic Quarter in Barcelona?
To get a good feel for the Gothic Quarter and take in its main sights, you'll need about half a day. However, if you really want to soak in the atmosphere, explore all the nooks and crannies, and perhaps even visit a few museums, you might want to allocate a full day.
Given its labyrinthine layout, the Gothic Quarter is perfect for leisurely exploration. Wandering around, you'll discover charming little squares, hidden alleyways, and quaint shops.
There are also a bunch of fantastic places to eat and drink, so you might find yourself stopping more than once for a quick tapas break or a glass of local wine.
Remember, the joy of the Gothic Quarter is in the journey, not just the destination. So, take your time, soak in the vibes, and let the charm of the place truly sink in.
So how safe is the Gothic Quarter?
In general terms, the Gothic Quarter in Barcelona is safe. Like any busy city district, it has its share of petty crime, but most visitors have a trouble-free experience. As long as you stay alert and follow basic safety practices, you're unlikely to face any problems.
Again, it's important to keep your wits about you, especially in the crowded tourist areas where pickpockets tend to operate. The Gothic Quarter is typically bustling with people, so blending into the crowd and staying aware of your belongings can keep you safe.
Barcelona's local police maintain a regular presence in the area, and the narrow, well-lit streets are usually full of both locals and tourists until late at night. The area is also filled with open cafes and restaurants, which contributes to the overall feeling of safety.
So, while it's crucial to be cautious, there's no need to be overly concerned. Most people who visit the Gothic Quarter have a fantastic time exploring its ancient streets and soaking up its lively atmosphere.
With a dose of common sense, you should be able to enjoy everything this historical quarter has to offer, without worry.