Is Barcelona a Walkable City? (Local's Guide)
This article may contain affiliate links. Please read our
Disclosure Policy
for more information.
Planning a trip to Barcelona and wondering if those new sneakers will be up to the task? I mean, it's one thing to explore a city, but it's another joy entirely to do it without the hassle of hopping on and off public transport – or driving, for that matter.
If you're itching to know if Barcelona's streets are as stroll-worthy as its tapas are tasty, you've come to the right place!
Living in Spain, I've spent a generous chunk of my time exploring every corner of Barcelona – from the bustling La Rambla to the peaceful pockets of El Born. And (something I love about living here!) I don't own a car, so I can definitely help you out with the question of whether Barcelona is a walkable city or not.
Keep reading to get the lowdown on the real walkability of this Catalan gem.
Is Barcelona a Walkable City?
Yes, Barcelona is a walkable city with many attractions easily accessible on foot. Its mild Mediterranean climate makes it a pleasant place to explore throughout the year. The city's layout and infrastructure are designed to support walking as a primary mode of transportation.
The streets of Barcelona are lined with diverse architecture, hidden lanes, and old churches, providing plenty to look at as you wander.
You can create your own walking routes or follow self-guided walking tours to discover the city at your own pace. Maps and guides are widely available to help you plan your itinerary.
Barcelona is known for its outdoor activities, and walking is no exception. There's something to discover around every corner, from sun-kissed beaches and mouthwatering tapas to world-famous landmarks like Gaudi's iconic Sagrada Familia.
So I'd definitely recommend that you lace up your walking shoes when you get here!
What is the most walkable area of Barcelona?
Barcelona is a city that's perfect for exploring on foot, and one of the most walkable areas is the Gothic Quarter, or Barri Gòtic. It's the heart of the city, where you'll find narrow medieval streets, historic buildings, and lively plazas.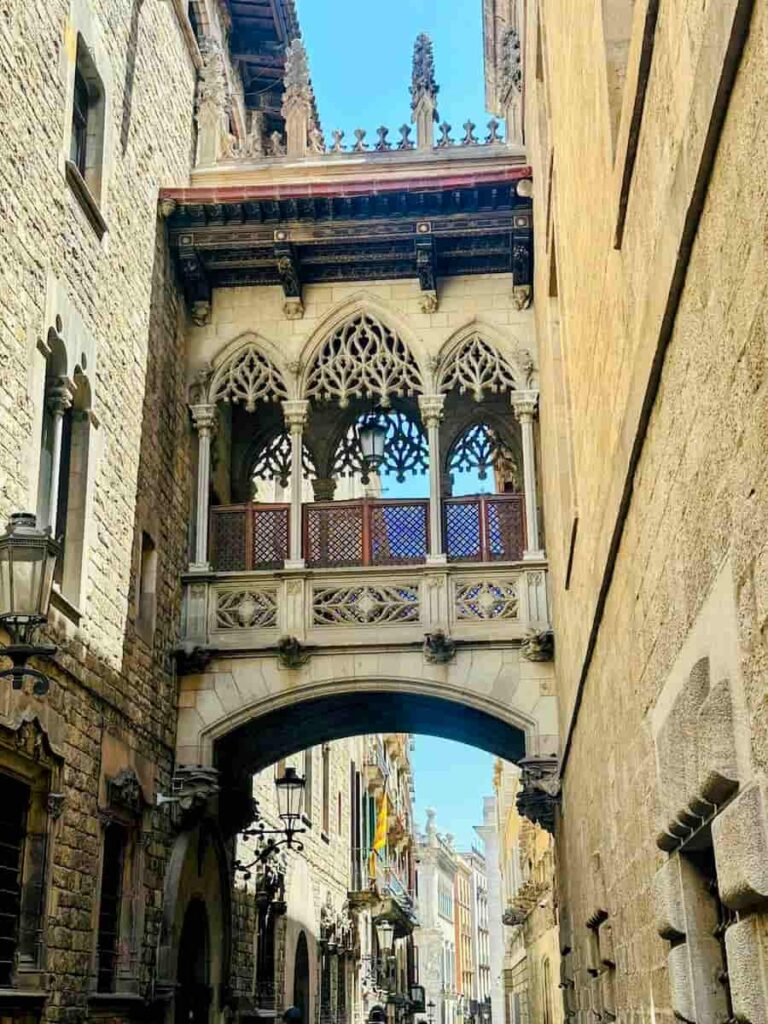 You can easily spend an entire day wandering through this picturesque neighborhood, soaking in the vibrant atmosphere.
Another top walkable area in Barcelona is the famous pedestrian boulevard, La Rambla. This tree-lined street stretches from Plaça de Catalunya down to the waterfront and is lined with shops, cafes, and lively street performers. It's a bustling hub of activity, and if you want to experience the energy of the city, this is the place to be.
If you're looking for a more scenic and relaxing route, the Carretera de les Aigües is a popular inner-city hiking trail. It provides a serene escape from the city bustle while offering panoramic views of Barcelona.
Either way, whether you're interested in history, shopping, or just enjoying the city's vistas, Barcelona's walkable areas offer something for everyone.
What areas in Barcelona are walkable?
Barcelona is a city with many walkable areas, allowing you to experience its charm by foot. Some of the most walkable areas in the city include Eixample, Gràcia, Gothic Quarter, El Raval, and Barceloneta. Each of these neighborhoods has its unique characteristics, providing different experiences as you explore the city.
1. Eixample
Eixample is known for its grid-like layout and modernist architecture, making it an enjoyable area to walk through. As you stroll around, you'll notice the stunning works of Antoni Gaudí, such as Casa Batlló and La Pedrera.
You can also find plenty of shops, restaurants, and bars in this area to relax and take a break.
2. Gràcia
Gràcia, a former independent village, has retained its charm with narrow streets, lively squares, and an artsy atmosphere. It's perfect for leisurely walks where you can discover local boutiques, eateries, and cafes. 
Make sure to visit the beautiful Park Güell, another masterpiece by Antoni Gaudí, which is also located within the Gràcia district.
3. Gothic Quarter
The Gothic Quarter, or Barri Gòtic, is the heart of Barcelona's old city, characterized by its narrow, winding streets and medieval architecture.
As you walk through this area, you'll come across iconic landmarks such as the Barcelona Cathedral and the Plaça Reial. It's an incredibly interesting area for both history buffs and casual explorers.
4. El Raval
El Raval is a vibrant and eclectic area, home to a mix of cultures, street art, and trendy spots. As you walk around, you can visit contemporary art galleries, experience diverse cuisine, and explore unique shopping options.
Don't forget to check out the MACBA, Barcelona's famous contemporary art museum located in the heart of El Raval.
(Just one point: be a bit cautious where you walk around here at night, as certain parts of it can get pretty dodgy.)
5. Barceloneta
Lastly, Barceloneta is a seaside neighborhood with a laid-back vibe, famous for its stretch of beautiful beach. 
Aside from enjoying the sun and sea, you can stroll around the lively promenade, savor some of the city's best seafood, and admire the cute fishermen's houses that line the streets. It's a fantastic area to unwind and soak in the coastal scene of Barcelona.
Is Barcelona the Most Walkable City in Spain?
Yes, Barcelona is considered one of the most walkable cities in Spain. Its compact layout, mild Mediterranean climate, and pedestrian-friendly streets make it an ideal place for walking. The city's rich cultural heritage and beautiful architecture only add to the pleasure of exploring it on foot.
As you wander through Barcelona's diverse neighborhoods, you'll discover that many of its most famous landmarks are within walking distance of each other. For example, the Passeig de Gràcia is a famous boulevard that showcases some of Antoni Gaudí's most iconic works, like the Casa Batlló and La Pedrera.
Similarly, the Gothic Quarter, or Barri Gòtic, is another charming area full of narrow alleys, old churches, and hidden squares.
Another reason why Barcelona is perfect for walking is its accessibility. Public transportation options, like the metro, buses, and trams, make it easy to reach different areas of the city.
They also offer convenient starting points for various self-guided walking tours. From exploring Park Güell to strolling along the beaches, there's always something new to see and experience as you travel by foot.
In addition to the unique urban trails, Barcelona offers several scenic routes that provide captivating views of the city. For instance, Tibidabo mountain and the Parc de Collserola are popular spots for a hike or a leisurely walk with panoramic vistas of the skyline.
Basically, if you're looking to experience Spain's vibrant atmosphere and culture on foot, Barcelona is an excellent choice. Its walkability, charming neighborhoods, and diverse attractions make it a top destination for travelers who love to explore cities at a leisurely pace.
Is Madrid or Barcelona more walkable?
Barcelona is known for being a more walkable city. Its compact layout and pedestrian-friendly streets make it easy to explore on foot. Madrid, on the other hand, is larger and a bit less walkable. Both are quite flat though so are fairly easy for walking around.
In addition, both cities have their charms for visitors. Barcelona's Gothic Quarter offers narrow, winding streets that invite you to wander and discover the city's history. Madrid, while expansive, also has picturesque neighborhoods like Malasaña or La Latina that are perfect for a leisurely stroll.
When considering public transportation, both cities have efficient systems in place. Barcelona's metro and bus network can help you easily navigate the city, reducing walking distances if necessary.
Similarly, Madrid's metro and bus lines are convenient for getting around, albeit with larger distances between destinations.
In conclusion, while both Madrid and Barcelona have walkable areas, Barcelona offers a slightly more pedestrian-friendly environment. However, don't be discouraged from exploring Madrid on foot as well, as both cities have much to offer for walkers at different scales.
Why is Barcelona So Walkable?
Barcelona is walkable because of its compact size and well-designed streets. The city's layout features a grid system combined with narrow winding streets, making it easy to navigate. Additionally, the mild Mediterranean climate makes walking an enjoyable way to get around throughout the entire year.
One of the factors contributing to Barcelona's walkability is its pedestrian-friendly infrastructure. You'll find wide sidewalks, car-free zones, and numerous pedestrian crossings throughout the city. This gives you a sense of safety and comfort while exploring on foot.
Barcelona's rich history and iconic landmarks also make it the perfect city to discover by walking. As you stroll through the streets, you'll come across architectural masterpieces like Gaudí's Sagrada Familia and Park Güell. Walking allows you to truly appreciate these stunning sights at your own pace.
Can You Just Walk Around Barcelona?
Yes, you can certainly walk around Barcelona. The city is quite compact and has a well-connected public transportation system, which makes it easy to explore on foot. Additionally, walking around allows you to experience the city's charm up close and personal.
When you're walking through the city, you'll come across beautiful architecture, hidden lanes, and historic churches. Barcelona's neighborhoods, such as the Gothic Quarter, El Raval, and El Born, are all walkable and offer a unique atmosphere.
As mentioned before, you can use self-guided walking tours available online for a more structured experience or create your own route to explore the city as you desire.
Getting around on foot isn't only a fun way to explore the city, but also a sustainable and healthy option. However, it's important to remember that to cover larger distances, you might need to use Barcelona's efficient public transport, such as buses, metro trains, and trams.
Combined with walking, using public transport will enable you to easily access and enjoy all that Barcelona has to offer.
Practical Information
Safety Tips for Walking in Barcelona
Barcelona is generally a safe city for walking, but you should still take some precautions. Always be aware of your surroundings and keep an eye out for pickpockets, especially in crowded areas.
In addition, carry a map with you or download one to your phone, so even if you lose data, you can still easily find your way around.
Don't forget to wear comfortable shoes since you'll be doing a lot of walking. Also, bring a camera to capture the beautiful sights around the city. 
Just remember to be cautious and discreet when using your camera, as showing off expensive equipment may make you a target for thieves.
Best Time for Walking Tours
Barcelona enjoys a mild Mediterranean climate, making it an ideal destination for walking tours all year round. However, certain months are more pleasant than others for exploring the city on foot. Spring (April to June) and Autumn (September to October) are often considered the best times for walking tours, as the weather is warm but not too hot and the city is less crowded.
During the summer months (July and August), temperatures can soar to uncomfortable levels, making walking tours more challenging. Winter (November to February), on the other hand, can be quite cool and even rainy at times.
Despite this, Barcelona is still relatively pleasant and walkable compared to other European cities in winter, so you'll likely still enjoy your walking tours if you dress appropriately and stay warm.
After lacing up and treading miles upon Barcelona's eclectic streets, one thing's for sure: this city has a flavor (and a path) for every kind of walker. Whether you're a passionate pedometer-beater or just a casual stroller, Barcelona beckons with both its iconic landmarks and hidden gems.
So next time you find yourself in this Catalan haven, remember: every step is a new story waiting to unfold!