10 Best Barcelona Public Transport Tickets (For Easy Travel)
This article may contain affiliate links. Please read our
Disclosure Policy
for more information.
If you're planning a trip to Barcelona, you'll soon see just how valuable that epic metro and bus system is for getting you from sight to sight. But with so many Barcelona public transport ticket options, it's true that it can all get a bit overwhelming.
In particular, it often feels like you're in a bit of a maze trying to figure out which ticket is best for your travel plans.
But hey, that's where I come in! Having lived in Spain and spent a good chunk of time wandering the streets of Barcelona, I've got the insider scoop on navigating its public transport like a pro.
Stick around, and I promise to guide you through each ticket, helping you figure out which one fits your travel style. By the end of this article, you'll be navigating the Barcelona transport system with the confidence of a local – and, importantly, finding the best value ticket based on how you plan to spend your time in the city.
Barcelona public transport tickets
1. Single ticket
Alright, starting with the basics: the single ticket. You grab one of these when you're not really planning on using public transport much but need a quick ride.
It's valid for one journey on the metro, buses, trams, and FGC railway. Keep in mind though, if you exit a system (say, you go from the metro to the tram), you'll need a new ticket.
You should also note that if you plan to use public transport even a few times during your trip, the single trip isn't the most cost effective option (as I'll get into in more detail below!)
And remember, these tickets don't work for the Aerobús (the bus service to the airport) – so if you're catching a flight, plan accordingly by getting the Aerobús ticket here instead.
Price: €2.40
2. Hola Barcelona Travel Card
Now, the Hola Barcelona Travel Card is where it gets interesting for tourists who are also frequent riders. This card is perfect if you're here for a short stay and anticipate using public transport multiple times a day – as all public transport is FREE with this card.
You don't have to worry about buying a ticket every time; just hop on and off. Plus, it covers a wider area, including rides from the airport on the metro and the RENFE train.
The various durations (from 48 to 120 hours) mean you can tailor it to your stay, making this one of the best ways for tourists to get around Barcelona. Just a heads-up, make sure you activate it only when you're ready to start using it because the clock starts ticking right away!
Buy your Hola Barcelona Travel Card here!
Price:
48 hours (two days): €16.40 (i.e. €8.20 per day)
72 hours (three days): €23.80 (i.e. €7.93 per day)
96 hours (four days): €31 (i.e. €7.75 per day)
120 hours (five days): €38.20 (i.e. €7.64 per day)
3. Barcelona Card
The Barcelona Card is like the Swiss Army knife of Barcelona passes. After all, this card gives you the freedom of the city.
Like the Hola Barcelona Travel Card, you get unlimited rides on public transport with this one…so what's the difference?
Well, it's not just for transport! It also opens doors to a bunch of places without you constantly reaching for your wallet.
That is, many museums are free with this card, and you get discounts at restaurants, shops, and even some shows. It comes in different durations too (from 72 to 120 hours), so you just have to pick the one that matches your adventure timeline.
For visitors to the city, especially when it's your first time here, it's also super handy because it comes with a guidebook, making it easier to plan out your days.
Grab your Barcelona card here.
Price:
For people aged 13 and up:
€53 for the 3 day (72 hour) Barcelona Card
€63 for the 4 day (96 hour) Barcelona Card
€75 for the 5 day (120 hour) Barcelona Card
For kids aged 12 and under:
€30 for the 3 day (72 hour) Barcelona Card
€40 for the 4 day (96 hour) Barcelona Card
€45 for the 5 day (120 hour) Barcelona Card
4. T-casual card
Meet the T-casual card, a favorite among many locals who don't need all the bells and whistles of things like the Hola Barcelona Card and the Barcelona Card, which are aimed more at visitors to the city.
Instead, this card gives you 10 trips on buses, metro, trams, and the FGC railway, making it one of the cheapest options for traveling around Barcelona. It also doesn't expire, so you can use the trips whenever you want. 
It's a great middle ground if you're in Barcelona for a bit but aren't planning on zipping around every single day. Just a heads-up though: unlike some other cards, this one's only for individual use. So, if you're traveling with a friend, they'll need their own.
Price: 1 zone – from €11.35
5. Airport ticket
Alright, the Airport ticket is pretty straightforward. Landing at Barcelona's El Prat airport and need a hassle-free ride to the city center? This is your go-to.
It's specially designed for the metro line L9 Sud, which connects both Barcelona airport terminals with the city. Remember, this journey isn't covered by the regular single ticket or the T-casual card, so if you're thinking of taking the metro from the airport, grab one of these.
It'll save you any unexpected hiccups or surprises when you're just trying to start your vacation or head back home.
(Or don't forget that both the Hola Barcelona Travel Card and the Barcelona Card include public transport from the airport! Just keep in mind that the Barcelona Card is valid from first use and that from then until midnight counts as one day – not 24 hours from first use, which is how it's counted for the Hola Barcelona one.
This means that the Hola Barcelona card could be better for you here, depending on when you land.)
Price: €5.15
6. T-familiar card
Here's a shoutout to all the families and small groups: the T-familiar card. It's designed specifically for you guys.
Offering 8 trips, this card is valid for 30 days from the first validation. The real MVP feature? Multiple people can use it at the same time.
So, if you're a group of 3, you can hop on the metro and use just the one card, rather than having to shuffle through your things and find three different ones.
Whether it's family outings or a weekend getaway with buddies, this card's got your back. Just remember, once you start using it, make sure to use up those 8 rides within a month!
Price: 1 zone – from €10
7. T-usual card
The T-usual card is a gem for anyone spending a solid chunk of time in the city and using public transport regularly. With this card in your pocket, you get unlimited trips over 30 consecutive days.
Yep, you read that right! Use it as a metro, tram or bus ticket in Barcelona by just hopping on and off as you please. It's like a monthly subscription to the city's transport, without any cap on the number of daily rides.
Keep in mind though that this one's personal, so it's just for you and can't be shared with friends or family.
Price: 1 zone – from €20
8. T-grup card
Got the whole team with you in Barcelona? Say hello to the T-grup card.
This is perfect for larger groups, think school trips or big family vacations. It offers a generous 70 trips, and the best part is that these trips can be used by multiple people simultaneously.
It's super flexible and designed to make group travel a breeze. However, there's a tiny catch – you gotta use up those 70 trips within 30 days.
But if you've got a big group and lots of places to see, this could be your golden ticket!
Price: 1 zone – from €79.45
9. T-jove card
Alright, young travelers, this one's especially for you – the T-jove card! Targeted at those under 30, it's like a golden ticket to exploring Barcelona without burning a hole in your pocket.
For a set price, you get unlimited trips on pretty much every mode of public transport – metro, tram, bus, you name it – for 90 consecutive days. The beauty of the T-jove? It's designed to be budget-friendly for younger folks who might be studying or just exploring Barcelona on a tighter budget.
One catch is that it's only available through T-mobilitat, which is the Barcelona public transport system's app allowing for contactless card payment and usage within the network.
(Although I'm not sure that's much of a catch as it's such a great app to have – instead of having to carry around individual paper tickets that seem to get destroyed no matter how well I take care of them!)
So, if you qualify age-wise and are planning on being in the city for a while, this card is a no-brainer.
Price: €40
10. T-4 card
The T-4 card gives pensioners or those with a recognized disability discounted journeys on Barcelona public transport. The catch for tourists is that you have to be registered as a resident in the Barcelona metropolitan area, so this isn't going to be available to you if you're just passing through the city.
But if you're moving here, this can be a great way to get some cheaper travel. Check the TMB site for the specific requirements and you'll soon be on your way.
Price: 1 zone – €2
FAQs
What ticket should I buy for the Barcelona metro?
For a quick ride or two, the single ticket is your best bet. If you're zipping around town over a few days, consider the Hola Barcelona Travel Card. For those combining transport with sightseeing, the Barcelona Card might be your match.
Now, the Single ticket is pretty straightforward and is great for a one-off ride. But on a per ride basis, it's not the cheapest option. Instead, if you plan to use the metro a couple of times a day and are here long enough to use up the 10 passes it offers, you may want to get the T-usual card.
However, if you expect to use the metro more than a couple of times each day during your trip, that's where the Hola Barcelona Travel Card comes into play, offering unlimited rides for periods from 48 to 120 hours. 
Meanwhile, the Barcelona Card offers the added bonus of entry or discounts to various attractions, making it a solid choice for those wanting to experience both the city's transport and its iconic spots.
What is the best metro card for Barcelona tourists?
For tourists in Barcelona for a short stay, the Hola Barcelona Travel Card is a top pick. If you're blending travel with sightseeing, the Barcelona Card is a winner. And for those in groups or families, the T-familiar card can be a lifesaver.
Expanding on this, the Hola Barcelona Travel Card offers flexibility with its various time options, from 48 to 120 hours. It's a breeze for tourists who don't want the hassle of buying individual tickets.
The Barcelona Card goes a step further, providing not just unlimited transport but also a bunch of free entries and discounts.
The T-familiar card, on the other hand, is perfect for groups with its shared-use feature and 8 trips on offer.
Alternatively, if you're traveling alone and don't think you'll use the metro enough times each day to justify one of the tourist-specific cards, check out the T-casual card.
Is a Barcelona transport pass worth it?
Absolutely, especially if you're planning on moving around a lot. The various Barcelona transport passes aimed at tourists offer unlimited rides on buses, trams, and the metro, including to and from the airport. Plus, some passes come with extra perks like museum entries or discounts.
The key here is to think about your travel plans. If you're the kind of traveler who wants to explore every nook and cranny of the city, then these transport passes are a godsend, saving you both time and money.
For instance, the Barcelona Card not only covers your rides but also gives you access to some of the city's must-visit places.
In the end, the value of the transport pass really depends on how you plan to explore the city. For many, it's a smart investment that leads to smoother and more enjoyable Barcelona adventures.
How do tourists get Barcelona public transport tickets?
Tourists can buy public transport tickets at automated ticket machines found at metro stations, tram stops, and TMB bus stations. You also now have the option of buying them through an app. Additionally, some tickets like the Barcelona Card can be purchased online in advance.
As an added bonus, many of the ticket machines accept credit and debit cards, so no need to worry about having cash on hand (although it's always a good idea to have some for emergencies).
And as a new feature, TMB (the company running Barcelona's public transport) now has T-mobilitat, the contactless ticketing and validation system within the public transport network.
On here, you can buy a range of tickets, including:
T-usual
T-casual
T-grup
T-familiar
T-jove
For those looking to buy the Hola Barcelona Travel Card or the Barcelona Card, you can buy them online in advance at the links just used.
Just note that, for both of them, you do have to pick them up in person once you get to Barcelona (although that can be done at a ton of places both at the airport and in the center of the city).
How do I pay for public transport in Barcelona?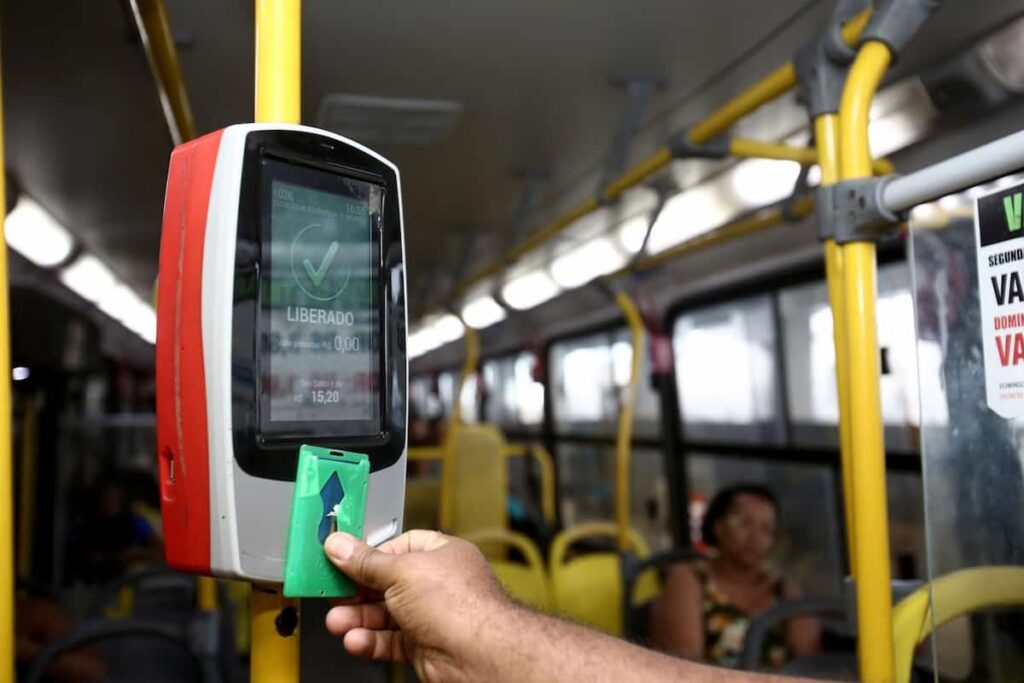 You can pay for public transport using cash, credit, or debit cards at ticket machines. For buses, you can buy tickets on board with cash or card. You can also use the T-mobilitat app to buy tickets through your phone.
Once you get the hang of it, the payment process is super easy. The automated ticket machines located at metro and tram stations are pretty user-friendly. They'll guide you step-by-step, and you can switch to English (or several other languages) if needed.
If you're on a bus and paying by cash, they'll likely only be able to accept up to a certain amount, as they don't carry unlimited amounts of change.
And for those tech-savvy travelers, Barcelona's public transport app, T-mobilitat, can be a game-changer, allowing you to handle everything right from your phone.
How much does public transport cost in Barcelona?
The cost varies depending on the type of ticket or card you choose. For example, a single ticket for one ride costs €2.40, whereas a T-casual card with 10 journeys costs €11.35 for one zone, meaning you'll pay €1.13 per ride.
Breaking it down, the single ticket is your basic option, and it's priced the lowest since it's just for one ride. However, as you can see, on a per ride basis, it's not even close to being the cheapest.
(Prices are regularly updated though, so it's best to check the official TMB website or at ticket machines for the most current rates.)
As you explore more comprehensive travel cards, like the Hola Barcelona Travel Card or the Barcelona Card, the prices increase, but so do the benefits and conveniences.
Always keep in mind your travel needs and itinerary. For someone who's going to use public transport multiple times a day, those unlimited cards can be quite cost-effective.
On the other hand, if you're mainly walking or biking around, you might want to stick with single tickets or a T-casual card. Always weigh the costs against your plans to get the best bang for your buck!
Can you use a credit card for public transport in Barcelona?
Yes, you can use a credit card to purchase public transport tickets in Barcelona. Automated ticket machines at metro stations and tram stops accept major credit cards. You can also use a credit card to buy a ticket on a bus.
The credit card option is super handy and the machines have clear instructions, with most of them being able to switch to English to make your life easier.
Just ensure your credit card is chip-enabled and, if it's from outside Europe, check if it's accepted abroad without any hefty fees.
Can you use contactless on Barcelona public transport?
You can use contactless on Barcelona public transport by installing the T-mobilitat app and purchasing and activating your tickets through there. With that, you can simply swipe your phone to enter and one journey will be taken off the selected card automatically.
This is a relatively new addition to Barcelona's public transport system – but, in my opinion, it's a very welcome one! You can see how to sign up with T-mobilitat here.
Can you tap in to pay on the Barcelona metro?
You can't directly tap in with your bank card or mobile payment system to pay for a ride on the Barcelona metro. You can, however, tap in using the T-mobilitat app, assuming you've already bought a ticket either through the app or uploaded it to the app after buying it in person.
If you don't have that app though, you need to first purchase a ticket or travel card, which you then tap at the access gates to enter the metro.
Once you have your ticket or card (whether in hard copy or through the app), the process is really straightforward. Just tap it on the designated spot at the turnstiles, and voila, you're good to go!
Just always ensure your card has enough rides left or is still within its valid period before you tap in. Nothing's more frustrating than rushing to catch a train only to find out your card's tapped out!
Can you use a debit card on the Barcelona metro?
Yes, debit cards are accepted when buying tickets at automated machines in Barcelona metro stations. Just like with credit cards, ensure your debit card is chip-enabled. Also, it's wise to verify if your card works internationally, especially if it's from outside of Europe.
As mentioned above though, you can't simply tap your debit card to enter the Barcelona metro. Instead, you'll need to use it to buy a ticket or travel card beforehand.
Do buses in Barcelona take card payment?
Yes, buses in Barcelona take card payment. A card reader can be found next to the driver's cab and if you tap your card there, you'll be charged for a single ticket. A short one-note sound will be heard if the purchase and validation have gone through.
If there's a problem though, you'll hear a short two-note sound and so you'll either have to try again or find another way to pay.
One more thing: if you're traveling with other people and you want to pay for them on the bus with a card as well, you'll need to touch the card as many times as there are people. Wait for the one-note sound each time and you'll be good to go!
How do you pay for trains in Barcelona?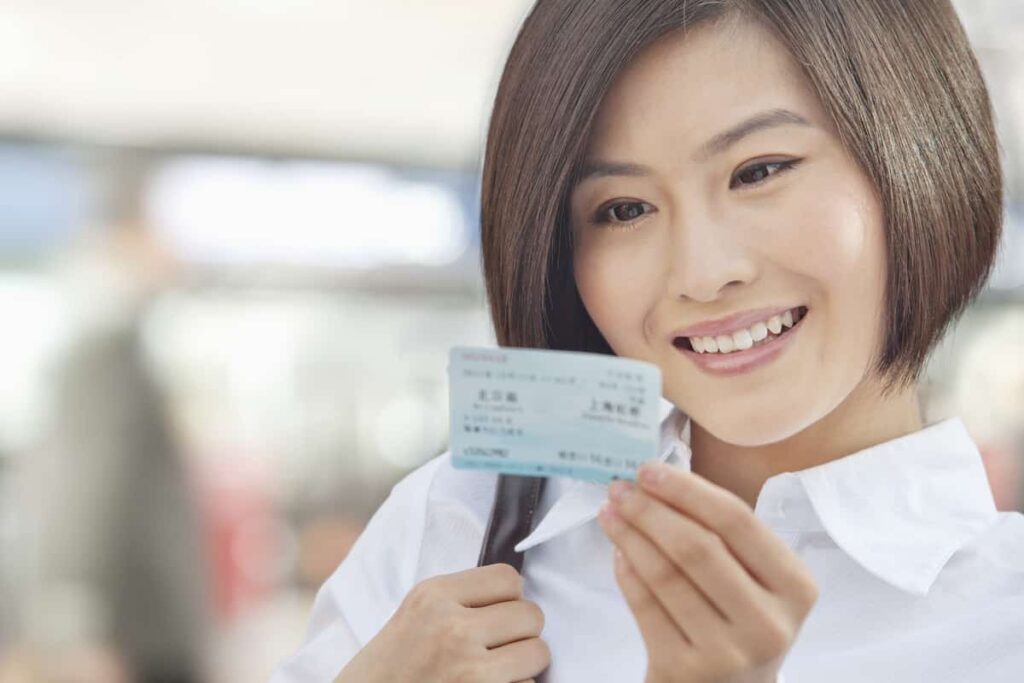 For trains in Barcelona, you can buy tickets at station ticket machines using cash, debit, or credit cards. These often have multi-language options, including English, to assist tourists. Once purchased, you'll tap or insert your ticket at the entry barriers to access the train platforms.
A bit more insight: Barcelona's train system, especially the Rodalies (commuter trains), connects the city to its suburbs and even other cities in Catalonia.
While the buying process is pretty intuitive, always remember to keep your ticket handy till the end of your journey. You'll need it to exit the station at your destination.
And for regular travelers or those exploring Catalonia, there are multi-journey tickets and passes available that might offer better value.
How do you pay on the Barcelona metro?
You pay for the Barcelona metro by purchasing tickets from automated machines located at metro stations. These machines accept cash, credit cards, and debit cards. Once you have your ticket, you'll tap or insert it at the barriers to access the metro platforms.
The metro system in Barcelona is extensive, and with it comes a variety of ticket options. From single ride tickets to multi-day passes, you have a plethora to choose from based on your travel needs.
If you find yourself puzzled by the options, don't fret; there are usually friendly staff or local commuters who can guide you (and, at least in the tourist-heavy areas of Barcelona, there's a good chance that they'll speak enough English to help you out).
And just a heads up – during peak hours, the metro can get crowded, so having your ticket ready can save you some time and hassle.
How much is a single metro ticket in Barcelona?
The cost of a single metro ticket in Barcelona is currently €2.40. However, this can vary as prices are occasionally updated. For the most up-to-date prices, it's best to check the official TMB website or inquire directly at the metro stations.
And just to hammer the point home…while the single metro ticket is straightforward, it might not be the most economical choice if you're planning to use the metro frequently. Multi-ride cards or unlimited travel cards often provide better value for money.
How much is the metro from Barcelona airport to the city center?
The metro line that connects Barcelona airport (both Terminal 1 and Terminal 2) to the city center is the L9 Sud. The fare from the airport to the city center is currently €5.15, although, for the most recent prices, check the TMB website or ask at the airport.
This makes it slightly more expensive than other metro tickets, although it's still a much cheaper option than taking a taxi.
That said, depending on your comfort and luggage, you might also consider the Aerobús, which is a direct bus that runs around every 10 minutes between the airport and the city center.
It's very convenient, easy to find and perhaps a better idea than lugging your bags up and down the stairs at the metro!