10 Cheapest Ways to Travel in Barcelona (Save Big!)
This article may contain affiliate links. Please read our
Disclosure Policy
for more information.
So, you've caught the Barcelona bug, huh? I don't blame you. With its rich culture, stunning architecture, and mouthwatering paellas, who wouldn't be lured by its charms?
But if the thought of your wallet taking a hit is making you sweat, fear not! You're about to uncover the holy grail of budget-friendly tips with the cheapest ways to travel in Barcelona.
After all, I live in Spain and have spent a chunk of my life wandering around Barcelona. And trust me, I've mastered the art of pinching pennies (or, well, euros) without missing out on the fun.
Get ready for the insider scoop on the cheapest ways to soak in the magic of Barcelona!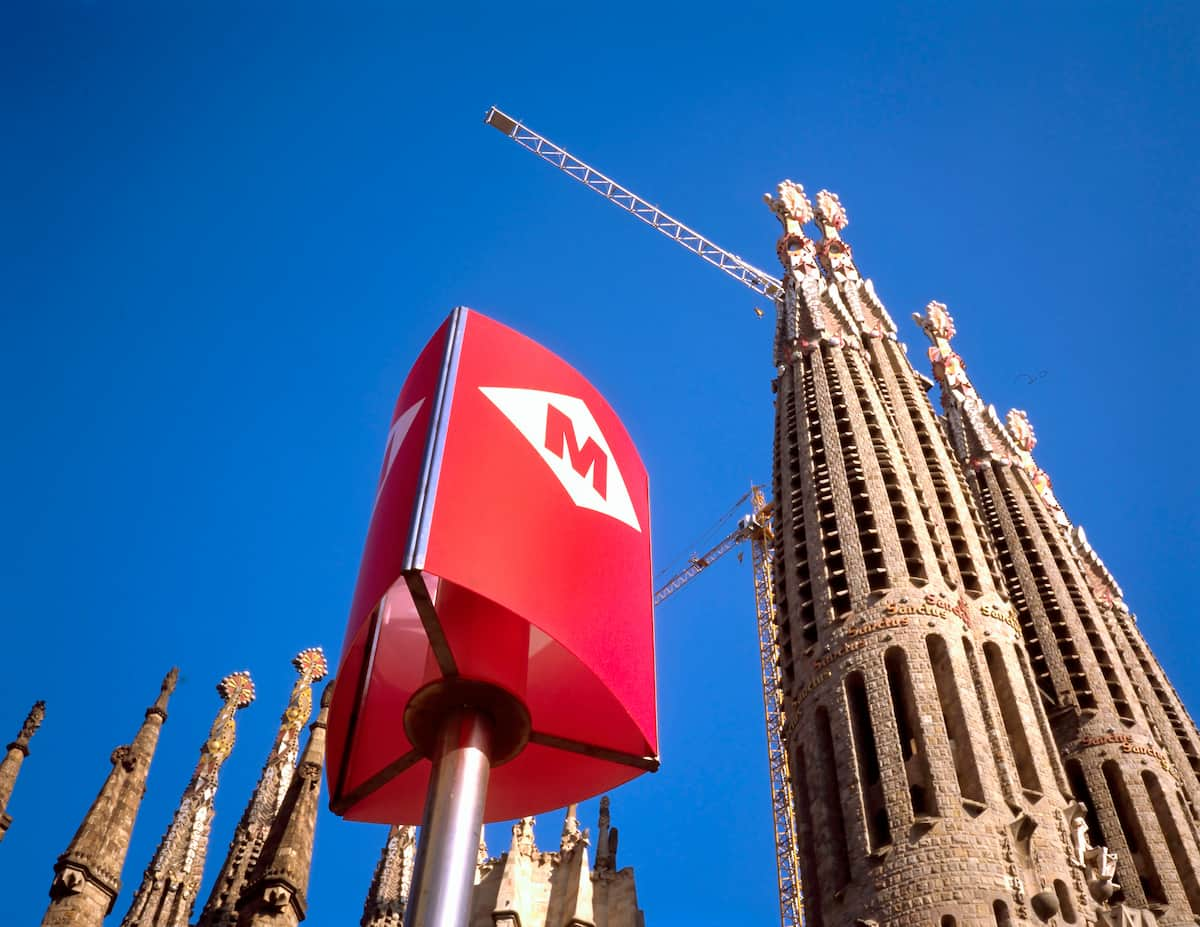 What is the cheapest way to get around Barcelona?
1. Metro
The metro is a popular and cost-effective way to see Barcelona. The underground system is extensive, reaching many of the city's top attractions, making it easily one of the best ways to get around Barcelona.
Affordable ticket options include single trips or unlimited daily, weekly, and monthly passes, so choose the one that best fits your travel plans.
When it comes to the cheapest ways to get around Barcelona, the metro here is going to be high up on your list.
Using the metro system in Barcelona is also pretty straightforward, and the color-coded lines make navigation a breeze. Plus, with several options for public transport tickets in Barcelona, like the T-casual pass that gets you, yep, 10 rides, you'll be able to pick the most budget-friendly choice for you based on your travel style!
Pro tip: The Hola Barcelona Travel Card gives you free public transport in Barcelona, including to and from the airport – which in itself would normally cost around €10 for a return trip.
It's great for getting around the city quickly, efficiently and cheaply!
2. Bus
Now, if you're not in a rush and you fancy seeing a bit of the city as you travel, give the buses a try. They're frequent, comfortable, and offer routes that the metro might not cover.
Barcelona's bus network is extensive and can take you almost anywhere in the city. And the bus system is so well connected that it offers a cheap way to explore the city.
The bus stops have digital displays showing when the next one's due, so you're never left guessing. And those metro tickets you just bought, like the T-casual pass or Hola Barcelona Travel Card? Yep, they work here too.
3. Hop-On Hop-Off Sightseeing Bus
Alright, before you roll your eyes and say "that's so touristy!", hear me out. The Hop-On Hop-Off buses can be a real asset for your trip if you're short on time or just want a quick overview of the city.
While it's a tad pricier than the regular bus or metro, it's super convenient, especially if you're trying to hit a bunch of landmarks in one day. You can jump off at a site, explore a bit, then catch the next one.
Remember, it's all about the experience, and sometimes it's cool to play tourist – especially if you are one!
Check the latest price and availability of the hop-on hop-off bus here for your planned travel dates!
4. Tram
If you're itching to explore some of the newer parts of Barcelona, the tram is your buddy. While it doesn't cover the older parts of the city, it gets you smoothly to areas that buses and metros might skim over.
It's especially handy for reaching places along the coast. Trams are modern, clean, and yep, your trusty Hola Barcelona and T-casual pass work here too.
There's something soothing about tram rides, watching the city slide by while you're cozy inside. And the fact it's one of the cheapest ways to travel in Barcelona is definitely a good thing too!
5. Walking
Here's where the real magic happens. While public transport is great for longer distances, sometimes you've got to pound the pavement to discover those hidden corners of the city.
Barcelona's neighborhoods are full of character and little surprises, so slipping on comfy shoes and wandering around is often the best way to get a feel for the city's heartbeat.
Plus, it's free, easily making it the cheapest way to travel in Barcelona – and who doesn't love a good bargain?
6. Bike
Biking around Barcelona? Oh, it's a thing, and it's gaining steam.
The city's made a big push for eco-friendly transport, which means more bike lanes and bike-friendly zones. Renting a bike for a day won't burn a hole in your pocket, and it gives you the freedom to roam as you please.
From beach promenades to the winding lanes of El Raval, two wheels can be your ticket to an offbeat Barcelona adventure. Just remember to lock it up properly when stopping for those impromptu tapas breaks, as if not, your bike might not be waiting for you when you come back…
7. Electric scooter
For a quick and easy way to get around, consider renting an electric scooter. There are multiple scooter-sharing platforms in the city that offer affordable prices and allow you to zip around Barcelona effortlessly.
Gone are the days when scooters were just for kids. Electric scooters have taken over the streets of Barcelona, and honestly, they're kinda fun.
They're quick, zippy, and perfect for short distances. Plus, you'll find several apps offering scooter rentals by the minute, so just pick, unlock, and off you go.
(And while it's a blast to ride one, always wear a helmet. Safety first, right? Not to mention that it's the law here.)
8. Cabify
Cabify is a solid alternative to the regular taxi. Think of it as Spain's answer to ridesharing.
It's app-based, so you can book and track your ride from your phone. Fares are transparent (in that you agree on the price when you select a ride) and, at least in my experience, often cheaper than taxis.
Basically, if you're someone who likes a set price before jumping in, Cabify's a good choice.
9. Taxi
Taxis in Barcelona are more affordable than you'd expect. They're everywhere, and they're recognizable by their black and yellow design. 
If you've had one too many cervezas or you're lugging around bags from a shopping spree, taxis are a convenient way to get back to your accommodation. While it's not the cheapest option on the list, sometimes convenience wins.
And while fares are regulated, just remember to ensure the meter's running to avoid any unwelcome surprises…
10. Uber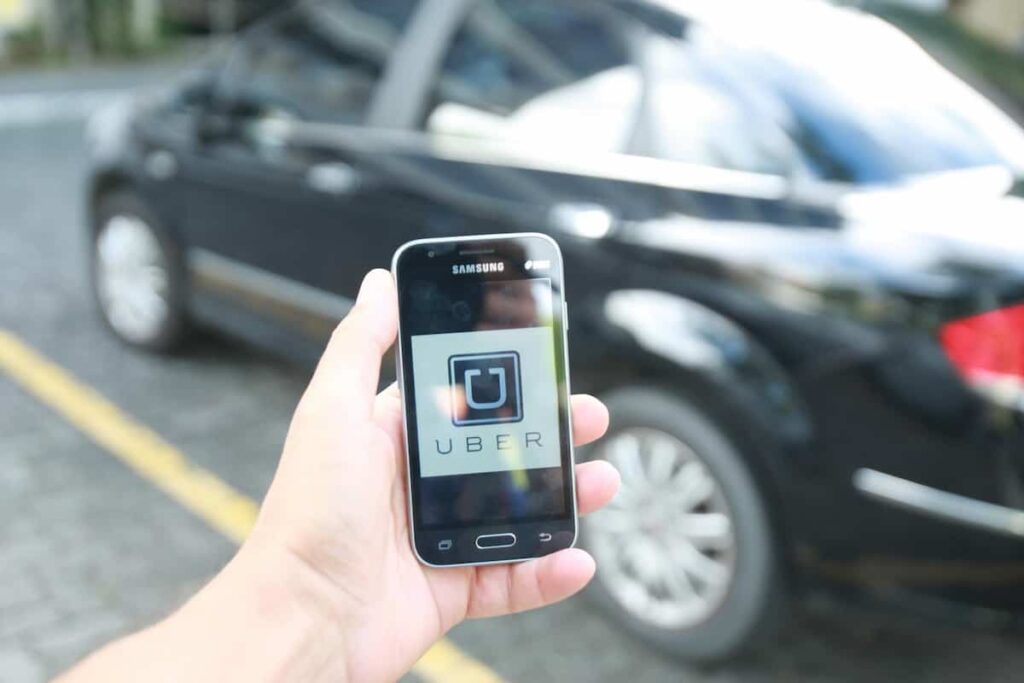 Ah, the ever-present Uber. Yep, it's in Barcelona too. While it had its ups and downs in Spain, it's now operational and a popular choice for many.
One different aspect of it here is that it's basically the same as a taxi. While you can use the Uber app, the price and availability will be in line with taxis, so don't necessarily feel like one offers a better deal than the other.
Despite this though, it's certainly one way to travel in Barcelona and so is worth having on this list so you're aware it's out there – even if it's not the cheapest, even amongst the rideshare apps (Cabify takes the cake for that).
Mastering Barcelona's Transport System
Understanding Barcelona Public Transport Fares
If you're new to Barcelona, don't worry, as the fare system is pretty easy to get the hang of.
Basically, fares depend on zones. Most of the main attractions are in Zone 1, so if you're mainly sightseeing, you won't need to venture beyond that.
Single tickets can be bought for €2.40 per ride from vending machines at metro stations or aboard buses – but honestly? They're not super wallet-friendly for multiple rides.
If you're making more than a couple of trips, multi-ride tickets like the T-casual are where the real savings are at.
Or, as I mentioned earlier, you can get the Hola Barcelona Travel Card for free public transport for your selected validity period. It's great if you'll be seeing a lot of sights – or even if you're going to or from the airport – as it more than pays for itself.
Barcelona Travel Cards Explained
If you plan to use public transportation frequently, then travel cards are your best bet to save money. Here are the most popular options:
Hola Barcelona Travel Card: This is like the golden ticket for those on a whirlwind visit. It offers unlimited travel for specific timeframes: 48, 72, 96, or 120 hours. So if you've got a packed itinerary and you're zooming around the city, this card can be a real money-saver. The clock starts ticking from the first use, so plan your adventures accordingly!
T-Dia ticket: Meet the one-day champ of Barcelona travel cards. The T-Dia offers unlimited rides for a single day. Perfect if you've got one day of heavy travel or if you're attempting a Barcelona-in-a-day kind of challenge. Just remember, there's a midnight expiry on this one, regardless of when you start.
T-Casual: Enter the favorite of many locals: the T-Casual. Designed with the occasional commuter in mind, the T-Casual offers ten rides. However, there's a catch: it's personalized for individual use. That means no sharing with your travel buddy, sorry! On the bright side, it's per ride price is cheaper than buying a single ticket each time you travel somewhere. And if you transfer between the metro and a bus within 75 minutes, it counts as a single journey. All this means that if you're planning to spread out your travels over several days, this one's a pretty smart choice.
Getting around the Barcelona metro
Now, onto the backbone of Barcelona's transport – the metro. It's efficient, fast, and usually the quickest way to get from A to B.
The lines are color-coded, making it easy to follow, even if you're terrible with maps (like yours truly). Stations are well-marked, and there are digital boards showing when the next train is due.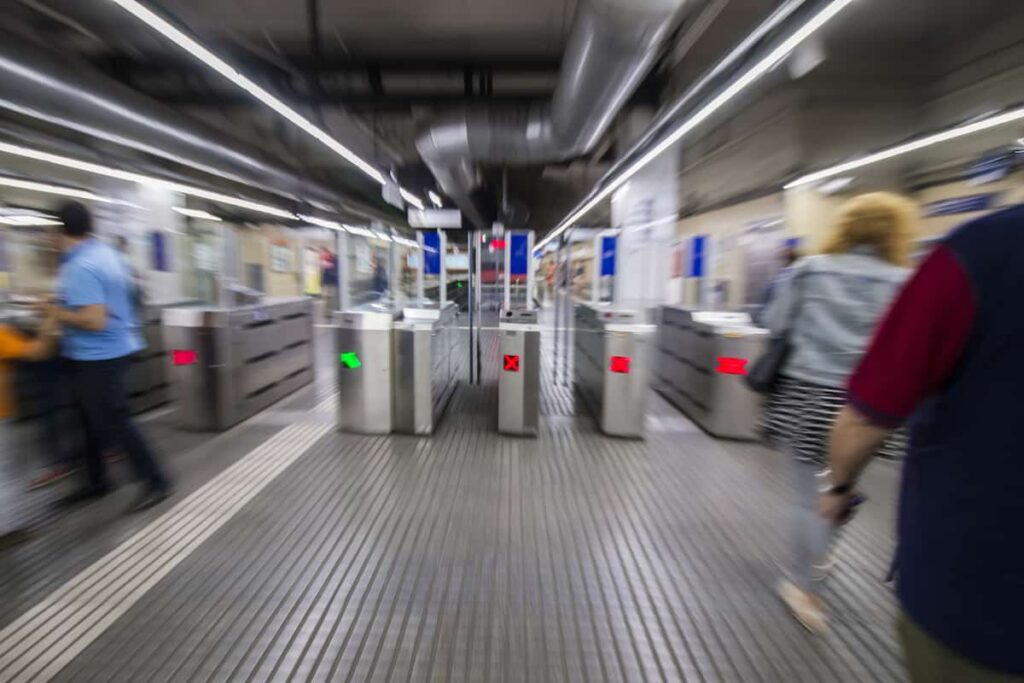 To start your journey, simply validate your travel card or single ticket at the station entrance. Ta-da! You're good to go.
Remember to explore the metro map, which will help you decipher which stops you need to reach. Keep in mind that some stations may connect to multiple lines, so plan your route accordingly.
Pro tip: during peak hours, things can get packed, so keep your belongings close (pickpockets are particularly rife at these times) and be prepared for a bit of a squeeze.
Important Metro Information
A few essential tips to keep in mind when traveling on the Barcelona metro:
Firstly, it doesn't run 24/7. While it's open till midnight on weekdays, on Fridays it's till 2am, and on Saturdays, it runs all night. Handy for those late-night fiestas!
Be aware of pickpockets – keep your belongings close and remain vigilant, especially in crowded areas. Barcelona's a safe city, but like in any major metropolis, it's always smart to be cautious in crowded places.
Accessible stations are available for persons with disabilities – look for the wheelchair symbol on the metro map for guidance.
If you're traveling to or from the airport, there's a special fare. Don't try to use a regular T-casual ride for it, as it won't work (although the Hola Barcelona Travel Card does!)
Now you're ready to conquer the wonderful city of Barcelona. Happy travels!
Avoiding pickpockets when traveling in Barcelona
Barcelona, like any other busy city, can have its share of pickpockets in crowded areas – although it can be a bit worse here than in other places, I have to say, especially in touristy areas.
But don't worry! Just follow these simple tips to keep your belongings safe while enjoying the city:
Be Aware: Always be aware of your surroundings, especially in crowded places like metro stations, markets, and tourist hotspots. Don't ever put your bag somewhere you can't see it (like over the back of a chair) or where it's not somehow attached to you – even setting it down "securely" on the seat next to you could see it disappear in the crush of a crowded metro.
Secure Your Valuables: Keep your cash, cards, and ID in a secure money belt or neck pouch hidden under your clothes (my preferred way is a cross body bag so it's hard for someone to pull it off me). Also, avoid using back pockets or open bags for valuable items.
Travel Light: Carry only what you need for the day, leaving your passport, extra cash, and other items locked in your accommodations safe. If you're going into the metro and have a backpack, wear it on your front so you can see where it is at all times.
Is Uber in Barcelona Expensive?
No. Good news, you won't break the bank getting around Barcelona with Uber! In fact, Uber is the same price as taxis in the city. However, it's generally more expensive than Cabify, which is the more popular rideshare app in Spain.
With Uber, you can explore Barcelona at an affordable price while enjoying the comforts of a private ride.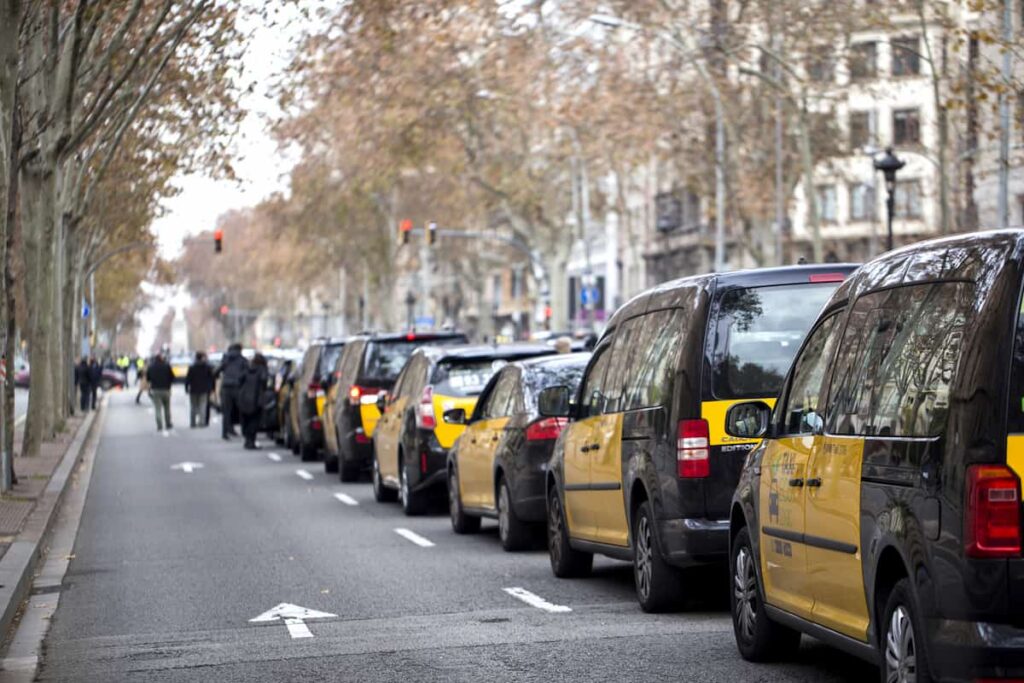 The base fare for an UberX ride in Barcelona is €0.95, and the fare per kilometer is €1.10. There's also a charge of €0.10 per minute when the vehicle is traveling at a speed below 10 km/h, and a booking fee of €0.35 for each ride.
Keep in mind that prices may vary depending on factors like demand, time of day, and special promotions.
A few things to remember while using Uber in Barcelona:
Although usually around the same price as taxis, peak hours might see a surge in pricing, so plan your travels accordingly.
Uber might be a better choice if you need some extra assistance as drivers often help with luggage and provide door-to-door services.
If you're looking for an even more affordable option, consider using public transportation like buses, trams, or the metro. It's efficient, reliable, and budget-friendly.
Is it better to Uber or taxi in Barcelona?
In Barcelona, Uber and taxis effectively work the same. This means that one isn't better than the other as both are similar prices using the same app. Instead, in my opinion, Cabify is better than both of them.
During your stay, you'll find that taxis are easily accessible whether you're at the airport or just wandering the streets. The city has a well functioning taxi service, and you can even use taxi booking apps to make your rides more convenient.
But with Cabify being cheaper and just as convenient, I'd say that it takes the cake over Uber and taxis in Barcelona.
Should I get a Barcelona public transport card?
Yes, getting a Barcelona public transport card can be a cost-effective and convenient way to explore the city. With a variety of travel cards available, you can go unlimited rides on buses and the metro. It's a great option for those who want hassle-free travel while saving money!
The Hola Barcelona Travel Card offers unlimited travel on public transport for 2, 3, 4, or 5 days. Here are the prices for each duration:
48 hours (two days): €16.40 (i.e. €8.20 per day)
72 hours (three days): €23.80 (i.e. €7.93 per day)
96 hours (four days): €31 (i.e. €7.75 per day)
120 hours (five days): €38.20 (i.e. €7.64 per day)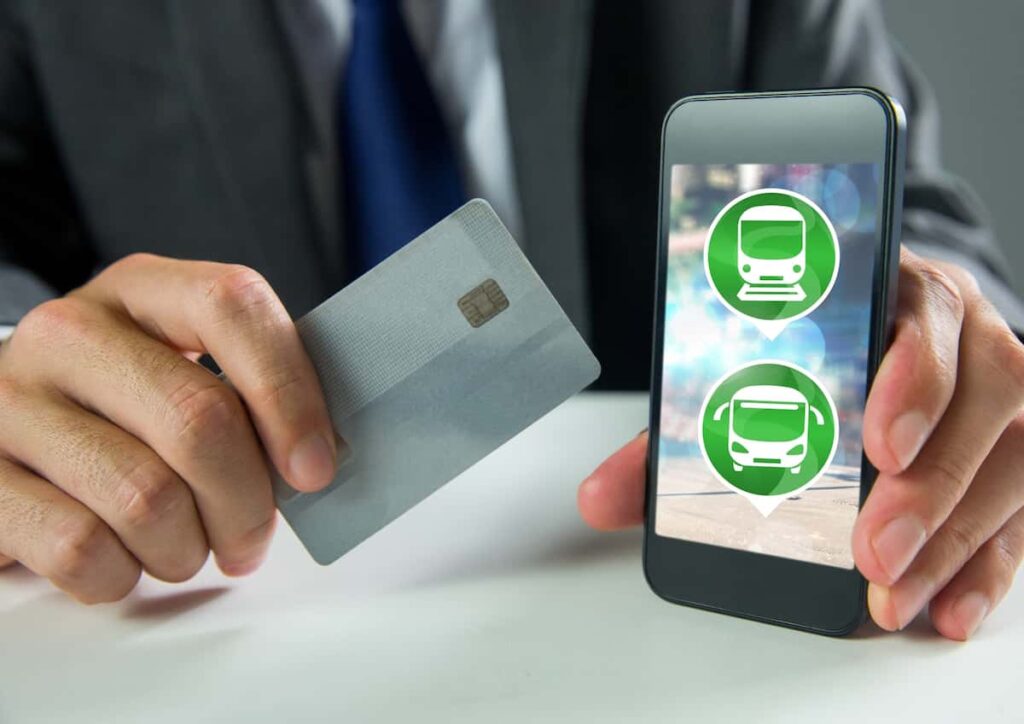 For tourists who are interested in visiting museums and attractions, the Barcelona Card can be a great choice. This card combines unlimited public transport with discounts and free entry to various attractions, depending on the version you choose.
Another popular choice is the T-casual card, which is perfect for short visits or infrequent use. This card offers 10 journeys with no expiration date.
That said, if you expect to use public transport frequently, you might want to consider a more comprehensive option like the Hola Barcelona Travel Card.
A quick tip: When visiting Barcelona, be aware that the single ticket option is relatively expensive at €2.40 per ride, making it far from the cheapest way to travel in Barcelona. Instead, it's best to choose a travel card based on your needs.
By opting for a Barcelona public transport card, you can save your valuable time, avoid the hassle of purchasing individual tickets, and explore the city's attractions with ease.
So go ahead and enjoy your Barcelona adventure with the card that suits your needs best!