Barcelona in March (2024): Ultimate Guide on What to Do
This article may contain affiliate links. Please read our
Disclosure Policy
for more information.
Marching into Barcelona in, well, March? Well, great idea, as you're onto one of the city's best-kept secrets!
As the chill of winter begins to thaw and spring starts to tease, Barcelona in March is this amazing blend of cool breezes, blooming terraces, and a vibe that's just buzzing with rejuvenation.
But you might be wondering: what's the real deal with Barcelona in March? Are the tapas tastier? The streets more spirited? What should you actually expect?
For me, living in Spain has meant a ton of trips to Barcelona, and March, in my book, holds a special charm. Keep reading and I'll share the ins and outs of Barcelona's March madness (the good kind!).
From the must-sees to those snug little corners, I'll guide you through a month that's bursting with life…yet blissfully free from the peak-season rush.
Planning a trip to Barcelona?
Barcelona is incredibly popular for tourists and so it's essential to book accommodation well in advance to avoid missing out here. Here are my top picks on the best places to stay for the ideal mix of comfort, convenience and (reasonable!) costs:
⭐⭐⭐⭐⭐ Best luxury accommodation: Ohla Barcelona – amazing rooftop pool, incredible views, and the perfect location to explore the city
⭐⭐⭐⭐ Best mid-range accommodation: Seventy Barcelona – the décor of this boutique hotel is so modern and stylish, the rooftop pool is ideal, plus you'll be near the main sights the moment you step outside
⭐⭐ Best budget accommodation: Àmfores Boutique Guest House – the rooms are comfortable, the location is superb and the terrace is a great spot to end your day
Is March a good time to visit Barcelona?
Yes, March is a great time to visit Barcelona, especially if you want to avoid the crowds and enjoy mild weather. While it may not be warm enough to swim in the sea, it's perfect for exploring the city on foot or by bike.
With average temperatures ranging from 16°C to 7°C, you'll also enjoy plenty of sunshine, with an average of 6 hours of sunshine per day.
This means that you'll have no issue weather-wise doing the outdoor activities that visitors love to do in Barcelona all year round. That includes things like tours of all the big sights, like this half-day bike tour of Barcelona, which, despite being outside (clearly!), is easily the most popular tour I see people booking, even when they come here in spring rather than summer.
In addition, March is considered the shoulder season in Barcelona, which means there are fewer tourists than during the peak summer months. This makes it easier to explore the city's top attractions without having to deal with long lines or crowds. 
You'll find that hotels and restaurants are less crowded, which means you can enjoy a more relaxed and authentic (and often cheaper!) experience.
March is also a great time to visit Barcelona if you're interested in festivals and events, like Sant Medir Festival and the Festival of St Josep Oriol, which I'll explain more about below.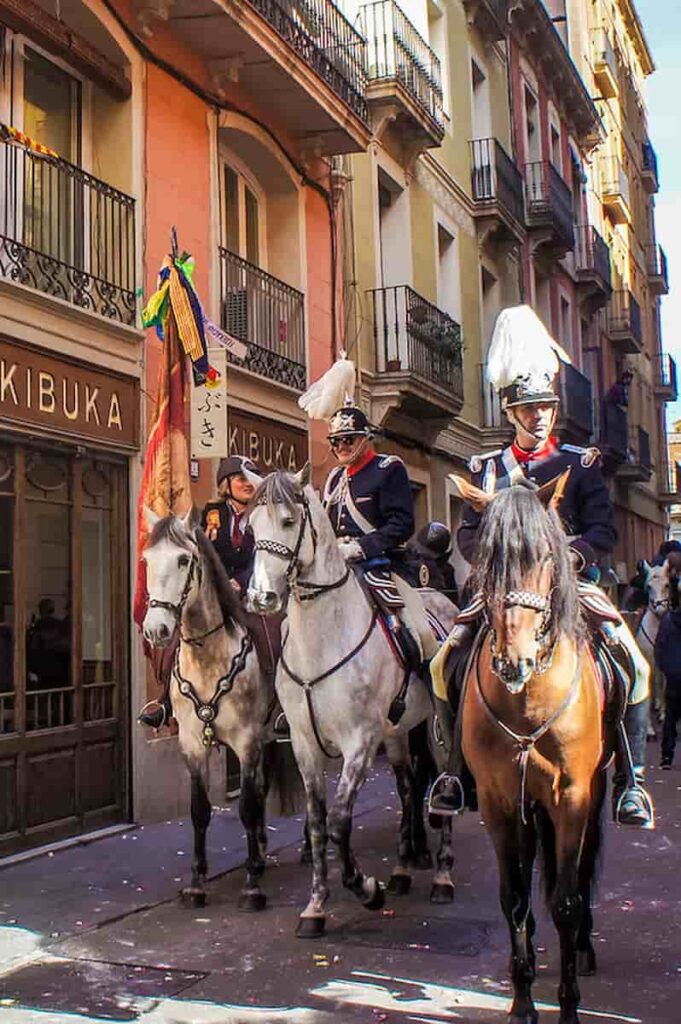 Best Things to Do in Barcelona in March
If you're planning to visit Barcelona in March, you're in for a treat. The weather is mild, and the city is buzzing with events and festivals.
Here are some of the best things to do in Barcelona in March.
Festival of St. Josep Oriol
Experience authentic Catalan culture by joining the celebrations at the Festival of St. Josep Oriol, which takes place every March in the Gothic Quarter.
This vibrant festival honors St. Josep Oriol, a beloved local saint, with processions, live music, traditional dances, and street markets. The highlight is definitely the Gegants del Pi, which are sort of like giant puppets that are paraded through the streets.
It's definitely a unique opportunity to immerse yourself in the city's rich culture and history.
Sant Medir Festival
Get ready for a sweet treat at the Sant Medir Festival, held annually in the Gràcia district in early March. This exuberant event, known as the "sweetest festival," involves parades of horse-drawn carriages and floats, where participants throw thousands of candies to the crowds.
The Sant Medir Festival is a joyful occasion that will leave you with unforgettable memories – and a handful of tasty souvenirs.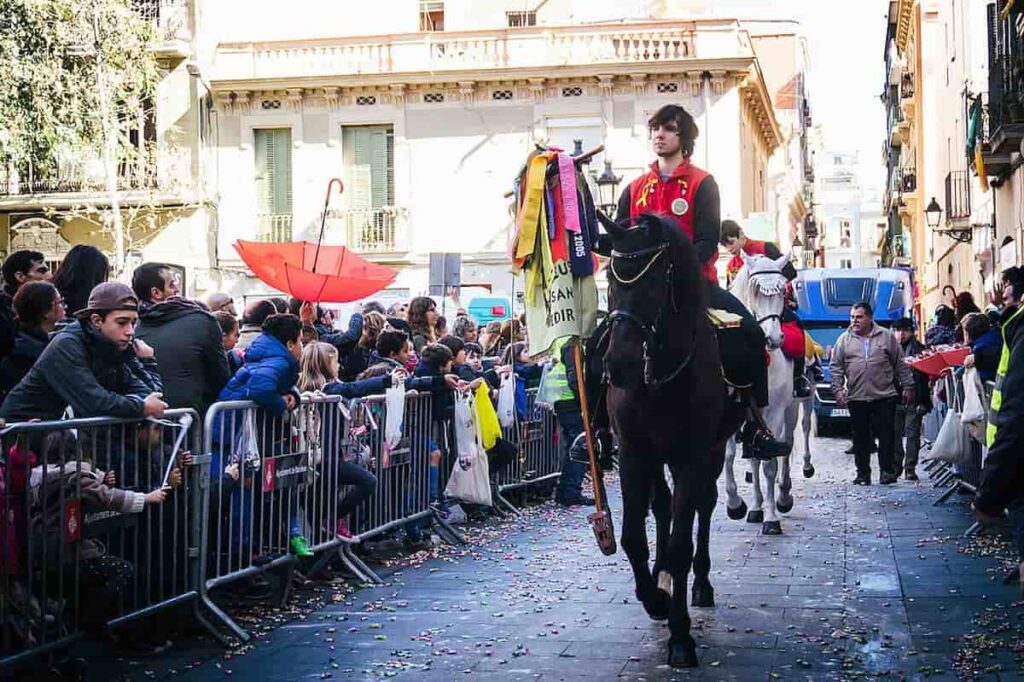 Sagrada Familia
This awe-inspiring basilica is a must-see when visiting Barcelona. Designed by the legendary architect Antoni Gaudí, the Sagrada Familia is an architectural masterpiece that has been under construction since 1882. 
In March, you'll be able to admire its intricate exterior and take a guided tour inside without the overwhelming crowds of peak tourist season. Don't miss this opportunity to explore one of the world's most iconic buildings!
PRO TIP: The Sagrada Familia is easily the most visited tourist site in Barcelona and tickets frequently sell out weeks ahead of time.
To make sure you don't miss out, you need to book your tickets for the Sagrada Familia well in advance of your visit. As once they're gone, they're gone – and seeing inside is a definite must while you're here.
Park Güell
Another Gaudí masterpiece, Park Güell is an enchanting public park filled with whimsical architecture and vibrant mosaics. In March, you can stroll through its lush gardens and enjoy the stunning views of the city without jostling for space with throngs of tourists.
And what's better about waiting to visit here until this month is that, compared to coming to Barcelona in February, leaves will likely have started to come out by now. This makes the park a serene oasis that offers a welcome respite from the bustling city streets.
FYI: If you're looking to visit both the Sagrada Familia and Park Güell and you're short on time, you can get skip-the-line entry and a tour of both sights in one day right here.
Casa Batlló
Casa Batlló, another Gaudí-designed marvel, is a UNESCO World Heritage site known for its unique, undulating façade and vibrant colors. 
The cooler temperatures and smaller crowds in March make it the ideal time to visit this architectural gem. Book a guided tour to learn about the history and creative genius behind this incredible building.
Casa Milà (La Pedrera)
Casa Milà, also known as La Pedrera, is yet another masterpiece by Antoni Gaudí. This unconventional apartment building features wavy stone walls, twisting iron balconies, and a stunning rooftop terrace adorned with chimneys that resemble abstract sculptures. 
March's mild weather provides the perfect opportunity to explore the rooftop and take in panoramic views of the city.
And if you want to stroll in past the crowds waiting in line to enter, you can get skip-the-line entry to Casa Milà here.
Gothic Quarter
Step back in time and wander through the narrow, winding streets of Barcelona's Gothic Quarter. This historic neighborhood is home to magnificent medieval architecture, charming plazas, and hidden courtyards.
March's cooler temperatures make it the perfect time to explore this fascinating area at a leisurely pace.
Barcelona Food Tour
No visit to the city would be complete without indulging in its tantalizing cuisine! Embark on a food tour of Barcelona to discover the city's culinary delights, from mouth-watering tapas to rich Catalan dishes. 
March is an excellent time for a food tour, as the cooler weather will make you appreciate the warmth and comfort of Barcelona's delicious food even more.
La Rambla
Stroll down La Rambla, Barcelona's most famous pedestrian street, and soak in the lively atmosphere.
In March, you'll find it easier to navigate the vibrant flower stalls, street performers, and outdoor cafés without the massive summer crowds. It's a great place to people-watch and soak in the city's energy.
Passeig de Gracia
Treat yourself to a shopping spree on Passeig de Gracia, Barcelona's most elegant avenue. Home to high-end fashion boutiques, exquisite dining, and more of Gaudí's architectural masterpieces, it's a must-visit destination in March when the weather is pleasant for leisurely strolls.
Port Vell
Head to Port Vell, Barcelona's historic waterfront, to enjoy beautiful views of the harbor and the Mediterranean Sea. In March, you'll be able to take a relaxing stroll along the promenade or visit the nearby aquarium without the summer heat or crowds.
Museu Picasso de Barcelona
Art lovers shouldn't miss the Museu Picasso de Barcelona, which houses an extensive collection of Pablo Picasso's works. This world-renowned museum showcases over 4,000 pieces by the iconic artist, making it one of the most comprehensive collections of his art. 
March is a great time to visit the museum and spend hours admiring Picasso's genius without the long lines and crowded galleries.
Fundació Joan Miró
Discover the enchanting world of surrealist artist Joan Miró at the Fundació Joan Miró. This modern art museum, nestled on the picturesque Montjuïc hill, displays a vast collection of Miró's paintings, sculptures, and tapestries. 
With fewer visitors in March, you can explore the museum at your own pace and truly appreciate the artist's innovative spirit.
Weather in March in Barcelona
The average temperature in Barcelona in March is around 15°C (59°F), with highs of 20°C (68°F) and lows of 8°C (46.4°F). While the temperature can be chilly in the mornings and evenings, it's usually warm enough to enjoy outdoor activities during the day.
In fact, March is considered one of the best times to visit the city, as the weather in Barcelona this month is mild and pleasant. While the weather can be unpredictable, you can expect to enjoy a mix of sunny and overcast days.
That said, March is typically a wet month in Barcelona, with an average of 48mm (1.9 inches) of rainfall spread over around 11 rainy days – Barcelona's April showers are unfortunately not just limited to that month! However, the rain usually comes in short bursts, and it's still possible to enjoy the city's outdoor attractions during the day. Make sure to bring an umbrella or raincoat, just in case.
What to Wear in Barcelona in March
If you're planning a trip to Barcelona in March, you're in for a treat. The weather is mild, but it can be unpredictable, so it's essential to pack accordingly.
Here are some tips on what to wear in Barcelona in March.
Dress in Layers
The temperature in Barcelona in March can vary widely, so it's essential to dress in layers. You might start the day in a sweater and a jacket, but as the day warms up, you'll want to shed some layers.
A light sweater or a long-sleeved shirt with a jacket or a coat is a good combination to start with. You can always take off your jacket or coat if it gets too warm.
Wear Comfortable Walking Shoes
Barcelona is a city that's best explored on foot, so it's essential to wear comfortable walking shoes. You'll be doing a lot of walking, so make sure your shoes are comfortable and supportive.
Sneakers, flats, or comfortable boots are all good choices. Avoid wearing high heels or sandals, as they can be uncomfortable for walking long distances.
Bring an Umbrella
March is one of the wettest months in Barcelona, so it's a good idea to bring an umbrella. Even if it's not raining when you leave your hotel, it can start raining at any time.
A small, compact umbrella that you can easily carry in your bag is a good choice.
Why Shouldn't You Travel to Barcelona in March?
While there are plenty of reasons to visit this vibrant city, there are also a few reasons why you might want to consider traveling at a different time of year.
First of all, March is still considered the off-season in Barcelona. While this means that you'll likely find fewer crowds and lower prices on accommodations and attractions, it also means that some businesses and attractions may be closed or have limited hours.
This can be especially frustrating if you have your heart set on visiting a particular museum or restaurant, only to find out that it's closed for the season.
Another potential drawback of traveling to Barcelona in March is the weather. While the city generally enjoys mild temperatures year-round, March can be a bit unpredictable.
You might experience sunny, warm days, or you might find yourself caught in a rainstorm. Be sure to pack accordingly and check the weather forecast before you go.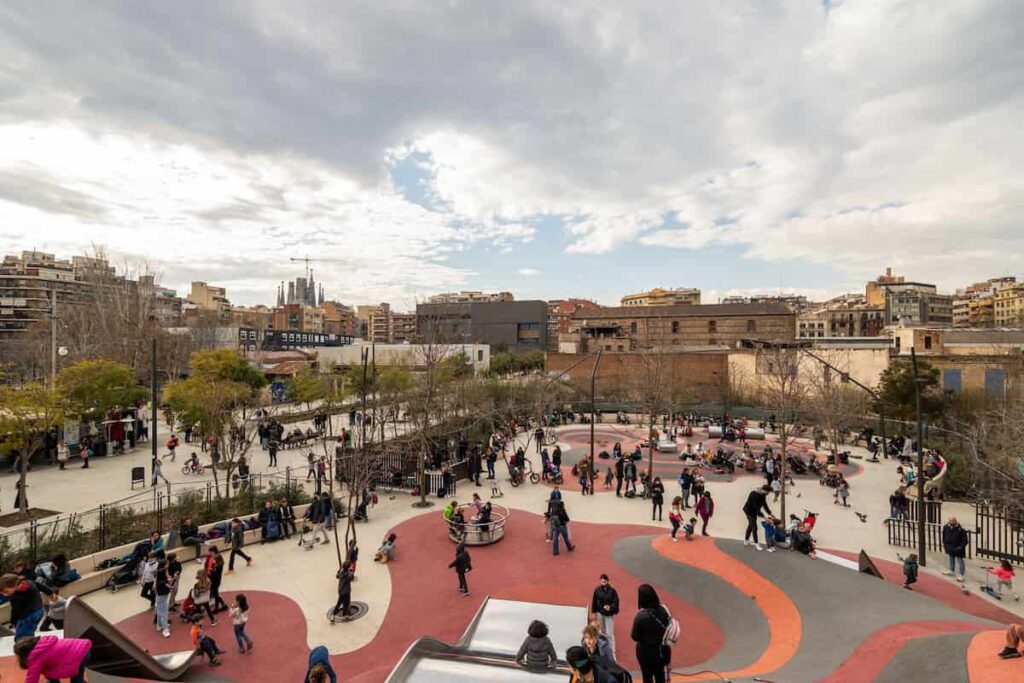 Finally, March is not the best time to visit if you're looking for a beach vacation. While Barcelona has plenty of beautiful beaches, the water can still be quite chilly in March, and you might not want to spend much time lounging on the sand.
If you're hoping to swim or sunbathe, you might want to consider visiting in the summer months instead.
Travel Tips for March in Barcelona
If you're planning a trip to Barcelona in March, here are some travel tips to help you get the most out of your visit.
Bring Comfortable Walking Shoes
Barcelona is a city that's best explored on foot, and March is the perfect time to do it. The weather is mild, and you won't have to worry about the heat or the crowds that come with peak tourist season.
But to make the most of your walking tour, be sure to bring comfortable shoes. The city is full of cobblestone streets and hilly neighborhoods, so you'll want to be prepared.
Take Advantage of Cheaper Accommodation
Since it's not peak tourist season, you'll find that the city is much quieter and more relaxed – and, let's be honest, cheaper. Take advantage of this opportunity to find a great deal in a hotel that may be out of your price range in the summer months, but fits perfectly in your budget right now
Plan for a Rainy Day
While March is generally a dry month in Barcelona, there's always the chance of a rainy day. Be sure to pack a raincoat or umbrella, just in case. But don't let a little rain dampen your spirits. There are plenty of indoor activities to enjoy, such as visiting the Picasso Museum or the Gothic Quarter.
And if the rain clears up, take a stroll through one of Barcelona's many parks and gardens, like the Parc de la Ciutadella or the Jardins de Joan Brossa.
FAQs
Can You Swim at the Beach in Barcelona in March?
While the water temperature in March is still quite chilly, you can still take a dip in the sea if you're brave enough. The average sea temperature in March is around 14°C (57°F). However, keep in mind that some of the beaches may be closed for swimming during this time of year due to maintenance or safety reasons.
Does It Rain in Barcelona in March?
Barcelona has an average of around 6 rainy days throughout the month of March, so it's always a good idea to pack an umbrella or rain jacket just in case. The average rainfall for the month is around 40mm, so you're unlikely to encounter heavy downpours.
Is It Hot in Barcelona in March?
While March marks the beginning of spring in Barcelona, it's still not quite warm enough for shorts and t-shirts. The average temperature during the day is around 16°C (61°F), with temperatures dropping to around 8°C (46°F) at night.
That said, if you're coming from a colder climate, you may find the weather in Barcelona in March to be quite mild.
Is It Cold in Barcelona in March?
Compared to the winter months, the weather in Barcelona in March is definitely milder. However, it's still not quite warm enough to leave your jacket at home. The average temperature during the day is around 16°C (61°F), with temperatures dropping to around 8°C (46°F) at night.
For this reason, make sure to pack some warm layers to wear in the evenings.
Is Barcelona Windy in March?
While Barcelona can be quite windy at times, March is not usually a particularly windy month. However, if you're planning on spending time at the beach, it's always a good idea to check the weather forecast before you go. If there are strong winds, the sea may be too rough for swimming.