Barcelona in February (2024): Festivals, Food and Fun!
This article may contain affiliate links. Please read our
Disclosure Policy
for more information.
Tempted by the allure of Barcelona in February? Honestly, who can blame you!
While many might set their sights on this Mediterranean marvel in the summer, February brings a unique charm to the city that's just too irresistible. Imagine strolling down La Rambla without the throngs of tourists or enjoying a quiet moment at the Sagrada Família.
But, aside from the bliss of fewer crowds, what makes February in Barcelona such a great choice? And more importantly, what hidden gems await?
Well, living in Spain has given me a front-row seat to the wonders of Barcelona, and I've wandered its streets more times than I can count. February here is like flipping through the pages of a secret diary — full of surprises and hidden stories.
Stick with me, and I'll lead you through the city's February favorites, from events to eateries, ensuring your trip is nothing short of spectacular.
Planning a trip to Barcelona?
Barcelona is incredibly popular for tourists and so it's essential to book accommodation well in advance to avoid missing out here. Here are my top picks on the best places to stay for the ideal mix of comfort, convenience and (reasonable!) costs:
⭐⭐⭐⭐⭐ Best luxury accommodation: Ohla Barcelona – amazing rooftop pool, incredible views, and the perfect location to explore the city
⭐⭐⭐⭐ Best mid-range accommodation: Seventy Barcelona – the décor of this boutique hotel is so modern and stylish, the rooftop pool is ideal, plus you'll be near the main sights the moment you step outside
⭐⭐ Best budget accommodation: Àmfores Boutique Guest House – the rooms are comfortable, the location is superb and the terrace is a great spot to end your day
Is February a good time to visit Barcelona?
Yes, February is definitely a great time to visit Barcelona! While the weather may be cooler and rainier than in the summer months, there are still plenty of reasons to visit this vibrant city. And one of the biggest advantages of visiting Barcelona in February is that it's the low season for tourism.
This means that you'll be able to avoid the crowds and long lines that can make visiting popular attractions a hassle during peak season. You'll also be able to find great deals on accommodations and flights, making it an affordable time to visit.
Another reason to visit Barcelona in February is the city's many festivals and events. The Festes de Santa Eulalia, a celebration of the city's co-patron saint, takes place in early February and features parades, concerts, and other cultural events.
The city is also known for its Carnaval celebrations, which take place in the weeks leading up to Lent and feature colorful costumes, music, and dancing.
Of course, the weather in Barcelona in February can be unpredictable, with temperatures averaging 15°C (59°F) during the day and 8°C (46°F) at night. However, if you come prepared with layers and a raincoat, you'll be able to enjoy all that the city has to offer regardless of the weather.
It also means that you'll have no issue weather-wise doing the outdoor activities that visitors love to do in Barcelona all year round. This includes things like tours of all the big sights, like this half-day bike tour of Barcelona, which, despite being outside (clearly!), is easily the most popular tour I see people booking, even in winter.
And with fewer tourists around, you'll have more space to explore the city's museums, parks, and other attractions at your own pace.
Best Things to Do in Barcelona in February
Barcelona is a vibrant and captivating city with rich history, stunning architecture, and delicious cuisine. And while February may be one of the cooler months, it's also a great time to explore the city and participate in some fantastic events.
Here are the best things to do in Barcelona in February.
Barcelona Carnival
Get ready to experience the city's most colorful and exhilarating event: the Barcelona Carnival! Held in February, this week-long celebration is filled with parades, parties, and lively street performances.
Immerse yourself in the festive atmosphere and marvel at the elaborate costumes and masks as you dance the night away. This is an unmissable event, and February is the perfect time to join the fun!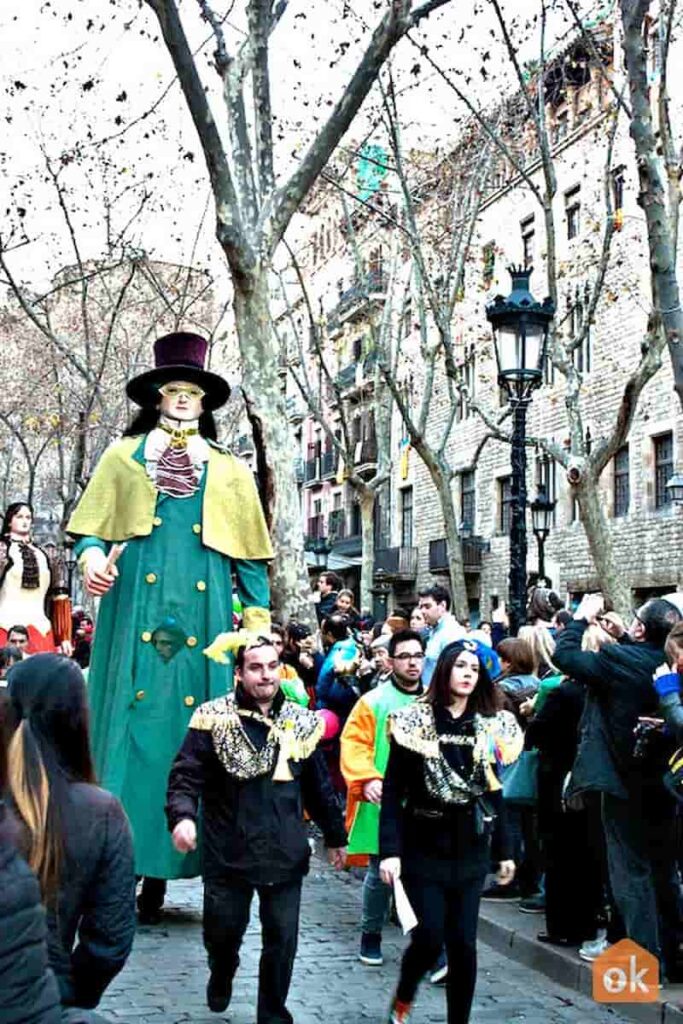 Sagrada Familia
No trip to Barcelona would be complete without visiting the iconic Sagrada Familia. This breathtaking basilica, designed by renowned architect Antoni Gaudí, has been under construction for over a century.
In February, the crowds are thinner (well, relative to the summer months, at least – it's still hugely popular though!), allowing you to enjoy a more peaceful experience as you marvel at the intricate details and stunning stained glass windows.
PRO TIP: The Sagrada Familia is easily the most visited tourist site in Barcelona and tickets frequently sell out weeks ahead of time.
To make sure you don't miss out, you need to book your tickets for the Sagrada Familia well in advance of your visit. As once they're gone, they're gone – and seeing inside is a definite must while you're here.
Park Güell
Another Gaudí masterpiece, Park Güell is a colorful and whimsical public park located on Carmel Hill. The park's vibrant mosaics, winding paths, and unique architecture make it a must-see attraction.
February is a great time to come here, as the cooler weather and fewer tourists make it an ideal time to explore this enchanting park at your own pace.
FYI: If you're looking to visit both the Sagrada Familia and Park Güell and you're short on time, you can get skip-the-line entry and a tour of both sights in one day right here.
Casa Batlló
Immerse yourself in the world of Gaudí at Casa Batlló, one of his most famous works. This stunning modernist building boasts a unique design, complete with a colorful mosaic façade and a dragon-inspired rooftop.
Take advantage of the quieter February crowds to explore this architectural gem without feeling rushed.
Casa Milà (La Pedrera)
Another masterpiece by Gaudí, Casa Milà, also known as La Pedrera, is a striking apartment building with a distinctive wavy façade. 
In February, the cooler temperatures make it a perfect time to take a guided tour and discover the building's fascinating history and innovative design.
And if you want to stroll in past the crowds waiting in line to enter, you can get skip-the-line entry to Casa Milà here.
Gothic Quarter
Step back in time as you wander the narrow, winding streets of Barcelona's Gothic Quarter. This historic neighborhood is filled with charming squares, beautiful churches, and stunning architecture.
February's cooler weather makes it an ideal time to explore this captivating area and uncover its many hidden gems.
Barcelona Food Tour
Satisfy your taste buds with a food tour around Barcelona, where you can sample the city's delicious tapas, mouthwatering churros, and flavorful paella.
February is an excellent time to embark on a culinary journey, as you can enjoy the city's vibrant food scene without the long lines and crowded restaurants that come with the peak tourist season. Discover hidden gems, meet local chefs, and learn about the rich history of Catalan cuisine as you indulge in one tasty treat after another.
Museu Picasso de Barcelona
Art lovers will not want to miss the Museu Picasso de Barcelona, which houses one of the most extensive collections of Pablo Picasso's artwork. The museum features over 4,000 works, including paintings, sculptures, and ceramics, showcasing the artist's remarkable talent and creativity.
February's quieter atmosphere means you can take your time to appreciate the incredible art on display.
Fundació Joan Miró
Celebrate the life and work of another renowned Spanish artist, Joan Miró, at the Fundació Joan Miró. This modern museum, located in Montjuïc Park, houses a comprehensive collection of Miró's paintings, sculptures, and drawings.
In February, with fewer tourists and cooler temperatures, you can explore this impressive museum at a leisurely pace and truly appreciate the talent of this remarkable artist.
La Rambla
Stroll down La Rambla, Barcelona's most famous street, and soak in the vibrant atmosphere. Lined with shops, cafes, and street performers, there's always something to see and do.
With fewer tourists in February, you can enjoy a leisurely walk without the usual hustle and bustle.
Montserrat
Escape the city and head to Montserrat, a stunning mountain range just an hour's train ride from Barcelona. Home to a breathtaking monastery and stunning views, Montserrat is a popular day trip for both locals and visitors.
February's cooler temperatures make it an ideal time to hike the trails and enjoy the natural beauty of this incredible destination.
And to make it even easier for yourself, this Montserrat tour from Barcelona (including an optional wine tasting at a nearby winery) makes it a breeze to experience everything you need to see there.
Passeig de Gracia
Indulge in some retail therapy along Passeig de Gracia, one of Barcelona's most luxurious shopping streets. Home to high-end boutiques, designer stores, and beautiful architecture, this elegant boulevard is the perfect place to spend a February afternoon.
Port Vell
Take a leisurely stroll along the picturesque waterfront at Port Vell, one of Barcelona's most vibrant areas. This bustling harbor is home to numerous attractions, including the Maremagnum shopping center, the Barcelona Aquarium, and the IMAX theater.
In February, the cooler weather makes it a perfect time to explore the area and take in the stunning views of the Mediterranean Sea.
Weather in February in Barcelona
In February, the average temperature in Barcelona is around 14°C (57°F), with highs of 19°C (66°F) and lows of 8°C (46°F). You can expect mostly sunny days, but there may also be some cloudy days with occasional rain.
The good news is that Barcelona is a great destination to visit year-round, and February is no exception. While it's not the warmest weather this month in Barcelona, it can still be a pleasant time to explore this vibrant city.
One thing to note is that the sea temperature is around 13°C (55°F) in February, so swimming might not be the most comfortable activity, but you can still enjoy the beautiful beaches.
It's important to pack appropriately for the weather in February in Barcelona. Bring layers, as temperatures can vary throughout the day. A light jacket or sweater is recommended for cooler mornings and evenings, and comfortable walking shoes are a must for exploring the city.
Don't forget to bring an umbrella or rain jacket in case of rain, which can occur around five days during the month. With the right clothing, you can enjoy all that Barcelona has to offer in February.
What to Wear in Barcelona in February
When visiting Barcelona in February, it's important to be prepared for a range of weather conditions. While the days can feel warm and mild if the sun is out, the nights can be quite chilly. You'll want to plan to wear warm clothes and be prepared to de-layer if necessary.
Here are some tips on what to pack for your trip:
Clothing
Jeans or medium-weight pants are a good choice for daytime wear. They'll keep you warm and comfortable while you explore the city.
Bring a few lightweight tops and bottoms that you can layer to adjust to the changing temperature throughout the day.
You haven't escaped the cold weather by avoiding coming to Barcelona in January. A warm coat is still a must-have for February in Barcelona and don't forget to pack a scarf to keep your neck protected from the wind.
You're definitely fine to bring a skirt or dress! Just keep in mind that warm winter tights will be necessary too.
It's always a good idea to pack a raincoat or umbrella, as Barcelona can be quite rainy in February.
Footwear
Bring comfortable walking shoes or sneakers for daytime exploring.
A pair of ankle boots or closed-toe shoes will keep your feet warm and dry on rainy days.
If you plan to go out in the evenings, bring a pair of dressier shoes that are comfortable enough to walk in and still warm
Accessories
A small and light backpack is perfect for carrying jackets and other items that you take off if the weather feels too warm.
A robber-resistant purse is recommended to keep your valuables safe in crowded areas.
By packing a few key items, you'll be prepared for whatever weather February brings in Barcelona. With the right clothing and accessories, you can focus on enjoying all that this vibrant city has to offer.
Why Shouldn't You Travel to Barcelona in February?
If you're planning a trip to Barcelona, you might be wondering if February is a good time to go. While there are certainly some advantages to traveling to Barcelona during this month, there are also a few reasons why it might not be the best choice for you.
The Weather Can Be Unpredictable
One of the biggest drawbacks of visiting Barcelona in February is the weather. While it's not as cold as some other European cities, it can still be quite chilly and rainy during this time of year.
You might be lucky and experience some pleasant sunny days, but you could also encounter some dreary, wet weather that might put a damper on your trip.
Some Attractions Might Be Closed
Another thing to keep in mind is that some tourist attractions might be closed during February. This is especially true for outdoor attractions like parks and gardens, which might not be in their full bloom until later in the year.
Additionally, some museums and galleries might have reduced hours or be closed for renovations during this time, with many not returning to normal hours in Barcelona until March or even April in some cases.
It's a Quiet Time of Year
Finally, February is generally considered a quiet time of year in Barcelona. While this might be a plus for some travelers who prefer to avoid crowds, it also means that some restaurants, bars, and shops might be closed for the season.
You might not get the full experience of Barcelona's vibrant nightlife or bustling street markets if you visit during this time.
Basically, while there are certainly some reasons why you might want to visit Barcelona in February, there are also some potential drawbacks to keep in mind. If you're looking for warm weather and full access to all of the city's attractions, you might want to consider visiting during a different time of year.
Travel Tips for February in Barcelona
If you're planning a trip to Barcelona in February, there are a few things you should keep in mind to make the most of your visit. Here are some travel tips to help you plan your trip:
Pack for unpredictable weather
February in Barcelona can be unpredictable when it comes to weather. The temperature can range from 6°C to 22°C, so make sure to pack for both cold and warm weather.
Bring a mix of clothes, including light layers, a warm coat, and waterproof shoes. Don't forget to pack an umbrella or rain jacket, as there is a chance of rainfall during this time of year.
Get ready for festivals and events
Barcelona is known for its vibrant festivals and events throughout the year, and February is no exception. The city celebrates Carnival, which is a lively and colorful event that takes place before Ash Wednesday. It's a great opportunity to experience the local culture and traditions.
Another festival to check out is the Santa Eulalia Festival, which honors the patron saint of Barcelona. It's a week-long celebration with parades, concerts, and other activities.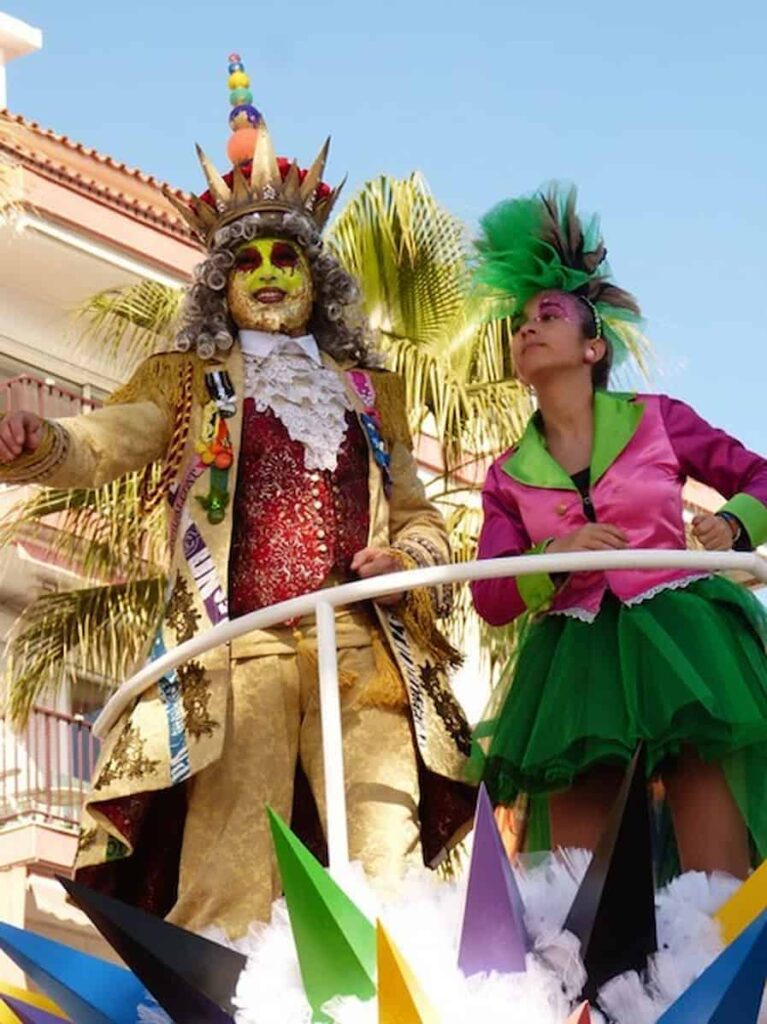 Take advantage of the (relative) lack of crowds
February is a great time to visit Barcelona if you want to avoid the crowds. The city's top attractions, such as the Sagrada Familia and Park Guell, are less busy during this time of year. You can also take advantage of shorter lines and discounted tickets.
If you're interested in art, the Museu Picasso and Fundacio Joan Miro are worth a visit. And don't forget to explore the Gothic Quarter, which is the oldest part of the city and has a lot of history and charm.
FAQs
Can You Swim at the Beach in Barcelona in February?
You may want to take a dip in the Mediterranean Sea, but unfortunately, swimming at the beach in Barcelona in February is not recommended. The water temperature is too cold for most people, and the weather can be unpredictable.
However, you can still enjoy a walk on the beach and take in the beautiful views.
Does It Rain in Barcelona in February?
Yes, it does rain in Barcelona in February. In fact, it's one of the rainiest months of the year. You should be prepared with an umbrella and waterproof shoes. However, the rain usually doesn't last long, and you can still enjoy many indoor activities and attractions.
Is It Hot in Barcelona in February?
No, it isn't hot in Barcelona in February. It's still winter, after all, and the average temperature is around 14°C (57°F) during the day and 5°C (41°F) at night. You should bring warm clothes and a jacket to stay comfortable.
Is It Cold in Barcelona in February?
Yes, it can be cold in Barcelona in February, especially at night. The average temperature is around 5°C (41°F) at night, so you should bring warm clothes and a jacket. However, it is not as cold as many other European cities during the winter.
Is Barcelona Windy in February?
Yes, Barcelona can be windy in February. The wind can make the temperature feel colder, so you should bring warm clothes and a jacket. However, the wind is usually not too strong, and it shouldn't affect your travel plans.
Overall, visiting Barcelona in February can be a great experience if you're prepared for the weather. You can still enjoy many indoor activities and attractions, as well as some outdoor activities on sunny days.
Don't forget to bring warm clothes and a jacket, be prepared for rain – and you should be good to go!