30 Key Things to Know on What Barcelona is Like (2023)
This article may contain affiliate links. Please read our
Disclosure Policy
for more information.
Perhaps you're planning that dream trip, or maybe you've just heard so much about this Spanish city that you want to see what all the fuss is about. Either way, you're in for a treat.
Barcelona, with its myriad of experiences, has a way of both pulling you in and leaving you wanting more. And while I live in Spain and have spent a ton of time in Barcelona, each visit feels like the first – there's always something new to discover.
Stick with me as I take you through what Barcelona is like, so you know just what to expect when you get here – and just what you have to look forward to!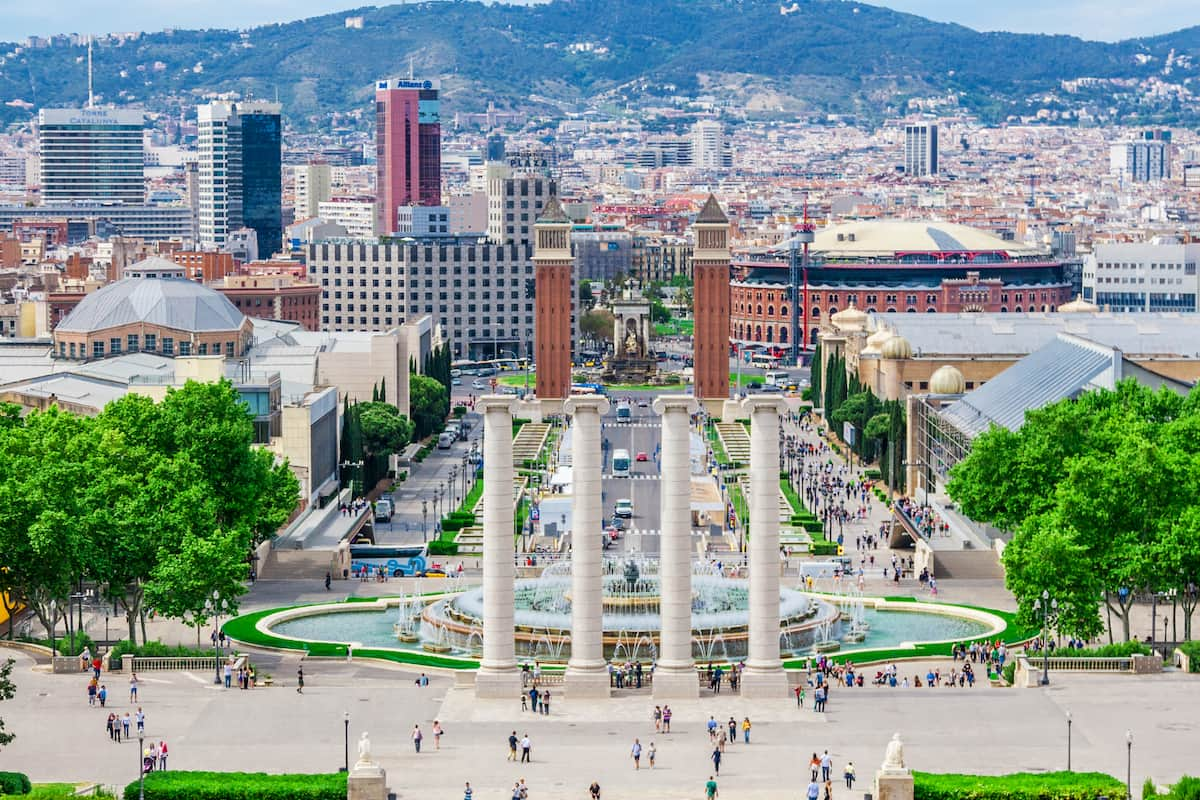 What is Barcelona like?
1. Vibrant cosmopolitan city with a rich Catalan culture
Barcelona is a great blend of the modern and the traditional. At its core, the city embodies the soul of Catalan culture. You'll notice it in the various languages you hear on the streets, where Spanish and Catalan can be heard
It's also visible in the festivals that are distinctly regional in their celebration. For example, the castells—human towers that are built during festivals—are an awe-inspiring sight that symbolizes unity and strength.
They're not just performances; they're centuries-old traditions. By just spending a few days here, you'll start to gain an appreciation for Catalonia's distinct identity.
2. Architectural masterpieces by Antoni Gaudí
Barcelona and Antoni Gaudí are intertwined in a way few cities and architects are. His architectural signature is evident throughout the city, shaping its iconic skyline.
The Sagrada Família, while still under construction, is a marvel. Every detail, from its complex facades to its soaring interiors, has been meticulously thought out.
Gaudí's inspiration from nature is evident, and it promises a unique blend of art and spirituality.
Then there's Park Güell—a sprawling public park that reflects Gaudí's creative genius. Its colorful mosaics, winding pathways, and elevated spots offer panoramic views of Barcelona.
It's a space where nature meets art, providing a tranquil escape from the city's hustle and bustle.
There are others, too, that I'll get to below and that are just as much a part of Barcelona's identity these days.
3. Beautiful Mediterranean beaches and seafront promenade
Barceloneta might be the first name that pops up when talking about Barcelona's beaches, but the city's coastline has a lot more to offer.
For instance, if you're seeking a more peaceful beach experience, consider visiting Nova Icaria. It's a bit quieter and offers a nice atmosphere for relaxation or trying out water activities like paddleboarding.
Bogatell, meanwhile, has a sporty vibe – great for those who enjoy a game of beach volleyball. And for those looking for a youthful, inclusive atmosphere, Mar Bella stands out with dedicated spaces for everyone, including the LGBTQI+ community.
The promenade connecting these beaches makes for a serene walking path, offering the sights and sounds of the Mediterranean.
4. FC Barcelona's Camp Nou and passionate soccer culture
Soccer – or as it's called here, football – isn't just a sport in Barcelona; it's a deeply embedded part of the culture. And at the heart of this passion lies FC Barcelona and its iconic stadium, Camp Nou.
With a capacity of nearly 100,000, Camp Nou isn't just one of the largest soccer stadiums in the world – it's a temple for the local fans.
Even if you aren't an avid football follower, attending a match here or merely touring the stadium is an enlightening experience. The cheers, the songs, the camaraderie – it's all palpable.
The museum within the stadium offers a glimpse into the rich history of the club, its legendary players, and memorable moments. But more than anything, it's an ode to the profound bond between the team and its city.
5. Thriving nightlife with tapas bars, clubs, and rooftop terraces
The Barcelona nights are as lively as its days, if not more so. As the sun sets, the city's vibe shifts, and an entirely new dimension of Barcelona emerges.
If you're keen on getting a taste of the local cuisine in a laid-back environment, tapas bars are the way to go. They're more than just places to eat; they're social hubs where friends gather, share stories, and of course, indulge in a variety of small dishes, from patatas bravas to albondigas (meatballs) and much, much more.
For those wanting to hit the dance floor or enjoying other styles of music, Barcelona's clubs offer a mix of global hits and local rhythms. Whether you're into electronic beats or live performances, you'll find a spot that matches your preference.
And if you're looking for an experience that's a touch more relaxed but no less vibrant, the city's rooftop terraces are a must-visit. Many offer stunning views of the city illuminated under the night sky, accompanied by soothing tunes and a refreshing breeze.
6. Historic Gothic Quarter with Roman ruins and charming streets
A walk through Barcelona's Gothic Quarter is like stepping back in time. The maze-like alleyways, stone-paved streets, and historic buildings tell tales from centuries ago. Tucked away within these streets, you'll discover remnants of Roman architecture, offering silent testimony to Barcelona's rich past.
Every corner of the Gothic Quarter seems to have its own story. From the grand Barcelona Cathedral with its intricate facades to the more intimate squares like Plaça del Rei, where musicians often serenade passersby, there's a sense of history and charm intertwined.
Alongside these historic markers, you'll find modern shops, cafes, and restaurants, illustrating the beautiful blend of old and new. It's a place where you can lose yourself, only to find something unexpected and delightful.
Whether it's an ancient relic, a boutique store, or a quiet café, the Gothic Quarter promises surprises at every turn.
7. Museums
Barcelona is home to an impressive array of museums, each shedding light on different facets of the city's multifarious history, culture, and art. For art enthusiasts, the Museu Picasso is an essential stop.
Holding one of the most comprehensive collections of artworks by the 20th-century Spanish artist Pablo Picasso, it's a journey through the evolution of this legendary artist, showcasing his relationship with the city that he loved in his formative years.
The Museu Nacional d'Art de Catalunya (often referred to as MNAC) is another cornerstone in the city's cultural landscape. Housed in the striking Palau Nacional, this museum boasts a vast collection ranging from Romanesque church paintings to modern art.
Similarly, the Museu d'Història de Barcelona provides a deep dive into the city's past, right from its Roman origins to its modern-day evolution.
8. Modernist architecture
One of the defining features of Barcelona is undoubtedly its Modernist architecture, a movement that flourished during the late 19th and early 20th centuries. While Antoni Gaudí is perhaps the most famous figure associated with this movement, several other architects also made significant contributions, leaving a lasting legacy in the form of intricate facades, whimsical designs, and imaginative structures.
Walking through the streets of the Eixample district, you'll encounter prime examples of this architectural style. Beyond Gaudí's famous creations like Casa Batlló or Casa Milà, there's also the lesser-known but equally impressive Casa Amatller by Josep Puig i Cadafalch or the Casa Lleó Morera by Lluís Domènech i Montaner.
These structures, with their unique blend of curves, floral motifs, and often colorful exteriors, stand as testaments to a time when architects aimed to challenge the status quo and redefine urban landscapes.
9. Contemporary art scene
Beyond its historically rich museums, Barcelona pulsates with a thriving contemporary art scene. The city is teeming with galleries and art spaces that offer a platform to emerging talents alongside established names.
The MACBA (Museu d'Art Contemporani de Barcelona) stands out prominently in this regard. Located in the Raval neighborhood, its sleek, modern design contrasts beautifully with the surrounding historic buildings, encapsulating Barcelona's blend of the old and the new.
Inside, you'll find pieces by Spanish and international artists that push boundaries, spark debates, and challenge conventions.
In addition to established galleries, the city streets themselves serve as an open-air canvas. From thought-provoking murals to intricate graffiti, Barcelona's street art scene offers a fresh and unfiltered perspective on contemporary culture and societal issues.
10. Public transportation system and bike-friendly streets
Navigating Barcelona is a breeze, thanks to its efficient public transportation system. The city's metro, operated by TMB (Transports Metropolitans de Barcelona), is widely used by both locals and visitors.
It's punctual, expansive, and relatively easy to use, connecting major attractions, neighborhoods, and even some suburban areas. Buses and trams further complement the metro system, ensuring that no corner of the city is out of reach.
For those who prefer a more eco-friendly and active mode of transport, Barcelona's streets are welcoming. Over the years, the city has made significant efforts to be more bike-friendly.
There are dedicated bike lanes, bike-sharing programs like Bicing, and plenty of shops where you can rent a bicycle for the day.
So whether you're commuting or simply exploring, pedaling through Barcelona offers a unique and intimate perspective of its diverse landscapes and rhythms.
11. Diverse neighborhoods
Barcelona's essence lies not just in its prominent landmarks but also in its diverse neighborhoods, each exuding its own distinct character and charm.
From the bohemian vibe of El Raval with its myriad of shops and multicultural eateries to the upscale and trendy El Born, known for its narrow medieval streets lined with boutiques, bars, and more; there's a neighborhood for every preference.
Gràcia, once a separate village, has retained its tight-knit community feel and is celebrated for its quaint squares, local festivals, and artisanal shops.
In contrast, the Eixample district, characterized by its grid-like layout and modernist architecture, offers a more cosmopolitan feel with its wide avenues, luxury boutiques, and iconic buildings.
Venturing into each neighborhood provides a deeper understanding of the city's mosaic-like structure. They showcase how Barcelona's diverse history, culture, and influences have come together to create a city that's both cohesive yet beautifully fragmented.
12. Day trips to nearby attractions
Barcelona's allure isn't just confined to the city limits. Its strategic location means that several great day-trip destinations are within easy reach.
For instance, the Montserrat mountain range, with its unique rock formations and the historic Montserrat Monastery, is a popular escape. The views from the mountain and the serene ambiance of the monastery create a refreshing contrast to the urban hustle.
Another worthy destination is Sitges, a coastal town known for its beaches, festivals, and vibrant nightlife. The charming streets, lined with boutiques and eateries, make for a delightful stroll.
Further afield, places like Girona, with its medieval architecture, and the Dali Theatre-Museum in Figueres, celebrating the eccentric genius of Salvador Dalí, beckon.
These nearby attractions only make Barcelona even more worth visting, offering diverse experiences that range from natural beauty to artistic wonders.
13. Mediterranean climate with mild winters
Barcelona's geographical positioning gives it a pleasant Mediterranean climate. This means that the city experiences warm, sunny summers and relatively mild winters, making it a year-round destination for travelers.
Summer days, from June to August, can be pretty warm to be honest, but the sea breeze often brings about somewhat of a welcome relief. It's the ideal time for beachgoers and outdoor enthusiasts to fully enjoy what the city has to offer.
Winter months, spanning from December to February, see temperatures that rarely drop to freezing. It's not uncommon to witness locals and tourists alike enjoying a sunny afternoon at an outdoor café even in January (albeit with a jacket on or heater nearby, sometimes).
This mild climate ensures that the city's vibrant street life, terraces, and parks remain active and inviting throughout the year.
14. Local cuisine, including tapas and traditional Catalan dishes
No exploration of Barcelona would be complete without delving into its culinary scene. While tapas – those small, flavorful dishes often shared among friends over drinks – are popular throughout Spain, Barcelona offers its unique spin on them.
From patatas bravas (spiced potatoes) to bombas (meat-filled potato balls), the city's tapas bars buzz with innovation and tradition.
However, the true essence of the region's culinary prowess is evident in its traditional Catalan dishes. Escudella i carn d'olla, a hearty stew with meats and vegetables, or the suquet de peix, a delicate fish stew, showcase the flavors of the Mediterranean.
And for something sweet, the crema catalana, Catalonia's answer to crème brûlée, is a must-try.
Local markets, like La Boqueria, source the freshest ingredients, ensuring that whether you're dining at a high-end restaurant or a humble family-run eatery, the flavors are authentic and deeply rooted in Catalonia's rich gastronomic heritage.
15. Local wine and cava
Barcelona and its surroundin/g regions have a deep-rooted tradition in viticulture, offering a range of local wines that encapsulate the flavors and aromas of the Mediterranean coast.
While the city itself is awash with wine bars and bodegas that offer a curated selection of these local pours, it's the sparkling wine, cava, that truly stands out as a regional specialty.
Originating from the Penedès region, just a stone's throw from Barcelona, cava has become synonymous with celebrations and festive occasions in Catalonia. Made primarily from the local grape varieties of Macabeo, Parellada, and Xarel·lo, cava undergoes a detailed fermentation process, akin to champagne, giving it its characteristic effervescence and depth.
Whether you're clinking glasses in a local bar or indulging in a tasting session in a centuries-old cellar, the experience of sipping on this bubbly delight is quintessentially Catalonian.
16. Catalonian wine regions
While cava might be the sparkling crown jewel, Catalonia boasts several wine regions that produce a diverse range of wines.
The Penedès region, apart from cava, is also known for its white and red wines. Its varied terrain, stretching from the coast to the mountainous interior, allows for the cultivation of a wide array of grape varieties, leading to wines that range from light and fresh to robust and complex.
Another noteworthy region is Priorat, located inland from Barcelona. Its slate-laden soil and unique microclimate give birth to powerful red wines with a distinctive mineral edge. Garnacha and Cariñena are the dominant grape varieties here, often producing wines that are layered, intense, and deeply reflective of the region's terroir.
Exploring these wine regions, with their vine-covered landscapes, historic bodegas, and passionate winemakers, offers a deeper understanding of Catalonia's wine culture and the nuances that make each bottle special.
17. Street markets and gourmet food markets
Barcelona's relationship with fresh produce and culinary delights is showcased beautifully in its range of street and gourmet food markets.
The Mercat de Sant Josep de la Boqueria, commonly referred to as La Boqueria, is perhaps the most iconic. Situated off La Rambla, this bustling market offers a feast for the senses.
From vibrant stalls selling fresh fruits, vegetables, and seafood to vendors offering local specialties and sweets, it's a gastronomic paradise.
Other notable markets include the Mercat de Sant Antoni, housed in an impressive iron structure, offering not just food but also books, clothes, and antiques during the Sunday market. The Mercat de la Concepció in the Eixample district is another spot where fresh flowers, food, and local produce are in abundance.
For the gourmets and food enthusiasts, there are specialized gourmet markets and food halls, like El Nacional, which offers a range of high-quality Spanish cuisines all under one roof.
Exploring these markets gives visitors an authentic taste of the city's culinary landscape, and often, the heart and soul of its local community.
18. Outdoor terraces with street performers/
One of the city's favorite pastimes is enjoying the outdoor terraces, which are generously sprinkled throughout Barcelona.
Whether it's a cozy corner in a tucked-away square or a bustling avenue like La Rambla, terraces are where you'll find both locals and tourists soaking in the sun, sipping on drinks, and indulging in animated conversations.
These terraces aren't just for relaxation; they're prime spots for some spontaneous entertainment.
It's common to find street performers gracing these areas with their talents. Musicians playing Spanish guitar melodies, flamenco dancers stamping their heels to rhythmical beats, or mime artists enacting silent dramas — they all add to the vibrant atmosphere.
While enjoying your coffee or a glass of sangria, these performances provide a backdrop that's quintessentially Barcelona.
19. Cultural festivals and local fiestas
Barcelona is a city that loves to celebrate. Throughout the year, its calendar is dotted with cultural festivals and local fiestas that reflect its rich heritage and diverse influences.
One of the standout events is La Mercè, a grand fiesta in honor of the city's patron saint, which sees a flurry of activities ranging from parades, firework displays, and the aforementioned castells (human towers).
Another significant event is the Festa Major de Gràcia. Taking place in the Gràcia neighborhood, streets compete in decoration themes, transforming the area into a fantastical realm for a few days. Concerts, dances, and other activities accompany the visual spectacle.
These festivals, along with many others like Sant Jordi or the Festival of Magic, embody the spirit of Barcelona — a blend of tradition, creativity, and communal celebration.
20. Green parks, gardens, and stunning views from Montjuïc hill
Barcelona, despite its bustling urban aura, offers several green oases in the form of parks and gardens. These spots provide locals and visitors alike a much-needed respite from the city's dynamic pace.
Among the most notable is Parc de la Ciutadella, which besides its green expanses, has a beautiful lake, a zoo, and the mesmerizing Cascada Monumental fountain.
However, for those seeking unparalleled views of the city, Montjuïc hill stands unmatched. The ascent to its summit, whether by foot, cable car, or the funicular, is rewarded with panoramic vistas of Barcelona's skyline against the backdrop of the shimmering Mediterranean.
The hill itself is dotted with gardens, museums, and historical sites like the Magic Fountain and the Montjuïc Castle. Each corner of Montjuïc seems to offer a unique perspective, not just visually but also in terms of the city's layered history.
21. Boating and water sports
Given Barcelona's prime location along the Mediterranean coast, it's no surprise that water-based activities are definitely a thing to do here. The city's marina and surrounding areas are hubs for boating enthusiasts.
Whether you fancy sailing on a yacht, enjoying a leisurely boat tour, or simply watching the boats come and go from a seaside café, the maritime charm is undeniable.
For the more adventurous, Barcelona's beaches offer opportunities for water sports. Stand-up paddleboarding, windsurfing, and jet-skiing are just a few activities that locals and tourists engage in.
And with numerous schools and rental shops along the coast, even beginners can dip their toes in and get a dose of adrenaline.
22. UNESCO World Heritage sites and cultural diversity
Barcelona's rich history, architectural marvels, and vibrant cultural tapestry have garnered it recognition on the global stage, with several of its landmarks being designated as UNESCO World Heritage sites.
These include the works of Antoni Gaudí like Park Güell, Palau Güell, and of course, the still-under-construction marvel, the Sagrada Família. Each site offers insights into the innovative architectural styles and techniques that have defined Barcelona's urban landscape.
However, what truly stands out about Barcelona is its cultural diversity. Over centuries, it has been a melting pot for different civilizations, each leaving its imprint on the city's character.
From the Romans to the Visigoths and later the Moors, each era has contributed layers to Barcelona's complex identity. This amalgamation is evident in its architecture, art, festivals, and even day-to-day life.
23. Catalan language and identity
An essential aspect of Barcelona's essence is its Catalan identity. While Spanish is widely spoken, Catalan is the co-official language and an integral part of the region's identity.
It's not just a language but a symbol of the Catalan people's distinct history, culture, and aspirations. Street names, public signs, and even casual conversations at local cafes often resonate with the sounds of Catalan.
This distinct identity also manifests in festivals like Diada de Sant Jordi (Saint George's Day), where books and roses dominate the streets, or the vibrant celebrations of Catalonia's National Day (La Diada).
These occasions offer a glimpse into the region's proud heritage and the enduring spirit of its people.
24. Historical churches and cathedrals
Beyond the widely recognized Sagrada Família, Barcelona houses an array of historical churches and cathedrals that trace back to various epochs of the city's past.
The Barcelona Cathedral, or the Cathedral of the Holy Cross and Saint Eulalia, located in the heart of the Gothic Quarter, is a prime example of Gothic architecture. With its intricately designed façade, beautiful cloister, and rooftop views, it's a testament to the city's religious and architectural heritage.
Santa Maria del Mar, another Gothic masterpiece, stands as a symbol of the maritime and commercial history of the city. Its tall columns, magnificent stained glass, and the story of its construction by the bastaixos (porters) make it unique.
Each of these sacred spaces, along with numerous other churches peppered across the city, offers a serene refuge and a journey through Barcelona's multi-layered history.
25. Public art installations
Barcelona is not just a city where art is confined to galleries; it thrives and interacts with residents and visitors on the streets. Public art installations dot the urban landscape, transforming mundane spaces into canvases for creativity.
From sculptures like the iconic fish structure, "El Peix", designed by Frank Gehry for the 1992 Olympics, to the playful Roy Lichtenstein sculpture "El Cap de Barcelona" (The Head of Barcelona), the city seems to continuously merge the functional and the aesthetic.
Walls adorned with murals, mosaics in parks, and sculptures at roundabouts – art in Barcelona is truly democratic, accessible, and integrated with daily life. It serves as a reminder of the city's long-standing love affair with creativity and its commitment to making art a public, shared experience.
26. Cultural diversity and vibrant LGBTQI+ scene
Barcelona's character is inherently pluralistic. Over the years, it has become a melting pot for various cultures, drawing people from across the globe and becoming a microcosm of diverse lifestyles, traditions, and perspectives.
This cultural richness is evident in its festivals, eateries, and neighborhoods, where varied influences come together harmoniously.
Integral to this mosaic of cultures is Barcelona's vibrant LGBTQI+ scene. The city is known for its progressive and inclusive stance, making it a beacon for the LGBTQI+ community.
Areas like the Eixample district, often dubbed "Gayxample", are brimming with LGBTQI+ friendly bars, clubs, and shops. Events like the Barcelona Pride and the International Gay and Lesbian Film Festival further solidify the city's status as a welcoming and celebratory space for all.
In essence, the diversity and inclusiveness that Barcelona showcases make it more than just a destination; it's a living, breathing entity where myriad cultures, identities, and histories coalesce.
27. Artisanal craft shops
Wandering through the narrow alleyways of Barcelona, you'll often find yourself stumbling upon small, unassuming storefronts that house a world of craftsmanship. These artisanal craft shops are repositories of tradition, skill, and passion.
From handcrafted leather goods and ceramics to intricate jewelry and textiles, the array of items on display is a testament to the city's artistic spirit.
Many of these workshops have been run by families for generations, preserving age-old techniques while also infusing contemporary elements. Whether it's a mosaic-inspired trinket, a hand-stitched espadrille, or a custom-made ceramic plate, each item tells a story of its maker and the city's rich artisanal heritage.
Taking a piece from these craft shops is akin to carrying a fragment of Barcelona's soul, a tangible reminder of the city's commitment to artistry, detail, and tradition.
28. Quirky boutiques
Barcelona's shopping landscape is as diverse as its culture. Alongside the grand avenues lined with luxury brands, you'll find a fun array of quirky boutiques peppered throughout the city.
These unique shops offer everything from avant-garde fashion to one-of-a-kind home décor, providing an alternative to the mainstream retail experience.
El Born and Gràcia, two of the city's most vibrant neighborhoods, are hotspots for these boutiques. Here, independent designers showcase their creations, marrying tradition with innovation.
Whether it's a hand-printed t-shirt, bespoke jewelry, or vintage records, there's a sense of personality and authenticity in each item. For the discerning shopper looking for something out of the ordinary, these boutiques offer treasures that reflect Barcelona's eclectic spirit.
29. Mediterranean cruises from Port Vell
Positioned along the city's bustling waterfront, Port Vell serves as Barcelona's maritime gateway, linking it to the vast expanse of the Mediterranean. Over the years, it has transformed from a historic port to a modern hub for yachts, entertainment, and of course, Mediterranean cruises.
Starting a cruise from Port Vell offers the unique experience of embarking on your journey right from the heart of the city. As you set sail, the iconic silhouette of Montjuïc, the Columbus Monument, and the distant spires of Sagrada Família bid you farewell.
The cruises cater to a range of itineraries, from short trips exploring the Balearic Islands to longer voyages reaching the coasts of Italy or Greece.
While there have been calls in recent years to manage these better, due to the heaving crowds of tourists that these ships can bring to the center of Barcelona, there's no question that, for now, they remain extremely popular.
For those staying onshore, the Port Vell area, with its promenade, aquarium, and the Maremàgnum shopping center, offers ample entertainment, making it a lively spot for both locals and visitors.
30. UNESCO Creative City for Literature
While Barcelona's architectural and artistic wonders often steal the limelight, the city's literary heritage is equally noteworthy. Recognized as a UNESCO Creative City for Literature, Barcelona celebrates its profound literary legacy and its contemporary contributions to the world of letters.
The city's bookshops – some of which have been around for over a century – libraries that are architectural marvels in their own right, and literary festivals like La Setmana del Llibre en Català (Catalan Book Week) highlight Barcelona's reverence for the written word.
Streets named after authors, plaques commemorating literary events, and the tradition of Diada de Sant Jordi that I mentioned above, where books and roses are exchanged, all underscore the city's literary fabric.
For bibliophiles, Barcelona offers the joy of tracing the footsteps of fictional characters, exploring the settings of iconic novels, and diving deep into a culture where literature is celebrated, cherished, and lived every day.
In essence, Barcelona, with its vibrant hues, rich flavors, and enchanting melodies, is more than just a destination – it's a feeling, an experience, a memory in the making. If you ever find yourself wandering its streets, remember that each cobblestone and facade has a story, just waiting for you to be a part of it.
It's also why, when someone asks "What is Barcelona like?", it can be hard to answer given the various facets that make up this city.
But it's these different aspects that definitely make a visit here worthwhile – although it's perhaps best if you come and check this for yourself!