50 Best Things to Do in Barcelona for Young Adults (2023)
This article may contain affiliate links. Please read our
Disclosure Policy
for more information.
Searching for the ultimate Barcelona bucket list tailored just for you? Look no further as this guide on the best things to do in Barcelona for young adults is for you.
You'll uncover the city's electric mix of culture, parties, and those off-the-beaten-path spots. By the end of it? You'll be navigating Barcelona like an insider.
I've been calling Spain home for a while now, and I've spent heaps of time exploring every nook and cranny of Barcelona.
From techy art hubs to neighborhood fiestas, I've got the lowdown on where to go, what to do, and how to make the most of your Catalan adventure. 
Planning a trip to Barcelona?
Barcelona is incredibly popular for tourists and so it's essential to book accommodation well in advance to avoid missing out here. Here are my top picks on the best places to stay for the ideal mix of comfort, convenience and (reasonable!) costs:
⭐⭐⭐⭐⭐ Best luxury accommodation: Ohla Barcelona – amazing rooftop pool, incredible views, and the perfect location to explore the city
⭐⭐⭐⭐ Best mid-range accommodation: Seventy Barcelona – the décor of this boutique hotel is so modern and stylish, the rooftop pool is ideal, plus you'll be near the main sights the moment you step outside
⭐⭐ Best budget accommodation: Àmfores Boutique Guest House – the rooms are comfortable, the location is superb and the terrace is a great spot to end your day
Best things to do in Barcelona for young adults
1. Sagrada Familia
The Sagrada Familia isn't just any church – it's a symbol of Barcelona and Gaudí's most iconic work. You see, it's been under construction since 1882 and, although it's not fully completed yet, the progress and design are something to marvel at. 
Each façade tells a different biblical story with intricate sculptures. Inside, the forest-like columns and the play of light through the stained-glass windows give an almost magical ambiance.
And a pro tip: climb one of the towers! It's an extra cost (you can get a ticket here that lets you select the tower option), but the view from up there is worth every penny. 
If you're watching your budget, you might not want to pay to enter every Gaudí attraction, but if you're going to choose just one – let it be the Sagrada Familia.
PRO TIP: The Sagrada Familia is easily the most visited tourist site in Barcelona and tickets frequently sell out weeks ahead of time.
To make sure you don't miss out, you need to book your tickets for the Sagrada Familia well in advance of your visit. As once they're gone, they're gone – and seeing inside is a definite must while you're here.
2. Park Güell
Next on your Gaudí adventure is Park Güell. Think of it as basically a fairy-tale playground – that's actually considered a bit of an architectural wonder. 
It was initially designed to be a housing site, but today it stands as a public park filled with Gaudí's unmistakable colorful mosaics and imaginative architecture. There's the Dragon Stairway at the entrance, the serpentine benches, and don't miss the colorful mosaic salamander – it's perfect for a photo op!
While the 'Monumental Zone' has a fee (that's where the major Gaudí structures are, so it's worth paying for), you'll find plenty of areas in the free section of the park to explore. Take a leisurely walk, or just lay on the grass, and enjoy the views of the city below.
FYI: If you're looking to visit both the Sagrada Familia and Park Güell and you're short on time, you can get skip-the-line entry and a tour of both sights in one day right here.
3. Sunset at the Bunkers del Carmel
Ready for a serene end to your day? Head to the Bunkers del Carmel.
It's a bit of a climb, but when you reach the top, you'll understand why this spot has become a favorite for both locals and visitors. These bunkers were originally built during the Spanish Civil War and have been somewhat hidden from the mainstream tourist circuit for years.
But the secret's out! With its 360-degree views, it's arguably the best place in the city to catch a sunset.
As the sun dips, the city lights start to twinkle, and the vibe up there is just perfect. Remember to bring a light jacket as it might get breezy, and maybe some snacks and drinks to make the moment even sweeter.
4. Bike tour of Barcelona
Ready to ride? One of the coolest ways to cover ground and see the city's highlights is by hopping on a bike.
Barcelona is super bike-friendly, with dedicated lanes making it a smooth experience. There are plenty of guided bike tours you can join (this is the bike tour I always like to recommend to people who come here), where local guides spill the secrets of the city while taking you through the vibrant neighborhoods, famous landmarks, and even some hidden spots.
But if you're the independent type, just rent a bike for the day! Cycle at your own pace, maybe pause for a tapas break, and just soak in the city's rhythm.
It's not only eco-friendly but also wallet-friendly, especially if you compare it to other modes of transport.
5. Sailing trip
How does sailing the Mediterranean and seeing Barcelona from the water sound? There are a ton of different sailing trips on offer too.
From all-day trips that let you dive into the blue waters for a swim, to evening ones where you can watch the horizon change colors as the sun says goodbye. The sunset trips are definitely a mood – with the silhouette of the city in the backdrop and the gentle sway of the boat, it's pure magic. 
I love this sunset cruise with live music, which is my personal favorite. But if you prefer a daytime adventure, take a look at this catamaran party cruise.
While a private tour is going to get a tad pricier, the group ones are perfect in my opinion – not to mention more budget-friendly. And who knows who else you'll find on board!
6. Clubbing
It's hardly a secret that Barcelona's got just as much to do at night as it does during the day! This is a city that doesn't sleep easily, and if you're up for some of the best nightlife in the world, you're in the right city.
Here are a few clubs to consider:
Pacha: Right by the beach, Pacha offers the combo of cool beats and sea breezes. It's a spot that frequently hosts famous DJs and has an energetic vibe.
Opium: Another beachside favorite, Opium has a vast dance floor and is known for hosting big international acts. Great if you're into EDM and house beats.
Razzmatazz: This is a massive club with five different rooms, each blasting its own style of music. From pop hits to techno, there's something for every groove.
Remember, the party starts late here – most clubs don't get going until well after midnight, if not 2am or later. And if you happen to come out after the sun's come up, well, you're doing it right.
7. Paella cooking class
If there's one dish that screams Spain, it's paella. But how about taking your love for this famous dish a step further?
And that's why I always suggest visitors here join a paella cooking class! And Barcelona is full of culinary schools offering this hands-on experience.
Many of them start with a visit to a local market, so you'll get plenty of tips and tricks on how to find the freshest ingredients to take your paella to the next level.
From there, not only do you learn the art of cooking authentic paella (and trust me, there's an art to it), but you also get to devour your creation afterwards. It's a win-win!
Plus, imagine the bragging rights when you whip up some authentic paella for your friends back home. It's a fun and interactive way to immerse yourself in Spanish culture, and you get a meal out of it – sounds like a good deal!
Check out the availability of my favorite paella cooking class in Barcelona here!
8. Eat paella (for lunch, not dinner!)
Speaking of paella, here's a bit of local insight for you: eat it for lunch, not dinner. I know, I know, it might be tempting to save this hearty dish for an evening meal, but traditionally, for Spaniards, paella is a lunchtime affair.
(This is also helpful for avoiding tourist traps as if you see them selling paella for dinner, you know the place is aimed at tourists, not locals!)
If you're especially lucky, you may stumble upon a "menu del día" deal which includes a starter, paella as the main course, and a dessert or drink, all at a reasonable price.
For what it's worth, if you're just here for a few days, I really recommend the paella cooking class option as it's a ton of fun. But if you truly can't be bothered or don't have the time, having someone else make it for you is pretty good too!
9. Try tinto de verano instead of sangria
Alright, let's talk drinks. While sangria might be the famous Spanish drink abroad, here in Barcelona (and pretty much the rest of Spain), we're sipping on tinto de verano.
It translates to "red wine of summer", and it's a refreshing mix of red wine and lemon or lemon-lime soda. Light, fizzy, and not too sweet. Perfect for those warm Barcelona afternoons.
Most locals prefer it over sangria, mainly because it's simpler and doesn't have the added fruits and liquors.
When you're chilling at a terrace bar, ask for a glass of tinto de verano. It's a true taste of Spanish summer, minus the hefty tourist price tag.
10. Guided tapas and wine tour
One great way to go deep into the culinary heart of Barcelona is with a guided tapas and wine tour! Now, I've wandered through these streets many a time, and I still find hidden corners with mouth-watering tapas that surprise me. 
As you probably know, tapas are these small dishes, perfect for sharing (or hoarding – no judgment here!). With so many choices, a guided tour can be a lifesaver.
A local guide not only takes you to the authentic spots, steering clear of the tourist traps, but also pairs each dish with a local wine that complements it.
Think patatas bravas with a robust red or fresh anchovies with a crisp white. It's a fun, educational, and delicious way to spend an evening.
11. Eat your way along Calle Verdi in Gràcia
Gràcia is such a great neighborhood. And its heart? Calle Verdi.
Lined with an eclectic mix of eateries, this street invites you to explore the global and local flavors Barcelona has to offer. From Syrian bakeries to Argentine grills, the diversity here is impressive.
But, of course, there are Spanish tapas bars too! Casual, buzzing, and full of character, each place on Calle Verdi offers a unique vibe.
Even the people watching here is great, so grab something to eat at whichever place catches your eye and settle in to watch the world go by. You won't be breaking the bank, and you'll leave with a satisfied belly and a smile.
12. Bar crawl
Now, let's talk nightlife. You've danced, you've dined, but have you truly dived into Barcelona's bar scene?
From historic bodegas to modern lounges, there's a place for every mood. And with an organized bar crawl of Barcelona, you'll often find yourself with a mix of similar people, all up for having a good time!
You might find yourself starting in the El Raval area, with its mix of quirky bars and cafes. As the night progresses, you could then move towards the El Born district, where you can experience medieval architecture with a cocktail in hand.
Of course, it's going to depend on which bar crawl you end up signing up for, but I always recommend this Barcelona bar crawl as, well, let's just say that I can personally confirm that it's a great night out.
A word of caution: while the nights are long and the drinks flow freely, always keep an eye on your belongings. Have fun, but stay savvy.
13. Wine tasting
You've tasted the tapas, now let's get down to the wines! Spain is a paradise for wine enthusiasts, and Barcelona is no exception.
The city is surrounded by vineyards producing some of the country's finest wines. While a day trip to the vineyards can be an adventure of its own, if you're short on time or want to get a quick primer, plenty of wine bars and cellars in the city offer tasting sessions.
With knowledgeable sommeliers guiding you through the journey of reds, whites, and cavas (that's our local bubbly), you'll get a feel for the diverse Spanish wine regions without leaving the city.
14. Magic Nights on Casa Batlló
Now, for a dose of culture and magic. Casa Batlló, one of Gaudí's architectural masterpieces, isn't just about daytime tours. 
At certain times of the year, when the sun sets, this whimsical building transforms into a stage for 'Magic Nights.' Imagine listening to live music on the Dragon's Rooftop, with views of the illuminated city as your backdrop.
From jazz to flamenco, the genres vary, offering something for everyone. While the entry might feel a touch pricey, it includes access to the museum and a drink to savor during the performance.
Considering the unique setting and experience, it's well worth the euros.
15. Kiss of Freedom mural
Art in Barcelona isn't just confined to museums; it's splashed across the city's walls. One piece that particularly stands out is the 'Kiss of Freedom' mural located at Plaça d'Isidre Nonell.
At first glance, it seems like a beautiful mosaic of a kiss, but when you move closer, you'll notice that the mural is composed of thousands of tiny photos. These photos capture moments of personal freedom sent in by people from around the world.
The vibrant and emotive piece is more than just a mural; it's a message of love, hope, and unity.
It's a refreshing pit stop in your Barcelona journey, and the best part? No entry fee involved. Simply walk up and let the art inspire you.
16. Hike Mount Tibidabo
Get those sneakers ready, because this is a must-do for every adventure-seeker out there! Mount Tibidabo offers a refreshing escape from the city hustle.
With its trails weaving through greenery, it provides not only a solid workout but also some of the best panoramic views of Barcelona. And hey, at the summit, you'll find the beautiful Temple of the Sacred Heart, a spot where you can catch your breath and snap some memorable photos.
If hiking isn't entirely your thing, there's also a funicular that can take you up. Either way, reaching the top of Tibidabo is something to brag about, and the view… well, you've got to see it to believe it.
17. Make your own cava workshop
Ever thought about creating your own bubbly? Well, here's your chance!
Dive into the effervescent world of cava, Catalonia's answer to champagne, by joining a workshop that lets you craft your signature bottle of cava. These workshops walk you through the traditional methods, from picking the right blend of grapes to the fermentation process. 
At the end of the day, you get to cork your own bottle and label it too. It's not just about the drink; it's about the story behind it.
And trust me, sipping on a cava that you've personally crafted has its own unmatched charm.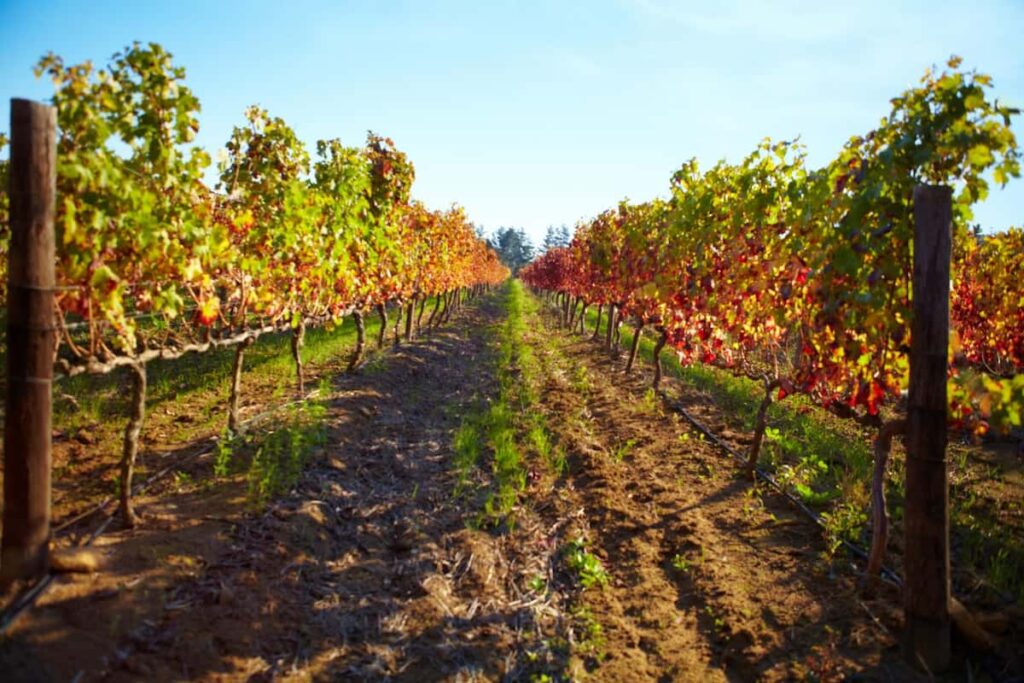 18. Cava sabrage class
Alright, taking our cava love up a notch! Sabrage is the art of opening a cava bottle with a saber.
Yes, it's as cool as it sounds. While it might seem a bit dramatic, it's an age-old tradition and, believe me, it makes popping a bottle way more exciting.
Several spots in Barcelona offer sabrage classes where professionals teach you the technique (safely, of course). It's not just the act; you also learn about the history and the tales that surround this tradition. 
Not only do you leave with a neat party trick up your sleeve, but you also get to enjoy the cava afterward. Talk about win-win!
19. FC Barcelona museum
If you're even slightly into football (or even if you're not), the FC Barcelona museum is a spot you can't miss. Located at the iconic Camp Nou stadium, it's more than just a museum. 
You'll be taken on a journey through the legendary moments of one of the world's most celebrated football clubs. This means getting to relive iconic matches, gawk at the myriad of trophies, and even take a stroll down the player's tunnel.
Plus, for those selfie moments, there's the interactive "Be Barça" space. So, whether you're a diehard fan or not, this place offers a unique peek into the heart of Catalan football passion.
Grab your tickets to the museum here.
20. Football match
Speaking of football, while the museum gives you history, attending a live match lets you live the electric atmosphere. Picture this: thousands of fans chanting in unison, the rush of adrenaline when there's a goal opportunity, and the sheer energy of Camp Nou.
Whether it's a high-stakes league match or a friendly, the experience is always memorable.
And guess what? Even if you're watching the pennies, there are usually reasonably priced tickets available.
Grab some pals, throw on that Barça jersey, and dive headfirst into the football frenzy.
21. Brunch in Sant Antoni
Let's switch gears a bit. From football highs to foodie delights, Sant Antoni is THE place to brunch in Barcelona.
This hip neighborhood has seen a brunch revolution in recent years. You've got cozy cafes serving up fluffy pancakes, avant-garde spots where traditional Spanish breakfast gets a modern twist, and of course, places where the coffee is nothing short of liquid gold.
A pro tip? Wander around the Mercat de Sant Antoni afterwards. It's a food market where the old meets the new, and you can score some fresh produce or local snacks.
If you're looking to start your day with a flavor punch and a dose of local culture, Sant Antoni won't disappoint.
22. Head to a Beach
Okay, let's talk beaches because, hey, Barcelona's coastline is seriously alluring.
First up, there's the ever-bustling Barceloneta Beach. It's centrally located and packed with energy, making it perfect for people-watching and a game of beach volleyball.
For a more laid-back vibe, try Nova Icaria, popular with families and young crowds alike, ideal for a chill swim or paddleboarding.
And if you're in the mood to venture a bit further, the serene vibes of Bogatell might just be your sandy haven. Think: morning jogs, beachside skate parks, and a smattering of local chiringuitos (beach bars) where you can grab a cold one.
23. Beach Club Day
For a day that feels a pinch more luxe but won't totally empty your pockets, hitting up a beach club is a top-notch idea. Imagine lounging on a cushy sunbed, with the Mediterranean waves crashing softly in the background.
Purobeach Barcelona is one such spot where you can enjoy a pool, spa services, and a DJ setting the mood. Or maybe Opium Barcelona, a combo of beach club by day and a pulsing nightclub when the sun dips.
Remember to check out any early-bird deals they might offer for entry or drinks, as they often have them!
24. Cocktail Workshop
Mix it up (literally!) with a cocktail workshop. Now, I've always believed that a city is best experienced not just through its sights but also its flavors.
And with that in mind, why not get into the art of mixology here! That is, you can take a cocktail workshop while you're in Barcelona where you learn the magic behind your favorite drinks. 
Not only will you get hands-on training on mixing, shaking, and stirring, but by the end of it, you get to sip on your own handcrafted concoctions.
Plus, it's a skill you can show off at your next party. Cheers to that, right?
25. Montserrat
Let's chat about Montserrat – it's a bit of an escape from the bustling streets of Barcelona, but trust me, it's SO worth it. And by joining an organized day tour to Montserrat, it's also incredibly easy to do.
Montserrat is this wild-looking mountain range with a historic monastery perched on top. While the monastery and its surrounding areas are worth the visit in itself, I've got to mention the views too. I mean, come on, they're basically a real-life postcard.
Now, if you're a bit of a wine enthusiast like yours truly, pair your Montserrat visit with a pit stop at a local winery nearby (which is an optional add-on with my preferred Montserrat day tour from Barcelona!). Think about it: sipping local wine with THAT view after exploring the monastery. Epic, right? 
Or, for those itching for more adventure, there are trails galore! Whether you're a seasoned hiker or just want a leisurely stroll, there's something for every kind of explorer.
26. La Boqueria
La Boqueria might ring a bell for many, and there's a good reason for that. This market is a sensory explosion, from vibrant fruits to the chatter of vendors, and yes, it does get touristy.
But guess what? It's one of those places where the hype is pretty legit.
Head into aisles of fresh produce, cured meats, cheeses, chocolates, and more. Don't forget to grab a freshly squeezed juice or maybe even a cheeky empanada on the go.
Pro-tip: head there early in the morning to dodge the biggest crowds and to snag the freshest picks.
27. Picnic in Parc de la Ciutadella
Speaking of food, why not take it al fresco? If you're down for a chill day, grab some snacks and head over to Parc de la Ciutadella.
This park is a bit of an oasis in the middle of the city. Sprawling lawns, shady trees, and even a lake where you can rent a little rowboat – romantic or what?!
Settle down with your picnic spread and watch the world go by. It's the perfect spot for a lazy afternoon, some people-watching, or maybe even a sneaky siesta. After all, when in Spain…
28. Girona
Alright, adventurers, let's chat about a little excursion outside Barcelona. Girona, just an hour-ish train ride away, is this historic city with medieval walls, narrow winding streets, and colorful houses lining its river.
It's like stepping back in time, but with some seriously good coffee spots. And if you're a fan of "Game of Thrones", you might recognize a few places, wink wink. 
(You can even do this Game of Thrones walking tour in Girona to really catch all the spots.)
Spend the day roaming around, and don't miss the cathedral – the steps alone are a workout… but the views are something else!
Basically, if you're in the mood for a day trip with a dash of medieval magic, Girona's got you covered.
You can even combine this with a trip to the Costa Brava with this day tour to Girona and the Costa Brava from Barcelona. It's especially goos if you're short on time and want to maximize what you see!
29. Cable Car to Montjuic
Now, back in Barcelona, ever thought about seeing the city from the sky? No, not in a plane – I'm talking about the cable car to Montjuic.
It's like an elevator to some of the best panoramas of the city and sea. Montjuic itself is brimming with cool spots: gardens, museums, and the Magic Fountain show in the evenings.
Plus, there's this castle at the top (because of course there is) where you can get a 360-degree view. Wear comfy shoes, grab a friend, and make a day out of it. Trust me, your Instagram will thank you.
30. Dark History Tour of Barcelona at Night
For those after something a tad different (and let's be honest, a touch spooky), there's the Dark History Tour of Barcelona. 
I've done it. Twice. Once you see Barcelona by day, it's a whole different vibe exploring its lesser-known tales and alleyways at night.
The tour guides are super knowledgeable, diving deep into stories from medieval times, the Spanish Inquisition, and other eerie moments from the past. It's intriguing and, let's face it, sort of creepy once you start hearing about all the people murdered, tortured or mysteriously "disappeared" in the very spot you're standing.
Plus, seeing the Gothic Quarter under the moonlight? There's nothing quite like it. Just maybe bring someone to hold onto, just in case.
31. Costa Brava
Just a bit north of Barcelona, you'll find Costa Brava, and let me tell ya, it's where the magic happens. Crystal clear waters, coves waiting to be discovered, and those rugged cliffs giving all the drama to your holiday snaps.
While it's a bit more than a stone's throw away, making a day trip or an overnight stay here is so worth it. Grab a towel, some sunblock, and dive into those Med vibes.
And if you're into snorkeling or diving? This place is your playground.
Little tip: Lloret de Mar and Tossa de Mar are two towns you might want to start with. Perfect blend of beach vibes and old-town charm.
32. Picasso Museum
Alright, museum buffs (or even if you're not), Barcelona's got a smorgasbord of museums, catering to just about any interest you can think of. But, if there's one that stands out for a lot of visitors, it's the Picasso Museum. 
Located in the heart of the Born district, it houses one of the most extensive collections of artworks by the 20th-century Spanish artist Pablo Picasso. What's cool about this spot is how you get to see his artistic evolution – from his early sketches to his iconic masterpieces.
Even if you're not a diehard art fan, getting up close to the works of such a legendary artist is kind of a must-do when in Barcelona.
33. Moco Museum
Now, for a dash of contemporary flair, Moco Museum has entered the chat! This isn't your typical art museum. 
Instead, if you're someone who likes a bit of edge, a touch of urban, and a splash of political commentary in their art, this is your spot. With exhibits from renowned artists like Banksy, it brings the street art vibe indoors.
It's fresh, it's provocative, and it sparks conversations. Wander through the curated rooms, snap some photos (because, yes, it's that kind of museum), and immerse yourself in art that doesn't just sit there but kind of speaks to you.
A modern take on the museum experience, and totally worth the visit when you're in the city.
34. Wander through the Gothic Quarter
If you want to feel the pulse of Barcelona's history, the Gothic Quarter is where it's at. Narrow alleys, ancient buildings, and squares brimming with life – it's like stepping back in time but with a twist.
The contrast of the old and the new is everywhere: from trendy cafes housed in centuries-old buildings to street performers playing modern beats in medieval plazas.
Don't forget to get lost! Seriously, put away that map (or phone) and let yourself wander.
You'll stumble upon little shops, hidden courtyards, and maybe even a secret tapas bar or two. 
(Alternatively, if you love to learn about what you're seeing rather than just wandering the streets, this Gothic Quarter and Old Town walking tour is a great thing to do.)
And hey, while you're there, check out the Barcelona Cathedral – it's got this epic courtyard and views for miles from its tower, which is definitely worth the climb.
35. Street art tour
Speaking of art, Barcelona isn't just about the traditional stuff. The city is alive with vibrant street art, from sprawling murals to tiny, unexpected doodles on lampposts.
Want the insider scoop? Join a street art tour. Local artists and enthusiasts often lead these, giving you the stories and contexts behind each piece. 
It's not just about looking at cool art; it's about understanding the city's modern-day culture, politics, and voice. El Raval and Poblenou are hotspots, but you'll find snippets of creativity tucked away all around the city.
Wear comfy shoes, charge your camera, and hit the streets!
36. Craft beer
Ok, beer lovers, Barcelona's got something frothy and hoppy waiting for you. The city's craft beer scene has exploded in the past few years, with microbreweries and quirky beer bars popping up left, right, and center.
Whether you're into tangy IPAs, robust stouts, or something you can't even pronounce, Barcelona's brewers are whipping up batches that are just begging to be tasted.
Check out spots like BierCaB or Garage Beer Co for a taste of local brews. And if you're keen, many places offer tasting sessions where you can sample a flight and learn a bit about the brewing process.
37. Make your own espadrilles
You know those cool, comfy rope-soled shoes that scream "summer in Spain"? Yep, espadrilles! Believe it or not, you can actually do a make your own espadrilles workshop in Barcelona. 
There are workshops around town where local artisans will show you the ropes (pun intended) of crafting your very own pair. It's a hands-on way to dive into Spanish tradition and come away with a unique souvenir.
Plus, every time someone compliments your footwear, you get to casually drop, "Thanks, made them myself in Barcelona." Instant travel cred.
38. Vintage shopping
Let's talk shopping, but not just any shopping – vintage shopping! Barcelona's Universitat area is bursting with these amazing vintage stores that'll get your fashion-loving heart pumping.
Now, I've done my fair share of rummaging, and here are my tips: Flamingos and Holala have multiple outlets in the area, and they're packed with retro treasures from snazzy shirts to old-school shades.
But if you're after something a bit more indie, you'll want to hit up Kling, Grey Street, and Miss Kleckley. Each spot has its own vibe though, so you're bound to find something that screams 'you'.
39. Brunch music festival (June-September)
Summer Sundays in Barcelona have a beat of their own, especially up on Montjuic. Imagine this: sunlit gardens, chilled vibes, and the sweet sounds of electronic beats in the air.
This is Brunch, an open-air music festival held every Sunday from June to September. It's the perfect blend of relaxation and revelry, all set against the backdrop of Montjuic's iconic greenery.
Ready to get into it all? You'll want to snag your tickets on their website ahead of time since it tends to fill up pretty quickly.
As for ticket prices, they start at 20€ and go up from there. So, lace up your dancing shoes, or hey, those espadrilles you just made, and let's make some sun-soaked memories!
40. Barcelona Cathedral
In the heart of the Gothic Quarter stands the iconic Barcelona Cathedral. Now, it might not be as internationally known as Gaudí's Sagrada Família, but trust me when I say it holds its own in terms of grandeur and history.
With its imposing Gothic architecture, intricate stone carvings, and a cloister filled with tranquil fountains and greenery, this cathedral offers a serene escape from the bustling city streets.
Oh, and if you're up for it, there's a rooftop with some seriously killer views of the city. Considering its significance and atmosphere, the entry fee is a pretty fair trade.
41. Visit on La Diada de Sant Jordi (April 23rd)
Mark your calendars! April 23rd is a day that transforms Barcelona into a scene straight out of a fairy tale and if you can visit on this day, I really recommend doing so.
La Diada de Sant Jordi, or Saint George's Day, is a Catalan celebration where love and literature come together. The tradition goes like this: people gift books to the gents and roses to the ladies.
The result? Streets brimming with rose stalls, pop-up bookstores, and a joyous vibe all around.
It's kind of like Valentine's Day, but with a unique Catalan twist. Embrace the festive atmosphere, grab a book or a rose, and revel in this one-of-a-kind cultural experience.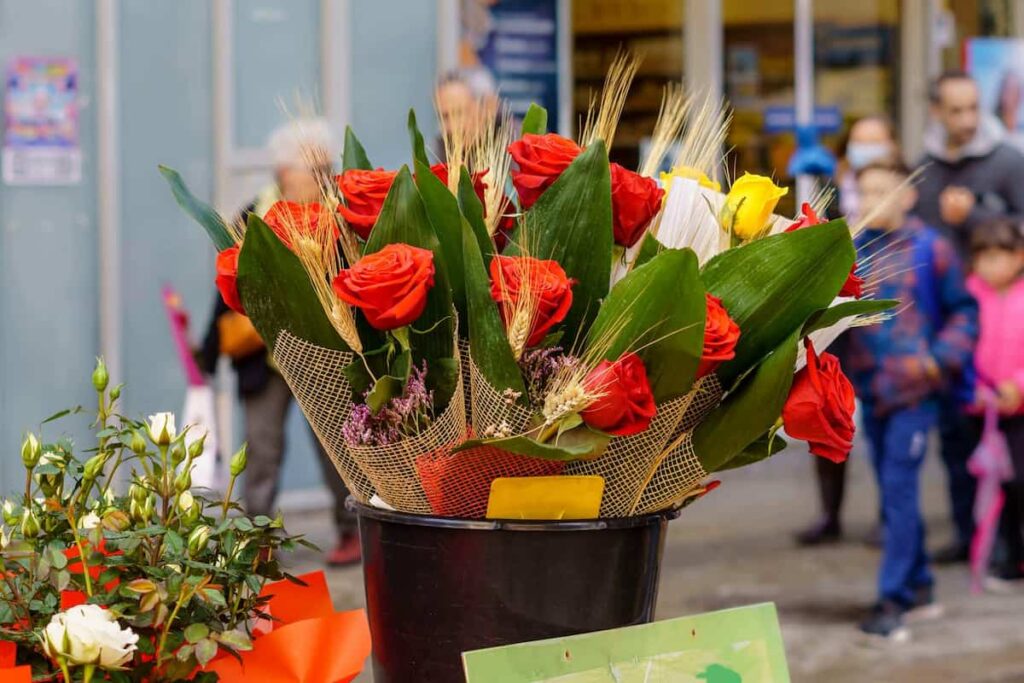 42. Encants flea market
Bargain hunters and treasure seekers, gather round! Encants, one of Europe's oldest flea markets, is a labyrinth of stalls and stands filled with… well, a bit of everything.
From vintage vinyl and antique furniture to trendy threads and quirky knick-knacks, it's easy to lose track of time sifting through the myriad of items on offer. Located near the Glòries Tower (which you may also see referred to as Torre Agbar in some places, which is its old name), the market's mirrored canopy not only provides shade but also gives it a super cool, futuristic look.
Just a tip: come prepared to haggle, because getting a good deal is part of the fun. And who knows, you might just walk away with the find of a lifetime. Happy hunting!
43. Tibidabo Amusement Park
Sitting on a mountaintop overlooking the entire city, the Tibidabo Amusement Park combines old-school charm with jaw-dropping panoramas of Barcelona. It's a bit like time traveling, with vintage rides and games that have been around for decades.
The Ferris wheel? A ride on that feels like you're touching the sky! And if you're more about the views than the thrills, there's the Temple of the Sacred Heart of Jesus right next door.
A quick climb to its top, and you're treated to 360-degree views of the city and the sea. Now, the park does have an entry fee, but trust me, those sights from the top? Worth every cent.
44. Try a "bomba" at La Cova Fumada
Foodies, brace yourselves. If there's one thing you absolutely must sink your teeth into while in Barça, it's the "bomba" at La Cova Fumada.
Nope, not an explosive device – far from it. The "bomba" is a delicious, deep-fried potato ball stuffed with meat and paired with two kinds of sauces that give it a delightful kick.
It's comfort food, Barcelonian style. La Cova Fumada is a no-frills, laid-back eatery in the Barceloneta area, and its walls have heard countless stories since the 1940s.
Grab a spot, order a plate, and experience this local culinary legend firsthand.
45. Order vermouth at La Vermuteria del Tano
If you've yet to join the vermouth revival, Barcelona's the place to hop on board. And La Vermuteria del Tano is your go-to spot.
This traditional, down-to-earth bar in the Gràcia district is all about the authentic experience. Forget about fancy cocktails with umbrellas; here, it's all about that amber-hued drink poured straight from the barrel.
Vermouth, with its herby and slightly sweet flavor, is typically served with a slice of orange, an olive, and a splash of soda. Kick back, sip on this classic aperitif, and let the city's vibes wash over you.
And if you're feeling peckish, their tapas are the perfect sidekick to your drink. Cheers to that!
46. Take advantage of free museums on Sundays
Here's a bit of insider info: if you're on a budget and still keen on soaking up some culture, Barcelona's got your back. On Sundays, several museums around the city throw open their doors for free, usually after 3 pm.
From the city's history at the Museu d'Història de Barcelona to modern art at the Museu d'Art Contemporani de Barcelona (MACBA), there's plenty to explore without spending a dime.
Just remember, since it's a sweet deal, it tends to get busy. So, maybe wear those comfy shoes and bring a bit of patience with you.
But hey, for art and history without the price tag? Totally worth it.
47. Head to a music festival
Barcelona is a hotspot for music lovers, especially during the summer festival season. If you're in town around late May or early June, you might catch Primavera Sound, a sprawling fest featuring indie, rock, pop, and more, right by the sea.
Seriously, dancing to your favorite bands with the Mediterranean as your backdrop? It doesn't get much better than that.
Then there's Sonar Barcelona, an epic celebration of electronic music and multimedia art. It's a fusion of performances, DJ sets, and exhibitions, making it more than just your typical festival.
And if diverse line-ups are your thing, Cruilla offers a mix of genres, from rock and reggae to hip-hop. The atmosphere? Electric.
Whichever one you pick, just make sure to book your tickets early!
48. 48H Open House
For those with a curiosity for architecture and design, 48H Open House is an event you can't miss. Once a year, usually in October, buildings all around Barcelona, some of which are usually off-limits to the public, welcome everyone in.
From modernist masterpieces to innovative new designs, it's a two-day dive into the city's architectural scene. Whether you're an architecture buff or just someone who appreciates cool spaces, this is your chance to see Barcelona from a different angle.
Grab a map, plan your route, and discover the stories these buildings have to tell.
49. IDEAL Centre d'Arts Digitals
Ever been to a place that's a blend of a cinema, a museum, and, well, the future? Enter the IDEAL Centre d'Arts Digitals.
This spot is all about immersing you in digital art. It's kind of like stepping into a sci-fi movie.
They showcase mind-bending virtual reality experiences, digital art installations, and interactive exhibitions.
For those who dig tech and art (or if you're just curious about what the future might look like), this place should definitely be on your Barcelona checklist.
50. Find a local neighborhood festival
If there's one thing I've realized living here, it's that Barcelona knows how to throw a party. And the best bit? Each neighborhood has its own unique fiesta!
Here are a few you might want to check out:
Festa Major del Poble-sec (July): This is the Poble-sec district letting its hair down. Think decorated streets, live music, and traditional Catalan events. It's an explosion of colors, sounds, and flavors.
Festa Major de Gràcia (August): Arguably the most famous of the lot. Gràcia's streets turn into an art display, with neighbors competing to have the most creatively decorated street. Day or night, this festival is buzzing with activities, workshops, and concerts.
Festa Major de Sants (August): A bit like Gràcia's, but with its own unique flair. Sants celebrates with decorated streets, human towers, and a whole lot of dancing. It's a glimpse into the local life and trust me, you'll feel the community spirit.
But even if you're not here while these specific ones are on, I'd suggest doing a quick Google search for your planned dates (search "Festes Majors Barcelona" for the best results – and fire up your Google Translate Chrome extension, as results may be in Catalan) to see if one is on while you're here.
FAQs
What is the trendy part of Barcelona?
Gràcia is undoubtedly the hip and happening part of Barcelona. It's where vintage meets avant-garde and tradition dances with innovation. This district is a maze of bohemian cafes, indie theaters, and vibrant squares where locals hang out till the wee hours.
While Gràcia has a deep-rooted sense of community, it's also unafraid to experiment and evolve, making it a hotspot for artists, musicians, and trendsetters. Wander its streets, and you'll stumble upon everything from artisanal workshops to cutting-edge galleries.
If you're looking to capture the pulse of trendy Barcelona, Gràcia is where you want to be.
Is Barcelona fun for young adults?
Yes, Barcelona is definitely fun for young adults! The city effortlessly fuses its rich history with a vibrant modern scene. From beach parties to art hubs, there's something for every vibe. There are also options for every budget, so young adults won't struggle to have a great trip.
Now, as someone who's been around the block (or several) in this city, I can tell you that there's an electric energy in the air that just speaks to the youth. Dive into the eclectic nightlife, check out the myriad of festivals, or just chill at a rooftop bar with views that stretch forever.
With its blend of cultures and flavors, Barcelona will keep you entertained, inspired, and always on your toes.
Where do young people hang out in Barcelona?
Young people in Barcelona gravitate towards the beach, the bustling squares, and the artsy districts. Places like Barceloneta Beach, Plaça Reial, and El Raval are always teeming with energy. Beyond that, the countless cafes in El Born or the indie boutiques in Gràcia offer ample spots to mingle and vibe.
You'll also find many hanging out in the numerous rooftop bars sprinkled throughout the city, taking in the views and the atmosphere.
And let's not forget the trendy co-working spaces and artistic hubs where the younger crowd gathers to brainstorm and collaborate. Start exploring yourself and I'm sure you'll soon find your own favorite hangout spots!
Is Barcelona a city for young people?
Barcelona is definitely a city for young people. With start-ups sprouting everywhere and an ever-evolving arts scene, the city buzzes with a youthful energy. In addition, beyond the attractions that cater specifically to younger demographics, there's an overarching sense of innovation and openness in Barcelona.
From its universities that attract international students to its music festivals that pull in global crowds, it's evident that Barcelona thrives on the dynamism of its youth.
Basically, if you're wondering if the city vibes with the younger crowd, the answer is a resounding yes!