50 Things You Should Avoid in Barcelona (Tourist Dos and Don'ts!)
This article may contain affiliate links. Please read our
Disclosure Policy
for more information.
If you're reading this, chances are you're planning a trip to Barcelona and want to experience the city like a local, not a tourist. But how do you avoid those easy-to-fall-into traps that scream "Hey, I'm a clueless tourist!"?
Well, as someone who lives in Spain and has spent a good chunk of time gallivanting around Barcelona, I've gathered a treasure trove of tips to help you navigate this beautiful city like a true Catalan.
In this guide, you'll find fifty tips on what you should avoid in Barcelona when visiting. Some are small etiquette tips, others are bigger cultural insights, but all are designed to help you get the most out of your Barcelona adventure.
So, whether you're wondering what to wear, where to eat, or how to sidestep those pesky tourist traps, this guide's got you covered!
What you should avoid in Barcelona
1. Not Paying Attention to Your Things
Don't let the city's charm lull you into a false sense of security. Unfortunately, Barcelona may be a big, beautiful, bustling city, but it's also got a notable pickpocketing problem, particularly in crowded areas and on public transportation.
For this reason, one of the biggest Barcelona travel tips I can give you is to always keep your belongings close and in your line of sight. This includes things like you shouldn't hang your bag behind your chair at restaurants. Instead, keep it in your lap or between your feet.
I know it can be tough to stay vigilant throughout an entire holiday, but it's also a real bummer to spend your vacation replacing credit cards.
2. Thinking that it's Not Worth Going Inside Sagrada Familia
Okay, I get it, the outside of the Sagrada Familia is jaw-droppingly gorgeous and is definitely one of the better free things to do in Barcelona. But at the same time, the inside is a symphony of color and light that's like nothing else in the world. It's like stepping inside a rainbow crafted by Gaudi himself.
So don't just admire this architectural masterpiece from the outside, explore its interior. Believe me, it's an unforgettable sight that's worth every Euro of the entrance fee.
3. Expecting to Enter the Sagrada Familia Without Buying a Ticket in Advance
Here's a major rookie mistake! The Sagrada Familia is not just another tourist attraction, it's the most visited monument in Spain.
For this reason, tickets can sell out fast, especially during the peak tourist season. Buying your tickets in advance isn't just recommended, it's almost mandatory if you want to guarantee your spot.
Save yourself the disappointment and plan ahead!
4. Eating on La Rambla
Yes, La Rambla is pretty, it's lively, and it's teeming with restaurants, but remember, it's also Tourist Trap Central. The food is often overpriced and underwhelming, appealing more to convenience than authenticity.
Instead, I highly recommend wandering into the side streets or visiting local markets like La Boqueria or Mercat de la Barceloneta for a true taste of Catalonian cuisine. Trust me, your taste buds will thank you!
5. Thinking Everyone Speaks English
While it's true that many people in the main tourist areas of Barcelona do speak some English, don't assume this is the case everywhere. Especially once you venture a bit away from the center, English becomes less common, particularly among the older generation.
But hey, don't let this discourage you! Embrace it as a chance to practice your Spanish or even pick up a few words of Catalan. It's all part of the travel experience, right?
6. Thinking You Can See the Whole City in a Day
Barcelona is brimming with culture, architecture, art, and delicious food. Trying to cram everything into a single day isn't only impossible, but it also robs you of the joy of truly experiencing the city.
For this reason, give yourself the time to take it easy. Savor each sight, each bite, and each moment. After all, it's not a race, it's a journey!
7. Expecting it to be Warm Year-Round
Barcelona isn't your typical year-round tropical paradise. Winter months from December to February can be quite chilly, with temperatures dipping into single digits (celsius, that is). Remember to pack some warm clothing if you're planning a Christmas getaway!
But fret not, even with the cooler temperatures, the city has a charm that's entirely its own in the winter. You may even find yourself sipping on a steamy cup of Spanish hot chocolate, bundled up in a cozy corner of a Catalan café, which is an experience in itself!
8. Wearing New Shoes or Heels When Sightseeing
Now, I don't want to sound like your mom, but please, please, please wear comfortable shoes. You see, Barcelona's streets were not made for stilettos or brand new shoes that give you blisters.
Think cobblestone streets, park paths, and oh-so-many beautiful things to see that'll have you on your feet all day. Swap those fashion-forward shoes for a comfortable pair of sneakers.
Your feet will be up for dancing all night instead of crying out for mercy by the time you get to the end of the day!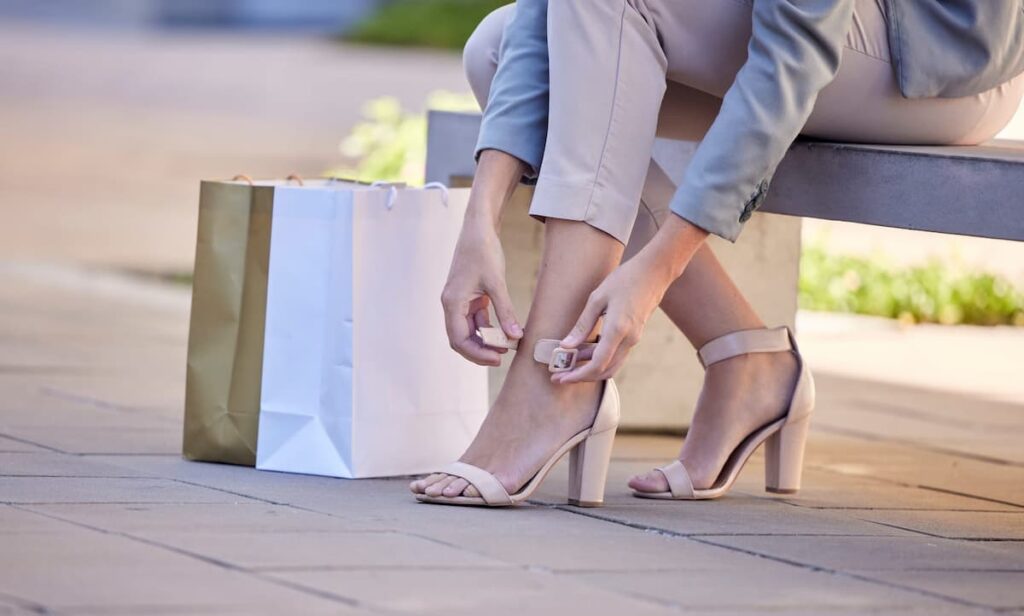 9. Only Seeing the Center of Barcelona
The center of Barcelona, with its hustle and bustle, is captivating, but don't let it be the only thing you see. Try to give yourself time to adventure out to the less-touristy neighborhoods like Gràcia, Poble Sec, and Sant Antoni.
These areas offer a more local feel with their charming streets, beautiful squares, and small-scale bars and eateries.
Even better, see if you have time for some day trips, like going to the Montserrat monastery. You can even add a stop at some wineries to really boost the amount of culture you get from your trip.
Remember, sometimes the best memories come from getting a little bit lost. So, grab your map (or not), and let's go exploring!
10. Leaving your Belongings on the Beach
Ah, Barcelona's beaches: the sun, the sea, the sand…the potential for petty theft. Sad but true, leaving your stuff unattended on the beach while you dive into the Mediterranean can lead to an unwanted souvenir – a missing wallet or phone.
When it comes to Barcelona's dos and don'ts, safety considerations make up much of the list. And on that note: Don't let the relaxed vibes fool you and do only bring the essentials to the beach.
And here's a bonus one: do keep your valuables tucked away in your hotel or accommodation.
11. Visiting in July or August
Barcelona at the peak of summer is swarming with tourists and sizzling with heat, quite literally. If you can help it, try to avoid the months of July and August.
Not only will you save yourself from long lines and crowded attractions, but you'll also dodge the Mediterranean heatwave.
September or October, anyone? The weather's still beautiful, the sea is warm, and the city is a little less hectic.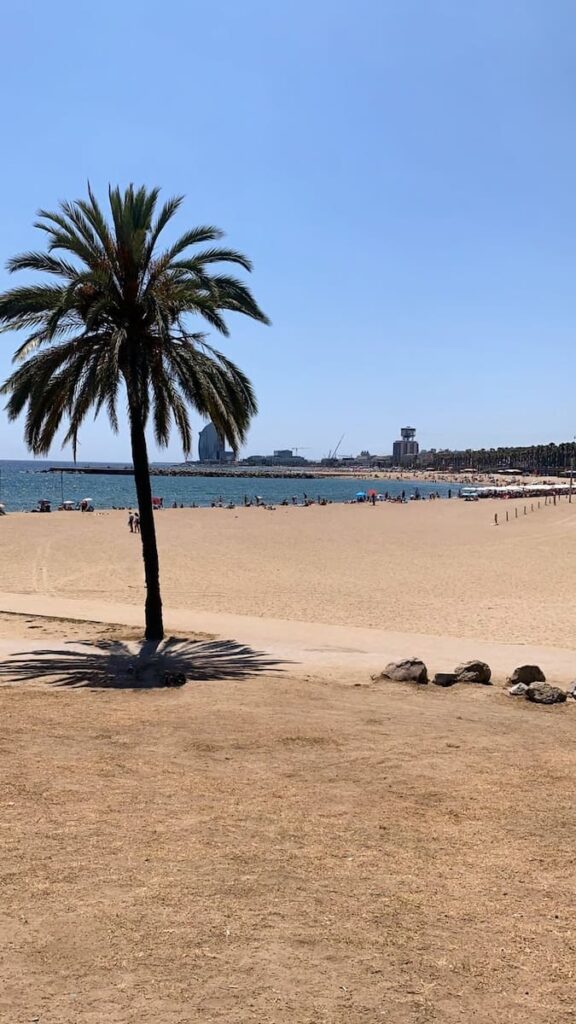 12. Not Trying Local Tapas Restaurants
Now this would be a gastronomic crime. Skipping the local tapas spots in favor of familiar food chains? Nuh-uh, not on my watch.
Barcelona's tapas are a must-try. Each plate is a bite-sized piece of heaven that perfectly encapsulates the rich Spanish cuisine.
So, venture out (if you're looking for places to visit in Barcelona at night, there are only about 5,000 tapas bars to choose from…), and let your palate dive into the local flavors. Patatas bravas, gambas al ajillo, pan con tomate – they're all waiting for you. Bon appétit… or as the locals say, ¡Buen provecho!
13. Wanting to Go See a Bullfight
So, you've heard about bullfighting and you're curious. Well, hold your horses… or rather, bulls! Catalonia, the region where Barcelona is located, actually banned bullfighting back in 2010 (thankfully!), leading the charge in animal rights.
If you're looking for authentic Spanish experiences, there are plenty of other cultural activities that are much kinder to our four-legged friends. Why not try a flamenco show, or better yet, catch a human tower building, known locally as 'castellers'?
14. Thinking Catalan Culture is the Same as Other Cultures in Spain
Assuming that Catalan culture is just another Spanish regional culture is like saying all pizza tastes the same. Nope, sorry.
Catalonia has its own rich heritage, traditions, and even its own language, Catalan. It's a vibrant and unique mix of Mediterranean influences with a twist of its own.
So when in Barcelona, take the opportunity to learn about this diverse culture. Trust me, it's worth it!
15. Eating Paella for Dinner
Here's a little insider tip for you: Spaniards eat paella for lunch. If you see a restaurant advertising paella for dinner, red flags should be waving. It's a typical tourist trap!
Plus, eating a heavy dish like paella late in the evening might leave you feeling stuffed and not at all in the mood to keep the party going.
Instead, savor this delicious Spanish rice dish the local way – in the middle of the day with a glass of refreshing wine!
16. Renting an Airbnb
Renting an Airbnb can seem like a convenient option, but it's worth considering the impact on local communities. In Barcelona, the proliferation of short-term rentals has led to rising rents for locals.
Besides, staying in a hotel, a guesthouse, or a bed & breakfast can offer you the same comforts, often in prime locations, and you're contributing to the local economy.
For this reason, before clicking 'book now' on that apartment, consider your alternatives.
17. Saying that as French Wine is (Generally) More Expensive, it Must be Better
Oh là là! Just because French wine is often pricier doesn't automatically make it superior.
In reality, Spanish wine is a world-class vino contender that gives you serious bang for your buck. From the robust Riojas to the crisp Cavas, Spanish wine offers a wonderful variety at incredibly reasonable prices.
So, when in Barcelona, get ready to say "Salud!" with a delightful local pour.
18. Calling Catalan a Dialect
When it comes to what not to say in Barcelona, calling Catalan a 'dialect' is a big no-no. Catalan is actually a language in its own right, distinct from Spanish, with its own grammar and vocabulary.
It's the co-official language of Catalonia alongside Spanish and is spoken with pride by the locals. When in Barcelona, showing respect for the local language will earn you brownie points.
And if you can learn a few phrases in Catalan, even better. The locals will appreciate the effort, promise!
19. Going to Lunch at 12pm or Dinner at 6pm
Spanish meal times are a world of their own. If you're an early bird who loves lunch at noon or dinner at 6 pm, you're in for a culture shock.
Lunchtime in Barcelona is typically around 2 pm, and dinner can often start as late as 10 pm (yes, you read that right!). This is why it's a good idea to adjust your stomach clock and enjoy the leisurely pace of Spanish dining – and maybe have some tapas to not starve while you're waiting for dinner.
Remember, good things come to those who wait!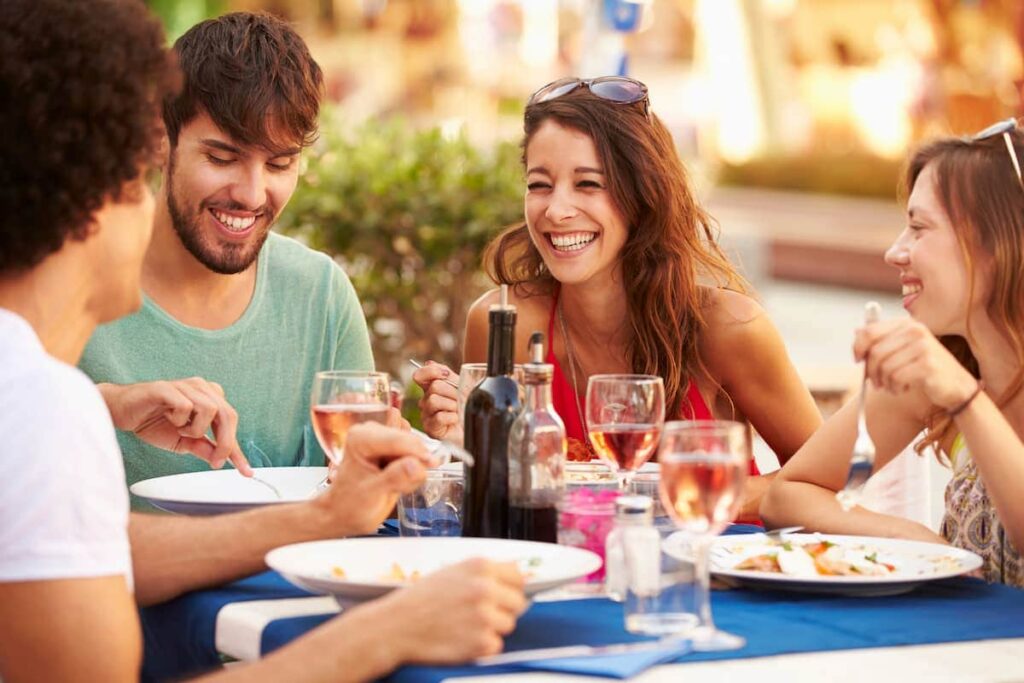 20. Calling Cava a Lesser Version of Champagne
Referring to cava as 'budget champagne' is like calling Picasso a doodler. Big mistake!
Cava is Spain's sparkling wine superstar and is made using the traditional method, the same as Champagne. It's crisp, it's bubbly, and it holds its own on the world stage.
So put aside your preconceptions, raise a glass of this local fizz, and celebrate the simple joy of being in Barcelona. Salud!
21. Going to Barceloneta for a Beach Day
Sure, Barceloneta beach is famous, but with fame comes crowds, and sometimes, a little unwanted attention from beach vendors. It can also be quite dirty, with people very kindly leaving things like cigarette butts around for you to stand on – charming.
For a more relaxed beach day, consider venturing further afield. Nova Icaria, Bogatell, or even beaches in nearby towns like Sitges and Castelldefels offer a much more laid-back vibe.
Pack your beach towel, sunscreen, and embark on a little coastal adventure. Your perfect beach day awaits!
22. Expecting to Go Shopping on Sunday
Planning a shopping spree on a Sunday in Barcelona? Not so fast! Most shops in the city keep their shutters down on Sundays, sticking to traditional Spanish trading hours.
Don't despair, though! Use your Sundays to explore the myriad museums, beautiful parks, or find a sunny terrace to sip on some sangria (or something else, which I'll get to in a moment…). Shopping can wait until Monday.
23. Not Buying a Ticket to Park Guell in Advance
Hoping to just turn up at Park Guell? I hate to break it to you, but without an advance ticket, you'll be left admiring Gaudí's masterpiece from the outside.
This enchanting park is a top tourist attraction and tickets often sell out days in advance. Trust me, planning ahead and securing your ticket online will save you from potential disappointment.
Besides, who wants to stand in a line when you could be enjoying panoramic views of Barcelona?
24. Buying Anything on La Rambla
La Rambla might be a vibrant, lively street to stroll down, but when it comes to shopping, it's wise to hold on to your euros. From souvenirs to sangria, prices on La Rambla are inflated to tourist-levels.
For authentic local crafts and better price tags, wander off the beaten path into the Gothic Quarter or El Raval.
Remember, the best souvenirs are the ones that won't have you checking your bank balance with dread!
25. Leaving a Tip
North American visitors, I'm talking to you! The tipping culture in Barcelona is quite different from back home.
While it's not unheard of to leave a tip, it's usually a couple of euros at most, and often, locals won't leave a tip at all. For this reason, don't feel obliged to leave 15-20% of your bill.
If the service was outstanding and you're feeling generous, a couple of euros will show your appreciation just fine. When in Rome, right? Or should I say, when in Barcelona!
26. Thinking that Flamenco is Native to Barcelona
Picture Spain, and you might imagine flamenco dancers twirling in their colorful dresses. However, thinking flamenco is native to Barcelona is like saying deep-dish pizza comes from New York.
Flamenco actually originates from the southern region of Andalusia. While you can find flamenco shows in Barcelona, many of them are more for tourists, so it's good to pick and choose just which one you go to so as to make sure that you're not wasting your flamenco experience on one that doesn't meet the mark.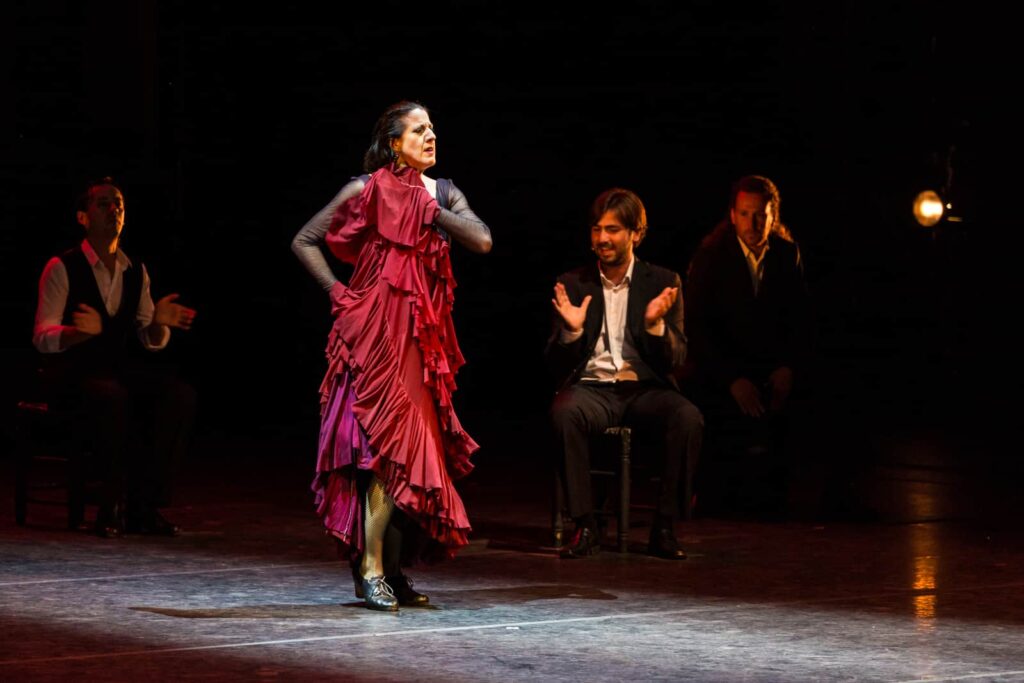 27. Going Clubbing at 10pm
Barcelona's nightlife is legendary, but if you're thinking of hitting the clubs at 10pm, you'll probably find yourself partying with the cleaning staff.
Things start late here, my night owls. Most locals won't start thinking about clubbing until after midnight, with the party going into the early hours of the morning.
Take the time to fuel up on tapas, take a power nap if you need to, and then get ready to dance the night away… just a little later than you might be used to!
28. Going to Dinner Without a Reservation
Just popping into a popular restaurant for dinner? Not so fast!
Many of Barcelona's most sought-after spots require a reservation, especially for dinner. Don't let your stomach lead you to a "Sorry, we're fully booked" sign.
Do a little homework, book a table in advance, and enjoy a hassle-free dining experience. Your taste buds (and your travel companions) will thank you for it!
29. Not Giving Yourself Enough Time to Explore the Culture and Architecture
If you're planning to dash through Barcelona in a day or two, you're doing it wrong, amigos! This city deserves more than a whistle-stop tour.
Between the jaw-dropping architecture, the mouthwatering food scene, the vibrant street life, and the rich cultural experiences, there's a lot to take in.
This is why I always recommend that you  give yourself plenty of time to immerse in the local culture and explore the city's architectural wonders, instead of dashing from place to place. Trust me, you won't regret it!
30. Being Tricked by Thieves Pretending to Show You a Football (Soccer) Move
While Barcelona is famous for its football prowess, not everyone showing you a fancy football move is a budding Messi. In fact, some are opportunistic thieves using this trick to distract tourists while they swipe your wallet.
So keep your guard up. Enjoy the local football culture, but don't let a trick play leave you on the losing team.
Remember, in this beautiful city, it's always best to keep your eye on the ball… and your belongings!
31. Treating the City Center as an Extension of the Beach
Just because Barcelona has a beach, doesn't mean you can saunter around the city center in your flip flops and swimwear. Remember, this isn't a seaside resort; it's a bustling, cosmopolitan city.
Locals usually reserve beachwear for the beach, so even though it might be warm, when you're in the city, dress like you're in the city.
And remember, when it comes to how not to look like a tourist in Barcelona, flip-flops are a big no-no unless you're on the sand. Take it from me, your feet will thank you after a day of sightseeing!
32. Taking Taxis Everywhere
Taxis might seem convenient, but your wallet will feel the pinch if you use them for every journey in Barcelona. Thankfully, the city has a fantastic public transport network, with metros, buses, and trams that are both affordable and efficient.
Plus, you get to travel like a local! So, grab a T-casual ticket or a Hola BCN card, and explore the city the smart way.
You'll save money and experience a slice of local life. It's a win-win!
33. Getting Confused When Someone Speaks Catalan
Barcelona is in Catalonia, and the region has its own language – Catalan. Don't be surprised if you hear it around you!
While most people also speak Spanish, don't let the Catalan language catch you off guard. And remember, it's not a sign of rudeness if someone speaks Catalan – it's just their native tongue and what they're probably used to hearing.
Similarly, no one will take offense if you reply to "bon dia" with a "buenos dias" (so they know to switch) or ask them to repeat something in Spanish (if you speak it). This applies to everyone, but especially when it's clear you're a foreigner.
Whether you're trying to decipher a menu or understand directions, take it in stride. When in Barcelona, do as the Catalans do!
34. Visiting Without Learning a Few Basic Spanish or Catalan Phrases
Stepping foot in Barcelona without knowing a few basic phrases in Spanish or Catalan is like going to a party without bringing a bottle. It's not compulsory, but it's a nice gesture!
A little effort can go a long way in endearing you to the locals. Spanish phrases like "Hola" (Hello), "Gracias" (Thank you), and "Por favor" (Please) are a good start.
Trust me, your attempts to speak the local language, however clumsy, will be appreciated!
35. Withdrawing a Lot of Euros and Carrying Cash
While it might seem wise to have plenty of euros on hand, carrying a wad of cash is a risk you don't need to take in Barcelona. Most places accept credit and debit cards, and ATMs are plentiful.
I mentioned before how one major thing to be careful of in Barcelona is pickpockets. Well, carrying piles of cash is one good way to do the exact opposite of that.
Instead, stick to withdrawing smaller amounts and using cards whenever possible. After all, the only surprise you want on your vacation is finding that hidden tapas bar, not discovering your cash has mysteriously vanished!
36. Walking Around Alone at Night
While Barcelona is generally safe, it's always wise to take precautions, especially when walking around alone at night. Stick to well-lit areas, stay aware of your surroundings, and don't wander into unfamiliar neighborhoods.
Like in any big city, opportunistic petty crimes can occur. If you're out late, consider taking a taxi or using public transport to get back to your accommodation.
Remember, a little caution can go a long way in ensuring a memorable (for all the right reasons) trip!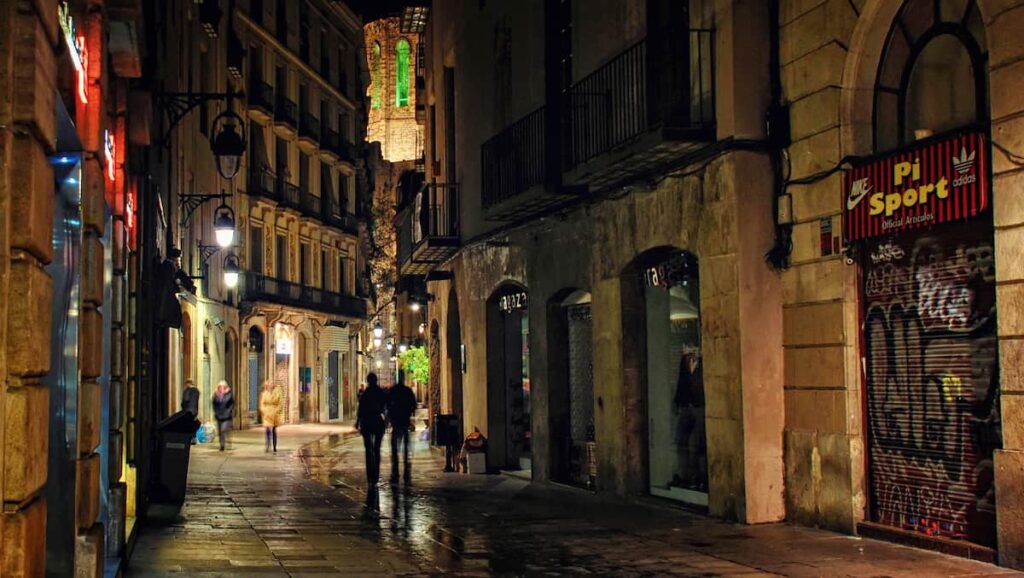 37. Expecting Paella in Every Restaurant
Visiting Spain and looking forward to sinking your fork into a mouthwatering plate of paella? Well, you might want to adjust your expectations in Barcelona.
Contrary to popular belief, paella isn't a staple dish here—it's actually from Valencia. While you can certainly find it in some restaurants, many places, including those that serve more traditional Catalan food, won't have it on the menu.
But this shouldn't be seen as a bad thing. Instead, imagine all the other food you're about to discover that you've never heard of!
38. Mistaking Girona or Reus for Barcelona Airport
If you're a fan of budget airlines like RyanAir, be aware! Some flights to "Barcelona" may actually land at Girona or Reus airports, which are quite a distance from the city.
They might be marketed as Barcelona airports, but they're about an hour away. Make sure to check your arrival airport before booking to avoid an unexpected road trip upon landing.
You don't want to start your Barcelona adventure with a surprise tour of Catalonia's highways!
39. Taking Photos of the Human Statues on La Rambla Without Paying
Those human statues along La Rambla aren't just there for your amusement – they're performers earning their living. While it might be tempting to snap a quick photo as you pass by, it's good etiquette to drop a coin or two in their pot first.
After all, they're providing a unique photo op for your vacation album! It's a small price to pay for a fun memory and a cool Instagram post. Kindness is cheap but goes a long way!
40. Thinking You Fully Understand the Catalan Independence Movement
So, you've read a couple of articles about the Catalan independence movement and think you've got it all figured out? Think again!
This is a complex, deeply emotional issue that has its roots in centuries of history and cultural identity. It's not something that can be summed up in a few soundbites or headlines.
While it's great to be informed, keep an open mind and don't make assumptions. Barcelona is a city full of diverse perspectives, and that's part of its charm!
41. Expressing Strong Opinions About the Catalan Independence Movement
On that note, expressing strong opinions about the Catalan independence movement can be a risky move, especially if you're a visitor. Opinions on this topic vary widely among locals, and discussions can get heated.
It's best to listen and learn from different viewpoints rather than weighing in with a hard stance. Much like when you're anywhere else in the world, to be polite in Barcelona, you should really try hard to steer clear of political debates.
42. Paying for an Expensive Hotel Breakfast
If your hotel breakfast comes with a hefty price tag, you might want to explore other options. Barcelona is brimming with charming cafés that offer delicious breakfasts at great prices.
Why not start your day with a café con leche, freshly squeezed orange juice, and a scrumptious pa amb tomàquet at a local café? Not only will you save some euros, but you'll also experience a bit of everyday life in Barcelona.
Now, that's what I call a good morning!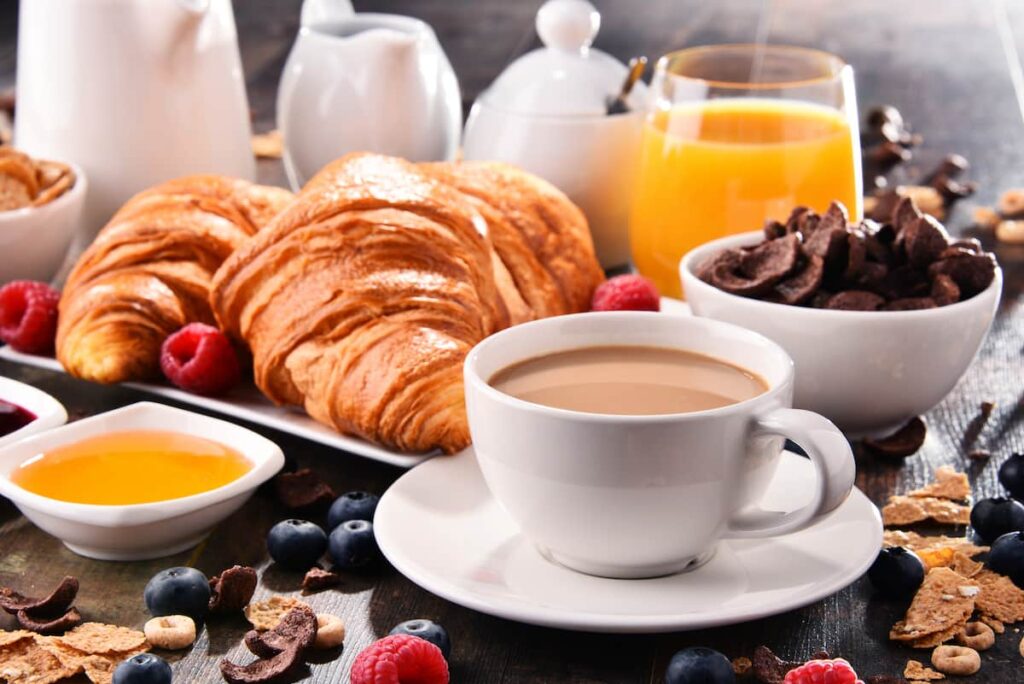 43. Calling Barcelona "Barça"
Pop quiz! Do you know what "Barça" refers to?
If you said Barcelona, it's time to flip your flashcards. "Barça" is actually shorthand for FC Barcelona, the city's world-renowned football club.
Unless you're discussing Messi's magical footwork or that incredible Champions League win, stick to saying "Barcelona". After all, this is a city with so much more than football – it's got art, architecture, food, beaches, mountains… need I go on?
44. Ordering Sangria
Alright, truth time. There's nothing wrong with ordering a pitcher of sangria to share with your friends – it's a fun, fruity drink that screams "holiday!"
But if you want to drink like a local, ask for a "tinto de verano". It's similar to sangria (red wine and a fizzy lemon drink) but lighter, and it's what you'll see most Catalans sipping on a hot summer day.
So next time you're in a Barcelona bar, why not give it a try? It's a one-way ticket to refreshmentville!
45. Calling Chorizo a "Sausage"
I get it, "chorizo" does kinda look like a sausage. But when it comes to what not to say in Barcelona, calling it one is like calling a Ferrari just a car.
Chorizo is a world of its own, packed with flavors of smoked paprika, garlic, and a hint of heat. It's a staple in Spanish cuisine and absolutely deserving of its proper name.
Let's give chorizo the respect it deserves, and remember, if you're lucky enough to bite into a slice, savor every delicious moment!
46. Being Shocked at Some of Their Christmas Traditions
Okay, brace yourself because Catalan Christmas traditions can be… well, let's say, "unique". Case in point: the caganer, a little figurine of a man caught in the act of… erm… relieving himself in nativity scenes.
Then there's the 'caga tio', a log that "poops" out presents when kids hit it with a stick. Yes, you read that right.
But hey, it's all in good fun, and they make for great souvenirs if you visit Barcelona while the Christmas markets are on. Embrace the tradition, chuckle a bit, and go with the flow…well, whatever that flow might be.
47. Eating at a Fast Food Chain
With all the mouthwatering food available in Barcelona, stepping into a fast-food chain is a culinary sin. This city is a gastronomic playground, with everything from tantalizing tapas to fresh seafood paella at every corner.
And the best part? It's all reasonably priced.
Make sure you ditch the burger and fries, and dig into some patatas bravas, bombas, and pan con tomate instead. Your taste buds will thank you!
48. Eating Anywhere with Stock Photos on Their Menu
A word to the wise: if you see a restaurant with stock photos on their menu, run for the hills! These places are usually designed to lure in tourists with familiar images, but the food often leaves much to be desired.
Remember, Barcelona is a food lover's paradise, with countless gems tucked away in narrow alleys and bustling markets. For this reason, avoid the tourist traps, and embark on a culinary adventure that'll make your Instagram followers drool with envy.
49. Eating Anywhere That Has Someone Standing Out Front Calling You In
Ah, the restaurant hawker. This enthusiastic individual might seem inviting, but trust me, it's usually a sign that the establishment is more focused on reeling in tourists than cooking up quality meals.
In Barcelona, the best dining spots often don't need any extra promotion – they let their delicious dishes do the talking!
Dodge the restaurant hawker's persuasive pitch and head for the quieter spots. You might just stumble upon your new favorite meal!
50. Eating Anywhere That Prominently Displays Their English Menu
Now, there's nothing wrong with a restaurant providing an English menu – after all, not everyone speaks Spanish or Catalan.
However, when you see an English menu displayed with the subtlety of a Broadway marquee, that's your cue to walk on by. These are usually the tourist traps.
The real gems of Barcelona's food scene may have English menus available, but they won't shout about it from the rooftops. The line between touristy and authentic can be fine, but your taste buds will know the difference!
FAQs
What Not to Say in Barcelona?
First off, avoid referring to Catalan as a "dialect." It's a language in its own right, and locals take immense pride in it. Secondly, steer clear from expressing strong views on Catalan independence—it's a sensitive issue, and not all locals will agree with your viewpoint.
On a less serious note, it's also safer not to refer to Barcelona as "Barça"— that nickname is reserved for the football team, not the city!
While Barcelonians are generally very welcoming and forgiving towards visitors, they appreciate when tourists make an effort to understand and respect their local customs and culture. To show respect, try to use the local greetings such as "Bon dia" (Good day), "Bona tarda" (Good afternoon) or "Bona nit" (Good night) instead of the Spanish equivalents.
Also, remember that Barcelona is part of Catalonia, which has its own unique traditions, distinct from other regions in Spain. For this reason, always approach discussions about culture, language, and politics with an open mind and respectful curiosity.
How Not to Look Like a Tourist in Barcelona?
There are a few tell-tale signs that scream "tourist" in Barcelona: walking around with a large map, eating at restaurants on La Rambla, or treating the city center like a beach (i.e., wearing flip flops and beachwear). Wearing athleisure gear also puts a big "tourist" sign above your hard.
To blend in, swap the map for a digital version on your phone, eat at local neighborhood gems, and keep your beachwear for the actual beach.
In terms of attire, Barcelonians tend to dress quite stylishly. So, to fit in, lean more towards smart casual than beach bum.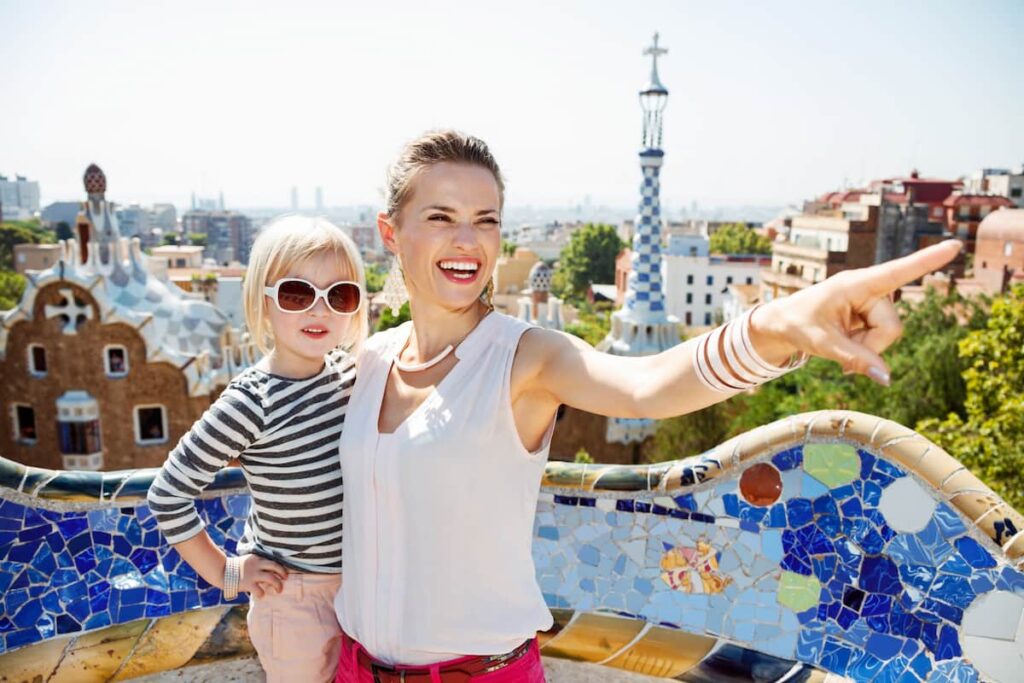 Also, locals rarely wear shorts in the city unless it's scorching hot, and even then, they're more likely to opt for lightweight trousers or skirts.
Finally, keep in mind that Barcelonians have a late-night culture. If you're heading out to eat dinner at 6 pm or planning to hit the clubs by 10 pm, you'll stick out like a sore thumb.
Which Areas to Avoid in Barcelona?
While Barcelona is generally a safe city, it's wise to be extra cautious in certain areas. The Raval neighborhood, while it has been on the rise in recent years, can be a bit dodgy at night, so keep your wits about you. Similarly, parts of the El Born neighborhood can get sketchy when the sun goes down.
Also, as mentioned before, Las Ramblas is notorious for pickpockets due to the high volume of tourists.
It's worth noting that "avoid" doesn't mean "never visit". Raval and El Born have some amazing sights, eateries, and shops, and Las Ramblas, while touristy, is quite a sight to see.
As long as you remain aware of your surroundings, keep your belongings secure, and don't flash valuable items around, you should be able to explore these areas safely.
Also, be mindful of the beaches late at night. Barcelona's beaches are beautiful, but they can attract a less savory crowd after dark.
If you're planning a beach day, try to pack up before sunset, or stick to well-lit, populated areas if you're enjoying an evening stroll. Safety is all about being aware and alert, so keep your eyes open and enjoy the city to the fullest!
How to Be Polite in Barcelona?
To be polite in Barcelona, start by using basic Spanish or Catalan greetings like "Hola" (Hello), "Gracias" (Thank you), and "Por favor" (Please). While locals don't necessarily expect tourists to speak their languages fluently, a little effort goes a long way!
Also, remember to respect the local culture and traditions, like not confusing Catalan with Spanish or expecting everyone to speak English.
As in many other cultures, good manners are appreciated in Barcelona. When entering shops, cafes, or restaurants, it's polite to greet the staff with a simple "hola." At meal times, wish others "Bon profit!" (Enjoy your meal) before digging in.
It's also respectful to wait until everyone has their food before you start eating. Moreover, tipping is not as common in Barcelona as in some other countries, but a small tip for good service is always appreciated.
Is it OK to Speak English in Barcelona?
Absolutely, it's okay to speak English in Barcelona! Most locals in touristy areas are accustomed to interacting with English-speaking visitors. However, don't be surprised if some people, particularly outside the city center or the older generation, don't speak English fluently.
While English is generally understood, particularly in the tourism and hospitality sectors, trying to learn a few basic phrases in Spanish or even Catalan can enhance your travel experience. 
Locals truly appreciate the effort, and it's a fantastic way to immerse yourself in the city's linguistic diversity. But remember, if you're struggling with the language, a smile and good manners transcend all language barriers!
Is Barcelona Friendly for Tourists?
Yes, Barcelona is indeed a friendly city for tourists. Its locals are typically welcoming and patient with visitors, and the city offers a wealth of sights, activities, and experiences that cater to all types of travelers. Plus, Barcelona's public transport system is easy to navigate, and most key attractions are signposted in English.
Barcelona boasts a mix of captivating architecture, beautiful beaches, delicious cuisine, and vibrant nightlife that draw tourists from around the globe. And while it's a bustling metropolis, it also offers quieter neighborhoods and parks for those seeking a slower pace.
Like any other city, it has its pros and cons, but overall, Barcelona's blend of culture, history, and hospitality makes it a fantastic destination for any tourist. Just remember to respect local customs and traditions for a truly enriching experience!