30 Best Places to Visit in Barcelona at Night (2023)
This article may contain affiliate links. Please read our
Disclosure Policy
for more information.
Craving a different kind of nightlife? Keen on exploring Barcelona beyond the guidebooks? Buckle up, you're in for a treat.
I've got a list of the best places to visit in Barcelona at night that'll have you rethinking your holiday itinerary. And I'm not just talking about the usual haunts…
No, I'm diving deep into the heart of the city to discover its secrets that only light up when the sun goes down. Whether you want food or fun, cool culture or something a little bit creepy, If you're looking for things to do in Barcelona tonight, then I've definitely got you covered.
Living in Spain and having spent a ton of time in Barcelona, I've had my fair share of night-time adventures. From shopping sprees in the city center to treasure hunting at Els Encants flea market, there's a wealth of activities waiting for you when dusk hits.
So let's wave goodbye to conventional and hello to extraordinary, shall we? Trust me, by the end of this read, you'll be itching to experience Barcelona's nocturnal delights first hand.
Best places to visit in Barcelona at night
1. Magic Fountain Show
There's a certain magic that descends on Barcelona once the sun dips below the horizon, and nowhere is this more evident than at the Magic Fountain show.
This isn't just a touristy gimmick, as the Magic Fountain Show is more than just a water-and-light display. Instead, it's almost like the water is dancing as the lights reverberate through each stream.
Why should you check it out? Well, firstly, it's absolutely free. Yes, you read that right! No ticket, no entry fee – just you, the sky, and the music.
Secondly, it's the perfect place to end a long day of sightseeing. After you've soaked up the sights, the sounds, and the flavors of Barcelona, what better way to wrap up your day than with a visual feast like this!
One thing to keep in mind though is that this is a great example of how not doing your research beforehand is definitely something to avoid in Barcelona. Specifically, make sure you check if the Magic Fountain is actually running when you visit. They've turned it off in recent months to save water, so I'd suggest double checking this before you make the trek over to see it.
2. Casa Milà/La Pedrera Night Experience
When you think of Barcelona, Gaudi's iconic architecture instantly comes to mind, and Casa Milà (or La Pedrera) is one of his gems. But did you know that this UNESCO World Heritage site transforms into an entirely different beast at night?
It's true – after the sun goes down, Casa Milà comes alive in a way that's truly unforgettable. Walking through its lit-up archways feels like stepping into a different era.
You're probably wondering, "What makes the night tour so special?" Well, let me tell you. The night experience involves an immersive light and sound show, aptly named 'The Origins', that beautifully traces the history of this iconic building.
I can honestly say that this is one of the best ways to explore Gaudi's architectural genius – but, for some reason, seems to be one of those travel tips for Barcelona that not everyone knows about. Which is great for you, as it means that you'll be lucky enough to get to see a side of Casa Milà that most daytime visitors miss without the crowds.
Keep in mind though that places are limited and it's especially important to buy your tickets in advance during high tourist periods. You can check availability on tickets to La Pedrera Night Experience here.
3. Flamenco Show
Nothing screams Spain louder than the fiery, passionate Flamenco. And let me tell you, a Flamenco show isn't just a dance or a performance – it's an emotion, it's raw passion on stage.
So while you're in Barcelona, why not spend an evening soaking up the vibrant culture and tradition of this beautiful city? A live Flamenco show is just the ticket for that.
And trust me, once you've seen it, you won't forget it. The pulsating rhythm of the guitars, the soul-stirring voices, the passionate flair of the dancing – it's pure magic.
My top pick? This Flamenco Show at City Hall Theater. Held in the beautiful early 19th-century City Hall Theater, the show makes for an unforgettable night of music and dance.
4. Tapas Crawl
Alright, folks, time to get your taste buds tingling! If you're in Barcelona, a tapas crawl should definitely be on your bucket list.
You'll be hopping from one bar to another, each offering their unique take on these bite-sized Spanish delicacies. This makes it a fantastic opportunity to taste a variety of dishes and flavors.
And every tapas bar has its own specialties, so you're in for a real treat. Plus, don't worry about finding the best places – you can either plan your own route or join an organized tapas tour for a more local experience!
I always recommend this Tapas Walking Tour with Food, Wine and History. It's renowned for taking people to the best foodie hotspots and giving you a taste of the city's most mouthwatering tapas.
5. Bunkers Del Carmel
I'm about to share with you a spot that, while not super secret, remains off the beaten tourist track: Bunkers Del Carmel. High up in the city hills, this place offers panoramic views of Barcelona that are nothing short of amazing.
It's the perfect spot to kick back with a picnic, away from the city's hustle and bustle, as you watch the city lights flicker to life.
Why should you head up there at night? Well, apart from escaping the crowds, the nighttime view from the Bunkers is truly mesmerizing.
You get to see Barcelona in a whole new light, literally. Plus, it's totally free, so it's great for budget travelers!
So pack your favorite snacks, bring a blanket, and head up to enjoy a relaxed evening.
6. Paella Cooking Class
Now, how about getting your hands a little dirty and learning to whip up some authentic Spanish paella? Taking a paella cooking class is a fun, interactive way to spend your evening in Barcelona.
Not only do you get to learn about Spanish cuisine, but you also get to enjoy the fruits of your labor! And sure, Spaniards don't actually eat paella at dinner time (it's strictly a lunchtime meal!) but it's fine, I won't tell if you don't…
Check out this paella cooking class to join a Barcelona chef in learning the secrets of making traditional tapas, paella, and sangria – then get ready to eat and drink all your work at the end!
7. Wine Tasting
Calling all wine lovers! Barcelona's wine scene is not to be missed. From robust reds to crisp whites, the city's wine offerings are diverse and plentiful.
This is why joining a wine tasting, especially one led by a sommelier, is a fantastic thing to do at night in Barcelona – which is exactly what you'll do at this wine tasting of Catalan and Spanish wines!
And it's not just about drinking wine. It's about learning, experiencing, and appreciating the subtle nuances that each glass holds. A sommelier-guided tasting lets you discover Spanish and Catalan wines in a way you wouldn't on your own.
8. Sunset from Tibidabo
Tibidabo isn't just an amusement park; it's also one of the highest points in the city. And trust me, the view of the sunset from up there is one for the books.
As the day ends and the city begins to glow, you'll find it's worth every step you took to get up there. After all, as beautiful as Barcelona is during the day, it takes on a whole new charm at dusk.
As the sun sets, the sky turns into a painter's palette, and the city skyline becomes a silhouette against the twilight hues. Whether you're a romantic at heart or a lover of beautiful vistas, this is an experience you shouldn't miss.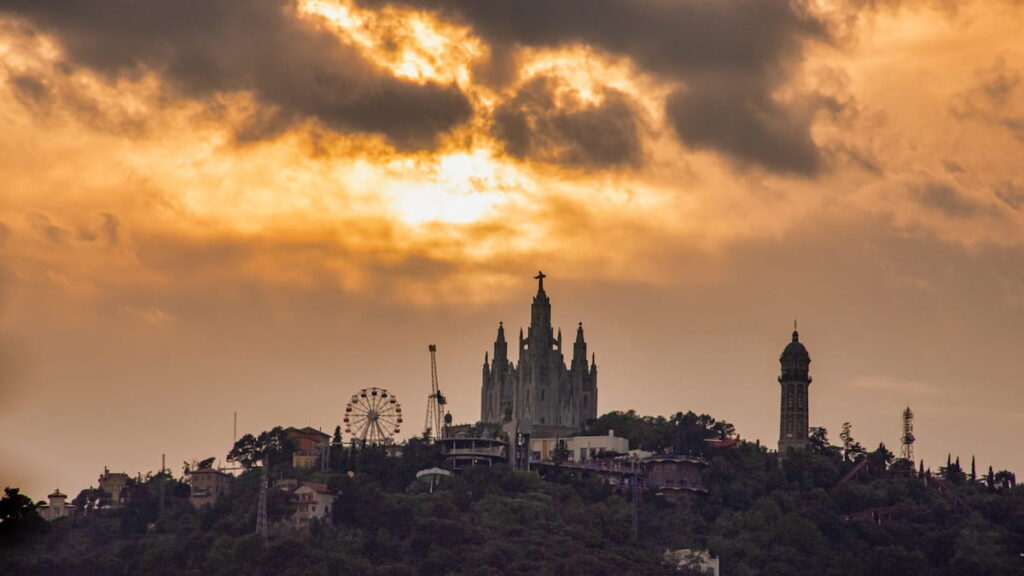 9. Sidecar Tour of Barcelona
Ready for a thrilling nighttime adventure? Then buckle up for a Night Tour of Barcelona by Sidecar Motorcycle!
Roaming through Barcelona's bustling streets under the cover of darkness, with the wind in your hair – I promise, it's as fun as it sounds. You'll get to see the city's iconic landmarks bathed in the warm glow of the night lights, adding a touch of magic to the already impressive architecture.
There's a certain charm to Barcelona that can only be appreciated when the sun goes down. The landmarks, usually bustling with tourists, take on a serene beauty, and you'll have the chance to capture some memorable night-time shots for your social media.
And doing this in a night-time sidecar tour offers a unique and exhilarating perspective of Barcelona. It's not your usual sightseeing – it's an adventure, it's an experience, and it's a ride you won't easily forget.
10. Ghost Stories of Barcelona Tour
If you're a fan of the spooky and mysterious, you're going to love the Ghosts and Legends Tour of Barcelona. This isn't your regular city tour – oh no, this one takes a walk on the eerie side of the city's history.
As you navigate the Gothic Quarter's ancient, cobbled streets, your guide will fill your ears with chilling tales and spine-tingling legends of Barcelona's past. It's an incredibly unique way to delve into the city's history – a version you won't hear on traditional tours.
This is history with a twist, with a dash of horror and mystery. And let's face it, who doesn't love a good ghost story?
Just remember – don't wander off the path, who knows who (or what) you might bump into!
11. Cinema at the Beach
If you find yourself in Barcelona during the summer months, you're in for a treat. Picture this: a balmy summer night, a soft sand beneath you, a gentle sea breeze, and a great movie on a big screen right on the beach.
Sounds perfect, right? That's exactly what you'll get with Cinema Lliure, a series of free beach-front film screenings.
Why is it a cool nighttime activity? Because it's laid-back, fun, and quintessentially Barcelona. It's a chance to relax after a busy day of exploring, mingle with locals, and enjoy a movie under the stars. And let's not forget – it's free!
12. Sunset Sailing Cruise
We've got to talk about the stunning sunset sailing cruises that Barcelona offers. There's something truly special about watching the sunset over the water, the sky painted with hues of orange and pink, and the silhouette of the city in the distance.
Add a smooth sailboat ride to the mix (I love this Catamaran Sunset Cruise) and you've got an unforgettable evening! Away from the hustle and bustle of the city, you'll be treated to incredible views, a calm sea breeze, and maybe even a glass or two of cava.
A sunset sailing cruise is a fantastic way to see Barcelona from a different perspective. It's not just about the views, it's about the tranquility, the cool sea air, and the breathtaking sunset.
13. Casa Batllo Rooftop Concert
You know Casa Batllo, right? That famously vibrant and quirky Gaudi masterpiece in the heart of Barcelona? Well, did you know that during the summer months it turns into a magnificent stage for evening concerts?
Yep, you heard right. Imagine listening to smooth melodies under the stars, with the shimmering city as your backdrop and Gaudi's genius surrounding you.
Now, you might ask, why would I want to go to a concert on a rooftop? Well, besides the fact that it's incredibly cool, it's also a unique way to experience one of Gaudi's masterpieces.
After all, it's less crowded in the evenings, and the atmosphere is just unbeatable. Plus, it's a great way to mingle with both locals and tourists. Find out more here.
14. Barcelona's Dark History Night Tour
If you're a history buff with a taste for the eerie, you'll love Barcelona's Dark History Night Tour. This isn't your run-of-the-mill city tour – this one dives deep into Barcelona's spine-tingling past, full of medieval punishments, restless spirits, and victims of the Spanish Inquisition.
You'll walk through the labyrinthine streets of El Born and La Ribera, places where the city's dark history comes alive in the shadows of the night.
The tour offers a unique and chilling look into Barcelona's past. Plus, there's a certain thrill in exploring the city after dark, when the shadows seem to whisper the secrets of centuries past.
15. Openair Cinema at Sala Montjuic
If you're in Barcelona sometime between the end of June and the start of August, you're in for a real treat.
Picture this – a beautiful summer evening, a historical castle as your setting, a live concert followed by an open-air film screening. That's Sala Montjuic for you, folks!
Now, before you go, there are a couple of things you should know. Be sure to choose a film that's in English (they're screened in their original language with Spanish subtitles) and book your tickets in advance as they sell out pretty fast.
But if you manage all that, this is definitely a different and fun way to enjoy the balmy Barcelona nights. You get to listen to live music, watch a great movie under the stars, and enjoy a lovely picnic in the castle grounds.
16. Street Art in Poblenou
For a more offbeat experience, explore the vibrant street art scene in Poblenou. This up-and-coming neighborhood is a treasure trove of colorful murals and thought-provoking graffiti, turning the streets into an open-air art gallery.
Take a leisurely stroll after dark, when the artworks seem to come alive under the glow of the streetlights. It's truly a laid-back, creative, and free way to enjoy Barcelona's artistic side.
You'll get to see how the city's urban culture and creativity extend beyond the famous Gaudi landmarks. Plus, it's a nice way to discover a neighborhood that's off the tourist track.
17. Pub Crawl (With a Side of History!)
Let me tell you about the Drunken History Walking Tour with Drinks. This isn't your average pub crawl. Nope, this is a pub crawl that takes you through Barcelona's iconic bars, while revealing fascinating stories about the city.
You'll start off sipping local wine or sangria while you get introduced to the tour. But the highlight for many is discovering the love Catalans have for vermouth, especially in the hip neighborhood of El Born. Trust me, you've got to taste it to understand it.
The evening ends in Plaça Reial, but remember, the party doesn't have to stop there. In Barcelona, 11pm is just the beginning!
Throughout this journey, you'll enjoy some great storytelling and fun drinking games. So, if you're looking for a night out that's a blend of history, drinks, and good company, this pub crawl is it.
18. Drinks at Plaça Del Sol
If you're in Barcelona, an evening in Plaça Del Sol is a must. This vibrant square is a popular hangout spot for locals and tourists alike, packed with a wide array of bars and cafes. Sit down, order your favorite drink, and soak in the buzz of the city around you.
But why Plaça Del Sol, you ask? Simple. It's one of the best places in the city to experience Barcelona's lively nightlife.
You can mingle with locals, meet other travelers, and really feel the pulse of the city. Plus, it's a great spot for people watching!
19. City Bike Tour by Night
Let's take it up a notch with a City Bike Tour by Night. This isn't just about pedaling around the city, it's about seeing Barcelona in a whole new light.
As the sun sets and the city lights up, you'll explore the city's most famous spots, like the Sagrada Familia and Ciutadella Park, all from the comfort of your bike. Not to mention that it's a healthy, eco-friendly, and fun way to sightsee!
You'll get a unique perspective on the city, and you'll cover more ground than you could on foot. Plus, it's a cool way to enjoy the balmy Barcelona nights.
20. Opera at Liceu Theatre
For something a bit more cultured, how about an evening at the opera? Barcelona's iconic Liceu Theatre offers world-class performances that will sweep you off your feet.
Whether you're an opera lover or a first-timer, an evening at the Liceu is an experience you won't forget. For one thing, it's more than just an opera house – it's a Barcelona landmark.
The theater's architecture is just as impressive as the performances on stage. And there's something about getting dressed up and spending an evening in such a grand setting that feels special.
It's glamorous, it's sophisticated, and it's an unforgettable place to visit in Barcelona at night!
21. Night Time Segway Tour
When you're in Barcelona, you've got to try a night time Segway tour. This isn't your typical sightseeing trip, it's a bit of an adventure!
Doing an evening Segway tour like this one lets you zip around Barcelona's landmarks, taking in the sights while riding on one of these self-balancing machines. Not only is it a super fun way to explore the city, but exploring at night when the crowds thin out and the temperatures drop is great all in itself.
You'll see Barcelona's iconic sights in a whole new light (literally!) and cover more ground than you would on foot.
22. Cocktail Masterclass (with Tapas!)
How about learning to mix some mean cocktails while nibbling on some tasty tapas? That's right, Barcelona offers this Cocktail Masterclass (with tapas!) that not only teaches you how to mix drinks but also serve up some yummy tapas. It's a great mix of learning and fun!
Why a cocktail masterclass, you ask? Well, who wouldn't love to learn how to make their favorite cocktails?
And it's a great chance to meet people, enjoy some laughs, and have a fantastic night out. Plus the tapas? They're just the cherry on top!
So if you're up for a night of drinks, food, and fun, the cocktail masterclass is where you should be. You'll leave with a happy belly, some new skills, and possibly even some new friends.
23. Pick up Ingredients for Dinner at La Boqueria
Now, if you're in the mood for a bit of cooking, head over to La Boqueria. This famous market is a paradise for food lovers.
From fresh produce and local delicacies to a wide variety of spices, you'll find all you need to whip up a fabulous dinner.
And La Boqueria is more than just a market. It's a sensory experience! The array of colors, smells, and tastes is a treat for your senses.
Plus you'll get a glimpse into the local food culture and a chance to pick up some unique ingredients.
In short, a visit to La Boqueria is a must for foodies. Grab your shopping basket, prepare your taste buds, and get ready for a culinary adventure.
24. Stroll the Gothic Quarter
Let's talk about the Gothic Quarter. This historic neighborhood is an absolute delight to explore at night.
As you stroll through its narrow, winding streets, you'll feel like you've stepped back in time. Which makes sense, when you consider that the Gothic Quarter has been Barcelona's very heart and soul for centuries.
The charm of its medieval buildings, the hidden squares, and the mysterious alleyways all make it a fascinating place to explore. And at night, it's simply magical!
Plus, if you want to learn a few great stories along the way, this Old Town Evening Tour with Tapas and Drinks is just the thing. You'll explore all the sights before exploring some of the tastes of this area too!
25. Find Bars with Live Music
The night scene in Barcelona isn't complete without stepping into one of the city's many bars that offer live music. Trust me, there's something incredibly cool about sipping on your favorite cocktail as local bands fill the air with music that gets your toes tapping.
Fortunately, Barcelona has a buzzing live music scene that ranges from indie rock to jazz, and catching a live performance can be the cherry on top of your evening out.
You may even discover the next new up and coming artist!
26. Visit the Ice Bar
Looking for something completely different? Then let's get chilly at the Ice Bar.
This unique bar is kept at a frosty -5°C (don't worry, they provide jackets and gloves!) and everything – from the walls to the glasses – is made entirely of ice.
You might be thinking, why on earth would I want to go to a freezing cold bar? Well, the Ice Bar offers a unique experience that you won't find anywhere else in the city. Not to mention it's an awesome way to cool off from Barcelona's warm nights.
27. Clubbing
When the sun goes down, Barcelona's clubs light up. This city knows how to party, and whether you're into house music, hip-hop, or Latin beats, you're sure to find a club that fits your style.
After all, Barcelona is home to some of the best clubs in the world! The energy, the music, and the people make for an unforgettable night out.
Just remember that people go out pretty late in Barcelona, with many of the clubs not heating up until 2am.
28. FC Barcelona Match
Watching an FC Barcelona match isn't just for football fans. Experiencing a match, especially a night game, is a spectacle that's worth witnessing.
The reason for this is simple: the atmosphere. The energy of the crowd and the shared excitement of tens of thousands of fans is electrifying. Even if you're not a football fanatic, you'll be swept up in the emotion.
If you're looking for things to do in Barcelona at night, attending an FC Barcelona match should definitely be on your list as it lets you become part of Barcelona's passion for football, even if just for one night.
29. Shopping in the City Center
Barcelona at night isn't all about partying and dancing, you know. Shopping in the city center is a must-try for every fashion-savvy tourist.
In fact, Barcelona's bustling city center is home to an array of fashion boutiques, high-end brands, and unique shops where you can score some truly unique finds.
But why should you shop at night? It's simple – the city center is less crowded in the evenings. You'll have more space to browse, and the ambiance is more relaxed.
Plus, many shops in Barcelona are open until late, making it a convenient choice for an evening activity.
30. Check Out Els Encants Flea Market
If you're looking for something less mainstream, why not explore Els Encants, one of the oldest flea markets in Europe? From vintage clothes to antique furniture and quirky knick-knacks, you'll find a hodgepodge of items that scream character and history.
The charm of Els Encants lies in the thrill of the hunt. As the market stays open into the early evenings, it's a perfect spot for a night-time adventure.
But remember, the best treasures are often hidden, so you might need to dig a little!
FAQs
Can I Walk Alone at Night in Barcelona?
You can walk alone at night in most parts of Barcelona. It's generally a safe city, even after dark, and it has a vibrant nightlife scene that's perfect for solo explorers. However, like in any major city, you should always be aware of your surroundings and take some basic precautions.
Barcelona is well-lit, with plenty of people out and about, especially in the city center and popular areas like El Born, and Gràcia. These places are bustling until the early hours, with locals and tourists alike enjoying tapas bars, night markets, and street performances.
That being said, it's wise to avoid less crowded or poorly lit areas if you're walking alone at night. Also, keep your belongings secure and close to your body to prevent pickpocketing, which is, unfortunately, a common occurrence in Barcelona.
But don't worry too much – just stay aware and you'll likely have an awesome, trouble-free night out.
Where Can I Walk Around Barcelona at Night?
There are many great places to walk around in Barcelona at night. Las Ramblas, the beachfront boardwalk, and the Gothic Quarter are all beautiful and lively places to stroll after dark. The city's vibrant street life makes for a great evening walk, filled with captivating sights and sounds.
Las Ramblas is a famous pedestrian street in the heart of Barcelona, filled with cafes, shops, and street performers. It's always alive with activity, and walking here can feel like being in a festival.
The beachfront boardwalk is another fantastic spot for an evening stroll. The Mediterranean breeze, coupled with the sound of waves and the sight of the lit-up cityscape, create a soothing atmosphere that's hard to resist.
Lastly, the Gothic Quarter, with its medieval architecture and winding alleyways, has a magical vibe at night that's unlike anything else.
Is Barcelona Good for a Night Out?
Absolutely, Barcelona is fantastic for a night out! It's renowned for its diverse and lively nightlife scene, offering a wide range of experiences to cater to all preferences. Whether you're into clubbing, live music, or quiet wine bars, Barcelona has it all.
Let's start with the clubbing scene. Barcelona is home to several world-famous clubs such as Pacha, Razzmatazz, and Opium.
These venues regularly host international DJs and artists, making them hotspots for dance and music enthusiasts. Just remember that the clubbing scene here kicks off late and parties often go on until the early morning.
If you're more into live music, Barcelona won't disappoint either. Jazz clubs, flamenco shows, and indie music bars are dotted across the city, offering a taste of the local music culture.
Alternatively, for those who prefer a quiet and cozy ambiance, there are numerous wine bars and craft beer pubs where you can savor local drinks while engaging in conversation or simply enjoying the laid-back atmosphere.
In a nutshell, whether you're an all-night party animal, a music lover, or a relaxed sip-and-chat kind of person, Barcelona's nightlife scene has something to suit everyone's style.
What Part of Barcelona Has the Best Nightlife?
The area with the best nightlife in Barcelona has got to be El Raval. This vibrant neighborhood is known for its eclectic mix of bars, clubs, and music venues. Whether you're looking for a laid-back wine bar or a lively club where you can dance till dawn, El Raval has got you covered.
El Raval is home to some of the city's trendiest spots, including Bar Marsella, a vintage absinthe bar that's said to have been frequented by the likes of Picasso and Hemingway. Club Moog, known for its electronic music scene, is another must-visit.
And that's not even mentioning that there's a myriad of unique bars and clubs where you can experience everything from live rock music to flamenco performances.
But it's not just about the bars and clubs. El Raval is also a cultural hub, with plenty of galleries, theaters, and concert halls offering nighttime activities.
All in all, if you're looking for a place that's buzzing with energy and offers a plethora of nighttime entertainment options, El Raval is your go-to neighborhood in Barcelona.
What Do You Wear to a Night Out in Barcelona?
In Barcelona, the dress code for a night out can range from casual to dressy, depending on where you're going. The city has a laid-back vibe, so you'll see locals in everything from jeans and T-shirts to dresses and heels.
That said, if you're planning to visit one of the fancier bars or clubs, it's best to dress a bit more on the stylish side.
When picking your outfit, remember that comfort is key. Barcelona's nightlife often involves a fair amount of walking or dancing, so choose shoes that you can move in.
Also, even in the spring and fall, it can get a bit chilly at night, especially near the beach areas, so bringing a light jacket or sweater is a good idea.
Ultimately, Barcelona is a city that celebrates individuality and style. So whether you want to rock a little black dress or a pair of comfy jeans and a cool tee, you'll fit right in. Just be yourself, and you'll be dressed to perfection for a night out in Barcelona.