3 Days in Valencia: The Ultimate Itinerary (From a Local!)
This article may contain affiliate links. Please read our
Disclosure Policy
for more information.
So, you're planning a trip to Spain, and you've stumbled upon the charming city of Valencia. You can already imagine yourself strolling through its vibrant streets, savoring mouthwatering paella, and soaking up the Mediterranean sun.
But there's just one problem: You only have three days in Valencia to spare, and you're not sure if that's enough time to truly experience the wonders of this city and its surroundings.
Well, fear not, fellow traveler! As someone who lives in Valencia, I'm here to guide you through an unforgettable three-day adventure that will leave you longing for more.
From our city's historic heart and futuristic wonders to sun-kissed beaches and delectable cuisine, I promise that this three-day itinerary will make your short stay in Valencia nothing short of extraordinary.
So, pack your bags and join me on this whirlwind tour of Valencia, where the sun always shines, the paella is always sizzling, and the memories are just waiting to be made!
Itinerary for 3 Days in Valencia
Ready to explore the charismatic city of Valencia, Spain? Well, lace up your walking shoes, because we're about to embark on an unforgettable three-day journey, and trust me, you're going to fall in love with my city!
Related: How Many Days Do You Need in Valencia? (For First Timers)
Day 1: Valencia's Historic Heart and Tantalizing Tastes
Morning: The Amazing Mercado Central and the Silk Exchange
Start your Valencia adventure with a sensory overload at the fabulous Mercado Central. Picture a labyrinth of stalls bursting with colors and wafting with tantalizing smells!
Oh, and get ready to do some serious food shopping – from juicy oranges, fresh-off-the-boat seafood, artisan cheese, to the best olives you've ever tasted. Trust me, you'll want to pack your suitcase full!
Just a stone's throw away is the jaw-dropping La Lonja, or the Silk Exchange. This Gothic masterpiece is a testament to Valencia's wealth during the Golden Age. Once inside, be sure to check out the tranquil courtyard where you'll find orange trees filling the air with their intoxicating scent.
Mid-morning: Valencia Cathedral and a Taste of Local Delights
Next, let's meander our way to the Valencia Cathedral. But first, we're making a pit stop at Plaza Redonda, a charming little square that's oh-so-Instagrammable.
While there, pay a visit to Horchateria Santa Catalina. Don't leave without tasting horchata, a sweet, milky drink made from tigernuts, and fartons, a type of sweet bread – it's a match made in Valencian heaven!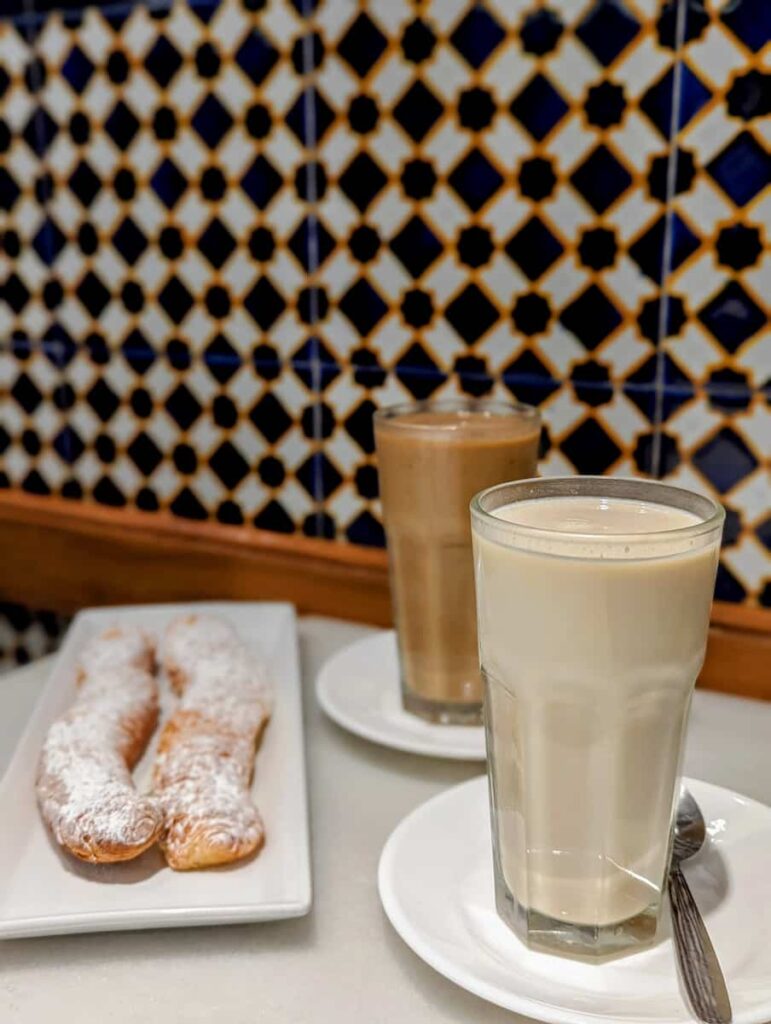 Now, onto the Cathedral! Did you know that it's home to what's believed to be the real Holy Grail? No joke! And if you're up for it, climb the Miguelete bell tower for the most spectacular city views. Remember to take a breather at the lovely Plaza de la Reina right before the climb!
Afternoon: Plaza de la Virgen, Old Town Exploration, and Agua de Valencia
Post Cathedral, make your way to the scenic Plaza de la Virgen. Kick back, relax, and soak in the beautiful ambiance. But don't get too comfortable! The stunning Basilica is calling for a visit.
Hungry? It's time for a late lunch! When in Valencia, we eat lunch after 2 pm – it's just how we roll. For today, how about trying fideuá, a scrumptious noodle dish that's kind of like paella's cousin?
Make sure to reserve a table in advance though – Spaniards take lunchtime seriously!
Feeling energized? Great, because it's time to get lost in Valencia's Old Town! Be sure to check out the grand Torres de Serranos, the whimsical Casa de los Gatos, and the intriguing El Carmen Cultural Center. And keep an eye out for vibrant street art – it's like an open-air museum!
No day in Valencia would be complete without sipping on an agua de Valencia at Cafe de las Horas. Picture this: freshly squeezed Valencian oranges, a dash of vodka, a splash of gin, topped with cava… Salud!
Evening: Turia Park Stroll and Tapas Tour
If you're still up for some exploration, take a twilight stroll through Turia Park (although don't worry if you don't see much – or anything – as you'll be spending more time here tomorrow). Otherwise, it's time to unwind with a tapas tour through the Old Town.
Be it savory jamón ibérico, tangy manchego cheese, or crunchy croquetas, you're in for a culinary treat. And don't forget to wash it down with some smooth Valencian wine. 
More of a beer lover? No problem! Pop into Tyris on Tap near Mercado Central. They've got a fantastic selection of craft beers and a charming outdoor seating area that's perfect for people-watching.
When it comes to where to go for your tapas extravaganza, you won't be short on choice. Here are some of the best ones:
La Marrana: Located on a narrow, cobbled street, La Marrana is a hidden gem worth discovering. Their modern twist on traditional tapas will leave you craving more. Don't miss their signature crispy pork belly or the patatas bravas with a zingy aioli sauce.
La Bodeguilla Del Gato: You'll be drawn in by the vintage decor, but you'll stay for the top-notch tapas. This charming spot serves a range of delightful bites, from succulent octopus to creamy croquettes. The outdoor seating area is perfect for people-watching!
El Poblet Tapas Bar: This place is a firm favorite among locals. The tapas selection is extensive and beautifully presented. Try the cod fritters or the mushroom risotto. And trust me, their flan is to die for!
Taberna La Sénia: This trendy spot offers a unique tapas experience, with a delicious array of choices. The only problem is that it's quite small (and you can't book), so if you find a spare space, make sure you grab it!
Tasca Angel: If you're a seafood lover, Tasca Angel is your paradise. This bustling spot is famous for its grilled sardines and prawns. The best part? It's right next to the Central Market, so you know the seafood is as fresh as it gets!
With a belly full of tapas and a heart full of joy, I bet you'll be dreaming sweet dreams of Valencia tonight.
Day 2: Futuristic Wonders, Sun-Kissed Beaches, and Scrumptious Paella
Morning: City of Arts and Sciences and the Turia Park
Rise and shine, fellow adventurers! Day two in our beloved Valencia is about to get rolling. Today we'll be diving headfirst into the future and getting our toes sandy – quite the combination, don't you think?
Our first stop is the verdant Turia Park. This impressive green belt was once a riverbed, but today it's our favorite spot for a morning stroll, a friendly football match, or a serene picnic.
As you walk, take in the fresh morning air, greet the local joggers and cyclists, and immerse yourself in Valencia's daily rhythm.
As you leave the tranquility of the park, prepare for a jaw-dropping sight: the awe-inspiring City of Arts and Sciences. Rising like a futuristic oasis, this architectural wonderland is a testament to Valencia's innovative spirit.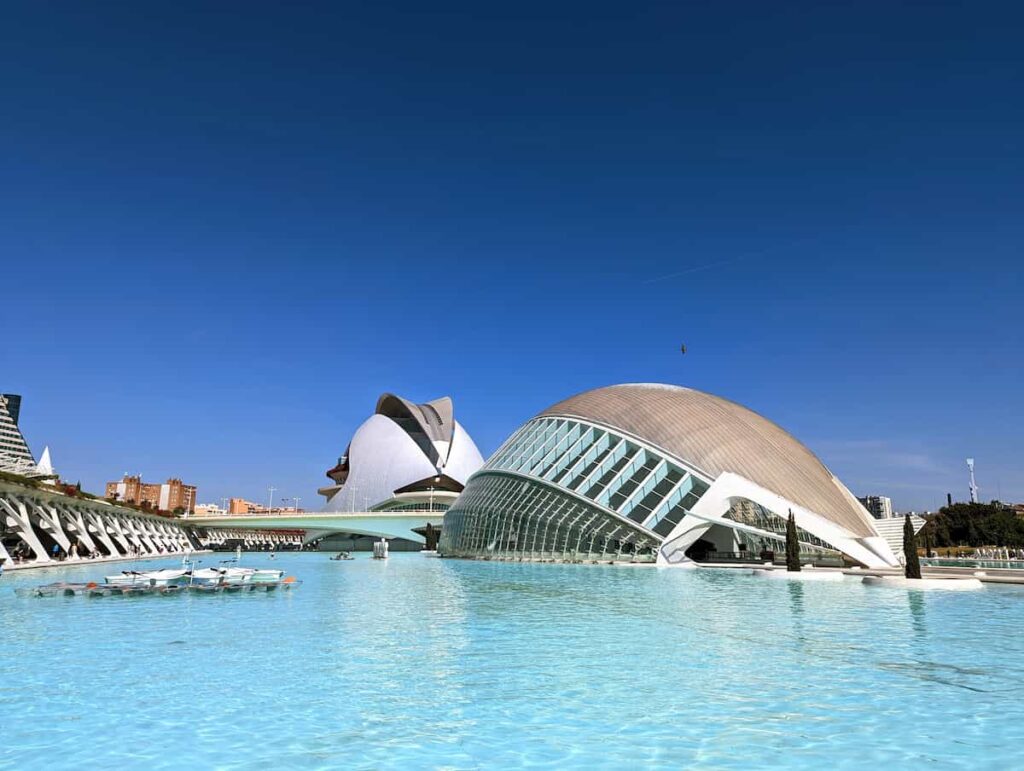 Designed by the world-renowned Valencian architect Santiago Calatrava, this massive complex is a playground for the culturally curious. Whether you fancy exploring the deep blue at the Oceanogràfic – Europe's largest aquarium – or unleashing your inner Einstein at the Prince Felipe Science Museum, you're sure to be awestruck.
And let's not forget the jaw-dropping Hemisfèric with its IMAX cinema, planetarium, and laserium, or the cutting-edge Palau de les Arts Reina Sofia, a masterpiece of modern design and a hub for the performing arts.
Afternoon: Beach Time, Paella, and El Cabanyal
Post futuristic fun, it's time to embrace Valencia's sunny side. Let's hit the beach! Hop on a local bus and soak in the city views en route to Las Arenas beach. As you step onto the soft, golden sand and look out at the sparkling Mediterranean Sea, you'll feel like you've found your slice of paradise.
But what's a day at the beach without seafood? It's time for the main event: paella! Although seafood paella is popular worldwide, we Valencians love our paella with rabbit, chicken, and green beans. 
Sounds intriguing? Trust me, your taste buds are in for a treat! I'd suggest trying it at a beachfront restaurant, with the best ones easily being the following:
La Pepica: Their paellas are cooked to perfection, with a generous amount of seafood and perfectly seasoned rice. Plus, the location is to die for, with a terrace overlooking the beach. And La Pepica's history is also worth mentioning, as it's been a favorite spot of famous personalities such as Ernest Hemingway and Joaquin Sorolla.
El Trompo: Another great paella restaurant that's definitely worth checking out. Located in Paseo Maritimo, right on the beachfront, this restaurant has been a favorite among locals and tourists alike, with their seafood paella being a must-try..
Casa Carmela: It's not right on the beach, but if you're looking for the best paella in Valencia, you simply have to visit Casa Carmela. This family-run restaurant has been serving up traditional paella for over a century, and it's still just as popular as ever. Located just a stone's throw away from Malvarrosa Beach, Casa Carmela is the perfect place to enjoy a delicious meal after some time in the sun.
Just make sure you book so you don't miss out!
From there, whether you're a sun worshipper, a water sports enthusiast, or just love a good beach read, the beach is the place to be for some afternoon digesting. Head back to Las Arenas or check out Malvarrosa beach for some afternoon fun if you're up for more beach time.
And don't worry about post-lunch refreshments – the beachside bars, La Fábrica de Hielo and Mercabanyal, have got you covered. They serve everything from ice-cold beers to fruity cocktails, and their laid-back, beachy vibes are hard to resist.
Evening: Exploring El Cabanyal and Ruzafa
With bellies full of paella, let's switch gears and explore the vibrantly quirky neighborhood of El Cabanyal. Known for its colorful, tiled facades, this area is a paradise for architecture buffs and Instagrammers alike. It's like stepping into a kaleidoscope of culture and color!
As the sun starts to dip below the horizon, we'll head back to the heart of Valencia, our beloved Plaza Ayuntamiento. Take a moment to marvel at the grandeur of the city hall, and feel the pulsating energy of this bustling square.
On your way to dinner, be sure to pass by the ornate Estación del Norte and the imposing Plaza de Toros. Trust me, these architectural gems will leave you speechless.
To cap off our day two of our itinerary in Valencia, we'll head to Ruzafa – Valencia's trendiest district. Ruzafa is brimming with eclectic restaurants, cozy cafes, and lively bars.
Whether you fancy a full dinner or just another round of tapas (because who can resist?), you'll find the perfect spot to unwind and relish the Valencian night.
Some of the best restaurants I'd suggest trying in Ruzafa include the following:
Canalla Bistro by Ricard Camarena: Helmed by a Michelin-starred chef, this trendy restaurant takes you on a culinary journey around the world. The menu is a mix of Spanish, Mexican, and Asian influences. Don't leave without trying the 'traveling oyster'!
El Rodamón de Russafa: This modern eatery serves up delightful tapas with a global twist. The patatas bravas with kimchi aioli are an absolute must-try. And their wine list? Simply superb!
Restaurante Copenhagen: If all that jamon and seafood is getting a bit much, this vegetarian restaurant is excellent. The food is delicious and very reasonably priced, making it a real highlight right in the heart of Ruzafa.
La Conservera: Known for their conservas (high-quality canned seafood), this place is a seafood lover's dream. The anchovies on fresh bread are life-changing. It's a unique dining experience you won't want to miss!
Dulce de Leche Boutique: For those with a sweet tooth, this place is heaven. Their pastries are divine, but the star of the show is their namesake, the dulce de leche cake. Grab a slice and enjoy it on their lovely patio!
And with that, we close the curtain on day two. Sleep well, fellow adventurers – Valencia still has more treasures to reveal tomorrow!
Day 3: Venture Beyond Valencia
Rise and shine, it's day three! While Valencia has heaps to offer, we locals love to venture out and explore the surrounding areas.
So, for your final day, I suggest you follow suit. Whether you're craving nature, history, or a castle with a view, we've got you covered. Let's dive in!
Option 1: Albufera – A Natural Paradise and Home of the Paella
Just a short bus ride away from Valencia, Albufera awaits. This natural park is a haven for birdwatchers, nature lovers, and anyone seeking a bit of tranquility.
Start your day with a peaceful boat ride on the Albufera lagoon, home to a diverse range of bird species. You might even spot a few locals fishing in the traditional way, just as their ancestors did.
Afterward, wander along the pristine Playa de El Saler, one of the region's most beautiful beaches. Don't forget your swimsuit in case you fancy a dip!
For lunch, indulge in an authentic paella at one of the restaurants lining the lagoon. Fun fact: Albufera is considered the birthplace of paella, so you're in for a treat!
My favorite spot is Restaurante Bon Aire, as their paella – and their views – are just sublime.
Getting to Albufera is a breeze. The local bus number 25 leaves from Valencia's city center and takes you straight there.
However, if you're feeling particularly energetic, you could even hire a bike for the day to ride down there! It makes for some great views, not to mention that it's a good way to digest all that paella on the ride back.
Option 2: Sagunto – Ancient Ruins and a Slice of History
If history is your thing, consider heading to Sagunto, home to impressive Roman ruins and a mighty castle. Hop on a train from Valencia's Estación del Norte and you'll be there in about half an hour.
Begin your exploration with a visit to the Roman theater, a well-preserved relic from the 1st century that still hosts performances today. From there, climb up to the Sagunto Castle.
This sprawling fortress offers breathtaking views of the city and the sparkling Mediterranean beyond.
After your history-packed morning, head to the town center and try some local delicacies. The oven-baked rice dishes at Casa Darío are not to be missed!
Option 3: Xativa – Castles, Cobblestones, and Charming Streets
If you're up for a slightly longer trip, Xativa is well worth the journey. This enchanting town is known for its cobbled streets, whitewashed houses, and a stunning castle that towers over the city.
Spend your morning exploring the castle. Divided into the "Castle of the King" and the "Castle of the Queen", it offers fascinating history and panoramic views. Don't forget to bring your camera!
When hunger strikes, try the local specialty, arroz al horno (oven-baked rice), at Casa La Abuela. It's a hearty dish that will fuel you up for more exploring.
To get to Xativa, just catch a train from Valencia's Estación del Norte. It's about an hour's ride, but the scenic journey will make time fly!
And there you have it, fellow explorers! Three incredible options for your final day in Valencia.
Whichever you choose, you're in for a day packed with adventure, stunning sights, and mouthwatering food. What better way to wrap up your Valencian journey?
Is 3 Days Enough for Valencia?
Absolutely! While you might not be able to uncover every hidden gem, three days in Valencia will still provide an unforgettable experience. You'll have ample time to immerse yourself in our rich history, indulge in our tantalizing cuisine, and bask in the Mediterranean sun.
As a proud Valencian resident, I could go on and on about the countless wonders that await you in our sunny city. But let's be real: Time is precious, and sometimes we only have a few days to spare.
That's why my carefully crafted three-day itinerary is designed to showcase the best of Valencia, ensuring you make the most of your precious time.
And who knows? You might even fall in love with our city and come back for 4 days in Valencia – or more!
Things to See in 3 Days in Valencia
Three days in Valencia is a great amount of time to see much of what this city has to offer. In particular, you'll have the chance to tick quite a few things off the must-see list.
I've put the main highlights below, just so you know what you have to look forward to!
1. Mercado Central
Kickstart your Valencia trip with a vibrant burst of colors and aromas at Mercado Central, one of Europe's largest markets. This lively food market is a treasure trove of fresh produce, tempting seafood, artisanal cheese, and local wines.
Housed in a striking Modernist building with beautiful stained glass windows and an ornate dome, Mercado Central is a feast for the senses. Don't forget to sample some Jamón Ibérico or local cheeses – this is the true taste of Valencia!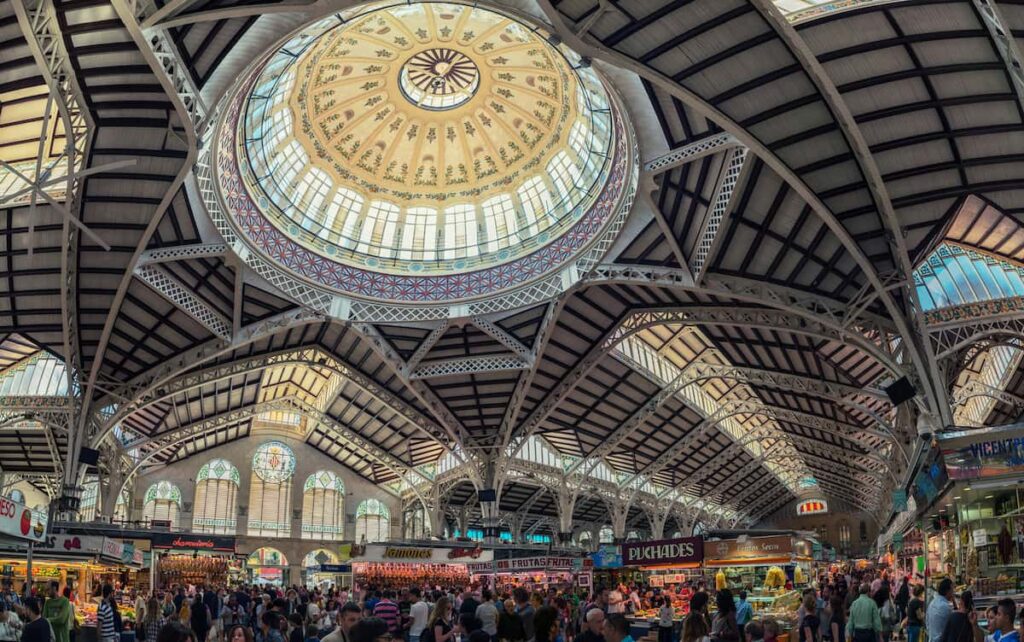 2. Silk Exchange (La Lonja de la Seda)
Just a stone's throw away from the market is the breathtaking Silk Exchange, a late Gothic masterpiece that is a UNESCO World Heritage site. Step inside this architectural marvel to admire the intricately carved columns of the main hall that seem to grow like a forest of stone.
The serene courtyard, filled with fragrant orange trees, provides a lovely contrast to the grandeur inside.
3. Valencia Cathedral
Next up is the Valencia Cathedral, a stunning testament to Valencia's rich history, boasting a unique blend of Romanesque, Gothic, and Baroque architectural styles. And it's even said that the Cathedral is home to the Holy Grail – yes, THE Holy Grail!
Don't forget to climb the Miguelete bell tower, it's a bit of a workout, but the panoramic views of the city are worth every step!
4. Plaza Redonda
Tucked away in the labyrinthine streets of the Old Town is Plaza Redonda, a quaint circular plaza that's a perfect spot for a quick break. This charming nook is filled with small shops selling traditional crafts, perfect for some unique souvenirs.
To sweeten the deal, pop over to the nearby Horchateria Santa Catalina for horchata and fartons, a classic Valencian treat!
5. Plaza de la Virgen and the Basilica
Plaza de la Virgen is a picturesque square where you can soak up the city's rich history surrounded by captivating architectural gems.
The centerpiece here is the Basilica, where you can't help but be awed by its dazzling roof, adorned with intricate frescoes, but the huge fountain in the middle of the square, representing the famed Turia river, is also a highlight.
Here, you can sit back, relax, and watch the world go by in this stunning backdrop.
6. Torres de Serranos
Get ready to step back in time as you visit the Torres de Serranos, one of Valencia's most iconic landmarks. These imposing Gothic towers once guarded the city's entrance.
Today, they offer an exciting adventure as you can climb to the top for a bird's-eye view of the Old Town and the sprawling green expanse of the Turia park. Trust me, the view is worth every step!
7. Casa de los Gatos and El Carmen Cultural Center
Embrace the artistic spirit of Valencia with a visit to the quirky Casa de los Gatos, named for the little cat statue perched on its façade.
As you stroll through this vibrant neighborhood, make sure to visit the El Carmen Cultural Center, where you can immerse yourself in local art and culture.
And keep your eyes peeled for the striking street art that adds a splash of color to the district!
8. Turia Park
Escape the city's hustle and bustle with a leisurely walk or a bike ride through Turia Park. This lush green oasis stretches for nearly 9 kilometers, making it the perfect spot for a picnic or even a paddle boat ride.
And with outdoor gym equipment and playgrounds scattered throughout, there's something for everyone here!
9. City of Arts and Sciences
Now, prepare to be transported to the future as you explore the City of Arts and Sciences. This magnificent complex, with its otherworldly architecture, is a world unto itself.
Visit the Oceanogràfic, Europe's largest aquarium, and make friends with over 45,000 individual animals from 500 different species. Or, if you're more into interactive learning, dive into the exhibits at the Prince Felipe Science Museum.
The striking architecture and the countless cultural treasures are sure to leave you in awe!
10. Las Arenas Beach
It's time to hit the beach! Las Arenas Beach, Valencia's stunning city beach, is the perfect place to soak up the sun. Whether you fancy a game of beach volleyball, a dip in the Mediterranean, or just lounging on the golden sands with a book, there's no better place.
And when the thirst kicks in, grab a refreshing drink at a beachfront chiringuito (beach bar)!
11. El Cabanyal Neighborhood
Trade the beach vibes for a dose of local charm as you wander through the vibrant streets of El Cabanyal. This former fisherman's quarter is renowned for its unique houses adorned with colorful, tiled facades.
Don't miss the Mercado de Cabanyal, the neighborhood's local market, for a truly authentic experience.
12. Plaza Ayuntamiento and Estación del Norte
It's definitely worth heading to the city center and taking in the grandeur of the Plaza Ayuntamiento at some point during your trip.
Nearby, the Estación del Norte, Valencia's North Station, is a marvel of Modernist architecture and a testament to Valencia's historical ties to rail transport. Its intricate façade and beautiful tile work inside are a sight to behold!
13. Ruzafa Neighborhood
You definitely need to include a visit to Ruzafa, Valencia's hippest neighborhood, on your itinerary. This vibrant district is a gastronomic paradise, boasting a plethora of restaurants and bars.
Soak up the bohemian atmosphere as you indulge in a scrumptious meal or sip on a cocktail. There's no better way to end your whirlwind journey through this enchanting city!