2 Days in Valencia: The Ultimate 48-Hour Guide (By a Local!)
This article may contain affiliate links. Please read our
Disclosure Policy
for more information.
If you have two days to spend in Valencia, Spain, you're in luck! This vibrant city is full of history, culture, and natural beauty, making it an ideal destination for travelers with a bit more time on their hands.
However, with so many options to choose from, it can be difficult to plan an itinerary that maximizes your experience and ensures you don't miss any of the top attractions.
Luckily, whether you're interested in exploring ancient landmarks, trying local cuisine, or simply soaking up the Mediterranean sunshine, the city has something for everyone. And even with an itinerary for just 48 hours in Valencia, you can still experience the best of what this city has to offer without feeling rushed or overwhelmed.
That's why, in this article, I'll show you just what to see in Valencia in 2 days. Sure, when it comes to how many days you should spend in Valencia, more is always more! But two days is great for getting a taste of this incredible city.
From strolling through the historic city center and visiting iconic landmarks like the City of Arts and Sciences, to relaxing on the beach and indulging in the local gastronomy, this two-day itinerary will help you make the most of your time in Valencia.
So, get ready to discover the beauty and charm of this stunning Spanish city, and create unforgettable memories that will last a lifetime!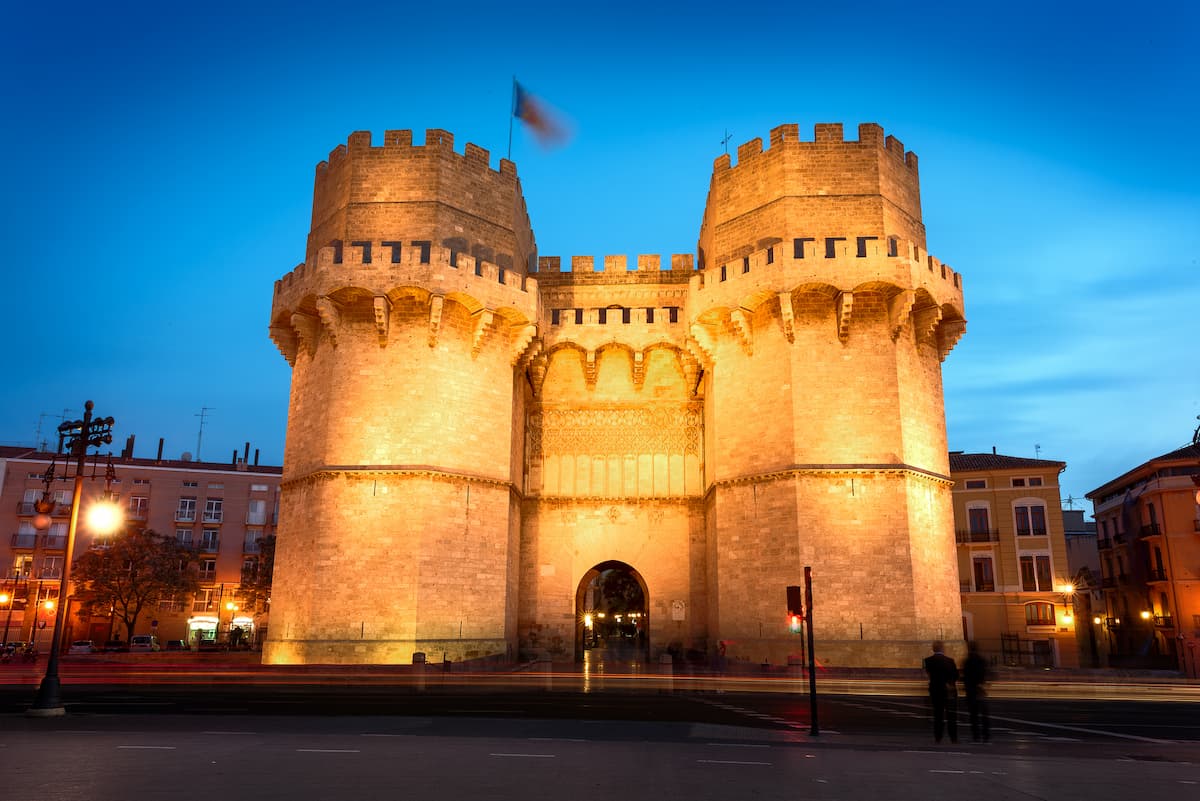 What to see in Valencia, Spain in 2 days
Day 1: Valencia's Historic Heart and Tantalizing Tastes
Morning: The Amazing Mercado Central and the Silk Exchange
Kick off your Valencia adventure at the fabulous Mercado Central (Central Market)! This bustling market is a feast for the senses, with vibrant colors and mouth watering aromas at every turn.
You'll find everything from fresh produce and seafood to delicious cheese, wine, olives, and so much more!
Just across from the market, you'll find La Lonja (Silk Exchange), an architectural masterpiece that's definitely worth a visit. Step inside the stunning building and explore its courtyard, where fragrant orange trees provide a serene ambiance.
Mid-morning: Valencia Cathedral and a Taste of Local Delights
As you make your way towards the Valencia Cathedral, be sure to pop into the charming Plaza Redonda. And don't miss the opportunity to treat your taste buds at Horchateria Santa Catalina, where you can indulge in some horchata and fartons – a classic Valencian combo!
Next, cross the lovely Plaza de la Reina and enter the majestic Valencia Cathedral. Keep an eye out for what's considered the most likely candidate for the real Holy Grail, on display within its walls.
And are you feeling adventurous? If so, climb the Miguelete bell tower for jaw-dropping panoramic views of the city!
Afternoon: Plaza de la Virgen, Old Town Exploration, and Agua de Valencia
After the Cathedral, head over to the picturesque Plaza de la Virgen and take a moment to relax. Don't forget to step inside the stunning Basilica to admire its awe-inspiring roof.
By now, you're probably ready for some fuel! For this, venture into the Old Town for a late lunch (remember, Spaniards don't eat until at least 2 pm!).
Since you have two days in Valencia, I'd suggest that you try the local fideuá today instead of paella (which you'll have tomorrow). Be sure to book a restaurant in advance for the best experience!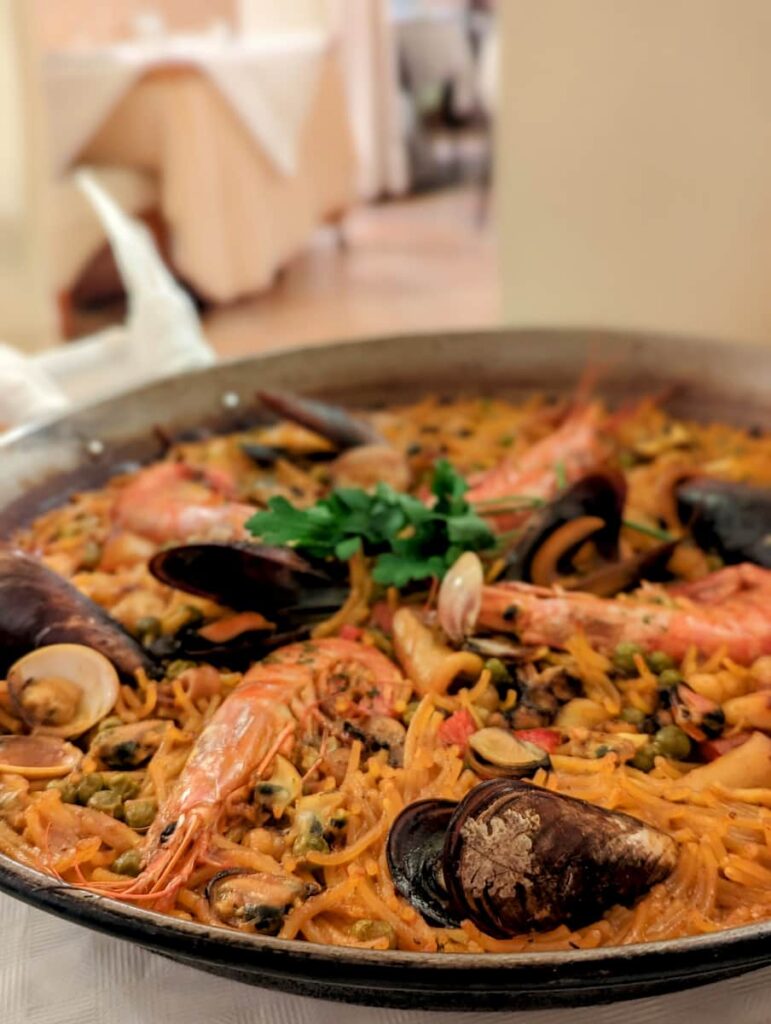 After a leisurely lunch, it's time to discover the wonders of Valencia's Old Town! Must-see spots include the imposing Torres de Serranos, the quirky Casa de los Gatos, and the fascinating El Carmen Cultural Center. And don't forget to check out the incredible street art scattered throughout the area!
Wind down with a refreshing agua de Valencia at Cafe de las Horas, a delightful cocktail that lets you also enjoy the city's famous oranges. It's a win win!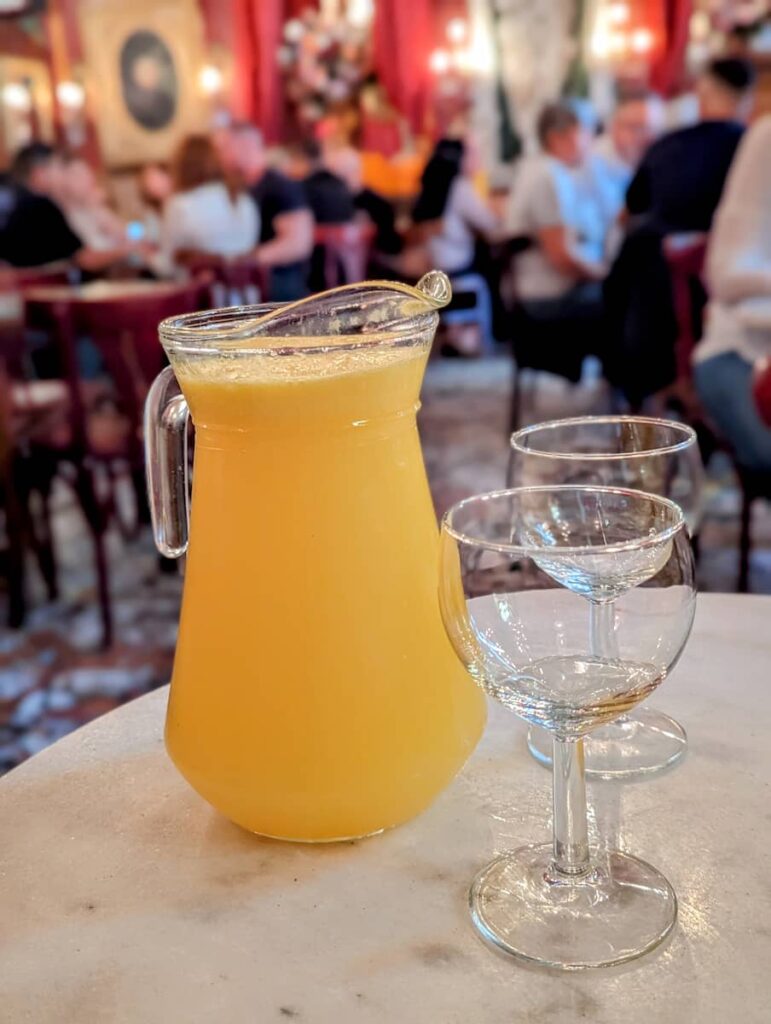 Evening: Turia Park Stroll and Tapas Tour
If you're up for it, take a leisurely walk through Turia Park, a bustling green space that always has something happening. That said, it's fine if you skip this as you'll have the chance to head into this amazing space tomorrow.
Feeling a bit worn out? No worries! Instead, embark on a tapas tour through the Old Town (or, you know, actual dinner if your stomach's rumbling again by now).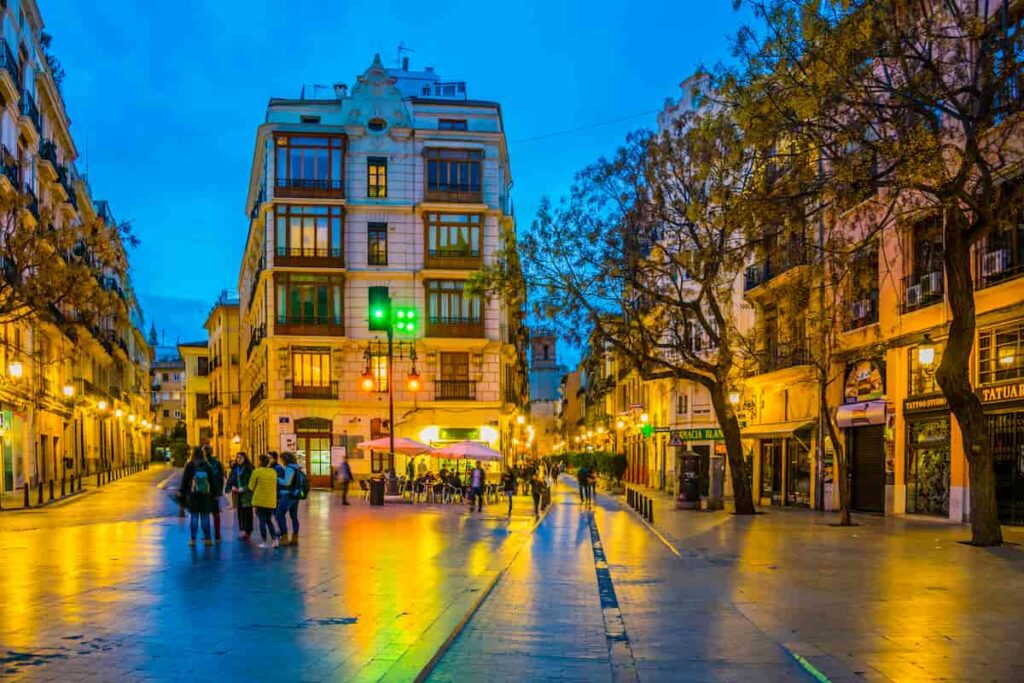 This is your chance to sample local delicacies accompanied by some fine Valencian wine. If craft beer is more your style, Tyris on Tap near Mercado Central offers a fantastic selection and a lovely outdoor seating area for people-watching.
With a belly full of tapas and a day full of excitement, you'll be ready to rest up for another great day in Valencia!
Day 2: Futuristic Wonders, Sun-Kissed Beaches, and Scrumptious Paella
Morning: City of Arts and Sciences and the Turia Park
Rise and shine, adventurers! Today, you'll explore the mesmerizing City of Arts and Sciences. Begin your journey through the lush Turia Park, where you'll encounter friendly locals and breathtaking scenery.
As you approach, the awe-inspiring, futuristic architecture of the City of Arts and Sciences will captivate you. Take your time wandering around this massive complex, which houses a wealth of cultural and scientific gems.
Depending on your interests (and available time), you might want to venture inside the Oceanogràfic – the largest aquarium in Europe – or explore the innovative Prince Felipe Science Museum. There's something for everyone here!
Afternoon: Beach Time, Paella, and El Cabanyal
Once you've had your fill of the City of Arts and Sciences, it's time to hit the beach! Hop on a bus towards Las Arenas and prepare to be amazed by Valencia's stunning coastline.
Whether you're visiting during the warm months or cooler seasons, Las Arenas beach offers plenty of activities for all. Take a dip in the crystal-clear waters, join a beach volleyball game, or simply unwind on the soft sands.
Feeling thirsty? Stop by La Fábrica de Hielo or Mercabanyal for a refreshing drink and a unique atmosphere.
But don't forget your main mission: to savor an authentic Valencian paella for lunch! Head to a beachfront restaurant and be sure to book in advance.
By the way, while seafood paella might be popular abroad, give the local paella Valenciana a try for a true taste of Valencia!
(And because it needs to be said: the paella restaurants you'll find along the beach aren't the very best paella you'll ever find, it's true. But the views are unbeatable and, honestly, the food will be fine. I've had paella at La Chipirona Playa, for example, and can't complain!)
Evening: Exploring El Cabanyal and Ruzafa
After lunch, the choice is yours! Head back to the beach, grab another drink, or wander through the vibrant streets of El Cabanyal, admiring its famous colorful, tiled facades.
As the sun begins to set, make your way back to the city center, arriving at Plaza Ayuntamiento. Take in the stunning city hall and the bustling square before heading towards the gorgeous Estación del Norte and the striking Plaza de Toros.
Just a short walk away, you'll find Ruzafa – Valencia's hippest neighborhood. This trendy area boasts an abundance of restaurants and bars, so you'll have no trouble finding the perfect spot for dinner.
Whether you're in the mood for a multi-course meal or another round of tapas, there's no better way to end your incredible Valencian experience!
Are two days enough in Valencia?
Yes, two days in Valencia is the perfect amount of time to get a taste of the city's vibrant culture, breathtaking architecture, and mouthwatering cuisine. You'll be able to explore the futuristic City of Arts and Sciences, bask in the sun on Las Arenas beach, and wander through the charming streets of the Old Town.
Of course, you might not be able to see everything Valencia has to offer in just 48 hours, but you'll certainly get an unforgettable glimpse of this enchanting city. That said, if you have more time, you really should try to stretch your stay so that you have three days in Valencia.
The best part? After your whirlwind adventure, you'll have a treasure trove of memories and an irresistible urge to come back for more!
Is Valencia Good for a Weekend?
Absolutely! Valencia is an incredible weekend destination that'll leave you feeling refreshed, inspired, and eager to plan your next visit. With its rich history, awe-inspiring architecture, and tantalizing food scene, Valencia offers a unique blend of experiences that cater to all sorts of travelers.
Spend your weekend diving into the city's rich history by visiting the Valencia Cathedral, marveling at the Silk Exchange, or climbing the Torres de Serranos. Indulge your senses with authentic Valencian paella, refreshing horchata, and of course, the famous agua de Valencia!
And let's not forget the city's vibrant nightlife! From the trendy bars in Ruzafa to the bustling plazas in the Old Town, there's always something exciting happening in Valencia.
So, whether you're a history buff, a foodie, or a party animal, you'll find that Valencia is the perfect weekend getaway!
Things to see in 48 hours in Valencia
It's going to be a busy 48 hours but if you're in Valencia for 2 days, you're going to have the chance to tick quite a few things off the must-see list. These include the following.
1. Mercado Central
One of Europe's largest markets, Mercado Central is a bustling hub of fresh produce, seafood, cheese, wine, and more.
Housed in a beautiful Modernist building with stunning stained glass windows, ceramic tiles, and an intricate metal dome, this is the perfect spot to soak up Valencia's lively atmosphere and sample delicious local delicacies.
Don't miss the opportunity to savor the fresh olives, jamón ibérico, and juicy Valencian oranges!
2. Silk Exchange (La Lonja de la Seda)
A UNESCO World Heritage site, the Silk Exchange is a stunning example of late Gothic architecture, representing Valencia's golden age as a major trading center in the 15th and 16th centuries.
Don't miss the intricate details of the main hall, with its towering twisted columns and detailed carvings, and be sure to explore the peaceful courtyard, filled with fragrant orange trees and a beautiful fountain.
3. Valencia Cathedral
Home to what is believed to be the Holy Grail, the Valencia Cathedral is a must-see. Admire its unique blend of architectural styles, from Romanesque and Gothic to Baroque, and if you're feeling energetic, climb the Miguelete bell tower for panoramic views of the city.
Make sure you also take a moment to appreciate the exquisite frescoes and stunning stained glass windows.
4. Plaza Redonda
This quaint circular plaza, tucked away in the heart of the Old Town, is the perfect spot for a quick break or some souvenir shopping. Stroll through the charming shops, and make sure to try horchata and fartons at the nearby Horchateria Santa Catalina.
The plaza also hosts a weekly Sunday market, where you can find traditional crafts, antiques, and collectibles.
5. Plaza de la Virgen and the Basilica
Relax in the picturesque Plaza de la Virgen, surrounded by historic buildings such as the Valencia Cathedral, the Basilica of the Virgin, and the stunning Palau de la Generalitat.
Step inside the Basilica to admire its spectacular roof adorned with paintings, and marvel at the intricate sculptures and frescoes that decorate the interior.
6. Torres de Serranos
One of Valencia's iconic landmarks, these imposing Gothic towers once served as the city's main gateway and a part of the ancient city walls.
Climb to the top for stunning views of the Old Town and the Turia park, and learn about their fascinating history, including their use as a prison and a storehouse for artworks during the Spanish Civil War.
7. Casa de los Gatos and El Carmen Cultural Center
Discover Valencia's artistic side with a visit to the quirky Casa de los Gatos, a narrow house adorned with cat-themed art, and the El Carmen Cultural Center, which hosts contemporary art exhibitions and cultural events.
Keep an eye out for colorful street art as you wander through this vibrant neighborhood, full of charming cafes, galleries, and boutiques.
8. Turia Park
Stretching for nearly 9 kilometers, this lush green park offers the perfect escape from the hustle and bustle of the city. Ideal for a leisurely stroll or a scenic bike ride, Turia Park is a must-see for nature lovers.
Don't miss the Gulliver Park, a massive playground with a Gulliver's Travels theme, and the beautiful Palau de la Música, a concert hall surrounded by picturesque gardens.
9. City of Arts and Sciences
This futuristic architectural wonder, designed by renowned architect Santiago Calatrava, is an unmissable sight in Valencia. Explore the Oceanogràfic, Europe's largest aquarium, home to over 45,000 marine creatures, or dive into the interactive exhibits at the Prince Felipe Science Museum.
And you'll have to take the time to marvel at the stunning L'Hemisfèric, an IMAX cinema, planetarium, and laserium, and the beautiful Palau de les Arts Reina Sofia, an opera house and performing arts center.
10. Las Arenas Beach
Bask in the sun on Valencia's stunning city beach, and try your hand at beach sports like volleyball or paddleboarding, or simply relax with a refreshing drink at a nearby bar.
Enjoy the soft golden sand, crystal-clear waters, and the lively atmosphere of this popular urban beach, perfect for soaking up the Mediterranean vibes.
11. El Cabanyal Neighborhood
Wander through the vibrant streets of El Cabanyal, a former fishing village that boasts a unique architectural style with its colorful tiled facades and traditional houses.
This up-and-coming neighborhood is also known for its lively markets, trendy cafes, and rich cultural scene, making it an essential stop during your Valencia visit.
12. Plaza Ayuntamiento and Estación del Norte
End your day in the city center, taking in the grandeur of the Plaza Ayuntamiento, a bustling square surrounded by impressive buildings, including the City Hall and the Central Post Office.
Just a short walk away, you'll find the beautiful Estación del Norte, a Modernist train station adorned with intricate ceramic tilework and colorful mosaics that celebrate Valencia's agricultural heritage.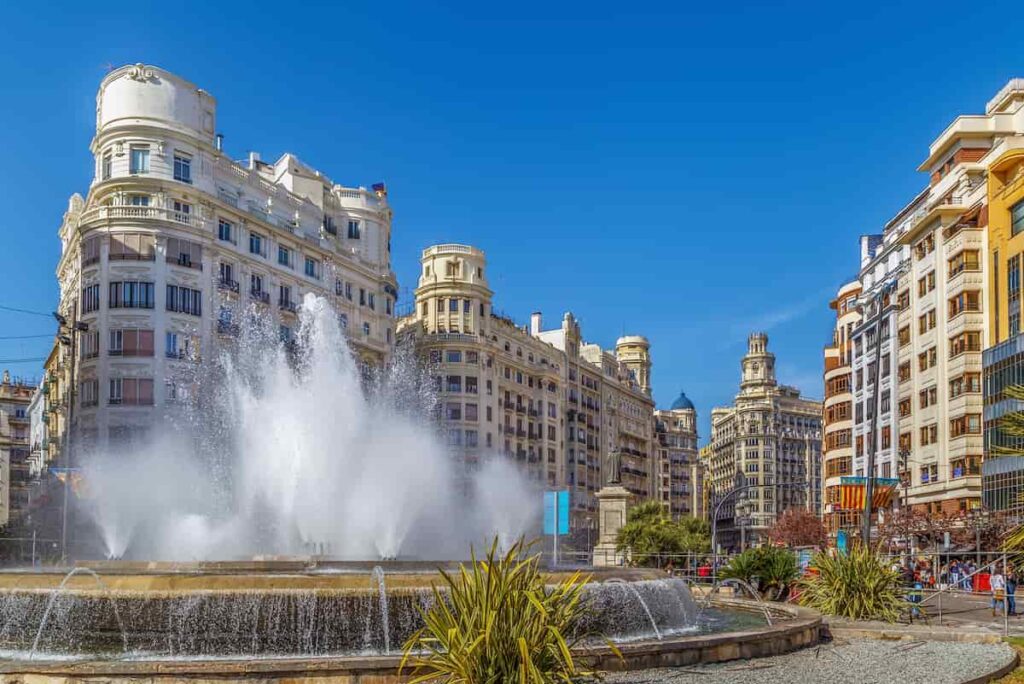 13. Ruzafa Neighborhood
No trip to Valencia would be complete without a visit to the trendy Ruzafa district. Indulge in a delicious meal or sip on cocktails in one of the area's many bars and restaurants, and soak up the hip, urban atmosphere.
From innovative fusion cuisine to traditional tapas, Ruzafa offers an exciting culinary experience that caters to all tastes. And, if you're looking for some late-night entertainment, you'll find a lively nightlife scene with plenty of clubs and live music venues to explore.
Food and drink to try if you're in Valencia for 2 days
Valencia's food scene is surprisingly good. You don't tend to hear about this side of the city much before coming but honestly, the sheer amount of great food here continues to amaze me.
And with 48 hours in Valencia, you've got time to try some of the main highlights, like the ones below!
1. Horchata and Fartons
A refreshing, sweet, and milky drink made from tiger nuts, horchata is a Valencian classic that you absolutely must try. Pair it with a farton, a soft, sugar-coated pastry, for the perfect mid-morning or afternoon treat.
Enjoy this delightful combo in a historic setting by stopping by Horchateria Santa Catalina near Plaza Redonda, or explore other traditional horchaterias scattered throughout the city.
2. Agua de Valencia
This delicious cocktail is a must-try for anyone visiting the city. Made with fresh Valencian orange juice, cava, vodka, and gin, Agua de Valencia is a fruity and refreshing drink that's perfect for sipping in a sunny plaza or at a trendy Ruzafa bar.
Raise a glass to Valencia as you enjoy this vibrant concoction and soak up the city's atmosphere.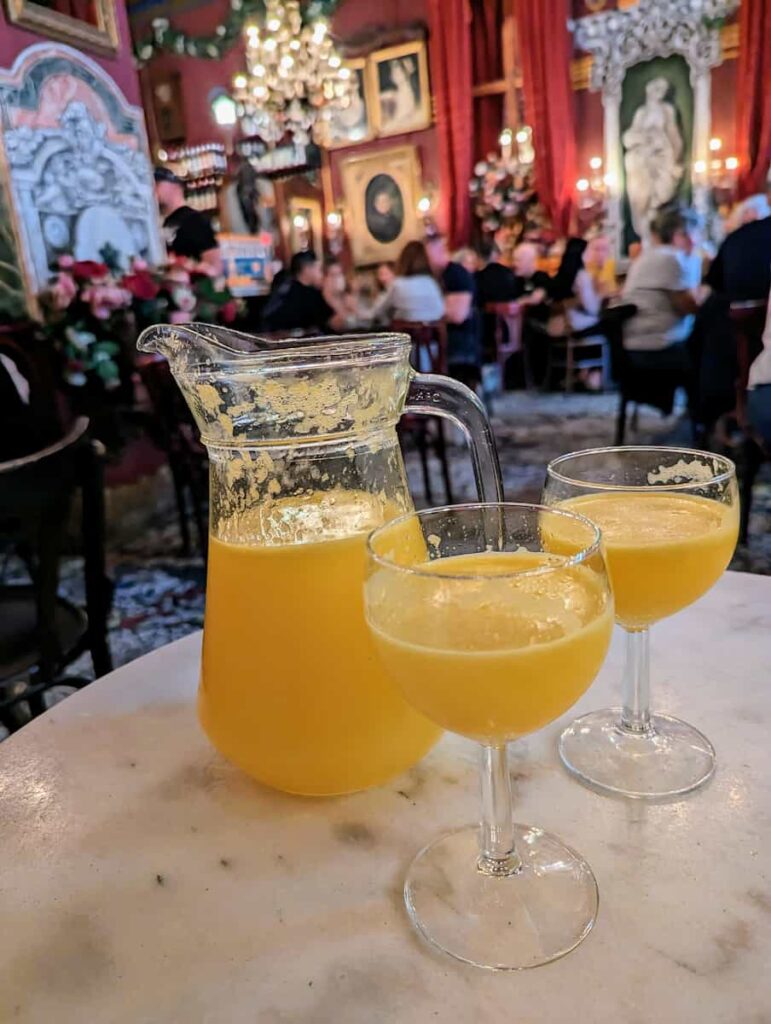 3. Paella Valenciana
Indulge in Valencia's most famous dish, paella Valenciana, a mouthwatering combination of rice, chicken, rabbit, and snails cooked to perfection in a wide, shallow pan. Flavored with saffron and other local spices, this iconic meal is a true taste of Valencian culture.
Don't forget that paella is traditionally eaten at lunchtime, so plan accordingly to get the most authentic experience, preferably by the beach with a view of the sea.
4. Fideuà
Another scrumptious Valencian dish, fideuà is similar to paella but made with short pasta noodles instead of rice. Loaded with seafood such as squid, prawns, and fish, it's a flavorful and hearty meal that's sure to satisfy your taste buds.
Enjoy fideuà at a cozy seaside restaurant or at a lively local eatery to fully appreciate this regional specialty.
5. Valencian Wine
Valencia's wine region produces some outstanding varieties that you won't want to miss. Look for wines from the Utiel-Requena and Alicante DOs (Designation of Origin) while you're in town.
Sip on a crisp white, such as a refreshing Verdejo, or a bold red, like a rich Monastrell, and toast to your memorable time in this incredible city. Take the opportunity to explore local wine bars or visit nearby vineyards for a true taste of Valencian viticulture.