4 Days in Valencia: The Ultimate Itinerary (By a Local!)
This article may contain affiliate links. Please read our
Disclosure Policy
for more information.
With its rich history, stunning architecture, vibrant arts scene, and drool-worthy food, four days in Valencia is the perfect amount of time to see just what the city has to offer.
But where do you start, and how can you possibly fit everything into just four days? How many days in Valencia is even enough?!
Well, I'm lucky enough to live in this great city, so I've created the perfect 4 day Valencia itinerary to ensure you have a trip that you'll remember for a lifetime.
With this itinerary, you'll experience the best of Valencia in four days, from famous landmarks and hidden gems to mouthwatering local cuisine and unforgettable experiences.
So get ready to jump right into your Valencian adventure!
Itinerary for Four Days in Valencia
Day One: Dive into Valencia's History, Heart, and Horchata
Morning: A Market, Majestic Architecture, and Much More
Rise and shine, it's time to hit the streets of Valencia. And you'll be starting your day off with a visit to the bustling Central Market.
It's not just a market, it's a feast for the senses! Smell the fresh produce, hear the lively chatter, taste samples from friendly vendors, and let the vibrant colors and energy wake you up better than any cup of coffee could.
Just a stone's throw away, you'll find La Lonja (the Silk Exchange), a jaw-droppingly beautiful 15th-century gothic building. Once a center of commerce, this UNESCO World Heritage site will make you feel like you've stepped into a medieval fairytale.
Next, meander over to the charming Plaza Redonda. This unique, round plaza, snugly tucked into the city streets, is the perfect spot for a leisurely morning stroll.
But what's a morning in Valencia without horchata? Head to Horchateria Santa Catalina for some of the best in town.
This sweet, milky beverage made from tiger nuts is a Valencia specialty, and don't forget to pair it with fartons, elongated sugar-coated pastries perfect for dunking. It's the Valencian equivalent of coffee and donuts – you'll love it!
Lunch: A Fabulous Fideuá Feast
Let's face it, by now your stomach is probably starting to grumble, especially given that Spaniards tend not to eat lunch until at least 2pm, if not later.
So good news – it's time for lunch! Head into the heart of the Old Town, where winding streets, hidden squares and vibrant murals await you.
Fancy paella? Sorry, that's for another day! Instead, now that you're here in Valencia, why not try the traditional fideuá? It's a delightful dish, similar to paella but made with short noodles instead of rice.
It's cooked in a rich seafood broth and typically topped with fresh shellfish. Here are a couple of top-notch restaurant suggestions for you:
La Riuà: Known for their warm, family-like atmosphere and traditional Valencian dishes.
El Forcat: A quaint eatery in the heart of the Old Town, offering exquisite local cuisine.
I hope you're hungry as serving sizes aren't for the faint hearted. And make sure you book, as these restaurants fill up quickly!
Afternoon: Cathedrals, Climbs, and Citrusy Cocktails
After a hearty lunch, our tour takes us to the magnificent Valencia Cathedral. This stunning piece of architecture is a blend of several styles, reflecting the city's rich history.
Don't miss the chance to see the Holy Grail — yes, the Holy Grail. Housed inside the cathedral, it's one of the city's priceless treasures.
Feeling adventurous? Time to climb the Miguelete Tower. Brace yourself for the 207-step climb, but trust me, the panoramic view of the city is absolutely worth it. You'll be snapping photos like crazy!
Catch your breath at the Plaza de la Virgen, a picturesque square with a stunning fountain at its heart, depicting Neptune surrounded by eight naked women. The Basilica is just next door, another architectural gem that's just too beautiful to miss.
By now, you've probably worked up a thirst. Good thing it's time for an agua de Valencia at Cafe de las Horas.
This Valencian cocktail is a bubbly mix of cava, orange juice, vodka, and gin. It's like a mimosa that decided to backpack through Europe and came back with stories to tell.
Evening: Old Town Exploration and Towering Triumphs
As the sun starts to dip, the city takes on a golden glow. There's no better time to explore Valencia's Old Town.
Wander down narrow cobblestone streets, admire the stunning architecture, and take in the vibrant, quirky street art that peppers the city walls.
Don't forget to visit the imposing Torres de Serranos, one of the twelve gates that were found along the old medieval city wall. It's a true testament to Valencia's rich history and provides a fantastic backdrop for a few sunset selfies.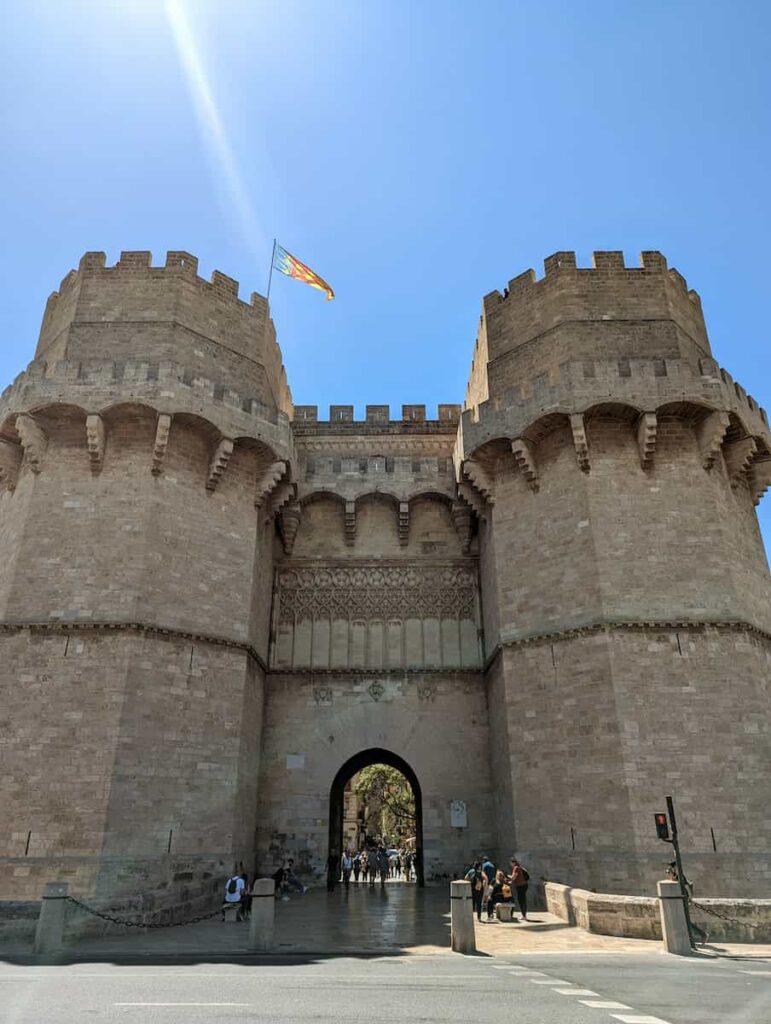 Dinner: Tapas and Temptations
After such an action-packed day, you might not have room for a big dinner. But hey, who could resist some tantalizing tapas?
These bite-sized Spanish dishes are perfect for sharing (or not, we won't judge). Here are a few suggestions for some fantastic tapas joints in the Old Town:
La Marrana: This trendy spot offers innovative tapas with a modern twist.
La Bodeguilla Del Gato: A cozy, authentic tavern with a wide selection of traditional tapas.
El Poblet: If you're in the mood for something fancier, this Michelin-starred restaurant won't disappoint.
Taberna La Sénia: This charming place is known for its delightful tapas and friendly service.
Tasca Angel: Famous for their grilled sardines, this place is a favorite among locals.
That's it for day one! Sleep well, because we've got three more action-packed days to enjoy in Valencia.
Day Two: From Grand Gardens to Gourmet Galore
Morning: A Stroll, a Sci-Fi Fantasy, and Sea Creatures
Get ready to start your day with a refreshing walk through the Turia Gardens. This gorgeous park, crafted from a former riverbed, is a green oasis that stretches across the city.
Meandering paths, fragrant flowers, and charming bridges make for a perfect morning stroll.
Your walk will lead you to the ultra-modern City of Arts and Sciences, a complex that looks like it's been plucked straight from a sci-fi movie. Designed by local architect Santiago Calatrava, it's a breathtaking sight to behold.
While you're there, consider visiting the Oceanogràfic, the largest aquarium in Europe, where you can come face-to-face with over 500 different species including dolphins, belugas, and more. If you're more into science, the Prince Felipe Science Museum is a fun, hands-on experience.
For a visual treat, the Hemisfèric offers incredible IMAX movies, laser shows, and planetarium displays. And if you're a music or theatre lover, the Palau de les Arts Reina Sofia is a must-visit for its stunning design and top-notch performances.
Lunch: Paella by the Sea
Now it's time to head to the beach for a seaside lunch. When in Valencia, you must try paella — it's where the dish was born, after all. Here are a couple of beachfront restaurants famous for their paella:
La Pepica: A legendary restaurant with a beautiful beach view, loved by Ernest Hemingway himself.
El Trompo: Known for its delicious paella and relaxed, friendly atmosphere.
Or, if you prefer a restaurant that's a bit away from the beach but still boasts an excellent reputation for paella:
Casa Carmela: A local favorite that's been serving up traditional Valencian paella since 1922.
Afternoon: Beach Bliss and Neighborhood Nooks
After lunch, lounge around Las Arenas or Malvarrosa Beach. Feel the warm sand beneath your toes, cool off in the crystal-clear water, or simply bask in the Mediterranean sun.
When you've had your fill of beach time, it's time to explore El Cabanyal, a fascinating neighborhood known for its colorful tiled houses and unique seaside charm. For a snack or a refreshing drink, check out:
La Fábrica de Hielo: A cool, quirky spot that's part cafe, part cultural center, and housed in an old ice factory.
Mercabanyal: A vibrant market where you can sample local produce and tasty street food.
Evening: City Sights and Iconic Icons
As the afternoon fades into evening, make your way back to the city center. Hop off at Plaza Ayuntamiento, the city's main square, where you can admire grand buildings, including the impressive City Hall. The square's fountain, often adorned with colorful flowers, is a popular spot for both locals and tourists alike.
On your way to dinner, don't miss a chance to admire the Estación del Norte, an incredibly beautiful train station known for its intricate modernist design.
A stone's throw away, you'll find the Plaza de Toros, Valencia's historic bullring. Even for people like me who definitely aren't fans of bullfighting, the building itself is a fascinating piece of Valencian history and culture.
Dinner: A Gastronomic Journey in Ruzafa
Now, let's head to Ruzafa, Valencia's hippest neighborhood, brimming with trendy bars, art galleries, and of course, mouth watering eateries. Here's a list of some great spots to consider for your dinner:
Canalla Bistro by Ricard Camarena: A place where the flavors are as funky and eclectic as the neighborhood itself. The menu is a global journey, from Mexican tacos to Asian bao buns.
El Rodamón de Russafa: An upscale tapas joint offering creative spins on traditional dishes.
Restaurante Copenhagen: For vegetarians, or anyone wanting a break from meat, this place serves up delicious plant-based dishes.
La Conservera: Seafood lovers, this is your spot. Enjoy a wide array of canned seafood – a Spanish delicacy – in a retro, diner-style setting.
Dulce de Leche Boutique: If you're in the mood for something sweet, this charming bakery offers a vast selection of cakes, pastries, and desserts.
And with that, we wrap up day two! Rest up because there's still so much more of Valencia to explore.
Day Three: An Excursion to Enchanting Albufera
Morning: Journey to a Natural Wonderland
Today we're taking a break from city life for a day trip to the serene Albufera Natural Park. Just a short bus ride from Valencia's city center, this verdant oasis is an absolute gem.
Hop on the bus number 25 from Valencia, and within an hour, you'll be surrounded by lush landscapes and calming waters.
Once you arrive, start your day with a leisurely walk around the park. This place is a paradise for nature lovers — think verdant rice fields, a plethora of bird species, and one of the largest freshwater lagoons in Spain.
Late Morning: A Traditional Boat Ride
After your stroll, take a traditional wooden boat ride across Albufera's tranquil lagoon. As you glide across the mirror-like waters, under the gentle morning sun, you'll truly appreciate the beauty of this unique ecosystem.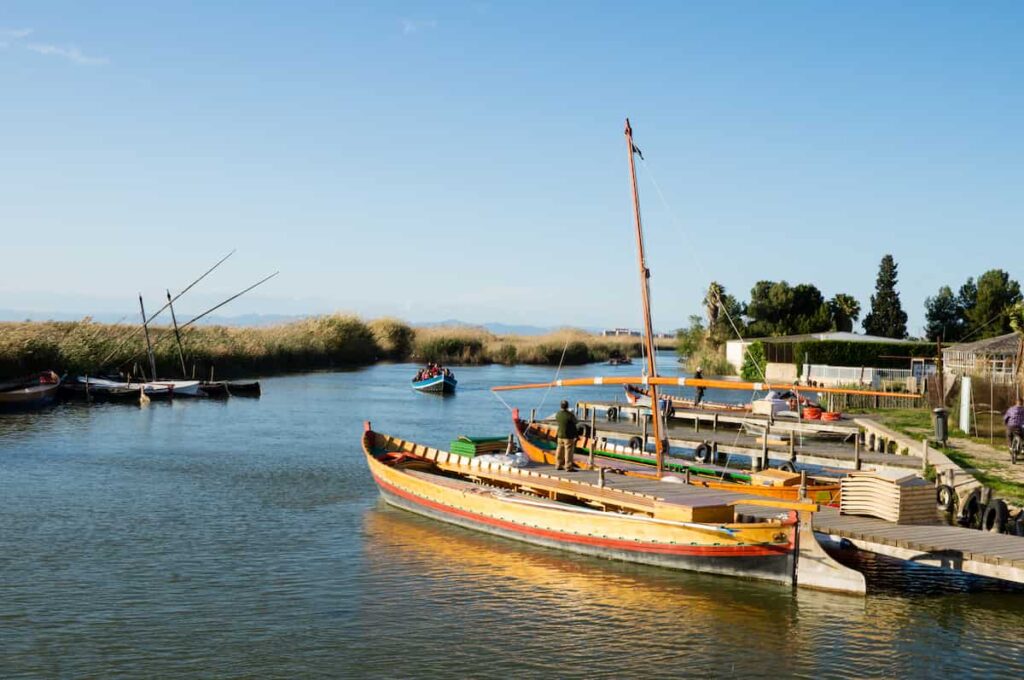 Lunch: A Hearty Meal by the Lagoon
All that fresh air sure works up an appetite. So, for lunch, why not indulge in a hearty meal at one of the local restaurants nestled around the lagoon?
Many of these places specialize in classic Valencian dishes, so it's another excellent opportunity to savor some delicious paella. Here are a couple of places to consider:
Restaurante La Matandeta: Famous for its fresh, local ingredients, many of which are sourced from its own garden. Try their authentic Valencian paella (made of chicken, rabbit and snails, not seafood) – it's to die for!
Restaurante Nou Racó: This place not only offers excellent local cuisine, but its location also boasts stunning views of the lagoon.
Afternoon: More Exploring and Birdwatching
After lunch, venture deeper into the park. The diverse ecosystem of Albufera is home to numerous species of birds, making it a haven for birdwatchers. Even if you're not a dedicated twitcher, it's still a delight to see these creatures in their natural habitat.
Don't forget to visit the local village of El Palmar, known for its charming traditional houses and tranquil canals. It's a perfect spot for a leisure stroll and offers a glimpse into the local way of life.
Evening: Return to Valencia
As the day winds down, it's time to return to Valencia. The bus ride back is a chance to reflect on the day's adventures and rest your feet a bit before the evening's activities.
Dinner: Your Choice!
You've had a long, exciting day, so for dinner, why not choose your favorite spot from the past few days, or explore a new one that's caught your eye?
Valencia's culinary scene is diverse and vibrant, so whether you're craving more tapas, aching for an avant-garde dining experience, or simply want a comforting bowl of local stew, there's a place that's just right for you.
And there you have it, you can tick off the three days in Valencia youve done! Get a good night's sleep, because our final day in Valencia is going to be a blast.
Day Four: Wine Whispers or Castle Charm, and a Culinary Finale
Option 1: A Toast to Utiel-Requena
re you ready to make your last day in Valencia absolutely unforgettable? For wine enthusiasts, a tour to the Utiel-Requena wine region is a must.
Kick off your tour in the charming town of Requena. With its ancient city walls, fortress, and picturesque streets, this town is a delightful step back in time.
As your guide spins tales about Requena's past, from its 18th-century silk industry to its age-old wine production methods, you'll gain a deeper appreciation for this enchanting place.
Next, it's time for the main event: the vineyards! In the first winery, you'll step inside a 10th-century medieval cave, where you'll learn about traditional wine production methods. And of course, you'll get to sample two unique wines that truly express the terroir of the region.
Your second stop will introduce you to a wider selection of wines – crisp whites, vibrant rosés, robust reds, and sparkling cavas. Paired with local cheeses and cold cuts, it's a veritable feast for your palate.
As you sip and savor, take a moment to drink in the stunning views of the countryside – a perfect toast to your Valencia journey!
Option 2: Xativa's Historic Charm
If wine isn't your thing, fret not! A day trip to Xativa makes for an equally wonderful day. This historic town, located less than an hour from Valencia, is home to a wealth of cultural treasures.
Start your day by exploring the old town, with its winding, narrow streets lined with charming medieval houses. Visit the Collegiate Basilica of Santa Maria, an impressive Gothic church, and the municipal museum, filled with fascinating archaeological finds.
Your main event in Xativa, though, is the majestic castle that sits atop the town. Split into two parts – the Castle of the King and the Castle of the Queen – this fortification boasts stunning panoramic views of the surrounding countryside and the town below. It's a perfect spot for a picnic lunch!
Post-lunch, explore the castle at your leisure. From its ancient Iberian origins, through Roman and then Moorish hands, to its current state, the castle's rich history is palpable in its walls.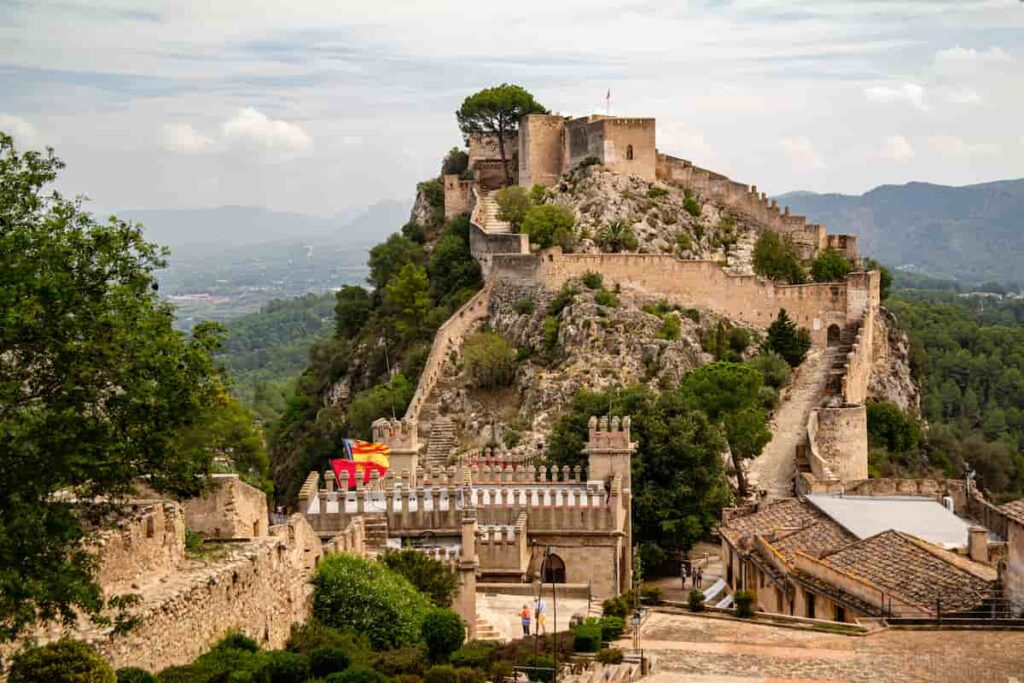 Evening: A Culinary Adventure or Flamenco Fire
After your day of exploring, it's time to return to Valencia for a memorable evening. For food lovers, why not try your hand at a paella Valenciana cooking class?
Start your culinary adventure with a trip to the local market, where you'll shop for fresh ingredients with native chefs. They'll share stories about the district, giving you insights you wouldn't get from exploring on your own.
Once you've gathered your ingredients, you'll learn to make a variety of rice dishes, including the famous Valencian paella. Your hard work in the kitchen will be rewarded when you sit down to enjoy your homemade meal, accompanied by wine, sangria, and mistela, a sweet Valencian drink.
But if cooking isn't your thing, how about a flamenco show? The passion, the rhythm, the raw emotion – it's an experience that will make your heart race.
Alternatively, you could simply grab a drink at a bar in El Carmen and watch the world go by on your last night in Valencia. It's a laid-back way to bid farewell to this vibrant city.
And with that, our four-day adventure in Valencia comes to a close!
Is 4 Days Enough for Valencia?
Yes, four days in Valencia is actually the perfect amount of time to see this city. It's just enough time to immerse yourself in Valencia's irresistible charm, fall in love with our world-famous cuisine, and get a taste of the city's vibrant culture.
Sure, you might not be able to discover every hidden alleyway or try every single tapas bar, but with a well-planned itinerary (like the one you're reading right now!), you can experience the very best of Valencia.
And here's another secret: Valencia has a way of getting under your skin. Once you've spent four days here, soaking up the sun in our beautiful beaches, getting lost in our colorful Old Town, and savoring every mouthful of authentic paella, I bet you'll be planning your next visit and make it 5 days in Valencia or more before you even leave!
So yes, four days is enough to experience Valencia — enough to make you fall in love and yearn for more.
But don't just take my word for it. Pack your bags, bring your appetite, and come see for yourself. Valencia is waiting to surprise you!