How Many Days Do You Need in Valencia? (For First Timers)
This article may contain affiliate links. Please read our
Disclosure Policy
for more information.
If you're planning a trip to Spain, Valencia should definitely be on your list of places to visit. This vibrant city is known for its stunning architecture, delicious food, and beautiful beaches.
But how many days do you need in Valencia to truly experience all that it has to offer? Well, the answer is the most annoying one of all: it depends on what you want to see and do.
If you're short on time, you can definitely see some of Valencia's highlights in just a day or two. But if you really want to get a feel for the city and all it has to offer, I recommend spending at least three days here.
Let me take you through my recommendations for how long to spend in Valencia, based on my experience living here and taking a lot of guests around this city for different lengths of time.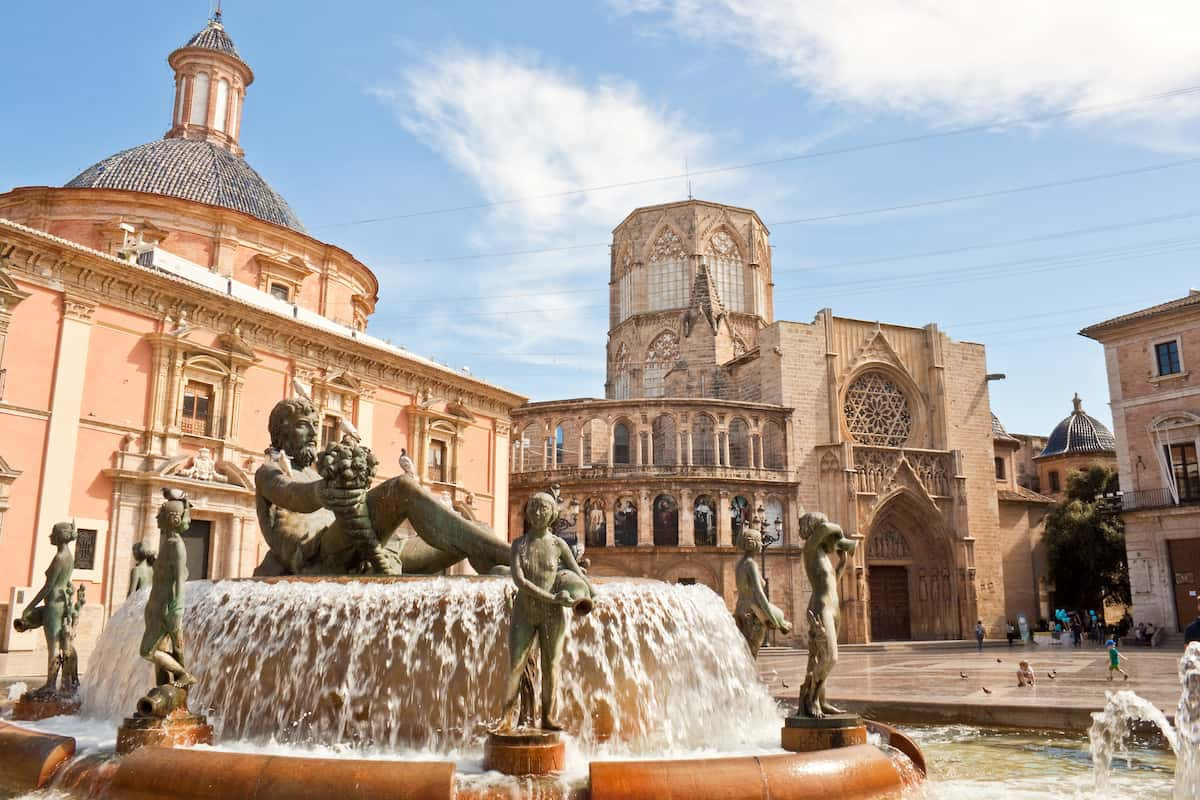 How Many Days Do You Need in Valencia, Spain?
The perfect Valencia itinerary is either 3 or 4 full days. This will give you enough time to see all the major attractions, try the world-famous paella, and gain a basic understanding of the city and local way of life. You'll also have enough time for an easy day at the beach.
Valencia, Spain is a beautiful city that offers a lot to see and do. Whether you are interested in history, culture, or just relaxing on the beach, Valencia has something for everyone.
If you only have two days in Valencia, you can still see a lot of the city's highlights. You can visit the City of Arts and Sciences, the historic city center, and the Central Market. However, you may have to prioritize and skip some of the lesser-known attractions.
On the other hand, if you have a week or more to spend in Valencia, you can really dive deep into the city's culture and history. You can take day trips to nearby towns like Sagunto and Xàtiva, enjoy some of the hikes or wineries nearby or explore Valencia's many museums and galleries.
Overall, the amount of time you need in Valencia depends on what you want to see and do. However, try to give yourself at least three days in the city to get a taste of everything it has to offer.
What to Do in 24 Hours in Valencia
So, you only have 24 hours to explore Valencia? Don't worry, you can still see some of the best sights and experience the city's culture in just one day.
Here's a suggested itinerary for one day in Valencia to help you make the most of your time:
Morning
Start your day at the Mercado Central as it's only open until 2pm so better to get it out of the way first. Look around and then go through the main exit to see the Silk Exchange just across from you. It's a UNESCO World Heritage site and one of the city's most impressive Gothic buildings.
From there, wander over to the Valencia Cathedral to see what's been deemed the most likely candidate for being the real Holy Grail. On your way, stop over at Horchateria Santa Catalina for horchata and fartons.
Afternoon
Spaniards eat lunch at about 2pm at the earliest, so hopefully your horchata and fartons will hold you over until then (and if not, feel free to stop somewhere for some tapas). But you can't leave Valencia without trying paella, so find a restaurant in the Old Town to have this.
Lunch will probably take you at least 1.5 hours so when you're done, wander the Old Town a bit to admire the famed street art and check out the Torres de Serranos. Aim to end up in Plaza de la Virgen to admire the square and duck into the Basilica.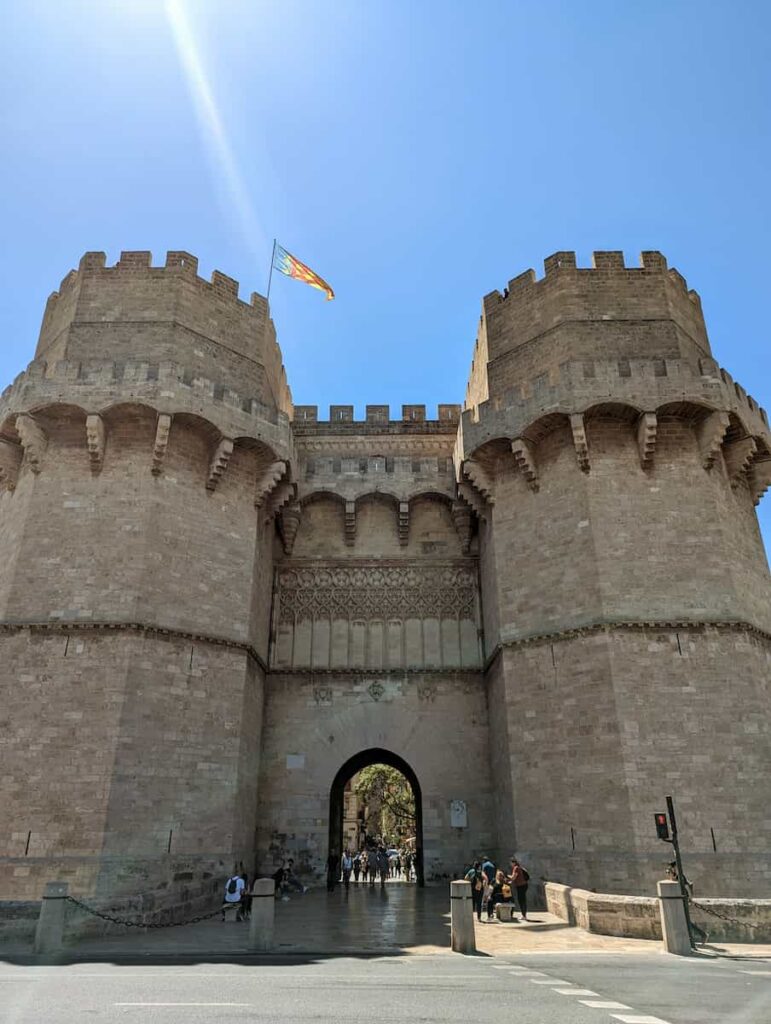 Evening
Head towards the City of Arts and Sciences just before sunset, ideally taking the path through the Turia park so you see at least some of this amazing park. Spend as long as you want looking around these futuristic buildings, especially as the photos you'll get around sunset are spectacular.
For dinner, head over to Russafa to grab a bite at any one of the great bars and restaurants dotted throughout the neighborhood. It's definitely a very local way to spend your evening.
Of course, there's so much more to see and do in Valencia, but this itinerary should give you a taste of the city's highlights – and make you want to come back for a longer stay next time!
What to Do If You Have Two Days in Valencia
Valencia is a beautiful city with lots to see and do. If you only have two days to explore, here's what we recommend:
Day 1
Day 1 is going to be quite similar to the one-day itinerary I mentioned above. The main difference is that you'll have more time to be flexible, so if you don't get through everything, you can always shift something to one of the other days!
First things first, head to the Mercado Central to check out not only the building, but all the incredible produce, seafood, cheese, wine, olives and almost anything else you can think of
Immediately facing the market is the Silk Exchange, so go there next to admire the beautiful building and the courtyard surrounded by orange trees
Start heading towards the Valencia Cathedral. Pop your head into Plaza Redonda on the way through and I'd suggest taking the opportunity of walking past Horchateria Santa Catalina to try some horchata and fartons.
Cross Plaza de la Reina to visit the Valencia Cathedral, keeping an eye out for what is supposedly the real Holy Grail. If you're feeling energetic, climb the Miguelete bell tower for panoramic views of the city.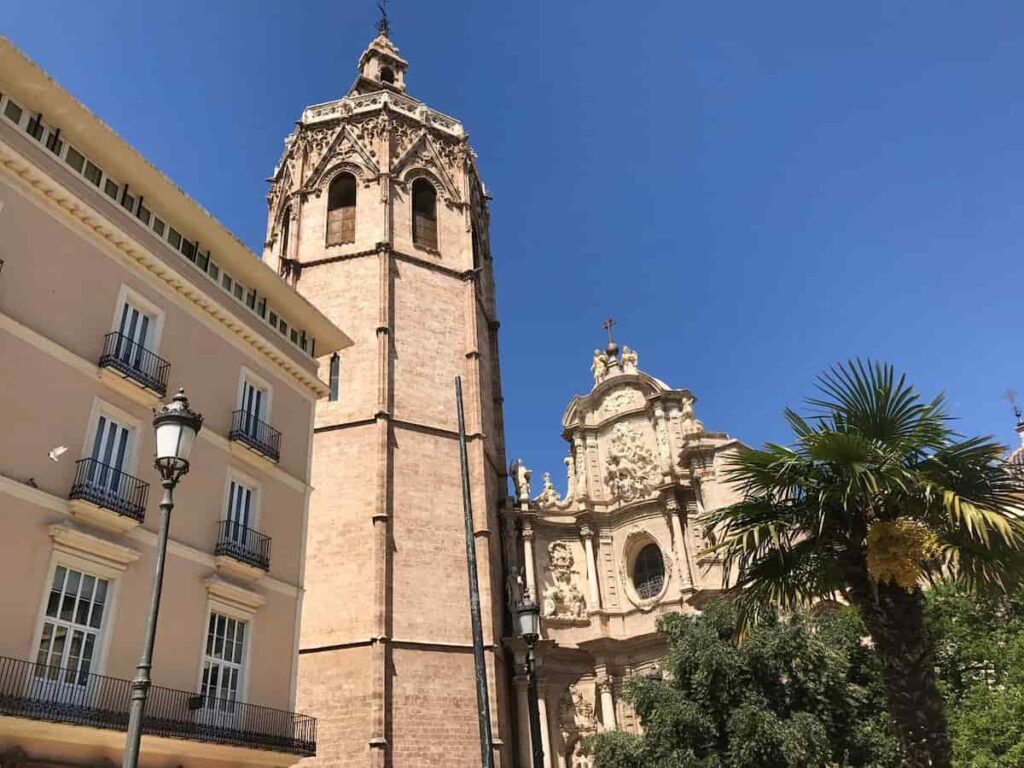 Exit the Cathedral and go around the building to end up in Plaza de la Virgen. Feel free to hang out in the Plaza for a while, but don't forget to go into the Basilica that's there to admire the spectacular roof.
You're probably getting hungry by now, so it's time to go into the Old Town to get some lunch. As I mentioned above, Spaniards don't eat lunch until at least 2pm, which is why that snack earlier definitely will have helped.
However, unlike the one-day itinerary, I'd suggest with two days to be in Valencia that you find a restaurant that serves fideuá instead of paella (which, spoiler alert, you'll have tomorrow). If you can, try to book somewhere in advance for this.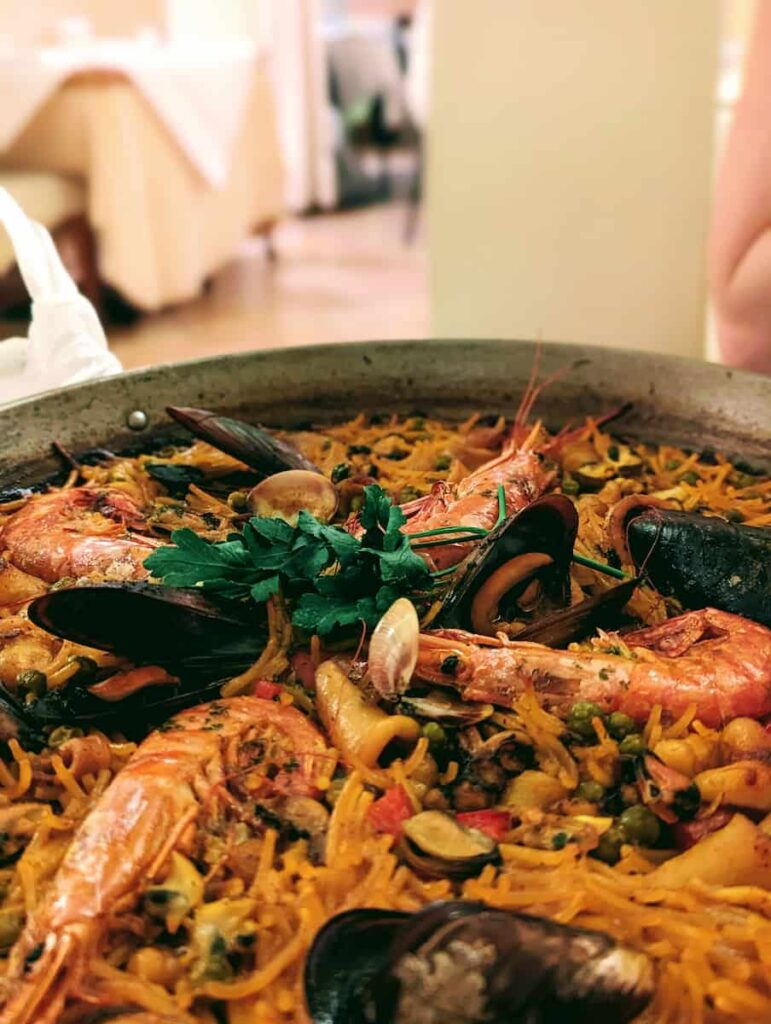 After a long-ish, lazy-ish lunch, get ready to wander around the Old Town. Some main things to see include the Torres de Serranos and the Casa de los Gatos (blink and you'll miss it!), but the El Carmen Cultural Center is also great, even just for the building alone. Also, don't skip over all the great street art around here!
Head back in the direction of Plaza de la Virgen for some agua de Valencia at Cafe de las Horas to relax a bit. After all, you can't leave Valencia without trying some of the famed oranges!
At this point, it's going to be quite late in the afternoon, so you may want to go back through the Old Town for a stroll through the Turia park. Something's always going on there and the overall vibe is so nice after a long day.
That said, you're going to ideally walk through them a bit tomorrow, so if you're too tired, feel free to skip that point. Instead, for a chilled evening after a big day of walking, I'd suggest doing your own tapas tour through the Old Town.
I don't mean joining an actual tour. Instead, find a couple of bars to try some of the local delicacies, ideally accompanied by some great Valencian wine. If you prefer craft beer, Tyris on Tap is a great bar near the Mercado Central, where you started your day, with a large outdoor area for you to watch the world go by.
As you probably won't be starving after your large lunch, this is going to be a great way to try some of the local food culture just as you start to get peckish.
Day 2
In the morning, head towards the City of Arts and Sciences, ideally taking the path through the Turia park. It's a beautiful part of the city and there are sure to be people out and about, no matter what time you make it out of your accommodation.
The grand futuristic architecture of the City of Arts and Sciences will soon loom into view, so take your time walking around the massive complex.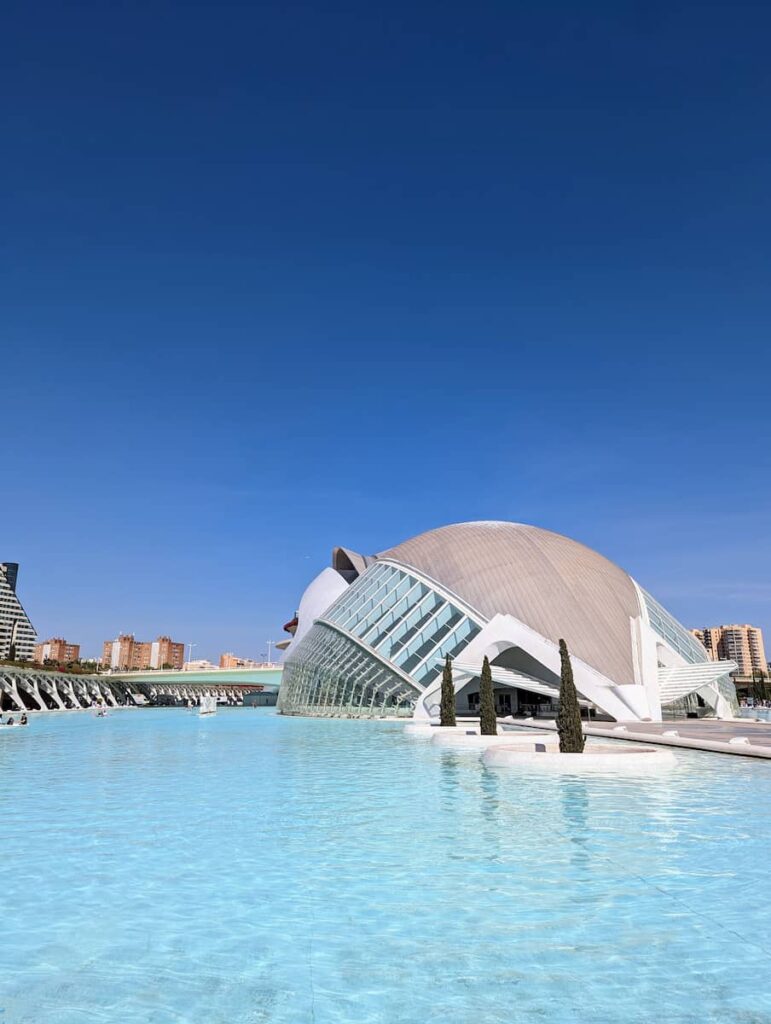 Depending on your interests, you may want to simply look around the area or you could even go inside. For example, the Oceanogràfic is there, which is the largest aquarium in Europe, or you may prefer to check out the Prince Felipe Science Museum.
Whenever you're done, it's time to head to the beach! Jump on a bus towards Las Arenas to see just how amazing Valencia's beaches are. Really, you'll be amazed that these are actually located in the city!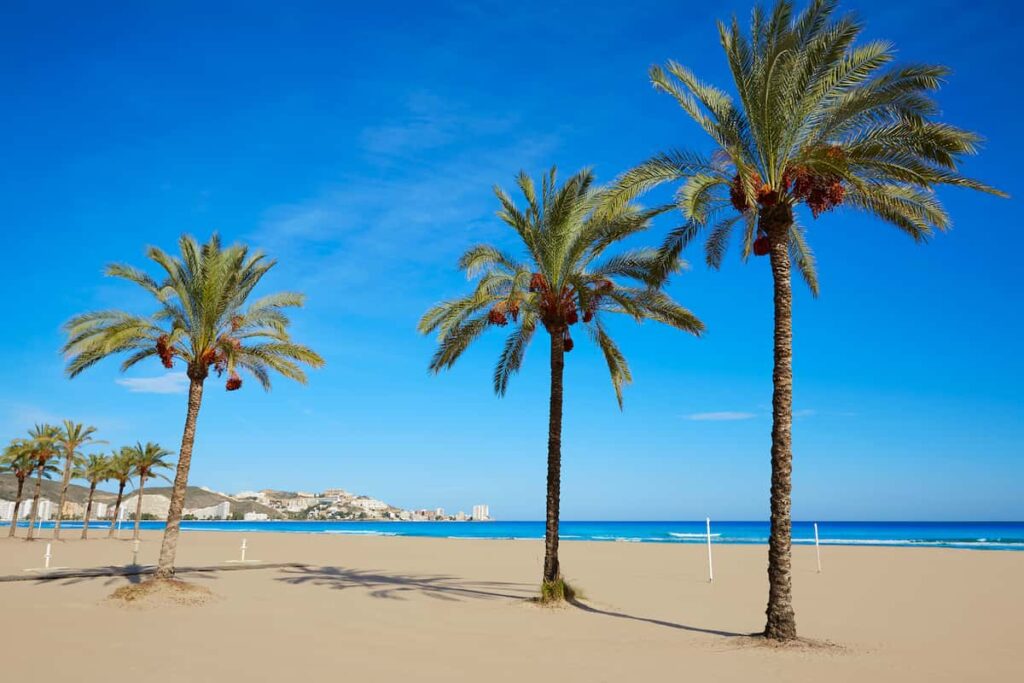 The time of year you visit will guide what you do next. If it's warm enough, feel free to take some time to chill on the beach, go for a swim, or even join in one of the many beach sports you see being played (some, like hiring volleyball nets, are free!)
Otherwise, strolling along the beach, no matter the time of the year, is also a great way to spend your time. You could always stop for a drink at La Fábrica de Hielo (the "Ice Factory", a factory that's been converted into a bar) or even Mercabanyal, which is basically a bunch of permanent food trucks.
But your main goal here is to get to a restaurant to have paella for lunch. Remember, Spaniards don't eat paella for dinner, so if you decide to put it off and have one for dinner instead, you're guaranteed to be eating in a touristy spot.
The restaurants you'll find along the beach are pretty touristy and won't necessarily serve the best paella in town, but the views over the beach are unbeatable so it may be a slight tradeoff. That said, I've had paella at one of the restaurants around the start of Patacona beach, La Chipirona Playa, and it was fine.
Just make sure you book though. Also note that you'll be asked on the phone what dish you want, to give them time to cook your paella in advance.
Don't forget that while the seafood paella (paella de marisco) may be more famous overseas, the local one (paella Valenciana) with chicken, rabbit and snails is the more typical one, so I'd suggest you try that one
After this, you've got a few hours free. Go back to the beach to hang out? Grab another drink if you didn't get a chance to check out both places I mentioned above? Stroll through the streets of El Cabanyal to check out the famous houses with their colorful tiled facades? The choice is yours!
Either way, your goal is to be back in the city center around sunset. Take a bus so you end up back in Plaza Ayuntamiento, so you can see city hall and the huge square around it. Head towards Valencia's Estación del Norte (North Station), as the building is beautiful, then walk down to the Plaza de Toros as no matter what you think of bullfighting (and I have pretty strong opinions myself…), the arena is nice to see even just from the outside.
You'll be a few minutes from Ruzafa at this point, which is where you'll be having dinner. There are tons of restaurants and bars in this area, which is definitely the hippest part of town, so you'll be spoiled for choice.
Basically, it's going to depend on how hungry you are at this stage. Whether you want a multi-course meal or some more tapas is fully up to you. But I think we can all agree that more food is definitely a great way to end your Valencian experience!
What to Do If You Have Three Days in Valencia
If you have three days in Valencia, you're in luck! You'll have plenty of your best time to visit Valencia, explore this beautiful city and experience all it has to offer.
For days one and two, follow the itinerary above. But for day three, you've got a whole lot of options to choose from depending on what you're interested in.
My top pick would be to go to Albufera, the nature reserve just south of the city that's the home of paella and so many other great food options from this part of the world. You can easily get a bus from Valencia city and end up there to spend the day how you want.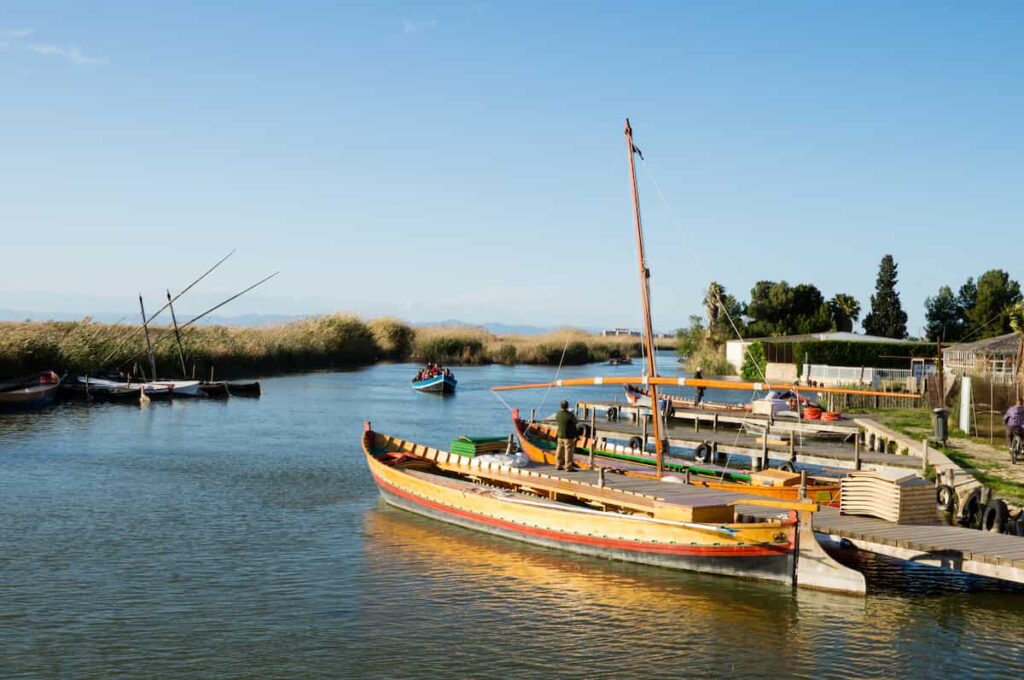 Taking a boat tour is always a winner, but don't forget to leave time for lunch. As you've already had paella, consider getting arroz negro (black rice) with some all i pebre as a starter.
You could also take the day to check out some of Valencia's museums. The Museum of Fine Arts is always popular, but there are plenty of others depending on your interests.
There are also some great day trips from Valencia to consider:
Take the train to Xativa, especially to see the castle
You could also catch a train to Sagunto, for some incredibly interesting ruins
Peñíscola is a long day trip (and probably better with a car) but more than worth it, especially when you see the sight of the medieval city overlooking the ocean
Altea is also a very pretty town with a nice easy walk through the nature reserve nearby, although you'll need a car to get there
For any wine fans, Requena should be on your list. It's very easy to get to by train from Valencia and you can choose to either do some wine tours (including of the underground caves and tunnels in the area!) or simply go and sample some yourself.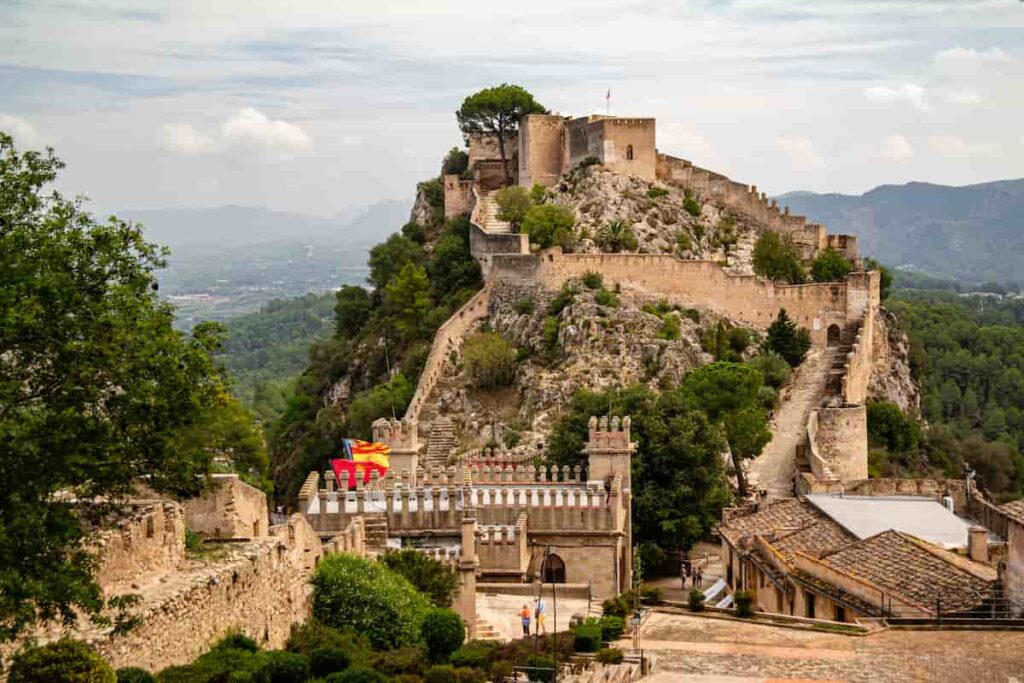 What to Do If You Have Four Days in Valencia
If you have four days in Valencia, I would definitely dedicate the first two days to looking around the city and beach, one day to Albufera and the fourth day to something based on your interests. This could include a museum in Valencia or another day trip.
But with that much time, a visit to Albufera is a must given how important it is to the city and its surroundings.
Check out the list in the section above for some inspiration on what an extra day trip could look like.
What to Do If You Have Five Days in Valencia
Congratulations, you have five whole days to explore this beautiful city and its surroundings! With this amount of time, you can really take in all the sights and sounds that this vibrant city has to offer.
So take a look at the three-day itinerary above and add on whatever tickles your fancy! You could even do an overnight stay in Peñíscola if the two-hour drive each way in one day is a bit much for you.
Visiting either Sagunto or Xativa and then doing a wine tour day at Requena would also be great.
Either way, you're definitely not going to be short of things to do, see – and taste!