Olympic Pool of Barcelona (Montjuïc): Ultimate Guide
This article may contain affiliate links. Please read our
Disclosure Policy
for more information.
So you've got your sights set on visiting – or even doing a few laps in – the Olympic pool in Barcelona?
I definitely can't blame you! It's not every day you get the chance to swim or visit where Olympians once made waves.
But before you pack that swimsuit and head out, there's a bit more to this spot than meets the eye.
Having lived in Spain and wandered around Barcelona many times, I've come to appreciate the city's hidden treasures. And trust me, this pool is one of them – especially the views!
In this article, I'll dive (pun fully intended!) into the pool's rich history and some key points to keep in mind to make sure your pool day here is truly memorable.
Can you swim in the Olympic pool in Barcelona?
Yes, you can swim in the Olympic pool in Barcelona, but only during certain months and in specific sections. The Olympic pool, officially known as Piscina Municipal de Montjuïc, is open to the public from early June to early September.
However, the diving section remains closed to the public, so you'll only be able to swim in the pool next to it.
The Olympic pool was designed by architect Antoni de Moragas i Gallissà for the 1992 Summer Olympics and holds a significant place in sporting history. It hosted the swimming and diving events, where numerous world records were broken and unforgettable moments were made.
The pool was constructed to accommodate both professional athletes and recreational swimmers.
Besides the Olympic pool, Barcelona offers a variety of indoor and outdoor public swimming pools. Many gyms and swimming centers provide access to their pools, along with refreshments and other amenities.
This means that while your options for swimming in the actual Olympic pool may be limited, there are plenty of other opportunities for you to enjoy a refreshing swim in the city.
That said, with its dramatic location offering incredible views of Barcelona landmarks, the Olympic pool is truly a one-of-a-kind spot in the city.
And that's not even mentioning that the picturesque pool has even served as a backdrop for Kylie Minogue's music video for her song "Slow" in 2003!
How big is the Barcelona Olympics pool?
The Barcelona Olympic diving pool, located on Montjuïc hill, has a seating capacity of 4,100 spectators. Originally built for the 1929 International Exposition, it was refurbished for the 1955 Mediterranean Games and the 1992 Olympic Games, where it served as the venue for water polo and diving events.
The competition pool at the Montjuïc Olympic facility measures 50 meters in length, following the standard Olympic size for swimming events. During the 1992 Games, two separate pools were built, and temporary grandstands boosted the seating capacity to 6,500 spectators.
The pool doesn't have a fitness center or other facilities, as it was designed specifically for competitions.
As mentioned just above, keep in mind that the diving boards aren't open to the public, and the changing facilities at the pool may not be in the best condition. However, it's worth a visit just for the stunning views of the city from the pool area.
That said, the pool opens its doors to the public every year during summer, welcoming families, locals, and tourists to enjoy a refreshing swim.
What bar is in the Olympic swimming pool in Barcelona?
Located within the premises of the Olympic swimming pool in Barcelona is the much-talked-about "Salts Montjuïc." This chic and inviting bar offers not only refreshing drinks but also an unparalleled view of the city, making it a favorite spot for both locals and visitors alike.
Salts Montjuïc doesn't just ride on its scenic advantage. The bar is known for its extensive drink menu, ranging from signature cocktails to local wines and beers.
Whether you're looking to refresh after a swim or simply unwind with friends, this spot really is pretty perfect. With its blend of modern aesthetics and a laid-back atmosphere, it seamlessly captures the spirit of Barcelona.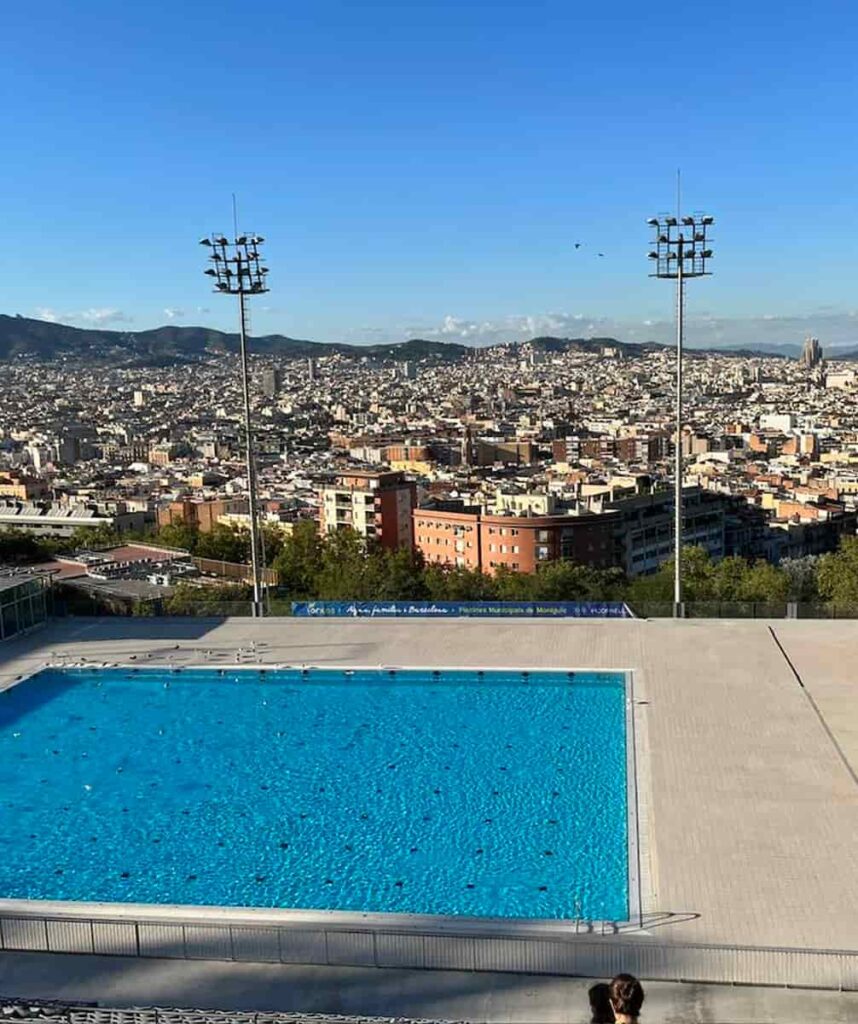 And if you get a bit peckish, they also offer a variety of snacks and small bites to complement your drink of choice.
In Montjuïc's nearby area, you'll also find an assortment of bars, cafes, and restaurants. This means that even if you want to venture a bit further than the pool's immediate area, you definitely won't struggle to find some way to stay fed and watered.
What are the Barcelona Olympic pool opening times?
The Barcelona Olympic pool generally opens its doors from 11:00am to 7:00pm from Monday to Thursday and from 11:00am to 8:30pm on Friday to Sunday during the summer months. However, it's always best to check ahead of time as hours might vary for special events or maintenance.
The official website should give you all the information you need – although I have to say that selecting the English option doesn't always work, so you may have to have Google Translate open as well.
Apart from the regular public swimming hours, the pool sometimes hosts events or swimming competitions, which can lead to adjusted timings or even full-day closures. Remember, this is a fairly iconic venue, so it's frequently in demand for various activities.
What's the price of the tickets for the Olympic pool in Barcelona?
For the Olympic pool in Barcelona, adult tickets cost €7.26. For children and seniors, the price drops to €5.03. There are also family and group discounts available, so it's worth inquiring if you're visiting with a larger party.
The ticket price is actually fairly reasonable considering you're getting access to a historic Olympic site with unmatched views of Barcelona. If you plan to visit multiple times during your stay, you might want to explore multi-visit passes or seasonal memberships which can offer better value.
Keep in mind that prices can fluctuate, and it's always a good idea to confirm the latest rates on the official website or at the pool's ticket counter.
While planning your visit to the Olympic pool, you might also consider checking out other nearby attractions, such as Gaudí's famous houses. In addition, you can visit the "Museo Olímpico y del Deporte Joan Antoni Samaranch" and the Olympic Stadium itself, including that you can purchase tickets for the FC Barcelona matches that are being played there during the 2023/2024 season.