20 Most Famous Architects in Barcelona (+ What They Built)
This article may contain affiliate links. Please read our
Disclosure Policy
for more information.
Have you ever wondered why Barcelona's skyline tells an enchanting tale of past, present, and future? It's like a Pandora's box that springs open with a heady mix of Gaudí's flamboyance, Domènech i Montaner's modernisme, and Nouvel's futuristic vibes.
So if you're an architecture lover, then I definitely understand why you're planning a trip to the vibrant city of Barcelona. After all, as someone who lives in Spain and has been lucky enough to have spent a ton of time in Barcelona, I've definitely had the chance to admire the incredible work that architects – both past and present – have created in this city.
Stay with me as I unveil the most famous architects in Barcelona and the city's architectural marvels that they've left behind. Who knows, you might end up discovering your new favorite architect – it's not all about Gaudí, as you'll see!
Most famous architects in Barcelona
1. Antoni Gaudí i Cornet
Antoni Gaudí i Cornet, arguably the most famous Barcelona architect, if not one of the most famous architects in the entire world, designed many masterpieces in Barcelona that have now become major tourist attractions.
You can't help but feel amazed by his incredibly unique and innovative style, which takes inspiration from nature, resulting in fluid and organic shapes. These truly one-of-a-kind architectural marvels can be explored by visiting some of the must-see buildings in the city – or even by doing your very own Gaudí tour in Barcelona to learn everything there is to know about these masterpieces.
Whether you join one of these tours or choose to DIY it, be sure not to miss what's probably the most famous architectural work in Barcelona, the Sagrada Família, Antoni Gaudí's signature piece and a symbol of the city. As you gaze upon its intricate and complex façade, you'll be enthralled by the richness of its details.
Your eyes will follow the towering spires that seem to reach for the sky, reminiscent of the branches of a tree. Don't forget to take a moment to wander inside, where you'll find captivating stained-glass windows that bathe the space in a kaleidoscope of colors.
In addition to the Sagrada Família, Gaudí's creative genius can also be admired at beautiful locations like Casa Batlló and Casa Milà. As you meander through these mesmerizing buildings, you'll discover the seamless blend of form and function that set Gaudí apart from his contemporaries.
The architect's innovative and daring approach transformed Barcelona into a testament to art, imagination, and the power of human creativity.
2. Lluís Domènech i Muntaner
If you're a fan of stunning architecture, Barcelona is the perfect destination for you, and Lluís Domènech i Muntaner is definitely an architect you need to know! Born in Barcelona on 21 December 1849, this famous architect played an influential role in shaping the city's iconic Catalan Art Nouveau style, known as Modernisme català.
His creative vision and attention to detail can be admired in several important buildings around the city.
Among his most celebrated works, the Palau de la Música Catalana is a must-see. This breathtaking concert hall is a fusion of intricate mosaics, colorful glass windows, and uplifting sculptures.
Domènech i Muntaner's other masterpiece, the Hospital de Sant Pau, is not to be missed either. This unique complex of pavilions is a shining example of Modernisme architecture and is recognized as a UNESCO World Heritage Site.
As you explore Barcelona, you might also come across the Castell dels Tres Dragons in the Ciutadella Park and the Antoni Tàpies Foundation (previously Editorial Montaner). Both of these iconic structures are considered the first modernist buildings in the city and showcase Domènech i Muntaner's innovative approach.
So next time you're wandering the streets of this beautiful city, be sure to appreciate the legacy left by this extraordinary architect!
3. Santiago Calatrava Valls
If you're exploring the architectural wonders of Barcelona, you definitely can't miss the works of Santiago Calatrava Valls. Born on July 28, 1951, this Spanish architect, sculptor, and artist is known for his unique designs that often resemble living organisms.
His imaginative structures have captured the hearts of architecture aficionados from around the world.
During your visit to Barcelona, you'll be amazed by the Bac de Roda Bridge – one of Calatrava's emblematic structures. This cable-stayed bridge will leave you in awe with its striking design that combines functionality and form.
As you walk across the bridge, feel the excitement of crossing a modern masterpiece that stays true to the spirit of Barcelona's innovative architectural culture.
Another fascinating work by Calatrava that you must see is the Montjuic Communications Tower. Located in the heart of Montjuic park, this extraordinary tower was built for the 1992 Summer Olympics.
The unique design features a leaning structure that serves as a symbol of communication, perfectly representing the atmosphere of unity during the Olympic games. Even today, Barcelona locals mention that they can't help but feel a sense of pride every time they take in this iconic tower.
Enjoy your time soaking in the brilliance of Santiago Calatrava's architecture – it's a real treat for anyone visiting this beautiful city.
4. Berenguer de Montagut
As you stroll through the streets of Barcelona, you'll encounter the awe-inspiring work of the Catalan architect, Berenguer de Montagut.
The crown jewel of Montagut's portfolio is the stunning Santa Maria del Mar church, which he designed and built during the 14th century. As you explore its intricate Gothic design, notice the exceptional harmony achieved in the proportions, columns, and arches.
Experiencing it in person is truly breathtaking, making it a must-visit while you're in town.
In Montagut's impressive career, he also contributed to the Manresa Cathedral and the Cathedral of Majorca. These majestic architectural wonders further showcase his talent as a master builder of his time.
All this is to say that the next time you're in Barcelona, remember to take a moment to appreciate the legacy of Berenguer de Montagut, the architect who left an indelible mark on the city's landscape.
5. Josep Puig i Cadafalch
You won't want to miss discovering the incredible works of Josep Puig i Cadafalch! Born in Mataró in 1867, Puig is one of the most famous architects from Barcelona whose creative genius can be observed throughout the city.
As a pivotal figure in the Catalan Modernista architectural movement, he has left a lasting legacy in Barcelona's art and culture scene.
Embark on a journey to explore his iconic masterpieces while strolling through the city. One such marvel is Casa Amatller, situated alongside other significant buildings in the Illa de la Discòrdia. The unique design of this building perfectly represents Puig's ingenuity in blending Catalan and northern European styles.
As a local exploring the city, be sure to also take a closer look at Casa Martí, another significant work by Puig i Cadafalch in Barcelona. The large, pointed arches and elegant stained glass windows radiate a distinct charm, which blends classic and modern, making it a must-see for anyone interested in architecture.
6. Josep Lluís Sert
If you're an architecture enthusiast visiting Barcelona, you absolutely have to explore the works of Josep Lluís Sert. Born in Barcelona in 1902, Sert was a prolific Catalan architect and city planner who left a lasting impact on his hometown and beyond.
During your stay, you'll be amazed at Sert's architectural masterpieces that beautifully blend rationalist movement inspired by the Bauhaus and Le Corbusier. His influence can be seen throughout Barcelona, such as his work on the Fundació Joan Miró, located on Montjuic hill.
Designed in a rationalist style, the Joan Miró Foundation is a unique space that showcases Sert's talent for creating visually stunning, functional spaces.
As you travel around this incredible city, remember to soak in the architectural details created by Sert. You'll undoubtedly appreciate his contribution in the expansion of Barcelona and his legacy as one of the great Catalan architects of his time.
7. Ricardo Bofill Leví
Barcelona has been shaped by many fascinating architects, with another name that you can't miss being Ricardo Bofill Leví. Born in Barcelona in 1939, Bofill was an influential architect who left a significant mark on this city and beyond.
In 1963, Bofill founded Ricardo Bofill Taller de Arquitectura, which grew into a leading international architectural and urban design practice. His fantastic architectural style varies from bold, massive housing projects to more modernist designs.
His creations have not only shaped Barcelona's landscape but also garnered international recognition.
During your wanderings through the city, you'll undoubtedly encounter Bofill's works. Keep an eye out for the Terminal 1 and Terminal 2 of Barcelona Airport, both designed by Bofill himself.
His remarkable legacy lives on through these awe-inspiring structures, meaning that literally from the moment you arrive in Barcelona, you can appreciate the artistry of one of its most iconic architects.
8. Oriol Bohigas Guardiola
Oriol Bohigas Guardiola, one of the most influential architects from Barcelona, was born in 1925 and played a crucial role in modernizing the city and transforming its urban landscape. As an architect and urban planner, Bohigas was instrumental in the development of Olympic-era Barcelona, preparing the city for the 1992 Summer Games.
During your visit, you'll undoubtedly appreciate how his vision has impacted the city. Bohigas was responsible for several planning projects in the 1980s that have left a lasting impression on Barcelona.
Thanks to his innovation and expertise, you can now enjoy the range of spaces he designed, like the transformation of the waterfront along with numerous parks and public squares.
9. Enric Ruiz-Geli
Get ready to explore the world of Enric Ruiz-Geli, a true visionary in the architectural scene of Barcelona.Enric and his interdisciplinary team Cloud 9 are best known for their cutting-edge approach to architecture, utilizing digital processes and sustainable material development.
A masterpiece you shouldn't miss is the Media-TIC building, located in the vibrant Poblenou district. This award-winning building stands out for its energy-efficient design, incorporating solar gain control and using high-tech materials like ETFE.
Another fascinating project worth visiting is the Villa Bio, an embodiment of green architecture that thrives on biodiversity and intertwines nature with modern living. Enric Ruiz-Geli's works are a testament to Barcelona's forward-thinking approach to architecture, offering you a glimpse into the city's innovative spirit.
10. Josep Fontserè i Mestres
If you're passionate about architecture, you definitely shouldn't miss the marvelous creations by Josep Fontserè i Mestres. Born in Barcelona in 1829, he contributed significantly to the city's architectural landscape throughout the 19th century.
One of his most famous accomplishments is the design of numerous buildings in Barcelona's stunning Ciutadella Park. As you walk through this urban oasis, pay special attention to the breathtaking Waterfall, a collaboration between Fontserè and the young, talented Antoni Gaudí.
Additionally, the Mercat del Born is another must-see piece of Fontserè's work. Embrace the bustling local scene and explore the historic market, appreciating the architectural details crafted by this skilled Catalan master.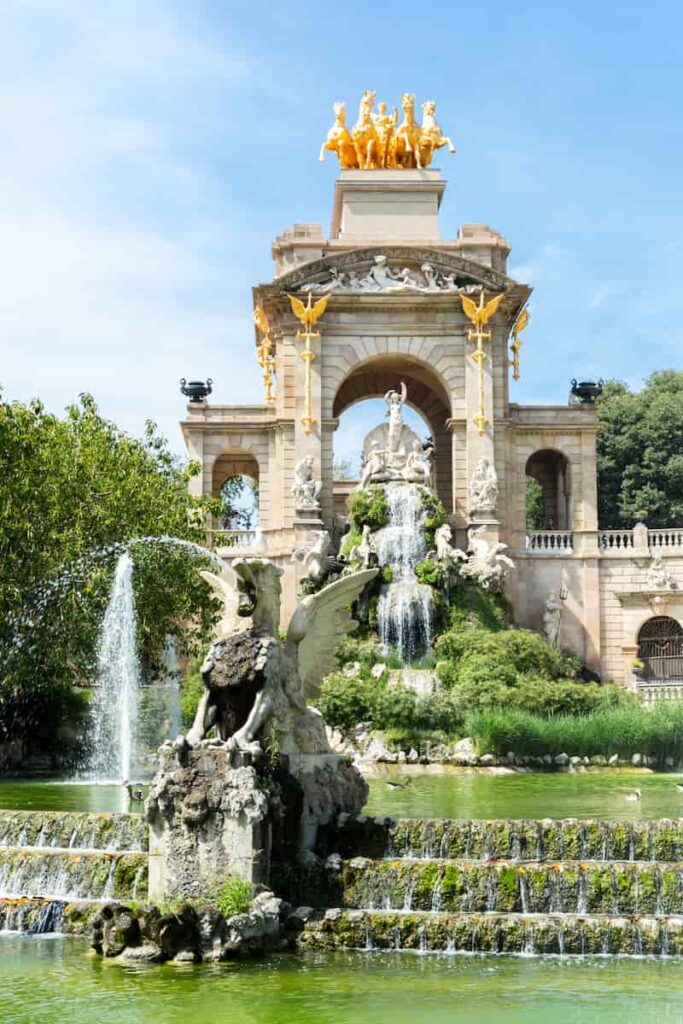 11. Josep Maria Jujol
When you're exploring the stunning architecture in Barcelona, you mustn't miss the works of Josep Maria Jujol. Born in 1879, Jujol was a Catalan Spanish architect who collaborated with the renowned Antoni Gaudí on many of his most famous projects.
While walking the streets of Barcelona, you'll undoubtedly come across Jujol's masterful touch in some of Gaudí's iconic designs. Jujol contributed to the captivating Park Güell, the mesmerizing Casa Batlló, and, of course, the awe-inspiring Sagrada Família.
His ability to combine beautiful, organic shapes with vibrant colors and innovative materials adds a unique charm to the city.
But Jujol's talent goes beyond just his collaboration with Gaudí. His solo projects scattered throughout Catalonia, such as the Torre de la Creu and the Casa Planells, showcase his creativity and skill.
12. Enric Sagnier i Villavecchia
Enric Sagnier i Villavecchia was born in 1858 and was a prolific architect, credited with having the most works listed in the Barcelona Heritage Catalogue. You'll find his spectacular creations all around the city, embodying the vibrant spirit of Barcelona.
After qualifying as an architect in 1882, one of Enric's early works was the Palau de Justícia in Barcelona, a project shared with Josep Domènech i Estapà. Another one of his iconic works is the Caixa de Pensions building, located on the bustling Via Laietana.
Trust me, the grandeur of these buildings will leave you in awe. But Enric Sagnier was also the mastermind behind the breathtaking church on the Tibidabo Mountain. This magnificent edifice is undoubtedly a must-see when you visit Barcelona.
13. Salvador Valeri i Pupurull
Salvador Valeri i Pupurull was an exceptional Catalan architect, who greatly contributed to the beautiful structures that decorate Barcelona. Born in 1873, he mastered his architectural skills from esteemed institutes such as the Polytechnical School of Madrid and the School of Architecture of Barcelona.
Operating in the Modernisme style, his works blend seamlessly into the rich cultural fabric of the city. In particular, as you walk through the charming streets of Barcelona, keep an eye out for the exquisite Casa Comalat.
Designed by Valeri between 1909 and 1911, this unique building showcases remarkable Gaudiesque curves, clearly highlighting the influence Antonio Gaudí had on Valeri's work. Its two undulating facades stand as an iconic testament to Modernista architecture. The Casa Comalat is an essential stop for any architecture aficionado visiting Barcelona.
While not the absolute most famous architect in Barcelona's vibrant Modernista scene, be sure to appreciate the remarkable contributions of Salvador Valeri i Pupurull. His innovative ideas and distinctive designs add a touch of elegance and refinement to this bustling city.
14. Manuel Sayrach i Carreras
Manuel Sayrach i Carreras, a talented and multifaceted architect native to Barcelona, contributed greatly to the city's architectural beauty. And you may also be interested to learn that Sayrach not only designed magnificent buildings but also dabbled in writing plays and political texts!
Exploring the city, you can't miss the spectacular Casa Sayrach, one of the last Modernista buildings constructed in Barcelona. Casa Sayrach stands proudly at the top end of Carrer d'Enric Granados.
As you walk around admiring its organic forms and intricate details, you'll appreciate the genius of Sayrach's craftsmanship. While the Casa Sayrach is perhaps his most famous creation, don't forget to check out other impressive works by this brilliant architect.
15. Norman Foster
I can't list the most famous architects in Barcelona without mentioning those architects who have helped to shape the city, despite not being from here.
And one clear example of this is that, when you visit Barcelona, you'll be amazed by the contributions of renowned architect Sir Norman Foster to the city's modern architectural landscape. This British architect has left his distinctive mark on projects like the iconic Torre de Collserola, a communications tower that towers over the city from the Tibidabo hill.
As you explore the city, you'll find that Foster's designs are characterized by their innovative use of materials, attention to detail, and integration with the surrounding environment. The Torre de Collserola itself is a testament to Foster's talents, with its unique shape and structure symbolizing Barcelona's constant push towards the future.
16. Frank Gehry
As an architecture enthusiast, you'll almost certainly be familiar with Frank Gehry, the Canadian-American architect known for his bold, sculptural designs. Lucky for you, living in Spain has given you the chance to frequently admire one of his dazzling creations: the Golden Fish, or Peix Daurat in Catalan.
This phenomenal structure is a must-see for anyone visiting Barcelona! While strolling along La Barceloneta's beautiful maritime walk, you'll come across this stunning 35-meter-high and 56-meter-long sculpture.
The shimmering gold surface of the fish captures and reflects the sun's rays, offering you a constantly-changing visual experience as the day unfolds. This masterpiece adds a touch of Gehry's signature style to the already picturesque seaside landscape.
17. Jean Nouvel
As an architecture enthusiast in Barcelona, you can't miss the outstanding work of French architect Jean Nouvel. Among his many masterpieces around the world, his most iconic building in the city is the Torre Glòries, formerly known as Torre Agbar.
This 38-story skyscraper stands tall as the gateway to the new technological district of Barcelona, a testament to the city's spirit of innovation.
When you first see the Torre Glòries, its unique shape will definitely grab your attention, although this uniqueness also prompted some criticism from people who said it didn't fit into Barcelona's existing skyline. On the other hand, your mind may jump to some of the, shall we say, cruder nicknames that locals have given this building – but I'll leave you to figure that out on your own.
Whatever you think of it, the tower serves as the headquarters of Aguas de Barcelona (Agbar), Spain's municipal water company. Nouvel's architectural prowess shines in the building's design, combining aesthetics, functionality, and ecological considerations to create a structure that's distinctly Barcelona.
While you're visiting, don't miss the opportunity to check out the 350-seat auditorium within the tower, showcasing Nouvel's attention to detail in interior design and his ability to transform spaces.
18. Toyo Ito
You might be familiar with Antoni Gaudí's masterpieces, but have you discovered the stunning work of Toyo Ito in Barcelona? As a contemporary Japanese architect, Toyo Ito has designed a few fascinating projects in this vibrant city that are worth checking out during your visit.
One of his notable creations is the beautiful sea wave facade opposite La Pedrera. This luxurious apartment building stands out for its organic shape and captivating patterns, embodying the fluidity of water. If you're strolling through the upscale neighborhood of Passeig de Gràcia, don't miss the chance to admire this architectural gem.
Another exciting project by Toyo Ito and b720 Arquitectos in Barcelona is the Porta Fira Towers, consisting of adjacent towers containing a hotel and offices. These striking red buildings resemble the shape of iconic lotus flowers, creating a dramatic impression on the city skyline. Next time you're exploring the area, take a moment to appreciate this marvelous example of modern architecture.
So, while exploring Barcelona's architectural wonders, make sure to keep an eye out for Toyo Ito's innovative designs, which will surely inspire you with their unique blend of form and function.
19. Richard Rogers
Richard Rogers is another prominent architect who's left his mark on Barcelona's urban landscape. One of his most famous projects in the city is the transformation of Las Arenas, a historic bullring-turned-shopping center.
His innovative design approach elevated the space into a bustling hub for retail and entertainment. And as you wander around the city, don't miss the opportunity to check out the Hesperia Barcelona Tower Hotel, another remarkable project by Rogers.
Its unique design and impressive height make it quite a sight to behold. You'll quickly notice the architect's ability to blend modernity and functionality.
Rogers' contribution to Barcelona's vibrant architectural scene doesn't end there; he's inspired many other architects and designers throughout his long and storied career. His innovative ideas and high-tech style will continue motivating the next generation of architects, and for that reason, experiencing his work in the city is an absolute must during your Barcelona adventure.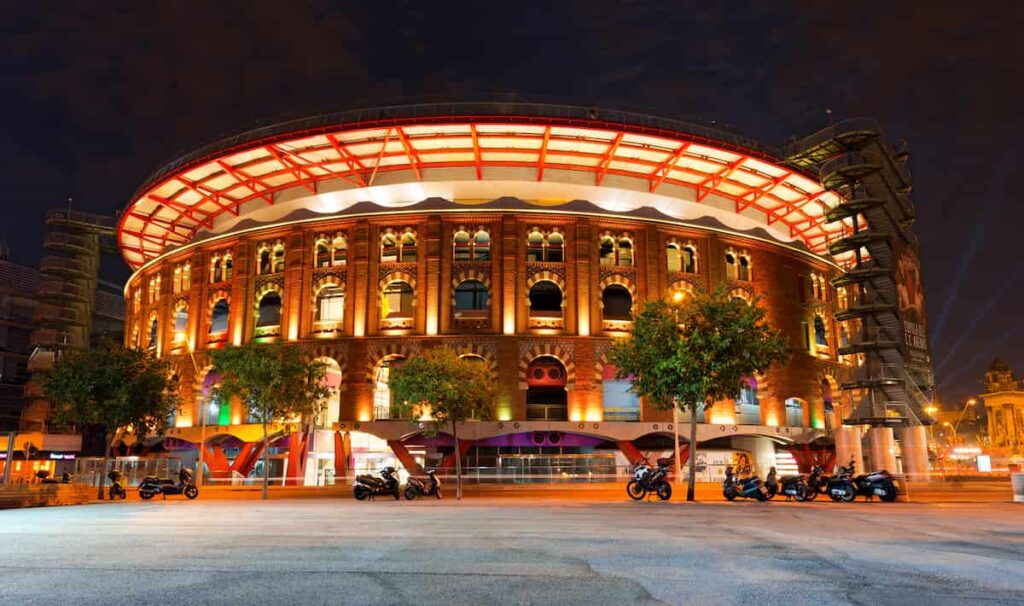 20. Richard Meier
When you're exploring the world of architecture in Barcelona, you can't miss the work of the renowned architect Richard Meier. Meier, a winner of the prestigious Pritzker Architecture Prize in 1984, has crafted iconic structures worldwide, and Barcelona is blessed to have one of his masterpieces.
The moment you set foot in the Raval district, you'll be captivated by the Barcelona Museum of Contemporary Art (MACBA), a magnificent glass and white aluminum structure that radiates light. Designed in 1990 and completed in 1995, MACBA is not only an architectural gem but also a treasure trove of art from the mid-twentieth century to the present day.
This unique combination makes it a must-visit destination for any architecture and art enthusiast. In particular, as you admire the beauty of MACBA, take your time to observe the intricacy of its design.
Meier cleverly assembled several prisms in the construction, which covers a floor space of 14,300 square meters and stands at an imposing height of 23 meters. The assemblage of prisms, along with the vivid use of glass, gives the museum a sense of openness and integration with the surroundings.
Who is Barcelona's most famous architect?
When you think of Barcelona, the one name that immediately comes to mind is Antoni Gaudí. A trailblazer in the architectural world, Gaudí's work has become synonymous with the Catalan city. This prolific architect is responsible for some of Barcelona's most iconic landmarks.
As you explore Barcelona, you'll find yourself constantly awestruck by Gaudí's unique style and use of color, texture, and movement. His masterpieces, such as the Sagrada Familia, Park Güell, and the undulating Casa Mila — also known as La Pedrera — are must-sees for anyone visiting the city.
Many of Gaudí's creations have even been recognized as UNESCO World Heritage Sites, further cementing his legacy as one of the most important architects in history.
However, Gaudí isn't the only architect who made their mark on Barcelona. As you wander through the city, you'll also encounter the works of Domenech i Muntaner, who played a key role in shaping Barcelona's Modernist movement.
Don't miss out on a visit to the Catalan Gothic church Santa Maria del Mar, designed by architects Berenguer de Montagut and Ramon Despuig, for a different perspective of Barcelona's diverse architectural landscape.
Why is Gaudi so famous?
Gaudi's fame comes from his extraordinary architectural talent and his major contributions to the city of Barcelona. His unique style and modernist approach can still be felt throughout the city. As a local, you can't help but admire his remarkable artistic vision.
Antoni Gaudi's works reflect a distinctive style that combines natural forms, intricate details, and rich colors. When strolling around Barcelona, you'll encounter his iconic landmarks such as the Sagrada Familia, Park Güell, and Casa Batlló, just to name a few.
These extraordinary sites have become the essence of the city and are a must-visit for anyone coming to Barcelona. You can feel the energy and creativity Gaudi instilled in his masterpieces, which have also become symbols of Catalan pride.
His innovative techniques and use of materials have had a lasting impact on architecture, and his works continue to inspire artists and architects to this day. So the next time you wander through the vibrant streets of Barcelona, take a moment to admire Gaudi's legacy that he left for you to enjoy.