50 Best Things to Do in Barcelona with Teens (2023)
This article may contain affiliate links. Please read our
Disclosure Policy
for more information.
Are you gearing up for a family vacation to Barcelona with your teens in tow?
Searching for activities that'll not just be 'cool' for the young crowd but also fun for the whole family can be tricky. You're probably looking for that sweet spot between educational and thrilling, relaxing and energetic, historical and hip.
Well, look no further! I've been combing the vibrant streets and the sun-drenched beaches of Barcelona for ages (living in Spain has its perks, after all!), and I've got the inside scoop on where to go and what to do to keep everyone, especially those hard-to-please teens, grinning from ear to ear.
By the end of this article, you'll have a treasure trove of teen-approved Barcelona hotspots that promise adventure, discovery, and a hefty dose of "Did you see that?!" moments.
From rushes of adrenaline to the enchanting twists and turns of some historical intrigue, you're about to unlock the secrets to a family holiday that'll be the talk of the dinner table for years to come.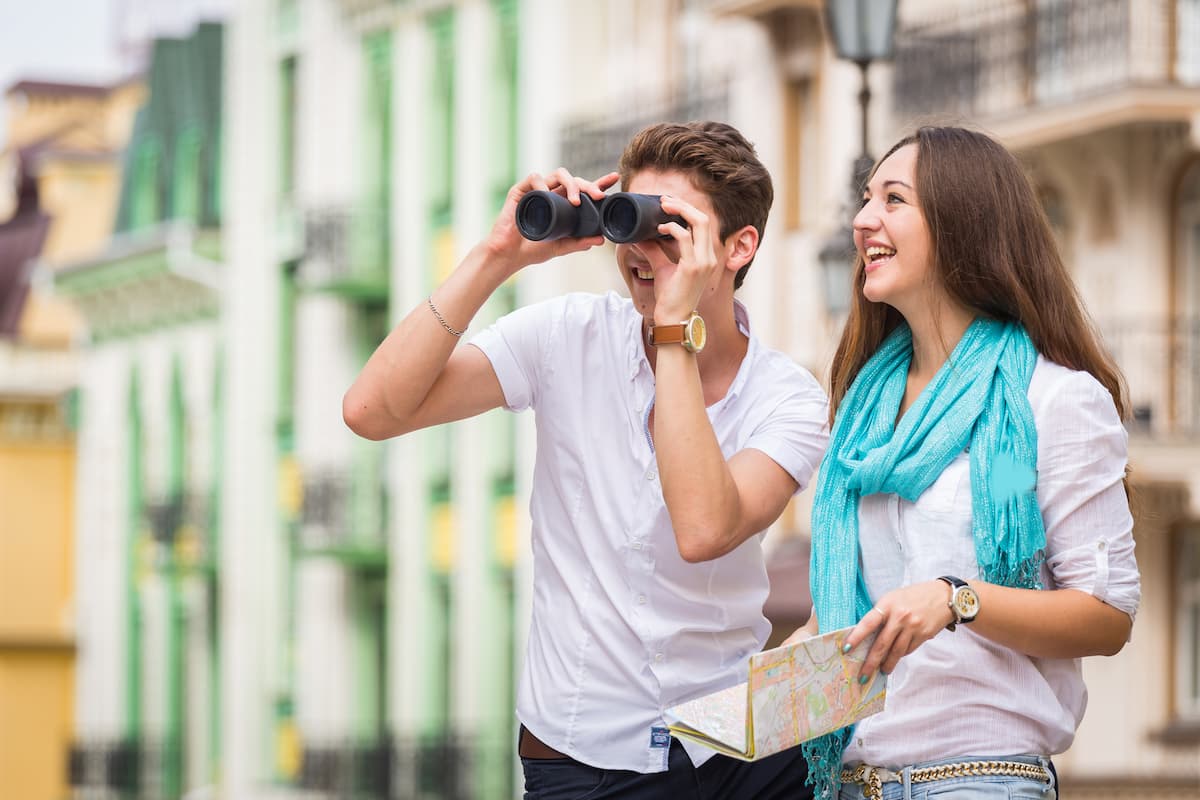 1. Wander through the Gothic Quarter
First up, the Gothic Quarter. It's like a living history book, but way cooler.
I recommend taking a tour of the Gothic Quarter because, trust me, those winding alleys and old squares have some wild stories to tell. You'll find yourself standing in front of centuries-old buildings while hearing tales of ancient kings and street urchins – it's a crash course in the cool side of history.
Your guide will probably throw in some ghost legends or the skinny on a historic scandal. And the teens? They'll get that rare buzz that comes from a history lesson they can actually walk through.
2. Learn how to make paella
Next, who's up for some kitchen action? Learning to make paella at this interactive paella cooking class isn't just about cooking; it's an adventure for your taste buds. 
You'll start at La Boqueria, which isn't just a market – it's a riot of colors, smells, and sounds. Here, you'll pick up the freshest ingredients (it's where the locals shop, after all).
Then, in a workshop, an expert will show you how to turn those ingredients into a paella that'll have you feeling like a masterchef.
And the best part? You all get to eat your creations! It's hands-on, it's messy, and it's downright fun.
3. Take a Barcelona street art tour
Let's talk street art. Barcelona's streets are a canvas for some seriously cool art, and there's a street art tour in Barcelona that takes it to another level – on bamboo bicycles, no less. 
This isn't your average tour – it's a ride on the wild side of creativity. You'll pedal through neighborhoods where the walls tell stories in bold colors and mind-bending designs.
It's a chance for the teens to see a different side of art, one that doesn't live in a museum but dances on the streets. It's raw, it's real, and it might just inspire a new profile pic for their socials.
4. Visit the FC Barcelona Museum
Visiting the FC Barcelona Museum isn't just walking through a trophy case – it's a deep dive into the heart and soul of one of the most celebrated football clubs in the world. You'll wander through rooms where the walls are decked out with gleaming silverware and the stories of legends like Maradona, Cruyff, and Messi. 
There's an interactive wall where you can relive the club's finest moments, and don't be surprised if you find yourself getting chills watching the most iconic goals. And for the teens, there's the 'Camp Nou Experience' which offers an immersive trip through the players' tunnel and a peek at the pitch from the players' perspective.
It's a place where sports history isn't just displayed, it's felt.
5. Attend a soccer game at Camp Nou
Speaking of football, catching a game is an experience that goes beyond the match itself. Imagine the thrill of sitting among the passionate fans, with the chants and cheers echoing around you.
It's a cultural phenomenon; from the vendors selling scarves and jerseys outside to the pre-match excitement buzzing through the stands. Watching a live match is witnessing a masterclass in skill and spirit – and the teens will be talking about it for days.
Just make sure to check the schedule in advance and book tickets early, as these games are a hot ticket in town. Also, keep in mind that FC Barcelona home matches are being played this season at the Olympic Stadium, due to renovations at Camp Nou – just so everyone's expectations are appropriately managed.
6. Ride the Teleférico de Montjuïc (Montjuïc cable car)
Now, for a literal high point of your trip, the Teleférico de Montjuïc offers not just a ride but an experience. As you ascend in the cable car, Barcelona spreads out beneath you – from the Sagrada Familia poking through the cityscape to the blue stretch of the Mediterranean. 
It's a mix of thrill and tranquility as you glide up towards Montjuïc. Once you're at the top, it's more than the castle waiting for you – there's a sprawling green space perfect for a picnic, the Montjuïc Olympic facilities that whisper tales of the 1992 Olympics, and the Fundació Joan Miró for art buffs.
The ride itself is a great way to rest those weary legs after a day of exploring and offers a moment of peaceful reflection above the hustle and bustle of the city streets.
7. Sample Spanish Cuisine on a Food Tour
Barcelona's culinary scene is a tapestry of flavors, and what better way to explore it than on a food tour of Barcelona? With a local guide leading the way, you'll zigzag through bustling markets and side-street tapas bars.
You're not just eating – you're learning the stories behind dishes like patatas bravas or bombas. And what teen doesn't love trying some new food (or at least adding a tapas bar or two to their TikTok feed).
The shared plates mean you can all dig into a variety of tastes without committing to one dish – perfect for picky eaters or adventurous foodies alike.
FYI: Not every tapas tour in Barcelona will let under 18s join, due to the fact that they often involve wine tasting. However, this Evening Experience in the Old Town with Tapas lets those 14 and up join without any issues (although they do note that only 18-year-olds can have alcoholic drinks).
8. Take a scenic helicopter flight over Barcelona
For a change of perspective, how about seeing the city from a bird's eye view? A helicopter flight over Barcelona offers a thrilling whirl above the city's landmarks. 
Strap in and watch the teens' eyes go wide as the copter lifts off and the city shrinks below. You'll spot the grid-like layout of the Eixample district, the towering Sagrada Familia, and even the Olympic Port if you squint.
It's a quick trip (and, sure, not the cheapest activity in town), but it's packed with "wow" moments that'll give you all something to talk about at dinner.
9. See the Moco Museum
Art can be hit or miss with teens, but the Moco Museum tends to be a hit. It's not your typical gallery – it's filled with contemporary works that are bold, colorful, and sometimes downright weird. 
Think big names like Banksy, KAWS, and Basquiat – artists that even the most art-averse teen has likely heard of. The installations are often interactive or at least very Instagrammable, which let's be honest, is a bit of a win when it comes to teen attention spans.
It's a cool space where modern art is made accessible and fun, showing that art doesn't have to be something you just quietly observe from a distance.
10. Head to Tibidabo Amusement Park
For a mix of old-school charm and modern thrills, Tibidabo Amusement Park is the ticket. Perched on a mountain, it offers rides with a view – and what a view it is!
You've got the whole city under your feet as you whirl around on the Talaia or brave the vintage plane ride. It's a quirky blend of rides from yesteryear and newer adrenaline-pumping attractions.
While teens dash from ride to ride, you can enjoy the more sedate pleasures of the park, like the Automaton Museum. Or just kick back with a coffee and soak up the panoramic vistas of Barcelona spreading out like a map below.
11. Book a jet ski experience
If you're looking for a splash of excitement, how about jet skiing along Barcelona's coastline? It's a thrilling way to beat the heat and see the city from the water. 
Outfits along the beach offer everything from quick spins to longer excursions. The teens will love the speed and spray as they zoom over the waves, and you'll get a kick out of the pure joy on their faces.
Plus, it's a chance to see Barcelona's beaches from a different angle – with the sun on your face and the wind in your hair. Safety gear and instruction are provided, so even if you're new to jet skiing, you'll be in good hands.
12. Cruise on a sailing boat
For something a bit more laid-back, but equally as memorable, consider doing a day out cruising on a sailing boat. You can charter a private sail boat with a skipper and glide along the Mediterranean. 
It's both peaceful and picturesque, with opportunities to drop anchor for a swim or snorkel in the sea. There's something special about being out on the water – it's calming and exhilarating all at once.
And while the teens might be initially skeptical about a "slow" boat, the chance to chill on the deck, snap some killer selfies, and maybe even take a turn at the helm will win them over.
13. Jump on a bike tour
Grabbing a bike and hitting the streets is one of the best ways to get the lay of the land. Barcelona's pretty bike-friendly, with lanes crisscrossing the city, and a bike tour around Barcelona can take you through the nooks and crannies that buses can't reach. 
You'll breeze past landmarks and through local hangouts, all while getting a bit of exercise – not that the teens will notice, they'll be too busy taking in the sights.
Look for a tour that caters to families, as they know how to keep things interesting for all ages. Plus, it's a chance to ask a local all those questions about where to eat, shop, and hang out.
14. Get a taster at Museu de la Xocolata (Chocolate Museum)
For a sweet addition to your trip, the Museu de la Xocolata is a must. It's a small museum, sure, but it tells the rich story of chocolate in Europe with a special nod to its role in Spanish history.
The sculptures made of chocolate will amaze you – they're intricate, artistic, and, well, look delicious. And yes, there are plenty of tasting opportunities – because what's a chocolate museum visit without a little indulgence?
The teens might be tempted to rush for the chocolate, but the interactive exhibits and the chocolate-making classes are just as alluring.
15. Take a hot air balloon ride
For a truly unforgettable experience, a hot air balloon ride over the Catalan countryside offers a peaceful escape from the city's hustle. This is where you can get those magical moments of silence, broken only by the occasional burst of the burners. 
You'll float over patchwork fields, rugged mountains, and even spot some of the region's famous vineyards. It's usually an early morning venture – which might be a tough sell to the teens – but the views at sunrise are worth the early wake-up call.
Plus, most experiences end with a little celebration, often with some local treats, adding a sweet note to the adventure.
16. Enter an escape room
For a challenge that'll have everyone's brains ticking, head into one of Barcelona's escape rooms. It's like stepping into a puzzle where you're the main character. From solving a mystery in a haunted house to breaking codes in a spy mission, it's an hour of adrenaline-pumping teamwork.
And the best part? You'll see the teens' eyes light up – not from their phone screens, but from cracking a real-life riddle.
Not to mention that it's also a great way for the family to bond and work together, all while having a blast.
17. Do a sidecar tour of the city
If you're looking for a unique spin on the standard city tour, how about a tour of Barcelona in a sidecar? It's a mix of vintage charm and cool factor that's hard to beat. 
You'll zip through the city streets with the wind in your hair, catching glimpses of Barcelona's famous sites and some hidden gems that you might not find on your own. The teens will love the novelty of it, and you'll love the fresh air and the fact that you don't have to navigate traffic yourself.
It's a quirky, memorable way to see the city, and you can bet those sidecar selfies will be all over their socials.
18. Go on a ghost tour
For a bit of spooky fun, this Ghosts and Legends Tour as the sun sets is a brilliant idea. Barcelona's history is long and sometimes shadowy, and a ghost tour can reveal some of the city's darker tales. 
You'll tread through lamp-lit lanes and past ancient buildings while a guide shares eerie stories that might just send a shiver down your spine. It's a cool way to see Barcelona by night and a hit with teens who love a good ghost story.
Just be ready for a few jumps and gasps – these tours are as much about the thrills as they are about the chills.
19. Explore CosmoCaixa Science Museum
CosmoCaixa is where science becomes a playground. This isn't your usual "look, don't touch" museum – it's a hands-on haven where teens can push buttons, spin wheels, and learn about the universe in the most interactive way.
From the Flooded Forest that simulates a tropical rainforest ecosystem to the Hall of Matter that takes you through the evolution of matter and life, every exhibit is an invitation to play and learn.
And there's a planetarium to top it off, where you can all sit back and take a tour of the cosmos. It's the kind of place where your teen might just forget to check their phone.
20. Take a Segway tour of the city
Now, for those teens who might balk at the idea of "another walking tour," a Segway tour of Barcelona could be just the ticket. After a quick lesson on how to ride, you'll be gliding through Barcelona's streets like a pro. 
It's faster than walking and lets you cover more ground without breaking a sweat – which means less complaining and more exploring. Tours can take you down the beachfront, through historic districts, or even up Montjuïc hill.
It's a bit of futuristic fun in the midst of the city's ancient backdrop, and it'll give the teens a cool story to share.
21. Do a make your own espadrilles workshop
For a truly unique experience, how about a workshop where you can make your own espadrilles? These traditional Catalan shoes have been around for centuries, but here's your chance to put a modern twist on them. 
It's a crafty way to spend some time, and you'll be guided by artisans who know their stuff. Teens will get a kick out of creating something they can actually wear – talk about a custom souvenir!
Plus, they'll have the satisfaction of saying, "I made these!" every time they get a compliment on their unique footwear.
22. Find the best Instagram spots in Barcelona
In the age of social media, finding those perfect Insta-worthy spots is almost as important as enjoying the moment (at least, that's what the teens might say). So, why not join a tour that's all about discovering Barcelona's most scenic spots?
This Instagram Tour of Barcelona's Most Scenic Spots will take you beyond the typical postcard scenes to the coolest murals, the most charming alleyways, and the viewpoints that offer stunning city vistas. 
Your guide will share stories behind the spots, making each photo a memory with a tale to tell. And for your teens? They'll have a blast capturing the kind of images that rack up the likes.
23. Check out La Sagrada Familia
No trip to Barcelona is complete without gazing up at the towering spires of La Sagrada Familia. This isn't just any old church – it's Antoni Gaudí's unfinished masterpiece, a fusion of Gothic and Art Nouveau that's been under construction for over a century.
Inside, the stained glass windows cast a kaleidoscope of colors that dance across the stone – it's like walking into a rainbow.
Teens will appreciate the sheer scale and ambition of it, and you don't have to be an architecture buff to be impressed by the creativity and detail Gaudí poured into every corner.
PRO TIP: The Sagrada Familia is easily the most visited tourist site in Barcelona and tickets frequently sell out weeks ahead of time.
To make sure you don't miss out, you need to book your tickets for the Sagrada Familia well in advance of your visit. As once they're gone, they're gone – and seeing inside is a definite must while you're here.
24. Embrace Game of Thrones with a day trip to Girona
For the family members who are fans of Game of Thrones, a day trip to Girona is a must. Just a short train ride from Barcelona, Girona served as the backdrop for several scenes in the show. 
You can even do a Game of Thrones walking tour in Girona – and it's seriously good! You'll walk through the medieval streets that stood in for Braavos, or stand on the steps of the cathedral where Jaime Lannister rode his horse.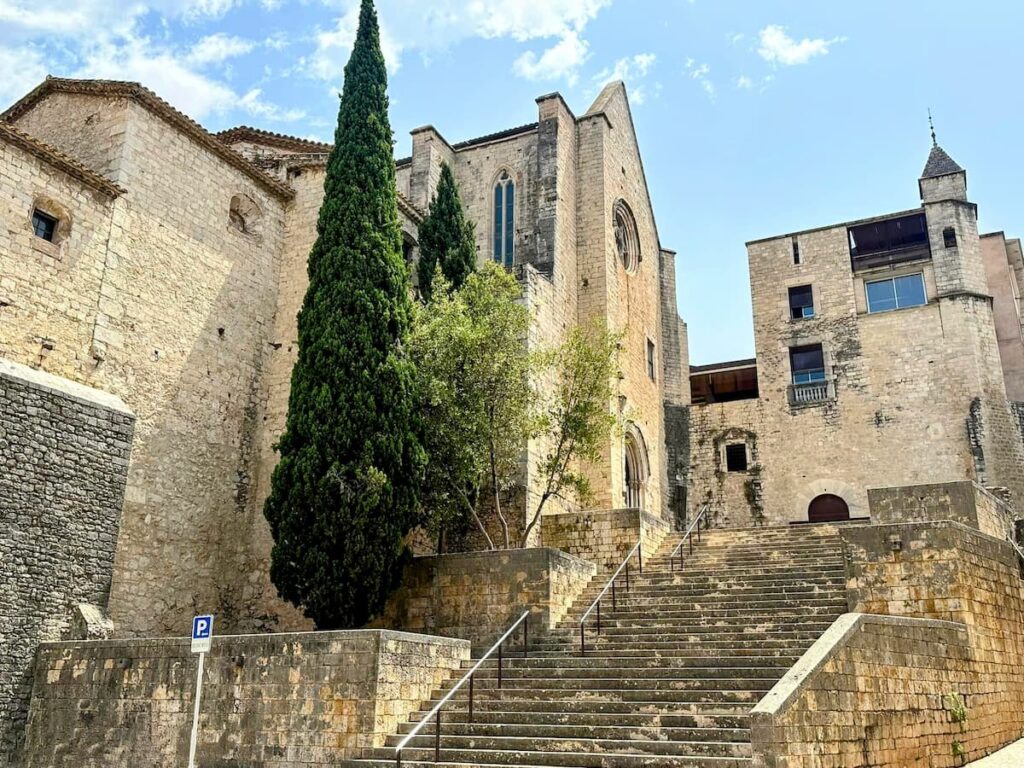 It's a cool way to connect with the show and see some of the history and architecture that makes Girona a fascinating place to explore in its own right. Plus, it's a chance for teens (and adults!) to step into a world they've only experienced on screen.
25. See the Roman ruins of Tarragona
Just down the coast from Barcelona, Tarragona is a treasure trove for history buffs and curious minds alike. It's a city where ancient Rome seems to have left its mark on every corner.
By doing a day trip to Tarragona, you can walk along the old city walls, stand in the center of a Roman circus, or explore an amphitheater that once echoed with the roars of gladiators. It's a hands-on history lesson where your kids can touch, climb, and roam through ruins that tell the tales of a civilization from millennia ago. 
The vibe is a perfect mix of seaside charm and ancient wonder, and it's a great spot to let imaginations run wild.
26. Discover art at the Picasso Museum
Back in Barcelona, the Picasso Museum is a cool spot where art comes alive in a way that even teens can dig. This isn't just room after room of paintings – it's a journey through the life of one of the most influential artists of the 20th century. 
The museum houses one of the most extensive collections of Picasso's works, showcasing his deep connection to Barcelona. From his early sketches to his later masterpieces, teens will get to see the evolution of a genius.
It's a crash course in art history without the lecture, and it's bound to spark some creative flames.
27. Spend a day at the beach
After all the touring and exploring, a day at the beach might be just what the family needs. Barcelona's beaches are perfect for chilling out, playing some volleyball, or just soaking up the Mediterranean sun.
Your kids can hit the waves on a paddleboard, try out some windsurfing, or just lounge with their latest playlist.
Barceloneta Beach is a favorite, but if you're looking for something a little quieter, head out to Bogatell or Nova Icaria. It's a chance for everyone to relax and reflect on the adventures you've had so far, with the city's skyline hugging the coast just a glance away.
28. Visit Montjuïc Castle and Park
Montjuïc Castle, perched on a hill with the same name, offers more than just a history lesson – it's a place where panoramic views meet leafy retreats. Take the cable car up (which is an adventure in itself), and you'll find yourself in a sprawling park that's a world away from the city's buzz. 
The castle, with its imposing walls and storied past, offers a glimpse into Barcelona's military history. You can wander around the old fortifications and imagine the tales of battles past.
And the surrounding park is perfect for a leisurely stroll or a lazy picnic. It's a hit with teens – it's got that old-world vibe without being stuffy, and the views are the kind that make you want to conquer your social media feed.
29. Experience IKONO Barcelona
IKONO Barcelona is a whole different ball game. It's a space where every room is a new world, designed to give your senses a wild ride.
It's like walking into a dream where you can touch, play, and interact with everything. From luminous ball pits to mirror mazes that make you question reality, it's a feast for the eyes and the imagination.
Teens will love the fact that it's so hands-on and that every corner is a selfie opportunity. It's not just fun, it's an immersive experience that you'll talk about long after you've left.
30. Watch the Magic Fountain show
And you can't say you've experienced Barcelona until you've seen the Magic Fountain show. It's a spectacle of water, light, and music that transforms the night into a dance of colors.
The fountains shoot water into the air, choreographed to tunes that range from classical to contemporary – it's an outdoor concert where the performers are made of light and liquid.
The teens will be mesmerized, and let's be honest, so will you. It's the kind of show that reminds you how fun it is to feel a bit of wonder.
And the best part? It's completely free.
31. Climb around Bosc Urbà (Urban Forest Adventure Park)
For teens who love to climb, swing, and leap (basically, those with energy to burn), Bosc Urbà is the place to be. Imagine a playground, but for all ages, where you can zip-line through the air, balance on wobbly bridges, or test your skills on a ninja warrior course.
It's in the city but feels like you've stepped into an adventure park in the middle of a forest. Safety is key, so everyone gets harnessed up, and there are different levels to suit brave adventurers and cautious first-timers alike.
It's a great way to challenge yourself and have a blast doing it – and it'll give those teens something to brag about when they get home.
32. Participate in a scavenger hunt
Barcelona can be your game board with a city-wide scavenger hunt. These hunts are a clever way to discover the city's secrets while competing for the top spot in a friendly family rivalry.
You'll solve riddles, complete challenges, and maybe even dress up for a bit of role-play. It's part scavenger hunt, part tour, and all fun. 
Each clue leads you to a new location, from famous landmarks to hidden local spots, making the exploration part of the game. And for teens, it's a way to explore the city that feels like a real-life video game, complete with XP and achievements.
33. Rock on at a concert or revel at a local festival
Barcelona's music and festival scene is as vibrant as its streets. Whether your family digs rock, pop, jazz, or a bit of everything, there's likely a concert or a music festival happening while you're in town.
Venues range from grand concert halls to intimate bars, and in the summer, the festivals spill out onto the streets, beaches, and parks. It's an opportunity for the teens to see some of their favorite bands or discover new ones.
And local festivals? They're a cultural immersion, often filled with traditional music, dance, and plenty of food.
It's the kind of experience that's not just heard but felt – a true taste of Barcelona's lively spirit.
34. Browse flea markets for unique finds
Flea markets in Barcelona aren't just about bargain hunting – they're about discovery. Teens might roll their eyes at the thought of "antique shopping," but once they're sifting through vintage tees, rare vinyl, or cool, old-school sneakers, they'll be hooked.
Els Encants, for instance, is a treasure trove where the energy buzzes and haggling is part of the fun. You can find everything from retro posters to funky jewelry – and each find has a story.
It's like a real-life search engine for the quirky and the unexpected. Plus, the satisfaction of snagging a great deal? Priceless.
35. Go shopping in a former bullring
Shopping in Barcelona can be a standard affair, but not when it's in a former bullring turned into a shopping mall. Las Arenas keeps its historic façade but inside, it's a modern shopper's haven with a twist.
Teens will dig the cool juxtaposition of the old and new, and there's plenty for them to explore from trendy boutiques to international brands. And if shopping isn't their thing, the top floor offers a 360-degree view of the city and even a rock museum.
It's shopping, sightseeing, and history all rolled into one – definitely not your everyday mall experience!
36. Do a day out in Sitges
If you're up for a short trip, Sitges is the perfect getaway (and you can even do a combined Tarragona-Sitges day trip if you really and to maximize your time!). This coastal town is like Barcelona's laid-back cousin, with sandy beaches, a cool breeze, and a vibe that's all about relaxation. 
It's great for a day of sunbathing, paddleboarding, or just wandering around the pretty streets with ice cream in hand. And for the culture-curious, there's a handful of museums and for the film fans, there's the renowned Sitges Film Festival if you time it right.
You'll get a refreshing change of pace where the teens can chill, you can soak in the charm, and everyone can recharge before the next Barcelona adventure.
37. Visit Barcelona Aquarium
The Barcelona Aquarium is an underwater escapade that's bound to capture the teens' imaginations. It's not just about gazing at fish – it's about stepping into a world that's usually hidden beneath the waves. 
The highlight is the 80-meter-long underwater tunnel where sharks and rays glide overhead, making for a jaw-dropping walk. Teens can also try their hand at being marine biologists for a day with interactive exhibits or even take a dive with the sharks if they're feeling brave.
It's a cool and calming escape from the city's hustle, offering a glimpse into the Mediterranean's mysterious depths.
38. Check out Poble Espanyol
Next up, Poble Espanyol offers a unique journey through Spain's regional architecture without leaving Barcelona. Built for the 1929 International Exhibition, it's like a village compiled from different Spanish regions, showcasing a variety of building styles.
For teens, it's like a real-life 'Spain in a nutshell' – complete with artisans practicing traditional crafts, boutiques, and even some pretty Instagram-worthy spots. And let's not forget the food – from tapas to paella, it's a taste tour as well.
It's educational, but in a way that's interactive and fun, with workshops and events that bring Spain's cultural diversity to life.
39. Enjoy the Gaudi Experiència
Get ready to immerse yourselves in the world of Antoni Gaudí with the Gaudi Experiència. It's a 4D journey into the creative mind of Barcelona's most famous architect.
Sit back and let the teens be wowed by the 4D technology that brings Gaudí's imaginative architecture to life, with sights, sounds, and even movement. It's a short film that offers a unique look at his inspiration drawn from nature.
Then, explore the interactive walls for a deeper dive into his work. It's not your average history lesson, but a sensory overload that will leave the teens – and you – with a newfound appreciation for Gaudí's genius.
40. Take wacky photos at the Big Fun Museum
At the Big Fun Museum, reality takes a backseat, and the bizarre takes the spotlight. It's a place where teens can let loose and parents can channel their inner child.
Each room is a different theme, filled with optical illusions, strange installations, and mind-bending puzzles. Imagine snapping a photo with the ceiling under your feet or getting lost in a maze of mirrors.
It's a laugh riot, and you'll all come out with a camera full of snapshots that are anything but ordinary. It's an experience that's as silly as it is memorable, and let's face it, it's pretty hilarious too.
41. Go stand-up paddleboarding
For those sun-soaked Barcelona days, why not hit the beach and try stand-up paddleboarding? Paddleboarding is great for teens because it's just the right mix of chill and challenge.
You can take a lesson or rent a board and hit the calm waters. It's a fun way to cool off, get a bit of exercise, and see the city from a different vantage point – floating on the Mediterranean.
And when one of you inevitably falls in, it's guaranteed to be a good laugh and a great story for later.
42. Chill at Ciutadella Park
Ciutadella Park is like Barcelona's backyard – a place where locals and visitors come to play, relax, and soak up the sun. It's vast, with plenty of shady spots to lay out a blanket and have a picnic.
Teens can kick a soccer ball around, row a boat in the lake, or just lounge on the grass with their music. It's also home to the city zoo and the Catalan Parliament, so there's a bit of culture mixed in with the leisure.
It's the perfect spot to unwind after a day of sightseeing or paddleboarding and just watch the world go by.
43. Try bungee jumping
For the thrill-seekers in the family, bungee jumping near Barcelona can be the ultimate rush. Picture standing on the edge, heart pounding, as you prepare to take the leap with nothing but open air and stunning views around you.
It's a safe but exhilarating experience with professional operators who ensure that your daredevil antics are as secure as they are thrilling. Teens will love the bragging rights they get after taking the plunge, and it's definitely a moment you'll all remember forever.
Just remember to breathe – and maybe keep your eyes open to catch the view on the way down!
44. Go skating at Barcelona's skateparks
Barcelona is known for its skate culture, and hitting up one of the city's skateparks can be a great way for teens to mingle with locals and show off their skills. The vibe is laid-back and friendly, with parks like Mar Bella offering ramps and bowls for all levels of experience.
Whether they're just starting out or they've been skating for years, teens will find a welcoming community and maybe learn a few new tricks. Plus, it's just plain cool to skate by the beach, with the sea breeze as your soundtrack.
45. Visit Barcelona Wax Museum
For a different kind of experience, step into the Barcelona Wax Museum, where history and pop culture come to life in wax form. It's a quirky walk through time with realistic figures from all walks of life. 
Sure, your kids might think it's cheesy at first, but once they start taking selfies with famous faces from cinema, sports, and even with some notorious characters from the past, they'll be into it.
The museum's setting, in a beautiful 19th-century building, adds to the charm, making it a fun escape from the modern hustle just outside its doors.
46. Check out the Barcelona Maritime Museum
So, you've probably seen the sea and even dipped your toes in it, but at the Barcelona Maritime Museum, you get to sail back in time. Housed in the royal shipyards, this museum tells the tale of Barcelona's seafaring past with stunning replicas, ancient maps, and interactive exhibits.
Teens will get a kick out of the full-sized ships and can even try their hand at some nautical knots. It's not just looking at old boats – it's about discovering the city's history with the sea that shaped it.
47. Climb the Columbus Monument
Now, for a bit of a workout with a reward, climb the Columbus Monument. It's a narrow climb, but once you're up, you're treated to a panoramic view that's hard to beat.
Teens will love the 'I'm on top of the world' selfie moment, and you'll appreciate the architectural beauty from a bird's eye view. It's also a great way to orient yourselves – pointing out all the places you've visited or plan to check out.
And hey, you're standing on a piece of history dedicated to one of the world's most famous (or perhaps infamous) explorers – how's that for a cool factor?
48. Do a flamenco class
When in Spain, why not dance as the Spaniards do? A flamenco class is a fantastic way to immerse yourselves in the local culture and have a blast.
Flamenco is passionate, it's fiery, and it's a whole lot of fun. Teens might be hesitant at first, but once they start stomping their feet and clapping their hands to the rhythm, they'll be hooked.
It's not just about learning a dance – it's about feeling the music and letting go. Plus, it's a great workout and a surefire way to work up an appetite for some tapas afterwards.
49. Try flyboarding at Port Forum
Imagine strapping on a jetpack and soaring above the water like a superhero – that's flyboarding. At Port Forum, teens can channel their inner Iron Man as they're propelled up by powerful water jets.
It's like the skateboard of the sea, offering a rush that'll make every other water sport seem tame. Instructors are there to guide you, so even if you or your teens are new to this, you'll be up and flying in no time.
It's wet, it's wild, and it's an absolute blast – a story that'll be told and retold with wide eyes and hand gestures.
50. Get lost in the Parc del Laberint d'Horta
Finally, there's the Parc del Laberint d'Horta, an escape from the city's buzz where you can wander through Barcelona's oldest garden maze. It's a lush, green labyrinth that invites you to get lost among the carefully trimmed hedges and classical statues.
This park isn't just a maze – it's a historical puzzle that's been challenging visitors for centuries. And while the teens navigate the twists and turns, you can enjoy the romantic gardens and fountains that surround it.
It's peaceful, it's playful, and it's a perfect pause in your city adventure.