35 Must-Knows For Traveling to Barcelona the First Time
This article may contain affiliate links. Please read our
Disclosure Policy
for more information.
Whether you're counting down the days until you can wander through its historic streets, or just daydreaming about the flavors you'll taste and the sights you'll see, learning all the right tips and tricks before traveling to Barcelona can really take your trip to the next level.
And that's exactly why you've stumbled upon the right spot! Stick around, and I'll fill you in on some lesser-known tidbits that can make your trip not just good, but great.
After all, I'm your insider for all things Barcelona. Having spent a heap of time getting to know this city (given that I live in Spain!), from its sun-drenched beaches to the shadowy corners of its Gothic Quarter, I've gathered a few gems that you won't find in your average guidebook.
So, if you're itching to learn how to blend in, sip the finest cava without the tourist mark-up, or where to find the heartiest paella, you're in luck. Keep reading, and before you know it, you'll be navigating the city like a local before you even step off the plane!
1. Book early to avoid missing out on popular spots
If you've got your heart set on marveling at the twists and towers of the Sagrada Familia or strolling through the mosaic wonderland of Park Guell, here's the scoop: these spots can sell out weeks in advance.
Yep, you read that right. Waiting until you're in Barcelona could mean you'll miss out on these iconic sights entirely.
So, while you're planning which tapas to try first, take a moment to book your tickets online. It's not just about skipping the line (which is a sweet bonus, by the way!), but securing your spot is crucial.
This way, you're guaranteed to step inside Gaudí's dreamscapes rather than just admiring them from the outside.
2. Choose comfortable shoes for your days out exploring
Barcelona's charm unfolds on foot, from the alleys of El Raval to the elegance of Eixample. But remember, those cobblestone streets aren't kind to flimsy flip-flops or heels.
That's why you should do yourself a favor and pack a pair of trusty shoes that hug your feet in all the right places. I'm talking arch support that could withstand a day at the Mercat de Sant Josep or an impromptu hike up to Montjuïc.
And remember, breathable materials will be your best friend when you're wandering around for hours under the Mediterranean sun. So lace-up and step out – Barcelona's endless streetscapes await.
3. When visiting in the high season, expect and prepare for more people
Visiting Barcelona when the sun's out and the schools are closed means you'll be sharing the city with, well, everyone. It's when the locals and travelers alike pour into the streets, creating an electric atmosphere that's palpable.
From the human towers at a neighborhood festival to the crowded terraces in Plaça Reial, the city feels alive. Sure, you'll be rubbing elbows with tourists at La Boqueria or waiting a bit longer to see the Picasso Museum, but it's all part of the city's summer song.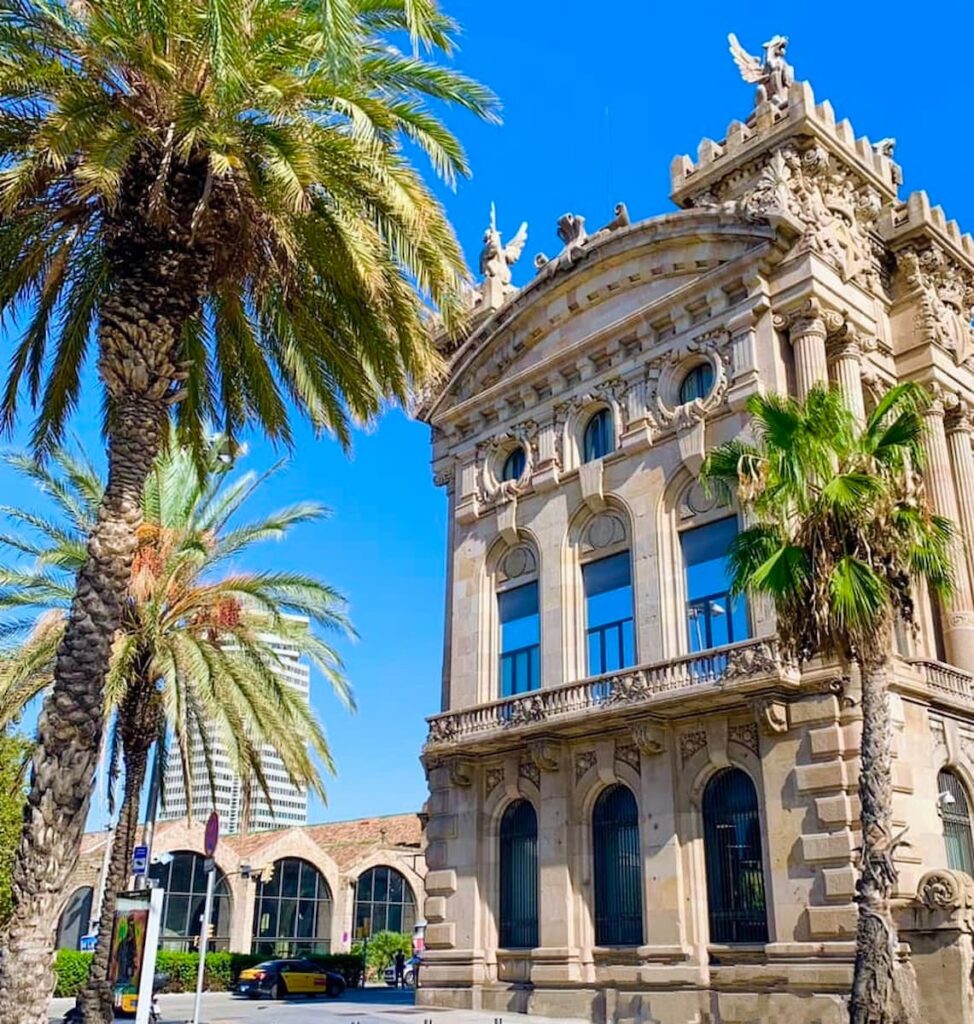 So head into the throngs with a smile and the understanding that every moment of wait is an opportunity to soak up the local vibes, strike up a conversation, or simply people-watch – although, yes, it's also a good idea to pack a healthy dose of patience in your hand luggage for the peak periods.
4. Make public transportation your go-to
Alright, let's talk about getting around. Barcelona's public transport system is your best friend here – it's reliable, it covers most of the city, and hey, it's eco-friendly too.
The metro will zip you from the Gothic Quarter to Gaudí's Park Güell before you can say "modernisme." Buses are aplenty, and they're great for those routes where you get to peep at the city life outside the window.
And for a real slice of local life, jump on the trams – they're a smooth ride and a perfect way to give those feet a break.
5. Venture to lesser-known beaches
If you're traveling to Barcelona, you might have your eye on a beach day at some point during your trip. And while Barceloneta is the most famous one, if you're looking for some tranquility by the sea, Barcelona's got hidden nooks along the coast that locals like me treasure.
That's why I'd actually suggest that you skip the well-trodden path to Barceloneta and venture out to spots like Ocata Beach, where the sands stretch wide and the vibe is laid-back. These lesser-known beaches offer a slice of serenity with plenty of space to sprawl out, and the waves are just as inviting.
Pack a picnic, grab a book, or just bask in the sun – these quieter beaches are perfect for a leisurely day where the only sounds are the sea and your own heartbeat.
6. Leave room in your budget for Gaudí's architectural wonders
If you're traveling to Barcelona on a budget, I've definitely been there, done that. But while there are certainly bargains to be found for things like food, there are some must-sees that are worth the cost.
And on that list, I'd put seeing some of Gaudí's masterpieces at the very top, especially the Sagrada Familia and Park Guell.
I get it if the prices seem a tad steep, but the feeling of craning your neck up inside the Sagrada Familia or touching the mosaics in Park Güell – that's priceless.
So, when you're planning your budget, give Gaudí's creations a generous slice. It's a splurge that will stay with you long after you've left the city's embrace.
7. It's also fine to pass by some of Gaudí's works for free
…at the same time, you don't always need a ticket to appreciate art, and Gaudí's buildings are proof of that. For this, take a leisurely walk down Passeig de Gràcia, and you'll find Casa Milá (La Pedrera) and Casa Batlló waiting to greet you with their surreal facades.
These structures are alive with stories, and as you wander past, you're tracing the outlines of Barcelona's cultural heartbeat. If you're up for it, park yourself at one of the nearby cafés and just gaze at these wonders over a cortado.
Watch the light change, see the balconies cast shadows on the pavement, and observe people's reactions as they look up – it's a simple, yet complete, Gaudí experience.
8. Download the Cabify app
Sometimes, you just need your own space, and that's where Cabify comes in. It's like the local cousin of Uber – just as handy and without the surge pricing surprises.
I use it all the time rather than taking taxis, as it means I can lock in the fare and the route ahead of time. I find it infinitely better than taxis which can often, shall we say, feel inclined to take foreigners on the "scenic" (read: more expensive" route.
Fire up the app, book a ride, and you'll be on your way to your next tapas stop in no time. Plus, it's nice to know that you've got a clean, safe ride just a few taps away, especially after a late night out when the metro has called it a night.
9. Grab a discount card for the transit savvy
If you're going to be riding the rails and buses like a local, get yourself a discount card. The Hola Barcelona card is a winner – it gives you unlimited travel on the metro, buses, and other public transport.
That means more money saved for those little indulgences, like another round of patatas bravas or that cute souvenir from El Raval.
Plus, it's super convenient – you won't have to fumble for change or buy a ticket each time you hop on and off. Get it for 48, 72, 96, or 120 hours – it's your golden ticket to the city.
10. Keep a close eye on your belongings
So, you're out and about, soaking in the vibrant streets of Barcelona – it's a sensory overload in the best way. But, here's the thing – those crowded spots are a playground for pickpockets.
Now, don't let this put a damper on your day. Just keep your wits about you. A crossbody bag, worn at the front, or a money belt tucked away is your go-to.
And those backpacks? They belong on your front when you're in a throng.
Just a glance now and then at your stuff can keep the pesky thieves at bay. Stay alert, stay smart, and you'll be just fine.
11. Enjoy paella for lunch – not dinner
Paella and Barcelona go together like bread and tomato, and here's a little secret – it's traditionally a lunchtime dish. Yep, those enormous, aromatic pans of goodness are meant to be savored when the sun's high, not when it's setting.
So when you're ticking off your foodie list, make sure you're sitting down to a paella when the locals do. Trust me, there's nothing like a 2pm paella (yep, they eat meals late here!) to fuel the rest of your day's adventures.
12. No need to pause for siesta
You might have heard that Spain is the land of siestas, but I'm sorry to break the news to you: most Spaniards don't actually take a siesta.
It's ok, you're forgiven if you think that's the case as a lot of people do, especially when they see stores closing for a few hours after lunch. But this generally isn't for a siesta – instead, it's just to give the shop owner a break so they can stay open longer into the night!
That being said, if you fancy a little break after all that sightseeing, you'll find plenty of cafes and parks where you can relax and recharge. After all, a little rest is never a bad idea, right?
13. Sign up for a walking or biking tour
Got only a few days in this vibrant city? No worries – a walking or biking tour can be your secret weapon to seeing the best of Barcelona in a short time.
These tours give you the highlights reel with some neat local insights you might not find in your guidebook. Pedal through the Gothic Quarter or walk the path of Picasso, and let those knowledgeable guides fill you in on the secrets that the city whispers to those who listen.
Plus, it's a chance to meet other travelers and swap stories – always a bonus!
14. Pack for winter – it's not always warm year-round
Winter in Barcelona isn't your typical freeze-fest. The city keeps it mild, but don't be fooled – when the sun dips down, so does the temperature.
Bring a jacket that's got some style (this is a trendy city, after all) and layer up. You'll want to be cozy when you're sipping on that hot chocolate with melty churros at a sidewalk café.
And since the sun likes to play hide and seek, a hat and gloves aren't a bad idea either – better safe than shivery!
15. Stay cool during the summer
Summer in Barcelona is like living in a sunbeam – warm, bright, and lively. But it can get hot, really hot…and that's not even mentioning the humidity.
Light, airy clothing is the way to go – think linens and cottons that let you breathe. And remember, hydration is your best pal – carry a water bottle that you can refill at the city's many drinking fountains.
Slap on some sunscreen, pop on a hat, and maybe grab one of those hand-held fans to make those balmy afternoons more bearable as you explore the city's sunlit streets.
16. The water is safe but the taste is…something
Alright, let's talk agua. The tap water here in Barcelona? Safe, but it's got a taste that's very, very acquired.
It's all thanks to the minerals in it – great for the pipes, not always great for your palate. But before you think about buying heaps of plastic water bottles, consider this – get yourself a bottle with a built-in filter.
It's a win-win! You get to sip on something that tastes like it's fresh from a mountain spring, and you're doing Mother Earth a solid by cutting down on plastic waste.
Just fill up, let the filter do its heavy lifting, and you're good to go.
17. Get into the festive spirit with Barcelona's unique Christmas traditions
Now, Barcelona doesn't do a 'silent night' over Christmas – it's more of a 'let's make some noise and have a blast' kind of vibe. Aside from the twinkling lights and the smell of roasted chestnuts in the air, there's a whole cast of characters that make a Catalan Christmas unique.
Like the Caga Tió, a cheerful log that poops out presents when kids beat it with sticks (yes, you read that right). And let's not forget about the cheeky Caganer, a figure you'll spot squatting in nativity scenes.
(Why? It's a long story, but it's all in good fun.)
The Three Kings Parade is the icing on the cake – a dazzling show where the magic of the holiday really comes alive. Floats, fireworks, and a shower of sweets – it's something that'll have you grinning from ear to ear.
18. Take time to explore the city's museums
Imagine stepping into a place where every corner holds a story, where every painting, sculpture, or oddity has a tale to tell. That's what Barcelona's museums are like.
At the Picasso Museum, you can follow the artist's journey from his early sketches to his greatest masterpieces. And the MNAC isn't just a museum – it's an epic ride through art history, with Romanesque murals that will make you feel like you've time-traveled.
Or for something a little more avant-garde, the Miró Foundation is a kaleidoscope of colors and shapes. So, take your time. Let each piece tell you its story.
Who knows? You might walk out seeing the world a little differently. And remember, these cultural havens are perfect for those days when the sun's too much or the clouds roll in.
19. Adapt to the local dining schedule
So, you might notice something funny when you wander into a restaurant at what you think is dinner time – it's as quiet as a library. That's because in Barcelona, dinner is a late affair, often starting around 9 PM and stretching well into the night.
It's not just about eating – it's about relaxing with friends, sharing stories, and enjoying life. Restaurants buzz with energy well past what many consider bedtime.
So if you find yourself hungry at 7 PM, join the locals for some tapas or a vermut as a warm-up act. Then, when it's actual dinner time, you'll be ready to join in the fun, whether that's at a beachside chiringuito or a bustling bodega in the Barri Gòtic.
20. Plan at least one day trip
Barcelona's allure is strong, but don't miss out on the adventures that await just a short journey away. Within an hour or two, you can swap cityscapes for the dramatic vistas of Montserrat, with its serrated mountains and serene monastery.
Or maybe you're a fan of the bubbly? A day trip to the cava vineyards of Penedès isn't just about wine tasting – it's about strolling through vineyards and soaking in the rural charm.
If quaint coastal towns call your name, Sitges awaits with open arms, offering sandy beaches, a dash of art history, and a slower pace. Each day trip offers a taste of Catalonia beyond the city limits, a chance to slow down and see what life is like outside the hustle and bustle.
21. Practice a few phrases in Catalan and Spanish
Barcelona's heart beats in two languages: Catalan and Spanish. While you'll get by just fine with English, especially in tourist spots, there's something special about exchanging a few words in the local tongue.
Start with a cheerful 'Bon dia' (good morning in Catalan) at the coffee shop, or a friendly 'Buenas tardes' (good afternoon in Spanish) to the bus driver. You'll notice smiles, nods of appreciation, and a warm response that you just don't get with English.
It's about showing respect for the local culture, and believe me, even if you bungle the pronunciation, your effort won't go unnoticed. Plus, it's the perfect ice-breaker for those moments when you find yourself sharing a table at a crowded tapas bar or browsing a local market.
22.Sample the local specialty, cava
Let's talk bubbles – cava, Catalonia's answer to champagne, and a must-try when you're here. This fizzy delight isn't just for toasting – it's for enjoying at any hour (within reason, of course).
You'll find cava at any local bar, but for the real deal, take a jaunt to a cava bar where they pair it with everything from salty snacks to sweet treats.
Want to go all out? Head to the Penedès region, just a short trip from Barcelona, where you can tour the vineyards and learn how this sparkling wine is made.
It's a day out that will give you a whole new appreciation for every pop of the cork.
23. Educate yourself on the complexities of the Catalan independence movement
Barcelona isn't just sun and siestas – it's a city with a story, part of which is the push and pull of the Catalan independence movement. It's complex, it's passionate, and it's woven into the fabric of everyday life here.
You'll see flags on balconies and stickers on lampposts. If you're really curious, pick up a history book or chat with a local who's willing to share their perspective.
It's a conversation that can offer insight into the fierce pride and enduring spirit of the Catalan people. Just remember to approach the topic with sensitivity – it's a real issue that affects real lives.
24. Remember, tipping isn't customary
Now, let's talk about tipping. In Barcelona, it's not the norm to leave a hefty tip after a meal – the price on the menu is what you pay, and service is usually included.
But hey, if you've received service that made your day, feel free to leave a euro or two as a thank you. It's not expected, but it's definitely appreciated.
The same goes for taxis and cafes. Consider it a way to say 'gracias' for service that's gone above and beyond.
25. Locals prefer a drink that's not sangria
On those warm Barcelona afternoons when you're looking for something to quench your thirst, let me let you in on a little local secret: forget the sangria and order a 'tinto de verano' instead.
It's what the locals sip on – red wine mixed with a bubbly lemon soda, served over ice with a slice of lemon. It's less sweet than sangria, incredibly refreshing, and just the thing to cool you down without slowing you down.
Find yourself a spot at a streetside café, watch the world go by, and you'll feel like you've got this Barcelona lifestyle down.
26. Learn about the friendly double kiss
Here's a fun fact: when you meet someone in Barcelona, don't be surprised if they lean in for a kiss on each cheek. It's a greeting as warm as the Catalan sun and it's how the locals say 'hello' or 'nice to meet you.'
It's not a real kiss, more like a cheek touch with a kissing sound, but it's a sign of friendliness and acceptance.
So, don't be shy. Embrace it – it's a lovely way to break the ice and makes introductions a little more personal. Just go with the flow and return the gesture. It's all part of the charm!
27. English in tourist areas, but not everywhere
Now, if you're sticking to the well-trodden path of tourist spots, you'll find that English gets you by just fine. From the Sagrada Familia to the buzzing La Rambla, many Barcelonians in these areas speak enough English to help you out with directions, recommendations, and any of those pesky travel questions you might have.
But once you step off the beaten track, English becomes more of a rare bird. It's a good idea to have a translation app handy or a few key Spanish phrases in your pocket.
It's part of the adventure, and hey, miming can be a pretty fun way to communicate too!
28. Look up any local festivals
Barcelona never really sleeps, and there's always some sort of fiesta going on in one of its vibrant barrios. From the fire-run parades of Correfoc to the street parties of La Mercè, these festivals are the soul of the city.
Do yourself a favor and check if there's one happening during your stay. It's your ticket to live music, traditional dances, and a chance to mingle with the locals as they celebrate age-old traditions.
There's usually plenty of food stalls around too, so you can nibble on local treats as you soak up the atmosphere.
29. Carry a photocopy of your passport
When you're out and about discovering the nooks and crannies of Barcelona, keep a photocopy of your saved to the cloud on your phone. It's a little thing, but it's important.
The last thing you want is to lose your passport when you're chilling on vacation and a copy will often suffice if you need to identify yourself.
It also means you can leave the real deal locked up safely back at your accommodation. Just one less thing to worry about, right?
30. Get ready for a night out to start late
Think you know what a late night is? Barcelona will redefine that for you.
Here, the night is a slow burner – dinner wraps up close to what some might call bedtime, and that's just the prelude. Clubs and bars don't really get going until well past midnight, and the streets buzz with energy until the sun threatens to rise.
It's a rhythm that takes some getting used to, but once you're in sync, it's a whole new world. So take a siesta, have a late dinner, and then hit the town – Barcelona by night is something else.
31. Remember most shops close on Sundays
Here's a little tip that might save you from standing in front of a closed shopfront: Sundays in Barcelona can feel like a ghost town in the shopping districts. Most shops pull down their shutters and take a day off.
So, if you've got your eye on some local goods, make sure to plan your shopping spree for another day. But don't worry – the upside is that you've got a perfect excuse to visit one of the city's many markets or take a leisurely stroll along the beach instead.
32.Spend some time in the local cafés
One of my favorite things to do in Barcelona is to just sit back in one of the countless cafés with a cortado in hand and watch the world go by. These little hubs are perfect for a mid-morning coffee or a late afternoon pick-me-up.
You'll find them filled with a mix of locals typing away on laptops, friends catching up, or even artists sketching the scene. Each café has its own vibe, so try a few and find your favorite. It's in these moments, with the aroma of freshly ground coffee in the air, that you'll feel the real pulse of the city.
33. Explore each neighborhood's unique personality
Barcelona is like a patchwork quilt – every district, or 'barrio,' has its own unique fabric. The Gothic Quarter's medieval labyrinth feels like stepping back in time – think narrow alleys and hidden squares.
Over in Gràcia, you'll find a bohemian spirit with artisan shops and an easygoing pace. Then there's El Raval, raw and edgy, with street art and an eclectic mix of food spots.
Each neighborhood has its own story, its own rhythm. Take the time to wander through a few and you'll discover the many faces of Barcelona.
It's an adventure in itself to see how the city changes from one street to the next.
34. Rent a bike
Barcelona might just surprise you with how bike-friendly it is. Renting a bike here isn't just a great way to stay active during your travels, it's also your ticket to seeing the city from a fresh perspective.
Glide along the beachfront, breeze through the parks, and pedal down historic streets, all while taking advantage of the city's extensive network of bike lanes. It's the freedom to explore at your own pace – no waiting for buses or deciphering metro maps.
Plus, you'll get to those hidden nooks that cars can't reach and buses don't go!
35. Check the schedule for the Magic Fountain show
There's something truly magical about the Font Màgica de Montjuïc, or the Magic Fountain. This grand fountain doesn't just spout water – it puts on a show with lights, music, and colors that dance through the night sky.
But, before you set out for this spectacle, do a quick check online to make sure it's on. The showtimes can change with the seasons or it can even be turned off at times to save water, so a quick check is a good way to save yourself a trek over there for nothing.
And if you do manage to get over there while the fountain is on, you're in for the perfect Barcelona evening, capped off with the fountain's waterworks playing in sync to a melody, all under the night sky.