Does it Snow in Barcelona? Get the (Winter) Facts!
This article may contain affiliate links. Please read our
Disclosure Policy
for more information.
Ah, Barcelona – sun-soaked beaches, vibrant culture, and… snow? It's not the first thing that springs to mind when we think of this Mediterranean gem, is it? But does it snow in Barcelona – really?
Maybe you're planning a winter getaway and can't decide between snow boots or flip-flops. Or perhaps, like many of us, you're just incredibly curious.
I've been lucky enough to spend a lot of time in Barcelona, and living in Spain has given me a front-row seat to its climate quirks. Want to know if this sunny city ever gets a snowy surprise?
Stick around, and I'll unravel the chilly (or not-so-chilly) facts behind Barcelona's winters!
Does It Snow In Barcelona?
Barcelona does get the occasional snowfall, but it's a rare event due to its Mediterranean climate. Typically, snowfall happens once every few years and melts quickly. If you're hoping for a snowy Barcelona scene, you'd need to be very lucky.
The weather here has its own temperament. Barcelona's winter months tend to be mild with temperatures rarely dipping below 5°C (41°F).
This means that while you might need a cozy sweater, you'll rarely need snow boots. Rain is more common during the cooler months, so it's always a good idea to pack an umbrella.
But it also means that if you're picturing snow-covered beaches, chances are slim.
Being a coastal city with the Mediterranean to its east and mountains to its west, Barcelona's climate is influenced by both. When it does snow, the hills surrounding the city might hold onto a white blanket a bit longer, offering a unique backdrop for a day or two.
But down in the city itself? It's usually business as usual, with locals and visitors alike often more amused than inconvenienced.
When Did It Last Snow In Barcelona?
The last memorable snowfall in Barcelona happened in February 2018. The so-called "Beast from the East" dropped 55 cm (22 inches) of snow in some parts of the UK, with Barcelona getting a good dusting from this storm as well, turning familiar sites into brief winter wonders.
You can see a photo above of the snow-covered beachfront, which really was a sight to behold! However, true to Barcelona's fleeting snow nature, the white cover didn't stick around for long.
Other memorable snow moments in Barcelona include:
March 2010: Now, this was a snow day to remember! Parts of the city saw up to 5 cm (2 inches) of snow – which, by Barcelona standards, is pretty significant. It lingered for a day, turning the city into a temporary playground. Roads became slippery slides, schools hit the pause button, and the beaches became prime real estate for snowman construction.
January 1985: Take a chat with any long-time local, and they're bound to bring up the legendary snowfall of '85. The city was under a snowy spell for almost two full days. Iconic spots like Plaça Catalunya transformed into snowy playgrounds, and Montjuïc suddenly became the city's favorite sledding spot.
March 1962: This is probably the most famous snow event in Barcelona, with it still being referred to as the "snow of the century". It wasn't just a dusting but a proper snow blanket. Some areas were covered in up to 30 cm (12 inches) of snow, which is practically unheard of for Barcelona! What was amazing though was that much of this snow fell as people attended their traditional Midnight Mass, allowing them to emerge to a snowy Barcelona on Christmas morning.
Is Snow Common In Barcelona?
No, snow isn't common in Barcelona. While the idea of the Sagrada Familia blanketed in white sounds dreamy, in reality, it's a rare sight. The city's coastal location and Mediterranean climate mean that winters are milder, with chilly winds and occasional rain being more the norm.
However, if you're venturing into the nearby Pyrenees or other elevated areas surrounding Barcelona, snow is more typical during the winter months. These regions offer a contrasting winter experience, with opportunities for skiing and snowboarding. It's pretty cool (pun fully intended) that you can be on a beach in the morning in Barcelona and then be in snow-covered mountains by the afternoon!
But as for Barcelona itself? Snow is like that surprise guest at a party – doesn't show up often, but when it does, it's the talk of the town.
Still, regardless of the weather, Barcelona promises a mix of culture, history, and vibrant life that remains unbeatable, snow or no snow.
And while the chances of experiencing snow in Barcelona are relatively low, it's important to be prepared for cooler temperatures and occasional rain. Make sure to pack warm clothing along with your enthusiasm as you explore this fantastic city during the winter months.
When Does It Usually Snow In Barcelona?
If snow decides to grace Barcelona with its presence, it usually happens in the colder months of January or February. December can have its chilly moments, but it's typically January and February that might, on the rare occasion, see a flurry or two. But remember, it's fleeting when it happens!
Despite its unpredictable nature, the snow tends to be a topic of interest among locals. There's always that anticipation and guessing game: "Will this year be the one?"
If you find yourself in Barcelona during these months, it's part of the fun to join in on the speculation.
Regardless of the snow odds, these months offer a quieter side of Barcelona. The streets are less packed, and you can experience iconic spots without the usual crowd. Whether it snows or not, you're in for a more intimate experience of the city.
How Many Days Does It Snow In Barcelona
On average, Barcelona sees snow maybe once every few years, and when it does happen, it's usually a light dusting that lasts just a day. So if you tally up actual snowy days, it's perhaps one or two at an absolute maximum in a given winter.
Though, it's worth noting that full-blown snow days, where the city is blanketed and everything feels magical, are far less common.
The last memorable snowfall was several years ago, turning familiar landmarks into winter wonderland scenes briefly. Those moments are so infrequent that they become part of local chatter and often dominate social media feeds. If you do catch a snowy day, consider yourself part of an exclusive club!
That being said, the idea of snow shouldn't dominate your winter travel plans for Barcelona. The mild temperatures and fewer tourists make it a chillier, yet still lovely, version of its summer self.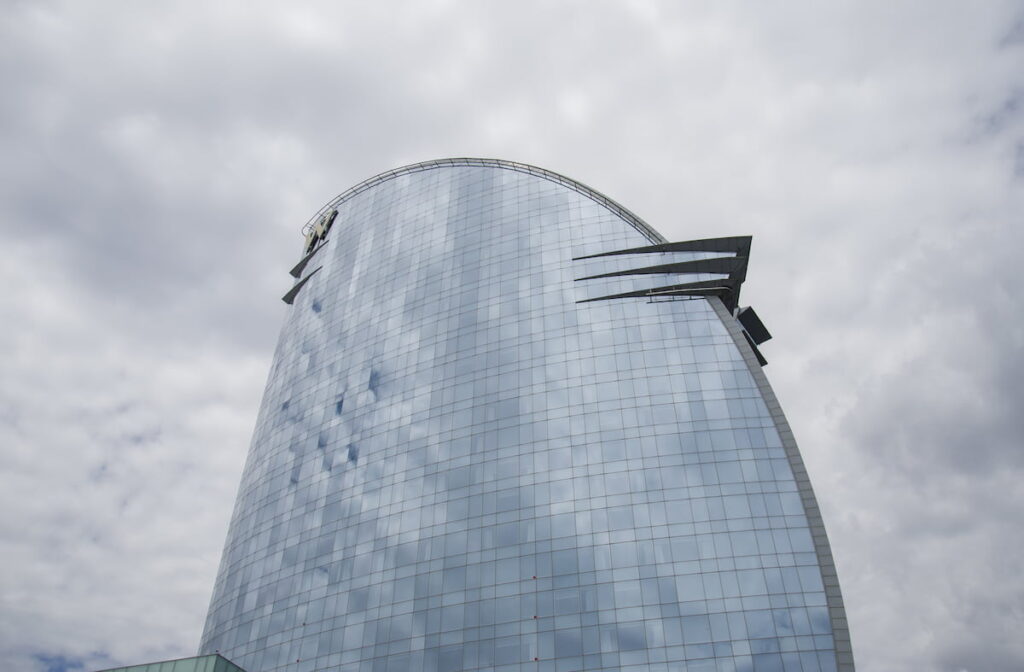 Can I Have A White Christmas In Barcelona?
If you're dreaming of a white Christmas in Barcelona, it's important to set your expectations correctly. Although it isn't impossible for snow to fall in Barcelona, the chances of it happening, especially around Christmas, are extremely slim. On the rare occasion when snow does fall, it usually melts within hours.
The festive season here has its own charm, though. Think beautifully lit streets and the traditional Christmas markets in Barcelona like the Fira de Santa Llúcia – not to mention the unique 'Caga Tió' festive log tradition (it's a fun one, look it up!).
The atmosphere is festive and vibrant, even if the chances of snow are minimal.
If it's a snowy Christmas scene you're after, you might have better luck heading north to the Pyrenees. But if you're open to a different kind of festive magic, Barcelona's mix of traditions, lights, and Mediterranean spirit might just win you over.
Snow or not, it's a holiday experience that's hard to forget.
Where To Go In Barcelona To See Snow
Dreaming of snowy Barcelona vistas? If you're in the city during a rare snowy spell, head to the higher areas like Montjuïc or the hills of Collserola. They're more likely to retain that white coat a tad longer, offering an exquisite view of the city below.
A popular option is to visit the Pyrenees mountain range, which is close to the city and offers several ski resorts. From December to February, you're likely to see snow in these mountains, making them the go-to destination for skiing near Barcelona.
One fantastic ski resort to consider is La Molina, known for its well-groomed slopes and a variety of ski trails for all levels. With its convenient location and easy access from Barcelona, it's a top choice for snow-seekers.
Make your way to this resort for a day of skiing, snowboarding, or just enjoying the beautiful snowy landscapes.
Additionally, there are several other ski resorts in the Pyrenees that you can visit during your winter trip to Barcelona. Some of these include:
Vall de Núria: A family-friendly resort with a picturesque setting and a range of winter activities.
Port del Comte: Offering varied ski trails and stunning panoramic views, it's ideal for skiers of all abilities.
Baqueira-Beret: Known as one of the best ski resorts in Spain, it boasts extensive ski slopes complemented by luxurious accommodations.
Keep in mind that the snowfall in Barcelona and its surroundings can be unpredictable, so it's essential to check the weather forecasts before making any plans. While it's not guaranteed that you'll experience the city's version of a winter wonderland or the "Beast from the East," exploring these nearby ski resorts will undoubtedly satisfy your craving for snow.
So, pack your winter gear and head out to enjoy the magic of winter in and around Barcelona!
What's It Like When It Snows In Barcelona?
When it snows in Barcelona, it's a bit like when someone turns up the volume in a silent room – everything suddenly feels different and everyone's attention shifts. The streets are beautiful when dusted in white although even the lightest snowfall often brings public transport to a halt.
The usually warm and sun-drenched streets of Barcelona take on a serene, dreamy vibe. There's an almost palpable sense of excitement in the air. Kids, and let's be honest, many adults too, venture out to play, often seeing and touching snow for the first time in their lives.
What's endearing is how the city reacts. It's not unusual to spot folks trying to make tiny snowmen on their balconies or having playful snowball fights in the plazas. Streets become canvases for footprints, and every corner seems to hold a new snowy surprise.
But, given how rare it is, the city isn't entirely geared up for snow. This means public transport might face delays and some places might temporarily close.
It's not so bad though, especially with the winter excitement in that you really can see all around you. It's like there's a camaraderie in the unexpectedness, a shared joy in the fleeting beauty of a snowy Barcelona day.
Is Barcelona Nice in Winter?
Absolutely! While Barcelona's known for its sun and beaches, winter brings its own set of charms. The cooler weather means you can explore the city without breaking a sweat, making long walks and sightseeing even more pleasant. You'll also avoid the huge tourist crowds of summer.
Because of this, the city also feels more authentic during these months, as you mingle more with locals.
Festive lights illuminate the streets during the holiday season, and traditional events and markets spring to life, offering a different cultural experience. Plus, there's something about sipping on a warm cup of 'chocolate con churros' in a cozy café that just feels right during this time.
While it may not have the typical winter wonderland vibes with heaps of snow, Barcelona in winter offers a blend of Mediterranean warmth and festive cheer. With fewer crowds, a relaxed pace, and a touch of magic in the air, it's a time of year that's definitely worth experiencing.