25 Best Paella Cooking Classes in Barcelona (2023)
So, you're gearing up for your Spanish vacation and you're looking for the best paella cooking classes in Barcelona to master the art of this quintessential dish? Look no further!
There's something incredibly satisfying about learning to cook a traditional dish in its home country. And when that dish is paella, and the location is Barcelona, you're in for a treat.
I live in Spain and have spent a ton of time in Barcelona, so I've got a thing or two to say about finding the best spots for cooking classes in Barcelona. Stick around, and I'll spill the beans on the top paella cooking classes in the city!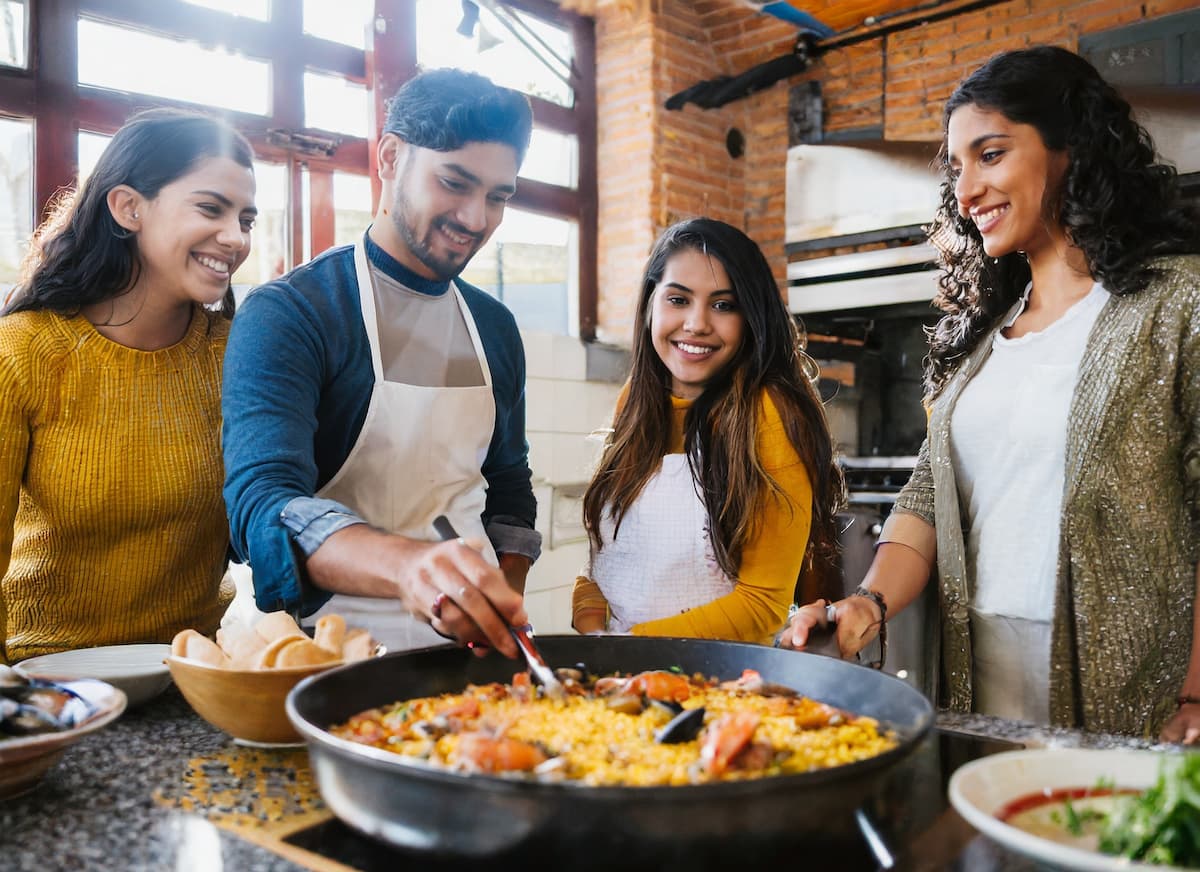 Best Barcelona cooking classes
1. Interactive Spanish Cooking Experience
Ready for an authentic paella adventure? Dive into the Interactive Spanish Cooking Experience where you'll gather fresh ingredients with a local chef at La Boqueria market.
From the market, it's off to the teaching kitchen to get those hands busy. Sip on sangria as you create tasty tapas and learn how the pros make one of the best paellas in Barcelona.
When you're done, not only will you get to enjoy your masterpieces, but you'll also walk away with recipes to impress folks back home.
(Plus, if you're in the mood for a bit more fun, there's an after-party at a nearby bar with a complimentary shot to keep the night going!)
2. Paella Cooking Experience and Boqueria Market Tour
Take a journey through Barcelona's rich culinary scene with the Paella Cooking Experience and Boqueria Market Tour.
Starting at the historic Mercat de Sant Josep de la Boqueria, a pro chef will be your guide, introducing you to the seafood essentials of Spanish and Catalan dishes. Then, you'll meander through the city's winding old town streets to the trendy district of El Born.
Here, in a private dining room, you'll be front and center working alongside the chef to whip up a tantalizing paella de marisco. As you nibble on traditional Spanish tapas and craft your own pintxos, you'll be treated to a detailed history of paella, its ingredients, and its preparation.
Oh, and let's not forget the sangría mixing session; you'll definitely want to remember that one!
3. Paella Experience with a Professional Chef and Bottomless Wine
Looking for a top-notch foodie experience? The Paella Experience with a Professional Chef and Bottomless Wine offers exactly that.
You'll be welcomed with a glass of bubbly cava and then, it's on to the main event
Paired up in groups of two, you'll cook up paella varieties under the guidance of an expert chef. With several types of paella being crafted in each session, you won't just learn one style but multiple!
Once the cooking wraps up, it's time to sit, eat, and chat. Between your homemade paella, additional entrees, desserts, and, of course, free-flowing Catalan wine, you're in for a night of gastronomic delight.
And If you have dietary restrictions, no worries – they've got you covered.
4. Paella Cooking Experience with Professional Chef: Four Course Dinner
You know paella is a Spanish staple, but have you ever tried giving it a trendy touch? At the Paella Club in El Raval, that's exactly what they're about.
With the guidance of a top-tier chef, you'll work your culinary magic on an authentic dish, adding your unique flair during your Paella Cooking Experience.
After your kitchen adventure, you get to kick back and savor your masterpiece, complemented by a glass of Spanish wine and dessert. I mean, crafting your own paella and then enjoying it with wine? That's a win-win in my books.
Plus, the space welcomes you with a glass of cava and makes sure that every participant gets their own cooking station – ensuring you're the true chef of the evening!
5. Market Visit, Tapas, Sangria and Paella Class
Ever dreamed of a food journey where you get to be part of every step? At the Market Visit, Tapas, Sangria and Paella Class, you can do exactly that!
Starting at La Boqueria market, let a professional chef guide you in picking out the freshest ingredients. Once that's sorted, head over to the GAB LAB, tie on that apron, and embark on a paella cooking venture.
But before you start, there's tapas and sangria waiting for you (because who says you can't have a mini feast before the main feast?).
And, of course, at the end of it all, you get to relish the paella you've whipped up, toast with some sangria, and share food tales with your newfound chef buddies. Plus, they'll hand you the recipes, ensuring you can recreate that Spanish vibe anytime back home!
6. Mediterranean Cooking Class
The Mediterranean Cooking Class is one of those experiences where you don't just learn about paella, but dive deep into the rich world of Spanish and Catalonian dishes.
It all starts with the choice to head to the market, which, by the way, is a brilliant add-on. Who wouldn't want a chance to tour one of Spain's most renowned food markets, La Boqueria?
Being amidst fresh produce, understanding the ingredients, and getting a whiff of what's to come is half the fun!
There's an extensive list of tapas you'll sample on this adventure. From patata bravas to octopus "feira", it's a gastronomic journey that takes you from the North to the South of Spain.
And, let's not forget the main event – the seafood paella. The cooking class, led by professional chefs, is interactive and gets you all hands-on. You won't just watch; you'll be the mastermind behind your plate.
Wrapping it up, the class goes beyond cooking. The history of tapas, the traditions, and the stories behind Spanish cuisine make it more than just a culinary session.
And after all that hard work, sitting down to enjoy your creation (paired with unlimited drinks!) is just the cherry on top.
7. Paella Class Overviewing Las Ramblas and Boqueria Market
Imagine strolling through La Boqueria market, rubbing shoulders with locals, and handpicking fresh ingredients for your dish? Well, that's exactly how your Paella Class Overviewing Las Ramblas and Boqueria Market starts.
After the market visit, you're whisked away to a space overviewing the bustling Las Ramblas, where you'll be cooking up a storm.
The class is all about hands-on experiences, where you dive deep into the world of paella, tapas, and more. Whether you're a newbie in the kitchen or a seasoned cook, they've got you covered.
After prepping and cooking, it's time to dig into your creations with fellow participants.
And guess what? They'll even throw in a PDF copy of the recipes, so you can play chef once you're back home!
8. Half-Day Spanish Cooking Class and Boqueria Market Tour
Getting into the nitty-gritty of paella is an art, and the Half-Day Spanish Cooking Class & Boqueria Market Tour ensures you experience that.
This class is all about choices – you can either go for a classic Spanish meal or venture into "tapas" style Catalan dishes. Morning tours even offer a visit to La Boqueria Market on Las Ramblas, which, if you ask me, is an unmissable part of the Barcelona experience.
There's a unique charm to walking through La Boqueria, with its vibrant stalls and stories from vendors who've been in the market game for generations. But once you've got your fresh ingredients, that's when the magic happens.
Whether you're an old hand in the kitchen or just starting out, the professional chefs guide you through every step. And trust me, cooking a 4-course meal, including that sumptuous paella, is going to make you feel like a culinary maestro.
In the end, there's no better reward than enjoying the fruits of your labor. You've got an authentic Spanish meal, paired perfectly with Riojan and Galician wines.
It's a taste of Spain, created by you, for you!
9. Paella Class with Tapas, Sangria and Market Visit
La Boqueria Market in Barcelona has long been a go-to for fresh ingredients. And your Paella Class with Tapas, Sangria and Market Visit includes a tour of the market with a personal chef who'll guide you in picking the freshest products for your paella dish.
Once you're done shopping, you're off to a comfortable kitchen space to unwind with tapas and sangria. The hands-on experience continues as you and your group prepare either a seafood or vegetarian paella.
Don't worry if you're not a culinary expert; the chef's got your back with all the tips and tricks.
After all that hard work, sit back and share your meal with fellow learners at a communal table. And yes, they'll send you home with the paella recipe so you can whip it up for your friends and family.
10. Authentic Spanish Culinary Experience
You know what they say, if you want to truly learn a culture, try its food. And what better way than to dive right into cooking it with this Authentic Spanish Culinary Experience!
This class isn't just about prepping a meal; it's about immersing in the Spanish culture. You'll be preparing a four-dish menu, including two tapas, a paella main course, and a traditional dessert.
And if you've got specific dietary preferences, they've got you covered with vegetarian, vegan, and other options.
What's cool about this class is the intimate setting with a cap of 14 travelers, which means you'll get a lot of hands-on experience. Plus, while you're cooking, you'll be munching on local snacks, sipping wine, and learning about Spain's rich history and traditions.
Don't forget to grab the recipes on your way out!
11. Market Tour and Private Cooking Class
So, you're craving a genuine, tailor-made culinary adventure in Barcelona? This Market Tour and Private Cooking Class might just be the one for you.
Kick things off with a tour around La Boquería Market on Las Ramblas. It's an explosion of colors and aromas with an array of fresh produce.
The class is adapted to your group's tastes, so once you've picked your ingredients, it's time to head to a chef's private abode for the real fun.
Under the guidance of a seasoned Catalan chef, you'll whip up local specialties – including paella – and learn about the stories behind them.
And here's the cherry on the cake – after cooking, you get to enjoy a sumptuous lunch paired with the finest local wines. How's that for a culinary day out?
12. Paella and Sangria Cooking Class with Locals
Dive straight into the heart of Spanish culinary traditions with the Paella and Sangria Cooking Class with Locals. Hosted in a cozy home kitchen, you'll be cooking up a storm side-by-side with a passionate local foodie.
While you're getting that paella just right, indulge in some homemade tapas and whip up your own sangria to keep things lively. Once you're done, reward your efforts by sinking into a meal that's been made with your own two hands, including a scrumptious Spanish dessert.
And if you're thinking of accommodating your vegetarian friend, don't worry, they've got you covered on that too.
13. Make Seafood Paella and Sangria with a Top Chef
Hungry for something a little extra special? How about joining the Make Seafood Paella and Sangria with a Top Chef class?
Helina Sanchez, the brain and heart behind this class, has wowed over 20,000 guests in the last five years, and it's easy to see why. You'll start of with a tour of La Boqueria, Barcelona's oldest market, guided by Helina herself, selecting the freshest seafood and getting introduced to local gems.
Back in their sleek cooking studio, you'll bond with fellow participants from across the globe as you embark on this flavorful journey. Get ready to learn how to make the perfect seafood paella – you can even learn how to cook a black paella, with cuttlefish ink, if you really want to take things to the next level!
And by the end of the session, you'll not only have indulged in a fantastic meal, but you'll also walk away with video recipes of all the dishes you whipped up. Now that's something to brag about at your next dinner party!
14. Market Gourmet Visit and Spanish Culinary Experience
Looking for more than just a cooking class? The Market Gourmet Visit and Spanish Culinary Experience might be just what you're after.
This immersive session begins with a guided tour to a bustling local market where you'll be handpicking fresh ingredients, absorbing the vibrant colors and fragrances, and rubbing shoulders with local traders.
But the magic doesn't stop at the market. Returning to the kitchen, a local chef takes the reins, guiding you through a four-course meal preparation. Imagine the smell of sizzling paella, the taste of freshly made tapas, and the sweet finish of a traditional local dessert.
As you work alongside fellow food enthusiasts, the experience becomes a blend of culture, culinary art, and connection.
After your hard work, kick back, and relish the fruits of your labor. Share stories, enjoy a glass of local wine, and make memories that'll last a lifetime.
And, don't forget to pocket that set of printed recipes – you're going to want to relive this experience back home.
15. Paella Cooking Class and Alella Winery Tour
If wine and paella are your things, Barcelona: Paella Cooking Class and Alella Winery Tour is a combo you won't want to miss. This adventure takes you on a trip to Alella, a wine-making hotspot, where expert sommeliers await at a family-run winery with centuries of history.
As you stroll its vineyards, the Mediterranean Sea offers a serene backdrop. And after soaking in the wine culture, it's time for the main event: a dynamic paella workshop with a pro chef.
The day ends on a high note, with you enjoying your paella creation paired with top-notch wines. Time to raise a glass to this unforgettable day!
16. Delicious Paella Cooking Class (Small Group)
Rice lovers, here's one for you: the Delicious Paella Cooking Class Small Group experience.
The location? A stone's throw away from the famous Park Guell. So, you're not just signing up for a cooking class, but also for an architectural treat.
Once you arrive, the professional kitchen becomes an integral part of the experience. With only a few fellow paella enthusiasts around, expect a personalized touch.
By the end, not only will you have mastered the art of paella but you'll have also experienced a piece of Barcelona's history.
17. Paella Cooking Class
Set in the heart of Barcelona, this Paella Cooking Class is a crash course in traditional Spanish cuisine. Learn the ins and outs of the authentic Spanish paella style, straight from the experts.
What's the deal here? You'll be close to Park Guell, another iconic Barcelona site. The professional kitchen isn't just a place to cook but an experience in itself.
With its unique historic materials, the setting feels different, making you part of the city's rich tapestry. If you're looking for a mix of culture, history, and mouth-watering food, this is it.
18. Private Cooking Class
Immerse yourself in the culinary treasures of Barcelona with the Private Cooking Class. With an array of authentic ingredients and guidance from an expert chef, you're in for a fantastic cooking session.
Whether you're a seasoned chef or new to the kitchen, the private nature of this class ensures that the menu is tailored to your interests.
Now, before diving into the main cooking session, there's a lovely warm-up for your taste buds. Experience 10 tapas from various Spanish cities, with the chef offering insights into the origins of each dish.
From garlicky prawns to mouth-watering croquettes, this is a culinary journey you won't forget.
Once you're all set, you'll learn to whip up seafood paella, a classic Spanish omelet, and Catalan cream, all while sipping on homemade sangria.
Oh, and the goodies don't end there! After cooking up a storm, you'll be invited to a private lounge to feast on your creations, accompanied by choice wines.
And as a cherry on top, you'll leave with a recipe booklet to keep the Spanish flavors alive back home.
19. Private Cava Sabrage and Paella Class
Dive into a unique gastronomic adventure with the Private Cava Sabrage and Paella Class. If you've ever fancied the dramatic art of sabering a cava bottle, here's your chance!
With expert guidance, you'll learn to pop open a bottle in the most classic and extravagant manner. But it's not all about cava here…
Post the sabering excitement, you'll get your hands dirty creating your very own seafood paella. With ingredients like fresh shellfish and aromatic herbs, you'll have a ball making this traditional dish.
And when it's all cooked, there's nothing like enjoying your culinary masterpiece, especially when paired with more cava.
The hands-on nature of this class ensures it's both fun and informative. Whether it's sabering cava or cooking up paella, the experience promises heaps of fun, laughter, and of course, delicious food and drink.
20. Private Paella Cooking Class and Market Tour
For those who fancy a blend of shopping and cooking, the Private Paella Cooking Class and Market Tour is just the ticket.
It starts with a tour of a local market where you'll learn to pick the freshest ingredients. Guided by your host, Josh, you'll discover the secrets of sourcing perfect produce.
Then, it's off to Josh's professional-grade kitchen. Here, under his watchful eye, you'll get to create the iconic paella.
But that's not all – you'll also whip up some traditional Catalan dishes, from delightful starters to a local dessert. With every dish, you'll gain a deeper appreciation for Barcelona's rich culinary culture.
At the end of your cooking session, sit back and enjoy your self-made feast. With a glass of sangria in hand and delicious tapas and paella on your plate, you'll cherish this unforgettable gastronomic journey in the heart of Barcelona.
21. Cooking Class in Barcelona with Market Visit Option
I don't know about you, but when I think of paella, I'm instantly transported to a warm evening in Spain, sharing a dish with friends. And at this cooking class, you won't just taste the dish, you'll also become a paella master.
The class is interactive and caters to cooks of all levels, which means you won't feel out of place, even if you're a newbie.
This particular class comes with a neat twist – a market visit. Participants get to meet at the iconic Boqueria Market.
Here, you can chat with the chef, taste some local products, and even buy a few ingredients for the class.
Once the shopping's done, you'll head over to the cooking workshop nearby, ready for the real fun. And, once the dishes are made, you'll get to sit with the chef and dig into your self-made dishes.
22. Winery, Paella Cooking Class and Sailing Day Trip
For those looking to mix a bit of luxury with their cooking class, the Winery, Paella Cooking Class and Sailing Day Trip might just be the ticket.
Starting off at Port Olimpic, you'll head on a road trip to the wineries of DO Alella. Trust me, sipping on wine from a 14th-century house with views of the Mediterranean is something special.
You'll get to understand the long history of Alella wines, which, by the way, were loved as far back as Roman times.
But hey, this isn't just about wine. The class will take you through every step of cooking a paella.
Guided by professional chefs, it's a full-on, hands-on experience. And once that paella is sizzling and ready, you get to enjoy your creation while sipping on some fantastic wine.
But that's not it – you end the day sailing back to Barcelona on an exclusive sailboat, feeling the Mediterranean breeze and toasting to an unforgettable day.
23. Private Paella Cooking Class
With a local like Josh (or Andres) as your guide, you're bound to get those insider secrets that'll have you cooking paella like a true Barcelonian. Plus, sipping on some included alcoholic beverages while you cook? That's the cherry on top.
What's even cooler is this all goes down in the L'Eixample district of Barcelona, a vibrant area full of character. You won't just be learning to cook; you'll be diving deep into the culture of the place, one paella grain at a time.
24. Cooking Paella and Market Tour
Ever felt like diving into the bustling world of Barcelona's food scene? Starting with a trip to the iconic La Boqueria market, this Cooking Paella and Market Tour gets you right into the thick of it.
You'll handpick fresh ingredients while getting the lowdown on what makes Barcelona's food market tick.
After the market, it's off to the cooking school. Forget just sitting in a restaurant – you're going hands-on, making both paella and tapas with some pro guidance.
Imagine whipping up dishes like garlic prawns, croquettes, and the famous seafood paella. And the best part? You get to eat what you cook, in the good company of fellow food lovers, with wine flowing freely.
The place, Just Royal BCN, isn't just any gastronomic space. Located right in the heart of Barcelona at Plaça Reial, it's got the perfect atmosphere for cooking, chatting, and chowing down.
And with a group size capped at 10, you're sure to get a personalized, intimate experience. From the local tips to the shared meal at the end, it's a full circle of Barcelona's culinary best!
25. Spanish Fusion Cooking Class
Get ready to fuse the vibrant flavors of Spain with the unique culinary traditions of Ukraine in this Spanish Fusion Cooking Class in Barcelona.
Fancy a cooking class that's a bit off the beaten path? I've got just the thing.
With this Spanish Fusion Cooking Class, you'll not only delve into the robust flavors of Spanish cooking, but you'll also get a touch of Ukrainian culinary magic. Hosted by Maria, you'll discover a fusion of traditional dishes with a twist.
From sizzling spanish peppers with alioli to the hearty comfort of grilled aubergine with cheese (and, of course, paella!), Maria's personal history with food from both countries is your ticket to a truly unique culinary journey.
And to top it off? You get to sit down, relax, and savor the dishes you've crafted, complete with some lovely wine.
Maria's place in El Poblenou has all the feels of a local hangout, making it just right for a chill cooking session. Whether you're trying your hand at a traditional Spanish seafood paella or crafting a dessert like the smooth coconut tiramisu, Maria's got your back.