One Day in Valencia, Spain: The Ultimate Guide (By a Local!)
This article may contain affiliate links. Please read our
Disclosure Policy
for more information.
If you only have one day to explore Valencia, you may feel overwhelmed by the plethora of sights and experiences this beautiful city has to offer. With so many must-sees (and must-eats!), it can definitely be a challenge to plan your itinerary and make the most of your limited time.
Fortunately, whether you're a history buff, a foodie, or a beach lover, Valencia has something for everyone – even if it's just for one day. From stunning architecture and cultural landmarks to delicious local cuisine and sandy shores, this city is a gem waiting to be discovered.
So, if you're looking for the ultimate guide to what to do in Valencia in one day, keep reading!
In this article, I'll show you exactly how to spend 24 hours in Valencia that covers the top things to do and see here in a day. Sure, I'd always argue that more than one day is better, but if that's as many days in Valencia that you have to spend, then let's maximize your time!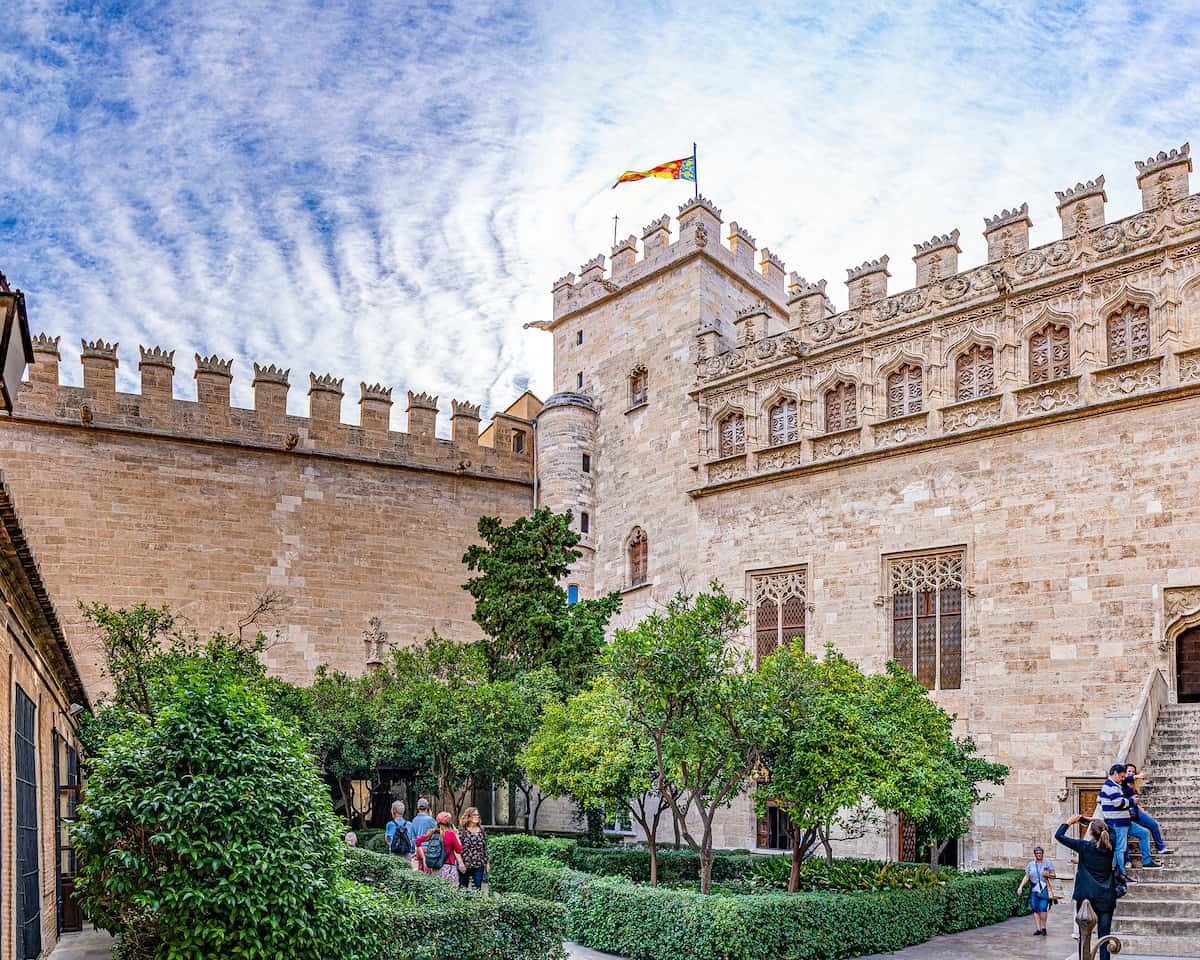 What to do in Valencia, Spain in one day
Morning
Rise and shine! Your day starts bright and early at the bustling Mercado Central (Central Market), one of Europe's largest and oldest markets, open until 2 pm. As you walk through its vibrant aisles, take in the lively atmosphere, and marvel at the beautiful modernist architecture.
Here, you'll find an array of fresh produce, meats, cheeses, and more, reflecting the rich culinary traditions of Valencia. Be sure to grab some tasty local delicacies for breakfast while you're there.
After exploring the market, make your way to the main exit, and you'll find yourself just across from the majestic Silk Exchange (La Lonja de la Seda).
This UNESCO World Heritage site is one of Valencia's most impressive Gothic buildings and a testament to the city's prosperous past as a major hub for silk trading. The intricate stone carvings and imposing columns will surely leave you in awe.
Next up is the iconic Valencia Cathedral, home to what is widely believed to be the real Holy Grail. As you wander through the charming, narrow streets leading to the cathedral, you'll get a glimpse of the city's rich history and striking architecture.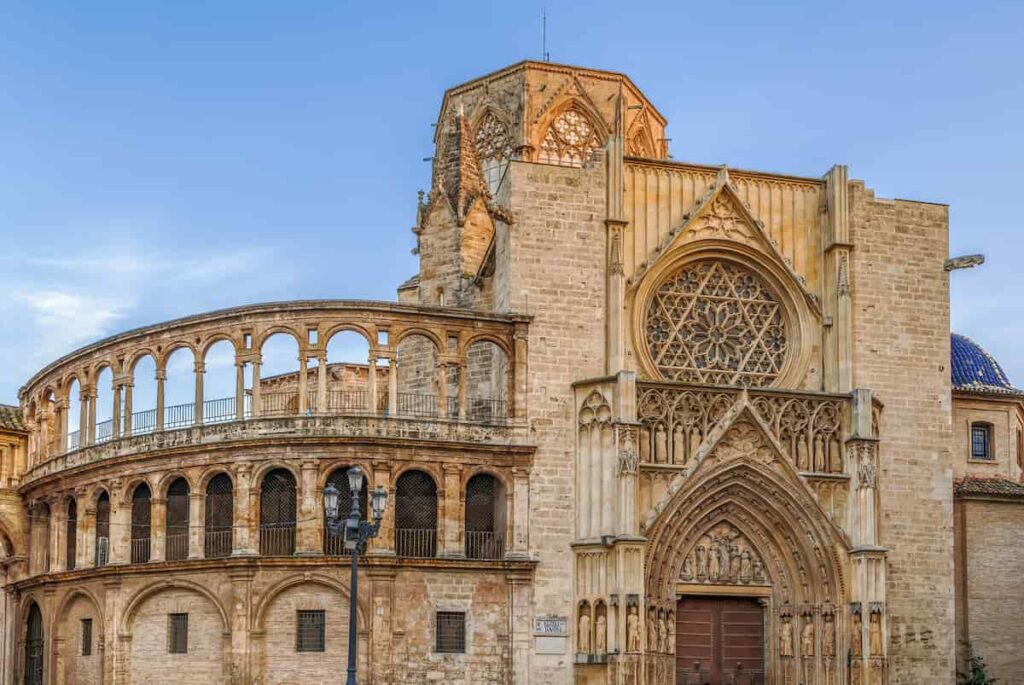 The Valencia Cathedral is an impressive blend of Romanesque, Gothic, and Baroque styles, and houses an array of stunning artworks. Take your time exploring its ornate interior, and don't miss the chance to gaze upon the legendary Holy Grail, which has been attracting pilgrims and curious visitors for centuries.
But before you reach the cathedral, make sure to stop by Horchateria Santa Catalina, a local institution renowned for its horchata and fartons. Horchata is a refreshing, milky beverage made from tiger nuts, and fartons are delicious, elongated pastries perfect for dipping into your horchata.
Trust me, this is a match made in Valencian heaven, and you'll be glad you stopped by!
Lunch
By now, you've had a fantastic morning in Valencia, and it's time to fuel up before continuing your adventure with an unforgettable afternoon.
As you may have noticed, Spaniards usually eat lunch a bit later, around 2 pm, so hopefully, your horchata and fartons have kept you satisfied. If not, don't hesitate to stop by one of the many tapas bars sprinkled throughout the city for a quick bite.
But, of course, no visit to Valencia would be complete without savoring its most famous dish: paella. Head to a local restaurant in the Old Town to indulge in an authentic, mouthwatering Valencian paella.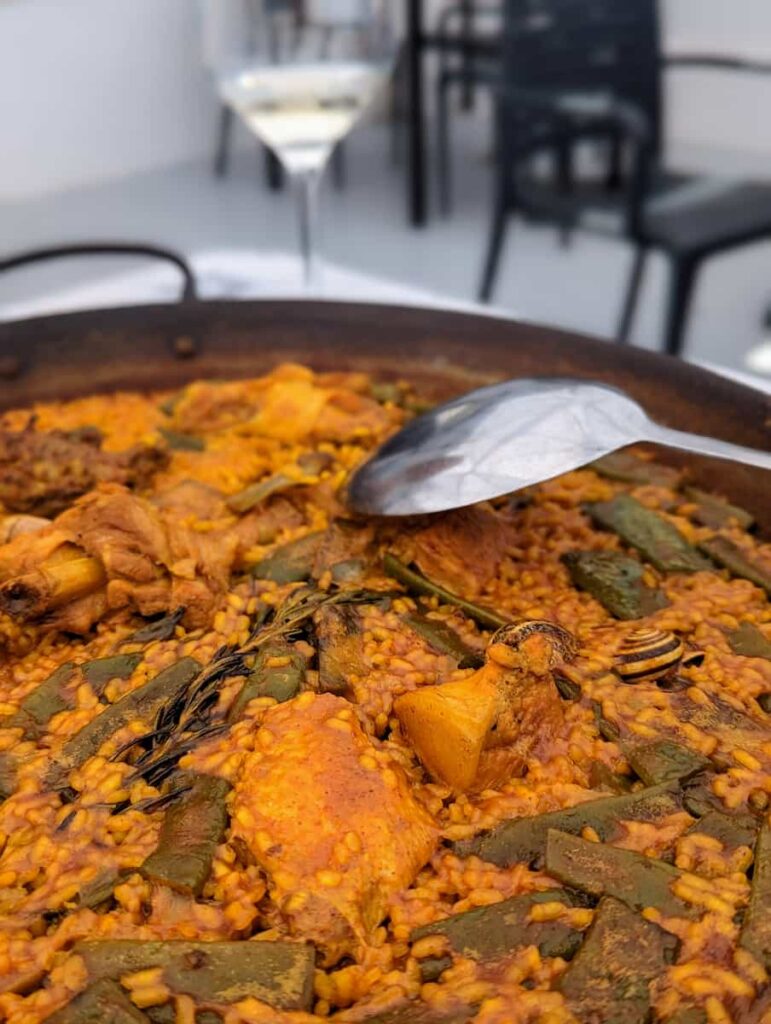 Prepared with saffron-infused rice, chicken, rabbit, and a variety of fresh vegetables (that's right, the traditional one isn't actually with seafood! Although you can also order that version if you like), this iconic dish will surely be one of the highlights of your trip.
Afternoon
Considering the leisurely pace of Spanish dining, lunch might take you at least 1.5 hours. Once you're done, it's time to explore more of the Old Town (Ciutat Vella).
As you wander through its narrow, cobblestone streets, keep an eye out for the vibrant street art that has turned the neighborhood into an open-air gallery. This unique blend of ancient architecture and contemporary art makes the Old Town a must-see.
Continue your stroll towards the Torres de Serranos, one of Valencia's most iconic landmarks. This stunning medieval gate offers a glimpse into the city's past when it was surrounded by protective walls. Climb to the top for a breathtaking panoramic view of the city.
Eventually, make your way to Plaza de la Virgen, a beautiful square steeped in history and surrounded by emblematic buildings. Take a moment to admire the picturesque fountains and bustling atmosphere before ducking into the Basilica de la Virgen de los Desamparados.
This Baroque gem, dedicated to the patron saint of Valencia, boasts an impressive frescoed dome and a striking statue of the Virgin.
And if you're thirsty by now, consider stopping off at Cafe de las Horas. It's the most well known spot in the city for agua de Valencia, an iconic cocktail that was created in the city.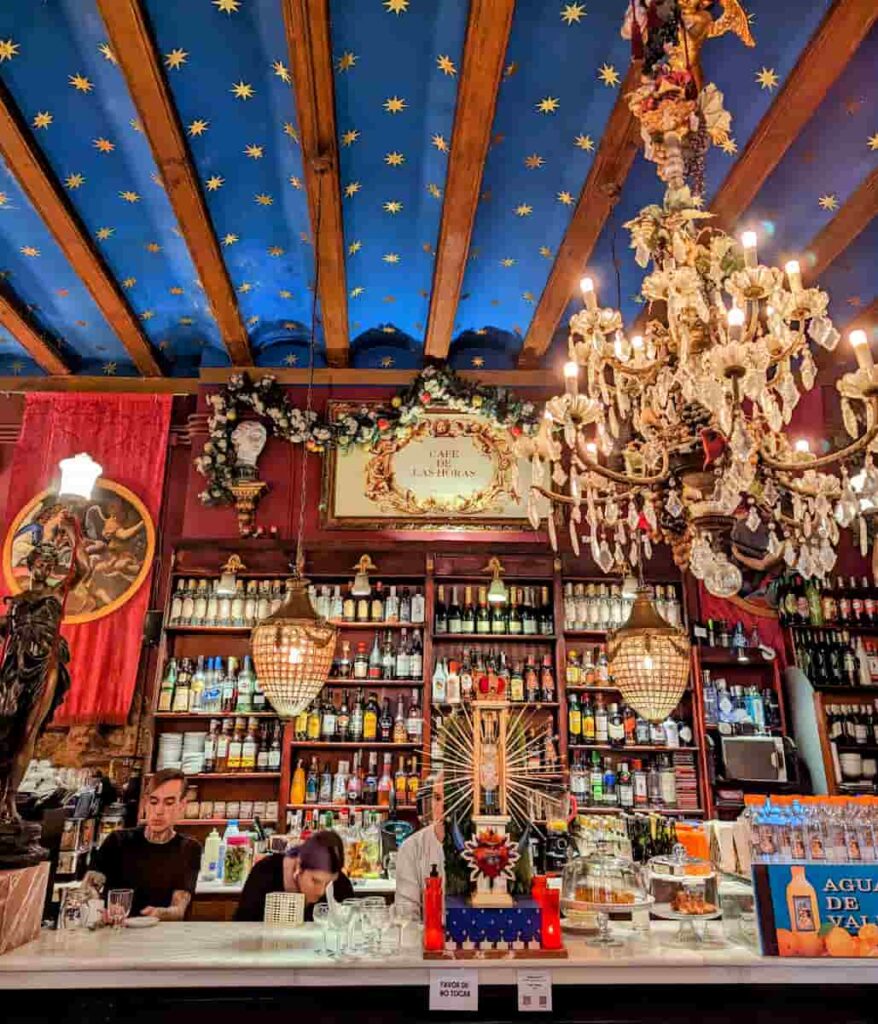 Evening
As the sun begins to set on your one-day adventure in Valencia, it's time to make your way towards the City of Arts and Sciences, an architectural marvel and a must-see for any visitor.
To fully appreciate the beauty of Valencia, we recommend taking the scenic path through Turia Park, a stunning green space that was once a riverbed. As you stroll along this lush park, you'll get a sense of the city's commitment to urban greenery and sustainability.
Upon arriving at the City of Arts and Sciences, you'll be amazed by the futuristic design of these iconic buildings, masterpieces by renowned architect Santiago Calatrava. Make sure to take some time to explore and photograph the stunning structures, as the golden glow of the sunset makes for some truly spectacular shots.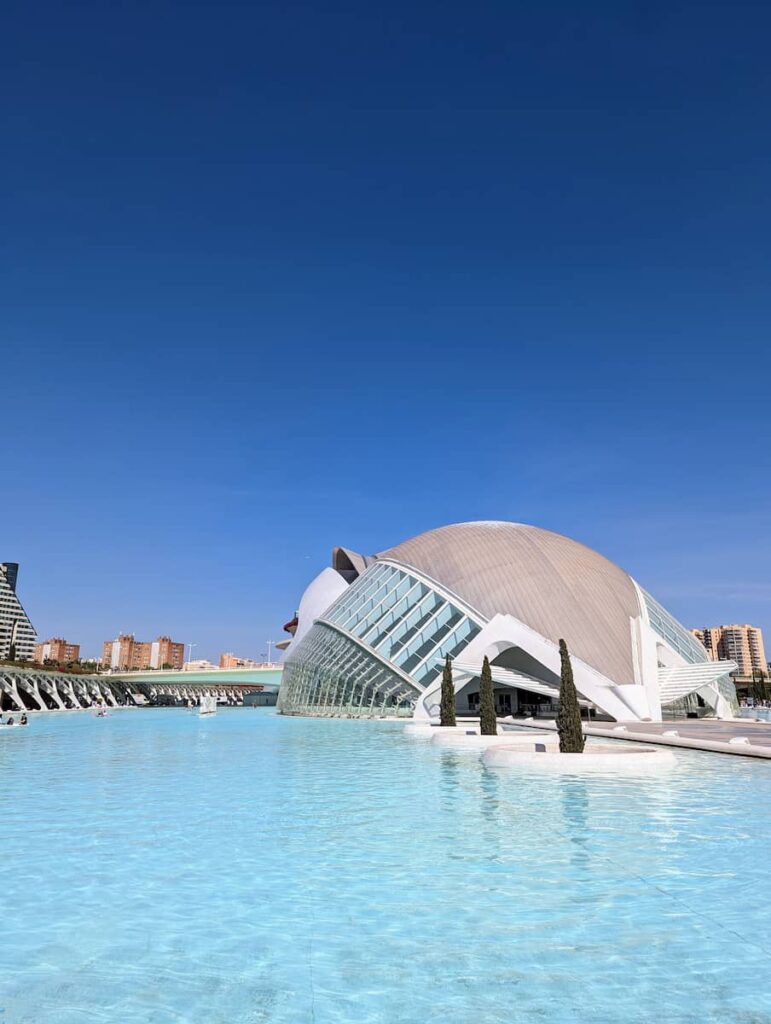 When you start to feel hungry, head over to the trendy neighborhood of Russafa for dinner. This vibrant area is packed with excellent bars and restaurants, offering a diverse range of cuisine that caters to all tastes. Russafa is a favorite among locals, and spending your evening here is a great way to immerse yourself in Valencian culture.
Of course, there's so much more to see and do in Valencia, but this one-day itinerary is designed to give you a taste of the city's highlights and, hopefully, make you fall in love with our enchanting city.
Things to see in 24 hours in Valencia
If you only have one day in Valencia, you'll want to make the most of your time by visiting the city's top attractions. Here are a few must-see sights that are sure to impress.
Valencia Cathedral
The Valencia Cathedral, also known as the Metropolitan Cathedral–Basilica of the Assumption of Our Lady of Valencia, is a stunning combination of Romanesque, Gothic, and Baroque architectural styles.
As mentioned earlier, it's believed to house the authentic Holy Grail. Don't miss the chance to explore its beautiful interior and marvel at its incredible collection of artwork.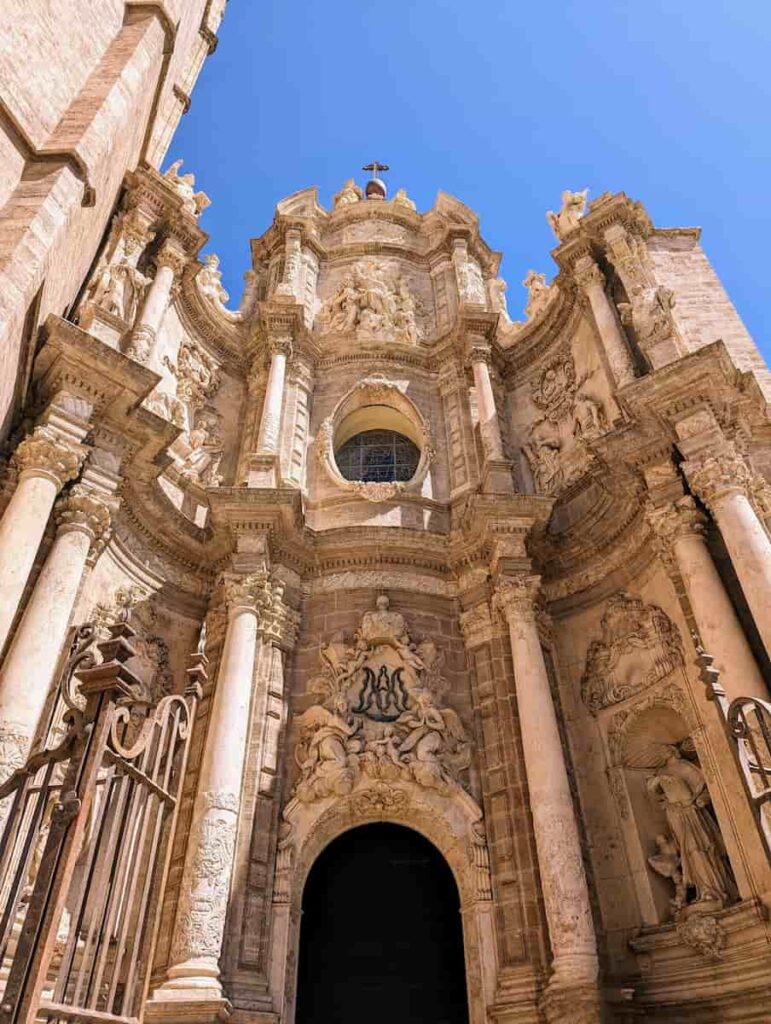 Central Market
The Central Market is one of the largest and oldest markets in Europe, boasting an impressive modernist design.
This bustling market offers an array of fresh local produce, meats, cheeses, and other delicacies, giving you a true taste of Valencia's rich culinary heritage.
Silk Exchange
The Silk Exchange, or La Lonja de la Seda, is a UNESCO World Heritage site and an excellent example of Gothic architecture in Valencia.
This historic building once served as the city's main center for silk trading, and its intricate stone carvings and towering columns are sure to leave you in awe.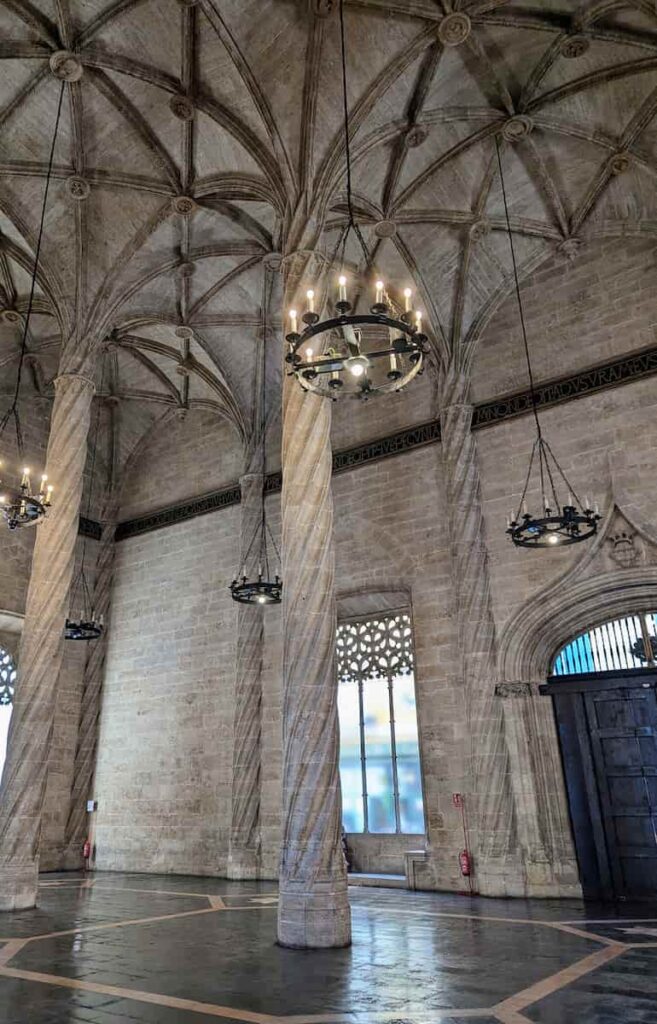 City of Arts and Sciences
Designed by architect Santiago Calatrava, the City of Arts and Sciences is an architectural marvel that has become an emblem of modern Valencia.
This futuristic complex consists of several structures dedicated to culture, arts, and science, and is a must-see for anyone visiting the city.
Torres de Serranos
The Torres de Serranos is a magnificent medieval gate that once guarded the entrance to the city. Climb to the top of this iconic landmark to enjoy panoramic views of Valencia, and step back in time as you imagine the city's ancient past.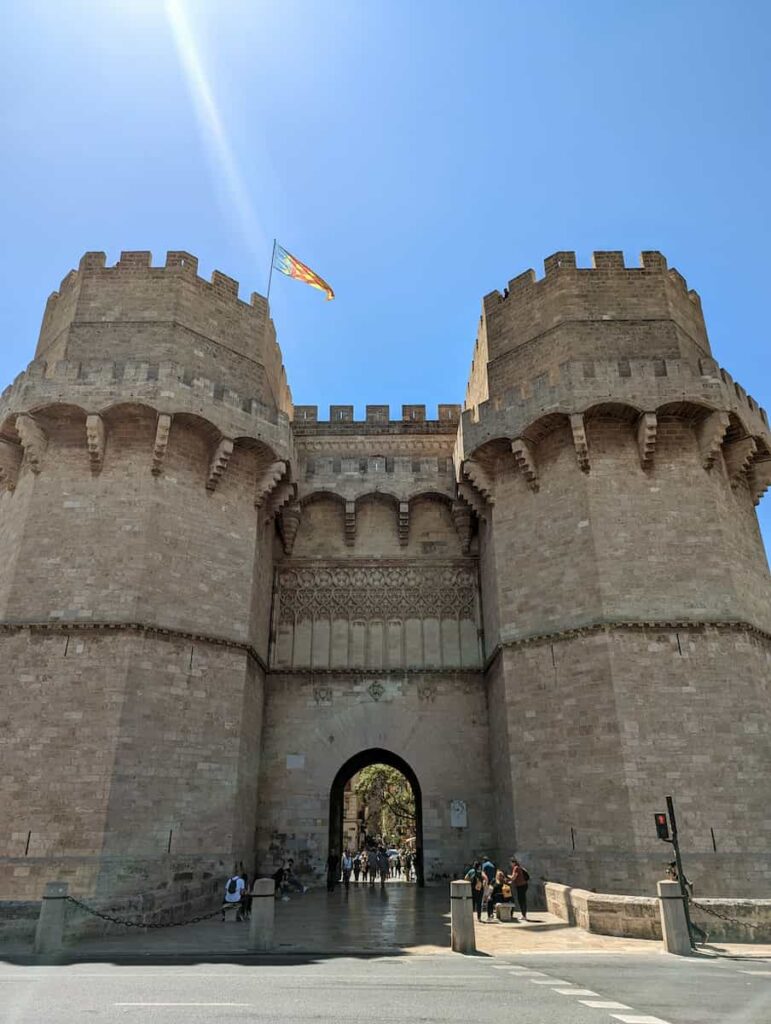 Plaza de la Virgen
Located in the heart of the city, Plaza de la Virgen is a picturesque square surrounded by historic buildings, including the Valencia Cathedral and the Basilica de la Virgen de los Desamparados.
Take a leisurely stroll around the square, admire the beautiful fountains, and soak in the bustling atmosphere.
Ciutat Vella/El Carmen
The Old Town, or Ciutat Vella, is a charming area steeped in history and home to the vibrant neighborhood of El Carmen.
Wander the narrow, cobblestone streets, and discover a unique blend of ancient architecture and contemporary street art that has transformed the area into an open-air gallery.
Turia Gardens
The Turia Gardens is a sprawling green space that was once the riverbed of the Turia River.
Stretching for 9 kilometers through the city, this park is a haven for walkers, cyclists, and nature lovers, featuring beautiful gardens, playgrounds, sports facilities, and cultural attractions. It's the perfect spot to relax and unwind during your visit to Valencia.
What to eat in Valencia in one day
Valencia is a culinary paradise, and you don't want to miss the chance to try some of the delicious local cuisine. As you clearly can't try everything in just 24 hours in Valencia, here are some must-try dishes and drinks that you can enjoy during what time you have.
Horchata and Fartons
Horchata is a refreshing, creamy drink made from tiger nuts, water, and sugar, and is a true Valencian specialty. Pair it with fartons, elongated pastries perfect for dipping into your horchata, for a delightful local treat.
While many places sell these, I'd suggest you stop by the famous Horchateria Santa Catalina to enjoy this delicious combination.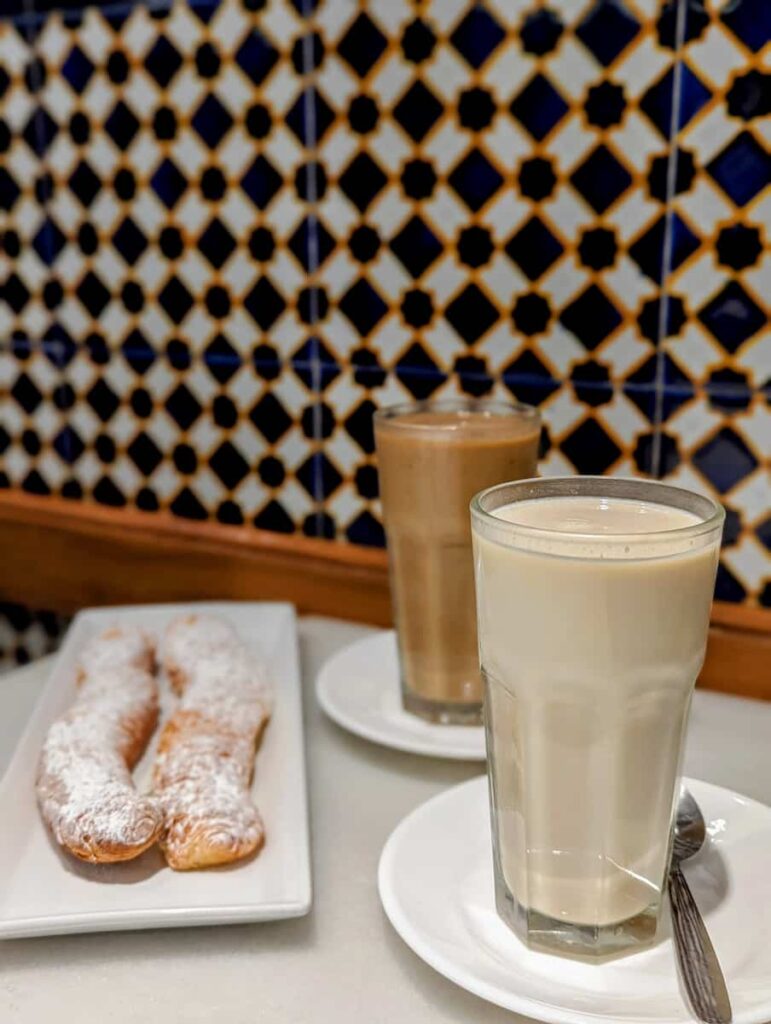 Agua de Valencia
Agua de Valencia is a popular cocktail that originated in the city. Made from a mixture of fresh orange juice, cava (Spanish sparkling wine), vodka, and gin, this refreshing drink is perfect for sipping on a warm evening.
Head to a local bar or terrace and indulge in this fruity delight – but be cautious, as it can be quite potent!
Paella (or Fideuà, for something a bit different)
Paella is Valencia's most famous dish, and trying an authentic Valencian paella is an absolute must during your visit. Made with saffron-infused rice, chicken, rabbit, and a variety of fresh vegetables, this mouthwatering dish is sure to impress.
For a slightly different take on the classic, opt for fideuà, which swaps out the rice for short pasta noodles. It's another local favorite, often prepared with seafood.
Whichever you choose, you're in for a true culinary delight!
Is One Day Enough for Valencia?
One day is enough to get a taste of Valencia's charm and explore some of its most iconic highlights, but there's no denying that spending more time in this captivating city would allow you to delve deeper into its rich history, vibrant culture, and incredible cuisine.
That said, a one-day itinerary is perfect for those with limited time or as a quick stopover during a larger trip, but if you have the opportunity to extend your stay, like if you're able to spend two days in Valencia if not more, you'll be rewarded with a more immersive and memorable experience.
Another option for those who have just one day in Valencia is to take a guided tour, which can help you see many of the city's highlights in a short amount of time. There are several companies that offer walking tours or bike tours of Valencia, which can be a great way to experience the city in a more immersive way.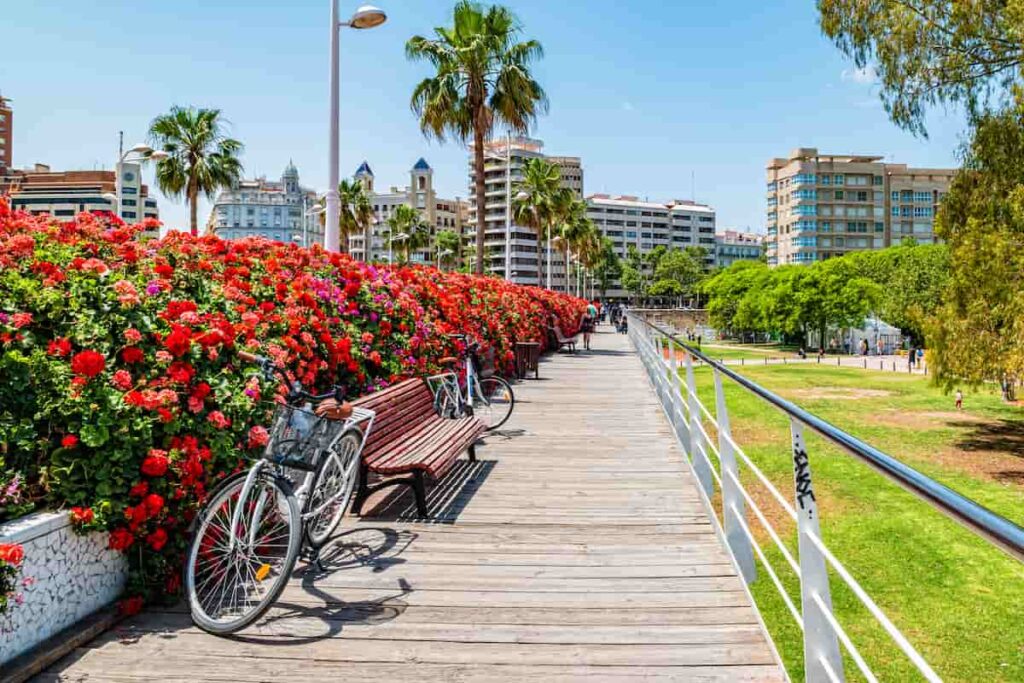 Nevertheless, if you can shuffle your itinerary around to give yourself more time here, you could explore some of the city's other gems, visit its beautiful beaches, or even take day trips to the stunning surrounding countryside and nearby towns. The longer you stay, the more you'll discover, and the more you'll fall in love with everything Valencia has to offer.
What's the Best Day to Visit Valencia?
Truthfully, any day is a great day to visit Valencia! The city has a vibrant atmosphere throughout the week, with plenty to see and do no matter when you choose to visit. That being said, there are a few factors to consider when planning your trip.
Weekdays tend to be less crowded, making it easier to explore popular attractions without the hustle and bustle of weekend crowds. However, some smaller museums and attractions may have limited opening hours on weekdays, so be sure to check beforehand.
Weekends, especially Saturdays, often see a livelier atmosphere, with locals and visitors alike enjoying the city's many bars, restaurants, and public spaces. If you're looking to experience Valencia's thriving nightlife, a weekend visit might be ideal.
Additionally, Valencia hosts several incredible festivals and events throughout the year, such as Las Fallas in March and La Tomatina in nearby Buñol in August. If you're interested in attending one of these unique celebrations, be sure to plan your visit accordingly.
Can You Do a Day Trip to Valencia from Barcelona?
Although a day trip to Valencia from Barcelona might sound appealing, it's not the most practical option due to the distance between the two cities. The journey takes approximately 3 to 3.5 hours by train, which means you'd spend 6 to 7 hours of your day just traveling.
Considering the wealth of attractions and experiences that both cities have to offer, it would be a shame to spend so much time on the road.
Instead, it's much better to plan a separate trip to Valencia or allocate a few days of your itinerary specifically for exploring this beautiful city.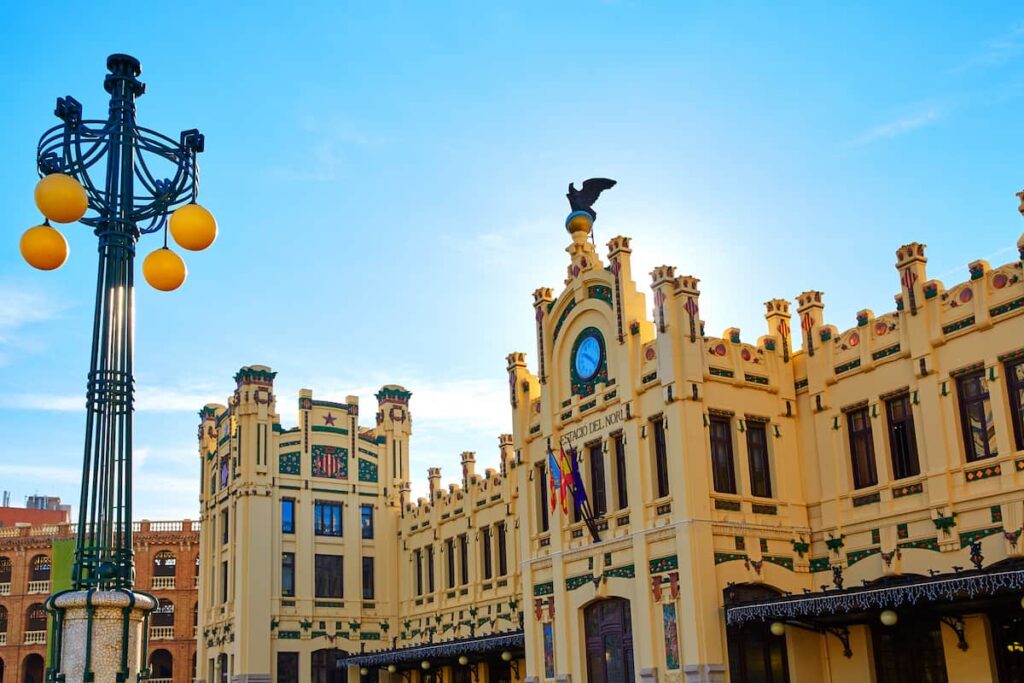 Can You Do a Day Trip to Valencia from Madrid?
A day trip to Valencia from Madrid is possible, but be prepared for a long day of travel. The best way to make the most of your time is by taking the high-speed AVE train, which takes around 1 hour and 40 minutes to travel between the two cities.
Driving would take approximately 3.5 hours one way, which would significantly limit the time you have available to explore Valencia.
While a day trip is feasible, keep in mind that you'll have limited time to experience all that Valencia has to offer. If possible, consider spending a night or two in the city to fully immerse yourself in its rich history, culture, and cuisine.
Can You Do a Day Trip to Valencia from Benidorm?
Yes, a day trip to Valencia from Benidorm is possible, but be prepared for a long day as well. The distance between Benidorm and Valencia is approximately 140 kilometers (87 miles), and the journey takes around 1.5 to 2 hours by car or bus.
Alternatively, you can take a train from Alicante, which is around 45 kilometers (28 miles) from Benidorm, and the journey to Valencia takes about 1.5 hours.
While a day trip from Benidorm to Valencia is more manageable compared to trips from Barcelona or Madrid, it's still important to plan your itinerary carefully to make the most of your time in Valencia.
Be prepared to spend a significant portion of your day traveling to and from the city, and prioritize the attractions and experiences that interest you the most.