One Day in Barcelona: Ultimate 24-Hour Itinerary (2023)
This article may contain affiliate links. Please read our
Disclosure Policy
for more information.
If you're facing the prospect of having just one day in Barcelona, then brace yourself – you're in for a busy day to see as many highlights as possible!
Whether you're on a quick layover, coming off a cruise ship, have a tight business schedule, or just a rapid European escapade, you've landed in one of the world's most dynamic cities. At the very least, the good news is that you don't need weeks to soak in its spirit!
But, let's be honest, you definitely have somewhat of a challenge ahead of you to fit its vastness into just 24 hours in Barcelona.
Fortunately, living in Spain has given me the luxury of spending loads of time in Barcelona, getting to know its nooks and crannies. Stick with me, and I'll guide you through an unforgettable day that captures the city's very essence.
By the end of this article, you'll have a day plan packed with must-sees, hidden treasures, and local tips that'll make every moment count. So get ready to embark on a whirlwind Barcelonian adventure!
FYI: With only one day in Barcelona, it's going to be much easier to see everything if you have someone else organizing it for you, including transport between each sight and skip-the-line entry.
That's why, given how tight you're going to be on time, I'd strongly suggest that you consider joining a one day tour of Barcelona as the easiest way to see the city's highlights.
This one-day Barcelona tour takes you to the Sagrada Familia, Park Güell, the Gothic Quarter and much more. Plus you'll also get to learn the history behind what you're seeing!
Alternatively, if you'd prefer not to join a group, this private tour of Barcelona covers everything you need, with a private guide to personalize your day.
Whichever you choose, while there's an extra cost involved, there's going to be a lot less hassle (and a lot more taking in the sights!) doing it this way.
One day in Barcelona itinerary
Figuring out what to do in Barcelona in one day can be tricky when you could so easily spend 2, 3, 4 or even 5 days here! But having one day is definitely better than nothing and there's certainly time for you to see some of the major highlights of the city.
One big point to keep in mind is that if you really do want to see the main spots, you're going to have to buy entry tickets beforehand. That particularly includes the Sagrada Familia, Park Güell and the Barcelona Cathedral (although I will say that the Cathedral is less likely to sell out in advance than the other two).
These tickets give you skip-the-line access (which you need to have to avoid wasting time in queues) and make sure you actually will be allowed in for the allocated time.
True story: I had a friend come to visit Barcelona with me for her first time here but she only had a set period of the day in which she could enter the Sagrada Familia. I went to buy the tickets literally a month in advance and they'd sold out, so she missed out (yes, I still feel terrible about it).
Here's a summary of your itinerary for doing Barcelona in one day:
8:30 am: Start at Plaça de Catalunya
Kick off your day in Barcelona's beating heart, where bustling streets and fountains set the scene. Feel free to grab a coffee and pastry here if you need it!
8:30 am: Passeig de Gracia, past Casa Batlló and Casa Milà
Saunter past Gaudí's modernist masterpieces, feeling like you've stepped into a whimsical wonderland.
9:15 am: Diagonal metro station
Zoom underground from Diagonal to Sagrada Familia station, navigating Barcelona's subway like a local.
9:30 am – 10:00 am: Enter the Sagrada Familia
Take some time to look at the outside of Gaudí's unfinished magnum opus before going in. Make sure to grab your skip-the-line entry for the Sagrada Familia well in advance.
By 12:00 pm: Exit Sagrada Familia; get a snack or coffee nearby if needed
Refuel with a quick nibble or caffeine boost amid the sights and sounds of this iconic neighborhood.
12:15 pm: Taxi to Park Güell
Zip up to a park where art meets nature, thanks to Gaudí's colorful touch.
12:30 pm: Park Güell
Head into Gaudí's mosaic wonderland, where serpentine benches and panoramic city views await. Don't forget to buy your fast track entry to Park Güell beforehand!
2:00 pm: Exit Park Güell; taxi to the Gothic Quarter for lunch
Lunch is the most important meal of the day for Spaniards and it's time for you to find out why! Keep reading below for some of my recommendations of where to go.
4:00 pm: Gothic Quarter – Plaça del Rei and Carrer del Bisbe
Meander through narrow medieval lanes, feeling the weight of centuries around you.
4:20 pm: Barcelona Cathedral
Step into serene grandeur, gazing up at vaulted ceilings and down at intricate tilework – not forgetting those advance entry tickets for the Cathedral!
5:30 pm: Plaça de Sant Felip Neri
Stop by this historic square that whispers tales of the past.
5:45 pm: Mercat de la Boqueria
Dive into a sensory overload of fresh produce, aromatic spices, and mouth-watering treats.
6:30 pm: La Rambla
Embrace the pulse of Barcelona on its most famous boulevard, with performers, vendors, and endless energy.
Option 1 – Flamenco show with dinner
7:00 pm: Plaça Reial
Grab a drink or two amidst historic palms and lanterns, with the plaza's buzz setting your evening's tone.
8:15 pm: Flamenco show and dinner
Immerse yourself in passionate dance and robust flavors at this flamenco show with dinner, experiencing Spain's fiery soul up close.
10:30 pm: Drinks in the Gothic Quarter
Venture into cobbled lanes and discover hidden gems where sangria and stories flow freely.
Option 2 – Tapas tour
7:00 pm: Tapas tour
Take this tapas tour through the Gothic Quarter to nibble on Spain's bite-sized delights while learning their histories from your guide.
10:00 pm: Nightcap
Head out into Barcelona's night scene, raising a glass to your epic day of exploration.
Option 3 – Do your own thing
7:00 pm: Plaça Reial
Revel in the ambience of one of Barcelona's most iconic squares, sipping on your drink (or drinks!) of choice.
8:00 /pm onwards: The choice is yours
Find a tapas bar nearby (or a restaurant if you'd like something more substantial for dinner), grab a few more drinks elsewhere…it all depends where you want the evening to take you!
Detailed itinerary of Barcelona in a day
8:30 am: Plaça de Catalunya
Kicking things off at Plaça de Catalunya is a smart move. This is the heart of the city, and everything seems to radiate out from here – including the path you're going to follow today.
Grab yourself a café con leche (that's our version of a latte) and maybe a croissant from any of the nearby cafes. The beauty of Plaça de Catalunya isn't just in its fountains or sculptures – it's in its vibe.
As someone who's spent a fair share of time in this city, I love just watching Barcelona wake up – and hopefully that café con leche will help you do the same!
8:30 am: Passeig de Gracia, past Casa Batlló and Casa Milà
Once you've soaked up the morning sun, take a leisurely walk along Passeig de Gràcia. This avenue boasts some of the best modernist architecture in the city.
In no time, you'll find yourself in front of Casa Batlló. Without going inside, you can appreciate the wild imagination of Gaudí.
With its undulating facade, dragon-like roof, and bone-like balconies, it's like something out of a dream. If architecture had personalities, this would be the charismatic friend who always has a story to tell.
Continue your walk and soon you'll reach Casa Milà, another Gaudí masterpiece. Nicknamed 'La Pedrera' (meaning 'The Quarry'), its wavy stone facade and twisting iron balconies are a testament to Gaudí's genius and innovation.
From the outside, it seems like the building is alive, moving. If Casa Batlló was that chatty friend, Casa Milà is the mysterious one, always leaving you wanting more.
Unfortunately, you won't have time to go into either one today…so I guess you'll just have to come back to Barcelona for another trip!
9:15 am: Diagonal metro station
Alright, once you're done with Casa Milà, it's time to head over to the Diagonal Metro station. It's conveniently located just past Casa Milà.
Using the metro is pretty straightforward and efficient (and cheap!), so you'll get a feel for how many locals move around the city.
Take the metro line that heads towards the Sagrada Familia. It's not a long ride, and it'll set you up perfectly for your next stop.
9:30 am-10:00 am: Enter the Sagrada Familia
Emerging from the metro, you'll be met by the Sagrada Familia. It's not just another church; it's a significant symbol of Barcelona's identity.
Started in 1882, its construction continues to this day, driven by private donations and the vision of Antoni Gaudí. While its spires reach skywards in a blend of Gothic and Art Nouveau forms, its facades are intricate, detailing episodes from religious scriptures.
Make sure you take the time to walk around its exterior; there's a lot to unpack. The Nativity Façade is laden with scenes of Christ's birth, while the Passion Façade presents a stark, dramatic depiction of his death.
Now, about getting inside: it's crucial that you pre-book your tickets. If you don't, you might miss out entirely, given that you're here for just a day and won't have the luxury of queuing or hoping for a last-minute entry.
(I'd suggest selecting your entry time for 10:00am, just to be on the safe side. Keep in mind that you have to enter within 15 minutes of your purchased entry time or they likely won't let you in.)
I also recommend booking a ticket that allows you to explore one of the towers. The city views from there are seriously spectacular, with the Nativity Tower tending to be more popular for visitors.
By 12:00 pm: Exit la Sagrada Familia; get a snack or coffee nearby if needed
Once you've had your fill of Gaudí's masterpiece, you'll probably be out by noon. I know, it feels like lunchtime, but here in Spain, we're just getting started!
It's a tad early for a full meal, but there's no shame in needing a little pick-me-up. Whether you're craving a cortado (a Spanish espresso with a splash of milk) or a small snack, there are plenty of cafes around.
If you're feeling particularly peckish, check out the Mercat de la Sagrada Família. It's close by and offers a good range of tasty options.
12:15 pm: Taxi to Park Güell
Post Sagrada Familia, your next destination is Park Güell, another one of Gaudí's masterpieces.
While the metro is an option, considering the uphill trek to the park and the clock ticking, grabbing a taxi might be your best bet. It's a bit quicker and will save you some energy for exploring the park.
(Actually, my personal preference is to use an app called Cabify. The reason I prefer it is that you actually select the route and fare before accepting the journey, which makes it great for avoiding taxi drivers who may try to take you on the "scenic route".)
12:30 pm: Park Güell
Park Güell isn't just any park – it's an architectural marvel and an embodiment of Gaudí's vision, where natural landscapes meet man-made artistry.
Again, advance booking here is essential. You can get your fast track entry tickets here – aim for a 12:30 slot when you get to that part of the booking process.
It's worth making the effort to get things lined up in advance though, as when you step into Park Güell, you'll quickly realize this isn't your typical green space. It's a vibrant tapestry of colorful mosaics, winding pathways, and architectural structures that challenge the conventional.
Originally intended as a housing site, the project was transformed into a public park when the initial idea didn't take off.
The iconic dragon statue at the entrance, adorned in a kaleidoscope of ceramic tiles, is a popular spot and provides a glimpse of the artistry that lies ahead. Elevated above the city, the park offers panoramic views of Barcelona, with the Sagrada Familia and the Mediterranean Sea in the distance.
The serpentine benches, the colonnaded pathways, and the bird nests built into the architecture all reflect Gaudí's deep appreciation for nature and his desire to harmonize it with his designs.
Visiting Park Güell isn't just about admiring its aesthetics; it's about understanding Gaudí's philosophy, where every structure, no matter how whimsical, has a purpose and a story.
2:00 pm: Exit Park Güell; taxi to the Gothic Quarter for lunch
Having wandered through Park Güell's mosaic-laden paths, you'll probably find it's close to 2:00 pm. Sounds about the perfect time for a Spanish lunch!
Hop into a taxi and head towards the town, particularly targeting the Gothic Quarter. This area is rich in history and ambiance, making it an ideal backdrop for a hearty meal.
If paella is on your mind (and it should be, you're in Barcelona!), here are a few places in or near the Gothic Quarter that consistently get it right:
7 Portes: An institution in Barcelona, it has been serving up paella for decades.
Los Pergaminos: A more intimate setting, with a variety of paella options to choose from.
La Fonda: Traditional and atmospheric, this place captures the essence of Spanish dining.
I'd strongly suggest that you book in advance to ensure you have a table waiting. Most of these places are used to international clientele, so you shouldn't have much trouble making a reservation in English.
4:00 pm: Gothic Quarter – Plaça del Rei and Carrer del Bisbe
As your satisfying lunch winds down, it's going to be around 4:00pm to 4:30pm – yes, lunch takes some time here and even though you may be a bit limited in how long you have to spend in Barcelona, I'd suggest not rushing your way through what should be an epic meal.
But now is the perfect time to absorb the ambiance of the city! The Gothic Quarter, with its narrow alleyways and centuries-old buildings, is an ideal place to meander.
As you make your way towards Barcelona Cathedral from your restaurant of choice, ensure you take a detour into Plaça del Rei. This historic square, with its medieval palaces, offers a quiet respite and a trip back in time.
Next on your stroll, don't miss Carrer del Bisbe. It's not just another street – it's a testament to the rich architectural heritage of Barcelona. 
With its intricately designed bridge arching over the street, Carrer del Bisbe often finds itself as the backdrop of many photographs, and rightfully so. As you walk, feel the weight of history under your feet and the stories whispered by the stones.
4:30 pm: Barcelona Cathedral
With the sun slanting in the late afternoon, you'll find yourself at the steps of the Barcelona Cathedral. If you think the exterior, with its soaring spires and intricate stonework, is impressive, wait till you step inside.
Before visiting, remember to book your tickets in advance. And if you can, include a trip up the bell tower in your plans.
The views from up there present a different side of the Old Town, with terracotta roofs stretching as far as the eye can see.
As an added tip, the cathedral's facade faces north-west, making this time of day an excellent time for those who want to capture its grandeur in photographs.
5:30 pm: Plaça de Sant Felip Neri
With the cathedral's grandeur fresh in your mind, it's time for another historical pitstop. Meander your way to Plaça de Sant Felip Neri.
It's a bit of a tucked-away square, with a fountain at its center and a church that bears silent witness to the scars of a civil war bombing, as you'll quickly notice with the damage to the wall that remains to this day. The place has an air of tranquillity that seems almost anachronistic, given its poignant history.
After a moment's reflection, prepare to shift gears as you head towards the lively Mercat de la Boqueria.
5:45 pm: Mercat de la Boqueria
You're about to step into one of Europe's most iconic markets: La Boqueria. Whether you purposely weave your way through the Gothic Quarter or end up delightfully disoriented, arriving at the market is a sensory adventure.
There's a riot of colors from the fresh produce, a cacophony of vendors haggling, and aromas of local delicacies that can pique any appetite. Feel free to sample the myriad offerings, from freshly squeezed juices to gourmet chocolates. 
And if you're hunting for unique souvenirs, you're in the right place. Local cheeses, cured meats, and artisanal products can make for great gifts – and they're all here!
6:30pm: La Rambla
As daylight starts to wane, find your way to La Rambla. It's a boulevard that's always abuzz, lined with shops, cafes, and a plethora of street performers.
Yes, it's tourist-centric, but it's also quintessential Barcelona and you have to see it.
A quick point though: As you amble along, enjoying the vibrancy, remember to be mindful of your belongings. While it's mostly jovial and bustling, it's unfortunately also known for its nimble-fingered pickpockets.
Option 1 – Flamenco Show With Dinner
7:00 pm: Plaça Reial
After all the walking and exploring, it's time for a pause. And the perfect spot to make a pitstop is at Plaça Reial.
This square, with its grand arches and iconic lamp posts designed by a young Gaudí, is one of Barcelona's vibrant centers of nightlife. Whether you're in the mood for a refreshing cava or a tangy sangria, the cafes and bars here have got you covered.
It's the perfect spot to relax, reminisce about the day, and watch the world go by.
8:15 pm: Flamenco Show and Dinner
Now, here's a suggestion you shouldn't miss out on. Head over to Tablao Flamenco Cordobes, located right in the heart of the bustling La Rambla district, for this flamenco show with dinner. 
Fortunately, you start to feel a bit hungry right about now – so you're in the right place, as dinner comes right after the show. Of course, if you're still a bit full after all that paella at lunch, you can opt for the tapas experience, treating your palate to gazpachos and the famed pintxos of the Basque Country.
But if you're up for a heartier meal, the dinner option boasts a selection of over 40 different culinary wonders, letting you try even more of that famous Spanish cuisine.
10:30 pm: Drinks in the Gothic Quarter
Feeling spirited after the flamenco? If you still have some fire in your steps, the Gothic Quarter is beckoning once again.
The narrow lanes, now bathed in the warm glow of street lamps, have a different magic at night. There are plenty of bars and little nooks where you can grab a drink, mingle with locals, or just soak in the night-time atmosphere as a great end to your one day in Barcelona.
Option 2 – Tapas and Wine Tour
7:00 pm: Tapas and Wine Tour of the Gothic Quarter
Barcelona's gastronomy is as rich and diverse as its culture, and there's no better way to experience it than this guided tapas tour. As 7 o'clock rolls around, make your way to the Gothic Quarter where you'll meet your local guide, who isn't just a food aficionado but also a fount of knowledge on the city's history.
Over the next few hours, you'll be led to four local favorites, each with its unique character and specialties. But this isn't just about savoring bites; it's about understanding their origins, their place in Catalan culture, and the stories they tell.
From crunchy patatas bravas to velvety albondigas (meatballs), every dish comes with a tale.
And what's tapas without the drinks to complement them? As you munch, you'll be introduced to the world of Spanish beverages.
Whether it's the sparkle of cava, the smooth notes of vermouth, or the refreshing zing of sangria, there's a drink to elevate every dish.
10:00 pm: Nightcap
After that culinary journey, you might feel like your day's complete. But if you're still up for it and the rhythm of Barcelona's nightlife is calling, then why not?
The city never really sleeps, and neither should you, at least not tonight! There are plenty of bars and lounges, especially around the Gothic Quarter, where you can get that one last drink, be it a local brew or a crafted cocktail.
Option 3 – Do Your Own Thing
7:00 pm: Plaça Reial
After all the discoveries and adventures you've embarked upon, Plaça Reial offers a serene space to catch your breath. This iconic square, with its grand arches and the subtle hum of conversations, is an ideal spot to relax as the evening starts.
Grab a seat at one of the outdoor terraces, order your preferred drink, be it a chilled cava or a freshly made sangria, and simply soak in the ambience. Those Gaudí-designed lampposts add a touch of magic to the twilight.
8:30 pm onwards: The choice is yours!
Alright, now here's where you've got some decisions to make.
If you're leaning towards a laid-back meal, meander through the narrow lanes to discover a tapas bar. Every tapas spot has its specialty, be it tender albondigas (meatballs) or crispy croquetas, which means you can jump from one bar to the next, tasting as you go.
On the other hand, if a more traditional dinner feels right tonight, the city has an array of restaurants serving up dishes from creamy risottos to robust Spanish stews. The aromas wafting out from these establishments might just make the choice for you!
And if the city's energy is contagious and you're not ready to call it a night? Wander a bit, find a bar that's got just the right vibe, and enjoy a few more drinks.
From refreshing white wines to artisanal vermouth, there's a drink for every palate. You could even make some new friends along the way to meet up with when you come back to the city! I mean, you're coming back, right?
With one day in Barcelona, where should I stay?
If you only have one day in Barcelona as a cruise ship stop, then you likely won't need accommodation.
But for everyone else, staying somewhere central is key to make sure you're able to hit the ground running at the start of your day!
Remember, much like those advance tickets I recommended that you get for the main sights, Barcelona is incredibly popular for tourists and so it's essential to book accommodation well in advance to avoid missing out here.
Here are my top picks on the best places to stay for 24 hours in Barcelona:
Best luxury accommodation: Ohla Barcelona – amazing rooftop pool, incredible views, and the perfect location to explore the city
Best mid-range accommodation: Seventy Barcelona – the décor of this boutique hotel is so modern and stylish, the rooftop pool is ideal, plus you'll be near the main sights the moment you step outside
Best budget accommodation: Àmfores Boutique Guest House – the rooms are comfortable, the location is superb and the terrace is a great spot to end your day
Can I see everything in Barcelona in a day?
Honestly? No, you can't see everything in Barcelona in just one day. The city is rich in history, art, culture, and culinary delights that would take more than a single day to fully appreciate. But what you can do is capture its essence and touch upon its highlights.
Importantly, you can do just enough here to leave with unforgettable memories and a desire to return!
Barcelona is a tapestry of different neighborhoods, each with its distinct flavor. From the Gothic Quarter's intricate alleyways to the modernist marvels of L'Eixample, there's so much to explore.
Even locals, after years of living in the city, stumble upon hidden corners or new experiences that they hadn't encountered before.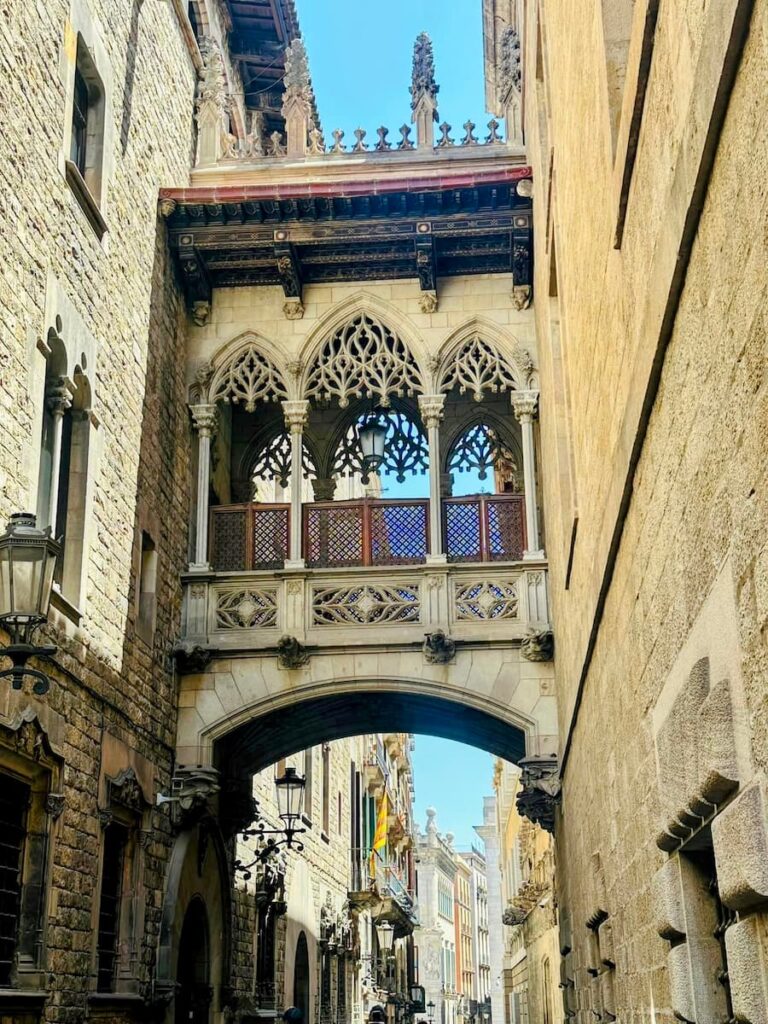 If you're on a tight schedule, it's crucial to prioritize. Decide what's most important to you.
Are you a fan of Gaudí's architectural masterpieces? Or perhaps you're more inclined towards the city's beaches and waterfront? Maybe the allure of the old town's history is what draws you in.
Whatever it is, focus on those areas and try not to spread yourself too thin.
That said, even if you only have a day, the city's energy, the warmth of its people, and the flavors of its food will leave an indelible mark on you.
And who knows? Maybe this brief encounter with Barcelona will be the start of a longer love affair with the city in the future!
Tips for spending 24 hours in Barcelona
Booking Ahead is Key: I know I keep repeating myself here, but it's because it's true – for major attractions like the Sagrada Familia or Park Güell, you have to book your tickets in advance to avoid waiting in long lines…or, worse, to avoid missing out on going in entirely.
Prioritize Your Must-Sees: While it's tempting to see everything, pick a few top attractions that are non-negotiables for you. This way, you won't spread yourself too thin.
Wear Comfortable Shoes: Barcelona is best explored on foot. Make sure you're wearing comfy shoes, as you'll likely be walking a lot.
Stay Hydrated: Especially during the summer months, Barcelona can be quite warm. Always carry a water bottle with you (I use this Brita filtered water bottle – the filter is super handy to fix the fact that, honestly speaking, Barcelona's tap water tastes awful. It's safe to drink though!)
Mind Your Belongings: Like any major city, pickpockets can be a concern. Always keep an eye on your belongings, particularly in crowded areas.
Don't Rush Meals: In Spain, lunch and dinner start later than you're probably used to. For example, it's not uncommon for locals to eat dinner as late as 9 pm or 10 pm. Embrace the local timetable!
Leave Room for Spontaneity: While it's great to have a plan, some of the best moments come from unplanned detours. If something catches your eye, explore it! … just maybe not too much, as you do only have 24 hours here, after all.
Is one day in Barcelona enough?
One day in Barcelona is undeniably short, but it can be enough to give you a tantalizing taste of the city's essence. With careful planning and prioritizing, you can cover some major highlights. However, a longer stay is definitely ideal to experience more of the city.
After all, you need time to truly immerse yourself in Barcelona's rich tapestry of culture, art, and history! In particular, Barcelona boasts a plethora of iconic landmarks, vibrant neighborhoods, and culinary delights.
In 24 hours, you'll likely focus on the big hitters: Gaudí's architectural wonders, bustling La Rambla, and perhaps a quick dip into the Gothic Quarter. But this approach might mean missing out on the serene parks, hidden courtyards, and countless intimate tapas bars that truly define the city's soul.
There's also the pace to consider. Barcelona has a leisurely rhythm, especially in the afternoon hours. While one day pushes you to rush, staying longer allows you to sync with the city's pace, enjoying a late-night dinner or a slow stroll along the beachfront.
In short, a single day will give you a snapshot, a beautiful, whirlwind introduction to Barcelona. But to truly feel the city's heartbeat, absorb its art, and savor its flavors, you might find yourself yearning for more days to explore.
So if you can, plan a return trip. Barcelona always has more secrets to share with those who take the time to listen.
Is it worth going to Barcelona for one day?
Yes, it's definitely worth going to Barcelona for one day! Even with just a day here, you can get a good feel for the city's vibrant culture, art, and flavors. While a single day might not allow you to explore every corner, it'll surely leave you with unforgettable moments and memories.
Barcelona, with its rich history and artistic soul, is the kind of city that leaves an indelible mark, no matter how brief the visit. Gaudí's architectural masterpieces, the echoing streets of the Gothic Quarter, and the tempting smells of local Catalan dishes from street-side eateries offer a sensory experience hard to find elsewhere.
This is why you should think of one day in Barcelona as a teaser, a taster menu of all the wonders the city has to offer.
That being said, if you only have one day, it's crucial to manage your time wisely. Aim for a balance between the iconic landmarks and some off-the-beaten-path treasures.
The city is expansive, so consider what's most appealing to you: is it the historic sites, the art, the food, or perhaps the beaches?
In conclusion, while one day in Barcelona isn't enough to dive deep into everything the city offers, it's certainly enough to make you fall in love with it. With careful planning and an adventurous spirit, you can make the most of your 24 hours and leave with a heart full of beautiful Barcelonian memories.
And who knows? You might just find yourself planning a longer trip back sooner than you think!