Barcelona's Flooded Rainforest: Ultimate CosmoCaixa Guide
This article may contain affiliate links. Please read our
Disclosure Policy
for more information.
You know that sensation when you're scrolling through your feed, daydreaming of rainforests, and suddenly Barcelona pops up? Odd combo, right?
But trust me, it's not a glitch in your search. There really is an Amazonian secret hidden in the heart of the city – Barcelona's flooded rainforest at the CosmoCaixa Science Museum.
Living in Spain has given me the chance to explore many of its nooks and crannies, which includes having had the chance to spend a ton of time in Barcelona. That's why, in this article, I'll give you an insider's look into this unique attraction and some handy info to make your visit as smooth as possible.
FYI: If you plan to visit the CosmoCaixa museum as well as other major sights like the Sagrada Familia and Park Güell while you're in town, then you should check out the All-Inclusive Go City Barcelona Pass. It comes with free entry to 45 major attractions around the city, including CosmoCaixa and many famous Gaudí sights.
Alternatively, if you plan to go see a few museums in addition to CosmoCaixa, take a look at the Barcelona Card, which gives you free entry to more than 25 museums and other attractions (although none of the Gaudí spots).
What is Barcelona's flooded rainforest?
Barcelona's flooded rainforest is found in the CosmoCaixa science museum. The museum has cultivated an ecosystem that mirrors the rich biodiversity of the Amazon. It's a thoughtful space, filled with tropical plants, various bird species, and a range of other creatures typical of the rainforest environment.
This initiative by the museum is more than just an exhibit; it's an educational experience. It offers visitors insight into the delicate nature of such ecosystems and underscores the significance of conservation efforts.
While it's certainly an enjoyable escape from the city's bustle, it also serves as a reminder of our responsibility towards our planet's diverse habitats. Basically, it's a pretty unique experience that blends leisure with learning.
Where is the flooded rainforest in Barcelona?
The flooded rainforest in Barcelona is located inside CosmoCaixa, Barcelona's renowned science museum in the Gràcia district. It's one of several zones that this museum offers to both share knowledge with visitors and encourage you to learn more about any areas of interest you may discover here.
Now, if you've been to Barcelona before, you know Gràcia isn't just any other neighborhood. It's filled with artisan shops, local cafes, and the kind of laid-back atmosphere that screams Barcelona.
That's why, when you're done exploring the rainforest at CosmoCaixa, take your time to wander around Gràcia. Its bohemian vibes, combined with a mix of modernist architecture and narrow streets, will make you feel miles away from the busy center of the city, even though you're pretty close.
And hey, while the museum is a definite highlight, remember Gràcia itself is packed with things to see and do – including the famous Park Güell!
Is CosmoCaixa worth a visit?
Yes, the CosmoCaixa science museum is definitely worth a visit. In fact, it isn't just another museum; it's an adventure into science and nature. From kids to adults, everyone will find something intriguing here.
It's not just about the flooded rainforest, even though that's a major draw. The museum spans a range of topics, from the cosmos to geology, making it a great spot if you're looking to feed your brain some juicy knowledge tidbits.
And hey, even if science isn't your thing, the interactive exhibits can be a fun way to spend an afternoon.
However, keep in mind that like many popular spots, it can get a bit crowded, especially during weekends.
My advice? Maybe aim for a weekday visit or hit the early hours to get a jump on the crowd.
What to see at CosmoCaixa
1. Universe Room
Step into the Universe Room for an enthralling journey that spans the vast reaches of time and space, right from the Big Bang to our current age. You're in for a treat as you embark on an interactive tour, delving deep not only into the evolution of the cosmos but also the mysteries of the human brain.
Notably, this is a new permanent exhibition at CosmoCaixa, so there's always fresh content to explore.
2. Micrarium
Open your eyes to the unseen with the Micrarium! Dive into the microscopic world where you'll be handed the tools to make the invisible visible.
Engage with experimentation tools and magnify the minuscule wonders usually hidden from the human eye. It's yet another fresh addition to CosmoCaixa's permanent offerings, ensuring you'll always see something new.
3. Flooded Rainforest
Venture into the heart of the Amazon without leaving Barcelona! The Flooded Forest encapsulates the beauty and fragility of the Amazon rainforest in a sprawling 1000 sq meter glasshouse.
From the predatory crocodiles and piranhas to harmonious tropical birds and ants, immerse yourself in a vibrant biodiversity that captures the essence of the Amazon.
4. Antarctic Base
Journey to the frosty ends of the Earth with the Antarctic Base. Revel in the pristine landscapes and unique creatures through meticulously curated photographs, handpicked from the National Geographic archives.
You'll also be privy to historical expeditions and insights about the Juan Carlos I Spanish Antarctic Base shared by Dr. Catellvi.
5. The Geological Wall/
Be awestruck by the wonders of our planet's geology displayed on a colossal wall, featuring seven genuine rock sections. Each section depicts a tale of volcanism, erosion, sedimentation, and the myriad processes that sculpted our Earth over eons.
6. Lab Math
For those with a passion for numbers or just the curious-minded, Lab Math offers a unique perspective into the realm of mathematics. Navigate through games, puzzles, mazes, and other challenges that stimulate both your logical and creative faculties, and see the world through a mathematical lens.
7. Sustainable Building
CosmoCaixa goes beyond just showcasing wonders; it embodies them. Experience sustainability in action with the museum's green building project.
This initiative champions environmental mindfulness, illustrating CosmoCaixa's dedication to fostering a culture of sustainability.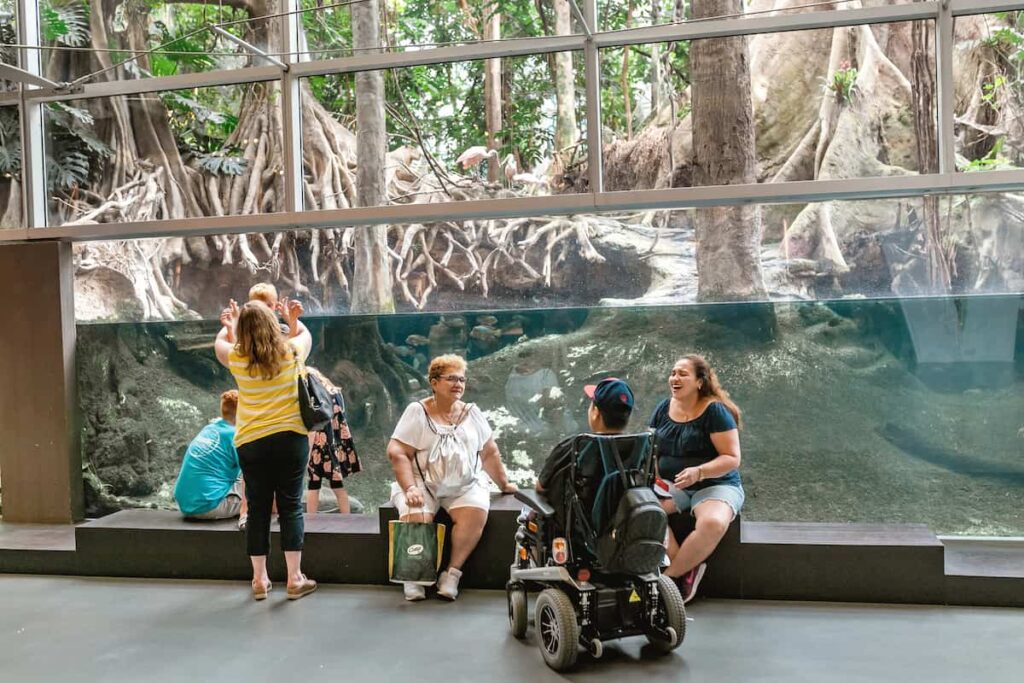 8. Explainers
Add depth to your museum experience with the Explainers. These passionate young individuals, trained thoroughly in the scientific and museum content, are there to guide you through select areas like the entrance, the vertical garden, Archimedes Garden, and the photovoltaic sunflowers, especially on weekends.
What animals are in the flooded rainforest in Barcelona?
At the heart of CosmoCaixa, the flooded rainforest is a buzzing hub of life. Inside, you'll find species such as anacondas, piranhas, and caimans, not to mention a variety of colorful birds and curious insects. In essence, it's the authenticity of this man-made ecosystem which sets it apart.
It's a multi-tiered experience that includes the tree canopy, the understory, and even an aquatic layer, ensuring that visitors can see critters from every angle.
And it's not just a walk-through; it's an immersive dive into the Amazon basin. Well, minus the intense humidity and giant spiders!
But here's something to consider: if you're not fond of confined, dimly lit spaces, some areas of the rainforest exhibit might feel a tad uncomfortable.
However, that shouldn't discourage you! The experience is carefully curated to be safe for visitors of all ages while providing an authentic rainforest ambiance.
And if the dimly lit patches aren't your jam, there's a ton more in CosmoCaixa to explore and learn from.
Plus, outside those museum doors, the vibrant Gràcia awaits, full of its own wonders and stories to tell.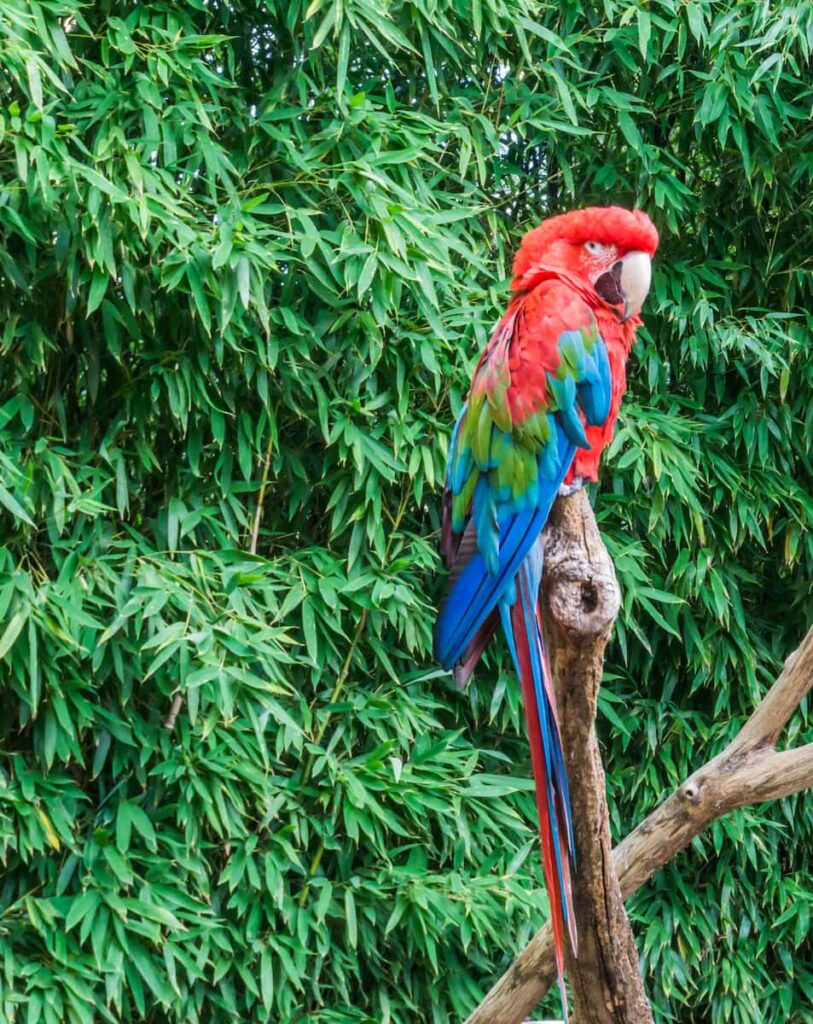 Ticket information for Barcelona's flooded rainforest
The CosmoCaixa museum is open from 10 am to 8 pm, Tuesday through Sunday, with entry fees set at EUR 6 euros per person. Children under 16 enter for free and there's also free entry on the first Monday each month.
This means that the museum is closed on the other Mondays throughout the month, as well as on the 1st of January, 6th of January, and 25th of December.
Given its popularity, it's wise to book your tickets online to ensure a seamless experience.
(Or grab either the Go City Barcelona Pass or the Barcelona Card that I mentioned at the start!)
In addition, noting that the museum covers quite an area, I'd strongly suggest wearing comfortable shoes when you visit. That way, you'll be well equipped to explore all of the exhibits.