20 Best Day Trips by Train From Barcelona (2023)
This article may contain affiliate links. Please read our
Disclosure Policy
for more information.
Barcelona's charm is undeniable, but sometimes you just need a change of pace. The good news is that there are plenty of fascinating day trips by train from Barcelona that you can take for a bit of an adventure.
Imagine stepping away from the bustling streets of Barcelona and finding yourself in a completely different world – just a train ride away. It's hassle-free, comfortable, and good value…so basically everything you want for a quick break.
Living in Spain and spending a lot of time in Barcelona has given me a deep appreciation for the rich variety of experiences that are just a short journey away. That's why, in this article, I'll take you through some of the best day trips by train from Barcelona, each offering a unique glimpse into the diverse beauty of Spain.
As you'll see, from coastal towns to historic cities, each destination holds its own allure.
Montserrat
If you're based in Barcelona and looking for an escape into nature, Montserrat is your go-to destination. Just about an hour by train from Barcelona, this mountain range with its unique, serrated profile offers a complete change of scenery.
The train ride itself is a joy – winding through the Catalan countryside with picturesque views. Once there, you can visit the Montserrat Monastery, a serene spot that's not only historically significant but also offers panoramic views of the surrounding landscape.
Plus, the hiking trails here are fantastic – you can choose from leisurely walks to more challenging hikes. And don't forget to catch the famed boys' choir performance at the basilica if your timing aligns!
As an added bonus, you can also combine a day trip to Montserrat with a visit to one of the local boutique wineries in the region, which is definitely a nice change of pace!
Girona
Girona, about an hour and a half away by train, feels like stepping into a different era. Its well-preserved medieval architecture, with narrow winding streets and historic buildings, makes for a perfect backdrop for a leisurely day of exploration.
The colorful houses lining the Onyar River are picture-perfect, and the city's Jewish Quarter is rich in history and culture. Girona also boasts some impressive culinary offerings – from cozy cafes to high-end restaurants.
And if you're a fan of "Game of Thrones," you might recognize some parts of the city from the show! Not to mention that the train journey itself is comfortable and scenic, making the travel part of the experience.
Tarragona
Just a bit over an hour south of Barcelona by train lies Tarragona, a coastal city with a wealth of Roman history.
The Roman amphitheater, overlooking the Mediterranean, is a must-visit. It's not every day that you get to see such well-preserved ancient ruins with a sea view!
Tarragona's old town, with its narrow streets and historic charm, is great for wandering. The city also has a vibrant food scene, with plenty of spots to enjoy fresh seafood.
Don't miss out on the local vermouth – it's a regional specialty. The train ride to Tarragona is straightforward and comfortable, offering glimpses of the beautiful Catalan coastline along the way.
Penedès Wine Region
For those who appreciate a good glass of wine and the tranquil vibes of the countryside, a day trip to the Penedès wine region is a must. Roughly an hour by train from Barcelona, this area is renowned for its wine, particularly Cava, the Spanish answer to champagne.
The journey is a pleasant one, with scenic views that set the tone for a relaxing day. Once there, you can visit various vineyards and bodegas.
Many offer tours where you can learn about the wine-making process and, of course, sample some of their finest products. The rolling hills and vine-covered landscapes also make for great photo opportunities.
Plus, the small towns in the region, like Vilafranca del Penedès, have charming streets and local eateries where you can indulge in some regional cuisine.
Figueres
Now, if you're a fan of surrealism or just curious about one of Spain's most famous artists, a trip to Figueres is in order. Home to the Salvador Dalí Theatre-Museum, this town offers a deep dive into the world of Dalí.
The museum itself, about two hours by train from Barcelona, is a work of art, displaying the largest collection of Dalí's works in a building he helped design. Figueres, though small, has a welcoming atmosphere and plenty of spots to grab a bite or a coffee.
The train ride there is part of the adventure, taking you through changing landscapes and providing a glimpse into rural Catalonia.
Sitges
Any talk on the best day trips by train from Barcelona can't forget about Sitges, a coastal town known for its beaches, festivals, and vibrant atmosphere. Just a 40-minute train ride from Barcelona, it's the perfect spot for those looking to enjoy the sea and sun.
Sitges has a beautiful promenade lined with palm trees, and its beaches are some of the best in the region. The town is also known for its lively nightlife and diverse culinary scene.
For a dose of culture, you can visit the Cau Ferrat Museum or the Maricel Museum, both showcasing art and historical artifacts. Sitges is lively yet laid-back, making it an ideal place to unwind and soak up the Mediterranean lifestyle.
Andorra
While technically not a train ride away from Barcelona, a combo of train and bus to Andorra is a journey worth taking. Andorra, tucked away cozily between France and Spain in the Pyrenees, is known for its ski resorts and duty-free shopping.
The trip starts with a scenic train ride to L'Hospitalet-près-l'Andorre, taking around three hours, followed by a short bus ride into Andorra. The shift in landscape as you approach the mountains is something to behold.
Once there, you can hit the slopes if it's winter, or enjoy hiking and breathtaking mountain views in the warmer months. Andorra La Vella, the capital, is great for shopping and dining, with a range of restaurants offering both local and international cuisine.
Sure, it's a long day. But getting to say you've been to a country that most people haven't been to – let alone heard of – is something else!
Perpignan
For a taste of French culture without straying too far from Barcelona, Perpignan is an excellent choice. The train journey takes about an hour and a half, bringing you to this charming city in the South of France.
Perpignan mixes Catalan and French influences, evident in its architecture and food. The Palace of the Kings of Majorca is a notable historic site, offering insights into the region's past and great views of the city.
The city's vibrant streets, lined with shops and cafes, are perfect for a leisurely stroll. And let's not forget the food – the fusion of French and Catalan cuisines here is a real treat for foodies.
Lleida
Lleida, around an hour's train ride from Barcelona, is often overlooked, but it's a hidden gem for those interested in history and culture. The city's standout feature is La Seu Vella, a beautiful old cathedral that offers stunning views over the city and surrounding countryside.
The old town of Lleida, with its narrow streets and historic buildings, is full of charm. The city also has a vibrant arts scene, with various galleries and museums.
For nature lovers, the nearby Aigüestortes i Estany de Sant Maurici National Park, with its lakes and mountains, is a fantastic place for hiking and enjoying the great outdoors.
Vic
Vic, a lesser-known yet charming town, is just an hour's train ride away from Barcelona. It's a place where you can experience authentic Catalan culture without the usual tourist crowds.
One of Vic's highlights is its market, held in the main square – a lively event where you can find everything from local cheeses to artisan crafts. The town is also famous for its medieval architecture, including the stunning Vic Cathedral.
If you're into art and history, the Episcopal Museum of Vic is a real treasure, housing an impressive collection of medieval art. The town's relaxed atmosphere makes it perfect for a leisurely day of exploring, and you'll find plenty of cozy cafes and restaurants to enjoy local cuisine.
Cadaqués
Cadaqués, a bit further away, requires a train to Figueres followed by a bus, but the journey is well worth it. This seaside town on the Costa Brava is known for its white-washed houses and crystal-clear waters.
It was once a favorite of artists like Salvador Dalí, and you can visit his house-turned-museum in nearby Portlligat. The town itself is a joy to explore, with its narrow streets, art galleries, and seafront promenade.
Cadaqués is also a gateway to the Cap de Creus Natural Park, where you can enjoy hiking and stunning sea views. The trip might take a bit longer, but the combination of art, history, and natural beauty makes it a fantastic day out.
Castelldefels
For a day of sun and sand, head to Castelldefels, just a 30-minute train ride from Barcelona. This beach town is perfect for those looking to relax by the sea or indulge in some water sports.
The beach at Castelldefels is long and wide, offering plenty of space for sunbathing, swimming, and beach games. The town itself has a laid-back vibe, with a range of eateries and bars along the beachfront.
If you're feeling adventurous, the nearby Garraf Natural Park offers great hiking and biking trails. Castelldefels combines the ease of a short train ride with the joy of a beach day, making it an ideal choice for a stress-free getaway.
Zaragoza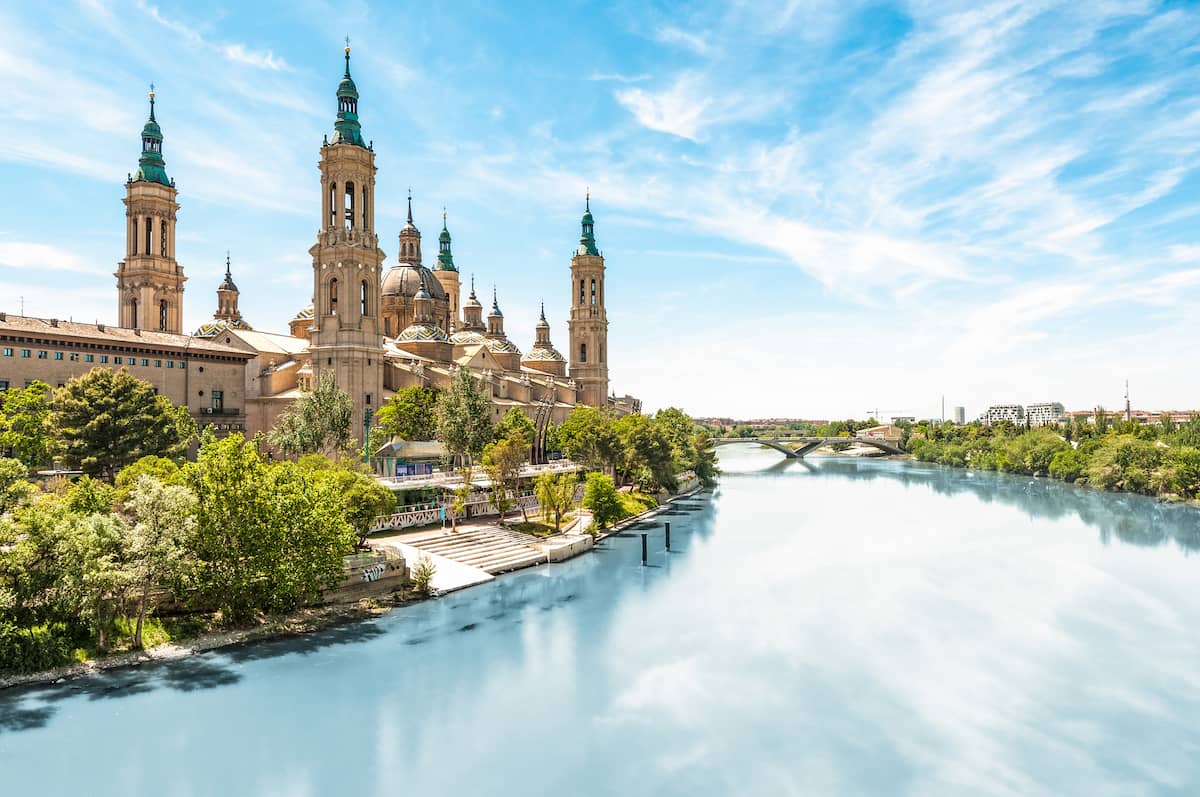 Zaragoza, about an hour and a half from Barcelona by the high-speed train, is a blend of cultural heritage and modern vitality. This city is known for its stunning landmarks like the Basilica of Our Lady of the Pillar, a masterpiece with impressive frescoes and a story that dates back centuries.
Don't miss the Aljafería Palace, a stunning example of Islamic architecture in Spain. Zaragoza is also a haven for foodies, offering a mix of traditional Spanish cuisine and innovative dishes.
The city's central market is a bustling spot where you can sample local products. What's more, Zaragoza's compact size makes it perfect for exploring on foot after your train ride.
PortAventura
For thrill-seekers and families, PortAventura, just over an hour away by train, is a fantastic day trip destination. This sprawling amusement park is one of the largest in Europe, boasting a range of rides and attractions for all ages.
From adrenaline-pumping roller coasters to more relaxed, themed areas like the Polynesia and Mediterranean zones, there's something for everyone. The park also hosts shows and parades, adding to the festive atmosphere.
A bonus is the adjacent water park, PortAventura Caribe Aquatic Park, perfect for cooling off in the summer. The train drops you right near the park, making for an easy and fun-filled day out.
Lloret de Mar
If you're in the mood for a beach day with a side of nightlife, Lloret de Mar is the place to go. It's about an hour and a half by train and bus, but the journey is straightforward.
Lloret de Mar is known for its beautiful beaches, like the main Lloret Beach and the more secluded Fenals Beach. Besides sunbathing and water sports, you can explore the Santa Clotilde Gardens, which offer stunning views over the sea.
The town is also famous for its vibrant nightlife, with a plethora of bars and clubs. During the day, wander the streets of the old town to discover its historic charm.
Blanes
Heading to Blanes is like taking a mini-vacation to a coastal paradise. Just about an hour and a half by train from Barcelona, Blanes is often referred to as the "Gateway to the Costa Brava."
The town is famous for its botanical gardens, Marimurtra, which are perched on cliffs offering spectacular views of the sea. The beaches here, like S'Abanell and Santa Cristina, are perfect for a day of lounging and swimming.
Blanes also has a charming old town with narrow streets and local shops. Don't miss the chance to try some fresh seafood in one of the beachfront restaurants.
The journey by train is easy and scenic, making Blanes an excellent choice for a relaxing day trip.
Manresa
Manresa, about an hour by train from Barcelona, is steeped in history and culture. It's known for the stunning Basilica of Santa Maria de la Seu, a gem of Gothic architecture.
The town played a significant role in the life of St. Ignatius of Loyola, and you can visit the cave where he reportedly meditated. Manresa's old town is a pleasure to explore, with its medieval streets and squares.
If you're there on a Saturday, the weekly market is a lively event where you can pick up local produce and crafts. The train ride to Manresa, through the heart of Catalonia, is itself a pleasant part of the journey.
Mataró
Mataró, just a 40-minute train ride from Barcelona, offers a mix of beach fun and cultural exploration.
This coastal town is known for its Roman archaeological sites and modernist architecture, including the work of Antoni Gaudí. The Nau Gaudí, one of his first works, is a particular highlight.
Mataró's beaches are great for a more laid-back seaside experience, and the promenade is perfect for a leisurely walk. The town center has a vibrant atmosphere with a variety of shops, cafes, and restaurants.
You'll find that Mataró manages to combine the charm of a small town with the vibrancy of a city, making it an ideal destination for a short but fulfilling day trip.
Vilanova i la Geltrú
Vilanova i la Geltrú, less than an hour's train ride from Barcelona, is a coastal gem that often flies under the radar. This town offers a perfect balance of cultural attractions and beach relaxation.
You can visit the fascinating Victor Balaguer Library-Museum, which houses an extensive collection of art and historical artifacts. The town's beaches, like Ribes Roges and Sant Gervasi, are ideal for a day of sunbathing and swimming.
Vilanova i la Geltrú also boasts a vibrant culinary scene, with plenty of spots to savor fresh seafood and local dishes. The town's relaxed atmosphere makes it a great escape from the hustle and bustle of Barcelona.
Cardona
For a trip into the heart of Catalan history, Cardona is a must-visit. About an hour and a half from Barcelona by train and bus, this town is famous for its imposing medieval castle, the Castle of Cardona.
Perched on a hill, the castle offers stunning views of the town and surrounding valley. Cardona is also known for its historic salt mine, which you can explore through guided tours.
The town's medieval streets and local market add to its historic charm. While it's a bit further away, the journey to Cardona is well worth it for a taste of medieval Catalonia.
Exploring these destinations by train not only adds to the adventure but also allows you to enjoy the scenic beauty of Spain's landscapes – and all in an environmentally friendly way!
So, grab your ticket, and jump on a journey to discover the hidden gems around Barcelona.