7 Best Calçotadas in Barcelona (+ How to Eat Calçots!)
This article may contain affiliate links. Please read our
Disclosure Policy
for more information.
So, you're planning to hit up the Catalan capital and have heard whispers about these magical things called calçots in Barcelona?
Let me tell you, it's a mouthwatering tradition that involves chargrilled onions, a special sauce, and a gathering called a "calçotada". And, honestly, it should be a must-try for every foodie and traveler in Catalonia.
Now, having lived in Spain and spent a ton of time wandering around Barcelona, I've been lucky enough to have had my fair share of experiences with this great veggie.
Stick with me, and by the end of this article, not only will you know all about this Catalan delicacy, but you'll also get the insider's scoop on where to find the most authentic calçotadas in town.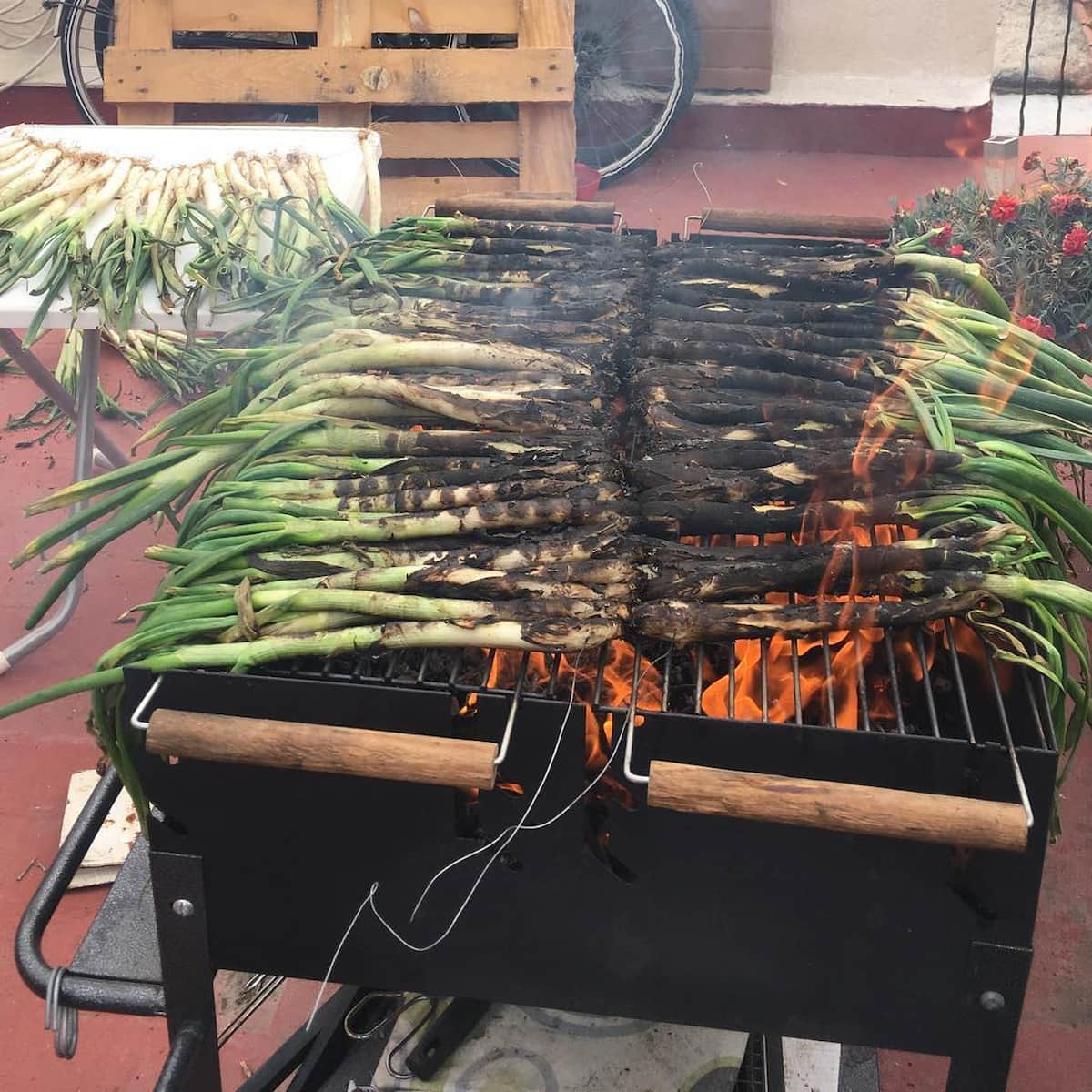 What are calçots?
Calçots are a type of winter green onion, similar to leeks or spring onions, grown and enjoyed in the Catalonia region of Spain, particularly around Barcelona and Tarragona. They're delicious and tender, with a sweet flavor that makes them a treasured part of Catalan cuisine.
You'll find that calçots have a long, leek-like shape and a white, tender body with a mild onion taste. In fact, Catalan farmers have a unique method of growing calçots which contributes to their distinct taste and texture.
As the calçot grows, farmers continuously cover it with soil, protecting the leaves from sunlight. This technique allows the calçot to grow long while remaining tender and retaining its sweet flavor.
The calçot season typically lasts from January until April, which is when they're harvested and enjoyed by locals and visitors alike.
One of the most popular ways to consume these onions is during a "calçotada": a traditional Catalan barbecue where calçots are grilled over an open flame and served with a tasty Romesco sauce. Calçots are typically consumed as a starter, followed by mountains of grilled meat and sausages.
And as someone who's been fortunate enough to go to a few calçotada, here's my pro tip for you: if you ever find yourself in Barcelona during the calçot season, make sure to try to get to one yourself – but don't eat beforehand as you'll need as much stomach space as you can manage.
What is the tradition of calçots?
Calçots are a type of long, thin onions found in Catalonia, particularly in the region of Valls. The tradition surrounding these delicious vegetables involves eating them at an event called a "calçotada". This celebration takes place during the calçots season, which typically runs from January to March.
Originating in Valls, Alto Campo, in the province of Tarragona, Calçotada has become widely popular throughout Catalonia. The festival features the grilling of calçots on an open fire.
Once they're perfectly cooked, they're wrapped in newspapers and served on terra cotta tiles. To enjoy them to the fullest, make sure to peel the outer layer of each calçot with your bare hands and dip them into a mouth-watering, traditional Catalan sauce called salvitxada.
The calçotada is an excellent opportunity to relish in the traditional Catalan dishes and experience the unique culinary culture of the region. You'll also find locals and visitors engaging in music, dancing, and various activities during these celebrations, creating a warm and friendly atmosphere.
What is a calçotada?
A calçotada is a traditional Catalan barbecue event centered around grilling and eating calçots, a seasonal vegetable similar to leeks or spring onions. During this local food festival, people come together to enjoy mountains of grilled meat, sausages, and of course, the star of the show, calçots.
This distinct Catalan tradition typically takes place in the coldest months of the year and involves plenty of red wine to help wash down the delicious flavors.
Calçots are customarily cooked over an open ember grill, which gives them a sweet, char-grilled taste. Often served on terracotta tiles and wrapped in newspapers, they are enjoyed by peeling off the burnt outer layer, dipping them in romesco sauce, and eating them directly from the hand.
The traditional setting for a calçotada is a masia, which is a rural Catalan farmhouse. However, the event has become popular even in urban areas like Barcelona.
In fact, many restaurants in the city now offer calçotadas during the calçot season, which lasts from January until April. If you're visiting the Collserola mountain range near Barcelona, you'll find various venues where you can participate in this unique gastronomic event.
Remember to grab your friends, indulge in the delicious calçots and grilled meats, and raise a glass of local wine to fully appreciate the convivial atmosphere of a genuine calçotada.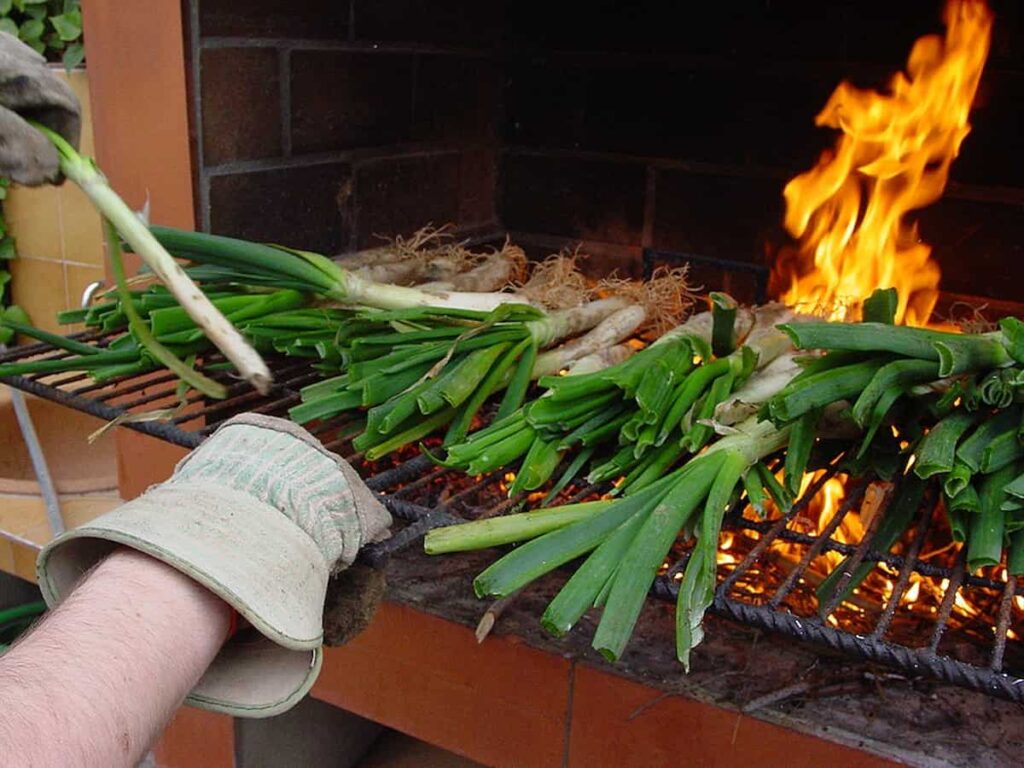 Best places for a calçotada in Barcelona
Barcelona is brimming with fantastic restaurants that serve delicious calçots. If you're a fan of Catalan cuisine and you happen to be here during calçots season, it's definitely worth setting aside a few hours to get to one of these.
Here are my picks for the best restaurants for doing a calçotada in Barcelona:
Can Travi Nou is an excellent choice. Located in a picturesque Catalan farmhouse, this restaurant offers a fun and lively dining experience, with seriously good food.
Can Cortada is another great option, tucked away in the Horta neighborhood. It's housed in a historic Catalan farmhouse, offering traditional cuisine with a beautiful ambience. The lush garden area creates a really pleasant atmosphere for enjoying your meal.
Maur is pretty centrally located in Barcelona and offers a genuine taste of Catalan tradition, serving up calçotadas that resonate with both locals and visitors alike. In its cozy ambiance, you can savor expertly prepared calçots, making it a top spot to experience this Barcelona specialty.
Nou Can Martí is the place to go if you're looking for a unique dining experience. This restaurant is not only famous for its calçots, but also offers other traditional (and delicious!) Catalan dishes. Surrounded by the natural beauty of the Horta-Guinardó district, it features a cozy setting perfect for a traditional calçotada.
Jardí de L'àpat is adjacent to Nou Can Martí. This beautiful restaurant offers private rooms and a fantastic menu filled with local specialties, including calçots. With a serene atmosphere and delicious food, it's an ideal spot for a memorable calçotada.
Can Vador is another excellent choice, striking a wonderful balance between traditional and modern Catalan flavors. Here, you can enjoy a delectable meal while appreciating the stunning surroundings.
Restaurant Carmen is a seriously good representation of Catalan cuisine. With a friendly atmosphere, exceptional food and impeccable service, your calçotada here will be a truly unforgettable experience.
How to eat calçots
Eating calçots is a fun, very Catalan experience that allows you to immerse yourself in the local culture. The process may seem unusual at first, but it's quite simple and enjoyable once you get the hang of it (which I can confidently say after having several Catalans show me the ropes!)
And it's so worth it once you get to throw yourself into eating as many calçots as you can handle!
Here's the process for exactly how to eat calçots:
Put on the bib and gloves you'll be given at the start of a calçotada to protect your clothing and hands from the charred external layers of the calçot.
Spread a newspaper on the table to catch any falling debris from the calçots as you peel away their charred exteriors. Alternatively, if you're at a restaurant, they'll often simply put down a paper table cloth for you.
Hold the calçot by the top, central shoot with one hand, and pinch the root end with the other.
Gently pull down on the root, peeling away all of the burned outer sheath, leaving just the sweet, tender interior. It's essential to remove all the charred layers, as these can be tough and unpleasant to eat.
Once peeled, dip your calçot into the accompanying sauce, usually a type of romesco sauce made of tomatoes, roasted red peppers, garlic, and almonds. Make sure you submerge the entire length of the calçot in the sauce, so each bite is coated in the delicious flavor.
Lift up the calçot, tilt your head back, and lower it into your mouth, taking a satisfying bite and savoring the unique taste.
If all that sounds too hard (it's not, I promise!), here's a pretty good, quick video showing just how to do it.
When to eat calçots in Barcelona
Calçots season typically runs from November to April, with peak consumption in January, February, and March. During these months, you'll find many locals engaging in calçotadas, which are social gatherings where friends and family come together to enjoy calçots and other grilled Catalan dishes.
These events often take place in Masies, traditional rural farmhouses of Catalonia.
The calçotadas aren't just delicious meals but also a fun way to experience Catalan culture. These gatherings pair well with the winter months, as the warmth of the BBQ and the camaraderie of friends help stave off the cold.
You can sample a variety of Catalan dishes at these events, with the main focus being on the calçots, although don't forget to enjoy some local wine and other grilled Catalan specialties alongside your onions.
If you do want to go to one of the restaurants throughout Barcelona that offer calçotadas during the season, just be sure to make reservations in advance, as these events are quite popular.
How do you pronounce calçots?
The "ç" in "calçots" is pronounced like "s", meaning that the word "calçots" is pronounced similar to "kahl-SOTs". Similarly, the word "calçotada", the event where you eat calçots, is pronounced "kahl-ssoh-TAH-dah".
But even if you don't quite nail the pronounciation, the locals will just be thrilled that you, as a foreigner, are interested in eating calçots, given that it's a tradition that's not always well known outside of Catalonia.
How to cook calçots?
To cook calçots, you'll need a good charcoal grill, as the heat from the glowing embers is crucial for achieving the perfectly scorched exterior. Once the blackened outer skin is peeled away, you're left with the tender and juicy inner bulb.
Here's exactly how to cook calçots:
Prepare the charcoal grill so it's nice and hot before cooking and the coals are ready.
Prepare your calçots by removing the first layer of leaves, but leave the outermost ones to protect them during cooking.
Place the calçots on a grill or rack over coals or in the oven. It's important to cook calçots while there are still flames, as they cook best under these conditions.
Look for bubbles of juice escaping through the blackened outer leaves, which signals that the calçots are cooked. This should take about five minutes.
Remove them from the heat, wrap them in newspaper and bring them to the table. It's common to serve calçots with salvitxada sauce, made of almonds, tomatoes, garlic, peppers, vinegar, and oil. Additionally, pairing this dish with a glass of red wine will enhance its flavors.
Remember, if you don't have access to authentic Catalan calçots, you can always substitute them with large green onions. The most important key to success though is the proper heat from a charcoal grill – and a good dose of patience.
Are calçots healthy?
Yes, calçots are healthy! They're a type of vegetable, similar to spring onions or leeks, and are full of nutrients and known for their sweet taste. The romesco sauce you typically eat them with is also quite healthy, made primarily from peppers and tomatoes.
As a vegetable, calçots are low in calories and high in vitamins and minerals like Vitamin K, Vitamin C, and potassium. They also contain dietary fiber, which is important for maintaining healthy digestion and preventing constipation.
Additionally, calçots are a source of antioxidants, which help protect your body from free radicals and reduce inflammation.
Of course, an entire calçotada – where you basically eat your body weight in calçots and meat – isn't really the healthiest event you'll ever attend, especially with the wine you're expected to drink throughout. But given that you're here to inhale these delicious veggies, there are worse things you could be eating!
Are calçots a Catalan food?
Yes, calçots are a Catalan food! They're a variety of scallion originating from Lleida in Catalonia. Calçots have even earned a protected geographical indication by the European Union, specifically for those from the Valls area in Tarragona.
Calçots have been a beloved part of Catalan cuisine for more than a century, especially during the winter months. They're a cross between a spring onion and a leek, and their unique taste makes them a favorite regional ingredient.
Available between January and April, there's a longstanding tradition of enjoying them at calçotadas, which continues to this day.
In fact, in Catalonia, the arrival of calçot season is highly anticipated, as these tasty onions play a significant role in the region's culinary culture. Incorporating them into your visit allows you to have an authentic taste of Catalan gastronomy, engaging in a true Catalan experience that's sure to be memorable – and, importantly delicious!