When's the Best Time to Visit Valencia? (From a Local!)
This article may contain affiliate links. Please read our
Disclosure Policy
for more information.
Welcome to the ultimate guide on the best time to visit the enchanting city of Valencia! Nestled along the Mediterranean coast, this Spanish gem offers a rich blend of history, culture, and stunning landscapes that leave visitors longing for more.
But, with so many attractions and experiences to offer, when exactly is the best time to visit Valencia? Does the city's charm truly shine during the warm summer months, or is there a hidden allure in its mild winters?
In this article, I'll delve into the secrets of Valencia's climate and reveal my pick (as someone who lives here!) for the optimal time to explore captivating city and how many days do you need to ensure you make the most of your trip.
Curious to find out when the stars align for the perfect Valencia experience? Stick with me as I unravel the secret recipe for an unforgettable Valencian getaway that will leave you spellbound!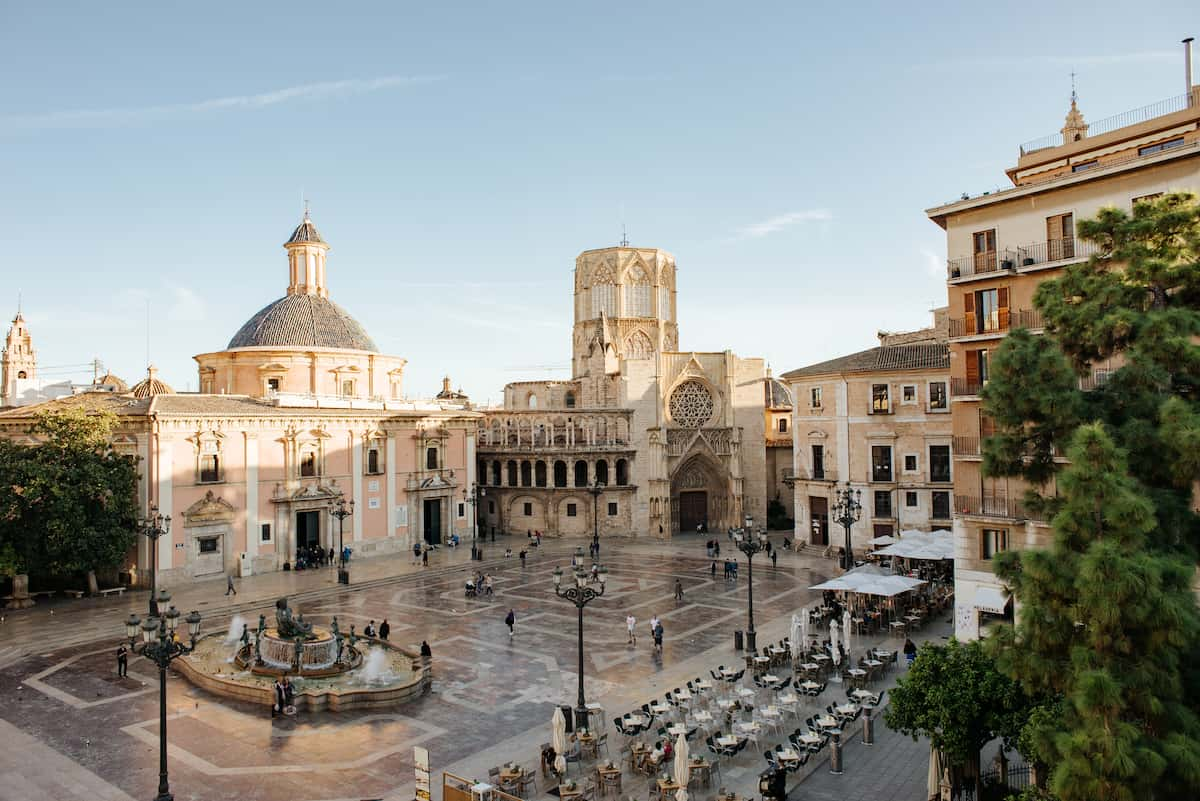 Best time to visit Valencia (month-by-month)
January
January in Valencia is a good time to visit if you want to avoid the crowds and enjoy a more laid-back atmosphere. The weather is mild, with average temperatures ranging from 8°C (46°F) to 16°C (61°F), making it a perfect time to explore the city without the scorching heat of the summer months.
If you're visiting in January, you can experience the Three Kings parade on January 5th, which is a major event in Valencia. The celebration of the Epiphany on the next day marks the end of the Christmas holidays in Valencia, and you can witness the locals exchanging gifts and enjoying traditional Spanish food and drink.
Another one of the main reasons to visit Valencia in January is the winter sales. The sales start on January 7th and last the whole month, so you can bag some bargains on clothes, shoes, and accessories. You can also enjoy a less frenetic dining scene during this time, with many restaurants offering discounts and special menus.
However, bear in mind that some attractions may have reduced opening hours or be closed during this time, so it's worth checking ahead. Also, there may be a few cool and rainy days in winter, so be sure to pack accordingly.
February
If you're looking for a winter escape, February is an ideal time to visit Valencia. While it's still technically winter, the weather is mild and the crowds are thinner than during the peak summer months.
The average temperature during the day in February is around 15°C (59°F), which is perfect for exploring the city without feeling too hot or too cold. However, it's also one of the months when you're more likely to get rain, so be sure to pack an umbrella and some waterproof shoes just in case.
You'll find the city is less crowded than during the warmer months, so you'll be able to explore without feeling like you're constantly bumping into other tourists. In addition, accommodation prices are generally lower in February than during the peak season, so you can save some money on your trip – perfect for those sales!
And if you do get stuck with the odd rainy day, the city's museums, galleries, and other indoor attractions are all open year-round, so you'll be able to stay entertained even if the weather isn't great.
March
If you're looking for the best time to visit Valencia, you should definitely consider March. This is the time when the city is starting to come alive after the winter months and the weather is starting to warm up.
The average temperature in March is around 15°C (59°F), making it perfect for exploring the city without feeling too hot or too cold. You can enjoy the beautiful architecture, museums, and galleries without worrying about the crowds that come with peak season.
In fact, March is the most popular month for many people to visit Valencia as they all come to experience the famous Las Fallas festival, which takes place up until March 19th. This festival is known for its spectacular fireworks displays, parades, and the burning of the huge sculptures that are put up around the city.
The atmosphere is indescribable, although keep in mind that accommodation prices are often the highest of the entire year during this time and the crowds can be seriously intense. It's a fantastic time to visit – but only if you're aware of the crowds and noise that you'll encounter.
If you're a foodie, you'll also love visiting Valencia in March. This is the time when the city's famous orange trees are in bloom, and you can try some of the delicious orange-based dishes and drinks that are on offer.
Plus, the city's many restaurants and cafes are starting to open up their outdoor seating areas, making it a great time to enjoy some al fresco dining.
April
Planning a trip to Valencia but don't want to come in the high season of Las Fallas or summer? Then April is a great month to visit. The weather is warm and pleasant, with an average high temperature of around 70°F (21°C) and an average low of 54°F (12°C).
In fact, the temperatures are perfect for wandering around the city. It's warm enough to enjoy the outdoor terraces but fresh enough that you won't feel uncomfortable after a day of exploring what Valencia has to offer.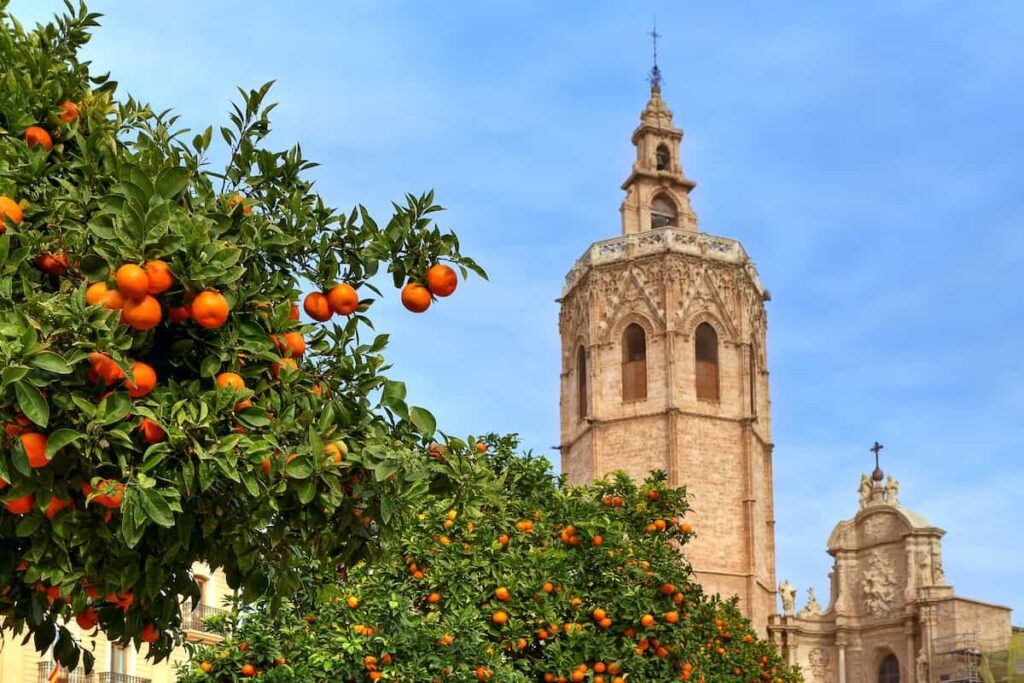 There are also fewer crowds than during the peak summer months, making it easier to explore the city's attractions without feeling overwhelmed.
One thing to keep in mind is that April can be a bit unpredictable when it comes to weather. While it's generally warm and pleasant, there can be occasional rain showers or cooler days. Make sure to pack some layers and a rain jacket just in case.
May
Spoiler alert: May is my pick for the best time to visit Valencia, as it's one of the best months to enjoy the city's mild climate. The average temperature in May ranges from 17°C (63°F) to 24°C (75°F), making it great for outdoor activities.
If you're a fan of flowers, May is the perfect time to visit Valencia. The city is in full bloom during this month, and you can witness the famous Festival of the Crosses, which is celebrated on the first weekend of May. The festival is a beautiful display of floral arrangements and crosses, and you can see them all over the city.
May is also a great time to enjoy the beaches of Valencia. The water is still a bit chilly, but some people do swim. And even if you're not quite there yet, the weather is still perfect for sunbathing and relaxing on the sand.
You can also take part in water sports like kayaking, windsurfing, and paddleboarding.
Keep in mind that May is a popular month for tourists, so the city can start to get a bit crowded. Accommodation prices will also start to creep up now in preparation for the summer high season, and you may have to wait in lines to visit popular attractions, although nothing too crazy.
So don't let that discourage you, as Valencia in May has plenty to offer – with the crowds just being a testament to its popularity!
June
June is a great time to visit Valencia if you're looking for a lively and festive atmosphere. The city is in full swing during this month, with many events and festivals taking place.
One of the biggest events in June is the Night of San Juan, which takes place on June 23rd. This is a traditional celebration that welcomes the arrival of summer with bonfires and all-night beach parties. It's a fun and exciting event that you won't want to miss.
Another popular event in June is the Festival de Les Arts, which is an alternative, pop, and rock music festival that takes place over two consecutive days in the City of Arts and Sciences. If you're a music lover, this is definitely an event worth checking out.
June is also a great time to enjoy the warm weather and beautiful beaches that Valencia has to offer. The average temperature in June is around 25°C (77°F), which is perfect for spending time outdoors.
However, it's important to note that June can be a busy and crowded month, especially during the festivals and events. Accommodation prices may also be higher during this time.
But overall, if you're looking for a lively and festive atmosphere, June is definitely a great time to visit and stay for 7 Days in Valencia.
July
If you're planning to visit Valencia in July, you'll experience a hot and humid month. This is the peak season for visitors from other parts of Spain and beyond, who come to enjoy the sun, sea, and sand.
The temperatures can reach up to 30°C (86°F), so make sure to pack light clothes and sunscreen.
July is an excellent time to visit if you're looking for a lively atmosphere and plenty of things to do. You can enjoy outdoor activities such as swimming, sunbathing, and water sports.
The beaches are crowded, but the sea is warm and inviting. You can also attend some of the summer festivals, such as the Benicassim International Festival or the Valencia Beach Festival.
That said, keep in mind that July is the busiest month of the year in Valencia, so expect crowds and higher prices for accommodation and restaurants. The city can be quite noisy and chaotic, especially in the touristy areas. If you're looking for a quieter holiday, July may not be the best time to visit.
August
August is a good time to visit Valencia if you love sunshine and beaches. The temperature is hot, with daily temperatures around 32°C (90°F), making it the perfect time to take a dip in the Mediterranean Sea. You can spend your days lounging on the beach, soaking up the sun, and enjoying the warm waters.
That said, be aware that the city gets very humid at this time of year. In fact, like in other major Spanish cities, many locals actually leave in order to be in the cooler countryside or at beach apartments they may have. This means that you may find yourself surrounded by tourists from outside Valencia, but not so many locals.
It's also worth noting that a lot of stores close throughout much of August because of their owners leaving the city for a few weeks over summer. For this reason, don't be surprised if you find a few shops or restaurants closed during your stay.
In fact, I'd go so far to say that if you can, come to Valencia at another time that's not August (or even July). It really does get uncomfortably hot and somewhere that's a gorgeous outdoor terrace for having a drink in spring or autumn is suddenly impossibly hot to stay at because of the sun beating down on you.
There are a few exceptions to this. As mentioned, if you love the beach, August is perfect for you. You could also find yourself here then if you're stopping over for a few days in Valencia on the way to or from the famous La Tomatina, the festival at the end of August where thousands of people gather to throw tomatoes at each other.
While it's not in Valencia itself, it's in Buñol which isn't far away so you should definitely give yourself a few extra days to explore the city – once you've rinsed off all that tomato juice, anyway.
September
If you're looking for a quieter time to visit Valencia, September is a great choice. The summer crowds have dispersed, but the weather is still warm and sunny, with average temperatures ranging from 20°C (68°F) to 28°C (82°F). This makes it a perfect time to enjoy the city's outdoor spaces, including parks, beaches, and terraces.
One of the highlights of September in Valencia is the Feria de Septiembre, a traditional festival that takes place in the city's historic center. The festival features live music, dancing, fairground rides, and lots of delicious food and drink. It's a great way to experience the local culture and have fun with the whole family.
September is also a good time to visit if you're interested in sports. Valencia is home to two first division football clubs, Valencia CF and Levante UD, and with the new season having kicked off in August, the slightly cooler temperatures of September are a great time to catch a match.
For example, you could check out a game at Mestalla Stadium, the home of Valencia CF, and experience the passion of the local fans.
You may find a few stores and restaurants closed at the beginning of the month as the owners are still away for their summer break. But things do start to re-open in September so it shouldn't be too much of an issue, especially if you come in the second half of the month.
October
Want a time to visit Valencia when the crowds have thinned out but the weather is still pleasant? October is a great option. The temperatures are comfortably warm, ranging from 18°C (64°F) to 25°C (77°F), and the sun is still shining for an average of 7 hours a day. You'll also find that accommodation prices have dropped from their summer highs, making it a more budget-friendly time to visit.
This is also the perfect time to come if you want to explore some of the surroundings outside of the city. Whether it's one of the small towns or beaches near Valencia or one of the many hikes taking you to waterfalls, natural lakes or Moorish castles, the weather is just right for enjoying the great outdoors.
While October is generally a dry month in Valencia, there's still a chance of rain, so be sure to pack accordingly.
November
If you're looking for a budget-friendly time to visit Valencia, November might be the perfect month for you. The low season starts in November, and that means cheaper prices for accommodation and dining.
The weather is cooler, but still mild compared to other European cities, with average temperatures ranging from 10°C (50°F) to 20°C (68°F). This makes November a fantastic time to explore the city, as it's fresh enough to keep you comfortable for a full day of wandering the city's streets.
If you're a fan of cultural events, November is a great time to visit Valencia. The city hosts the Valencia Jazz Festival, which attracts jazz enthusiasts from all over the world. You can also attend the Valencia International Film Festival, where you can watch a variety of films from different countries.
Unfortunately, with summer well and truly over by now, be prepared for some rainy days, as November is one of the wettest months in Valencia.
Nevertheless, November is a great time to visit Valencia if you're looking for a budget-friendly trip, cultural events, and mild weather. Just make sure to bring an umbrella and check the opening hours of your desired attractions, some of which may start having reduced hours now.
December
December is a great time to visit Valencia if you want to experience the festive season in Spain. The city is beautifully decorated with Christmas lights and there are many events and activities to enjoy.
One of the highlights of December is the Feria de Navidad, a Christmas fair that takes place in the city center. Here you can find traditional Spanish sweets, handcrafted gifts, and other festive treats. You can also enjoy ice skating, live music, and other entertainment.
Another reason to visit Valencia in December is to experience the New Year's Eve celebrations. The city puts on a truly spectacular fireworks display at midnight, which can be seen from many different vantage points. The streets are also filled with people celebrating and enjoying the festive atmosphere.
This means that, like many other major European cities, December can be a busy time in Valencia, especially around Christmas and New Year's Eve. Hotels and restaurants may be booked up, and prices may be higher than at other times of the year. Additionally, the weather can be quite chilly, so be sure to pack warm clothing.
What month is best in Valencia?
In my opinion, the best time to experience the magic of this vibrant city is during the month of May. The weather is absolutely perfect, with warm, sunny days and mild, pleasant evenings – ideal for exploring the city's stunning architecture, gorgeous beaches, and lively streets.
In fact, any time in spring or fall is going to be pretty near perfect, with the weather being just what you're looking for when it comes to exploring a city and then settling in for some tapas and wine on one of the city's thousand outdoor dining options.
The exception to this is if you're coming to Valencia for Las Fallas. This is in March so, clearly, you're going to have to come then.
That's absolutely not a bad thing, as the weather is still usually pretty good then. That said, you will need a jacket, which isn't necessarily something you would need in May.
What is the hottest month in Valencia, Spain?
The hottest month in Valencia is typically August. With temperatures often soaring above 30°C (86°F) and some pretty intense humidity, you'll either love it for being the perfect time to embrace the sun and enjoy Valencia's stunning beaches…or be dying for air conditioning.
The warm weather does let you take advantage of the city's vibrant nightlife, savoring the warm evenings with al fresco dining and a buzzing atmosphere. Of course, don't forget to indulge in Valencia's world-famous paella, refreshing horchata, and other scrumptious local delights.
That said, you should be prepared for some seriously hot days. While this is the peak tourist season, meaning it's popular for a reason, the shoulder periods of spring and fall could be more comfortable weather-wise.
Is Valencia warm all year?
Valencia isn't completely warm all year, but its winter weather is fairly mild, with temperatures rarely dipping below 10°C (50°F). Situated on the east coast of Spain, the city boasts a wonderful Mediterranean climate that makes it an inviting destination all year round.
In fact, with its mild winters, warm springs and autumns, and hot summers, there's always a good time to visit this enchanting city.
During the cooler months, you'll still find plenty of sunshine and daytime temperatures that are perfect for strolling through the charming streets, exploring historic sites, and indulging in the city's delicious cuisine.
Sure, you'll need to bring a coat, but even the winter temperatures make it a great escape, especially if you're coming from somewhere further north in Europe or a snowy location further afield.
In short, Valencia's consistently great weather and vibrant atmosphere make it a fantastic destination, no matter when you decide to visit.