20 Best Sangria Spots in Barcelona (2023) – Must-Try Bars!
This article may contain affiliate links. Please read our
Disclosure Policy
for more information.
Whether you're in Barcelona for just a few days or even longer, knowing just where to look to track down the best sangria in Barcelona can feel like finding a needle in a (fruity) haystack!
Well, you've come to the right place! As someone who lives in Spain and who's spent a ton of time in Barcelona, I'm happy to confirm that I've spent countless hours exploring the bustling streets of this city. And that includes doing my own personal wine tours of Barcelona while taste-testing my way through numerous pitchers of this fruity, refreshing concoction.
(It's a hard job, but someone's gotta do it!)
And that's why I'm going to be your guide in this article, sharing the juiciest secrets of Barcelona's sangria scene. From hidden gems tucked away in charming alleyways to popular hotspots buzzing with locals and tourists alike, get ready to find the best places to indulge in the best of Barcelona's sangria offerings.
…plus, stay till the end and I'll show you the drink that the locals actually prefer more than sangria! It's just as refreshing and sort of similar, but with a bit of a twist.
Best sangria in Barcelona
1. Casa Lolea
📍 LOCATION: Carrer de Sant Pere Més Alt, 49
Just a pebble's throw away from the city's hustle and bustle, right in the heart of Barcelona, you'll stumble upon a charming haven called Casa Lolea.
This hip and retro-style vermouth bar takes you back in time, serving up a delightful twist on sangria, dishing out all-natural, handcrafted varieties of this beloved drink, not to mention their creative sangria-based cocktails.
Right off the bat, you'll be welcomed by Casa Lolea's friendly and hospitable staff, making you feel like part of the family in this cozy spot. That said, this place is very popular so to get a seat, booking ahead is a must.
Rest assured, whether it's for a special occasion or a casual night out, their incredible food and sangria never fail to hit the spot. Not your typical sangria bar, Casa Lolea offers a tantalizing menu that marries beautifully with their sangria.
Pro tip: Be sure to try their octopus, it's a game changer!
But when it comes to their drinks, you'll soon see why this place is in the running to have the best sangria in Barcelona. From the well-loved Lolea Brut, bursting with hints of elderberry flowers and apples, to the vibrant Lolea Rose, featuring grenache grapes and white wine, Casa Lolea's sangrias are a must-try for any sangria aficionado.
2. Los Caracoles
📍 LOCATION: Carrer dels Escudellers, 14
Venture into the heart of the city and discover Los Caracoles, a place oozing with tradition and delightful surprises. Famous for their house specialty of the same name and their equally iconic sangria, Los Caracoles has been wowing locals and tourists alike since 1835, even hosting an impressive lineup of celebrities over the years.
I mean, as everyone from Robert De Niro to Jimmy Carter has stopped by, you know that there's got to be something here worth trying!
And the moment you step foot into Los Caracoles, you're taken back in time, with the atmosphere steeped in tradition. Here, every meal becomes an occasion, especially when paired with a glass (or two!) of their heavenly sangria.
At Los Caracoles, you'll find the essence of Barcelona captured in a glass of their original, most authentic sangria. Whether you're just popping in for a quick drink or planning a leisurely meal, this celebrated spot in the city has something for everyone.
Don't miss out on their famous roasted chicken or their namesake dish, caracoles (that's snails!), that pairs perfectly with their acclaimed sangria.
3. Arcano
📍 LOCATION: Carrer dels Mercaders, 10
If you're looking to mix it up, head over to Arcano. Found in a former horse stable in the hip Born neighborhood, Arcano exudes a cozy and inviting vibe that complements their impressive line-up of Barcelona's best sangrias.
From the outside, Arcano emanates a romantic aura that continues inside, where you can indulge in fresh, Mediterranean dishes paired with their special sangria options. Situated in the heart of the city, Arcano offers the perfect setting for a date night or a casual get-together with friends.
Their traditional sangria is a delight, but if you're feeling adventurous, their sangria with cava is an unexpected treat that's not to be missed.
But Arcano isn't just a feast for the eyes; it's a culinary adventure. With dishes prepared using local, fresh ingredients, and cooked in a charcoal oven, each bite is a delicious surprise.
In particular, make sure you check out their Mediterranean-Argentinian fusion cuisine, cooked to perfection in a rustic charcoal oven.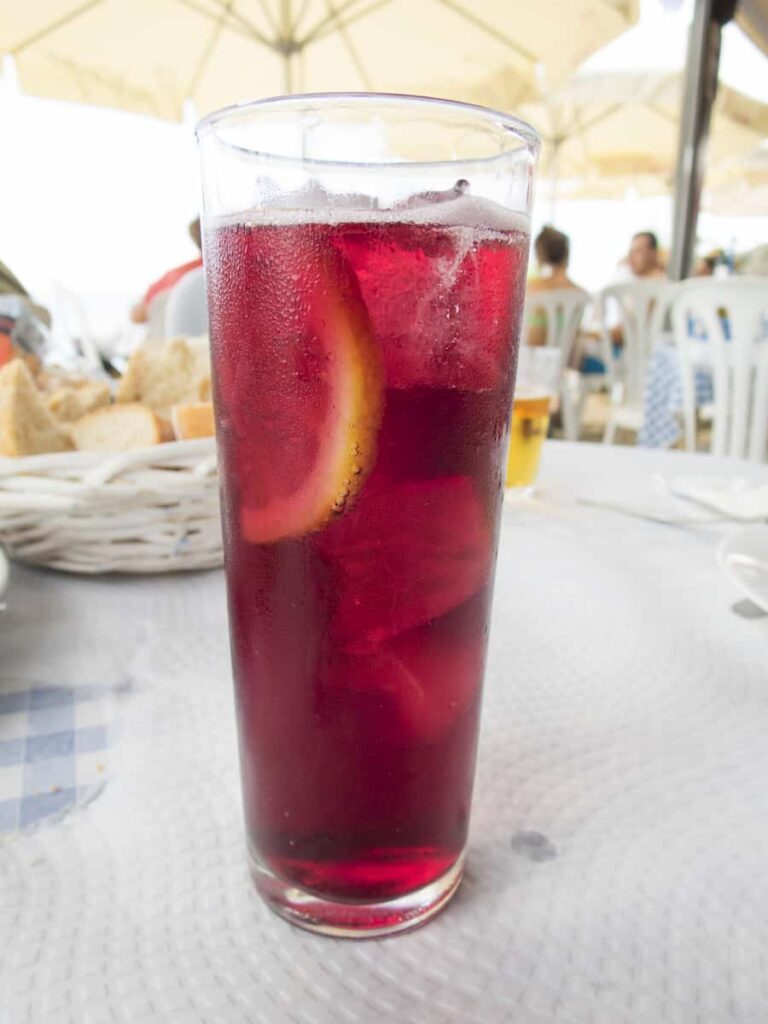 4. BarCeloneta Sangría Bar
📍 LOCATION: Carrer de Sevilla, 70
Journey to the Barceloneta district, and you'll find a vegan's paradise at BarCeloneta Sangria Bar. This vibrant and inclusive spot caters to all palettes, serving up a delicious range of plant-based Spanish tapas, coupled with their signature sangrias created with red wine, rosé, cava, or various liquors such as vermouth or even sherry notes.
BarCeloneta stands out with its innovative approach to tapas, offering a creative plant-based menu that pairs brilliantly with their diverse selection of sangrias. With slightly higher prices than your average sangria bar, their flavors are worth every penny, offering rich and diverse profiles that will keep you coming back for more.
For those looking for non-alcoholic options, they've got you covered too! I highly recommend the Cleopatra, a unique blend of gin, rose petals, and strawberries or the Denise, a classic take that mixes red wine with sherry, orange, and cinnamon.
5. El Bosc de Les Fades
📍 LOCATION: Passatge de la Banca, 7, 08002
El Bosc de Les Fades is a haven for sangria lovers, set within a dreamy woodland setting. Order a pitcher of their sumptuous sangria for just €12 and lose yourself in the cozy, dimly lit ambiance.
Daytime or evening, the tapas options here are generous and tasty, perfect to pair with your drink. The whimsical decor, enchanting artificial forest, and of course, the incredible sangria will transport you to a fairy-tale-like experience.
In the heart of Barcelona, El Bosc de Les Fades is a hidden gem that's still unknown to many tourists. But once you visit, the atmospheric, intimate setting paired with their original sangria will leave an unforgettable imprint on your memory.
6. Bubó Bar
📍 LOCATION: Carrer de les Caputxes, 10
Bubó Bar is a must-visit for every sangria and pastry enthusiast. Their Cointreau Bubó Sangria isn't just a drink – it's an experience! Sweet, flavorful, and perfectly balanced, it's easily considered among the best sangrias in Barcelona.
Not just a local favorite, Bubó Bar has made its mark internationally with outlets in Abu Dhabi, Dubai, and Tokyo.
But step in for their signature sangria and stay for their world-renowned pastries. This trendy spot offers an incredible culinary adventure that's worth every sip and bite.
7. Cachitos Rambla
📍 LOCATION: Rambla de Catalunya, 33
Cachitos Rambla, located at the heart of Rambla de Catalunya, offers an extensive variety of 55 different types of sangria. No, that's not a typo!
Celebrities from Gerard Piqué to Kobe Bryant have graced this establishment, although the sangria at Cachitos should be considered a celebrity in its own right! Their almost overwhelming array of sangria options makes this venue a perfect spot for traditional Spanish sangria lovers.
And while the location is very central, this isn't a tourist trap. The location should be seen as a positive – after all, what better way to refresh yourself a bit after all the shopping that this part of town is known for!
8. La Oveja Negra
📍 LOCATION: Carrer de les Sitges, 5
La Oveja Negra, situated in the pulsating El Raval neighborhood, is a great spot to relax with friends. Order from their varied food menu, featuring everything from empanadas to burgers, and wash it all down with a refreshing glass of some of the best sangria in Barcelona.
Externally, La Oveja Negra might seem dim and unassuming, but step inside to find a bustling, spirited local hangout. Over the years, El Raval has transformed into a multicultural hotspot, and La Oveja Negra captures this vibe perfectly.
This gem is well-loved by locals and tourists alike for its laid-back atmosphere and delightful sangria.
9. Frank's
📍 LOCATION: Carrer de la Marina, 19-21
Frank's is a haven tucked away in the waterfront Hotel Arts Barcelona. Here, you get to soak in the beautiful views of Frank Gehry's "Fish" sculpture while savoring their uniquely crafted sangria.
The ambience strikes the perfect balance between sleek and cozy, providing a sublime setting for a relaxing sangria experience. With a vast assortment of cocktails and wines on offer, there's something to please every palate.
As you sit back and sip on your sangria, don't forget to take in the captivating views through the large glass windows. It's a place where delightful drinks meet scenic beauty.
10. Panoramic Terrace at Hotel Colón
📍 LOCATION: Avenida Catedral, 7
The Panoramic Terrace at Hotel Colón is a hotspot for stunning views of the Cathedral of Barcelona. Frequented by the likes of Ernest Hemingway and Joan Miró, it's a place where history and culture meet good sangria.
No matter if you're a guest or just a passerby, everyone is welcome to enjoy the breathtaking vistas and delicious sangria on offer. As one of the best bars in Barcelona for rooftop views, this is an ideal location to unwind with a refreshing cocktail or sangria, especially during the warm months.
And if you're lucky, you might just catch a live music performance on the terrace! There's nothing quite like sipping on sangria to the sound of soulful tunes while looking over the city scape.
11. Bar Oviso
📍 LOCATION: Carrer Arai, 5
Bar Oviso, located in the heart of the historic Gothic Quarter, is your go-to place for strong sangria. It might not be for the faint of heart, but it's as flavorful as they come, making it an excellent accompaniment to their inexpensive, delicious tapas.
Packed with a young crowd, Bar Oviso exudes a lively atmosphere that's perfect for a casual night out. If you're looking to immerse yourself in local Barcelona culture, this is the place to be.
Come for the strong sangria, stay for the lively vibes, and leave with unforgettable memories.
12. Cerveseria Catalana
📍 LOCATION: Carrer de Mallorca, 236
Cerveseria Catalana is a must-visit when in Barcelona. Besides the vast array of options to order from, their standout offerings are the red wine sangria and the seafood.
Considered one of the most popular tapas restaurants in the Eixample district, Cerveseria Catalana offers both a culinary and social experience. Amid the modernista buildings of Antoni Gaudí, you'll see a cross-section of Barcelona's vibrant community.
Whether you're watching fashionistas sweep out of the nearby designer stores or people from all over the world take in what the city has on show, an evening at Cerveseria Catalana offers a window into the dynamic, multi-faceted life of Barcelona.
13. Bubita Sangria Bar
📍 LOCATION: Carrer dels Flassaders, 15
Bubita Sangria Bar sits near the picturesque shores of Barceloneta. Famous for their sangrias made from organic wines and fresh fruit, this place promises the freshest and most flavorful sangria experience.
The spices used in their sangrias really highlight the flavors and aromas of the Mediterranean. Tucked away in an area that was once a fisherman's gathering place, Bubita retains much of its village-like feel, providing an authentic backdrop to your sangria tasting.
What adds even more charm to this spot is its proximity to the beach, making it an even more appealing place to grab a drink. And if you're not a drinker, don't worry – they've got you covered with an array of alcohol-free sangrias to choose from.
14. Ocaña
📍 LOCATION: Plaça Reial, 13-15
Ocaña Café may be a newcomer, but it's landed firmly on the scene of Barcelona's time-honored Gothic Quarter. This area, teeming with narrow streets and alleys, is where the old world meets modern life, creating a vibrant atmosphere that's quintessentially Barcelona.
Located in the famous Plaça Real, Ocaña is surrounded by picturesque décor that includes a large fountain, street lamps, and lush palm trees. There's always lively music playing at Ocaña, sometimes courtesy of a DJ, creating a perfect accompaniment to the parade of characters that frequent this popular place.
Whether it's athletic street performers, Catalan protesters, pompous businessmen, or groups of young friends, you'll never be short of interesting sights as you enjoy your sangria. Sure, it won't be the cheapest place in town – but the location arguably makes it worth every euro.
15. Bodega Vasconia
📍 LOCATION: Carrer d'en Gignàs, 13
Bodega Vasconia has become an institution in Barcelona for those seeking the best sangria in town. Its reputation precedes it, and once you take a sip of their delicately balanced, fruity sangria, you'll understand why.
You'll immediately be struck by how friendly and inviting the atmosphere is here, making it an ideal location to enjoy this traditional Spanish drink. It's a spot where locals and tourists alike come together over shared love for a great glass of sangria.
Whether you're a seasoned sangria connoisseur or a first-timer, Bodega Vasconia is a must-visit. Don't miss the opportunity to savor some of the best sangria Barcelona has to offer.
16. Vinitrus
📍 LOCATION: Carrer Del Consell de Cent, 333
Vinitrus stands out for its commitment to delivering top-notch sangria. Each glass is a testament to the careful craftsmanship and attention to detail that goes into creating the perfect sangria blend.
In fact, Vinitrus' sangria is so good it's often lauded as some of the best in Barcelona. It's the perfect balance of wine, fruit, and a hint of spice, leaving a delightful taste lingering on your palate.
It's not just a place to have a drink; it's an experience in appreciating the art of sangria-making. Whether you're in the mood for a refreshing summer treat or a warm winter elixir, Vinitrus has a sangria for every season and reason.
17. Cachitos Ramblas
📍 LOCATION: Rambla de Catalunya, 33
Cachitos Ramblas is an unexpected gem in a city that can often be overrun with overpriced tourist traps. Their unique location on Rambla de Catalunya, a stone's throw away from the bustling Passeig de Gràcia, puts them in the heart of Barcelona's vibrant energy.
Their sangria is nothing short of spectacular and sets them apart from the competition. With a staggering 55 varieties on offer, you're spoilt for choice! This is a place that truly understands the art and versatility of the classic Spanish beverage.
Whether you're a celebrity-spotter, tapas-lover or simply a sangria aficionado, Cachitos Ramblas has something for everyone. Its eclectic mix of patrons adds a dash of excitement to an already fantastic place.
18. 7 Portes
📍 LOCATION: Passeig d'Isabel II, 14
Since its establishment in 1836, 7 Portes has seen its fair share of famous faces. Yet, it's their sangria that truly makes them a star in the bustling Barcelona food and drink scene. Each glass of sangria is a nod to Spain's rich history and culture.
Every sip of their sangria delivers a burst of flavors, making 7 Portes a beloved destination for locals and tourists alike. The combination of high-quality wine, fresh fruit, and just the right amount of sweetness results in a sangria that's worth writing home about.
7 Portes isn't just a restaurant, but a time capsule that allows you to step back into a different era. Here, the sangria flows as freely as the stories, providing an unforgettable experience that goes beyond just dining.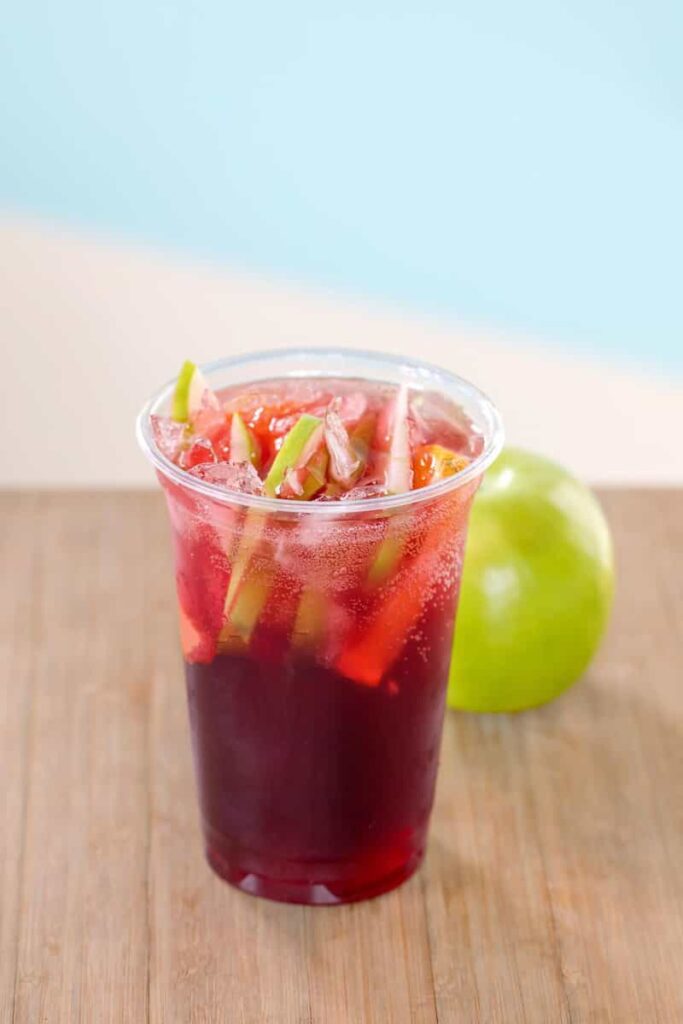 19. Arume
📍 LOCATION: Carrer del Botella, 11-13
Arume serves up a sangria that's as unique as its contemporary, stylish surroundings. Found right in the heart of Barcelona, this place is a must-visit for those who enjoy a refreshing and expertly prepared glass of sangria.
And the sangria at Arume really is nothing short of a delight for the senses. Every sip is a beautifully crafted blend of quality wine and fresh, seasonal fruits. It's the perfect complement to their diverse and delicious menu.
Arume offers an experience that goes beyond the typical restaurant vibe. Here, you can savor the flavors of Barcelona in a modern, upbeat setting, while enjoying some of the best sangria the city has to offer.
20. Bodega La Punctual
📍 LOCATION: Carrer de la Volta dels Tamborets, 1
Bodega La Punctual is a charming bar tucked away in the heart of Barcelona's bustling Born district. Known for its incredible sangria, this place is a hotspot for those in search of the perfect blend of wine and fruit.
At Bodega La Punctual, they take their sangria very seriously. The result is a drink that perfectly embodies the spirit of Barcelona: lively, vibrant, and full of flavor. It's no wonder that this place is a favorite among locals.
Stepping into Bodega La Punctual is like entering a sanctuary dedicated to the celebration of good food and great sangria. So, take a seat, soak in the ambiance, and let yourself be swept away by the magic of Barcelona's finest sangria.
FAQs
Is sangria popular in Barcelona?
Yes, sangria is popular in Barcelona! However, you might be surprised to learn that it's not the go-to summer drink for most locals. While tourists can't resist a refreshing glass (or pitcher) of fruity, wine-based sangria, the locals have a slightly different preference – they lean towards "tinto de verano."
Tinto de verano, which translates to "red wine of summer," is a beloved beverage in Barcelona and throughout Spain. It's a simple yet irresistible mix of red wine and a lemon or orange soda, usually garnished with a slice of citrus.
It's less sweet, lighter, and more refreshing than sangria, making it a popular choice during the sweltering summer months.
How much is sangria in Barcelona?
Ah, the all-important question for those traveling on a budget! The cost of sangria in Barcelona can vary greatly depending on where you decide to enjoy it. In a more touristy area or a high-end restaurant, a pitcher of sangria can range from €15 to €30.
However, if you venture off the beaten path, you can find cozy local spots serving pitchers of delicious homemade sangria for as little as €10. It's all part of the adventure of exploring Barcelona's vibrant food and drink scene!
What is in sangria in Barcelona?
Sangria in Barcelona typically consists of red wine, chopped fruit, a sweetener like honey, sugar, or orange juice, and a small amount of brandy. Some establishments may add a bit of sparkling water, soda or even cava for a fizzy twist.
The fruit used can vary but often includes oranges, lemons, apples, and peaches. However, the beauty of sangria lies in its versatility – there's plenty of room for creativity, so don't be surprised if you come across some unique and tasty variations!
How old do you have to be to drink sangria in Barcelona?
In Barcelona, as in the rest of Spain, the legal drinking age is 18. This applies to all alcoholic beverages, including sangria. While not every bar will ask for ID, if you look like you could be around the legal age, be prepared to show your driver's license or passport.
So, whether you're sipping sangria on a sun-drenched patio or enjoying a glass of tinto de verano at a bustling local bar, always remember to drink responsibly.
Salud!