30 Best Barceloneta Hotels (2023) – Barcelona Beach Stays
So you're planning your escape to Barcelona and, if you're anything like me, you're daydreaming of sun-soaked afternoons on Barceloneta Beach, with the Mediterranean waves lightly teasing your toes.
Barcelona isn't just about Gaudí's wonders and tantalizing tapas; it's also home to some pretty fabulous beaches, and Barceloneta is the crown jewel. Imagine combining those vibrant city adventures with refreshing beach days, feeling the sand between your toes after exploring historic streets.
My time living in Spain and countless days in Barcelona have taught me a thing or two about embracing this city-beach balance. That's why I've made this guide on the best Barceloneta hotels, to help you discover the perfect base where urban exploration meets sun, sea, and sand.
They're not all right on the beach, to be clear (although several are!) But all are super conveniently located to get you to the seaside in no time at all.
(That said, if you're looking to step on to the sand the minute you leave your accommodation, you may want to take a look at my picks for the best Barcelona hotels on the beach.)
Whether you're hoping to splash around in the Med, soak up the beach vibe, or just want the best of both worlds, I've got the lowdown for you.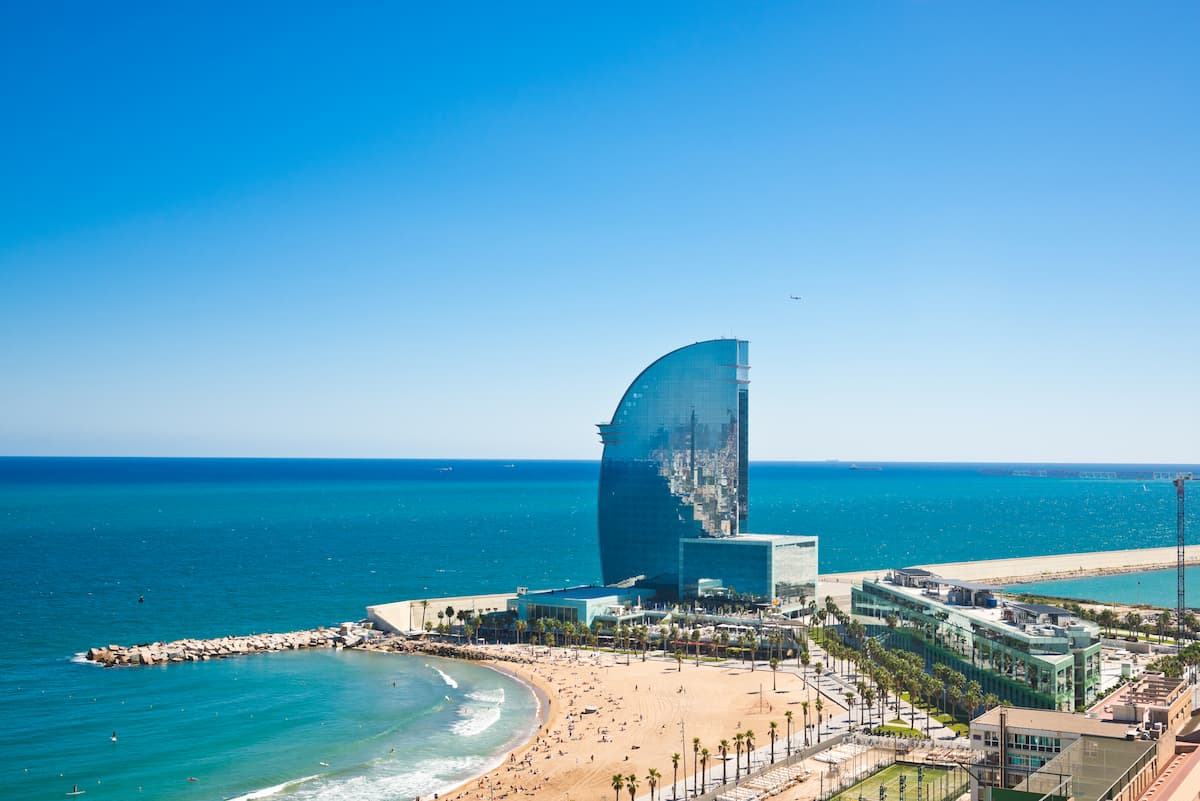 Best Barceloneta hotels
1. Hotel 54 Barceloneta
Hotel 54 Barceloneta is all about location and style, boasting a trendy terrace that gives you a peek at the port. With 24-hour reception, free Wi-Fi, and air-conditioned rooms equipped with smart TVs, you're sure to have a comfortable stay.
Rooms here show off some modern décor and fun lighting touches, and each one has its own private bathroom complete with a hairdryer.
And if you're a seafood fan, you're in luck! There's a great selection of seafood restaurants just around the corner.
2. Residencia Universitaria Campus del Mar
If you're after a great location without breaking the bank, the Residencia Universitaria Campus del Mar in Barceloneta is a solid choice.
Only 200 meters (660 feet) from the beach, the place even comes with a fitness center and free internet.
The rooms? They've got a kitchenette with a microwave and the essentials for tea and coffee. Most of them even have a TV!
Ok, it might not be the fanciest joint in town, but it's got what you need, especially if you're watching your wallet. And if you're up for some fun, there's a games room complete with snooker and table tennis.
I should also note that reviews mention that the breakfast might be a bit on the average side, so maybe venture out for your morning munchies.
3. Sofitel Barcelona Skipper
For those of you wanting a bit more luxury in your life, say hello to the 5-star Sofitel Barcelona Skipper . Sitting proudly next to the Olympic Port, it's a mere hop, skip, and a jump (100 meters/330 feet to be exact) from the beach.
Plus, with not one, but two outdoor pools, you're in for a real treat. 
The rooms here? Spacious and modern, not forgetting the sleek bathroom with its rain shower – honestly, it's so refreshing after a day at the beach or wandering the city. 
4. Hotel Arts Barcelona
Looking over Barceloneta Beach and the city's center, Hotel Arts Barcelona stands out with its design and two (yes, two!) outdoor pools.
And that's not even mentioning its super-impressive art collection and a restaurant boasting 2 Michelin stars!
5. W Barcelona
W Barcelona isn't just another hotel – it's THE hotel that turns heads with its sail-like design. Situated right next to Barceloneta Beach, expect top-notch design and some pretty amazing views of Barcelona from here. 
And the rooms at W Hotel aren't just rooms. Instead, they're a blend of avant-garde design with views of the sea or city, a chaise lounge for those lazier moments, and tech goodies like the best of the best flat-screen TVs as well as nice touches like phone docking stations.
Feel like a cocktail? Hit up NOXE on the 26th floor or simply lounge by one of their two pools. It's all about those vibes.
6. Barcelona Beach Apartments 
Fancy a place that's just a hop, skip, and jump away from both Sant Miquel and Barceloneta Beach? Barcelona Beach Apartments has got your back.
The best part? Every room comes with air-conditioning, a savior in those balmy summer months.
Staying in apartments instead of a hotel can be great for things like being able to prepare your own meals and just generally create a home away from home. And you'll definitely have that here as you find yourself whipping up a snack or two in the well-equipped kitchen.
Having an apartment for your vacation can also be a life saver when you have kids and everyone's too tired to be bothered with venturing out.
7. Uma Suites Barceloneta Beach 
If you've got Barceloneta Beach on your mind, Uma Suites Barceloneta Beach might just be the spot for you. Just 350 meters (1,150 feet) away from the waves, it's the kind of place where you won't have to go far to feel the sand between your toes.
Each apartment? Think modern with all the conveniences: air conditioning, a comfy lounge area, and a kitchenette.
8. Barceloneta Suites Apartments Beach 
Just three words: Location, Location, Location! Barceloneta Suites Apartments Beach positions you smack dab between Barceloneta Beach and Somorrostro Beach.
Plus, it's air-conditioned. And trust me, that's a biggie if you plan to come in summer.
9. Old City Beach House 
Imagine lounging on a balcony with a view in Barcelona. Yup, that's Old City Beach House for you, and it's within walking distance of some pretty great beaches, including Somorrostro and Sant Miquel.
This cool apartment isn't just about location. Inside, you've got four comfy bedrooms, a living room, and a kitchen armed with everything you might need.
10. Sea Hostel Barcelona 
Right on Barcelona's Barceloneta Beach, Sea Hostel Barcelona stands ready and waiting for the budget conscious traveler.
For the sleeping arrangements, you're looking at bunk beds in both mixed and female-only dorms, as well as private rooms if you prefer a bit of solitude. No matter which one you pick though, all beds are equipped with reading lamps and power sockets.
Need to store your luggage? They've got you covered. Plus, with a location like this, you can kick off your day with breakfast outdoors on the seafront promenade.
11. Hesperia Barcelona Barri Gòtic 
The Gothic Quarter is where it's at! Hesperia Barcelona Barri Gòtic places you smack in the middle of this historic district.
With Las Ramblas close by and the port just a stone's throw away, you're pretty much in the center of the action.
Of course, you're here because you're looking for hotels near Barceloneta beach – and this one's the best of both worlds! That is, not only are you right near a ton of sightseeing attractions, but you're also less than a 20-minute stroll away from the beach!
12. ClassBedroom Barcelona Beach Apartments
Barceloneta's known for its beaches and seafood eateries, and the ClassBedroom Barcelona Beach Apartments plop you right there.
Even better? They're set up to house 2 people, so it's perfect for a little romantic getaway or a buddy trip.
If you're looking to explore, this place is golden. With the train, metro, and bus services nearby, getting to Barcelona's iconic sights is a cinch.
13. Hotel Santa Marta
Want to be near the beach while getting to experience everything that the city has to offer? Hotel Santa Marta might be your jam.
It's a hop away from Barcelona's stylish El Born neighborhood as well as França Railway Station if you're coming or going further afield.
The rooms are simple but offer everything you need – think air conditioning and a TV to crash in front of after a day out.
14. Park Hotel
In case you haven't noticed already, some of the best hotels in Barcelona near Barceloneta beach aren't actually beachside. And a great example of that is the Park Hotel, right in Barcelona's incredible El Born district.
Just picture it: you're a stroll from Barceloneta Beach one way, the Gothic Quarter another with all of Barcelona's coolest bars and restaurants on your doorstep.
Inside, the rooms are all about the modern vibe, with warm colors, flat-screen satellite TV, and – big win – they're soundproofed.
15. Casa Lirio
Right in the heart of Barcelona, Casa Lirio brings you continental breakfast and free WiFi. This 2-star hotel might not be the Ritz, but it's got charm and convenience.
Rooms here have all the essentials: a comfy desk, private bathroom, and air conditioning. Plus, if you're lucky, you might snag one with a balcony that gives you a sweet city view.
16. Hotel del Mar
So, you're hunting for a hotel with a little history? Hotel del Mar sits in a cool listed building and guess what? It's only 800 meters (half a mile) from the seafront and that ever-handy Barceloneta Metro Station.
Air-conditioned rooms with flat-screen satellite TVs? Check. Private bathrooms with all the essentials? Double check. Oh, and some rooms even come with their own balcony.
17. Hotel Oasis
You know when you're so close to everything, it feels like the world is at your doorstep? That's Hotel Oasis for you.
It's cheekily placed just a short 100 meters (330 feet) hop from Barcelona's vibrant Born district. Rooms are modern, air-conditioned, with satellite TV, so you're covered on that front.
But the real kicker? The seasonal terrace with an outdoor pool that's just begging for a dip.
18. Catalonia Port
If the Gothic Quarter's charm is what you're after, Catalonia Port might just be your match. This spot's smack dab in the middle of it all, plus it boasts a modern gym and a sun terrace with a cute, seasonal outdoor pool.
Comfort's the name of the game here, with air-conditioned rooms offering free WiFi and flat-screen TVs. Hungry? The hotel's El Racó del Port restaurant serves up Mediterranean dishes to die for.
19. Hotel Medinaceli
Alright, history buffs and style enthusiasts, this one's for you. Hotel Medinaceli is set in the legit palace of the Dukes of Hotel Medinaceli.
Not only does it have that Specialty Monument status (oooh, fancy), it's also a hop, skip, and a jump from Barcelona Port and just about 200 meters (660 feet) from the must-visit Las Ramblas.
These rooms? They're spacious with a side of bright décor, and yup, they've got air conditioning and satellite TV. Plus,
20. Exe Laietana Palace
In the mood for a bit of old-meets-new? Exe Laietana Palace is housed in a revamped neo-classical building, right next to the city's ancient Roman wall – and surprisingly close to Barceloneta beach, given how it feels like you're right in the middle of the Old Town here.
If that's not cool enough, rooms here come with fancy flat-screen satellite TVs and hydro-massage showers. The rooms? They're beyond sleek and some even offer views of the Roman wall (history right outside your window!).
21. Barcelona Hotel Colonial
Stepping into the Barcelona Hotel Colonial is kind of like taking a mini journey back in time. Located in the city's Gothic Quarter, this elegant space is inside an impressive colonial stone building with, get this, its own clock tower!
But don't worry, both the Barcelona Cathedral and Barceloneta Beach are just a quick stroll away. It's like you're right in the middle of everything you'll want to see and do.
22. Pension Ciudadela
Pension Ciudadela boasts a prime spot right opposite Barcelona's França Train Station and it's a mere 100 meters (330 feet) from the green goodness of Ciudadela Park.
If you're into simple and comfy, this is your place – the rooms are air-conditioned, come with free Wi-Fi, and those much-needed private bathroom facilities. You'll be lounging in heated rooms, all equipped with TVs.
Oh, and if you're someone who needs to pull out their laptop to send a few emails while you're here, most rooms have work desks, plus a private balcony bonus!
23. Hostel New York
Let's get this out of the way – if you're looking for glitz and glam, this might not be your scene. But, if you're after a super central spot in Barcelona's Gothic Quarter that's just a 5-minute stroll from Las Ramblas, keep reading!
Hostel New York is a youth hostel that's big on the basics – think bunk beds, individual lockers, and a 24-hour reception. Their rooms? Simple and straightforward, with a touch of modesty in the décor.
Free Wi-Fi's on the house, and there's a shared bathroom vibe going on.
Now, for the social butterflies, there's a TV lounge where you can mingle, and if you get the munchies, the vending machines have got your back.
24. Duquesa de Cardona
If history with a side of luxury is your thing, then Duquesa de Cardona might just be your match. This 19th-century beauty sits pretty opposite Barcelona's marina in the Gothic Quarter.
Not only is it a short 600-meter wander from La Rambla (0.35 miles) with the beach only being a little bit further away, but you get more than a touch of luxury here. Take a moment to imagine: spacious rooms, air-conditioning, flat-screen satellite TVs, and let's not forget those plush bathrobes and slippers waiting for you in the bathroom.
25. Hotel Ciutadella Barcelona
You're looking at one chic option here with the Hotel Ciutadella Barcelona. Sitting pretty within 300 meters (0.2 miles) of Santa María del Mar Church, Ciutadella Park and the Barceloneta Metro Station, this hotel's got its location game on point.
The stylish rooms are air-conditioned with a dash of contemporary décor, and hey, who doesn't love a private bathroom and TV combo?
Step out, and you're in the mix of the historic Born and Gothic districts. Plus, keep going a bit further and your beach day awaits!
26. Som Nit Port Vell
Som Nit Port Vell is where comfort meets convenience. Smack dab in the center of Barcelona, this place is within walking distance of Sant Miquel and Barceloneta Beaches.
The rooms have everything you need, but my favorite thing about this place is the fact that they offer bicycle rental!
27. Hotel Santa Marta
Okay, let's chat about Hotel Santa Marta. First off, location? On point. You're just 100 meters (330 feet) from the trendy Born area.
If you're the type who's all about no-fuss accommodations, you're in for a good time – we're talking simple rooms with air conditioning, TVs, and comfy beds to re-energize for more sightseeing tomrorow.
Being so close to the Barceloneta Metro station (not to mention Barceloneta Beach itself), you're practically set to explore every nook and cranny of the city.
28. Inside Barcelona Apartments Mercat
The Inside Barcelona Apartments Mercat aren't just another place to crash. They're right next to the cool Ciutadella Park, and if you fancy a stroll to Las Ramblas or the city's beaches, you're just 15 minutes away.
With Barceloneta and Jaume I Metro Stations only 650 meters (0.4 miles) out, getting around the city is a breeze.
The apartments? Think wooden flooring paired with an elegant yet functional design. Every unit's armed with a kitchen sporting an oven, dishwasher, and a washer-dryer, so you're all set for a comfy stay.
In the mood for some shopping or maybe a drink? The streets around these apartments have got your back.
29. Safestay Barcelona Gothic
If you're looking for a spot smack in the middle of Barcelona's Gothic Quarter, Safestay Barcelona Gothic has your name on it. You're a stone's throw (okay, 250 meters – that's 800 feet for the imperial system people) from the Barcelona Cathedral and they've got a really cool roof terrace to boot.
Inside, expect colorful interiors, a common room with free internet and individual lockers in the dormitories. And for the planners out there, their tour desk is ready to help you get the best out of Barcelona.
No curfews, no lockouts, and yes, the reception's open 24/7.
30. Decô Apartments Barcelona-Born St.
Housed in a 19th-century building and just a hop away from Passeig del Borne, Decô Apartments Barcelona-Born St. is a blend of charm and modern comforts. It's a mere 200 meters (660 feet) from the Picasso Museum – although those air-conditioned studios are the kind of cozy that mean you may not want to leave.
Original features like beamed ceilings and exposed brick walls give each studio a distinct character. But they're not just about the looks – each comes with a sofa, TV, and a kitchenette that's got your midnight snack runs covered.
Around the corner, the El Born district is buzzing with a mix of cafes, restaurants, and shops. Although you don't even have to go that far, as if you fancy a quick drink, there's a bar right on the ground floor.
FAQs
Is Barceloneta a good area?
Absolutely! Barceloneta is a buzzing neighborhood with a laid-back beach vibe. Its coastal location means you've got the Mediterranean on your doorstep, and it's close to the heart of the city. Beyond the beach, Barceloneta boasts a ton of local eateries, charming squares, and is a stone's throw away from Barcelona's famous attractions.
This means that whether you're sunbathing by day or exploring by night, Barceloneta is a solid choice for a blend of relaxation and excitement.
Is it safe to go to Barceloneta at night?
In general, Barceloneta is pretty safe at night. Like any popular city spot, it has its lively moments, especially on weekends. Just practice the usual city smarts: be aware of your surroundings, keep an eye on your belongings, and maybe avoid those dimly lit alleys.
I've wandered around Barceloneta many nights, and while it's always good to be cautious, it's also bursting with energy. Waterfront restaurants, tapas bars, and chiringuitos (beach bars) come alive, making the nights as alluring as the days.
At the same time, the sheer amount of people there means that it does attract some dodgy people too. For example, if anyone tries to come up to you out of nowhere (common examples are that they act drunk and want to hug you or dance with you), be on your guard as it could be a scam as they try to distract you while someone else pickpockets you.
However, despite some of the horror stories you read, the vast majority of people don't have any issues at all. As mentioned above, just be sensible, make sure you can see your things at all times, stay in well-lit areas and you should be fine.
Why is La Barceloneta famous?
La Barceloneta is Barcelona's beachside jewel! Originally, it was a fishermen's quarter, giving it a rich history and an authentic, local flavor. Today, it's renowned for its wide sandy beach, the W Hotel's iconic sail-shaped structure, and its promenade lined with palm trees and beachfront bars.
But it's not just about the sand and surf; the neighborhood's narrow streets and traditional buildings are a testament to its past.
Check out one of its many seafood restaurants, tap into the local culture, and you'll quickly grasp why it's a must-visit for anyone coming to Barcelona.
Can I swim at Barceloneta Beach?
Definitely! Barceloneta Beach isn't just for soaking up the sun; its waters are also inviting. The Mediterranean is generally calm, making it great for a refreshing dip. And if you're into water sports, there's plenty to dive into, from paddleboarding to windsurfing.
Just a heads up: like many urban beaches, it can get packed, especially in the summer months. So, if you're aiming for a swim, maybe hit the waves early or during the sunset hours.
But whenever you make it there, there's something magical about floating in the sea as the sun dips below the horizon.